With each passing Mid-Autumn festival, we're increasingly spoilt for choice when it comes to mooncakes. While contemporary creations like durian snowskin and alcohol-infused creations flood our feeds, we've not forgotten traditional ones like the Teochew yam mooncake that are still to-die-for. Crispy, flaky thousand layered crust with earthy yam paste encased within — these classic golden brown balls of goodness will satisfy your craving for buttery pastries and the orh nee dessert at the same time. Plus, your elderly relatives can join you in the indulgence too. Not sure where to get them? Read on to check out our lowdown on the 9 best yam mooncakes in Singapore!
Best crispy & flaky yam mooncakes in Singapore
1. Gin Thye Teochew Flaky Yam Mooncake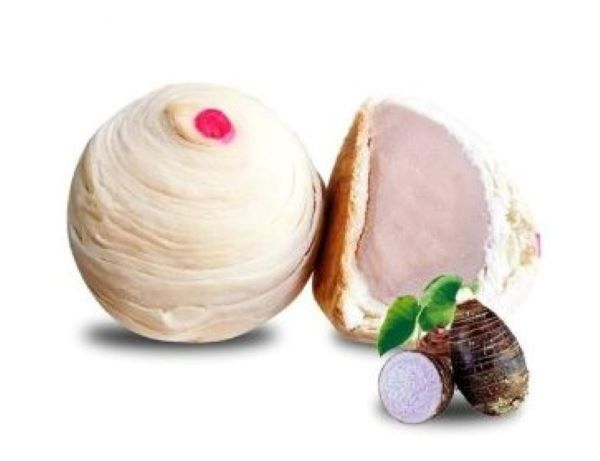 When it comes to getting the best yam mooncakes in Singapore, you won't go wrong with Gin Thye — a brand that has stood the test of time. Gin Thye has been specialising in traditional Chinese pastries since 1964, and is recognised by the National Heritage Board of Singapore for their commitment in preserving traditional Asian bakery culture. Their Teochew Flaky Yam Mooncake (available on Gin Thye) comes in three variations — plain, single yolk and double yolk. For orh nee dessert lovers, get the Shopee exclusive Teochew Flaky Yam Mooncake with ginkgo nuts (available on Gin Thye) which makes for the perfect orh nee mooncake! 
For optimal enjoyment, it is recommended to toast or air fry it eight to ten minutes before digging in. Gin Thye's yam mooncakes are made without preservatives, so it is best to finish them within two days, or store them in the fridge for up to a week.  
2. Duen Tai Taro With Mochi Mooncake
Taiwan may be known for their suncakes, but they're experts when it comes to mooncakes too! The Duen Tai Mooncake Pastries (available on uekp9sa54c1) is one of the best yam mooncakes you can get from Taiwan in Singapore now. Its combination of a flaky crust, smooth yam paste and mochi strikes the perfect balance of textures from crispy, smooth to chewy — surely a decadent treat for your taste buds! If you like the sweet and salty flavour profile, you might just fall in love with the Lava Yolk Taro Mooncake, which oozes of salted egg yolk like a steamed custard bun! 
3. FYRE Teochew Flaky Sakura Lychee Lotus Yam Mooncake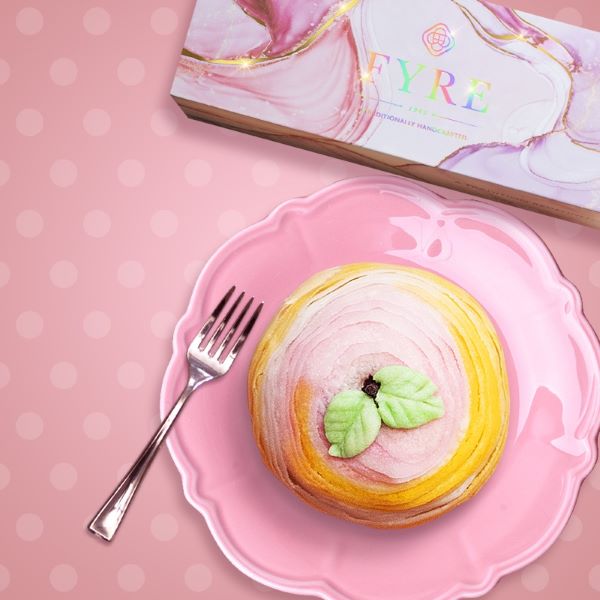 We're all suckers for pretty packaging, and the FYRE Teochew Flaky Yam Mooncake (available on TREASURE GOURMET & GROCER) makes for an aesthetic shot with its pink marbled box design and strokes of gold. Their yam paste mooncakes are equally IG-worthy, as its crust is coloured with blush pink and yellow hues completed with two green pastry leaves. 
Fyre's Teochew flaky yam mooncakes come in two flavours. If you're more adventurous in the taste department, opt for their unique Teochew Flaky Sakura Lychee Lotus mooncake for a refreshing twist. It blends floral, fruity and earthy notes all in one bite! Otherwise, they also offer traditional Teochew Taro Yam mooncakes for the classic orh nee flavour. Apart from being handmade, these Teochew yam mooncakes are baked instead of fried, so you can feast on them with less guilt!
4. ZhenWei Crispy Teochew Yam Mooncake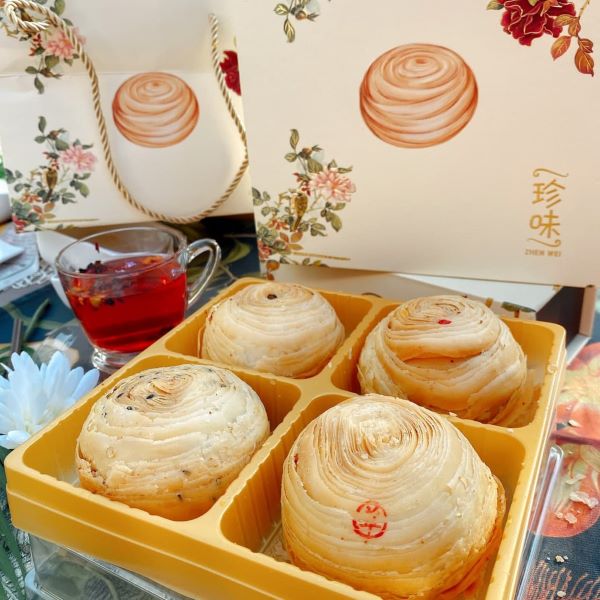 Zhen Wei is a well-regarded brand when it comes to the best yam mooncakes in Singapore. Their Teochew Crispy Yam Mooncakes (available on Zhen Wei Mooncake Official Store) are handmade using locally sourced ingredients with a family recipe that has been passed down from generation to generation. Want to enjoy more variety? Zhen Wei offers several different flavours like sesame yam and pumpkin yam!
You can order any amount of orh nee mooncake from one to eight pieces. When you order two or four of them, you'll get the beige hard box packaging which can be reused as a tissue box cover!
5. Peony Jade
Orh Nee
Mooncake
This list is not complete without the intricately made yam mooncakes from Peony Jade Restaurant that made their debut in 1988. Every year, regulars make a beeline for their Legendary Flaky Teochew Orh Nee Mooncakes which sell like hotcakes — a testament that they're one of the best Teochew yam mooncakes in Singapore. This year, they've launched new creations like the blue-pea skin orh nee mochi cha-cha and Japanese purple sweet potato molten lava with salted egg yolk, densely packed in flaky pastry skin. All of these baked goodies are handcrafted daily for ultimate freshness and made with no preservatives and reduced sugar!
6. Yong Sheng Violet Gem Pie Mooncake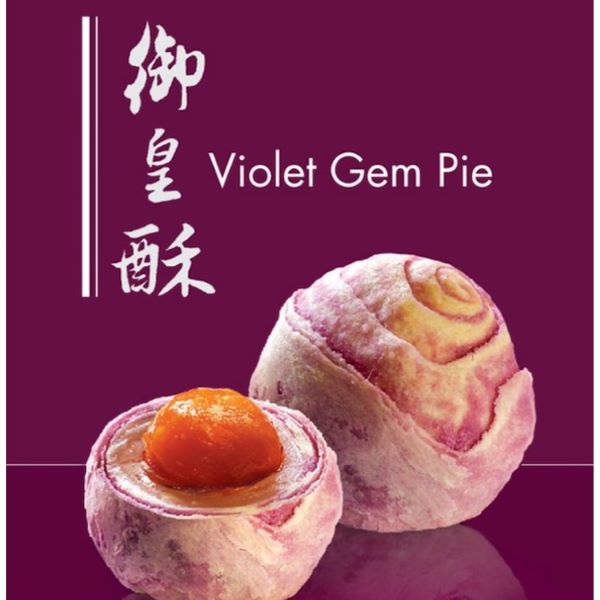 Singaporeans are obsessed with salted egg yolk — we love it with fish skin, chips and even fried chicken. If you are one of them, you'll surely appreciate the award-winning Yong Sheng Violet Gem Pie Mooncake (available on Yong Sheng Singapore) which gives you a huge portion of golden yolk with each bite. Enveloping the yellow core is a rich yam filling and purple pastry. It has a longer than average shelf life of about three months, so you can continue enjoying them even after Mid-Autumn!
Like many other brands on this list, Yong Sheng has a rich history of almost 70 years. Their recipe has been recalibrated and perfected over time, so you can trust that they make one of the best Teochew yam mooncakes in Singapore. 
7. August Baking Studio Teochew Yam Mooncake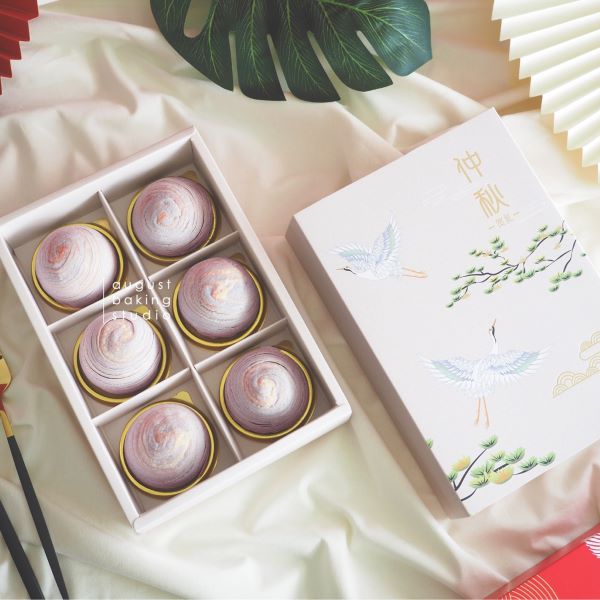 Love the lotus paste in traditional baked mooncakes but prefer a flaky crust? August Baking Studio gives you the best of both worlds with their Teochew Mooncake Gift Set (available on August Baking Studio). You can choose between white lotus seed paste, pandan lotus seed paste, red bean paste, sesame paste as well as orh nee. Or, simply get them all with the assorted box! These mooncakes are individually packaged, which prolongs their freshness so you don't have to binge them in a rush. Priced at less than $50 for a box of six, this orh nee mooncake gift set is one of the most affordable yet presentable options you can find!
8. Gim Tim Crispy Pure Yam Mooncake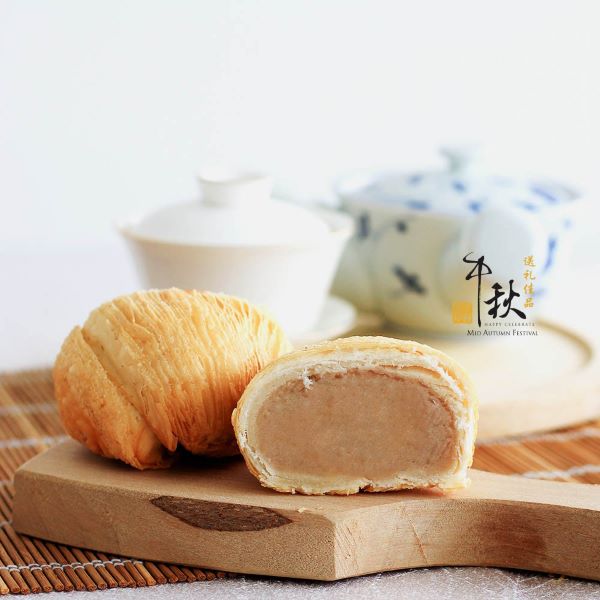 Nestled within the heartlands of Ang Mo Kio lies Gim Tim Restaurant, which specialises in Hokkien and Cantonese cuisine. As we inch towards the Mid-Autumn Festival each year, many regulars will flock there for their well-reviewed Gim Tim Crispy Pure Yam Mooncake (available on Gim Tim). Meticulously handcrafted from scratch, these mooncakes do not disappoint orh nee lovers with their aromatic pure yam paste. Flavours are infused through boiling and deep frying the yam in shallot oil before processing, which makes it extra fragrant. For more variety, they also offer options with sweet potato and egg yolk!
The Gim Tim Crispy Pure Yam Mooncake has been especially well received amongst the older generation due to its low sugar content. If you're looking for a gift for your ahma and ahgong, this best Teochew yam mooncake in Singapore might be your best bet!
9. Y
à
n Thousand Layer Yam Mooncake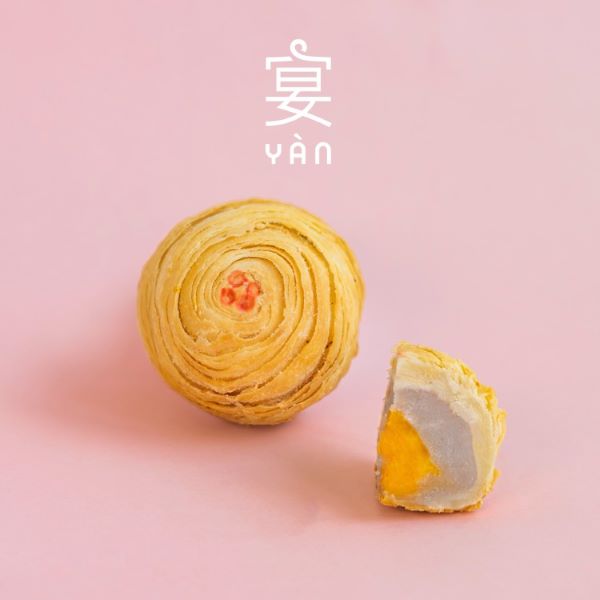 One of the most important things about yam mooncakes is its crust — and the Thousand Layer Yam Mooncakes (available on Yan Official Store) hits all the right notes. The paper thin swirls of pastry are buttery, crispy, and not too oily. Enveloped within is a generous amount of smooth, earthy yam paste that has just the right amount of sweetness. This makes it one of the best yam mooncakes in Singapore. If you're a fan of having egg yolks in your mooncake, you can also get Yan's Thousand Layer Yam Mooncake with Single Yolk (available on Yan Official Store). 
If you're getting this as a gift, you can choose between three different packaging options. The Bamboo Tote is a handwoven basket that holds four boxes of mooncakes wrapped in a red cloth. You can reuse it to store your barang for future picnic trips! For gifting elderly relatives, the Get-Together box is most suitable as it has carvings of Chinese auspicious phrases. Alternatively, for a box of two, you'll get the box with prints of fabric embroidery. These yam mooncakes are available for self-pickup from 31st August to 21st September 2021, so go get them ASAP!
Best snowskin yam mooncakes in Singapore
10. Pine Garden Snow Skin Yam Paste Mooncake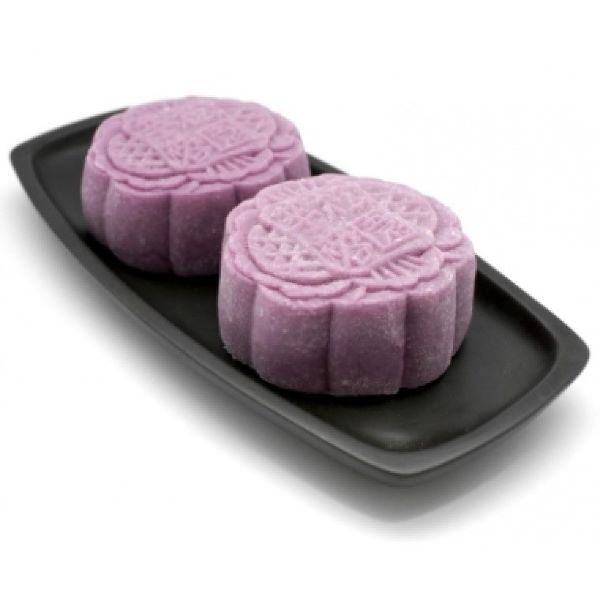 Team snowskin? We've got you covered with yam snowskin mooncakes too! Get the Snow Skin Yam Paste Mooncakes (available on Pine Garden) from heartland boutique bakery Pine Garden for a delectable treat this Mid-Autumn! Wrapped in purple, mochi-like snowskin is their homemade orh nee that is soft and creamy. They are steamed instead of fried, which makes this a healthier option to indulge in. If you can't get enough of yam, you can also buy their Yam Orh-Ni Chiffon Cake (available on Pine Garden) for birthday celebrations!
11. Swensen's Sweet Spot Mochi Ice Cream Yam Mooncake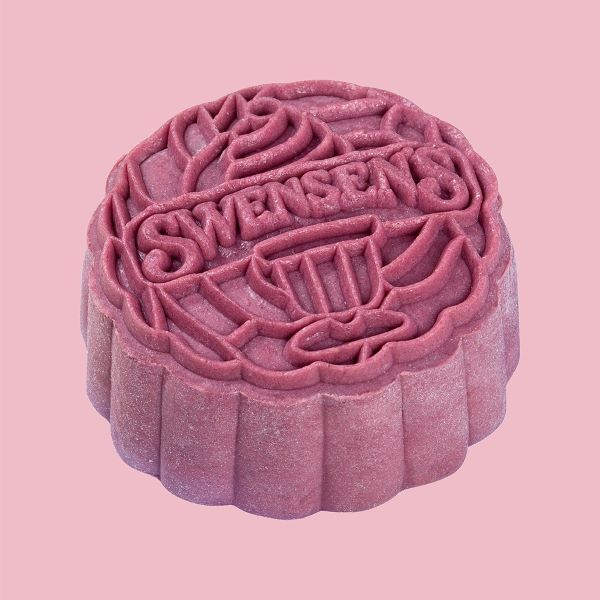 While the best Teochew mooncakes may be delectable, many others relish in cold, refreshing snowskin ice cream mooncakes. If that's you, you can get your orh nee fix while beating the heat with Swensen's Sweet Spot Mochi Snowskin Ice Cream Mooncakes (available on Swensen's)! They come in a set of four with other hit flavours from Swensen's such as sticky chewy chocolate, cookies 'n' cream and strawberry! 
12. August Baking Studio Taro Yam Lotus Snowskin Mooncake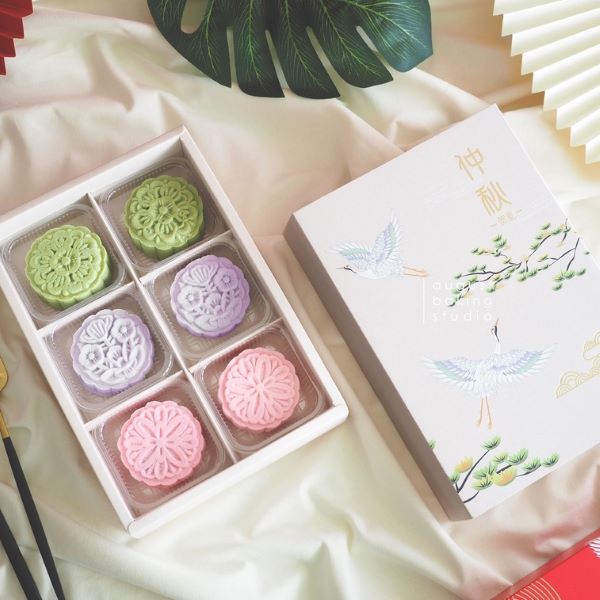 Trying to cut down on your sugar intake? The August Baking Studio Taro Yam Lotus Snowskin Mooncake Gift Set (available on August Baking Studio) is only lightly sweetened. Plus, they're bite-sized and easy to share, so you can enjoy them in smaller doses. Apart from yam, you can also mix and match other delicious flavours like matcha green tea and azuki red bean! These mooncakes are best served chilled with a good cup of tea. 
Feast on the best Teochew yam mooncakes in Singapore this Mid-Autumn
Can't wait to dig into the best yam mooncakes in Singapore? Start ordering them early at the Shopee Mooncake Fair for exclusive deals and flash sales! Apart from orh nee mooncakes, check out the best durian snowskin mooncakes in Singapore!  Have a knack for DIY? Try your hand at making your own cute lanterns with your kids for a fun bonding activity this Mid-Autumn!