From mini skirts and mini lipsticks, to mini bags – going small is a trend that's here to stay! But other than the cutesy aesthetic, there's also the hassle of carrying around bulky makeup products. So why not opt for some of the best mini lipstick selections in Singapore to tide you through quick touch ups while you're on the go. Now, you never need to worry about your lipsticks not fitting in your pouches and mini puffer bags! 
Best mini lipsticks in Singapore: Matte finish
1. Clé de Peau Mini Lipstick Set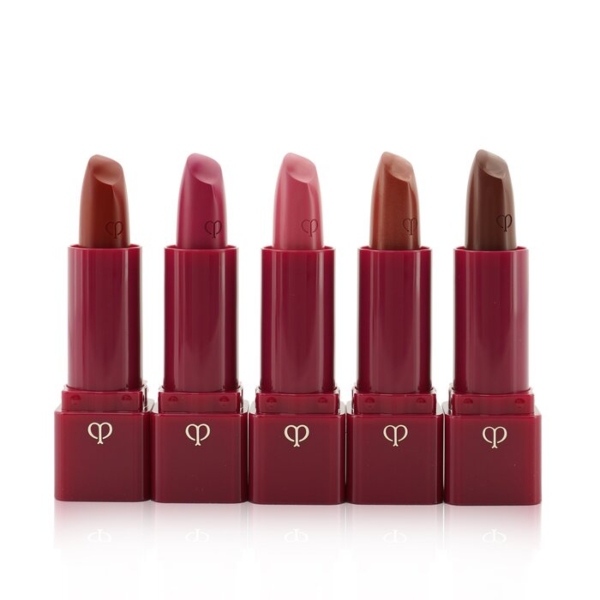 We're starting off strong with the Clé de Peau Mini Lipstick Set (available on Strawberrynet SG Official Store), a limited edition series that includes a total of five lip shades. On one hand, the shades Legend of Rogue and Relentless Rose dry off with a silky, matte finish that's sure to add fullness and dimension to your lips! On the other hand, Flair For Fuchsia, Camellia, and Beguiling Brick will give your lips a natural, satin finish. The satin shades in this Clé de Peau mini lipstick set looks and feels hydrating, because they contain Bio-Hyaluronic Acid and Vitamin E that helps your lips retain their moisture – don't worry, they're dermatologically tested too! 
But the cherry on top is definitely the exquisite packaging this Clé de Peau mini lipstick set comes in. Its maroon, almost wine-red cases are adorned with illustrations of forest animals like a fox, rabbit, and even a robin. These are also accompanied by gold and pink prints of cherry blossoms and butterflies –how exquisite is that? These Clé de Peau mini lipsticks are definitely one of the best and most versatile mini lipstick sets to get in 2023!
2. Gucci Mini Rouge à Lèvres Mat Matte Lipstick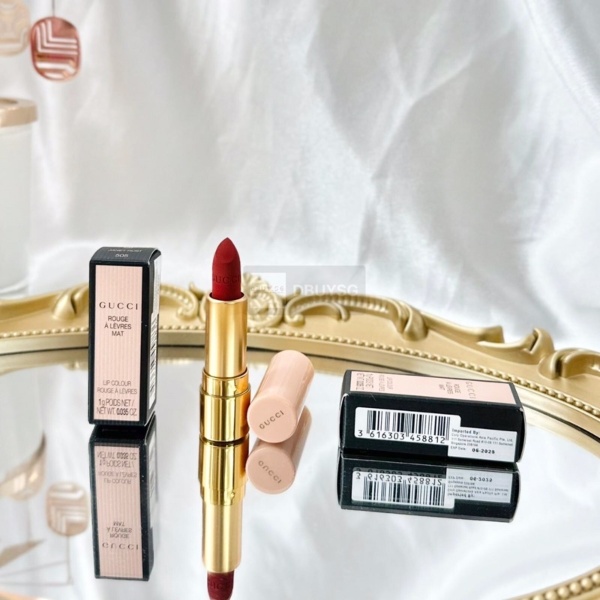 The Gucci Mini Rouge à Lèvres Mat Matte Lipstick (available on DBUYSG Official Store) is another designer makeup item that you can now get in travel size! Out of Gucci's best selling lipsticks, the Gucci Mini Rouge à Lèvres Mat Matte Lipstick provides you with the most pigmented and intense coverage, as well as a velvety matte finish. It's easy to apply, adheres well to your lips, and is long-lasting. This Gucci mini lipstick also comes in two flattering shades, namely Goldie Red and Janet Rust that will always give you perfect pouts.
From your pocket to a shoulder bag, this Gucci mini lipstick can easily fit anywhere due to its compact size. It's also perfect for travel, as they take up less space in your bag. If you've been planning to invest in a quality designer lipstick, but can't bear to use them everyday, this Gucci product is certainly the best mini lipstick for you!
3. Rouge Dior Couture Color Mini Lipstick 999 Velvet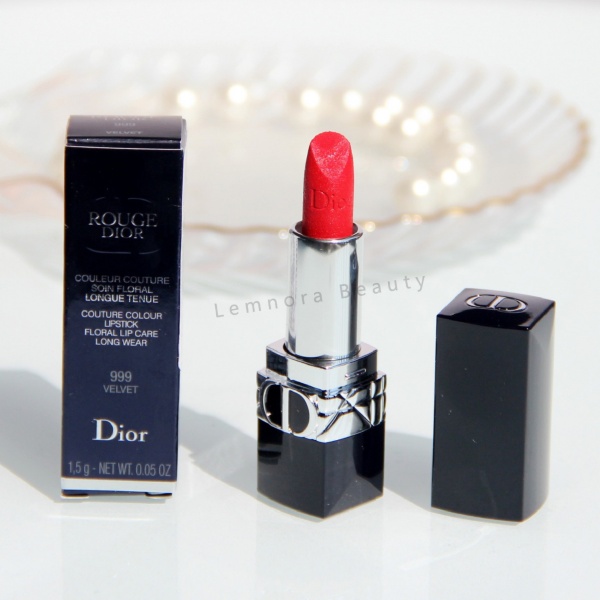 Coming in Dior's signature 999 shade, the Rouge Dior Couture Color Mini Lipstick 999 Velvet (available on Lemnora Beauty SG) is a flattering mini lipstick that can complement everyone. The Dior 999 lipstick is  a relatively cool-toned red shade that has a touch of orange – suitable for both warm-tone and cool-tone girlies! This Dior mini lipstick also dries down to give you a matte finish that's absolutely pigmented and sultry.  It's therefore no surprise that this is one of the best mini lipsticks in Singapore to help you attain that timeless look. 
4. Derol Star Lipstick
This next mini lipstick set looks something like a blend between origami paper lucky stars and Haribo's Starmix candies. Thanks to TikTok, these Derol Star Lipstick (available on YOUNG MAKEUP.sg) have become somewhat of a mini sensation due to its intriguing shape and how value-for-money it is. Not only is it extremely affordable, it's also extremely long-lasting! These Derol star lipsticks are adorable and come in colourful, star-shaped cases. Their fun designs will definitely make you and your friends go ooh la la!
When it comes to their quality, these star lipsticks feel exceedingly silky. It's as if they're melting right into your lips. Plus, they come in six wearable matte shades. While Caramel, Strawberry, and Milk Coffee are more cool-toned, the Tomato shades, and Peach are warmer and coral-like in tone. There's no question that these  are definitely some of the best mini lipsticks in Singapore to get this 2023!
5. Derol Capsule Lipstick
Like the Derol Star Lipstick (#4), here's another best mini lipstick that's going to make you say "TikTok made me buy it"! Just like its name suggests, the Derol Capsule Lipstick (available on YOUNG MAKEUP.sg) has a packaging that's designed like actual capsule pills. But what sets these mini capsule lipsticks apart from their star-shaped cousins is how they have a wider variety of shades – 16, in fact! From nude pinks and corals to sultry reds, the myriad of lipstick shades will  leave you spoilt for choice. But the up-side is how you can easily find a shade to match any outfit. The best thing about these capsule lipsticks is how they're only about 3cm in length. That's even smaller than AirPods. You'll easily impress your friends with this mini lipstick that's not just practical but also oh-so-adorable!
6. Fujiko Mini Airy Dip Powder
Fujiko's Mini Airy Dip Powder series is a line of mini lipsticks that easily catches your eye with its aesthetic frosted cases and neutral shades. Coupled with their miniature size, these cases are also designed like LEGO building blocks, where you can stack and fix them on top of one another! How cool is that? You can easily get to all the Fujiko Mini Airy Dip Powder lipsticks in your bag without having to fumble in locating them! 
While the Fujiko Mini Airy Dip Powder 01 Red (available on Guardian SG Official Store) comes in a warm red shade that most might go for, the Fujiko Mini Airy Dip Powder 03 Beige (available on Guardian SG Official Store) will give your lips a more yellowish-nude tone. However, do note that due to how unconventional the shade is, the 03 Beige mini lipstick might perform differently on varying skin tones. So if you're up for something different or simply preparing for an adventurous night out, there's no doubt that this Fujiko mini lipstick is the one to rely on.
Best mini lipsticks in Singapore: Glossy finish
7. EXCEL Lipnized
Whether you're going for something youthful and bright, or sultry and vampy, the EXCEL Lipnized (available on Excel エクセル SG Official Store) is one of the best mini lipsticks in Singapore that's got you covered. Choose from six shades: Happy End, Teenager, Morning Call, Marry You, Sentimental, and Home Chic, that are all extremely wearable. These EXCEL lipsticks boast a balm-like and buildable formula that glides onto your lips with ease. You can thus layer this lipstick with a lip tint or even a pigmented lip oil to achieve a gradient look! The EXCEL Lipinized series is also one of the best mini lipsticks in Singapore this 2023 if you want something lightweight and convenient to bring around. At just 2g, these lippies come in miniature tubes that'll barely occupy any space in that cute little handbag!
8. NOVO 4 Colors Liquid Lipstick
NOVO definitely doesn't disappoint when it comes to aesthetically-pleasing packaging. Just take a look at these lipstick cases – tell me they don't look like tiny porcelain pastel-coloured mushrooms. Known for makeup products that are glittery, youthful and bright, the brand fits right into the realm of douyin and manhua-inspired makeup. In fact, their NOVO 4 Colors Liquid Lipstick (available on YOUNG MAKEUP.sg) will give you lips so glossy and luscious that you'll look as ethereal as a manhua goddess. This mini lipstick might be small, but it doesn't compromise on quality And of course, we're talking about how pigmented the formula is! Coupled with the fact that it has a liquid consistency that easily glides onto the lips, there's no doubt that this is one of the softest and therefore the best mini lipsticks in Singapore this 2023!
9. DHC Dense Moisturizing Touch-Up Lipstick
DHC is a  skincare brand that's known for products like face wash, eye creams, collagen gels, supplements, and more. Specifically, the DHC Deep Cleansing Oil (available on Watsons Singapore Official Store) that uses natural oils to remove dirt and impurities from your skin. But did you know that they also have some of the best mini lipsticks in Singapore? The DHC Dense Moisturizing Touch-Up Lipstick (available on S3Beauty Flagship) is a hybrid between a moisturising lip balm and a glossy lipstick. 
What is the appeal of mini lipsticks compared to regular ones?
What's so good about going small? The product is lighter, and most definitely easier to bring along for the day because it takes up less space. In fact, there's a higher chance of you actually being able to finish the product before it expires or starts to dry up. Talk about maximising the mini!  With mini lipsticks, you're basically getting your favourite or ideal lipsticks – same formula and all – but just smaller in size. And if you think about it in girl maths, mini lipsticks are technically cheaper, which allows you to splurge on more shades or brands! 
If you're worried about the variety and performance of mini lipsticks, they glide on just as easily. For the types of finishes you can expect, matte or glossy ones are common, while satin finishes might be harder to find. Many of these lipsticks also have at least three to five shades in their collection, so you don't have to worry about your options!
A little goes a long way with these best mini lipsticks
Most people are used to lip balms and regular lipsticks, which is why you might not have expected there to be so many mini lipstick options out there. The star and capsule lipsticks are definitely things that are out of the box, as well as proof that there's always something fresh and intriguing in the realm of fashion and beauty. If you're curious about our other makeup recommendations, check out the best Korean lip tints and the best Chinese makeup brands.