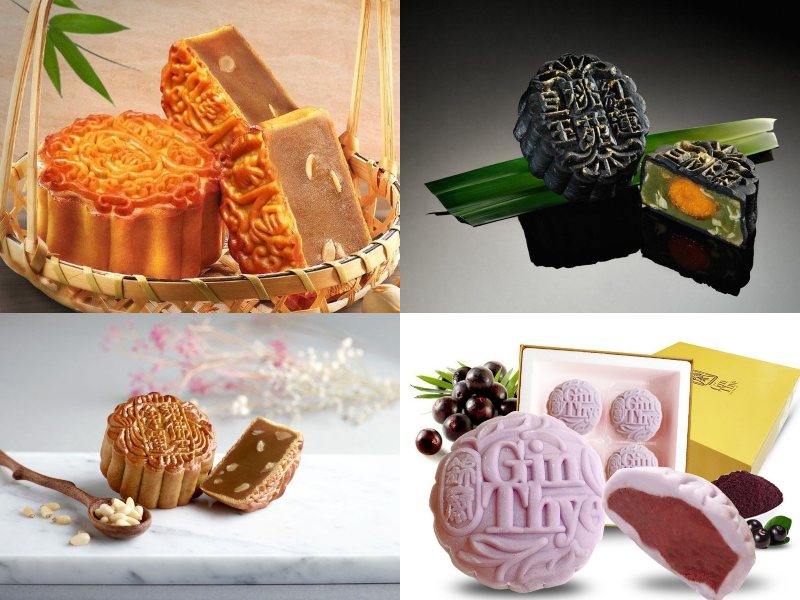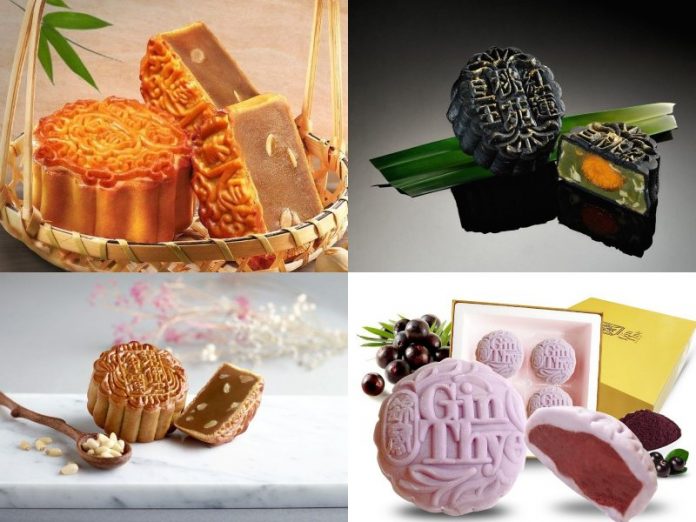 Low-sugar mooncakes. Now, is there even such a thing? If you're looking forward to feasting this Mid-Autumn 2020 but want to keep a trim waist, consider these healthy mooncakes that are less sweet but just as delicious. From mooncakes with nuts, acai berries and even vegetarian durian mooncakes, indulge in yummy mooncake flavours without adding on to your waistline or having to worry about chionging for gym classes post-festival!
Where to get healthy and low-sugar mooncakes?
1. Raffles Hotel Singapore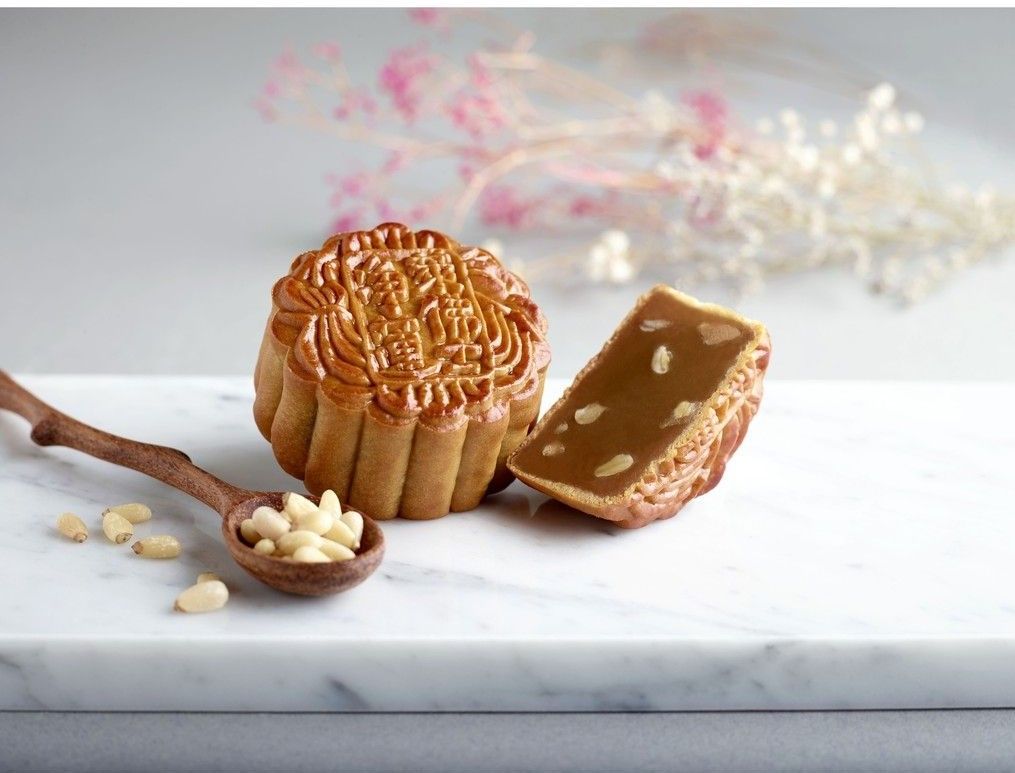 Raffles Hotel's signature Champagne Truffle Snow-Skin Mooncake may be the star of every year's collection, but their Pine Nut with Macadamia Nuts and White Lotus Paste Baked Mooncake (both available on Raffles Hotel Singapore Mooncake) is a treat for the health conscious. Both pine nuts and macadamia nuts are rich in healthy fats and can lower the risk of heart disease. Together with the smooth and creamy white lotus paste, this is one of the best healthy mooncakes to enjoy with your grandparents this year!
2. Hong Kong Mei Xin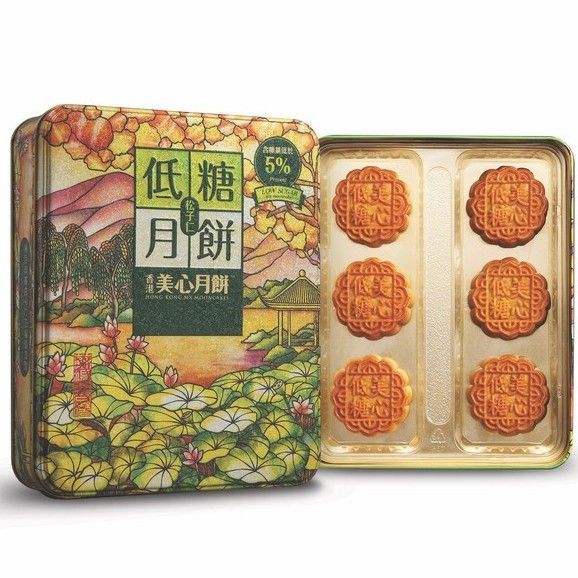 Think less sugar means less tasty? Think again! Hong Kong Mei Xin is an award-winning mooncake company that distributes mooncakes from Hong Kong to all over the world. Its 6pcs Low-Sugar Mooncake with Pine Nut (available on Hong Kong MX Mooncakes) contains maltitol — a sugar substitute that has lower effects on blood glucose levels and is diabetic-friendly. Despite that, Maltitol is still able to duplicate the same level of sweetness of sucrose so you won't be left with a bitter aftertaste. These baked mooncakes are topped off with crunchy pine nuts too — for an extra dose of healthy!
3. Gin Thye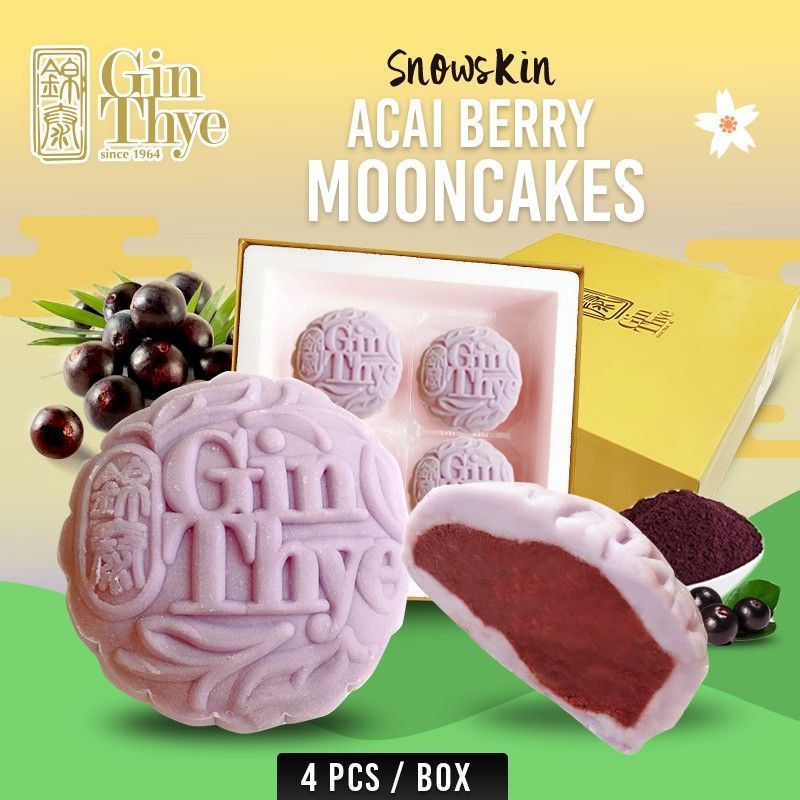 Exotic flavoured mooncakes are always the rage and Gin Thye didn't disappoint with its lineup. Their Acai Berry Snowskin Mooncakes (available on Gin Thye) is a glorious harmony of tradition, taste and a superfood. Acai berries fruit is rich in fatty acids, low in sugar and loaded with numerous antioxidants — more so than other berries. Gin Thye uses the finest Acai from Sambazon Brazil and wrapped in purple snowskin made from acai powder. If your teenagers are picky about the traditional mooncakes, then they'll surely be intrigued by this healthy and very millennial mooncake variety!
4. Peach Garden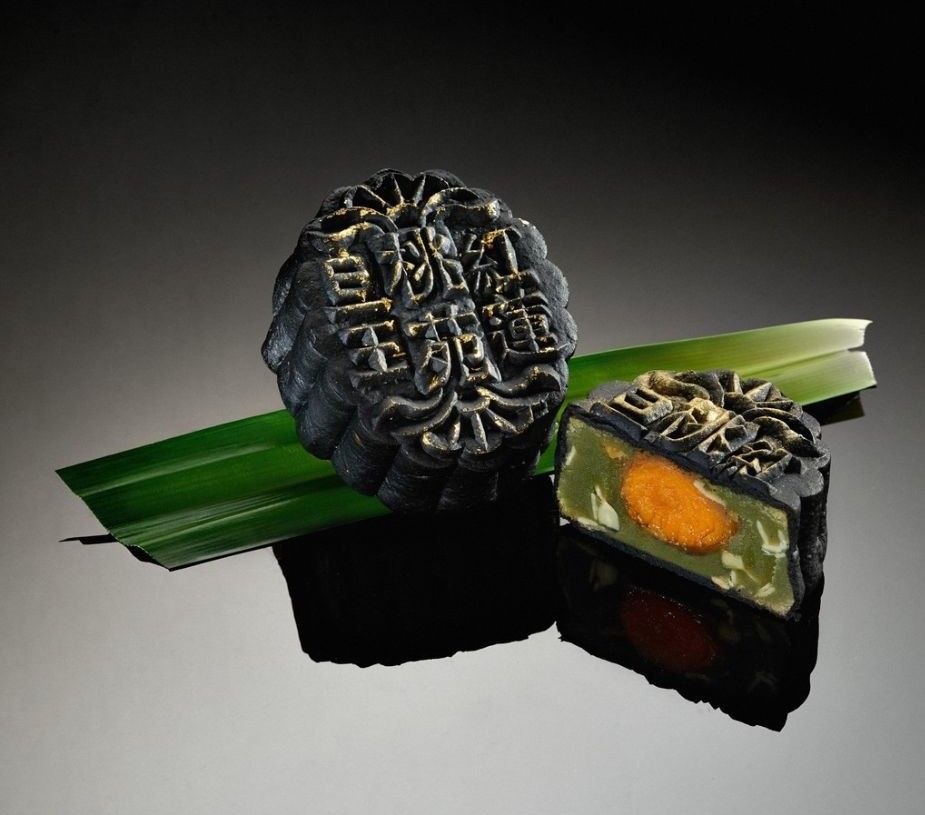 Isn't this mooncake just exquisite? You're looking at Peach Garden's signature Golden Pandan Paste Mooncake with Single Yolk (available on Peach Garden Official Store). This low-sugar mooncake pays ode to local flavours while managing to strike a healthy balance. The single yolk is also good news for those keeping a tab on their cholesterol levels. Pair this gold-dusted treat with unique tea flavours for a refreshing mid-afternoon treat!
5. My Mum's Cookies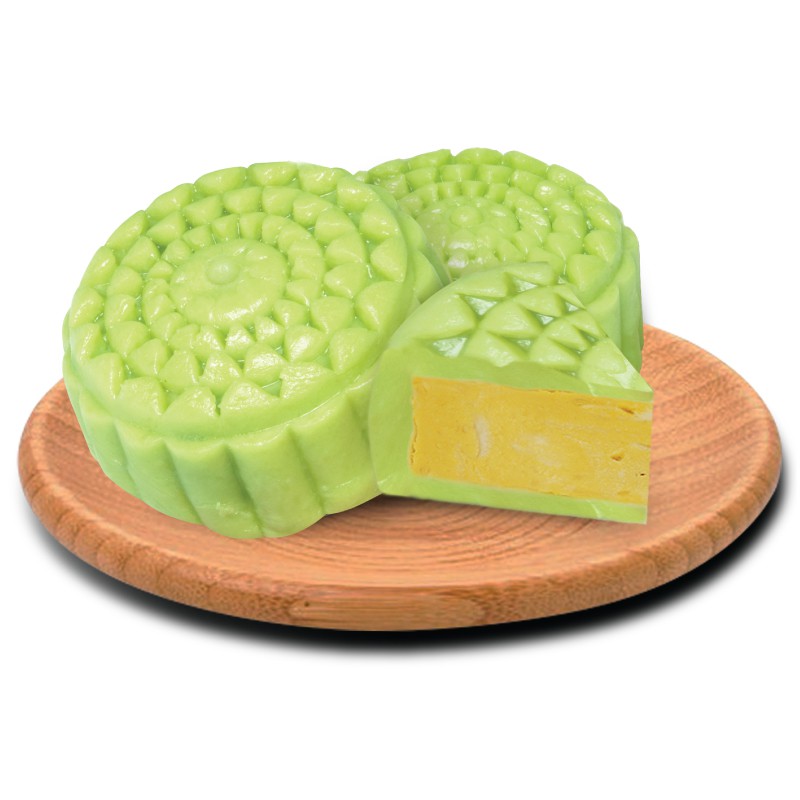 My Mum's Cookies doles out healthy durian mooncakes variety perfect for the young and old members of your family. Their Mao Shan Wang Durian Mooncake (available on My Mum's Cookies) are made from 100% premium durian flesh and have no added cream, preservatives nor sugar. This is also a vegetarian mooncake variety and uses vegetable oil instead of lard in its filling. If you're catering moocakes for your Muslim friends, this is one halal and healthy mooncake variety to get your hands on!
6. Shangri-la Hotel Singapore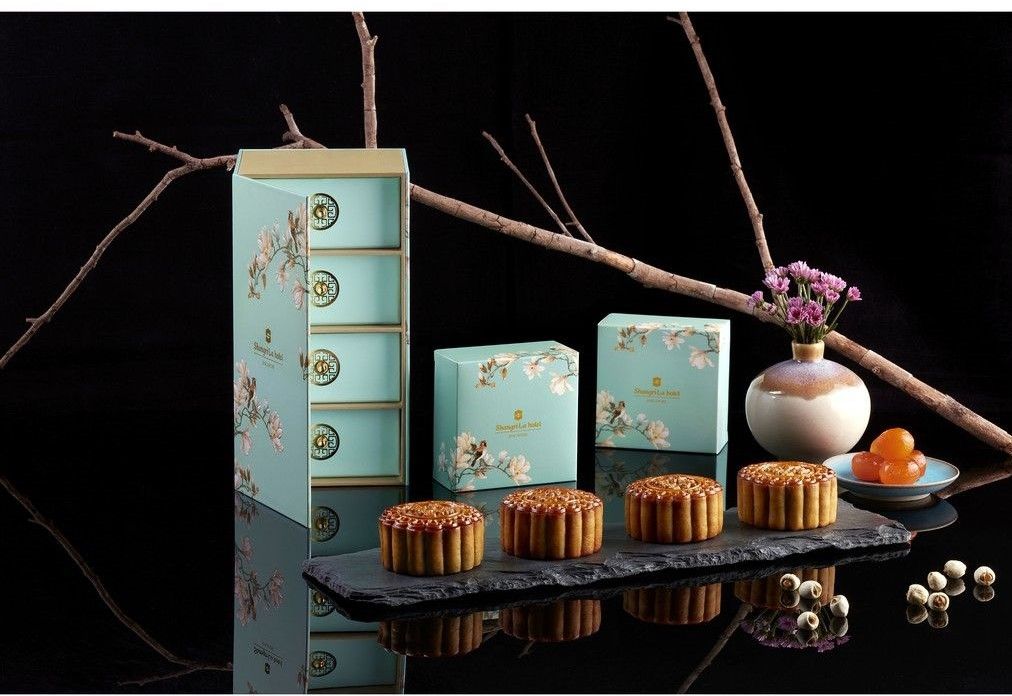 Not a big fan of the kaleidoscope of mooncake favours? If you're a purist who believes a mooncake party should have double yolked mooncakes through and through then Shangri-La's decadent Double-Yolk White Lotus Paste Mooncakes (available on Shangri-La Hotel Singapore) will not disappoint. Sink your teeth into these low-sugar mooncakes and savour the taste of the classic lotus paste without worrying of adding inches to your waistline. It doesn't also hurt that you get a pretty mooncake box design with each order. A perfect gift for your in-laws perhaps?
7. Bee Cheng Hiang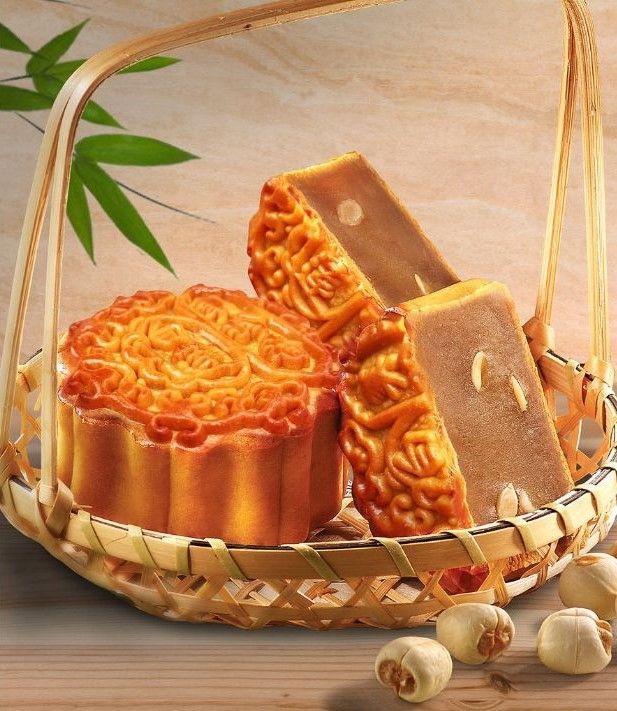 Bee Cheng Hiang is not only known for its crispy and addictive bakkwa but can serve up healthy local snacks if the occasion calls for it too. Their glistening Plain White Lotus (Low-Sugar) Mooncake (available on Bee Cheng Hiang Official Store) is filled with plain white lotus paste, peppered with lotus seeds and made with less sugar. Taste is not compromised either so you get a mix of the yummy mooncake taste albeit less sweet with every single bite. Pair it with an oolong tea (available on Imperial Selections) for a refreshing flavour that'll not overpower the rich taste of the white lotus.
Have a joyful and healthy Mid-Autumn Festival!
We hope you're excited to try this year's healthy and low-sugar mooncake varieties and will enjoy the time feasting with your family. A little tempted? This round up of the best traditional mooncakes and best durian mooncakes in Singapore will satisfy all your (full sugar) cravings. Just remember to go easy and eat in moderation.
Make Mid-Autumn festival just as fun for your little ones with these cute DIY lanterns for kids. It's great for bonding time and your kids will be able to parade their beautiful lanterns around the neighbourhood with pride.