Can't get enough of the creamy goodness of durians but hate dealing with the aftermath of a messy durian feast? Why not indulge in durian-based desserts instead! With all the flavour and none of the inconvenience, durian desserts in Singapore are becoming increasingly popular. This is more so as many durian cafes in Singapore craft new and exciting treats to try! From durian mochi to durian kueh salat, these are our picks for best durian desserts in Singapore!
Best durian desserts in Singapore for durian diehards
1. Sunlife Durian Puffs & Pastries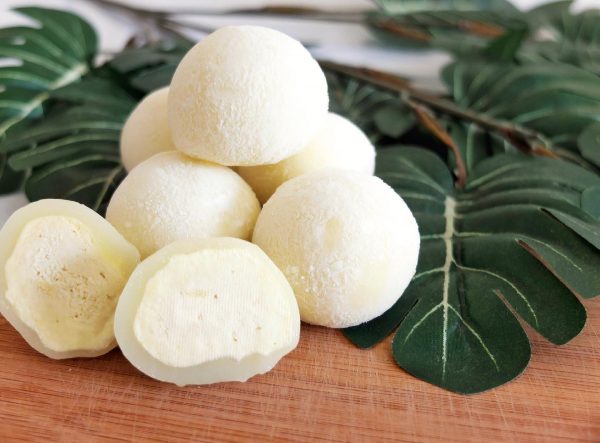 Sunlife Durian Puffs & Pastries sure has come a long way since its initial mom-and-pop-shop days! Unlike most durian desserts in Singapore, Sunlife has kept their durian desserts in Singapore affordable while still offering a myriad of durian delights. If we had to pick just one, we'd go with their D24 durian mochi (available on Sunlife Durian Puffs & Pastries). With this dessert, Sunlife draws inspiration from the chewy goodness of Japanese mochi! By wrapping the aromatic D24 durian puree within a soft and round casing, you'll be done with these bite-sized snowballs in no time. Make sure you use ShopeePay and get these pint-sized desserts at the best price!
*Do note that the voucher is only viewable on mobile
Address: 1 Woodlands Square, #B1-K10, S(738099)
Opening Hours: Daily, 10am – 10pm
2. Goodwood Park Hote
l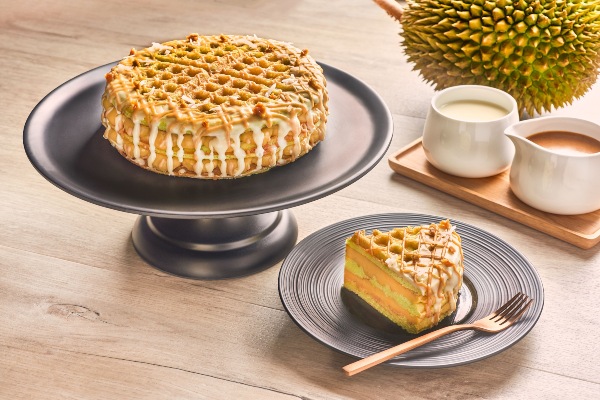 When it comes to the best durian desserts in Singapore, we have to mention Goodwood Park Hotel's annual Durian Fiesta. Besides being wowed by their signature mousse cakes and puffs, this year's all-new D24 Pandan Waffle Cake also deserves recognition! By combining pillow-y pandan waffles with generous layers of D24 durian pulp, durian fans will love Goodwood Park Hotel's take on this classic local bakery treat. Add to this cake some caramelised coconut sauce and gula melaka coconut crumble, and you have a winning combination that'll surely satisfy anyone with a sweet tooth!
Address: 22 Scotts Road, S(228221)
Opening Hours: Daily, 11am – 7pm
3. The Quarters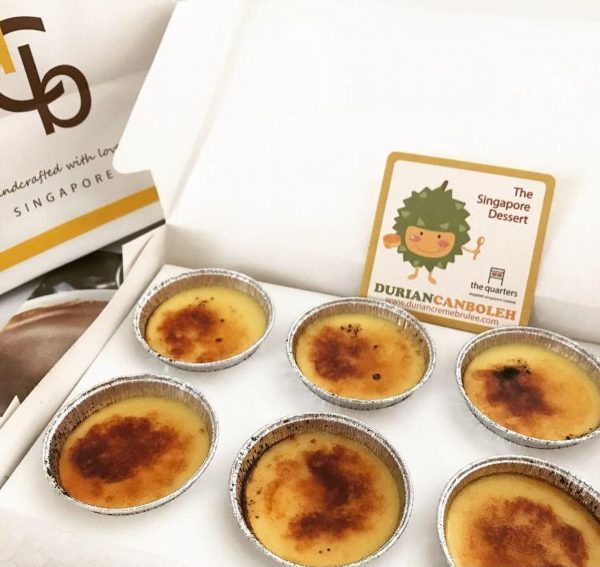 As a champion of the modern-Singaporean cuisine movement, The Quarters certainly deserves credit for being one of the more recognisable durian desserts in Singapore! Chef Deming's Duriancanboleh is best described as crème brûlée with an Asian twist. Durian lovers will love how the sweetness of the natural richness of mao shan wang (MSW) durian complements the original dessert. The end result is a mouthful of creamy custard goodness that's thick, bitter and durian-rich!
Address: Icon Village, 16 Enggor Street, #01-09, S(079717)
Opening Hours:
Tue: 10am – 4pm
Wed – Sat: 10am – 10pm
Sun: 11am – 9.30pm
4. Durian Lab Cafe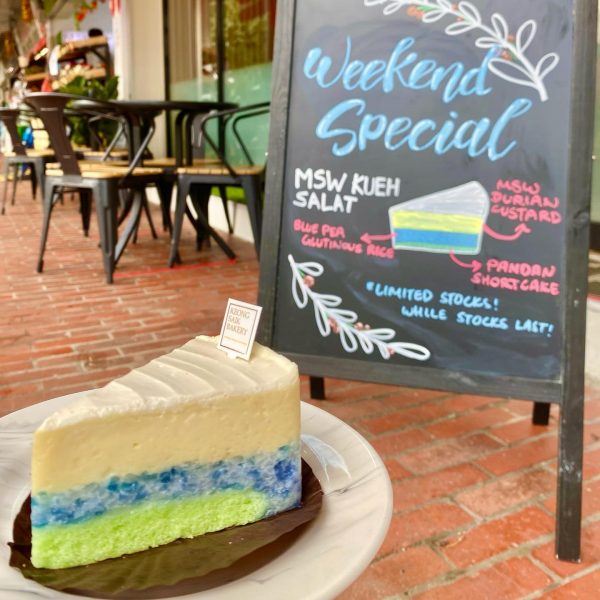 Did you know Durian Lab Cafe is related to Ghim Moh Market's Ah Seng Durian? They've lent their expertise with their very own durian cafe in Singapore! Recently, they've collaborated with Keong Saik Bakery to deliver a bunch of mouthwatering durian desserts in Singapore! Durian lovers will appreciate the addition of MSW durian mousse as the cake is a double take of the original Mama's Kueh Salat. As previously mentioned, we love desserts that mesh pandan with durian so we'd recommend this MSW Kueh Salat in a heartbeat! If you're worried about the combination being too sweet, don't fret. The cake's additional blue pea glutinous rice rounds out the cake nicely with its savoury aftertaste.
Address: 119 Bukit Merah Lane 1, #01-22, S(151119)
Opening Hours: Tue – Sun: 12pm – 10pm
5. DurianBB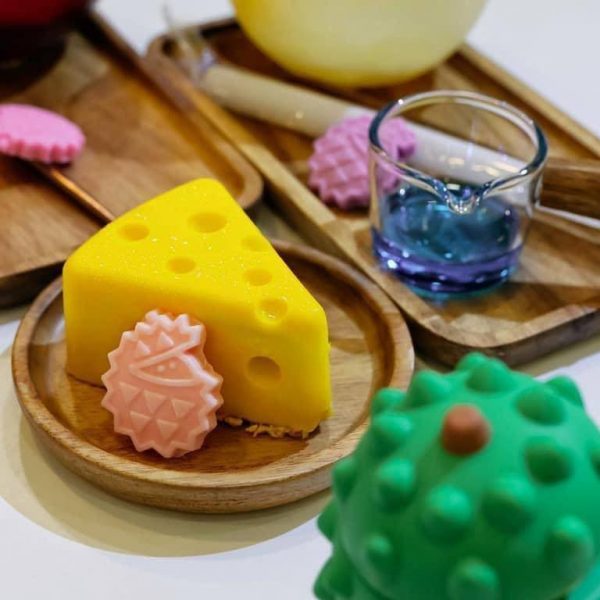 While they originally started out as a Malaysian durian farm, DurianBB have a made a name for themselves as go-to durian cafes in Singapore. Since branching out their cafe and retail arms, they now specialise in treats that celebrate the king of fruits! Of all the durian desserts in Singapore, DurianBB's Mousetrap certainly takes the cake. Far from being your average no-bake cheesecake, Mousetrap looks like it's ripped straight out of a cartoon with its yellowish white chocolate shell that makes the cake look like a Swiss cheese slice. Crack open the hard exterior and you'll discover a creamy MSW durian filling that'll satisfy the hardiest of durian fans!
Address: 462 Crawford Lane, #01-65, S(190462)
Opening Hours: Tue – Sun: 1pm – 10pm
6. Lokkee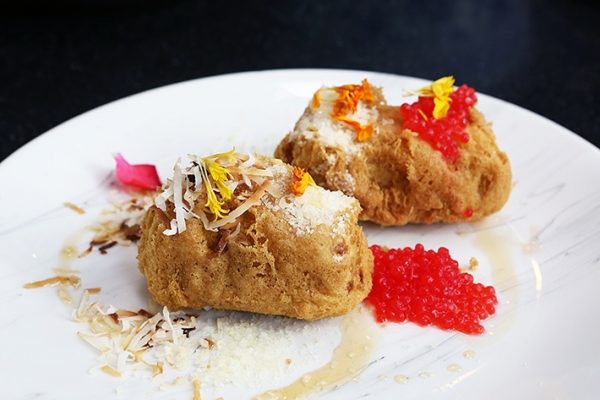 To one up the best durian desserts in Singapore, Lokkee has gone one step further by using deep-frying to differentiate themselves from the competition. Look beyond the novelty of it being a fried dessert and you'll discover a sweet treat that assaults your taste buds on multiple fronts. After you take that first crunchy bite, warm duran filling oozes out, resembling that of a durian lava cake! For extra pizzazz, this savoury dessert is also decorated with strawberry popping candy, flower petals, and coconut flakes.
Address: Plaza Singapura, 68 Orchard Road, #03-01, S(238839)
Opening Hours: Daily, 11am – 3pm, 5.30pm – 10pm
7. Gin Thye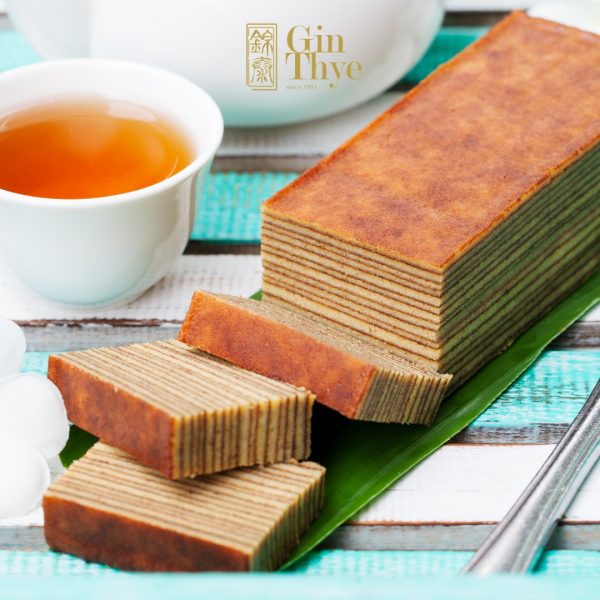 Gin Thye is the most recognisable name there is out there when it comes to traditional Chinese cakes and confections! Among their various durian desserts in Singapore, we'd recommend their MSW kueh lapis (available on Gin Thye)! On its own, their kueh lapis finds the sweet spot between sweet and savoury despite its rich amounts of eggs and butter. By throwing in a dollop of MSW durian, the durian's natural sweetness comes through and helps to balance out the strong taste and smell of spices!
Address: 427 Sembawang Road, S(758394)
Opening Hours:
Mon – Sat: 8am – 8pm
Sun: 8am – 3pm
Indulge in these creamy durian desserts in Singapore
From durian waffle cakes to durian crème brûlée, your mouth will definitely be watering with these unconventional durian desserts in Singapore! Interested in finding out what else we offer? Browse through our collection of durian listings for fresh durian and durian-based desserts. If you're thinking of organising a durian feast, get your durian delivered straight to you with these best durian delivery services in Singapore. Alternatively, you can also consider our durian cake recipe ideas if you're thinking of getting creative when baking.