Just when you thought the battle for best bubble tea in Singapore was done and dusted, veterans like HeyTea enter the market to once again stir up the Singaporean craze for bubble tea. From Instagrammable brown sugar milk teas to unique takes on cheese teas, here are our candidates for the best bubble tea brands in Singapore!
Best bubble tea brands in Singapore
1. Hee Tea – Guangzhou's other popular bubble tea shop
https://www.instagram.com/p/BlKHym3HAgb/
If you're up for something different, Hee Tea has you covered! Branding controversy aside, we're going to give credit where it's due — Hee Tea's Super Four Seasons Fruit Tea ($6) definitely deserves praise for providing a bao ka liao option for value-seeking Singaporeans. 
By including a vast variety of fresh fruit chunks like passionfruit, strawberry and calamansi, the refreshing beverage gains a much-needed tinge of sweetness that successfully balances out the oolong tea's bitterness!
Flagship Outlet Address: Chinatown Point, 133 New Bridge Road, #B1-46, S(059413)
Opening Hours: Daily, 11am – 9.30pm
2. R&B Tea – A different form of brown sugar bubble tea
https://www.instagram.com/p/BfiMCKeHVWc/
If you thought brown sugar fresh milk couldn't get any better, R&B Tea's take on this will have you swooning with excitement! Their Brown Sugar Boba Milk With Cheese Brûlée ($4.80) has been taking social media pages by storm. Many cheese tea fans claim this to be one of the best bubble tea in Singapore. 
Featuring chewy tapioca pearls and rich fresh milk from Meiji as the base, the beverage is topped off with cream cheese to create a perfect sweet and salty balance. What's also noteworthy is how R&B Tea takes great pride in the quality of their drinks, especially with their slow-cooked brown sugar tapioca pearls creme brûlée glaze that's specially imported from Taiwan!
Flagship Outlet Address: 10 Bayfront Avenue, The Shoppes at Marina Bay Sands, #B2-50, S(018956)
Opening Hours: Daily, 11am – 10pm
3. HeyTea – The original mastermind behind Cheese Tea
https://www.instagram.com/p/BqEnzv6g7qK/
Who could've predicted that a quirky logo depicting a man drinking would have created such a mass following? HeyTea's first overseas shop is in Singapore and it has been warmly welcomed by avid fans who're more than willing to wait in line. If you're a tapioca pearls fan, you might want to look away: every item except for the Very Strawberry Cheezo comes without the chewy bubbles.
For the uninformed, the King Fone Cheezo ($5.50) is HeyTea's most popular option and is widely considered by many fans as one of the best bubble tea in Singapore! Leveraging on their wealth of cheese tea brewing experience, the New Zealand-imported cheese foam blends nicely with the subtle bitter undertones of oolong tea, making every sip savoury without the feeling of mouth dryness.
Address: ION Orchard, 2 Orchard Turn, #B4-29, S(238801)
Check out their other locations here
Opening Hours: Daily, 10am – 10pm
4. I Love Taimei – The Northern Lights in a cup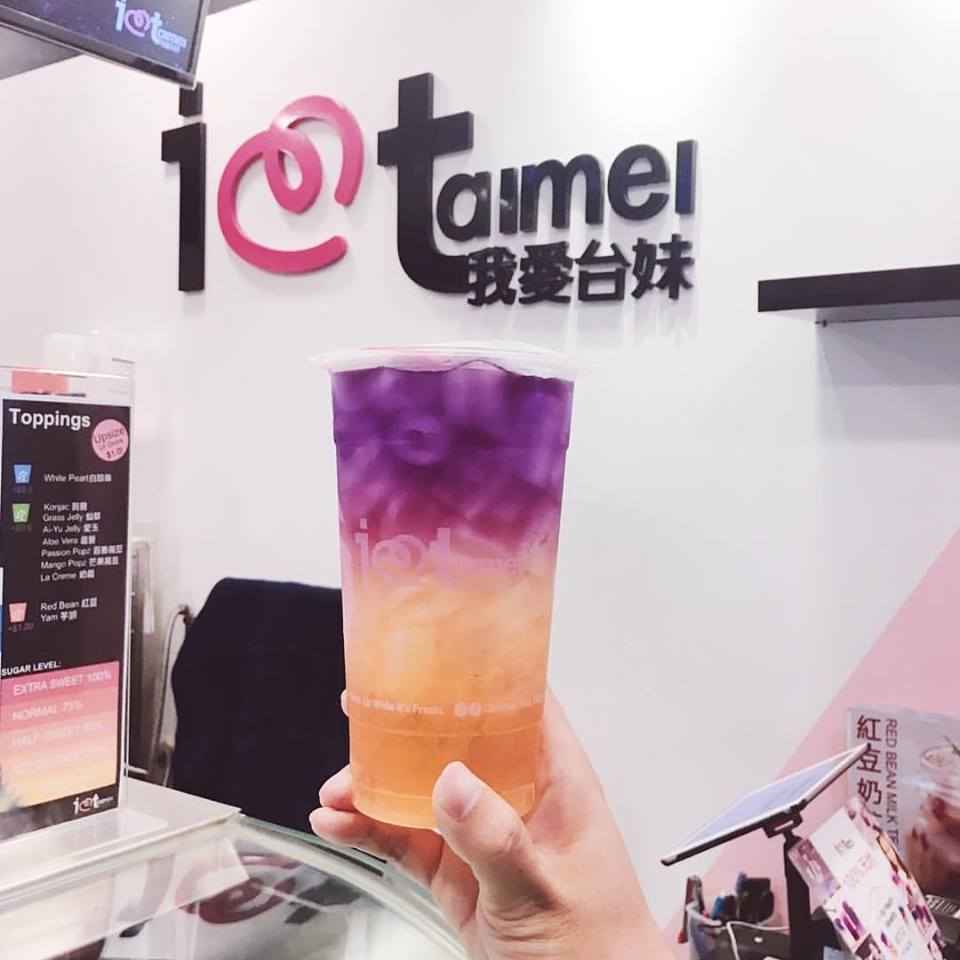 I Love Taimei is a familiar brand for most Singaporeans and has been serving up hearty Taiwanese street food portions since 2009. To keep things fresh, they've recently turned towards butterfly-pea flower tea to draw in new customers!
Inspired by the Aurora Borealis, you can now savour the Northern Lights ($4.90) in your hands! For those with a sweet tooth, this is right up your alley as it features mango Sprite and pearls filled with mango juice. With variating shades depending on the acidity of the drink, this series is surely in the running for best bubble tea in Singapore for aesthetically pleasing beverages.
Address: Bugis Junction, 230 Victoria Street, #B1-K11, S(188024)
Check out their other locations here
Opening Hours: Daily, 11am – 10pm
5. Bobii Frutii – Pastel pearls to light up any Instagram feed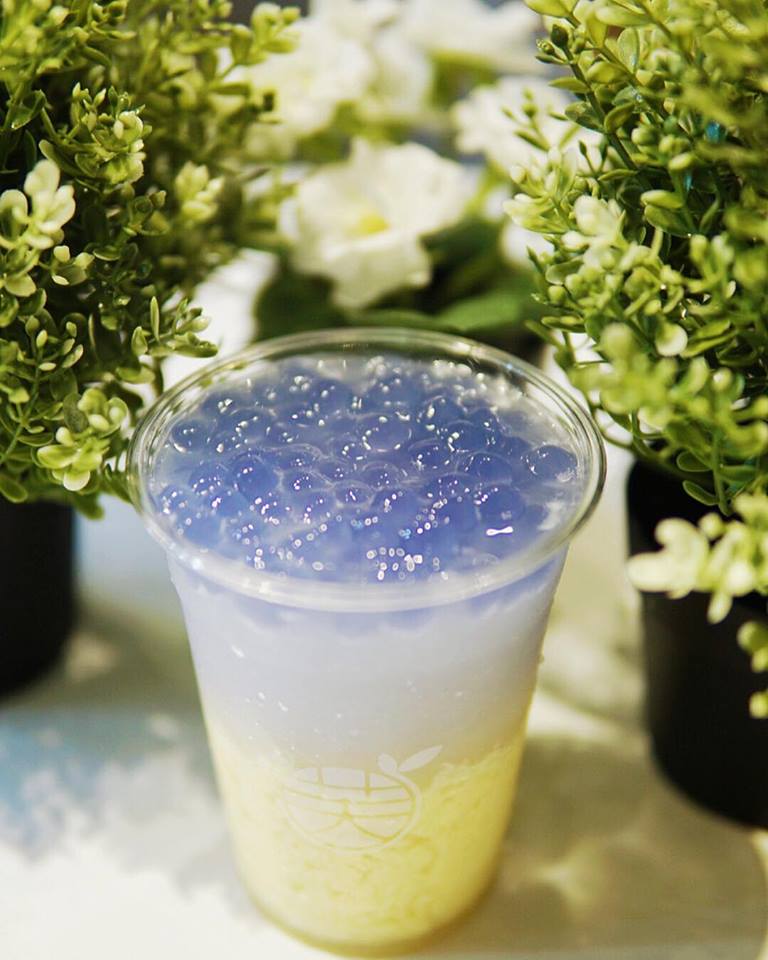 Spearheaded by local celebrity Nat Ho himself, Bobii Frutii markets itself as a bar with non-alcoholic cocktails! Their creativity and love for bubble tea shows for itself in the many flamboyant and vibrant options offered. The star of the show here is the visually-pleasing pastel pearls!
In Nat Ho's eyes, Mermaid Tears ($5.90) is the best bubble tea in Singapore and is well worth your money. Aside from its intricate layering, the drink tastes as wild as it looks, combining the acidity of lemon with the sweetness of mango and honey to cause an explosion of flavours in your mouth!
Address: The Clementi Mall, 3155 Commonwealth Avenue West, #04-K4, S(129588)
Check out their other locations here
Opening Hours: Daily, 10am – 10pm
6. Woobbee – Breaking bubble tea boundaries
https://www.instagram.com/p/Bjyzxzjn7x-/
As new entrants attempt to penetrate the bubble tea market, it's becoming increasingly tough for brands to differentiate themselves from the competition. To give its drinks an advantage, Woobbee uses the Pei Pa Koa cough medicine that we grew up with as a main ingredient for their bubble tea. 
The HerbalMint Milk Tea ($4.10) is a sweet beverage that gives peppermint tea a run for its money. Given that Pei Pa Koa is a divisive ingredient, you definitely have to try it for yourself to understand why we think it qualifies as one of the best bubble teas in Singapore. Interestingly, Woobbee has been serving this minty concoction since 2013 but it's only recently that this drink gained traction among bubble tea fans.
Address: Tanjong Pagar Plaza, 1 Tanjong Pagar Plaza, #01-18, S(082001)
Check out their other locations here
Opening Hours: Mon – Fri: 10.30am – 7.30pm
Sat: 11am – 5.30pm
7. CHICHA San Chen – Customisable tea base, flavour & toppings
https://www.instagram.com/p/B2nmuzOARue/
Hailing from Taichung, Taiwan, CHICHA San Chen has shot to fame for its high-quality tea leaves. Not convinced? They have their own tea mountain, a team of professional tea tasters and tea roasters. That surely adds to their credentials as they vie to be the best bubble tea brand in Singapore.  
The tea leaves go through stringent controls. For instance, the tea base Dong Ding Oolong Tea ($3.20)  holds more than 1,000 custom settings and three-stage temperature control techniques all to bring out the best flavour of the tea. 
CHICHA San Chen's popular drinks are the classic Bubble Milk Tea ($4.50) and Fresh Milk With Brown Sugar Bubble ($5). We're trusting these guys to make our bubble tea right! 
Address: 313@Somerset, 313 Orchard Road,  #03 – 41, S(238895)
Check out their other outlets here
Opening Hours: Daily, 11am – 10pm
Bubble tea vouchers to get more bang for your buck
With the prices of bubble tea inching closer to its Starbucks counterpart, each cup can add up and cause a dent in your wallet. Here's how you can fuel your addiction at some of the best bubble tea stores in Singapore without busting your budget. 
1-for-1 Large Brown Sugar Milk Tea by Kecha (Jcube)
https://www.instagram.com/p/B2qcIEYHq-d/
The menu here covers classics like Earl Grey Milk Tea to butterfly pea drinks and unique concoctions such as Pandan Tea Latte and Pink Matcha. But for a luxurious treat, how about a large cup of Brown Sugar Milk Tea? Singapore is definitely in the grips of all-things brown sugar, with the marble swirls as an icon of a brown sugar beverage. Devoted followers should get this 1-for-1 Kecha milk tea voucher, stat. 
Address: Jcube, 2 Jurong East Central 1, #02-65, S (609731)
Opening Hours: 11am-10pm
1-for-1 on all beverages by Hi Tea (Far East Plaza)
https://www.instagram.com/p/Bd4Fr_1l2O-/
Hi Tea is where genuine tea lovers flock to for the beauty of a cold-brewed blend. The process of cold brewing is slower but also purer. It results in a smoother tea profile and a less bitter aftertaste. Fruits are cut upon your order and no artificial fruit syrups are used. Keep them on your radar, especially with this 1-for-1 Hi Tea voucher. 

Address: Far East Plaza, 14 Scotts Road, #01-14B, S (228213)
Opening Hours:
Mon – Thurs: 11.30am – 10.30pm
Fri & Sun: 11.30am – 11pm
Sat: 11.30am – 11.30pm
1-for-1 large bubble tea by Hollin (Suntec City)
https://www.instagram.com/p/BnXwRtInCsH/
True pearl connoisseurs would know that tapioca pearls are more than just a tasty import from Taiwan. At Hollin, these tea artisans go above and beyond to concoct seven pearl flavours for bobo lovers. Apart from the usual honey white pearls, look out for coffee, matcha, strawberry, sesame, peanut, rock salt and cocoa flavoured pearls too. The next time your boba craving kicks in, get this 1-for-1 bubble tea voucher from Hollin!

Address: Suntec City, 3 Temasek Boulevard, #02-605/605A, S(038983)
Opening Hours: Daily, 11:30am-10pm
Bubble tea novelty items to tickle your fancy
For the boba aficionados, there are other ways to express your love for this beverage too. Once you've tried some of the best bubble tea in Singapore, how about stocking up on these cute bubble tea inspired merchandise?
Pearl Milk Tea Ambient Light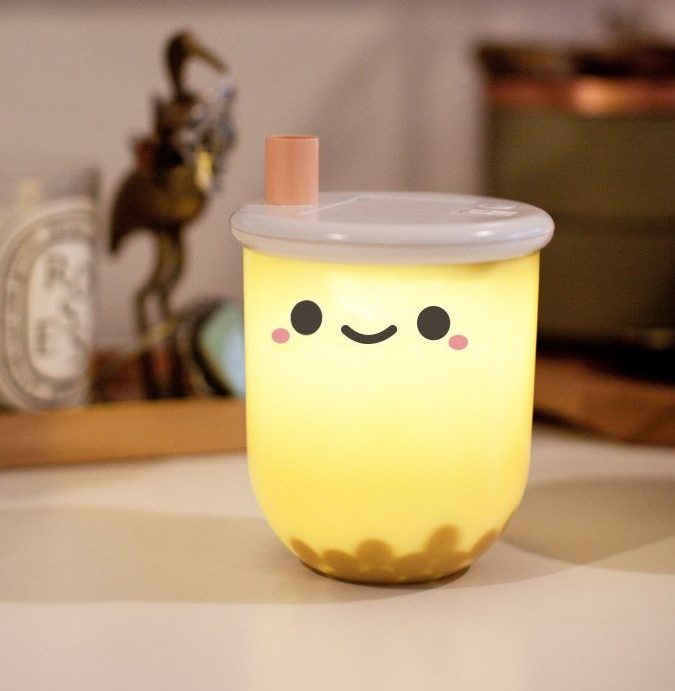 This bubble tea ambient light (available on Smoko) will be sure to put a smile on your face — after all, it looks exactly like a cup of bubble tea complete with boba balls! It definitely makes for a bright welcome addition to your bedside table or work desk.
Pearl Milk Tea Tumbler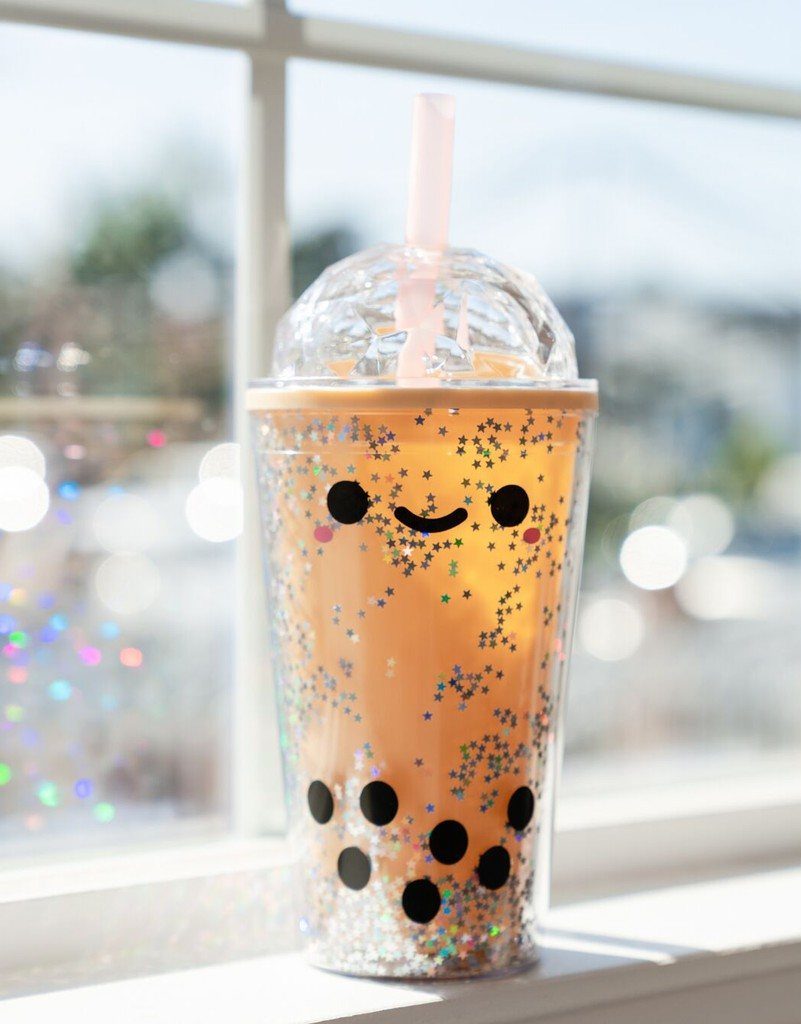 This tumbler is out to get hearts. You'll ditch the disposable cups in a heartbeat if you have a cute milk tea tumbler (available on Smoko) like this one. It even has a larger straw so you can use it to suck up the bubble tea pearls without struggling!
Pearl Milk Tea Airpods Case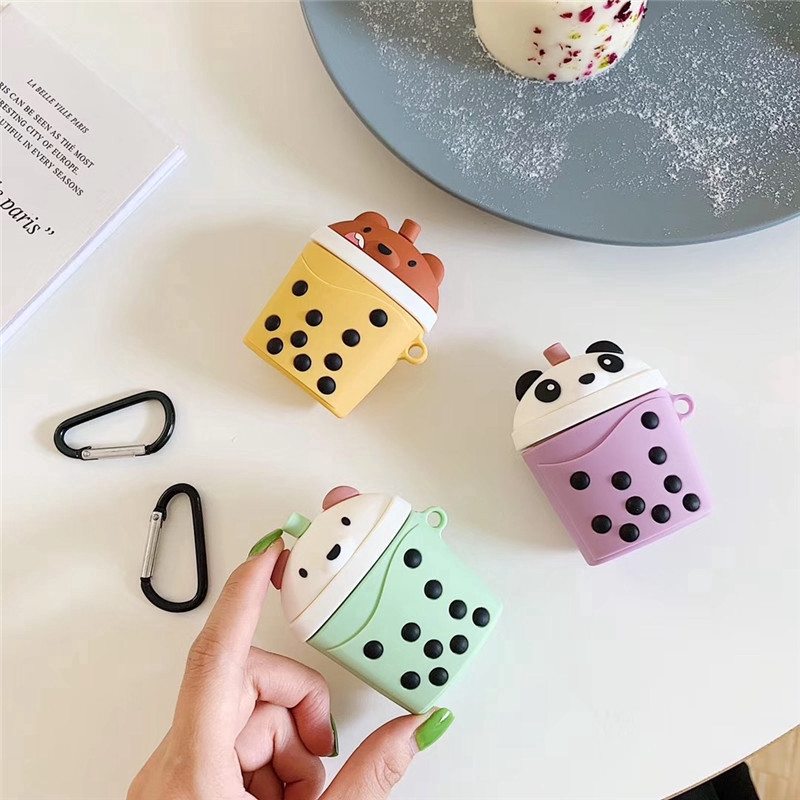 There's no better place to store your airpods than in these adorable milk tea airpods cases (available on BTS BT21). Bonus for the We Bare Bear fans too! They make the perfect gift, so go ahead and impress your friends with this cute find! 
Looking for more ways to brighten up your Instagram feed? Why not visit the locations listed in our guide to the most Instagram-worthy places in Singapore. Also, if you're in the mood of treating yourself, here are our favourite ice cream shops that we think everyone should try!
---
New to Shopee? Get $7 off (min. spend $15) with code*: BESTBOBA
* TNC Applies. Valid for new users from 28 Dec to 4 Jan only.