<![CDATA[An organised vanity table can make all the difference to your mood and the makeup looks you create. If you find yourself uninspired when you settle down in front of your vanity table, maybe it's time to spice things up and reorganise your vanity table with the following makeup organiser ideas!
1. Acrylic makeup organisers
Do you gain satisfaction from a row of perfectly lined lipsticks? If so, these
acrylic makeup organisers
will send you to cloud nine! They come in different shapes and sizes to hold every makeup product you own and allow for a clear view of all your makeup items, making it much easier to reach for your favourite lipstick! Display them on your vanity table, or slide them into drawers as dividers for storing various products!
[embed]https://www.instagram.com/p/BoWCu8kn1Aj/?utm_source=ig_web_copy_link[/embed]
2. Cake stands
Despite its name,
cake stands
can be brought beyond the kitchen counter and onto your vanity table to as a makeup organiser for your beauty products, perfumes and jewellery. Pick a
tiered cake stand
, or a
bird cage cake stand
to stylishly display your precious beauty loots!
[embed]https://www.instagram.com/p/BogoK91gnXG/?utm_source=ig_web_copy_link[/embed]
3. Makeup trays
Even if you aren't the most organised person when it comes to your makeup collection, you might just want to do it for the gram. Embellish your vanity table with exquisite
gold trays
or
marble trays
 which double up as great makeup organisers! They help to segregate your new loots from the old ones, making your vanity table picture-perfect from every angle! 
[embed]https://www.instagram.com/p/BoZ3y0MA6MQ/?utm_source=ig_web_copy_link[/embed]
4. Rotating makeup organisers
A
rotating makeup organiser
provides 360 degree access to all your beauty products! With at least 3 tiers of shelves that can be customised according to your preference, rotating makeup organisers have more than enough space to contain all essential makeup items of a beauty junkie! This functional product also allows you to adjust the shelves to different heights to accommodate beauty products of various shapes and sizes.
[caption id="attachment_20289" align="aligncenter" width="650"]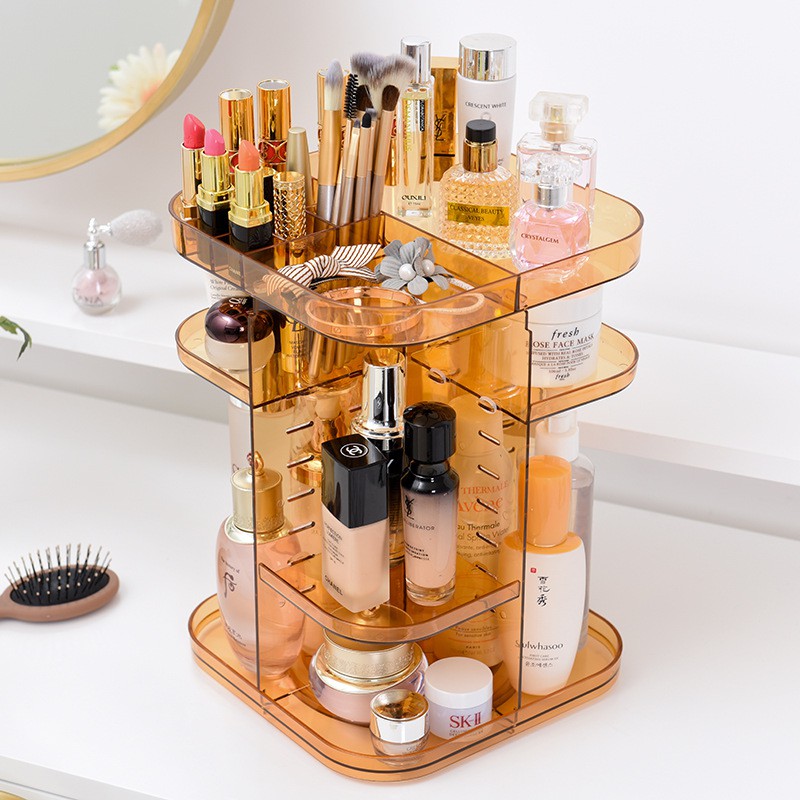 (Credit:
heshilai.sg
)[/caption]
5. Pegboards
Running out of space on your vanity table? Expand your makeup storage space with
pegboards
! Simply attach them to the walls above your vanity table for additional storage. Add hooks, shelves, and even containers for all your makeup! This makeup organiser is absolutely customisable so you can switch things up whenever your collection grows bigger!
[embed]https://www.instagram.com/p/BoY094TBKsK/?utm_source=ig_web_copy_link[/embed]
6. Grid wall rack 
Similar to pegboards,
grid wall racks
create more space for your makeup! Secure a grid wall rack to the wall above your vanity table and add grid baskets or hooks to hold your beauty items!
Pro tip:
Too many eyeshadow singles to organise? Simply stick an
adhesive hook tag
on the back of each eyeshadow and hang them on your grid wall rack! Not only are you able to free up space on your vanity table but this makeup organiser hack will also allow you to get a better view of all the shades you own!
[caption id="attachment_20295" align="aligncenter" width="746"]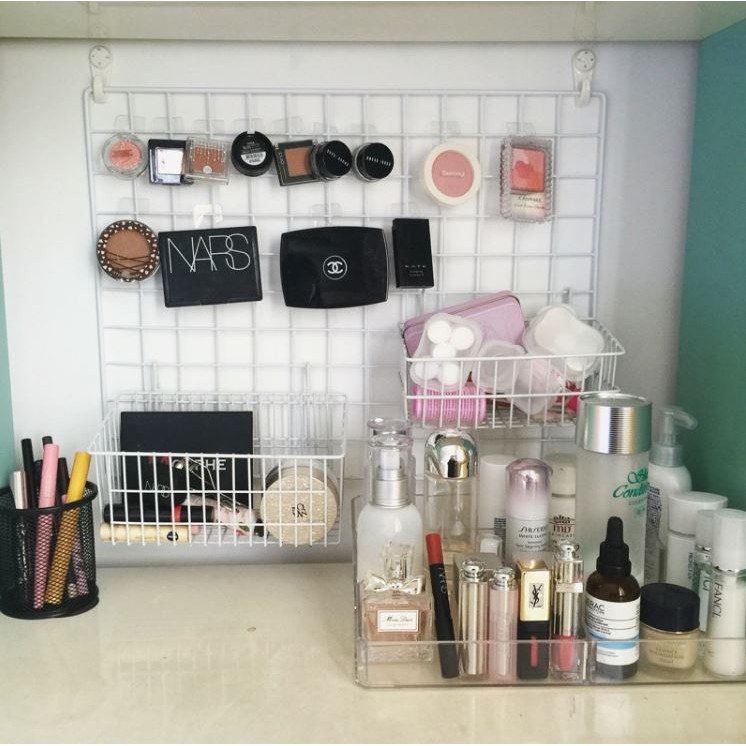 (Credit:
figolive
)[/caption]
7. Empty candle jar
If you're a fan of scented candles, here's an easy way to transform your leftover candle jars into makeup organisers! After you're done with your large jars of
Yankee candles
or
Bath & Body Works candles
, don't toss them away! Simply pour boiling water into the jar to clean out the leftover wax and wipe the entire jar down with rubbing alcohol. Thereafter, fill half the jar with
glass beads
and you've got yourself a stylish new makeup organiser for your
makeup brushes
!
[embed]https://www.instagram.com/p/BjUnueRDahO/?utm_source=ig_web_copy_link[/embed]
8. Mirror storage
You can benefit from multi-purpose storage solutions if your vanity table is tight on space. Instead of equipping your vanity table with a boring ol'
mirror
, why not get one that boasts a built-in storage!
Mirror storage
 mirrors can hold some of your daily essentials, helping to reduce your morning prep time!
[caption id="attachment_20296" align="aligncenter" width="650"]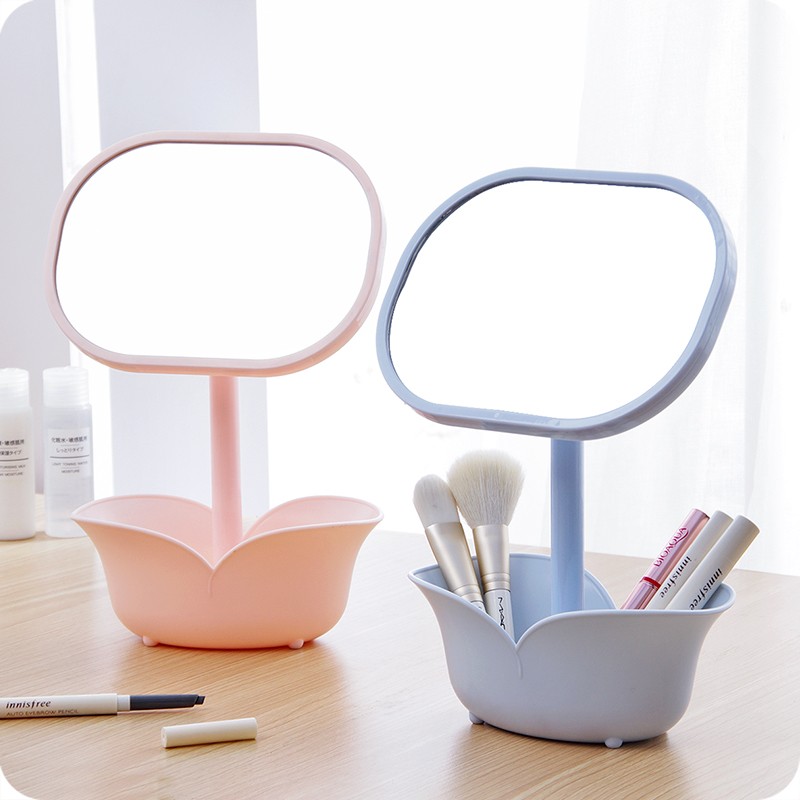 (Credit:
eisenyuanxp111.sg
)[/caption]
9. Vases
Vases
or
planters
are other great storage alternatives for your makeup brushes! They keep your fluffy brushes upright, minimising damage to their bristles. Aside from makeup brushes, vases make spacious makeup organisers that can be used to store your
eyeliner
,
eyebrow pencil
and
mascaras
. These small tubes can be hard to find when left in a pile of clutter on your vanity table so organise them in a vase for easier access!
[embed]https://www.instagram.com/p/BmF7nuFgPs5/?utm_source=ig_web_copy_link[/embed]
10. Magnetic palettes
If you have an overwhelming collection of individual pressed shadows, you should consider depotting them to save space. Depotting involves removing the eyeshadow pan from the external packaging.
Depending on the brand of eyeshadow you're depotting, you can remove the eyeshadow pan either by pushing a needle through a small hole below the packaging (usually concealed underneath the label) or heating up the packaging over a flame and wedging the eyeshadow pan out of its container.
Thereafter, store your individual eyeshadow pans in a
magnetic palette
, which comes in many designs and sizes to suit your taste. If your eyeshadow pans are not magnetic, it's best to attach
magnet sheets
behind each pan.
Pro tip:
Remember to attach eyeshadow labels on the back of the pan so you don't have to worry about forgetting their names!
[embed]https://www.instagram.com/p/BotrjzWhZz3/?tagged=makeuporganizer[/embed]
11. Magnetic makeup board
Find yourself tearing your hair out every time you look for a product on your messy vanity table? Spare yourself the trouble with a magnetic makeup board! Similar to the pegboard and grid wall rack, a magnetic makeup board displays your products neatly, promising to reduce your prep time by half! 
Attach a strong
magnetic memo board
to the wall, and stick magnet sheets behind the products you want to display on the board. This works for all makeup products such as brushes, eyeshadows and
compact powders
.
Pro tip:
Personalize this makeup organiser by wrapping it in colourful fabric or
wrapping paper
! You can also add embellishments to the board to match your vanity table!
[embed]https://www.instagram.com/p/BLhw7Y0gZO9/?utm_source=ig_web_copy_link[/embed]
Pick the storage ideas that match your needs best and start expanding the space on your vanity table! If these storage solutions do not work for you then it's probably time for you to declutter and clear out old and expired makeup products!
For those who have successfully organised their vanity table, it's time to fill up the excess space with new makeup goodies! Discover more holy grail
makeup products raved by Singaporeans
as well as eyeshadow palettes you should buy as
replacements for the discontinued Urban Decay Naked palette
! Need more creative ideas to organise your home? Find out how you can create storage space using Lego bricks!
---
New to Shopee? Get $8 off (min. spend $18) with code*:
CNYCLEAR
* TNC Applies. Valid for new users from
17 to 20 Jan
only.]]>