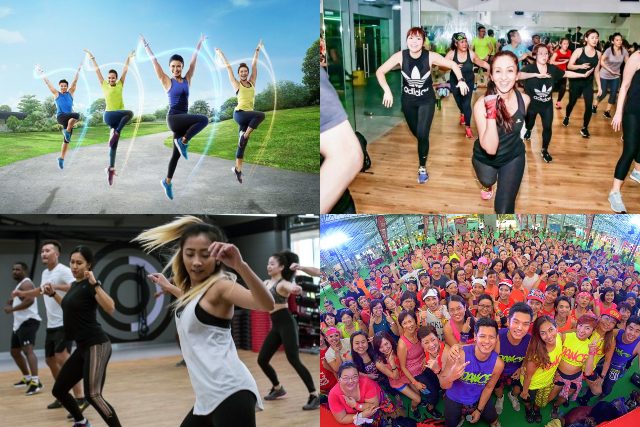 Looking for fun ways to get active this new year? Why not give Zumba a shot! You can think of Zumba as a dance fitness exercise that provides a full-body workout. It incorporates dance moves from styles like salsa, reggaeton, cumbia and more to create exciting routines that go well with your favourite pop tunes. Moreover, this simple cardio and aerobic workout is guaranteed to burn calories and build strength as well as musicality for people of all ages. Read on for the various free and paid Zumba classes in Singapore to kickstart your new year! 
Free Zumba classes in Singapore
1. Mall Workouts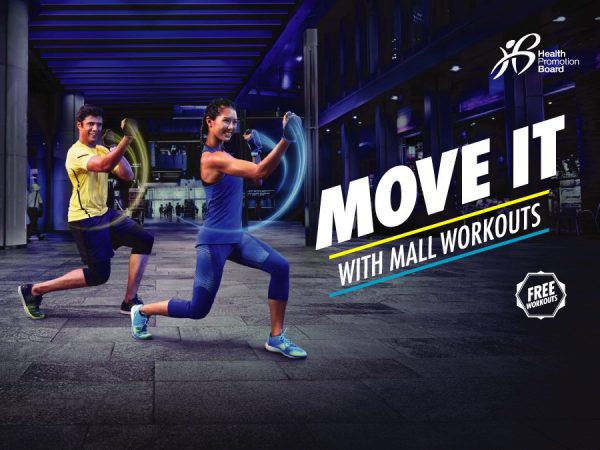 Rather go shopping than the gym? Well, now you can kill two birds with one stone by attending one of the mall workouts after your retail therapy! Did we also mention that they are absolutely free to attend? Yup, you heard us right! Now you can experience the joy Zumba has to offer without worrying about the cost! 
Organised by the Health Promotion Board (HPB), you can experience different types of exercises at the mall workouts held in over 40 shopping malls. Their free Zumba classes in Singapore are one of the most popular. By bringing the exercise nearer to you in places such as Anchorpoint, Century Square and Jurong Point Shopping Centre, HPB hopes to encourage more people to get active and lead a healthier lifestyle! 
Class schedule: Various timings and locations, details here
2. Healthy Workplace Ecosystem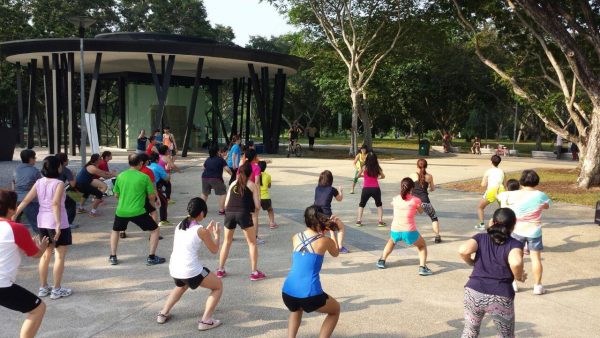 Having no time to exercise is not an excuse, especially with the Healthy Workplace Ecosystem by HPB! It has brought workouts nearer to your office, meaning you can now grab your colleagues and head down to sweat it out after work!
Choose from a wide range of exercises including KpopX Fitness, Piloxing and of course, Zumba! These free Zumba classes in Singapore can be booked conveniently via the Healthy 365 app and are hosted in various locations such as Bukit Batok Industrial, Ascent @ Science Park 1 and Sentosa!
Class schedule: Various timings and locations, details here
3. Sports Hub FIT-Sessions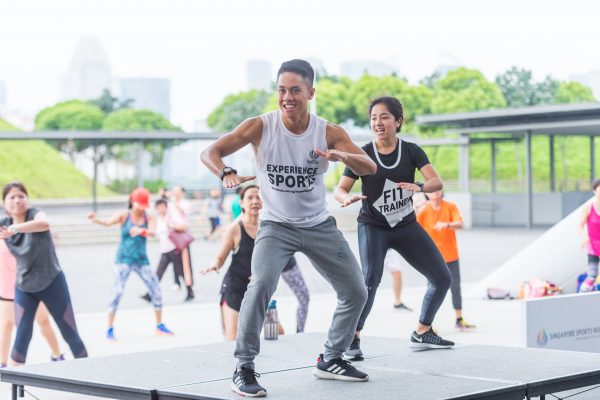 Working out doesn't need to be expensive. You're in for a treat with free Zumba classes every week at the Singapore Sports Hub! Led by qualified and high-energy trainers, the Zumba classes are suitable for folks of all fitness levels. Moreover, the venue boasts a wide and open space that's capable of accommodating a bigger crowd. This not only means you've got more space to bust your moves but can also gather your friends and family to get active together.

Wondering how you can sign up for the free Zumba classes in Singapore? Simply book your session on the ELXR app and start accumulating points. These points can be used to redeem various FIT-Session rewards such as fruit-infusion bottles and even a waterproof dry bag! 
Class schedule: Various timings and locations, details here
4. Sundays @ The Park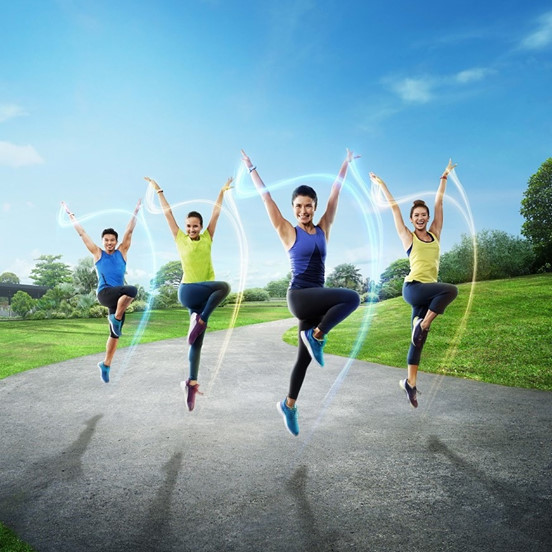 Sundays are reserved for the family and what's a better way to bond than exercising together? Sundays @ The Park is a weekly affair held in various parks such as Pasir Ris Park, Buangkok Green Park and West Coast Park. The extensive activity line-up includes exercises such as Qigong, Bolly Dazz and needless to say, Zumba! 
Sign up for Zumba Gold, a lower intensity variation of regular Zumba that's designed specially for the elderly. Zumba Gold helps to improve posture, stamina and flexibility, promoting a stronger immune system and a healthier heart. Meanwhile, those looking to burn more calories might prefer the Zumba Fitness class. It comprises more high impact movements to build strength and tone muscles! 
Class schedule: Various timings and locations, details here
Paid Zumba classes in Singapore
5. Studio 360 Fitness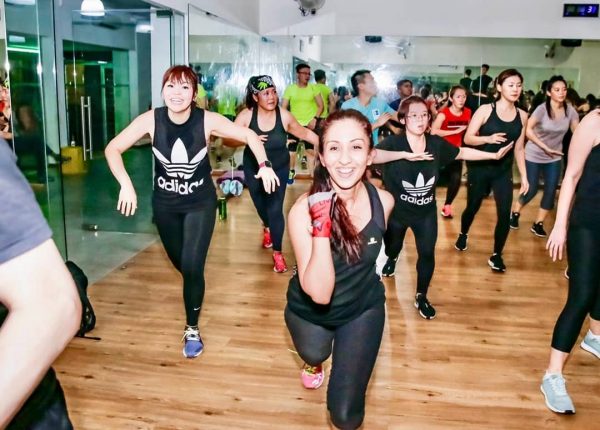 Located conveniently near the CBD area, Studio 360 Fitness is home to three types of Zumba classes in Singapore. This includes STRONG by Zumba, Zumba Toning and Zumba Fitness. If you're craving for an adrenaline-pumping experience, you've got to sign up for the STRONG by Zumba class. Utilising the science of Synced Music Motivation, you'll find yourself continuously grooving to the beat despite the high-intensity routine. The results? You'll be pushed beyond your perceived limits and attain new heights in your fitness journey! 
To get rid of flabby arms or tone your core, go for the Zumba Toning session. In this class, you'll use hand weights and weighted toning sticks to work your muscles and achieve a lean physique! If you'd just like to add some spice to your sedentary lifestyle, you can start out with the Zumba Fitness class. You'll find yourself bouncing through a mix of high and low-intensity moves that not only burn calories but can also boost your mood! 
Address: Hengda Building, 137 Cecil Street, #06-01, S(069537)
Class schedule: Inquire details by calling 8399 2132 or email to enquiry@360fitness.com.sg
Price: Pre-opening rate $109/month
6. 1Fiesta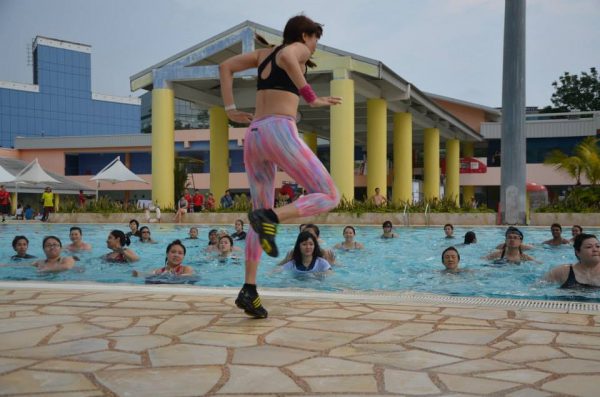 Have you ever heard of Aqua Zumba? As its name suggests, Aqua Zumba involves doing  Zumba moves underwater! Join 1Fiesta's Zumba classes in Singapore at convenient locations including Tampines Hub and Bedok ActiveSG Swimming Complex. Moreover, Aqua Zumba is especially beneficial for those of the older generation as it places lower impact on the joints. But this doesn't mean you won't get the same amount of workout in! The water actually creates more resistance to your movement, allowing you to tone your muscles more effectively! 
Besides Aqua Zumba, 1Fiesta also offers other popular classes such as Zumba Fitness, Zumba Gold, Zumba Toning and STRONG by Zumba. Moreover, class fees are super affordable here. Most classes cost $15 each and you can also buy a punch card at $130 for 10 sessions! It's also easy to book for classes as all you need is to walk in and make the payment directly to the instructor. Talk about fuss-free exercising!
Class schedule: Various timings and locations, details here
Price: $15/class, $130/10 classes, $230/20 classes
7. Virgin Active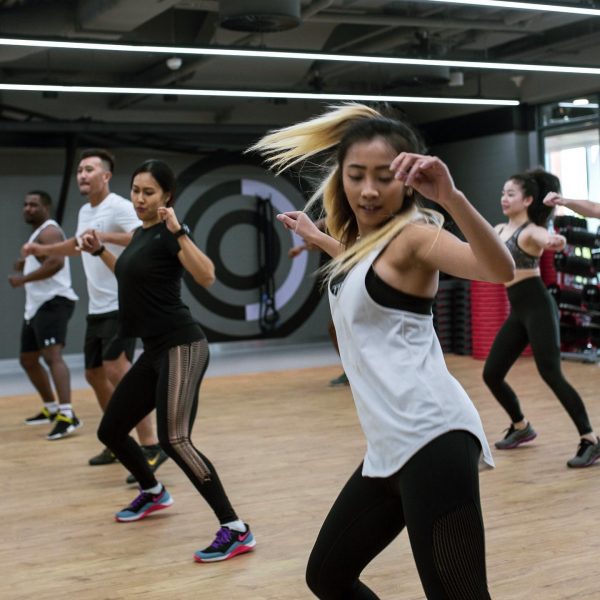 If you're looking for a well-equipped sports facility, you've got to sign up for Virgin Active's Zumba classes in Singapore. As one of the most well-known fitness clubs here, Virgin Active is your go-to spot for meeting new workout buddies and fellow Zumba lovers. Dance to the pulsating beats and burn up to 500 calories in their hour-long Zumba classes! Moreover, the professional trainers will make you feel like you're here to let loose instead of grinding through an exhausting workout. 
Psst! Once you're done with the exercise, we suggest you make your money's worth in the luxurious Relax and Recovery zone. You can catch some Z's in the sleep pods or unwind in the Himalayan salt room. Some outlets even boast ice and steam rooms which can promote better blood circulation and leave you feeling rejuvenated. 
Class schedule: Various timings and locations, details here
Price: $54.57/week for 12 months, $46.55/week for 24 months, $71.69/week for flexible package
8. JR Fitness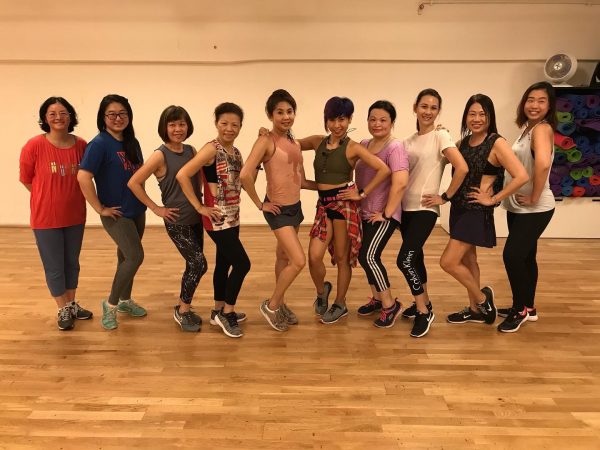 Want to get your kids in on the action? Show your little ones how much fun they can have with the Zumba Kids and Zumba Kids Jr. classes at JR Fitness Singapore! Zumba Kids is designed for children aged seven to 11, while the latter is open to kids aged four to six years old. The kid-friendly routines will empower your children to express themselves better through movement and improve their musicality. Most importantly, it's a great outlet to help the little monkeys burn off excess energy!
Another great class worth your time at JR Fitness is Zumba Step. Zumba Step is the combination of regular Zumba moves and Step Aerobics. Step Aerobics is an effective cardio workout that uses a step or platform to enhance your body movement and target your leg muscles. Together with Zumba, you'll be feeling the satisfying burn in your muscles within minutes into the class! 
Address: The Adelphi, 1 Coleman Street, #B1-19, S(179803) and 9 Tan Quee Lan Suites, Tan Quee Lan St, #02-02, S(188098)
Class schedule: Various timings, details here
Price: Various membership plans, details here
9. Beatfactory Fitness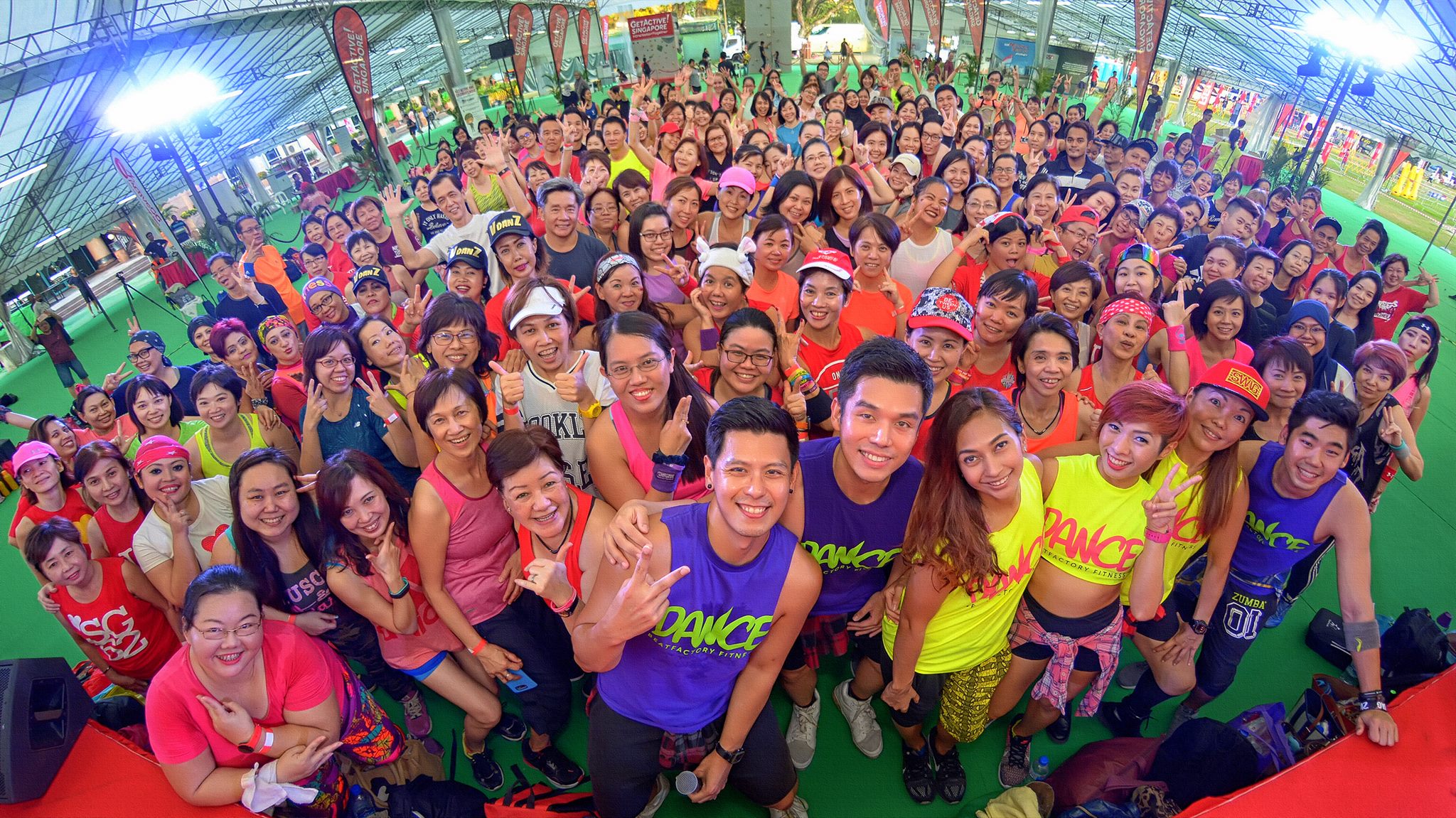 Want to stay fit while having fun at the same time? Beatfactory Fitness is the place to go for fun and lively lessons! They promote an inclusive, fun and welcoming environment where anyone and everyone will feel like Beatfactory is their second home! Under the guidance of the friendly energetic instructors, groove to your inner Beyonce while keeping fit and healthy!
If you're unsure on how to book a class with Beatfactory Fitness, there's even a step-by-step guide provided here! Embark on your "New Year New Me" journey with your friend by gifting them a Beatfactory Fitness Gift Card and you'll never dance alone to the hot latin beats!
Address: 545 Orchard Road #10-11 Far East Shopping Centre, S(238882)
Class schedule: Various timings, details here
Price: Various membership plans, details here
Get ready to pump it up this new year!
If Zumba isn't what you're looking for, why not explore these workout alternatives in Singapore instead? MMA fans may be more motivated to exercise at these Muay Thai gyms in town that train you to deliver a powerful kicks the right way. Otherwise, pop into a 24-hour gym to hit your fitness goals at any hour! 
________________________________________________________________________
New to Shopee? Get $7 off (min. spend $15) with code*: ZUMBAITUP
* TNC Applies. Valid for new users from 29 Jan to 5 Feb 2020 only.