The year 2020 is said to be an auspicious year for weddings! Been receiving plenty of invites and racking your brains over how much to pack in those red envelopes? Worry no more with our in-depth guide to Singapore wedding ang bao rates!
Here are some guidelines on what to expect at each venue and how much to bao.
Wedding ang bao rates in Singapore
Disclaimer: These Singapore wedding ang bao rates are just a guideline! Remember that it's the thought that counts. For the sake of standardisation, the ang bao rates below reflect wedding dinner banquets held on a Sunday.
Hotel ballroom wedding ang bao rates
Our list starts off with hotel ballroom wedding ang bao rates! As one of the most popular Singapore wedding locations, hotel ballrooms definitely add an air of luxury and make the once-in-a-lifetime occasion all the more special. From gorgeous chandeliers to floor-to-ceiling windows, these venues definitely don't come cheap! To help you along, we've sussed out wedding ang bao rates for some of Singapore's more popular hotels.
1. The St. Regis Singapore – John Jacob Ballroom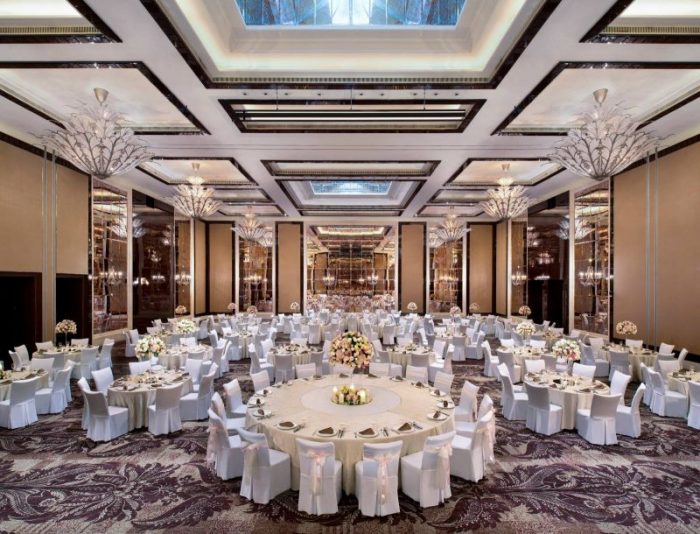 Named after St. Regis's founder, the John Jacob Ballroom will delight guests with its sheer opulence. The regal carpet and ornate chandelier hanging above the Grand Staircase at the ballroom's entrance is only the beginning. Inside the ballroom, you'll be blown away by the sheer scale of grandeur present in this high-ceilinged space that can accommodate up to 420 guests!
Be treated to elegantly plated, exquisite dishes like Braised Six Head Abalone With Sea Cucumber and Pan-seared Foie Gras. With customisable menus that allow the couple freely transform any dish, no two wedding banquets at St. Regis will ever be the same!
Wedding ang bao rates: From $240
2. Fullerton Bay Hotel – The Clifford Pier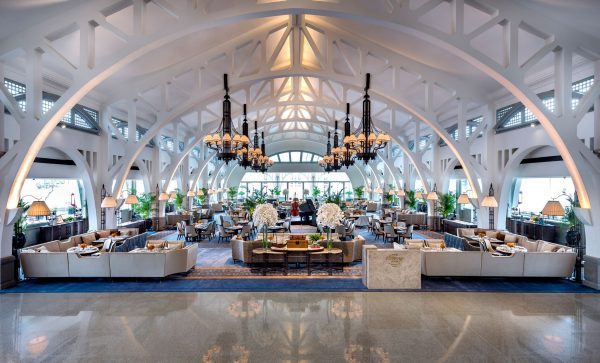 Weddings held at the Clifford Pier are about as lavish as they get! With a maximum capacity of 256 guests, Fullerton Bay Hotel goes all out on their decorations to make weddings perfect for the happy couple. Be awed by enchanting floral arrangements and a beautiful champagne glass pyramid tower, among other tasteful decor elements!
Food-wise, you can expect either a five-course Western menu, six-course Chinese menu or an International Buffet. Menus feature tantalising dishes like Double-Boiled Chicken Consommé and Roasted Grass Fed Beef Tenderloin with Red Wine Jus while canapes include a variety from Aburi Hokkaido Scallops to Foie Gras Mousse.
Wedding ang bao rates: From $320
3. Amara Sanctuary Resort Sentosa – Grand Ballroom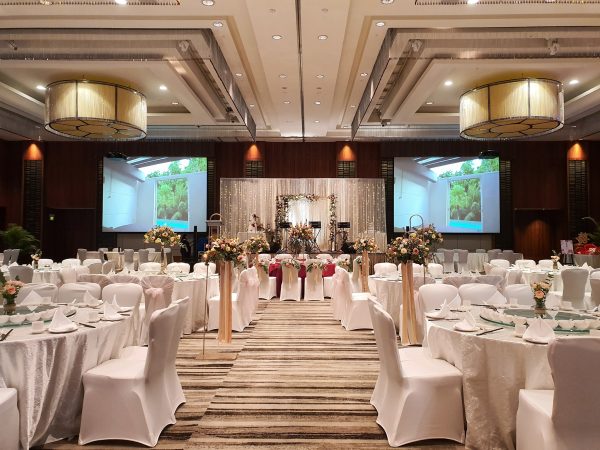 Looking for the perfect place to hold a rustic-themed wedding? Check out Amara Sanctuary's Grand Ballroom, a venue where old-school architecture blends with modern design! With exclusively designed wedding themes and expert florists at the helm, weddings held in this pillarless six-metre-high ballroom will be nothing short of extraordinary.
Amara Sanctuary serves a variety of eight-course Chinese-themed banquet menus which include mouthwatering courses like Braised 6-Head Abalone and Braised Irish Duck! Also, there'll be plenty of alcohol available. Each table is entitled to a 30-litre barrel of beer and a bottle of wine to help along with the wedding cheer!
Wedding ang bao rates: From $200
4. Shangri-La Hotel Singapore – Island Ballroom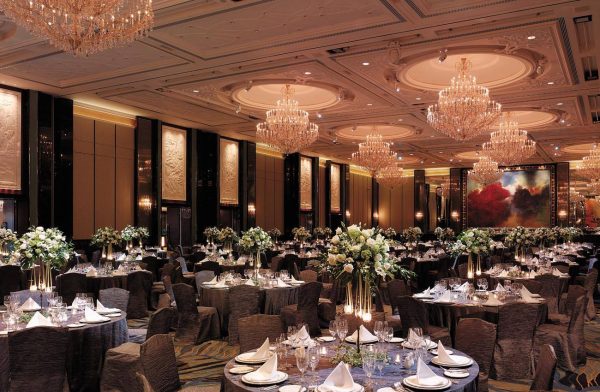 With a capacity to hold 1000 guests, Shangri-La's Island Ballroom is about as large-scale as a wedding can get! Promising everything from a red carpet aisle to a dry ice display, guests will be in for a spectacle as weddings organised here are held to a high standard.
Gigantic ballroom aside, be prepared for a sumptuous range of Chinese dishes prepared by Shangri-La's expert chefs! The dishes include traditional fares like Suckling Pig and Braised Duck with Sea Treasures.
Wedding ang bao rates: From $230
5. PARKROYAL COLLECTION Pickering – William & Pickering Ballrooms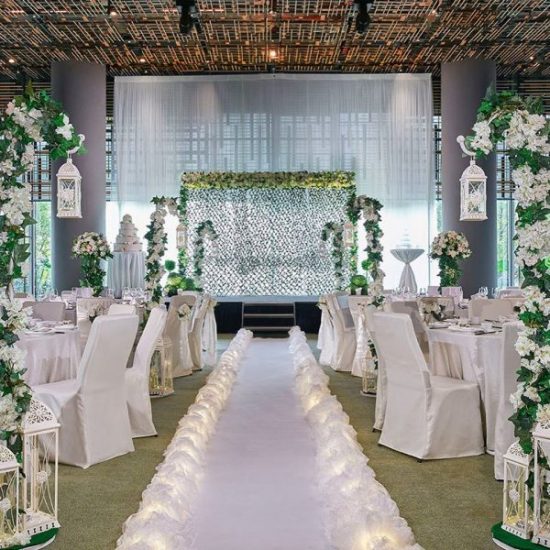 The William & Pickering Ballrooms will capture the hearts of nature-lovers! The nature-inspired interior complements the enchanting view of the landscaped gardens. With a variety of themes including Enchanted Garden and Whimsical Love, weddings held here will definitely captivate your heart!
PARKROYAL COLLECTION Pickering offers two customisable menus: an eight-course Chinese menu and an eight-course EcoChic menu. You'll be glad to know that both menus are designed and prepared by their skilled culinary team. Expect to be blown away by dishes such as Australian Organic Beef Medallion in Sarawak Black Pepper Style and Crispy Lobster Meat with Golden Egg Yolk and Lemon Butter Cream!
Wedding ang bao rates: From $200
Restaurant wedding ang bao rates
For couples looking to organise a simpler affair, they might prefer holding their wedding at a restaurant! Despite many of these locations not being as large as hotel ballrooms, restaurant wedding ang bao rates are in fact not too far from hotel ballroom rates. Instead of fanciful and extravagant decor, creative themes tend to take centre stage here.
6. The White Rabbit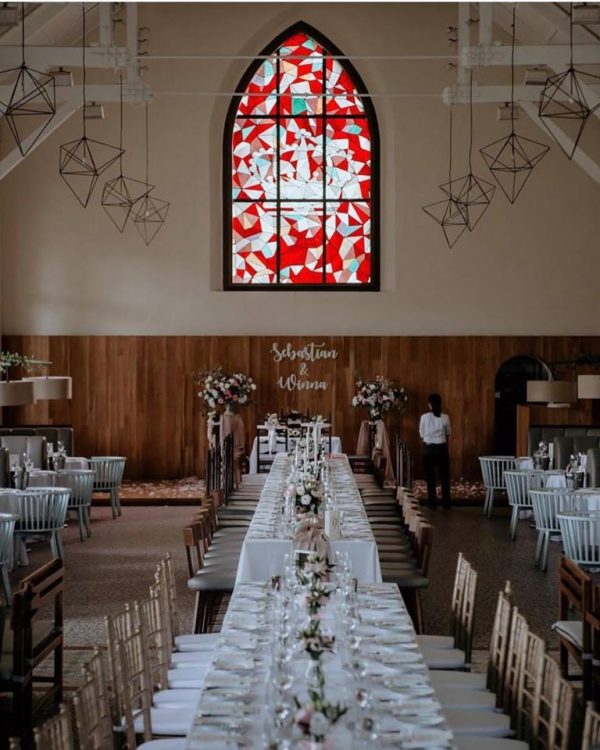 The White Rabbit invites guests down the rabbit hole to check out their rendition of a unique wedding experience! Holding up to 150 guests, the venue pairs classic European cuisine with a beautifully restored colonial chapel interior design. If the lush foliage and high beam ceiling aren't enough to impress you, the stained glass windows and extensive garden bar definitely will!
Offering a menu that juxtaposes the busyness of modern life in Singapore, The White Rabbit features timeless European dishes that have been well-received by diners and critics alike. Look forward to dishes like Char-grilled 400 Days Wagyu Striploin and Dark Chocolate Cremeux that are sure to win over your tummies!
Wedding ang bao rates: From $240
7. Flutes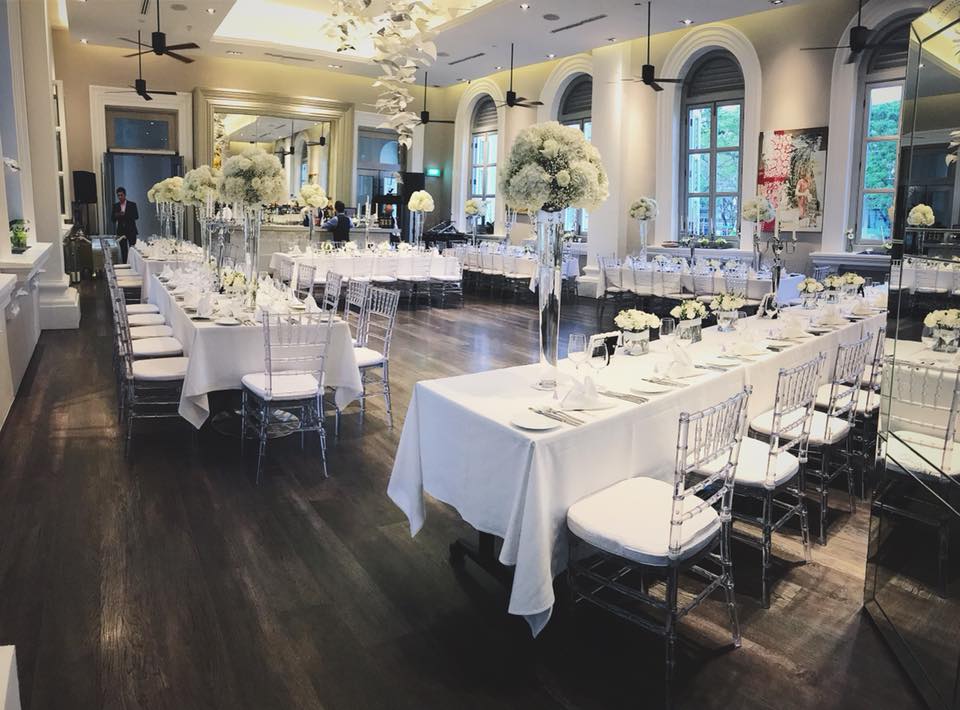 Tucked away in Singapore's oldest museum, National Museum of Singapore, Flutes is an ideal restaurant for a wedding. We love how its minimalist interior design perfectly complements the elegant museum setting! With a maximum capacity of 180, you'll get to comfortably experience everything from the solemnisation to the four-course dinner in the Jubilee and Sir Henry McCallum rooms.
Despite originally opening in 1887 to celebrate Queen Victoria's Golden Jubilee, Flutes shows no signs of slowing down. The restaurant continues to reinvent its menu and layer on modern complexities to appeal to refined taste palettes. Look out for premium dishes like Pan Seared Foie Gras and Grilled Angus Tenderloin as you sip on Flutes's award-winning wine selection.
Wedding ang bao rates: From $220
Church wedding ang bao rates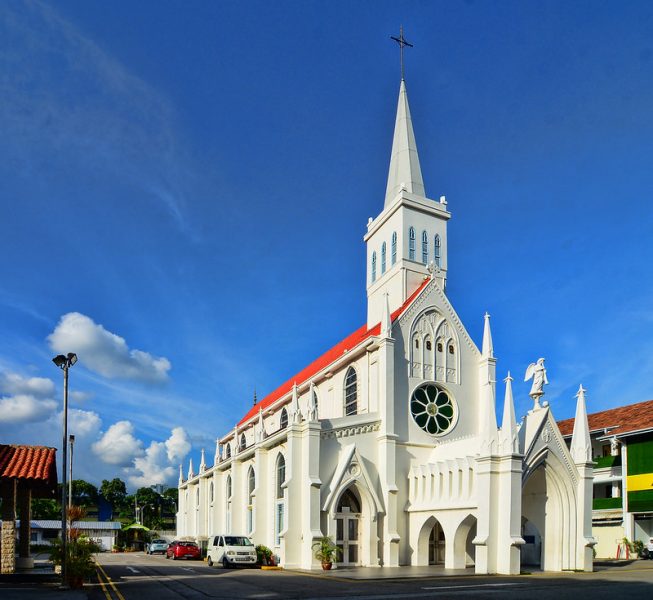 As church weddings aren't as customisable or luxurious, they'll have more affordable venue booking fees. This means church wedding ang bao rates will be significantly lower than their hotel and restaurant counterparts. For example, if there's a buffet lunch or dinner catered for guests, anywhere between $50 to $80 should suffice to convey your well-wishes to the happy couple!
Avoid these wedding ang bao faux pas!

We hope our guide has been helpful in giving you an estimate ang bao rate for some of Singapore's most popular wedding venues. In case you're unaware, here are some additional tips to Singapore wedding ang bao giving:
Avoid giving any amount with the digit '4' (sounds like 'death' in Chinese). It's considered to be inauspicious 

Give an amount with the digit '8' or any other even number as it represents good fortune and wholesomeness

Are you attending the couple's church wedding in the afternoon and a banquet dinner in the evening? You don't need to give ang bao twice! If you feel led to, get a wedding gift (such as a

flower bouquet

)

for the afternoon ceremony and present your

ang bao

during the evening banquet
If you've been anointed bridesmaid and are looking for the perfect dress, this guide on affordable bridesmaids dresses should sort you out! Otherwise, help the bride tick off the to-dos from this ultimate wedding checklist. She'll thank you for sure!
This article was updated on 29-01-2020. Additional research and updates done by Brenda Fong.

---
New to Shopee? Get $7 off (min. spend $15) with code*: WEDDINGPAY
* TNC Applies. Valid for new users from 18 to 25 Feb 2020 only.