Is your little bub ready to take on the world and start learning beyond the walls at home? It's time to sign them up for preschool! Finding the best preschool in Singapore can be quite tricky. To make things easier for you, we've shortlisted a list of local and international preschools based on their locations and curriculum so you don't have to rack your brains no more!
Best preschools in the north of Singapore
1. Brighton Montessori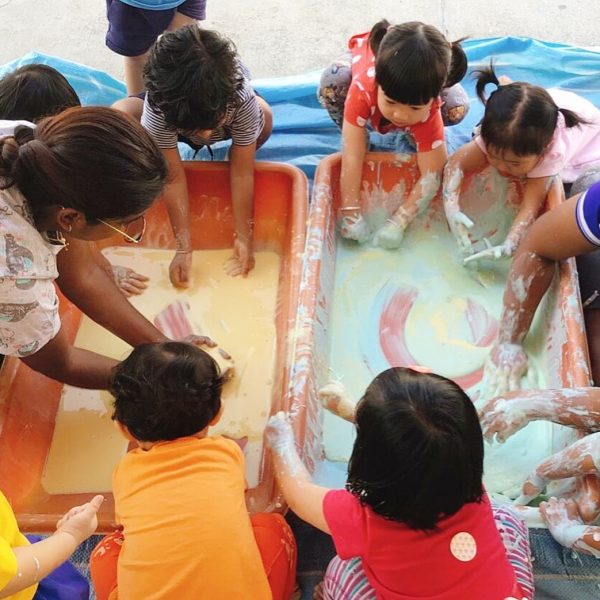 One of parents' worst nightmares is when your child throws a tantrum over going to school. But that would be quite a rare sight to see at Brighton Montessori, a nurturing space for children to explore and develop their own characters. As one of the best preschools in Singapore, Brighton Montessori is almost like a second home for your child. 
The school is jam-packed with enriching programmes to develop practical life skills, languages, mathematics and cultural knowledge. All of which are taught in a conducive environment that boasts a low teacher-child ratio (1:6 for Nursery 1 and 1:8 for Nursery 2). Enrol your three to five-year-olds for the nursery programme where they'll learn alphabets, numbers and master basic reading. Lessons are conducted in a fun and engaging manner through play so the little ones are more motivated to learn!
Address: The Grassroots Club, 190 Ang Mo Kio Avenue 8, #02-01, S(568046)
Check out their other locations here
2. Kiddiwinkie Schoolhouse
Kiddiwinkie Schoolhouse is one of the best international preschools in Singapore for your little global citizen. Here, your child will meet friends from different parts of the world and celebrate cultural diversity via the school's International Culture and Cuisine Day held once every two months. 
Moreover, the school is led by a strong team of international teachers who are passionate to develop children's language skills. Besides honing bilingualism in English and Mandarin, you can also choose to sign your tots up for Japanese or Korean language enrichment courses! Kiddiwinkie Schoolhouse is also an award-winning preschool, famed for its unique curriculum. Programmes such as Playtinkers, designed based on STEM principles, help to equip your kid with important soft skills such as creativity, innovation and resilience. 
Address: 39 Cactus Crescent, S(809741)
Check out their other locations here
Best preschools in the south of Singapore
3. My First Skool
My First Skool is helmed by NTUC and provides one of the most trusted early childhood education programmes in our nation. Moreover, school fees here are more affordable than private or international preschools in Singapore. 
But this doesn't mean your child's education quality is compromised on. My First Skool adheres to the essentials of STEM-based learning by introducing advanced technology into the classroom. Kids will gain a strong understanding of programming and coding concepts which are important skills for further education. Sounds like an environment your kid will thrive in? Sign them up for the Skool-Ready programme (for four to six years old) that promotes familiarity with numbers and languages. Alternatively, the Skool-aCe programme (for 18 months to six years old) is a four-hour daily course delivered in Chinese to ignite your child's passion for the language. 
Address: 63 Telok Blangah Heights, S(100063)
Check out other locations here 
4. Arts Kidz International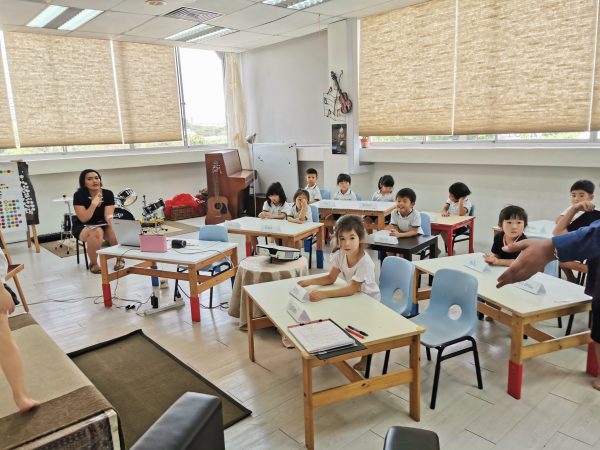 Take on a different approach in your kid's early childhood education by enrolling them into Arts Kidz International. As its name suggests, this is one of the best international preschools in Singapore to develop your child's interest in the arts. Unlike the conventional academically-driven curriculum, Arts Kidz International decks its programme lists with fun activities for the kids. Think painting, drawing, poetry, music, dance and theatre! 
While it sounds like loads of fun, the kids will also be well-prepared to cope with the Primary school curriculum. That's because the teachers at Arts Kidz are trained to shape the programmes to be as relevant to Singapore's academic standards as possible. The curriculum combines the MOE Nurturing Early Learners curriculum framework with concepts from Jolly Phonics to provide well-rounded education for your little one. 
Address: 10 Raeburn Park, Block C, #02-33, S(088702)
Check out other locations here
Best preschools in the east of Singapore
5. EtonHouse International Preschool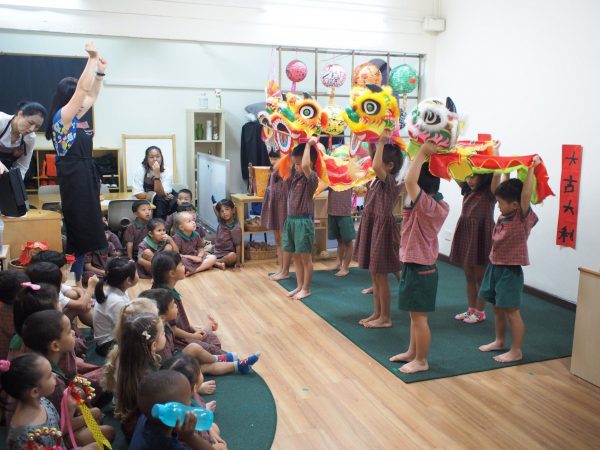 Most parents would have heard of EtonHouse, a leading international education group in Singapore. Famed for its Reggio Emilia-inspired Inquire Think Learn (ITL) curriculum, EtonHouse International Preschool encourages inquisitiveness and self-directed learning. The result? An independent problem solver who can perform in all situations.
EtonHouse's nursery programme focuses on enhancing children's communication skills be it writing, reading or speaking. This is also one of the best preschools in Singapore to give your child early exposure to science and technology through play and observations. Meanwhile, their Kindergarten programme builds upon the nursery curriculum to further develop your child's critical thinking abilities. Through daily challenges presented in an engaging manner, children learn how to put their brains together to work towards a solution. Did we also mention that the preschool at Mountbatten has amazing facilities such as a treehouse, outdoor cycling track, nature construction atelier and early years science laboratory? Your child will love every moment in school!
Address: 717 Mountbatten Road, S(437738)
Check out other locations here
6. MindChamps Preschool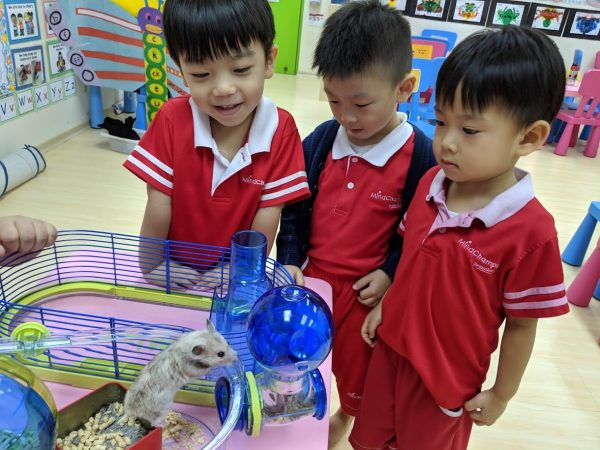 As one of Singapore's best and largest preschool brands popular among both expats and locals, MindChamps Preschool provides a structured curriculum for the little ones. The school is academically driven so your kids will not face a steep learning curve when they enter Primary school. In fact, in the final two terms of Kindergarten 2, MindChamps students undergo an extensive 'Here I Come, P1' experience to ensure they are mentally and emotionally ready for big school. 
Of course, we can't talk about MindChamps preschool without mentioning their famous 'S.M.I.L.E.S.' curriculum which is developed based on neuroscience, child psychology, theatre and education. MindChamps focuses on strengthening children's foundational skills, designing each programme for maximum stimulation to boost competency in all important areas of development. Book a preschool visit and learn more about how you can groom your little one into a champion for life!
Address: KINEX Mall, 11 Tanjong Katong Road, #03-19, S(437157)
Check out other locations here
Best preschools in the west of Singapore
7. Pat's Schoolhouse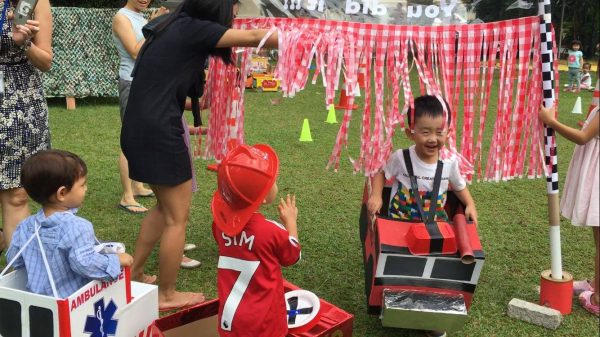 Pat's Schoolhouse at West Coast provides ample space and opportunities for your kids to learn and explore. Surrounded by lush greenery, this is one of the best international preschools in Singapore for young nature lovers. There's even an outdoor cycling track within the campus compounds so your little ones can soak in some Vitamin D while improving their motor skills! On top of that, your child will be stoked to find a child-friendly water play area for a splashing good time!
In the classroom, Pat's Schoolhouse is widely known for its effective bilingual immersion core curriculum. English and Mandarin teachers co-conduct the classes together to enhance language acquisition. To make learning meaningful and enjoyable, music is injected into every programme introduced in Pat's Schoolhouse. The music activities are specially designed by the school's in-house music specialists to ensure children are involved and engaged at each learning stage. 
Address: 21 West Coast Road, S(127309)
Check out other locations here
8. White Lodge West Coast Kindergarten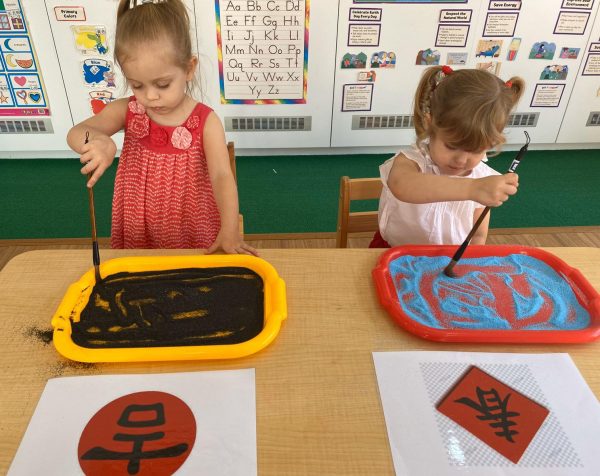 Can't decide on the best education system for your little one? Enjoy the best of ALL worlds at White Lodge West Coast Kindergarten, which combines the education systems from the United States, Australia, UK and Singapore. Recognising the importance of creative education, White Lodge's educational materials are designed based on High Scope, Reggio Emilia and Howard Gardner theories to bring out your kid's true potential. 
In addition, the classrooms are decked with play materials including books, puzzles, blocks and even sand to encourage sensory learning. The West Coast campus has a huge outdoor play area with sandpit, climbing frame and trampoline where kids can burn off their excess energy while strengthening their motor skills. An outdoor garden also serves as space for children to get closer to nature. 
Address: 9 South Buona Vista Road, S(118141)
Check out other locations here
Best preschools in central Singapore
9. Little Gems Preschool
Thinking about signing your little one up for swimming classes? Well, you don't have to if your kiddo goes to Little Gems Preschool! Led by professional swimming coaches, the school offers semestral swimming courses for kindergarteners to pick up this essential life-skill. This allows your child to free up his or her weekends for more family time! Besides swimming, Little Gems Preschool also has a gymnastic indoor playground built for developing children's sense of balance and motor skills. 
The curriculum here is split into six domains — language and literacy, numeracy, world discovery, motor development, social and emotional development as well as creative development. These domains are integrated into carefully planned classroom activities as well as monthly field trips beyond the campus grounds. This opens up your child's eyes to the world and allows them to draw relevance between books and the real world. 
Address: 3 Ang Mo Kio Street 62, #01-09/10, S(569139)
Check out other locations here
10. Mahota Preschool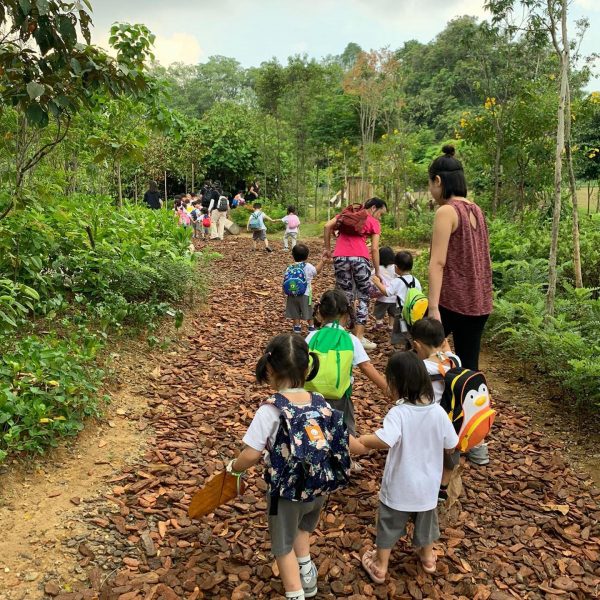 Mahota Preschool is many parents' top choice because of its holistic approach to early childhood education. While the preschool focuses on academics, it also places an equally strong emphasis on nature-based learning and children's wellness. This can be seen from its meticulously planned daily programmes and organic kids' meals prepared by the Mahota Kitchen! 
Each day, your child begins school with a simple health check before enjoying breakfast. Then, they get to socialise with one another during circle time before going into directed learning that improves their literacy, mathematics and problem-solving skills. They also get to cook and farm or take weekly nature walks to learn about insects and plants. Thereafter, it's lunch and bath time before the kids nap for a good two hours. This is followed by snack time before they dive into the best part of their day — Mahota Kids Wellness programme! Children get to engage in various sports and exercises — even kids' yoga — to benefit their minds and bodies. 
Address: Kitchener Complex, Block 808 French Road, #03-01, S(200808)
More adventures await your little explorer!
Children are like sponges, they can soak up large amounts of information if given the opportunity. Which is why it's important to stimulate your kids' brains after school hours too! Let them explore with one of these best bicycles for kids or bring them to some of the best outdoor playgrounds in Singapore and let them navigate low ropes and other climbing obstacles!
---
New to Shopee? Get $7 off (min. spend $15) with code*: NEARNURSERY
* TNC Applies. Valid for new users from 1 to 8 Mar 2020 only.