Looking for the best outdoor playground in Singapore to your child to let loose at? Playgrounds are the site of many childhood adventures but it seems kids nowadays prefer to have their adventures in front of a screen. Although the virtual world can be fun, children need fresh air, exercise and a chance to run a little wild too. If your young ones have lots of energy to burn, here's a selection of the best outdoor playgrounds in Singapore for them to explore.
North
1. Admiralty Park Playground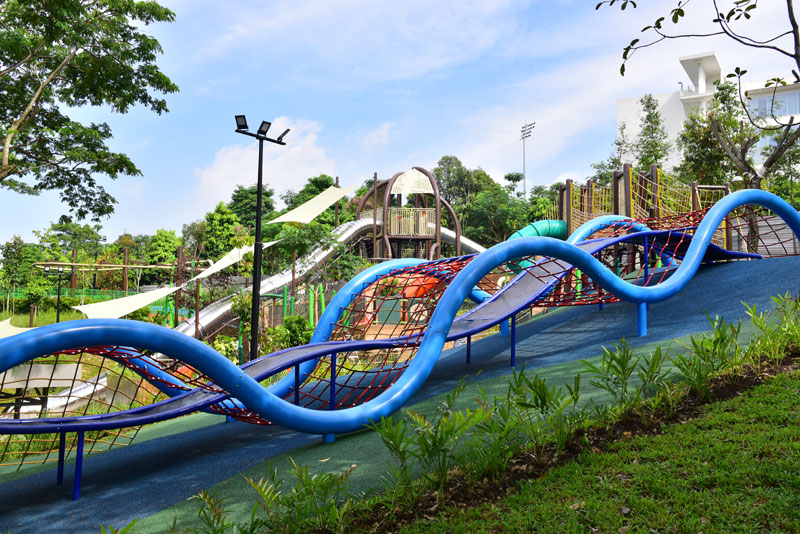 One of the newer outdoor playgrounds in Singapore, Admiralty Park is the place to go if your kids love screaming their way down slides. With a whopping 26 slides available, the young 'uns will have the time of their lives whizzing down the different slides. There are roller slides, open-air slides, tube slides… you name it, the park's probably got it.
Kids will enjoy racing each other on the 23m-tall Double Barrel slides and will surely have a blast clambering across the nets and suspension bridges that connect the different play areas.
If you have younger children, don't worry. There are plenty of toddler-friendly slide options available too!

Address: 6A Admiralty Road, S(732006)
Opening Hours: 24/7
2. Sembawang Park Playground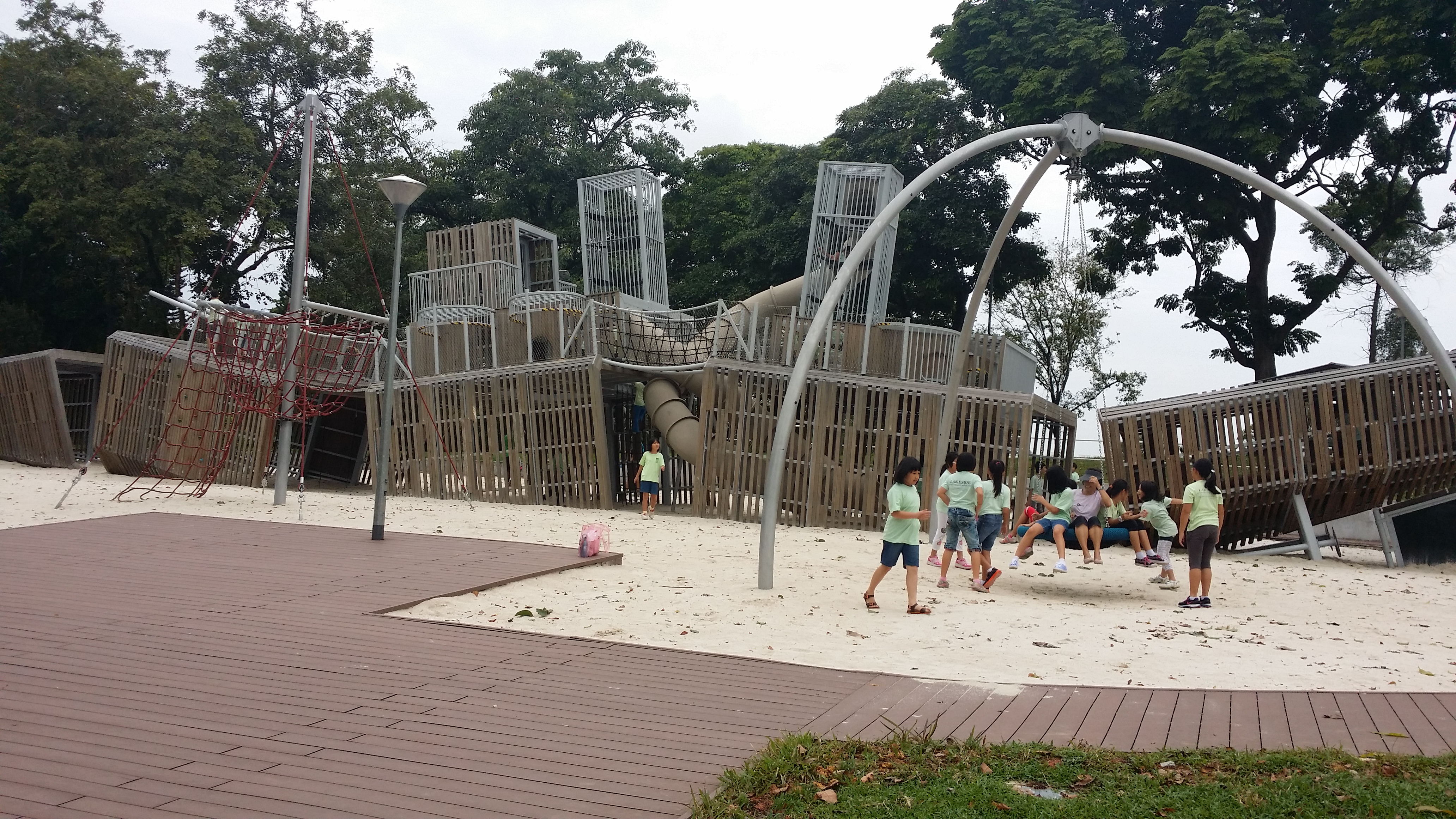 Ships ahoy! The playground at Sembawang Park takes inspiration from the nearby shipyards with an old battleship structure, made from rustic wood panels. The sloping decks and suspension bridges give the playground a sense of unsteadiness, almost as if the ship was still bobbing up and down in the sea.
With a cool pendulum swing and a red climbing net modelled after a naval flagstaff, this playground is guaranteed to be a hit if your kids love adventures on the big blue sea.
Address: At the end of Sembawang Road
Opening Hours: 24/7
3. Marsiling Park Playground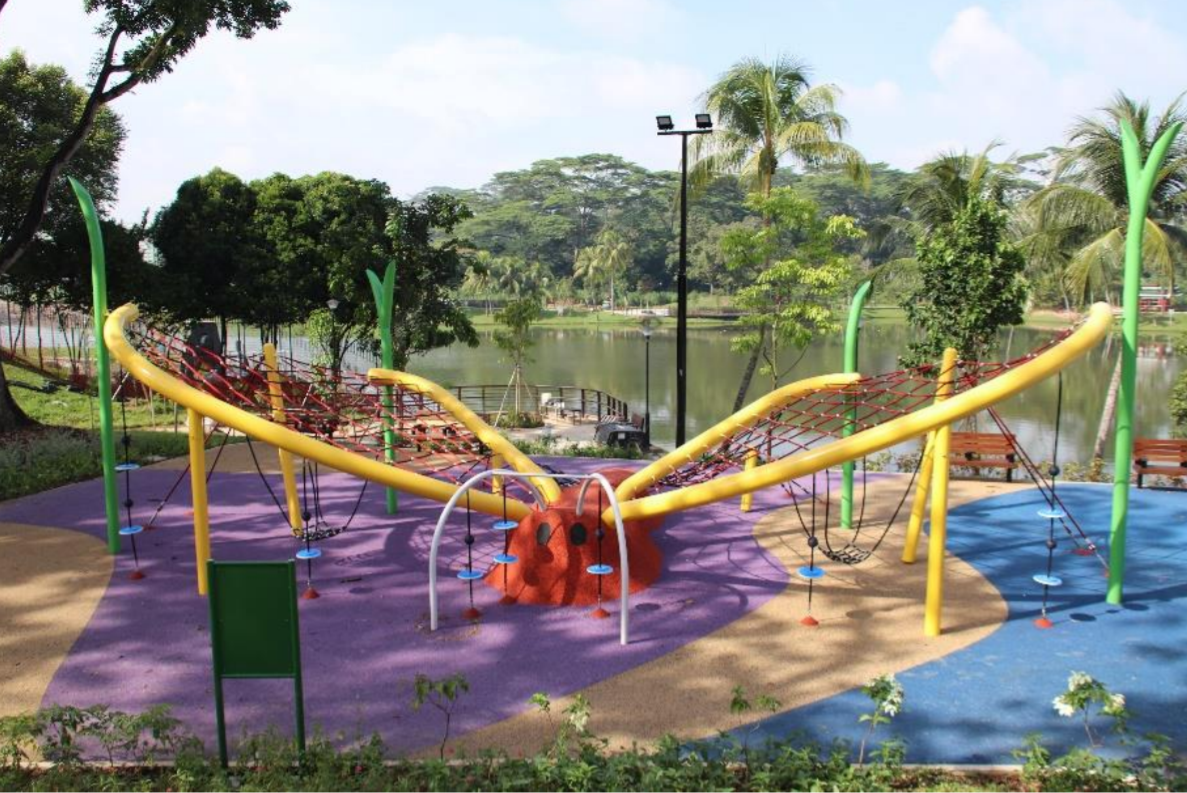 Another new outdoor playground in Singapore, Marsiling Park's playgrounds are spread over four areas, each featuring a different kind of play. The Butterfly Playground features a giant climbing net inspired by butterfly wings while the Web Playground involves obstacle courses and rope tunnels for your kids to crawl along as if they were the incy-wincy spider.
Your children can also get their groove on with a xylophone, tubular bells and hand drums at the Musical Playground or chill out on the swings at the Ribbon Playscape. There's something available for kids of all ages, so bring the entire brood to Marsiling Park the next time they ask for that iPad!
Address: Woodlands Centre Road, S(738930)
Opening Hours: 24/7
4. Bishan-Ang Mo Kio Park Playground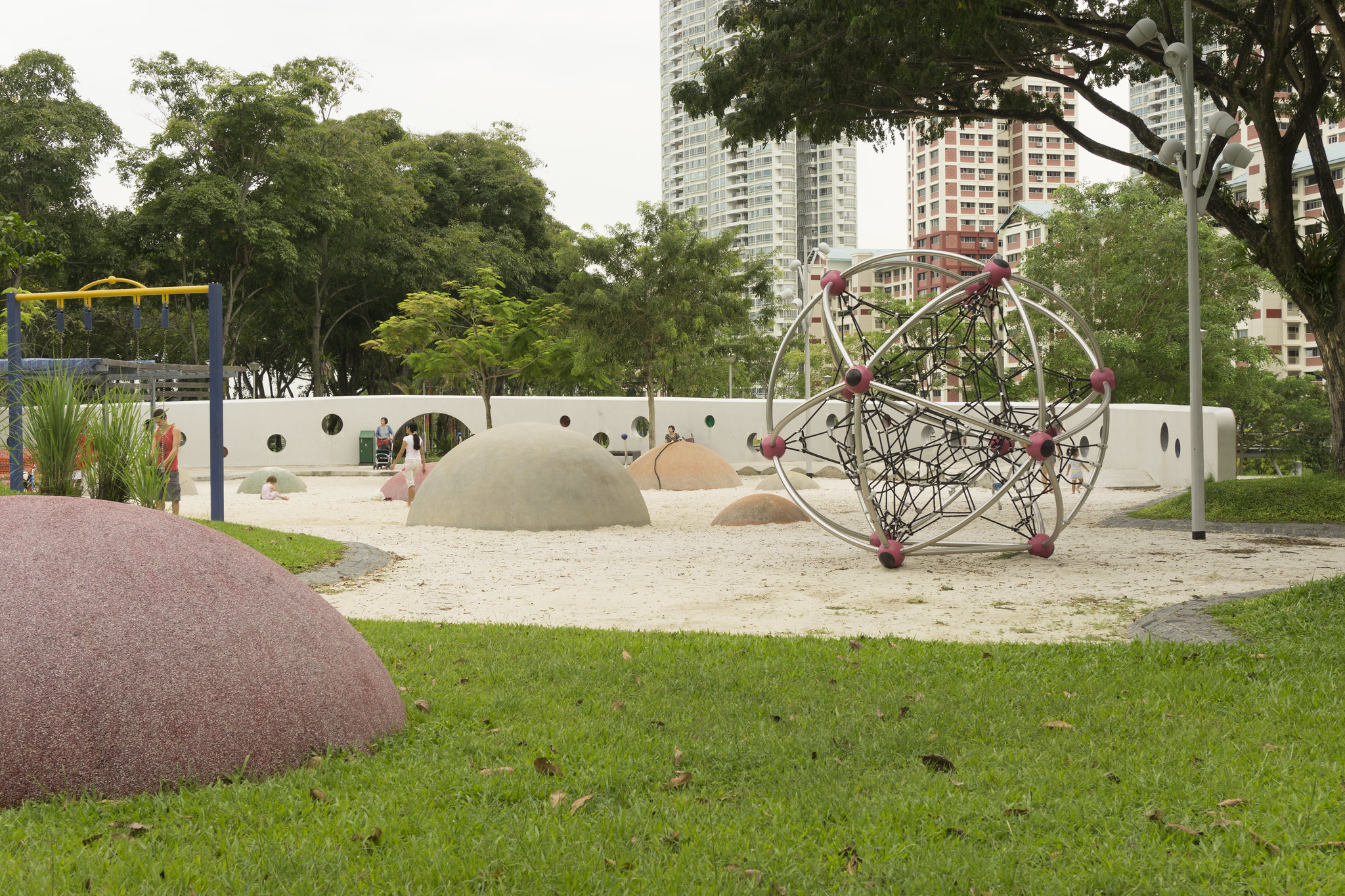 With the Kallang River flowing through it, Bishan-Ang Mo Kio Park is a scenic place to relax and unwind with the family. Their Adventure Playground is a hit with kids, featuring a rope pyramid, swing sets, slides and climbing poles! The play structure also has interactive panels, making it a good option for young kids who aren't quite ready to explore on their own.
Bishan-Ang Mo Kio Park also has a pretty awesome water play area with fountains and small pools — be sure to bring along a change of kid's clothes if they're planning on making a splash.
Address: Along Bishan Road and Ang Mo Kio Ave 1
Opening Hours: 24/7
South/Central
5. Jacob Ballas Children's Garden (Singapore Botanic Gardens)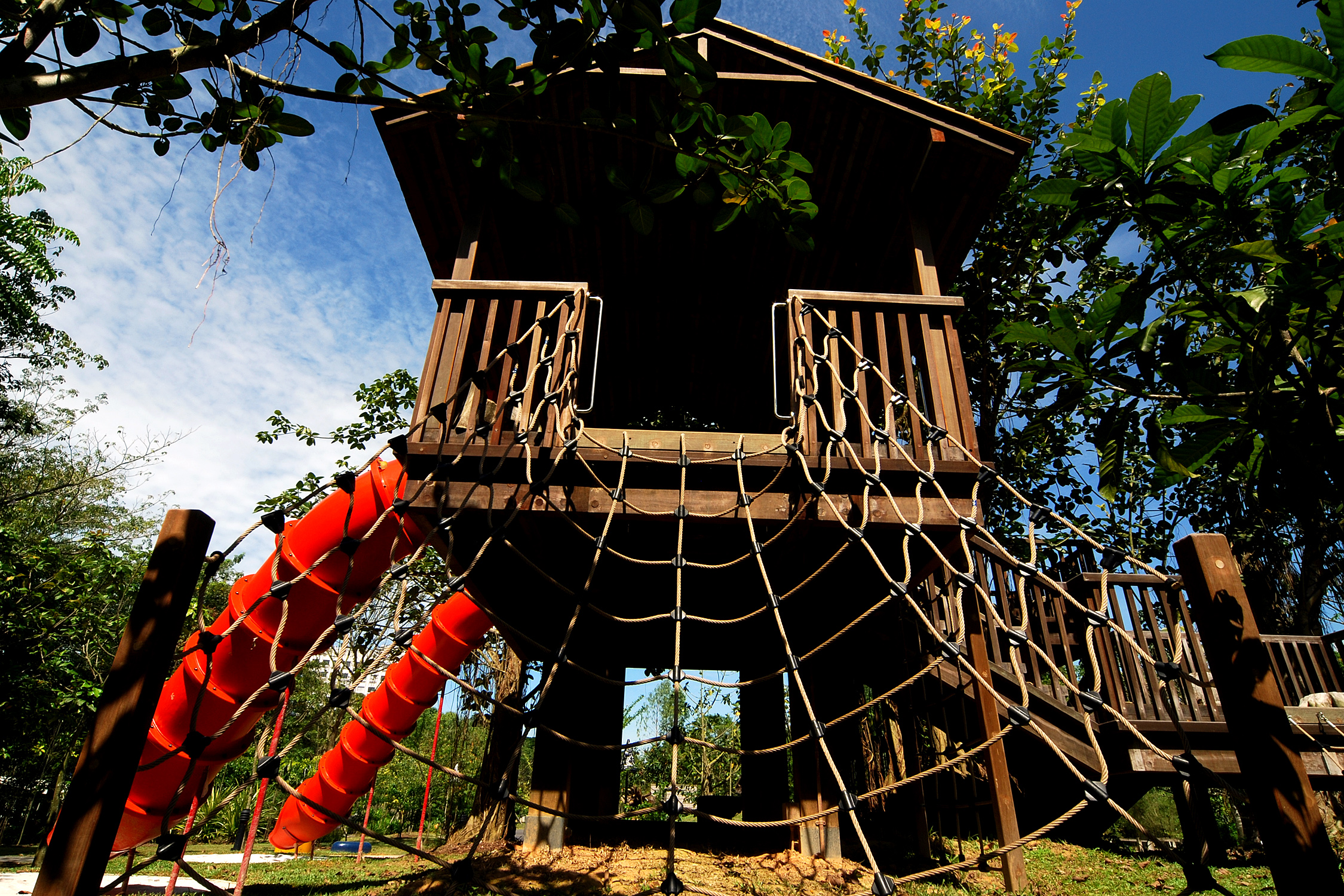 The Jacob Ballas Children's Garden is a great place to bring your kids to all year round. Located within the Singapore Botanic Gardens, it has a mini flying fox, nest swings and balance beams that will occupy kids for hours. But the crowning jewel of this playground is the giant treehouse and slide structure where your children will have great fun playing pretend and scaling it.
Don't forget to balance out playtime! Lead your kids to the sensory and exploratory areas to get up close and personal with the colourful flora and fauna growing in the area.
Address: 481 Bukit Timah Road, S(259769)
Opening Hours:
Tue – Sun: 8am – 7pm
6. Far East Organization Children's Garden (Gardens by the Bay)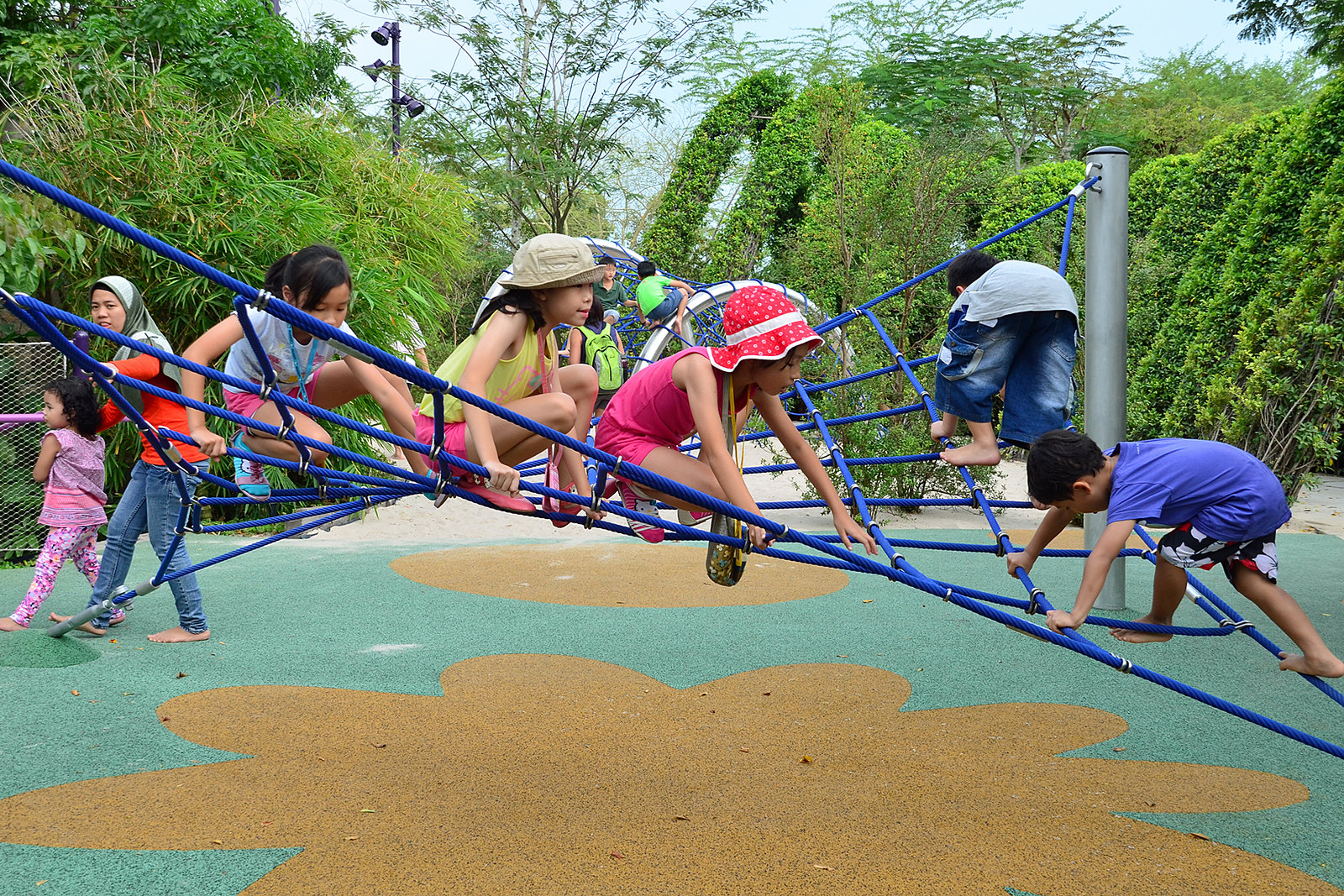 Spider webs? Spring stepping pads? Climbing nets? The Adventure Trail in the Far East Organization Children's Garden features 14 different obstacles overarched by the Rainforest Treehouse — a huge rope-and-net structure. Your little spider monkeys will have fun clambering up to the top of the treehouse and will be delighted as they whizz down the giant slide.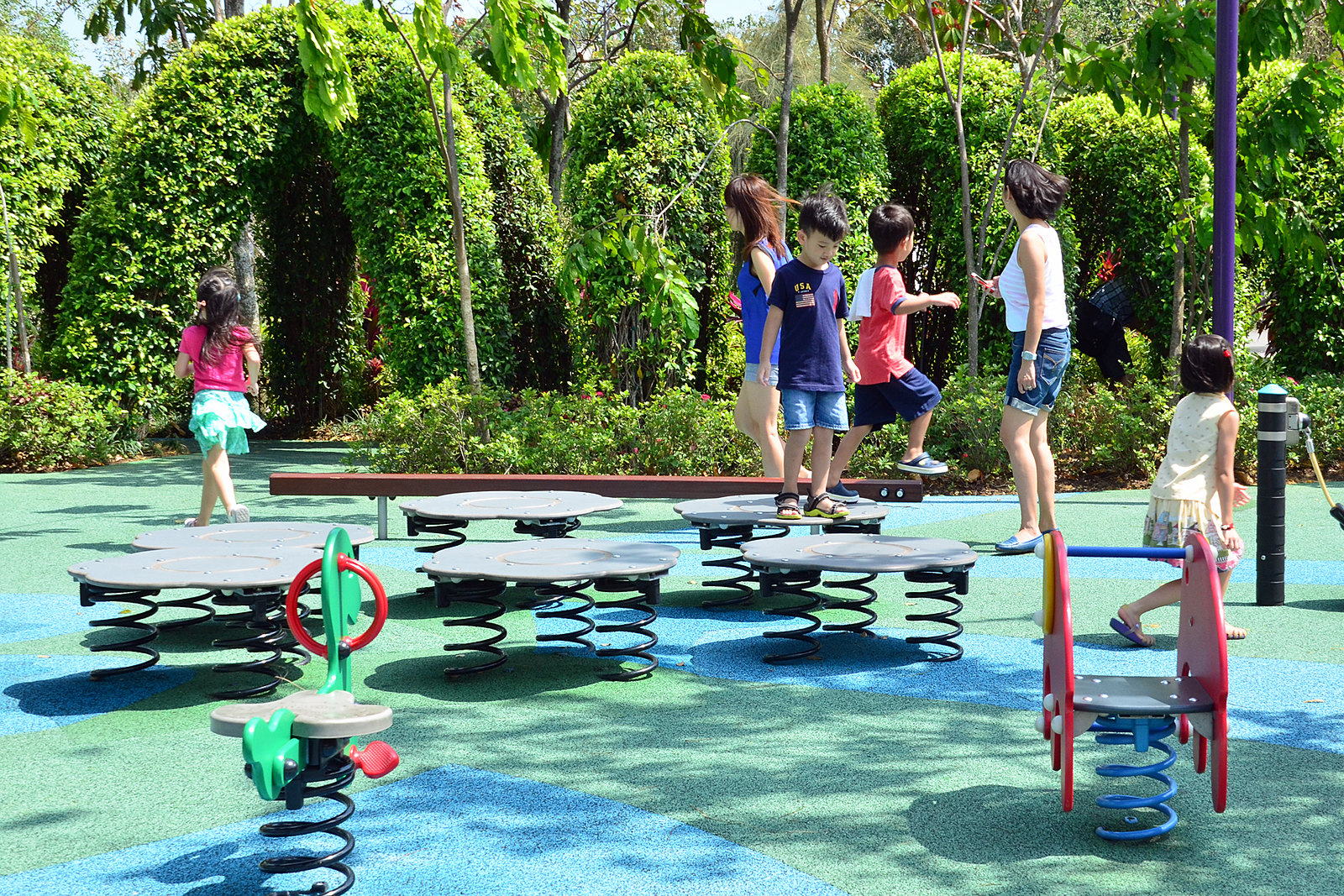 Younger children will have fun at the Toddler Play Zone, which features slides, see-saws and balance beams at a more manageable level. The Far East Organization Children's Garden also has an impressive water play area with splash buckets and fountains galore. Definitely pack some swimwear when you pay a visit to this outdoor playground in Singapore!
Address: 18 Marina Gardens Drive, S(018953)
Opening Hours:
Tue – Fri: 10am – 7pm
Sat – Sun: 9am – 9pm
7. Tiong Bahru Park Playground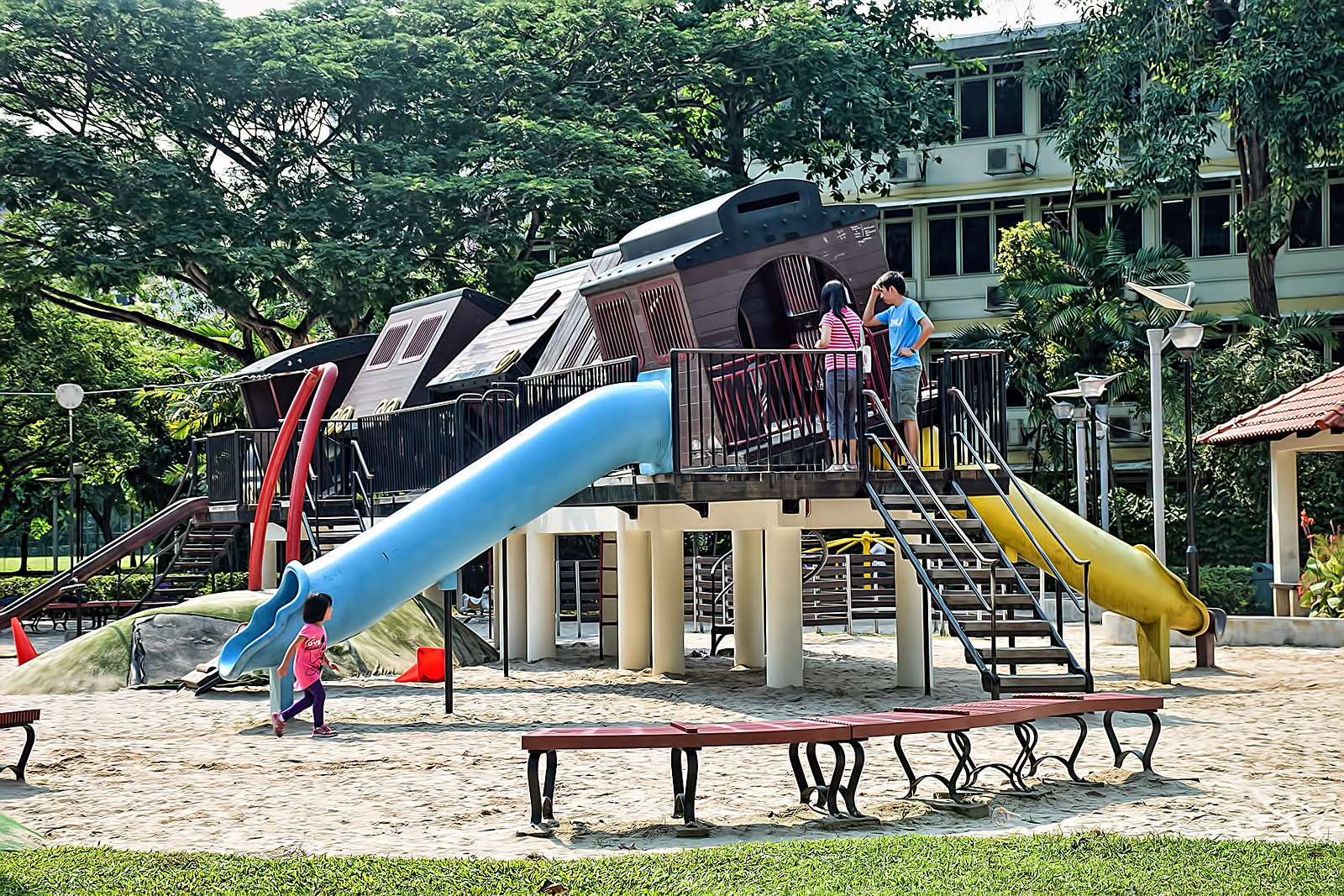 Choo-choo! Most kids love train rides, so it's only natural that they'll fall in love with this train-inspired playground at Tiong Bahru Park. The tilting train will provide a thrilling challenge to kids navigating through the caboose, complete with handholds and netting to help them on their adventure. Plus, there are slides, a rock-climbing panel, ladders and even a mini zip line — perfect for keeping the kids occupied for hours on end.
Smaller children will enjoy riding on the rocking horses or exploring the colourful, toddler-friendly maze at the end of the playground. This unique outdoor playground in Singapore also makes for the perfect Instagrammable spot!
Address: 1 Henderson Road, S(159561)
Opening Hours: 24/7
8. Labrador Nature Reserve Playground 
https://www.instagram.com/p/BxrvFxbnAni/?igshid=1l94kkw0gwd92
Most people associate Labrador Nature Reserve with World War II history but the playground is a sure hit with the kids of today. A large play structure serves as the main focal point of the playground, with slides, tunnels and climbing poles. 
Your kids will definitely enjoy the challenging maze made of timber logs. Trying to figure out all the twists and turns will also hone their problem-solving skills. The playground at Labrador Nature Reserve is geared towards older children, so toddlers will need close supervision. 
Address: Labrador Villa Road, S(119187)
Opening Hours: 24/7
East
9.  Marine Cove Playground (East Coast Park)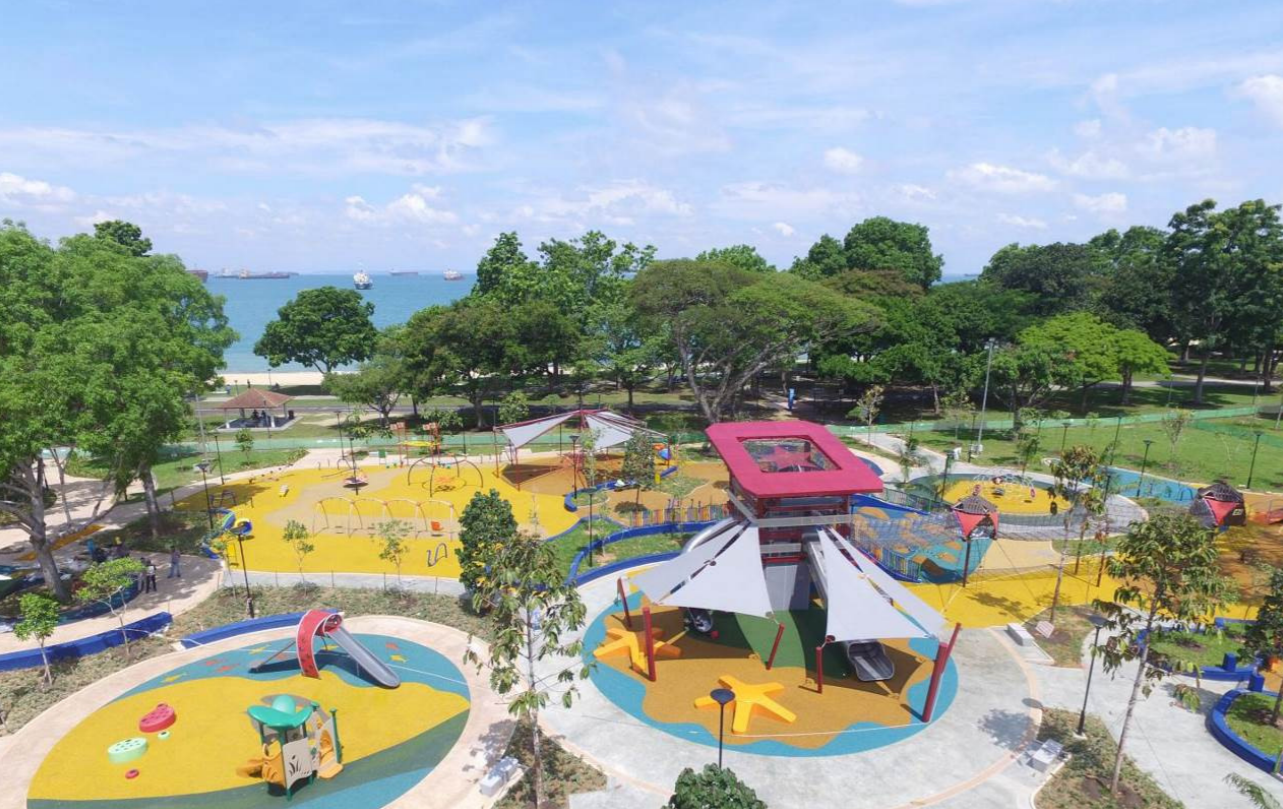 This sprawling play area has so much to offer that your kids won't know where to begin. The Marine Cove Playground features a bright red 8m-tall play tower, three slides, a suspension bridge and cargo nets for your kids to conquer. Other fun activities include swings, a rope pyramid, a climbing dome and everyone's favourite — monkey bars!
Smaller children can amuse themselves with fun crazy mirrors, talking tubes and a miniature maze. Mum and dad will also be able to relax with a cup of coffee with the myriad of food and beverage options available in Marine Cove.
Address: 1000 ECP, S(449876) (near Carpark C2 and C3)
Opening Hours: 24/7
10. Pasir Ris Park Playground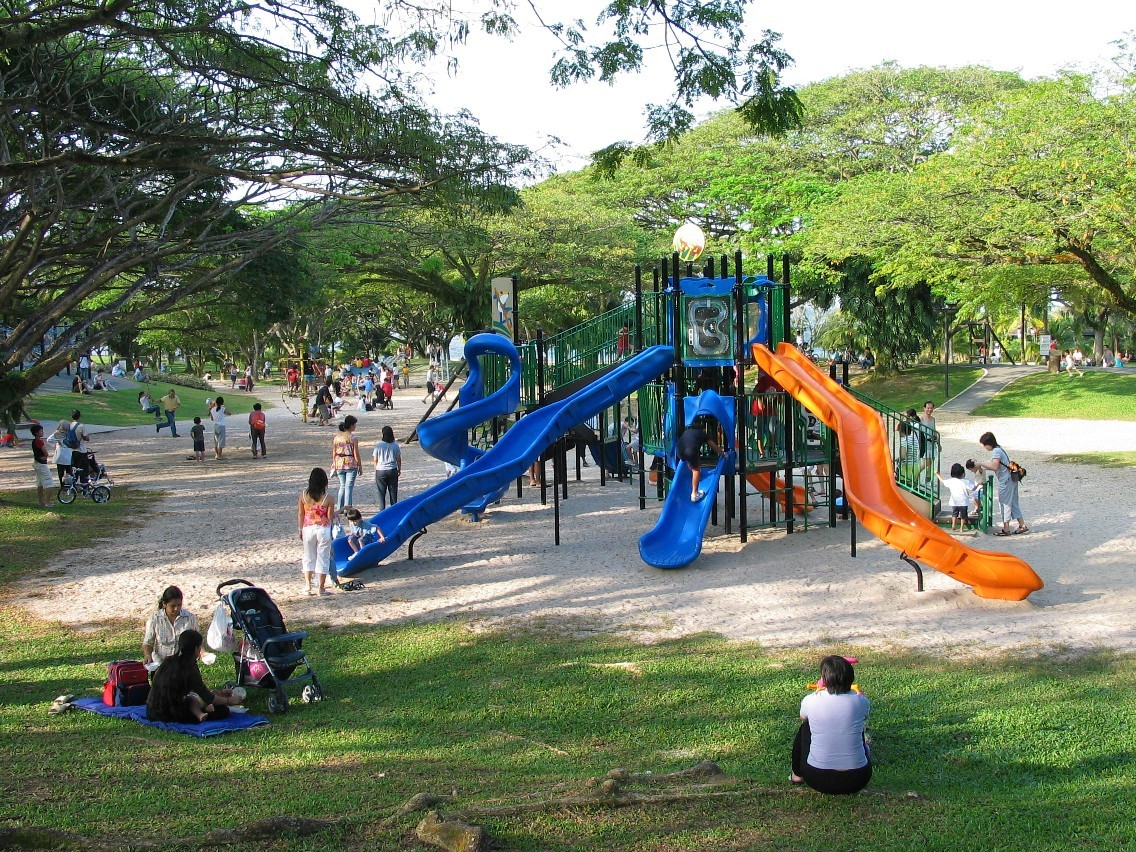 The Pasir Ris Park playground is an all-time favourite outdoor playground in Singapore and it's easy to see why. Apart from a 'spider web' climbing tower with a slide, this playground also has a mini zip line, rope tunnels, swings and climbing walls. With a musical play area, a mini-maze and see-saws for younger kids, you'll be able to bring your kids to Pasir Ris Park at every stage of their childhood.
The playground at Pasir Ris Park takes up quite a large area with plenty of shaded spots for you to chill out at while keeping an eye on your children.
Address: 98 Pasir Ris Central, S(519639)
Opening Hours: 24/7
11. Changi Beach Park Playground
https://www.instagram.com/p/Bx9k2D9gzOj/
With a wooden raft, a bright red play structure and climbing nets, the playground at Changi Beach Park is the perfect place for kids who love playing pretend. Your children will have a blast drifting along an imaginary sea while sprawled out on the raft or they can pretend to be a sailor and look out at the real sea from the top of the tower.
There's a second smaller playground at the park geared towards the wee ones, with a brightly-coloured structure featuring slides and swings. It's a safe option for kids who aren't old enough for any climbing shenanigans just yet.
As one of the quieter parks in Singapore, Changi Beach Park is a great option if you want to avoid crowds.
Address: Nicoll Drive, S(498991)
Opening Hours: 24/7
12. Sports Hub Playground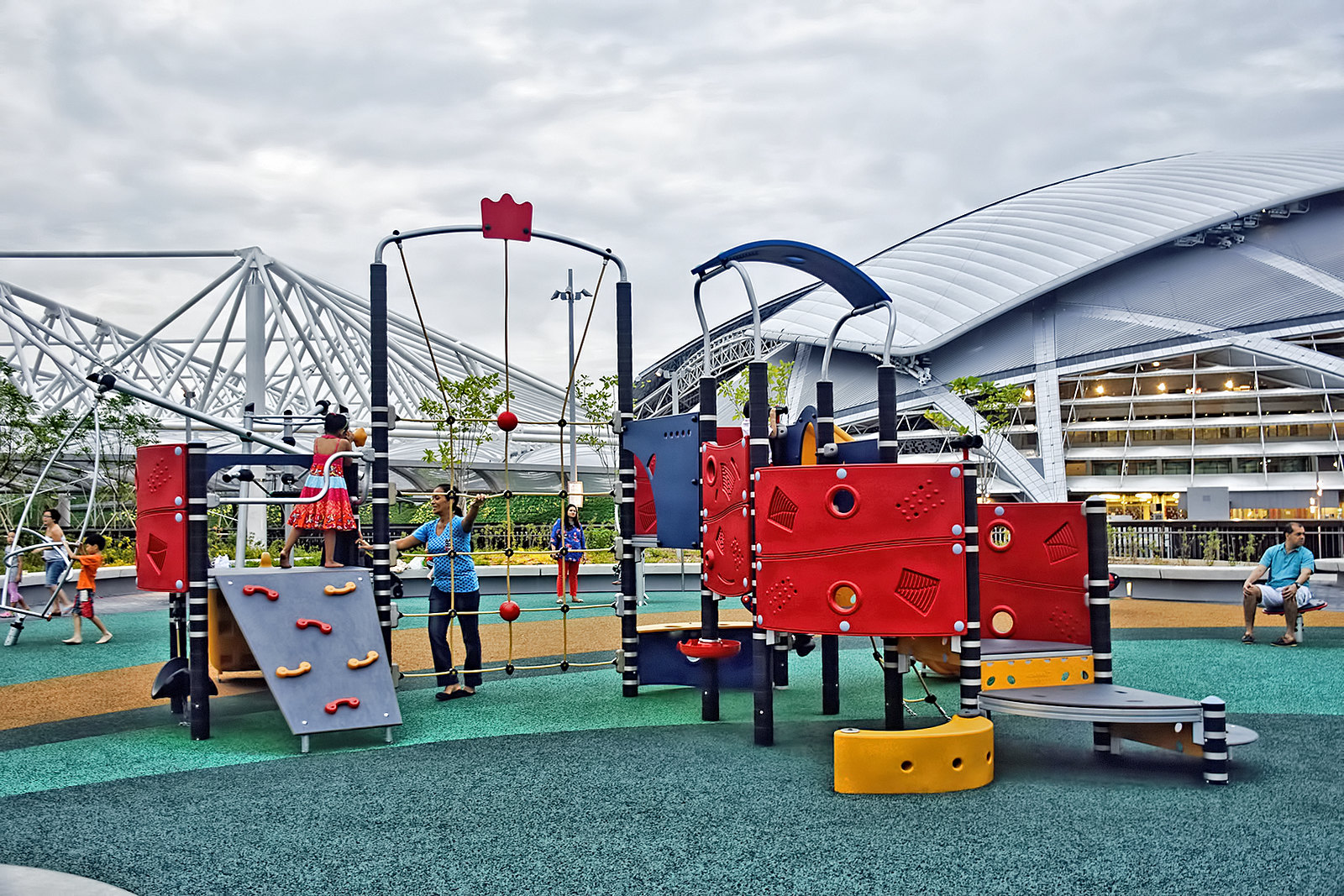 Located on the rooftop of the Sports Library, the Sports Hub Playground has everything a kid wants in a playground. Slides, see-saws and plenty of opportunities to climb and explore the play structure! There's also a larger metal play structure for older kids, with balance beams for them to put their balance to the test.
This outdoor playground in Singapore comes with a fitness area next to it so you can squeeze in a workout while the kids run amok.
Address: Singapore Sports Hub Library, 4 Stadium Walk, Level 3, S(397697)
Opening Hours: Daily, 7am – 10pm
West
13. West Coast Park Playground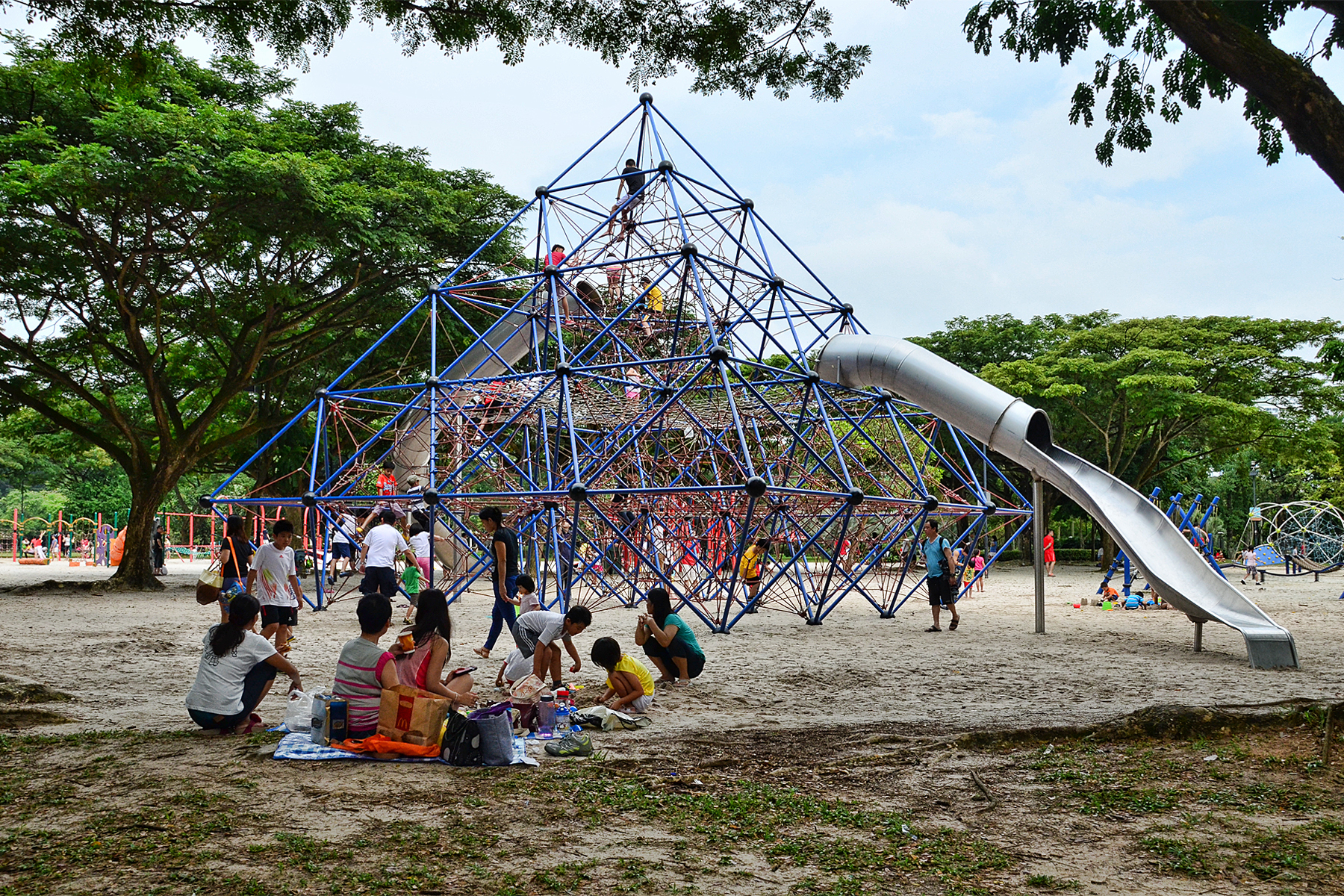 The West Coast Park Playground is one of the best outdoor playgrounds in Singapore, hands down. Aside from its iconic spider-web climbing tower and slide structure, this playground is home to a multitude of other fun activities. Think zip lines, rope climbing obstacles and a super-long, multi-jointed see-saw that's guaranteed to give your kids the giggles.
Your toddlers will also love the sensory experience guaranteed at this sand playground. Just keep an eye on them to make sure they don't eat the sand!
Address: West Coast Ferry Road, S(126978)
Opening Hours: 24/7
14. Jurong Lake Gardens Playground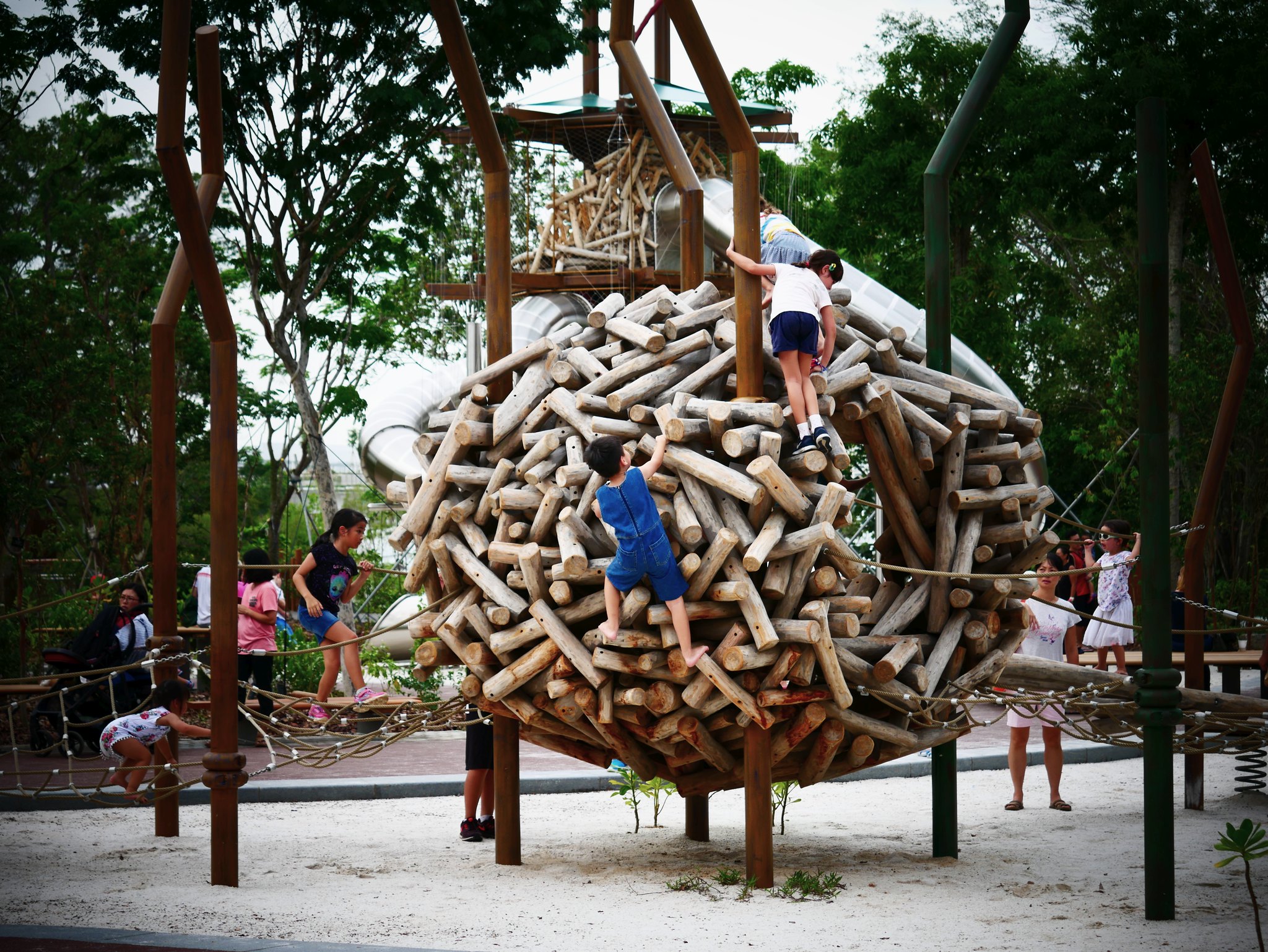 The newest outdoor playground in Singapore has slides, swings, trampolines, climbing structures and zip lines — what's not to like? Named 'Forest Ramble', the playground at Jurong Lake Gardens takes inspiration from animals to connect kids with nature. Watch them channel their inner snakes and monkeys while zipping down slithering slides and navigating the low rope climbing areas.
With a gorgeous view of the lake, a visit to Jurong Lake Gardens has the potential to be a fun one for the kids and a relaxing one for the parents.
Address: Along Yuan Ching Road and Boon Lay Way
Opening Hours: 24/7
15. Westgate Wonderland Outdoor Playground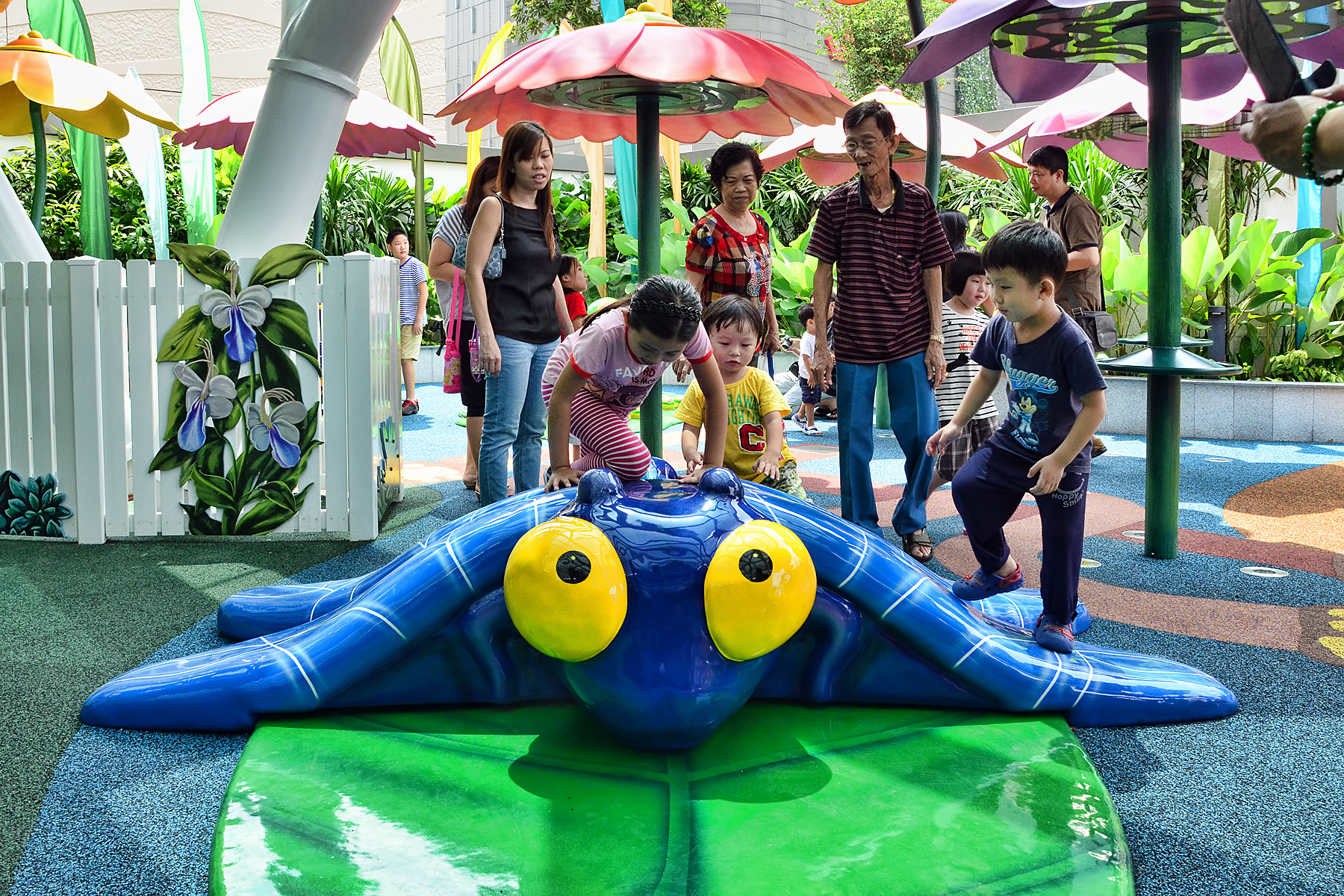 Located atop Westgate Mall, this playground is seriously impressive. The playground's design is inspired by a fantasy fairy garden where the whimsical touch adds an extra fun element. Kids will love the hanging musical bluebell structures and will gladly clamber atop brightly-painted critters to pose for photos. There's also a rock wall for older children as well as a massive treehouse structure with an intricate network of tubes, nets, slides and swinging ropes.
Your children will have an amazing time exploring Wonderland — so much so you're likely going to have trouble getting them back out of the rabbit hole.
Address: Westgate, 3 Gateway Drive, Level 4, S(608532)
Opening Hours: Daily, 10am – 10pm
16. Jurong Central Park Playground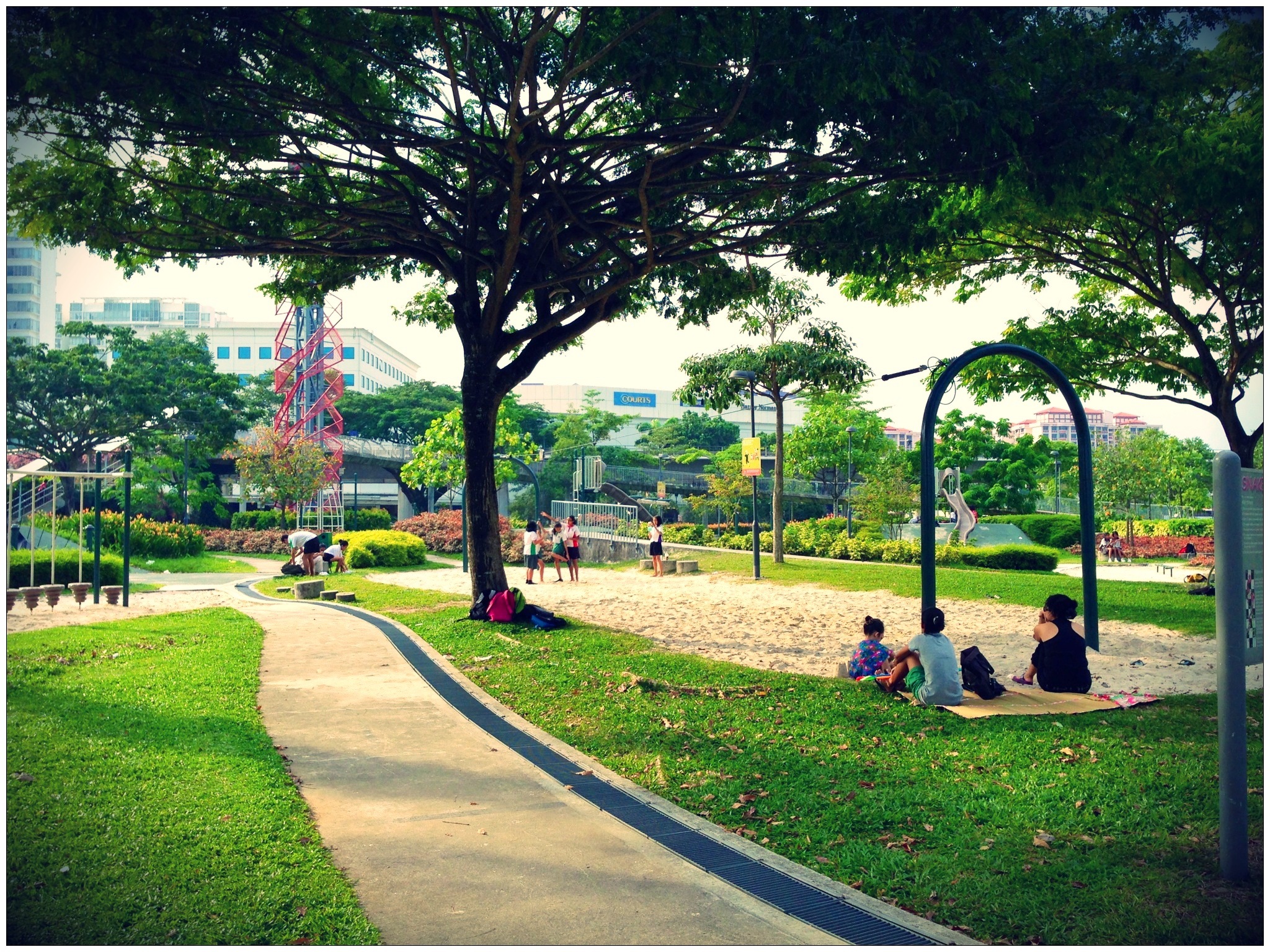 This is an outdoor playground in Singapore with a fun twist. One of the most iconic features of Jurong Central Park are the life-sized board games sprawled across the floor. Try your hand at playing Ludo or introduce your kids to Snakes & Ladders. There's even a giant dice tower that'll 'roll' a number to determine how many spaces you need to move!
If your children have no patience for the games, they can explore the ladders and slides. Encourage them to hop on the zip line at the end for a thrilling finish to their adventure!
Address: Junction off Jalan Boon Lay & Boon Lay Way (located next to SAFRA Jurong Clubhouse)
Opening Hours: 24/7
Plan a family-date at the best outdoor playgrounds in Singapore!
Whether you've got rambunctious kids looking for entertainment during the school holidays or on weekday afternoons, you cannot go wrong with a day out at these outdoor playgrounds in Singapore.
Make sure your kids are ready for their adventure with comfortable shoes and caps! Plus, stock up on mosquito repellent, sunscreen and first-aid supplies in case of minor accidents. Had your outdoor plans ruined by wet weather? Detour to some of the best indoor playgrounds in Singapore instead!
---
New to Shopee? Get $7 off (min. spend $15) with code*: PLAYGROUND
* TNC Applies. Valid for new users from 3 to 10 July only.