Your heart's thumping and your mind's dreamy — all because Valentine's Day is around the corner! This is the best time to present a bouquet of flowers to a special someone to remind her how precious she is to you! Express your love with these delightful Valentine's Day flowers in Singapore that are sure to put a smile on her face!
1. Red Roses: Unmistakable expression of love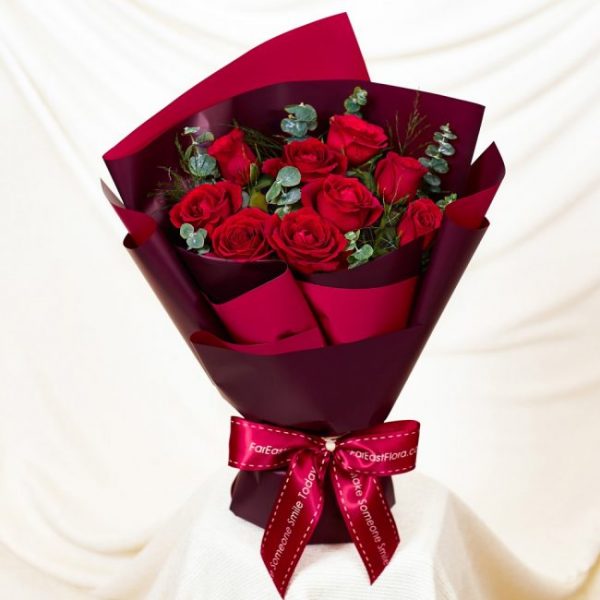 If she doesn't have a preference when it comes to flowers (or you simply don't know which is her favourite), red roses (available on FarEastFloracom) are undoubtedly your best bet this Valentine's day! Out of so many types of flowers in Singapore, red roses emerge victorious with unfaltering popularity during this special occasion. As a symbol of passionate romance, your other half will definitely be smitten with your sweet surprise! For something a little more romantic, splurge on a bouquet of long-stemmed red roses and don't forget to pen a heartfelt note for her!
2. Baby's Breath: Everlasting love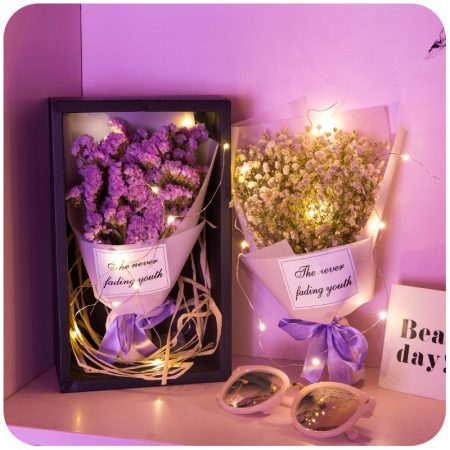 These dainty flowers may look familiar and that's because they're practically found in almost every bouquet and corsage ever made. In recent years, baby's breath has evolved from a filler flower to a floral centrepiece! Its rising popularity can be attributed to the adorable cloud-like blooms that give off a whimsical fairytale effect.
As a popular Valentine's Day flower in Singapore, baby's breath symbolises everlasting and undying love. Additionally, they also carry the meaning of pure innocent love — perfect for new couples! Make her feel like a princess this Valentine's Day with a bouquet of rainbow baby's breath flowers (available on flowersandkisses)!
3. Peonies: A long and happy marriage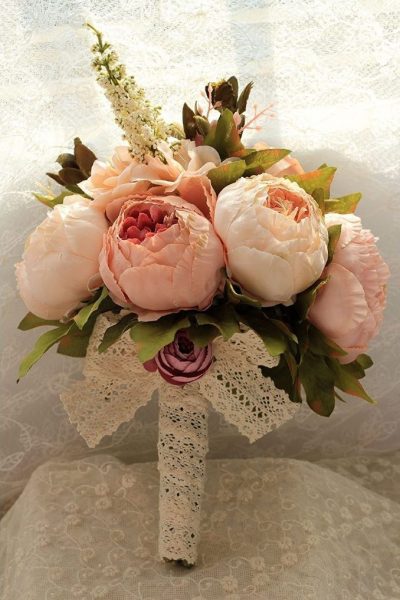 It's no wonder peonies are one of the top choices for weddings — these beautiful blooms symbolise a strong and lasting marriage! Even if you've yet to pop the important question to your special someone, these ruffled blooms can convey your sincerity and commitment to the relationship! As one of the best Valentine's Day flowers in Singapore, pink peonies' beautiful soft flush will definitely make her day! For a longer-lasting bouquet, go for artificial silk peonies instead!
4. Tulips: Perfect love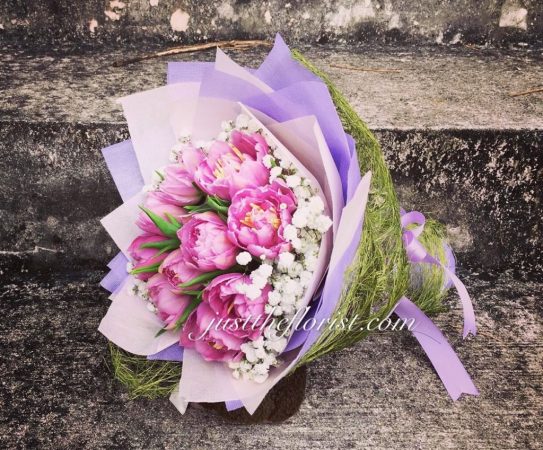 Brighten her day with a vibrant bouquet of tulips! These cup-shaped blossoms exude beauty and grace, making them perfect for the girl of your dreams! Symbolising absolute love and undying passion, tulips are a great choice for Valentine's Day flowers in Singapore!
Tulips come in a spectrum of colours, ranging from yellow to purple. To express your fiery passion and devotion to your partner, buy a bouquet of bright red tulips! Artificial tulips are also a great alternative and can be rearranged into a cheerful home decoration!
5. Sunflowers: Adoration and loyalty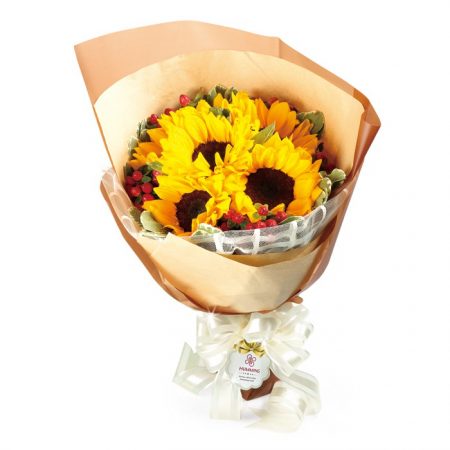 If you're looking to lift someone's spirits this Valentine's Day, look no further than a bouquet of cheery sunflowers (available on hummings.com)! This crowd favourite is adored for its brilliant yellow petals that mimic the rays of a warm glowing sun! The sunflower symbolises strong loyalty and blazing adoration, making it a popular Valentine's Day flower in Singapore to express your sincerity and affection. For everlasting blooms, get a vase of artificial sunflowers instead!
6. Orchids: Undeniable beauty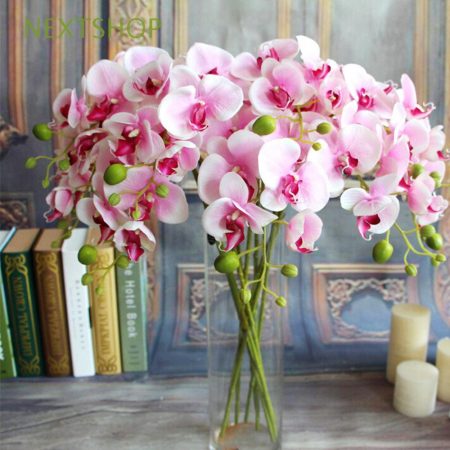 Ditch the conventional roses and make way for orchids this Valentine's Day! It's always love at first sight with these flowers — their interesting and symmetrical blooms captivate our heart in an instant. Convey your admiration to the gorgeous woman in your life by presenting her a bouquet of orchids, to symbolise charm, love, beauty, elegance and fertility (perfect for dropping hints on expanding the family). If you're looking for Valentine's Day flowers in Singapore that doesn't require much maintenance, go for artificial orchids!
7. Gerbera Daisies: Immense bliss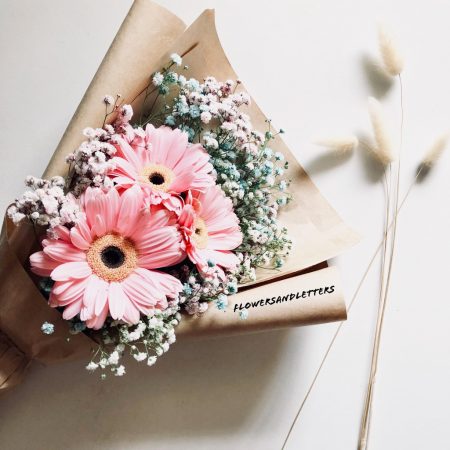 Searching for something vibrant and optimistic for the happy pill of your life? Gerbera daisies are the perfect Valentine's Day flowers in Singapore for her! These blooms come in a range of bold and pastel colours from lively orange and deep reds to baby pinks!
In general, gerberas signify cheerfulness, bliss and optimism. Present a bouquet of orange gerberas to your little sunshine to express affection or some purple gerberas that hint at her mesmerising beauty and elegance. There are also red gerberas (available on Myhannahouse), which signify fondness and desire for that someone special!
8. Lilies: Pure devotion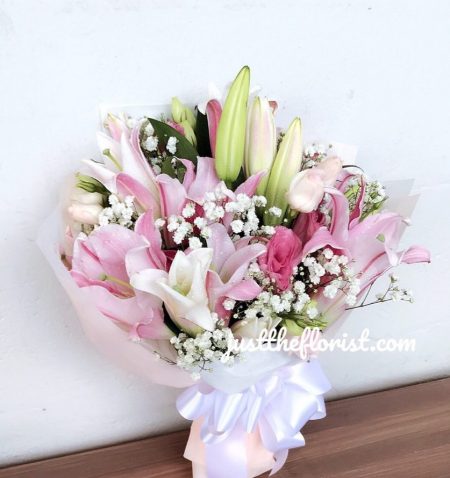 Another Valentine's Day flower in Singapore that she might like is a bouquet of graceful lilies (available on FarEastFloracom). Representing devotion, passion, purity and fertility, this is a flower you want to give to the most important woman in your life. Delight her senses with the lily's sweet and soothing scent — also known as the fragrance of love! When gifting a bouquet of lilies to your lover, stick to pink, red or yellow lilies which symbolises infatuation, love, and happiness respectively!
9. Carnations: Indescribable admiration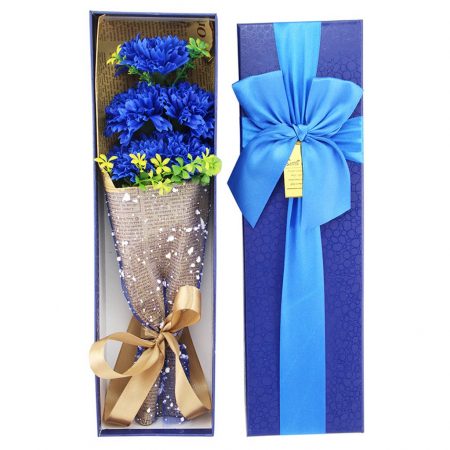 As the most popular flowers for Mothers' Day, carnations also embody romance and admiration — making them one of the top choices for Valentine's Day flowers in Singapore! What's more, carnations are hardy blooms that will last beyond February 14, so your money won't be spent in vain!
You can find carnations in a wide array of colours and you can even go the extra mile by customising a hue to your (or her) preference! To express pure love, go for a bouquet of white carnations. Light red carnations symbolise admiration while dark red carnations express deep love! If you're looking for an unconventional and creative bouquet, then get her a carnation soap bouquet (available on shoplara)! This will transform her bathtime into an aromatic and soothing one!
We hope we've given you a better idea of the various types of Valentine's Day flowers in Singapore! Don't forget to place orders for your beautiful bouquet at least three weeks in advance to avoid massive price hikes (or even delivery delays)! Meanwhile, check out our list of alternative Valentine's Day ideas in Singapore to spice up your celebration and bring her to one of these romantic restaurants to indulge in a sumptuous feast!
---
New to Shopee? Get $7 off (min. spend $15) with code*: VDAYFLOWERS
* TNC Applies. Valid for new users from 12 to 19 Feb only.