What's the first thing that comes to your mind when you think of springtime? Most definitely the pleasant weather and the lovely sight of blooming flowers. For those travelling to Japan, that would mean sights of sakura cherry blossoms and hanami (a Japanese tradition to admire cherry blossoms during springtime). Wondering what are the best places to see sakura cherry blossoms in Tokyo and Greater Tokyo? Stay on to learn more about each place and what they have in store for you!
When should I go to Japan to see cherry blossoms?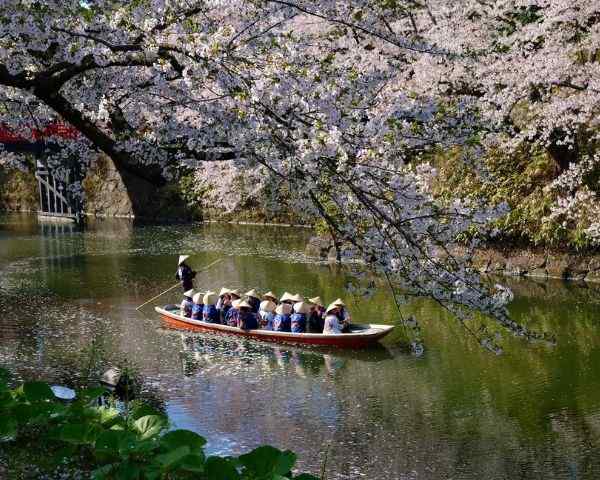 Japan's cherry blossom season can start as early as January and end as late as May. Each species of cherry tree also has different flowering periods and may bloom earlier or later than the forecasted period. That said, your best bet to catch the cherry blossoms is in the months of March and April — the peak sakura season for most prefectures except Hokkaido. Listed below is the list of prefectures, major cities, and the forecasted dates for Japan's cherry blossom season this 2023.
| | | | |
| --- | --- | --- | --- |
| Prefecture | Capital city | Forecasted first bloom date [2023] | Forecasted full bloom date [2023] |
| Hokkaido | Sapporo | May 2 | May 5 |
| Aomori | Aomori | Apr 22 | Apr 26 |
| Miyagi | Sendai | Apr 8 | Apr 13 |
| Tokyo | Tokyo | Mar 22 | Mar 30 |
| Ishikawa | Kanazawa | Apr 4 | Apr 10 |
| Nagano | Nagano | Apr 9 | Apr 15 |
| Aichi | Nagoya | Mar 25 | Apr 4 |
| Kyoto | Kyoto | Mar 27 | Apr 5 |
| Osaka | Osaka | Mar 28 | Apr 5 |
| Wakayama | Wakayama | Mar 27 | Apr 4 |
| Hiroshima | Hiroshima | Mar 26 | Apr 4 |
| Kochi | Kochi | Mar 22 | Mar 30 |
| Fukuoka | Fukuoka | Mar 23 | Apr 1 |
| Kagoshima | Kagoshima | Mar 27 | Apr 7 |
Best places to see sakura cherry blossoms in Tokyo
1. Nakameguro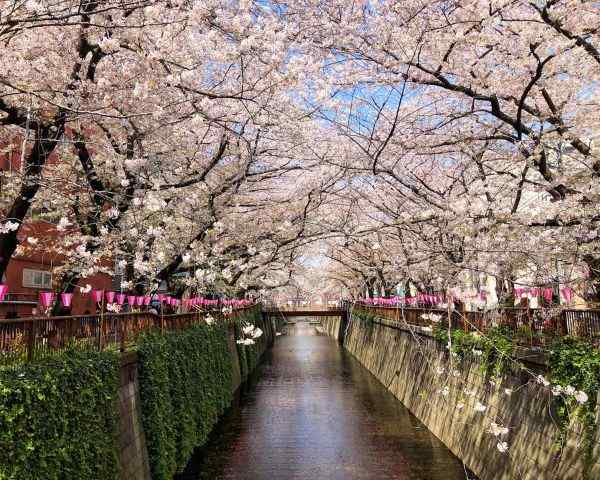 Come springtime, swarms of tourists flock to Nakameguro — one of the best places to see sakura cherry blossoms in Tokyo! Beautiful cherry trees line the banks of the Meguro River, decorating the district in various pink and white hues. To immerse yourself in the hanami experience, opt to ride on a hanami cruise instead. Each trip lasts about 70 minutes and puts you in close range of the iconic cherry blossoms. You can also head to a shrine nearby to get yourself an omamori charm. Who knows? You could increase your luck when it comes to catching these lovely blossoms! Alternatively, chill out and enjoy a cuppa coffee at the Nakameguro Starbucks Reserve Roastery while enjoying the lovely scenery.
2. Shinjuku Gyo-en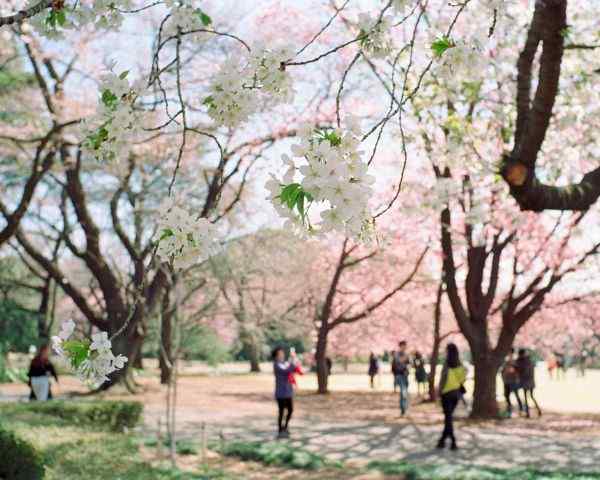 Located in central Tokyo, Shinjuku Gyo-en is the best place to see sakura cherry blossoms without leaving the city centre. The garden spans around 600 square kilometres and is home to about 1,500 cherry trees of various varieties. These can be found scattered across the garden, sheltering you from the sun as you indulge in your meal. Once done, take a stroll to digest and visit other attractions such as the English Garden and the amazing greenhouse.
3. Ueno Park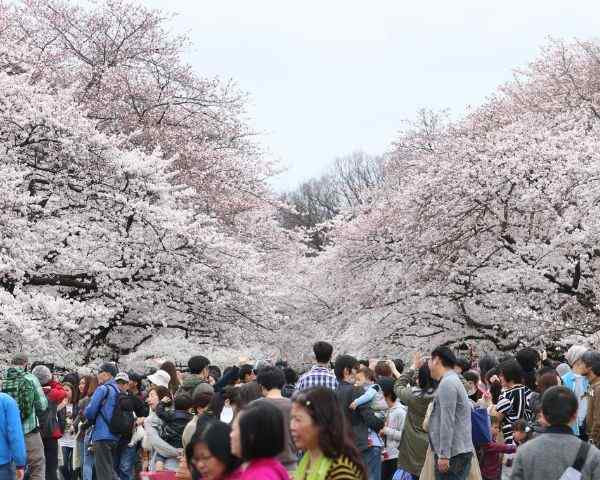 Ueno Park is one of the largest parks in Tokyo and is the best place to admire the cherry blossoms. Its central pathway is flanked by a thousand cherry trees, creating beautiful sakura foliage that is second to none. It is also during this period when the annual Ueno Cherry Blossom Festival is held as well. This event sees stalls plying along the pathway, selling festival snacks for visitors to enjoy while admiring the flowers. With Japanese fare ranging from dango to takoyaki, this place is definitely worth every single second of your time!
4. Kiba Park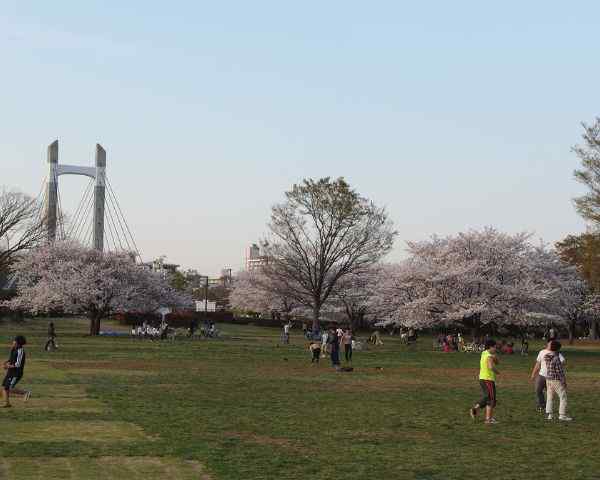 Kiba Park translates to "wood place" and is one of the best spots in Tokyo to see sakura cherry blossoms! This park has plenty of expansive spaces — perfect for sports enthusiasts who are looking for a good workout. Its northern end has a few tennis courts and two large plazas for you to execute your morning routine. On the other end lies a big grassy field where visitors can chill out and bask in the afternoon sun. With so many things to do here, it's no wonder people can spend the whole day here at Kiba Park!
5. Sumida Park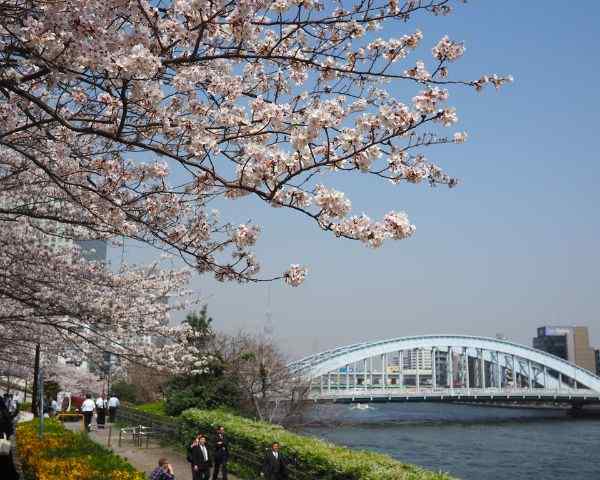 If you're in the Asakusa district, then you've got to drop by Sumida Park! Straddling the Sumidagawa River, the park has around 600 wonderful cherry trees that flutter along with the refreshing spring breeze. Hop onto the water bus and soak in some of the most spectacular views while cruising along the river. At the same time, you can also get the best shots of the Tokyo Skytree set against magnificent cherry blossoms. Make a trip here and you will be rewarded with one of the best sakura views in all of Tokyo!
6. Chidorigafuchi Moat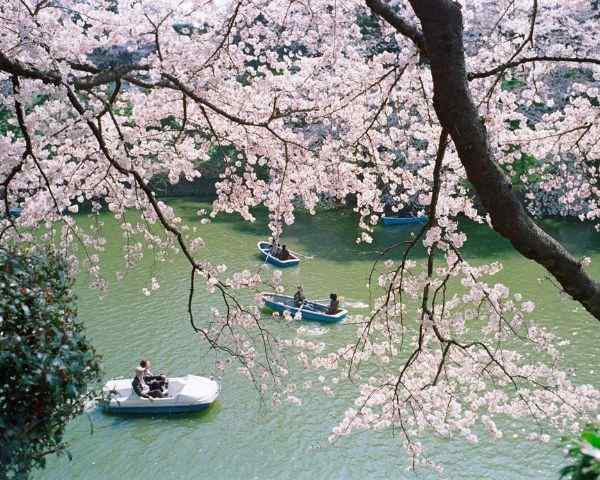 This is probably one of the places in Tokyo to see the best cherry blossoms! During the sakura season, Chidorigafuchi Moat sees tourists and locals who yearn for a glimpse of the cherry blossoms. The best way to do so is to rent a small paddle boat to cruise gently down the moat. You and your partner can then enjoy an intimate moment while appreciating swoon-worthy pink and white cherry blossoms. Simply gorgeous! 
7. Yaesu Sakura-Dori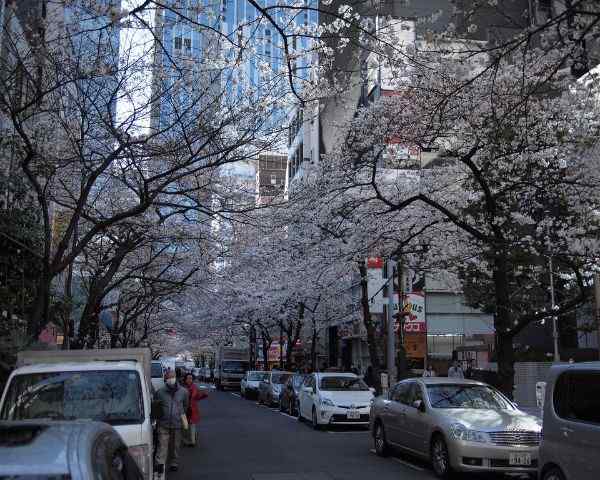 The best places to see sakura cherry blossoms don't always have to be found within parks. Case in point: Sakura-Dori in Yaesu, Tokyo! Every March and April, Sakura-Dori's hundred cherry trees come to life and decorate the road with their beautiful flower petals. The branches of these cherry trees extend out to form a canopy, providing shade to passers-by who walk beneath them. At night, these trees are illuminated, casting a light pinkish glow on the avenue as well as nearby buildings. 
8. Inokashira Park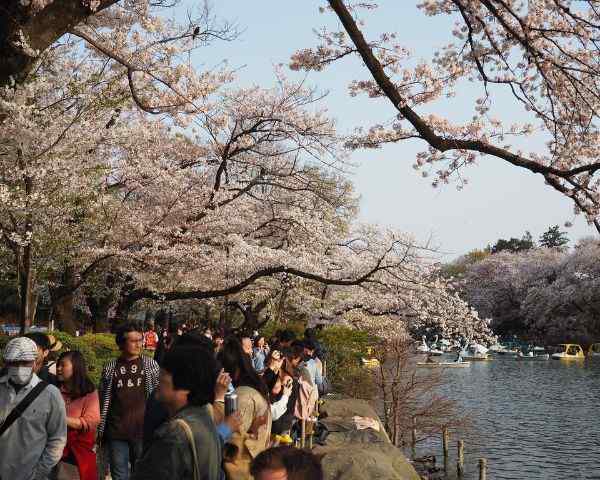 Inokashira Park is one of the best places to see the sakura cherry blossoms ever since its founding in 1917. The first suburban park in Tokyo and Japan, this destination has been known for its tranquillity and awesome landscaped gardens. In spring, the cherry blossoms bloom in clusters and stretch out all the way to the surface of the pond. Accompanied by sunlight that reflects off the glistening pond, the fascinating sakura views are a sight not to be missed!
9. Showa Kinen Park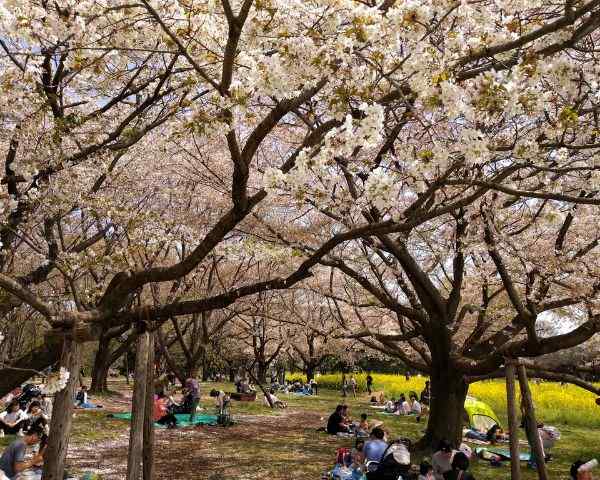 If you missed the peak sakura cherry blossoms in Tokyo, don't panic! The best place to see all of them in their glory is at the Showa Kinen Park down in Tachikawa. The park's flowers bloom later than those downtown, increasing the chances of catching them in action up till late April. To get the best sweeping views, head on over to the Cherry Blossom Garden in the Open Field. Thereafter, lay out your picnic mat and enjoy a wonderful meal with a view while chilling under the cherry trees.
10. Yoyogi Park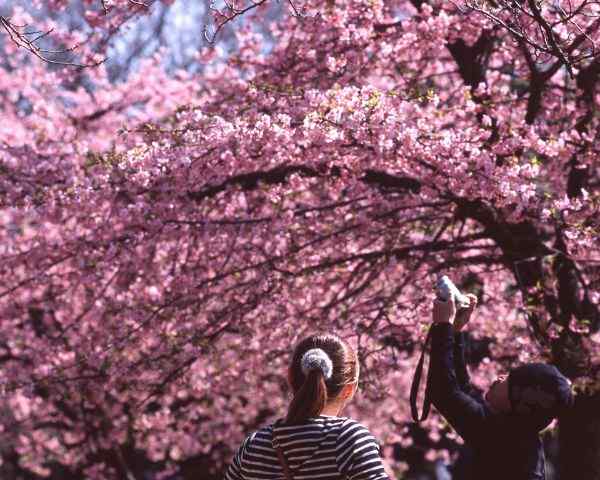 Given its proximity to major landmarks, it's no surprise that Yoyogi Park is one of the best parks in Tokyo. The park is home to around 700 cherry trees and offers breathtaking views of the sakura cherry blossoms. During the day, the park gets crowded as throngs try to get picture-perfect views of the enchanting cherry blossoms. You will also find many people, locals and tourists alike, taking their time to immerse themselves in a hanami experience. Those who wish to visit should come in the early hours to secure a spot underneath the picturesque trees.
Best places to see sakura cherry blossoms in Greater Tokyo
11. Gongendo Park
The best place to see Yoshino cherry blossoms has to be at Gongendo Park in Saitama Prefecture. A 1.5 hour-ride away from Tokyo, the park has one of the most famous cherry blossom tunnels. This sakura tunnel stretches one kilometre in length, covering the park in various mesmerising shades of pastel colours. For those who love an idyllic getaway, be sure to add this to your list of places to visit when in Tokyo.
12. Omiya Hananooka Norin Garden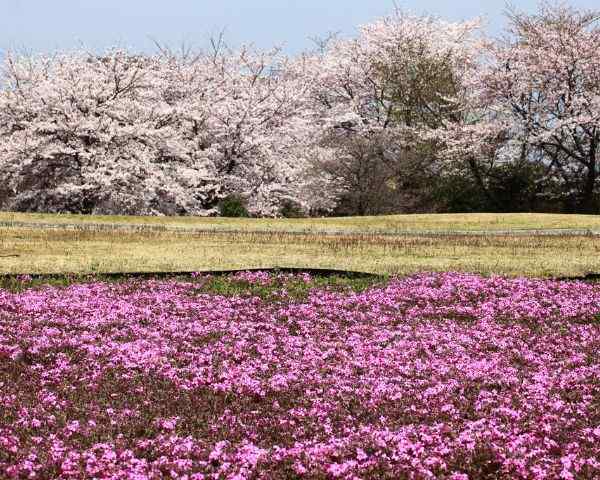 The Omiya Hananooka Norin Garden is the best place in Greater Tokyo to catch blooming flowers all year round — cherry blossoms included! Nature lovers can frolic in the fields while capturing photographs of these resplendent flowers; all of them thriving with life. Those visiting in April and lucky enough can even get the opportunity to see blossoming sakura alongside vibrant tulips! The flowers here are, truly, a wondrous sight to behold!
13. Nishi-Hirabatake Park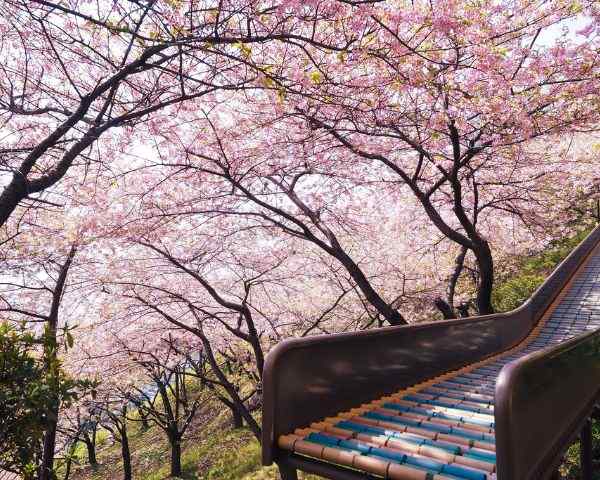 Nishi-Hirabatake Park is the best place to see sakura cherry blossoms in an unconventional way! Take a day trip from Tokyo and head to Matsuda city, a town nestled in the hills of western Kanagawa. There, you can find Nishi-Hirabatake Park, a hilltop park with around 360 kawazuzakura trees that bloom as early as February. At the summit, visitors can enjoy panoramas of the sakura alongside Japan's most famous icon: Mt.Fuji. Then, take the slide down the hill to enjoy some thrills while relishing in the beauty of the cherry blossoms.
Head on over to the best places in Tokyo to see the sakura cherry blossoms this springtime
Now that you've known all the best places to see sakura cherry blossoms in Tokyo and beyond, all that's left to do is to book your flight tickets to Japan! Looking for more Japanese travel inspo? Check out the best ramen spots in Tokyo, the best theme parks in Japan, and the best ski resorts in Hokkaido to visit. Otherwise, here are some pretty sakura products — befitting a sakura lover like you!