Let's face it — it's always going to be warm in Singapore. Be it the start or the end of the year, the heat at home hardly dissipates. If you don't have air conditioning installed (or simply not a fan of air conditioning), fret not! You can still keep your home and yourself cool with these best standing fans in Singapore. But first things first. Do you know the difference between tower and pedestal fans? Read on for an overview of their main differences before bookmarking your favourite models below!
Tower fans vs pedestal fans
| | | |
| --- | --- | --- |
| Feature | Tower fans  | Pedestal fans |
| Power | Less powerful | More powerful |
| Height | Tall and sleek | Tall and some can be adjusted to be even taller |
| Noise | Can be quiet | Can be quiet |
| Design | Sleek and premium | Basic look and feel |
| Features | Built in purifiers, ionisers and smart features | Standard without many additional smart features |
Best tower fans
1. Mistral MFD4000R Tower Fan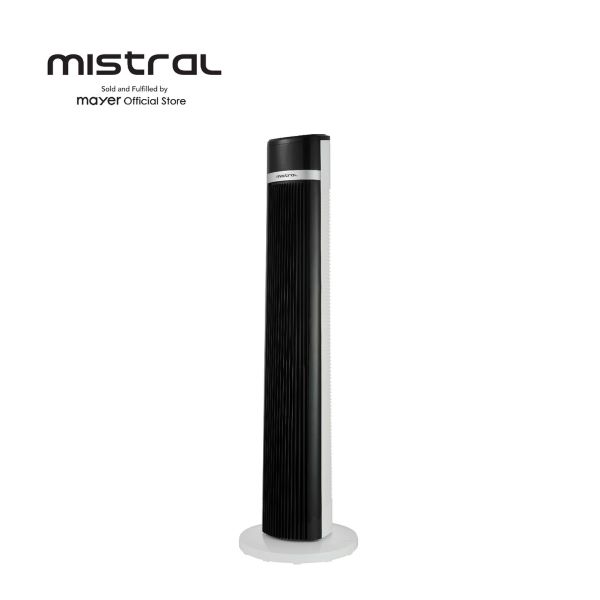 The Mistral Tower Fan (available on Mayer Official Store) boasts a sleek black design that'll blend in neatly with any renovation style. Without any blades, this Mistral tower fan is safe to be placed in your kids' playpen to keep them cool throughout the day. Coming in at less than 4kg, it's also one of the most lightweight fans on this list that you can easily carry around the house. You can easily toggle between three different modes using the remote control, or set a 15 hour timer so that it can power off automatically.
2. Dyson Cool AM07 Tower Fan Iron Blue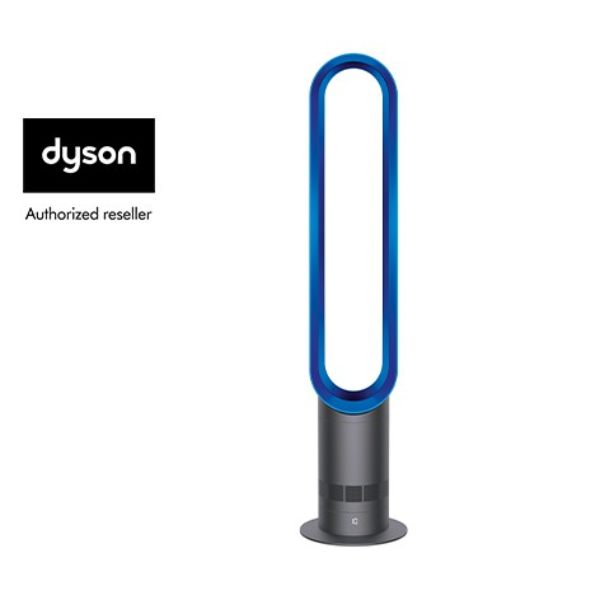 It's easy to forget you're living in hot and humid Singapore when you have the best tower fan — the Dyson Cool AM07 Tower Fan Iron Blue (available on Dyson). This renowned bladeless fan is equipped with Dyson's patented Air Multiplier technology to supply powerful streams of uninterrupted airflow throughout your house. It's also 60% quieter than its predecessor, the AM02, and sounds almost like an inaudible whisper that hums in the background. This works perfectly for light sleepers whose sleep is easily disrupted. The lack of blades also make this Dyson fan a breeze to clean (pun intended) — just wipe it down with a damp cloth.
3. Sona Wood Pattern Tower Fan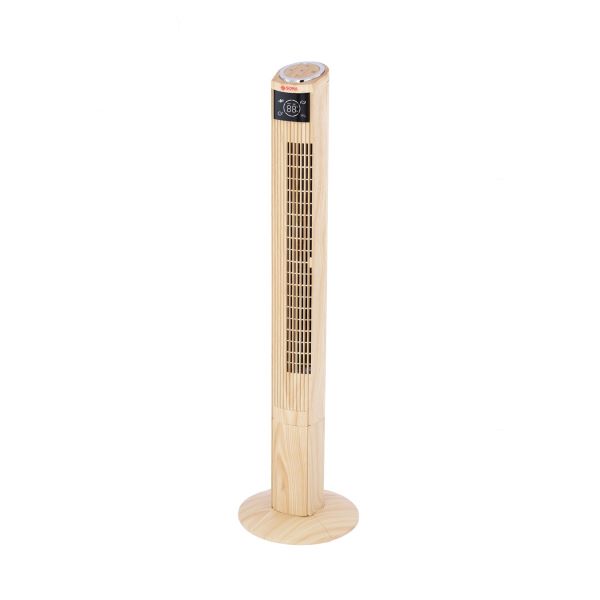 Have a Scandinavian or Muji aesthetic going on for your abode? This Sona Wood Pattern Tower Fan (available on Sona_Official_Store) will fit right in! The elegant carved wood design easily makes this a centrepiece for your living room. Marrying beauty with function, this Sona tower fan also boasts an ioniser function that helps to keep the air around you clean. It also sports an LED Display Screen that shows you what mode the fan is on at a glance.
4. Europace Tower Fan With Remote ETF 1129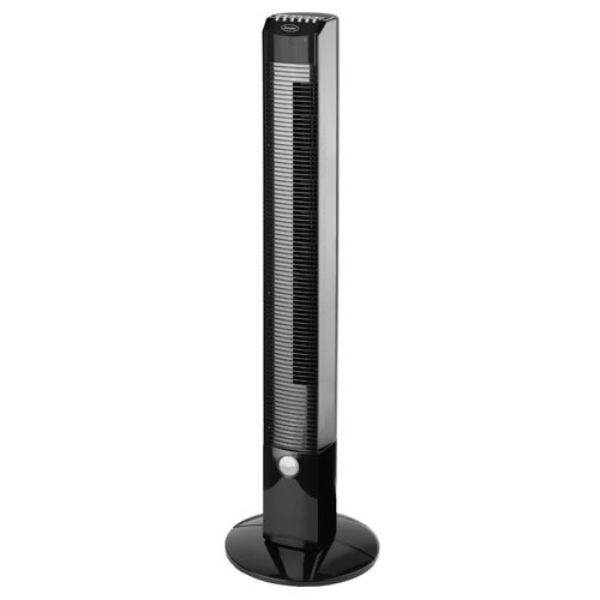 Fans are one of the most common home appliances in many Singapore homes but nobody wants their living space to be cluttered with a chunky and obtrusive fan. This black, bladeless Europace Tower Fan With Remote ETF 1129 (available on Europace Official Store) will blend seamlessly with any home decor without taking up too much space. It's also one of the best tower fans if you've little ones at home as its bladeless design means it'll be safe for their curious, roaming fingers. This Europace fan boasts strong airflow, an ioniser feature plus a slim and trendy remote to boot.
5. Mistral Blade-Free Fan With Air Purifier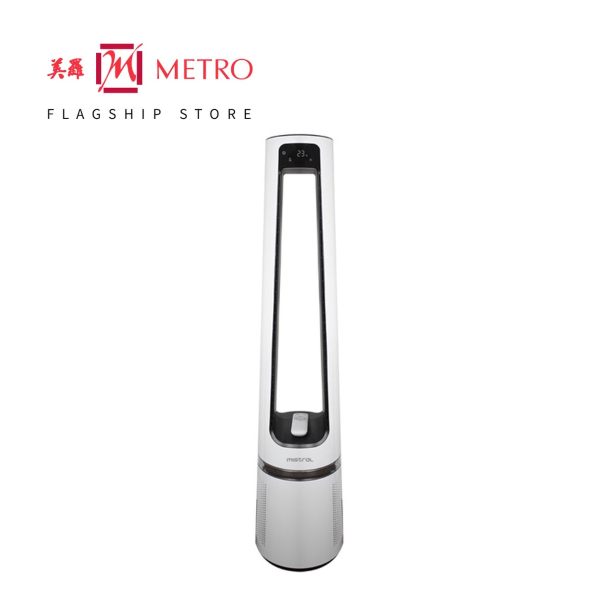 Take no chances when it comes to your kids' safety. The Mistral Blade-Free Fan With Air Purifier (available on Metro Official Store) eliminates any safety hazards with its child-friendly bladeless design. Boasting a wide oscillation coverage of up to 120 degrees and a wind coverage of eight metres, this is one of the best tower fans to cool down bigger spaces such as your living room.  With that said, the bladeless fan also works well in the bedroom as it produces little to no noise. It also doubles as a night light — perfect for kids who are afraid of the dark. The Mistral fan is equipped with a HEPA filter to extract pollutants from your surrounding, creating better air quality for you and your family.
Best pedestal fans
Pedestal fans are still some of the best standing fans in Singapore you can rely on, especially if you're on a tight budget. Some pedestal fans are also more powerful than tower fans due to their larger blades which offer more airflow output. You can also adjust the pedestal fan to suit your needs — by adjusting its height, titling the fan head or face the fan in one direction without oscillating it.
6. Iona 16″ Stand Fan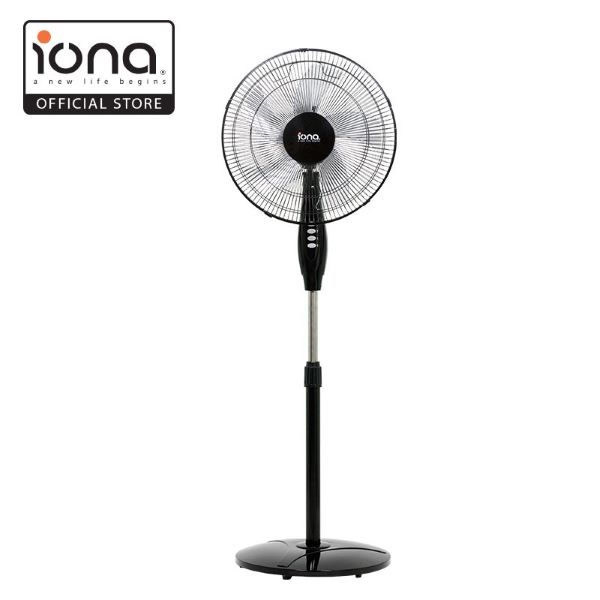 This IONA 16″ Stand Fan (available on Iona Official Store) retails below $50 and produces powerful airflow to cool your room down fast. It features three adjustable speed settings and weighs just over 5kg, meaning you can easily carry this Iona fan from room to room. You can increase its height by about 25cm (up to a maximum of 133cm) – perfect if you have kids who sleep on higher loft beds.
7. Tefal Turbo Silence Extreme Stand Fan VF5670/VF5670G0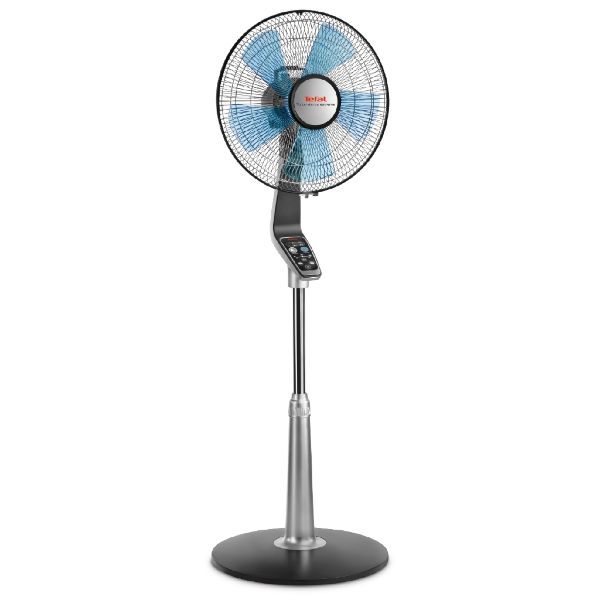 Shh, some of the best pedestal standing fans can also be super quiet. Case in point: this Tefal Turbo Silence Extreme Stand Fan 16″ VF5670 (available on Tefal Official Store). It boasts just 35 db(A) — for context, normal conversation or background music is about 60 db(A). Plus, it doesn't compromise on power. This means that this is one of the best standing fans in Singapore to buy if you're looking for a quiet but powerful fan. Toggle between the Turbo Boost setting for a powerful airflow or select the Silent Night setting for a relaxing and quiet setting so you won't be woken by the sound of the fan at night. It also has a handy remote control storage slot so you won't lose your remote control ever again.
8. Toshiba 16″ Stand Fan with Timer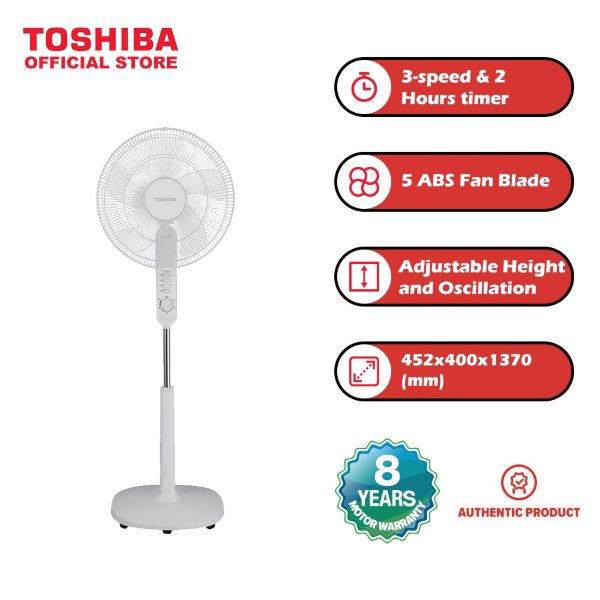 The Toshiba 16″ Stand Fan with Timer (available on Toshiba Official Store) is an all-rounded contender in this showdown of the best standing fans in Singapore. It comes with three adjustable speed settings to counter even the hottest of days. The five-blade design ensures high wind velocity and you can adjust the height of the fan accordingly to suit your needs. If you often forget to turn off your home appliances to conserve electricity, this fan is for you. Set the fan's timer to 120 minutes and it will automatically switch off when the time is up — how convenient!
Best convertible pedestal fans
Some of the best standing fans in Singapore are those that we can get the most use out of. 2 in 1 standing fans or 3 in 1 standing fans are useful for being able to transform into desktop or table fans when we need to. This flexibility allows you to save on having to buy more fans and maximise the use of your current one.
9. novita GreenFan F-2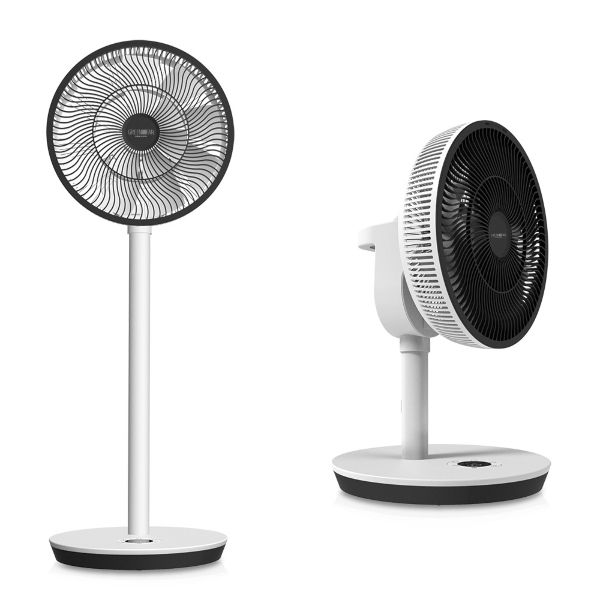 The stronger the airflow the higher the energy consumption of the fan? Not always the case! Enter one of the best standing fans in Singapore — the Novita GreenFan F-2 (available on novita Official Store) which only consumes 2W of power while generating up to 307.2 m/min at maximum speed. It's 4kg light, uber quiet and features 3D circulation coverage — meaning you won't have to adjust the fan head to direct the airflow a certain way. Furthermore, the stand of the fan can be disassembled and re-configured into a handy table fan.
The highlight of this green standing fan, however, has to be its charging dock. A full charge lets it run for 16 hours — meaning you don't need to deal with the hassle of cables when switching on this fan!
10. EuropAce 3-in-1 Stand Fan with 5 Blades ESF 3140V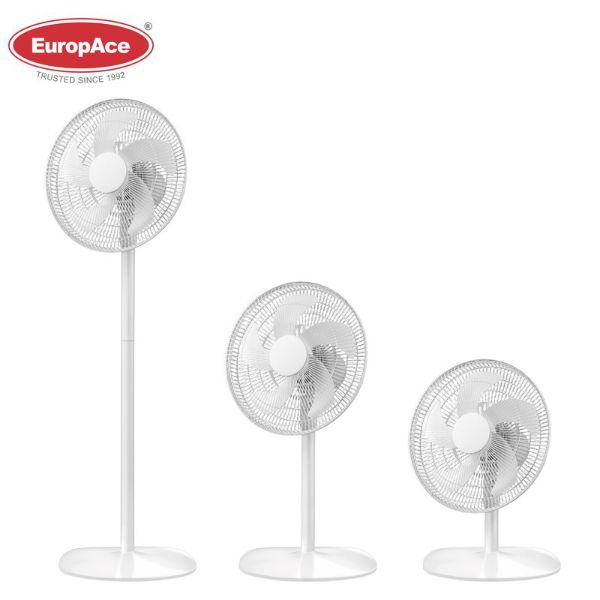 Tall, small and even smaller — enjoy three different heights with the EuropAce 3-in-1 Stand Fan with 5 Blades ESF 3140V (available on Europace Official Store). This adjustable 3-in-1 design allows you to use this fan as a regular standing fan, a mid-height tatami fan and a desk fan. Its five blades also allows it to better circulate the air as it gives it more opportunity for the blades to cut through the air before circulating it. At just under $30, this is one of the best options for small living spaces.
11. Mitsubishi 12″ Tatami Fan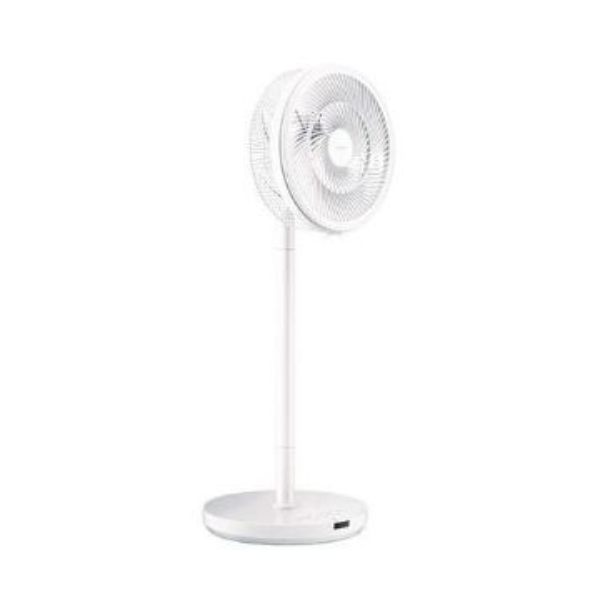 The Mitsubishi 12" Tatami Fan (available on Gain City Official Store) is probably one of the most versatile convertible pedestal fans we've seen on the market. Featuring a 3D smart flow design, the fan can be tilted 90 degrees vertically and 180 degrees horizontally — there's honestly not a spot the fan can't hit. It's also equipped with focused and strong wind velocity with a reach of up to 10 meters. But the best part of this convertible fan is its adjustable height. From a standard pedestal fan to a tatami fan and a desk fan, the Mitsubishi 12" Tatami Fan will come in handy no matter the occasion. 
Cool down with the best standing fans in Singapore
Arm yourselves with the best pedestal and tower fans in Singapore and go about your daily activities with ease. Think a fan might not cut it for you in the sweltering heat? Turn to the best air coolers for a cooling breeze.  In addition, keep the air around you clean with the best air purifiers! Snag these useful appliances at great discounts during our 11.11 Big Sale!
This article was edited on 25 October 2021. Additional research done by Iris Tan.