With mid year and the warmest months of the year upon us, you may have already started feeling the heat at home. If you don't have air conditioning installed at home (or simply not a fan of air conditioning), fret not! You can still keep your home and yourself cool with these best standing fans in Singapore. From the best tower fans from brands like Dyson to affordable, yet powerful pedestal fans, keep yourself from melting with these nifty cooling devices! But first things first. Do you know the difference between tower and pedestal fans? Read on for an overview of their main differences before bookmarking your favourite models below!
Tower fans vs pedestal fans
| | | |
| --- | --- | --- |
| Feature | Tower fans  | Pedestal fans |
| Power | Less powerful | More powerful |
| Height | Tall and sleek | Tall and some can be adjusted to be even taller |
| Noise | Can be quiet | Can be quiet |
| Design | Sleek and premium | Basic look and feel |
| Features | Built in purifiers, ionisers and smart features | Standard without many additional smart features |
Best tower fans
1. Dyson Pure Cool™ TP04 Air Purifier Tower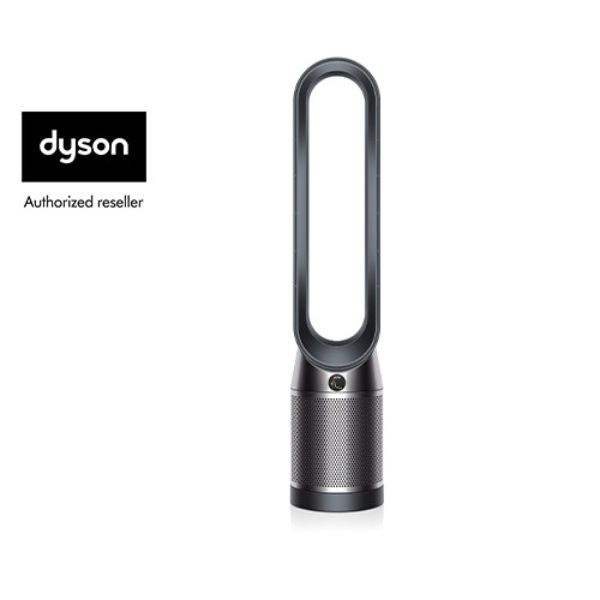 There is no doubt that Dyson fans command a higher price than the average standing fan but it also comes with a host of features that makes you feel less of a pinch. The Dyson Pure Cool™ TP04 Air Purifier Tower Fan Black Nickel (available on Dyson) is a fan, purifier and cooler all in one. This sleek, bladeless fan is able to capture harmful pollutants (as small as PM 0.1), displays real time air quality and is able to project powerful airflow. Its oscillation angle is also adjustable — 45-degree to 350-degree and can project purified air throughout your room. 
That's not all, whatever the fan captures about air quality will be reflected on your Dyson Link app. Its easily changeable filters make this a low maintenance standing fan to invest in for the long run.
2. Honeywell HFY045 Tower Fan wtih Ionizer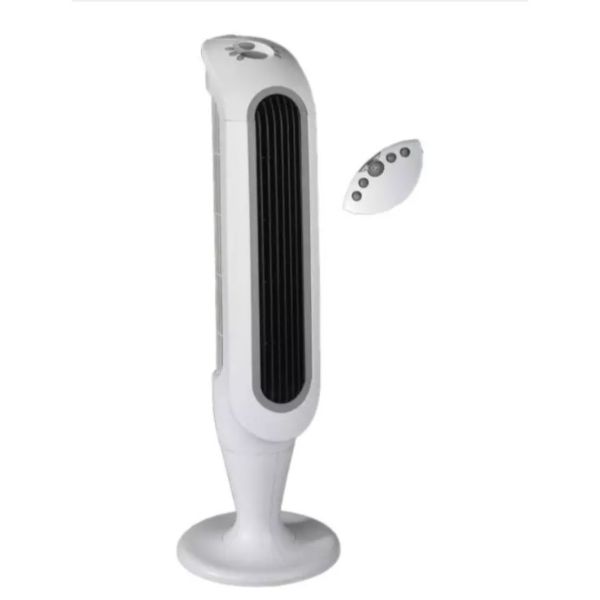 Some of the best standing fans in Singapore come with ionisers. Ionisers help to purify the air of dust and other air pollutants. They work by creating negative ions which in turn attach themselves to positively charged ions like dust, bacteria and pollen in the air. These then bond together to create dense particles that can't float in the air and as a result, fall to the ground. The Honeywell HFY045 Tower Fan w/Ionizer (available on POPULAR Official Store) combines the power of a tower fan with an ioniser. It comes with three speed functions and a LCD control display along with a remote control so you can adjust the speed of this sleek device from anywhere in the room.
3. Europace Tower Fan With Remote ETF 1129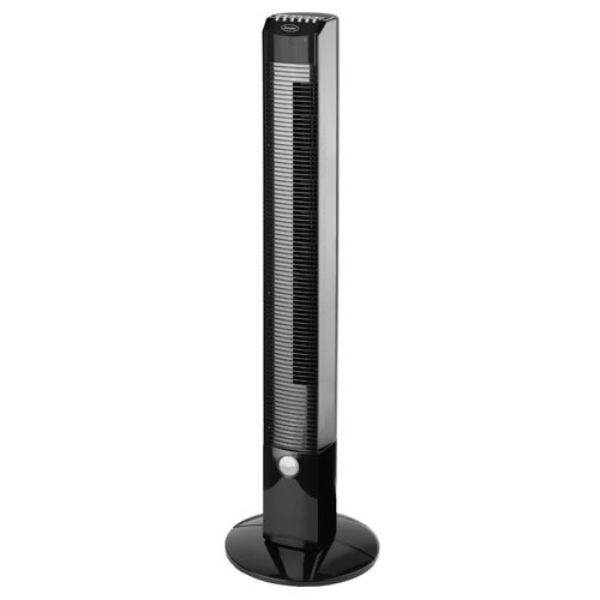 Fans are one of the most common home appliances in many Singapore homes but nobody wants their living space to be cluttered with a chunky and obtrusive fan. This black, bladeless Europace Tower Fan With Remote ETF 1129 (available on Europace Official Store) will blend seamlessly with any home decor without taking up too much space. It's also one of the best tower fans if you've little ones at home as its bladeless design means it'll be safe for their curious, roaming fingers. This Europace fan boasts strong airflow, an ioniser feature plus a slim and trendy remote to boot.
Pedestal fans
Pedestal fans are still some of the best standing fans in Singapore you can rely on, especially if you're on a tight budget. Some pedestal fans are also more powerful than tower fans due to their larger blades which offer more airflow output. You can also adjust the pedestal fan to suit your needs — by adjusting its height, titling the fan head or face the fan in one direction without oscillating it.
4. Iona 16″ Stand Fan 
This IONA 16″ Stand Fan (available on Iona Official Store) retails below $50 and produces powerful airflow to cool your room down fast. It features three adjustable speed settings and weighs just over 5kg, meaning you can easily carry this Iona fan from room to room. You can increase its height by about 25cm (up to a maximum of 133cm) – perfect if you have kids who sleep on higher loft beds.
5. Tefal Turbo Silence Extreme Stand Fan VF5670/VF5670G0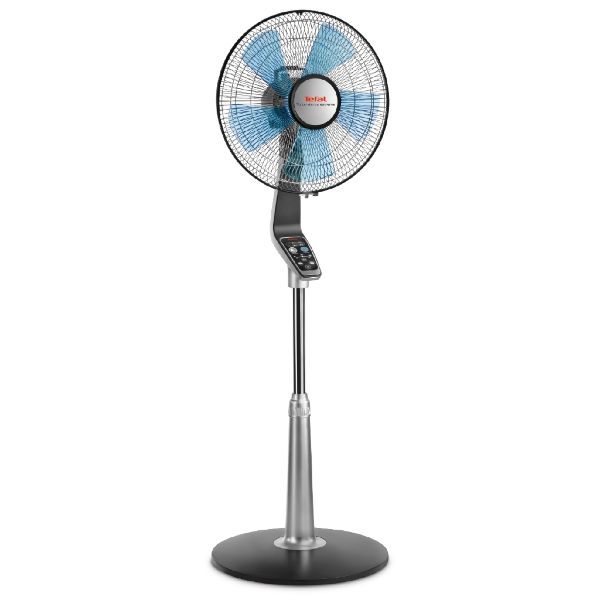 Shh, some of the best pedestal standing fans can also be super quiet. Case in point: this Tefal Turbo Silence Extreme Stand Fan 16″ VF5670 (available on Tefal Official Store). It boasts just 35 db(A) — for context, normal conversation or background music is about 60 db(A). Plus, it doesn't compromise on power. This means that this is one of the best standing fans in Singapore to buy if you're looking for a quiet but powerful fan. Toggle between the Turbo Boost setting for a powerful airflow or select the Silent Night setting for a relaxing and quiet setting so you won't be woken by the sound of the fan at night. It also has a handy remote control storage slot so you won't lose your remote control ever again.
Convertible pedestal fans
Some of the best standing fans in Singapore are those that we can get the most use out of. 2 in 1 standing fans or 3 in 1 standing fans are useful for being able to transform into desktop or table fans when we need to. This flexibility allows you to save on having to buy more fans and maximise the use of your current one.
6. novita GreenFan® F-2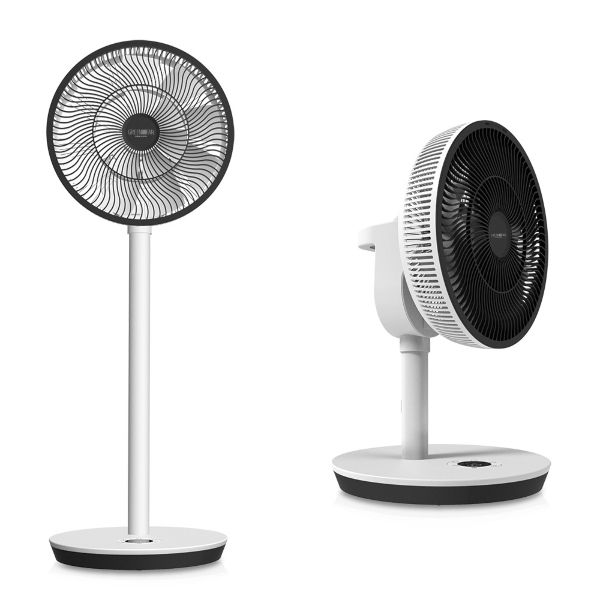 The stronger the airflow the higher the energy consumption of the fan? Not always the case! Enter one of the best standing fans in Singapore — the Novita GreenFan® F-2 (available on novita Official Store) which only consumes 2W of power while generating up to 307.2 m/min at maximum speed. It's 4kg light, uber quiet and features 3D circulation coverage — meaning you won't have to adjust the fan head to direct the airflow a certain way. Furthermore, the stand of the fan can be disassembled and re-configured into a handy table fan.
The highlight of this green standing fan, however, has to be its charging dock. A full charge lets it run for 16 hours — meaning you don't need to deal with the hassle of cables when switching on this fan!
7. EuropAce 3-in-1 Stand Fan with 5 Blades ESF 3140V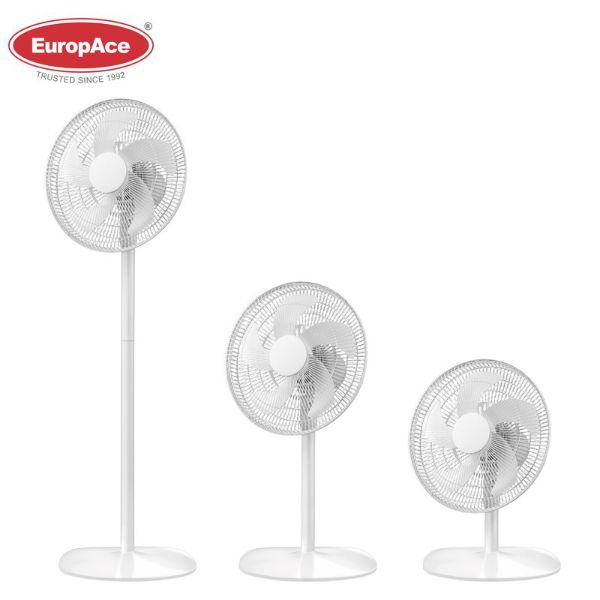 Tall, small and even smaller — enjoy three different heights with the EuropAce 3-in-1 Stand Fan with 5 Blades ESF 3140V (available on Europace Official Store). This adjustable 3-in-1 design allows you to use this fan as a regular standing fan, a mid-height tatami fan and a desk fan. Its five blades also allows it to better circulate the air as it gives it more opportunity for the blades to cut through the air before circulating it. At just under $30, this is one of the best options for small living spaces.
Cool down with the best standing fans in Singapore
Arm yourselves with the best pedestal and tower fans in Singapore and go about your daily activities with ease. Think a fan might not cut it for you in the sweltering heat? Turn to the best air coolers for a cooling breeze. Mozzies and dengue fever may also be rampant during this season. Instead of using synthetic insect repellents, try your hand at making natural mosquito repellents — their natural ingredients will not only ward off mosquitoes but will be gentler on your skin too!