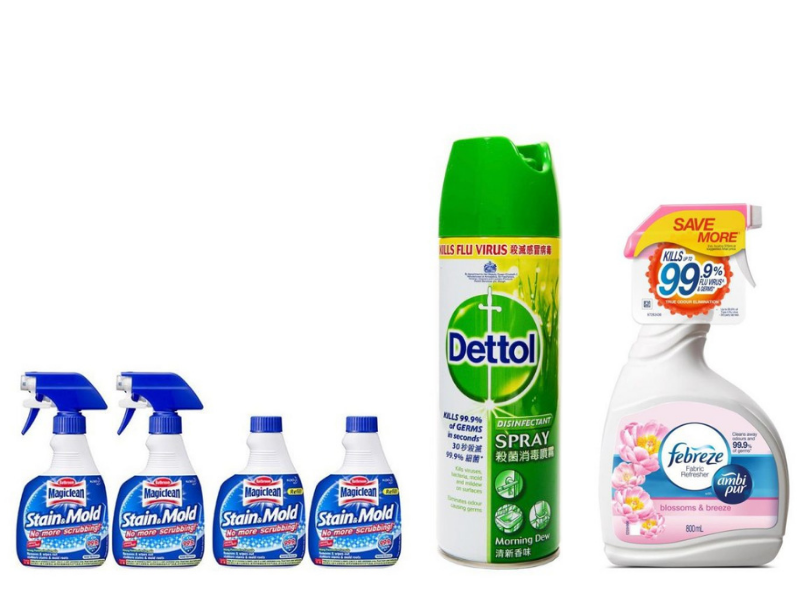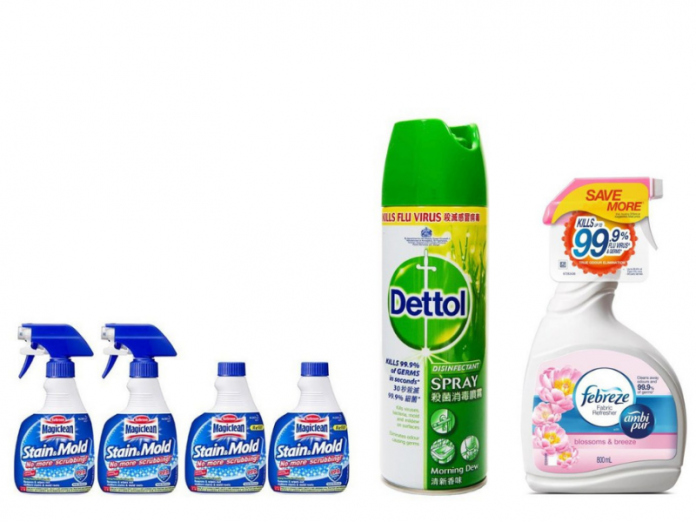 Home is our safe haven. It's where we return to unwind after a long day or to relax on weekends with a cup of hot tea and a good read. And there's nothing better than a home that is kept sparkling clean! Not only does it feel good, but a tidy home also keeps the germs at bay. Read on to find out how you can eliminate nasty germs and bacteria with some of the best household cleaning products in Singapore!
Ingredients to look out for in your household cleaning products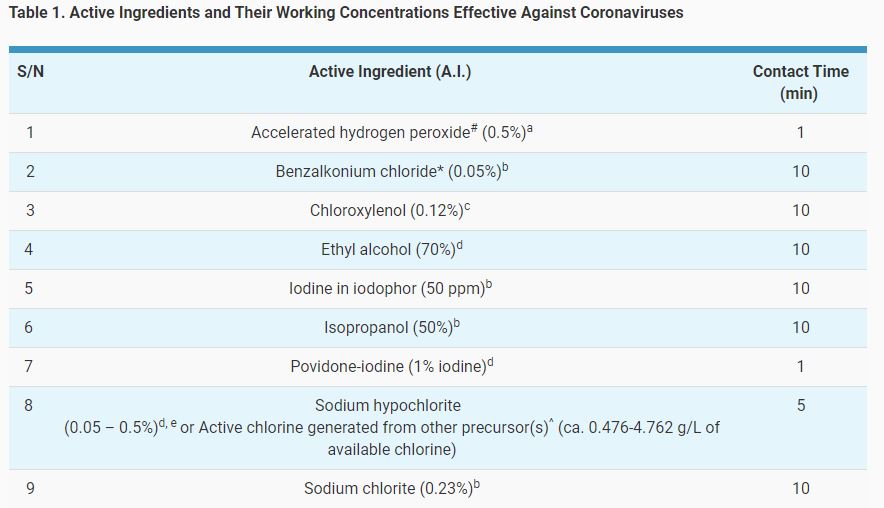 Wondering if the current household cleaning products you're using are effective against germs and viruses? According to the National Environment Agency (NEA), your cleaning products are effective against most germs if they contain the following ingredients.
General household cleaning products
1. Dettol Disinfectant Spray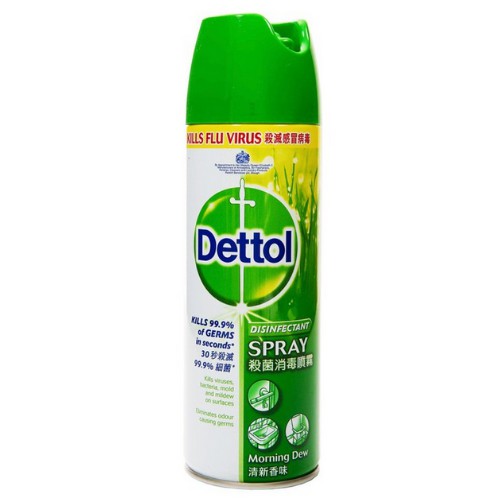 If you had to guess where the dirtiest places in your home are, chances are the bathroom and kitchen would be the first places that come to mind. Besides keeping the floor clean, we often overlook places like countertops, doorknobs and handles.
The Dettol Disinfectant Spray Morning Dew (available on Dettol Official Store) provides a convenient solution to germ protection. Not only can you use it to kill 99.9% of germs on the areas mentioned above but you can also spray it directly onto your sofas and mattresses for sterilisation. This disinfectant spray prevents the spread of harmful bacterias and viruses as well as the growth of mould and mildew.
2. Lysol Disinfectant Spray Crisp Linen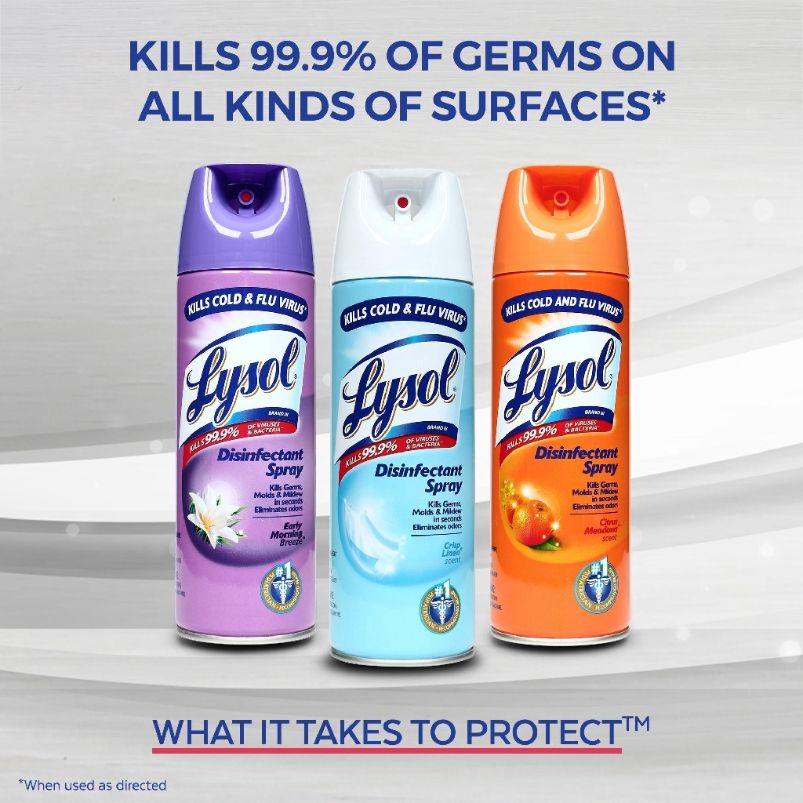 Lysol Disinfectant Spray – Crisp Linen (available on RB home) is a fuss-free spray to use on commonly touched surfaces around the home. Spray this onto soft surfaces like bedsheets and linen, sanitise your sofas or simply deodorise the air. This disinfectant product kills 99.9% of viruses and bacteria, prevents mold and mildew from growing and helps eliminate germs and odours. Bonus: It's available in three scents — Crisp Linen, Citrus Meadows and Fresh Blossoms. Trust us, household cleaning products don't get any better smelling than these!
3. Clorox Disinfecting Wipes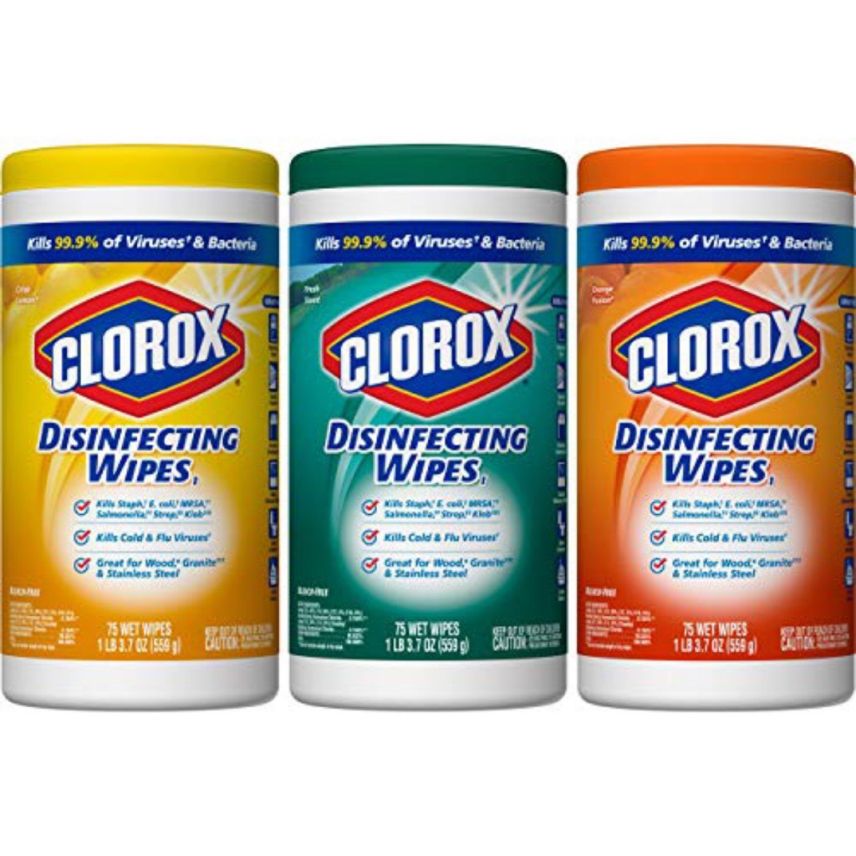 In cases when a disinfectant spray may not be suitable or efficient enough — for example, on the electrical switch or larger surfaces — the Clorox Disinfecting Wipes (available on 99.shop) is a great alternative. It kills 99.9% of viruses and bacteria, including those that cause flu viruses. These disinfecting wipes are also safe for use on office equipment like phones and keyboards and can also be used on wood, mirrors and glass, tile and appliances.
Don't forget to bring these disinfecting wipes with you when you're out and about! They come in handy for parents with young children as you can now sterilise their baby toys and baby gear frequently while on-the-go!  
4. Magiclean Floor Lavender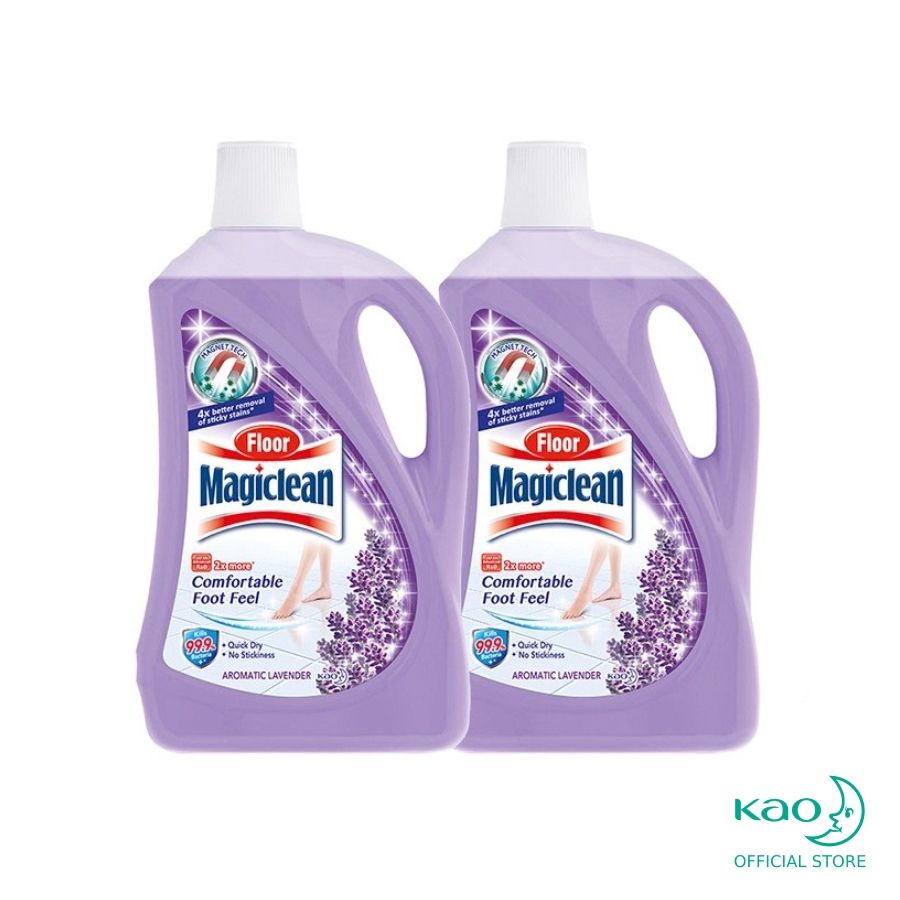 Go the extra mile when you're mopping the floor with the Magiclean Floor Lavender Detergent (available on Kao Official Store). With antibacterial properties, this disinfectant product can help to kill nasty germs. It's also effective against stubborn stains and grease and can be used on ceramic, porcelain, marble, wood and many other surfaces. The detergent dries quickly with no watermark so your floor remains sparkly new with a hint of lavender fragrance!
5. Dettol Antiseptic Germicide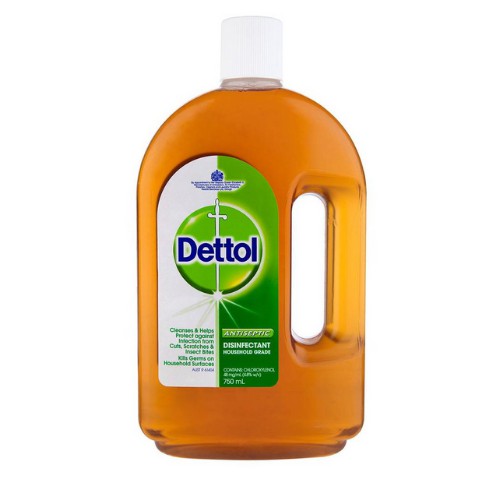 Hands up if this is the go-to household cleaning product in your home! The Dettol Antiseptic Germicide (available on Dettol Official Store) is one of the best all-purpose disinfectant products you can buy. It kills 99.9% of germs and can be used to sanitise almost anything and everything in your home! Use it for cleaning the floor, surface cleaning, laundry sanitisation and disinfecting babywear. But that's not all. The gold liquid can also be used to clean cuts and wounds — useful if you have playful kids. Add it to your home's first-aid kit box and protect your home and family with this simple but powerful product.
6. Mr Muscle 5-in-1 Multipurpose Cleaner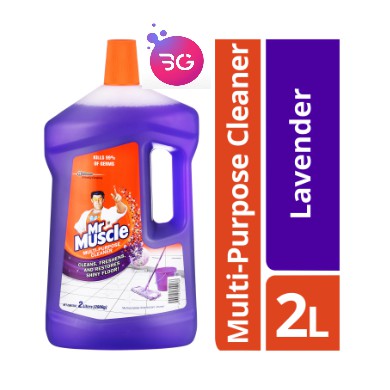 The Mr Muscle 5-in-1 Multipurpose Cleaner- Lavender (available on bellegoods88) is another all-purpose disinfectant product you can trust! As one of the best household cleaning products to eliminate germs and bacteria, this multipurpose cleaner is effective at removing dirt and stains on hard, non-porous surfaces.
For regular cleaning, dilute one cap of multipurpose cleaner in a bucket of water and surface clean. For deep cleaning, pour the cleaner straight onto a cleaning cloth or sponge and wipe the surface. To use this detergent as a disinfectant, apply the concentrated solution to your item of concern and let it stay for about five minutes before wiping off.
Household cleaning products for the bathroom
7. Mr Muscle Toilet Cleaner Foaming Bleach Gel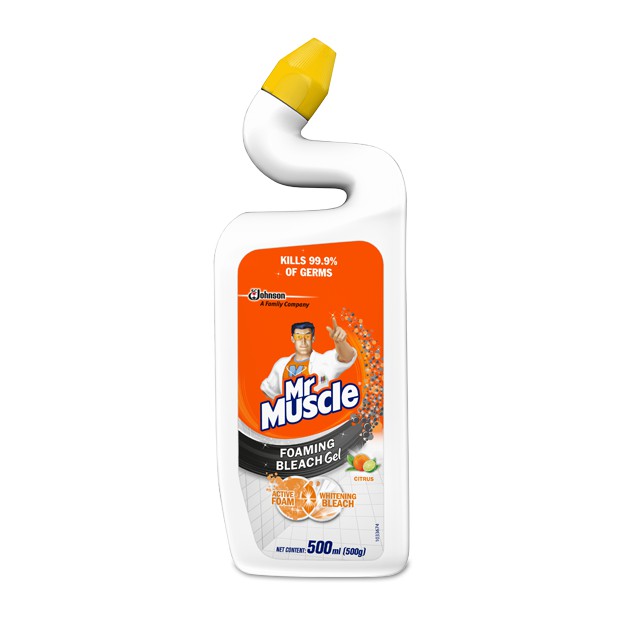 We don't want to paint an icky picture, but there's no denying the bathroom is a breeding ground for germs. It's estimated that the toilet bowl itself has about three million bacteria per square inch — eww! E.coli, Bacteroidaceae and salmonella are some of the common germs found in the toilet. To get rid of them, use a household cleaning product that's as powerful as the Mr Muscle Toilet Cleaner Foaming Bleach Gel available on bellegoods88).
This disinfectant product formulated with a mix of toilet cleaning detergent and strong bleach. Simply squeeze a moderate amount onto the inner walls of your toilet bowl and let the toilet cleaner foam up! The solution rapidly kills up to 99.9% of germs and whitens toilet stains. As it foams up, the bubbles help to loosen up dirt and grime so you can easily scrub them away with a toilet brush. It also leaves behind a citrus fragrance to freshen up your toilet bowl!
8. Magiclean Stain & Mould Remover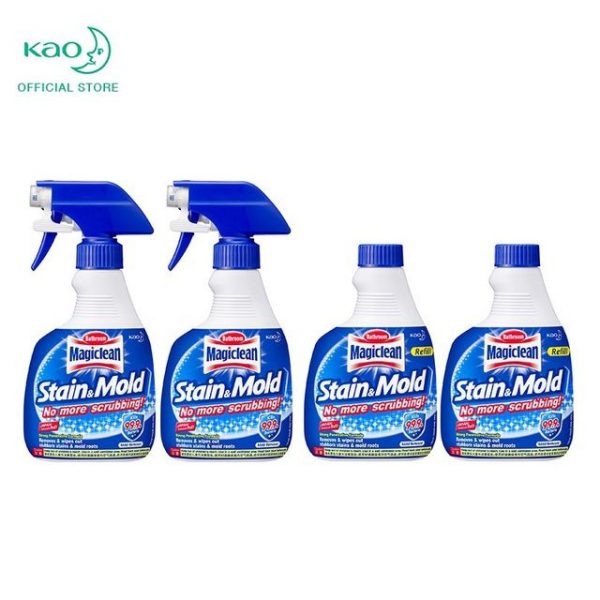 Noticing dark stains growing between your toilet tiles? Yup, you've got a mouldy situation there! Caused by the bacterias that thrive in hot and humid environments, mould not only makes your bathroom look old and dirty but can also increase the risk of health problems. It may trigger allergies, asthma or even affect your immune system over the long run. 
Combat this mouldy problem with household cleaning products such as the Magiclean Stain & Mould Remover (available on Kao Official Store)! Spray it on the affected areas, focusing on the nooks and crannies of your bathroom. Then, watch as the dense foam penetrates deeply into stains and mould to rid them from their roots! The best part? There's absolutely no scrubbing needed, just rinse it off! Plus, it also kills germs effectively in the process. 
Household cleaning products for the kitchen
9. Magiclean Kitchen Bleach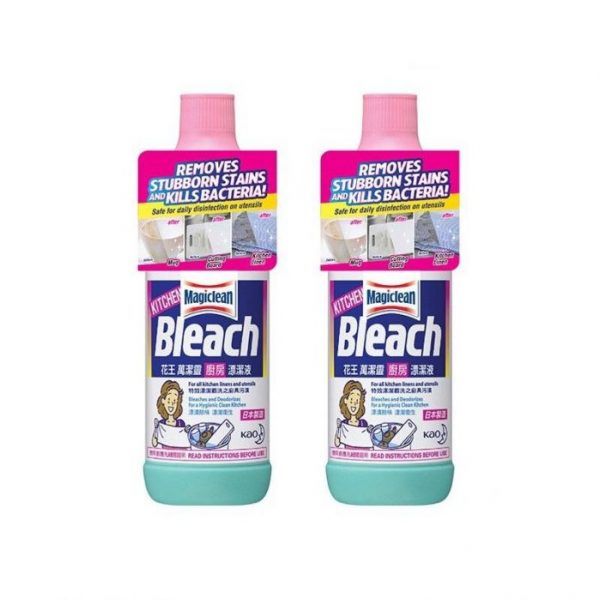 The toilet may have a bad rep when it comes to germs, but the truth is that the kitchen has the most germs compared to other rooms in the house! These harmful bacterias can lurk anywhere — on kitchen utensils, dish sponges and your favourite cookware. 
Stop germs in their tracks with the Magiclean Kitchen Bleach (available on Kao Official Store)! It boasts a safe formula that's great for daily disinfection on utensils and is capable of eliminating tough stains from your tableware. To disinfect, simply mix 20ml of bleach in two litres of water. Then, soak your cutleries, rags and chopping boards in the mixture for about 30 minutes before rinsing with water. You'll notice that your cooking tools smell much better after a soak because this kitchen bleach helps to deodorise them too! 
10. Magiclean Sink & Pipe Cleaner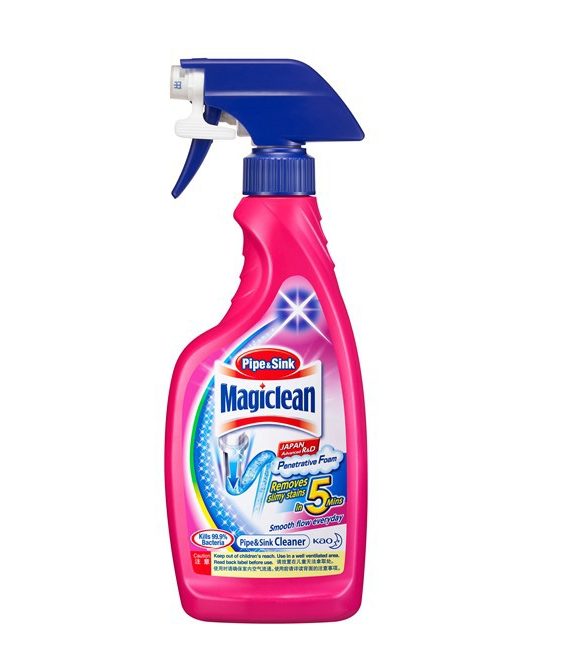 When you're disinfecting your kitchen, don't forget about the drain in your sink! The drain is an excellent hideaway for bacteria. The Magiclean Sink & Pipe Cleaner (available on Shopee Supermarket) is one of the best household cleaning products to tackle this. A few spritzes are all it takes to kill most of the bacteria in the drain. Moreover, the foam helps to melt away dirt and slimy stains in just five minutes, perfect for unclogging and sanitising the pipes at the same time! 
11. Glo Active Foam Lime Dishwashing Liquid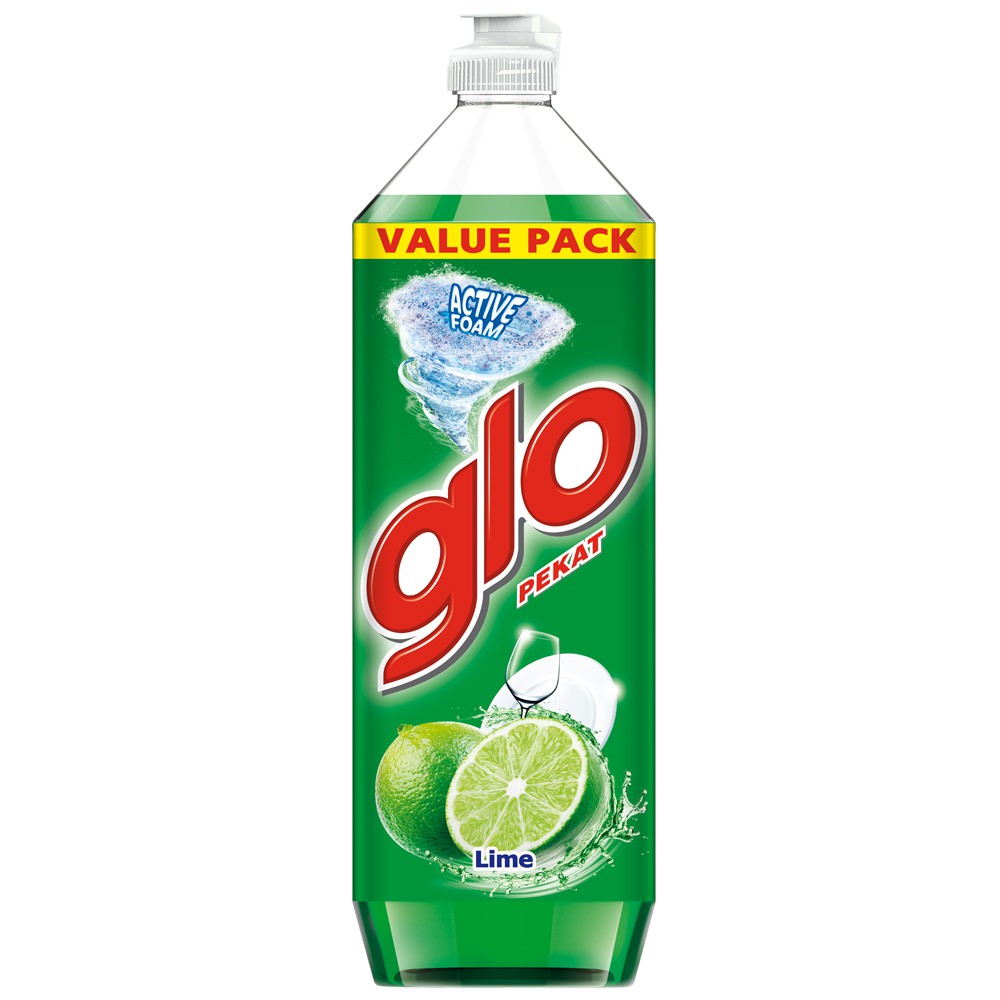 You need to keep up with the sanitary levels even in your day to day tasks, such as dishwashing. Swap out your regular dish soap with the Glo Active Foam Lime Dishwashing Liquid (available on Colgate Official Store). This dishwashing liquid is formulated to be tough on grease and leaves your pots and pans squeaky clean. In addition, there'll be a refreshing scent of lime on your dishes after each rinse!
Household cleaning products for the laundry
12. Attack Perfume Floral Liquid Laundry Detergent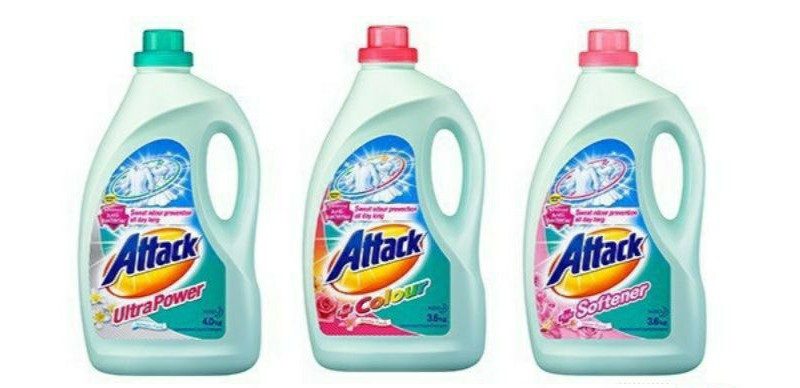 Washing your laundry in temperatures below 60 degrees Celsius may allow bacteria to thrive and survive. It can even be passed on to other garments during the wash and is something you'd absolutely want to avoid! 
The Attack Perfume Floral Liquid Laundry Detergent (available on yazilasulaimi.sg) is one of the best household cleaning products to use when washing your laundry. It is two times more concentrated than regular powder detergent so you need not worry about the messy food stains your little monkey has on his baby rompers! On top of that, this laundry detergent is highly sought after for its advanced anti-bacterial formula that's capable of penetrating deep into the fabric fibres for a thorough clean. It can be used for indoor drying and is suitable for both the top and front load washing machines.
13. Febreze Anti-Bacterial Fabric Refresher Spray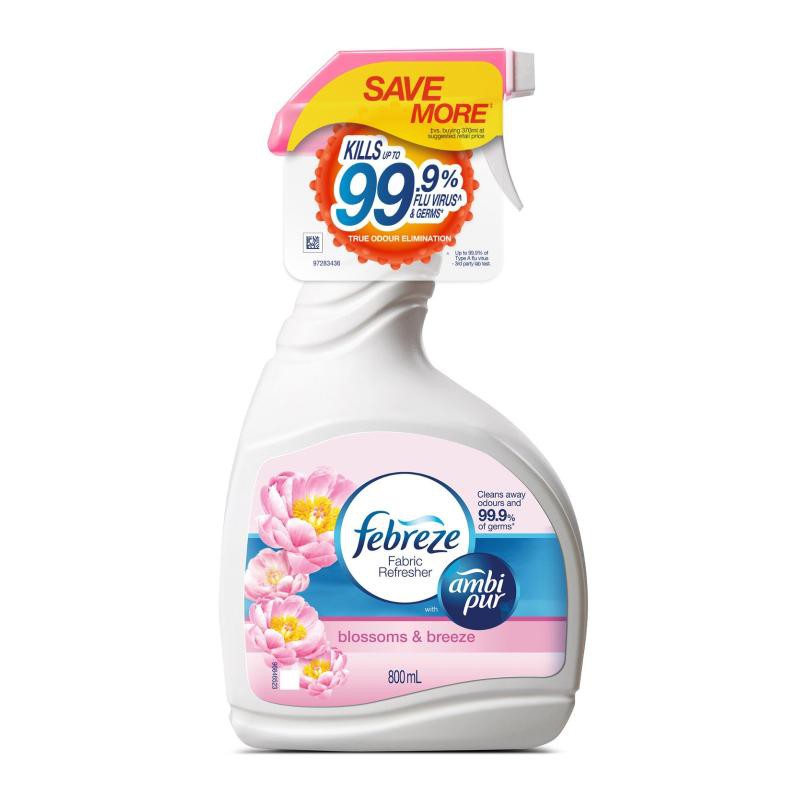 Let's be realistic, many of us don't have time to wash our laundry every single day. In fact, there are times where we wear the same piece of clothing we've worn the day before. The truth is that these pieces probably don't smell as fresh as before and germs may have accumulated on them overnight. Freshen things up with the Febreze Anti-Bacterial Fabric Refresher Spray (available on P&G Official Store) which not only kills most germs lingering on your outfit, but also eliminates odour. Psst, you can even use it on the couch, curtains and your dog's bed! 
14. Kapodo Laundry Capsule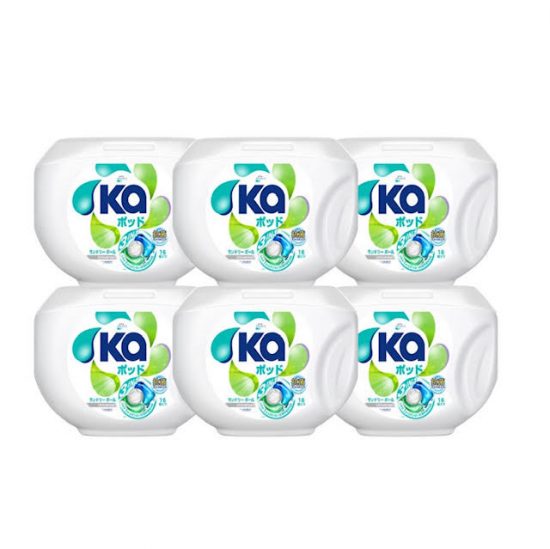 Say goodbye to messy spillage and manual measurements with Kapodo laundry capsules (available on Walch SG Official Store). These three-in-one laundry capsules are all you need for softer and fresher-smelling laundry. Best of all, they have antibacterial properties to kill germs and deodorising power to remove odour from your clothes. Remember to put the Kapodo laundry capsules directly into the machine drum and not into the detergent drawer. Afterwhich, add in your clothes and you're good to go!
15. Dettol Laundry Sanitiser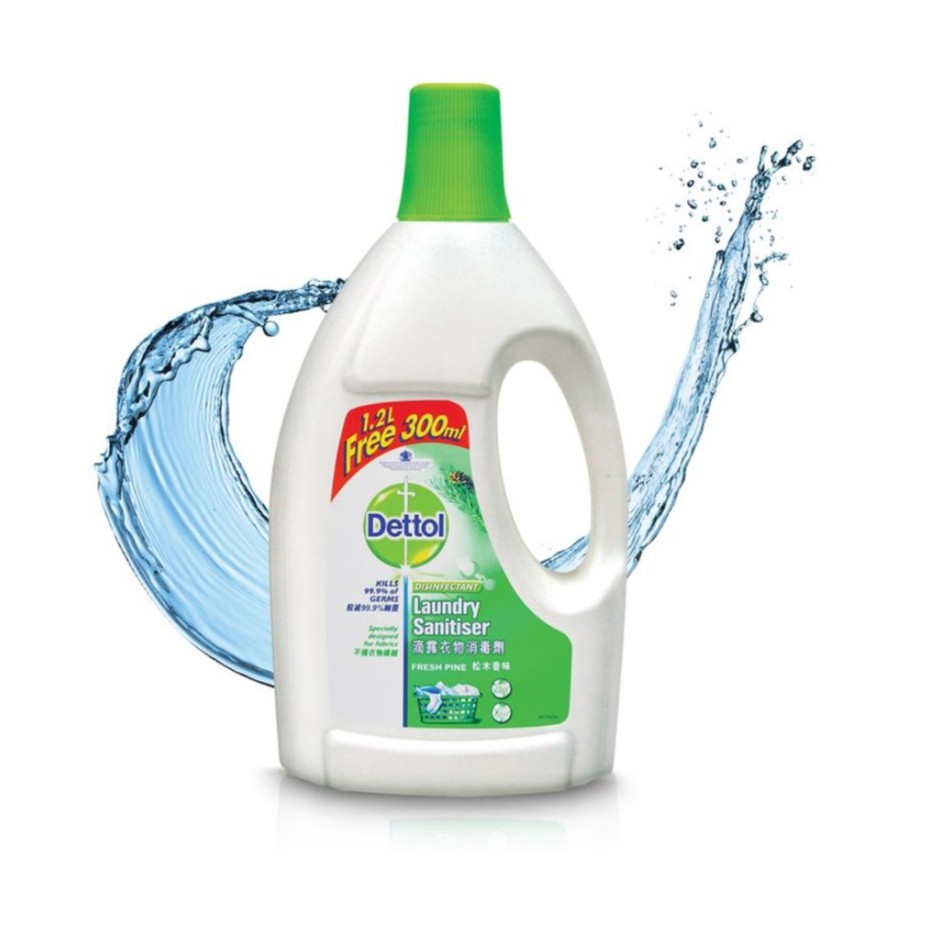 You can never have too many Dettol disinfectant products at home. Stock up on the Dettol Disinfectant Laundry Sanitizer – Fresh Pine (available on Dettol Official Store) which is specifically designed for sanitising your fabrics. Want to get rid of tough odours and stains from clothes? Mix a cap of this detergent liquid in two and a half litres of water and let it soak for 15 minutes. Otherwise, for machine wash, add in two capfuls of it into the detergent drawer and let it work it's magic with your load of washing for the day!
16. Breeze Liquid Detergent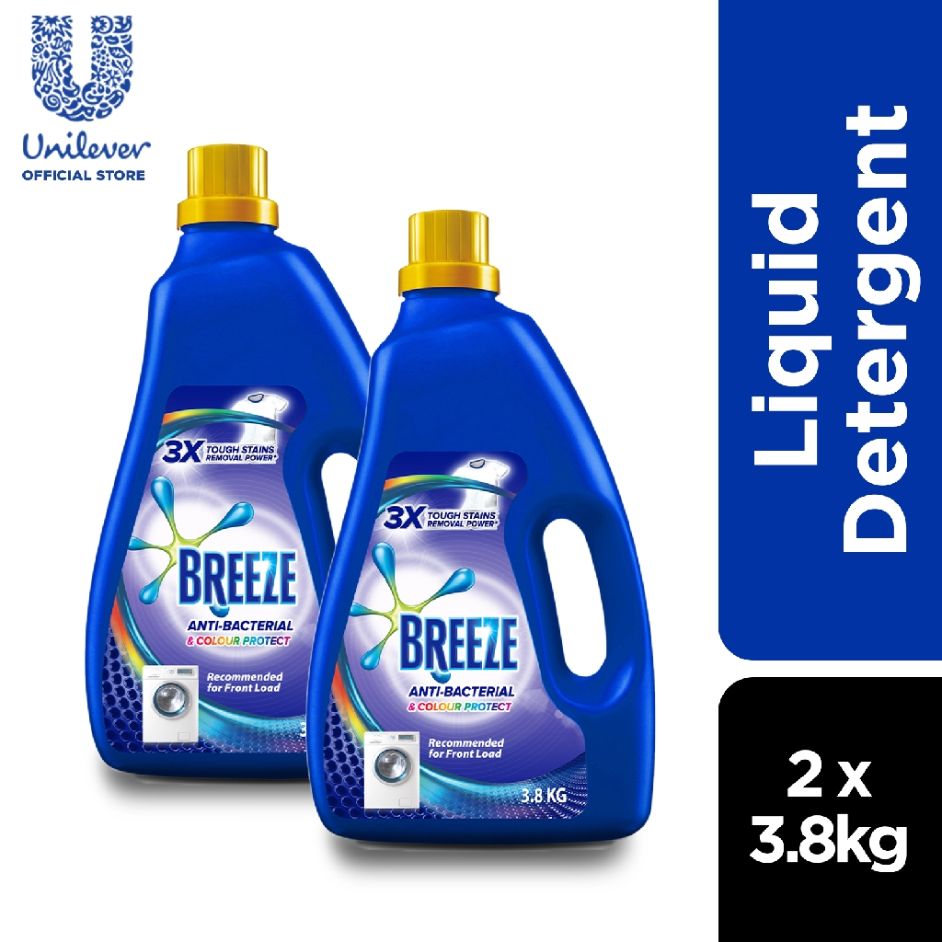 Sanitise your clothes and prevent the colour from fading with Breeze Anti-Bacterial & Colour Protect Detergent (available on Unilever Official Store). This household cleaning product provides 99.9% bacterial protection to rid your everyday clothes of germs while ensuring that coloured clothing pieces don't fade. It's also formulated with low suds so there won't be any excess later interfering with the cleaning motion of the washer.
17. (Bonus) Gong 100 Washing Machine Cleaner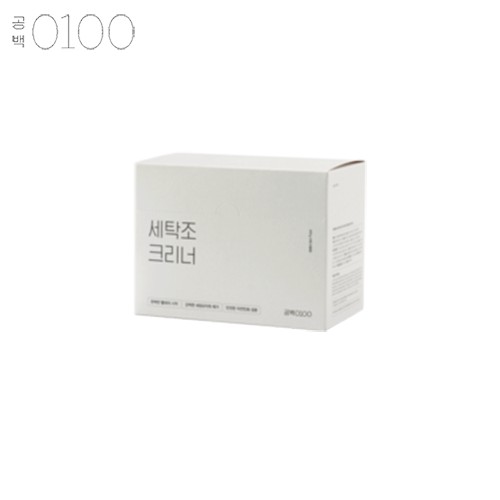 Did you know that washing machines can also be home for bacteria and germs? This is especially for energy-saving machines which operate at lower temperatures and use colder water. How can we best clean washing machines then? This is where the (Gong100) Washer Cleaner (available on COCOMO Official Store) comes into play! This antibacterial washing machine cleaner can effectively clean the machine that in turns keeps your clothes clean. It's made of finely formulated plant surfactant that can remove dirt and germs from the corners of the washer and kills 99.9% of bacteria and is anti-mildew while eliminating any strong odour in the washer.
To use it, simply pop a packet of this powder washer cleaner into the machine, add hot water (over 40-degree Celsius) and let the machine run as per normal for 1.5 hours (maximum).
Protect your family with the best disinfectant products!
No matter the situation, it's always good practice to keep your environment clean and germ-free. Besides practising proper housekeeping with anti-bacterial household cleaning products, don't forget to disinfect your phones — the one thing many of us are glued to around the clock! On top of that, remember to maintain a healthy diet and consume food to boost your immunity system so your body can fight off the nasty germs and viruses!
This article was updated on 6 April 2021. Updated by Tiffany Chng.
---
New to Shopee? Get $7 off (min. spend $15) with code*: CLEAN7CLEAN
*TNC Applies. Valid for new users from 8 Apr to 15 Apr 2021 only.