Do you hear Chinese New Year songs playing? That's a sign that you need to start getting those CNY decorations up to ring in the new year! Here are 20 Chinese New Year decoration ideas you can get on Shopee starting from as low as $1.09 that will give you all the CNY feels and impress your guests at the same time.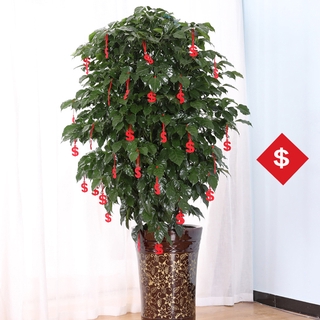 As we are spending more time at home recently, Singaporeans are picking up new hobbies, and in particular growing plants has become a popular choice for many. For all plant parents out there, this is the perfect Chinee New Year decoration idea for you! These bonsai pendants (available on goodchoice1.sg) will look super adorable on your plants and add the perfect tint of red to your home this Chinese New Year. 
If you are new to this whole plant thing, you can check out our guide to the best plant growing kits!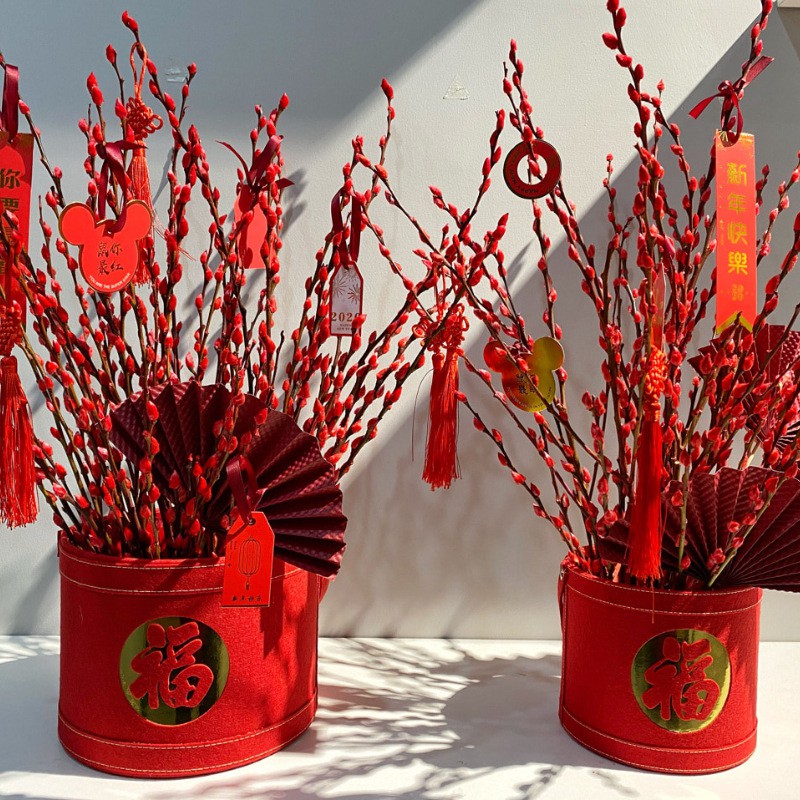 Want to change up the pots of your plants to make them look festive as well? Put your plants into these flower baskets (available on dandelionfloralwrap.sg) to spice up the look of your home garden without the hassle of re-potting your plants. They make great gift baskets too if you're planning to put together some goodies for your friends and family!
Psst, check out other indoor plant options as well!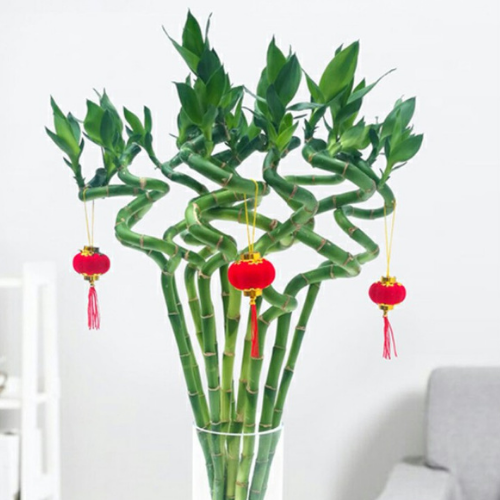 Chinese New Year is also a great time to expand your plant collection. There are many plants in season during this period such as these lucky bamboos (available on Nlwk) with spiral stems that are known to boost your fortune according to Feng Shui beliefs! 
If you love all things cute, then you have to get these cute cartoon Chinese New Year decorations (available on winsome.sg) to hang around your place. Choose from cartoon characters like Hello Kitty, Suimikkogurashi, to even your favourite Line Friends characters!
Psst.. winsome.sg even has other different cartoon based decorations and angbaos that you shouldn't miss out on for 2022.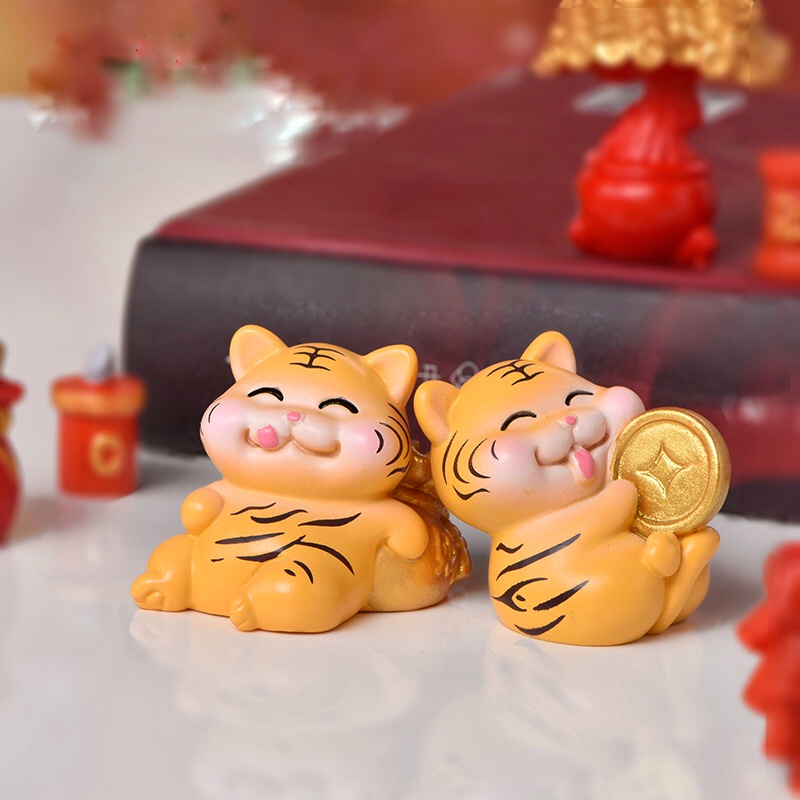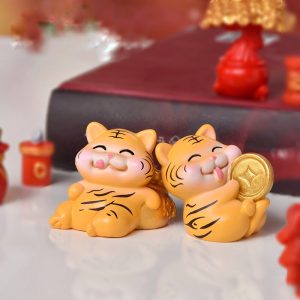 These miniature lucky Tiger statues (available on 3D World Puzzle) are great for decorating small spaces in the living room, kitchen and even on your desk. If you want to feel festive without going overboard with large CNY decorations, these might just be what you need.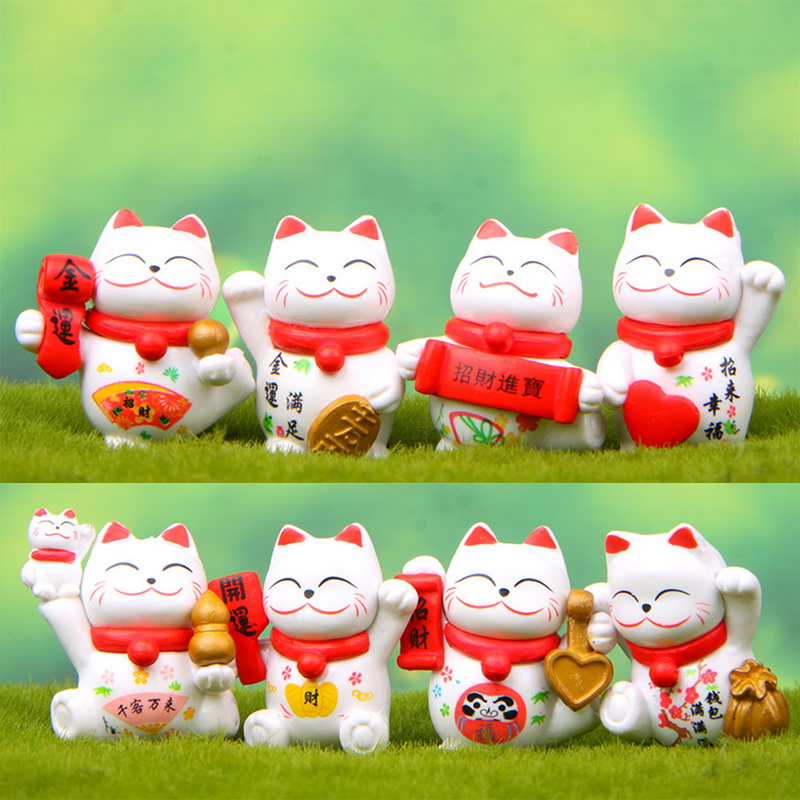 We're all familiar with the lucky cat statues that can be spotted in restaurants and shops all around Singapore. But, did you know that the lucky cat originated from Japan? In Japan, they're called Maneki Neko and are a good luck charm as well as a symbol of good fortune. A lucky cat with its left paw raised is meant to help businesses attract customers and if the right paw is raised, it represents good fortune and money. If the lucky cat has both paws raised, it symbolises protection. Choose your favourite lucky cat statues (available on electrostore.sg) though we know you won't be able to pick just one.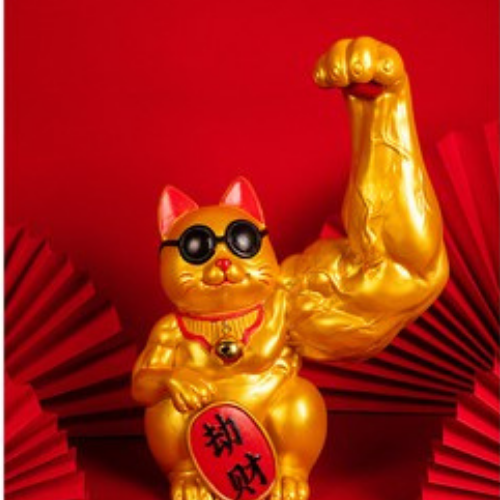 Lucky cat statues come in a variety of designs but we think this muscular lucky cat (available on wangzhong3.sg) will top all CNY decorations this year. The gold, the sunglasses and that gigantic muscular arm, we love it and we know you do too!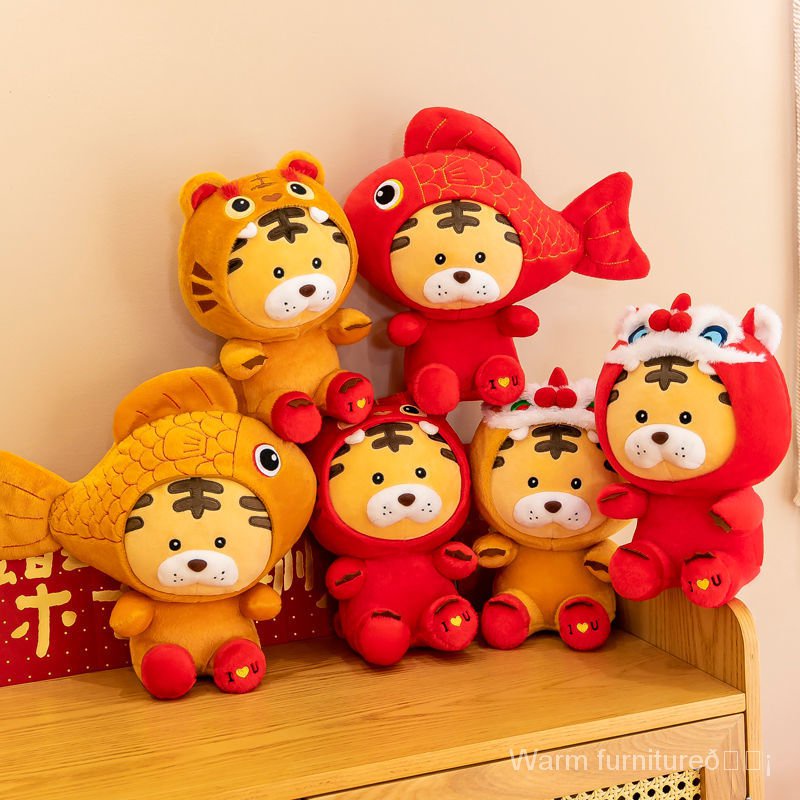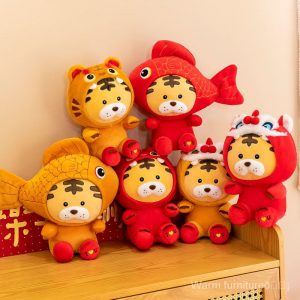 How about something for your couch? Since it's the year of the Tiger, tiger plushies (available on xp22819.sg) that are round and huggable will definitely scream Chinese New Year! Cuddle up with these adorable plushies while you watch your favourite Chinese New Year classics. Let's be real, one will not be enough.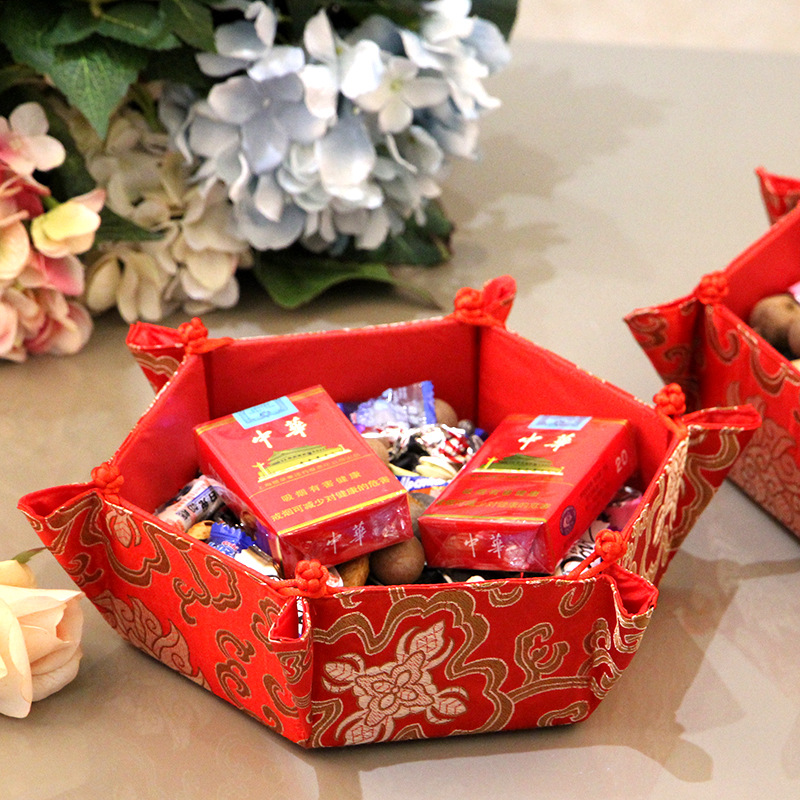 If your young ones at home have a sweet tooth, you'd want to store those sweet treats in this adorable hexagon candy basket (available on unlimonlife.sg) that'll double as a festive centerpiece for your coffee table at home. This candy basket is also in the shape of a hexagon, a lucky shape according to Feng Shui beliefs.
Impress your guests even before they enter your house! Greet your guests with a lucky cat doormat (available on snaillife.sg) or get one with auspicious sayings that we guarantee will put a smile on your grandparents' faces.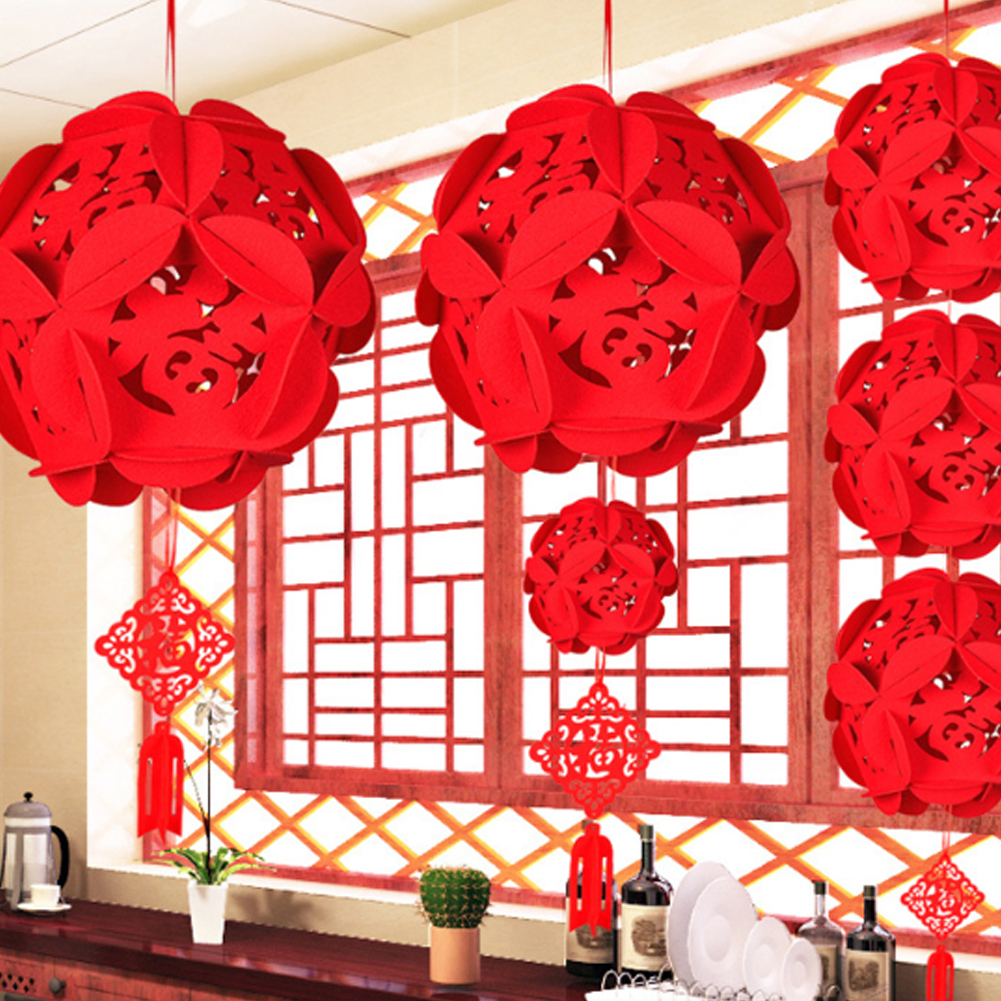 We have some Chinese New Year decoration ideas that are suitable for every corner of your home! Lanterns are a classic CNY decoration and are traditionally made with red packets. If you're not as crafty or simply want a quick fix option, these flower lanterns (available on daxiong66666.sg) are really affordable and look just as cute hanging around the house. Take your pick from the range of lanterns available on Shopee!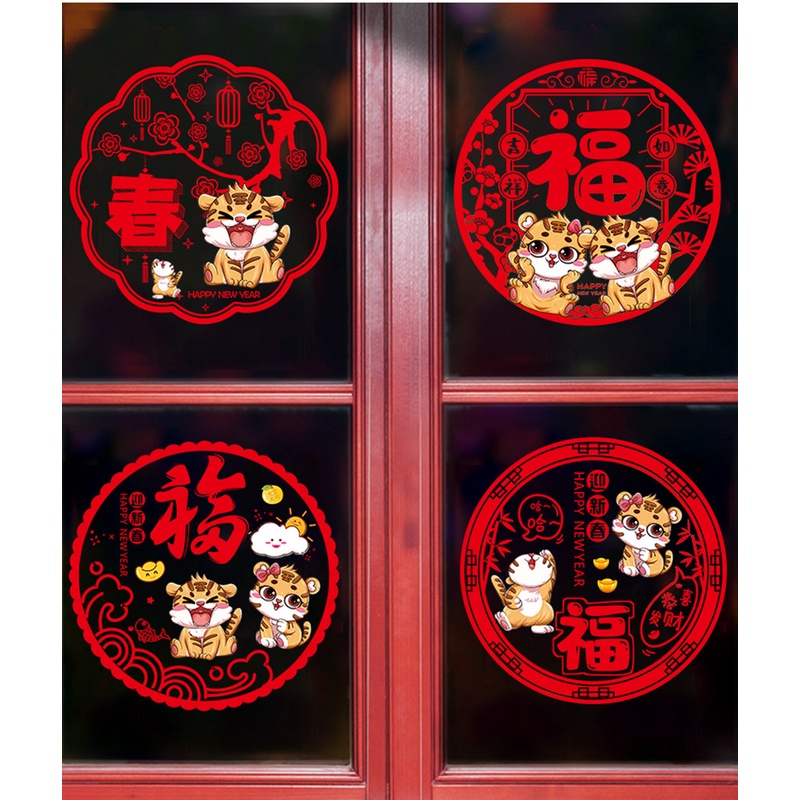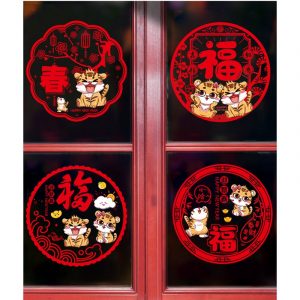 Go big or go home! If you want your home to look extra without the extra effort, these Chinese New Year window stickers (Available on eachparty.sg) are for you. You can also use them for your kitchen or balcony door. These stickers are such a versatile Chinese New Year decoration idea and a must-have this CNY.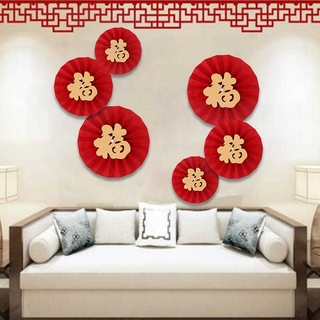 If you have a blank wall in your home that you'll love to add some CNY decorations to these three-dimensional stickers (Available on AugustWo.sg)will do just the trick. They're easy to put up and come in a set of different sizes so you don't have to worry about mixing and matching on your own. Talking about finding the perfect balance between traditional and modern Chinese New Year decoration ideas, we'd think they absolutely nailed it!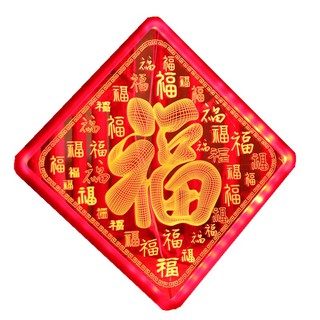 It's a tradition to put the Fu sign (which stands for fortune) upside down as it symbolises Fu Dao, which means incoming fortune. You can usually find this piece of decoration in Chinese households during the festive season, so why not make yours extra special with this light up Fu sign (Available at Forever Star Online Store). You're up for a lit new year!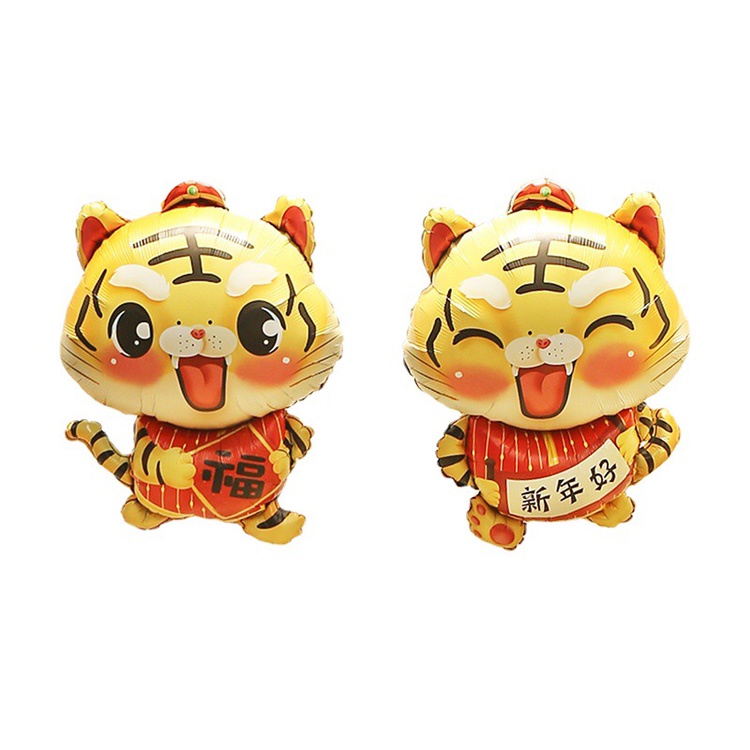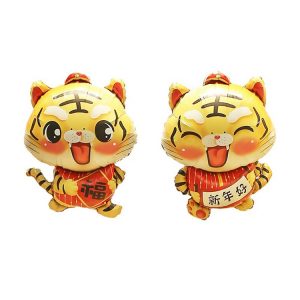 Balloons are not just meant for birthday parties, they make for a great Chinese New Year decorations idea too. This tiger year decorative balloons (Available on zxaner.sg) makes the perfect backdrop for you and your guests to take Instaworthy photographs and #OOTDs . The photos are going to look fantastic!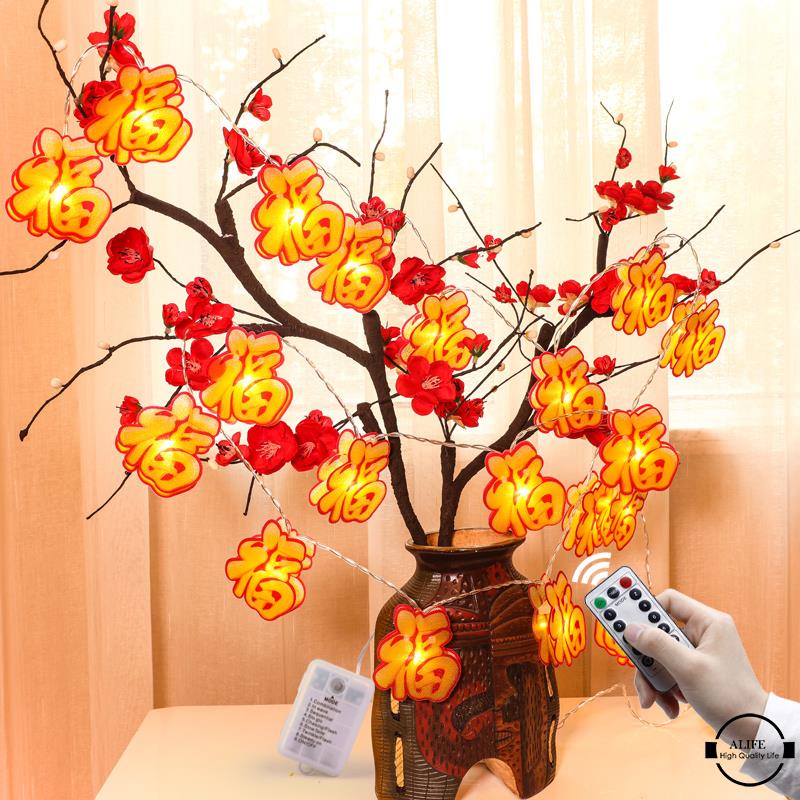 Sprinkle a little fortune around the house with these Fu character string lights (Available on alife.sg) that can be hung across the wall or wrapped around plants. These are battery operated and come with a remote control so you do not have to worry about finding an outlet or charging them, amazing!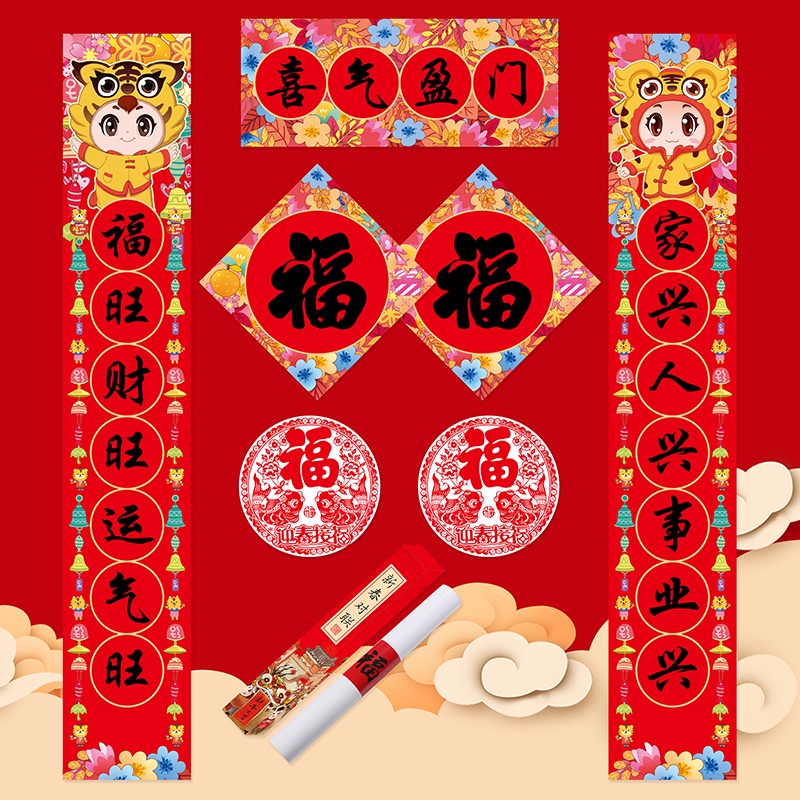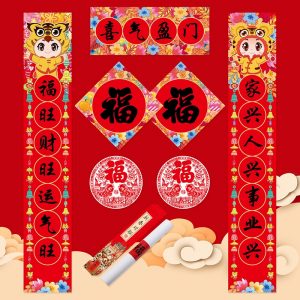 (Credit: Ossayi Official Store)
Greet your guests with a stunning display of couplet stickers. Couplet stickers include two vertical scrolls with well-wishes in beautiful calligraphy writing. We love this Chinese New Year wall couplets decor fu zi window stickers set (available on Ossayi Official Store). Not only does this set include the couplets but it also includes Fu stickers. 'Fu' signifies happiness or good fortune and it's usually hung upside down so luck and fortune can 'fall' onto the residents of that home.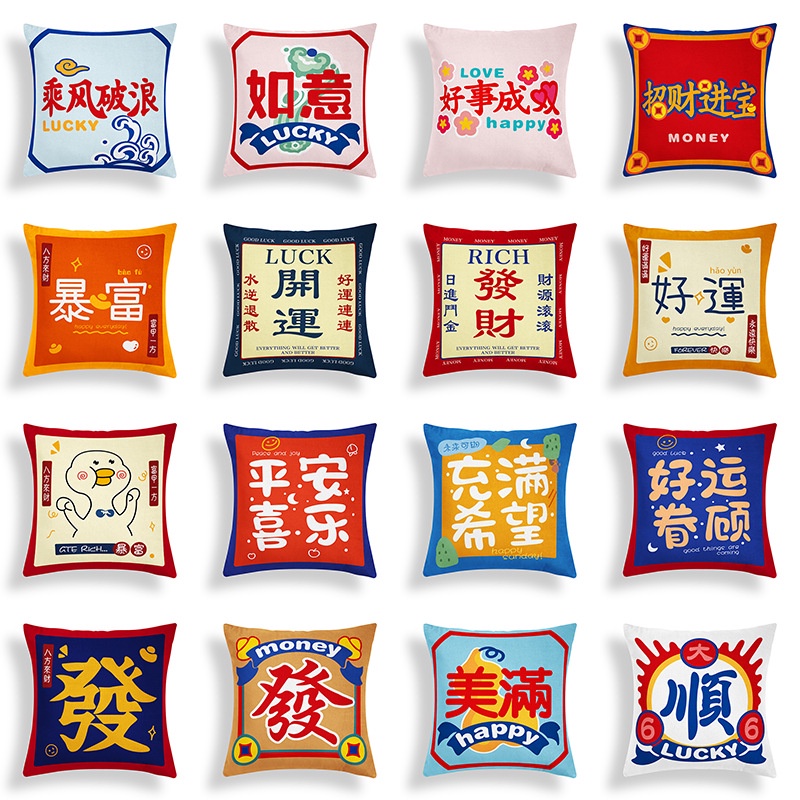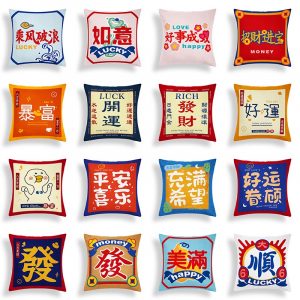 One of the best ways to spruce up your pad for the festivities is to adapt your current home setting. Change out your cushion covers to seasonal ones. These uber cute Chinese New Year cushion cover case (available on bigselina.sg) with a variety of colourful phrases and words printed on it also features one with the ever-popular "Huat" (to prosper) that is sure to be a hit with all your guests.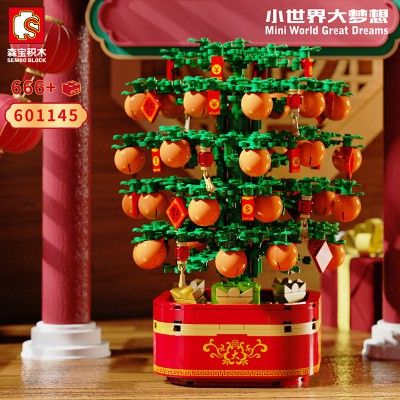 Orange sounds like wealth and luck in Mandarin, hence the significance of oranges during this season. It's no surprise that they are a popular Chinese New Year decoration idea. Do you have kids at home? This Orange tree rotating music box with light (available on thebest4you.sg) will enchant them to no end! It's made of lego parts so your kids can add to and 'fix' different parts of the tree. You can also rotate the bottom of the music box for classic CNY tunes. How neat is this!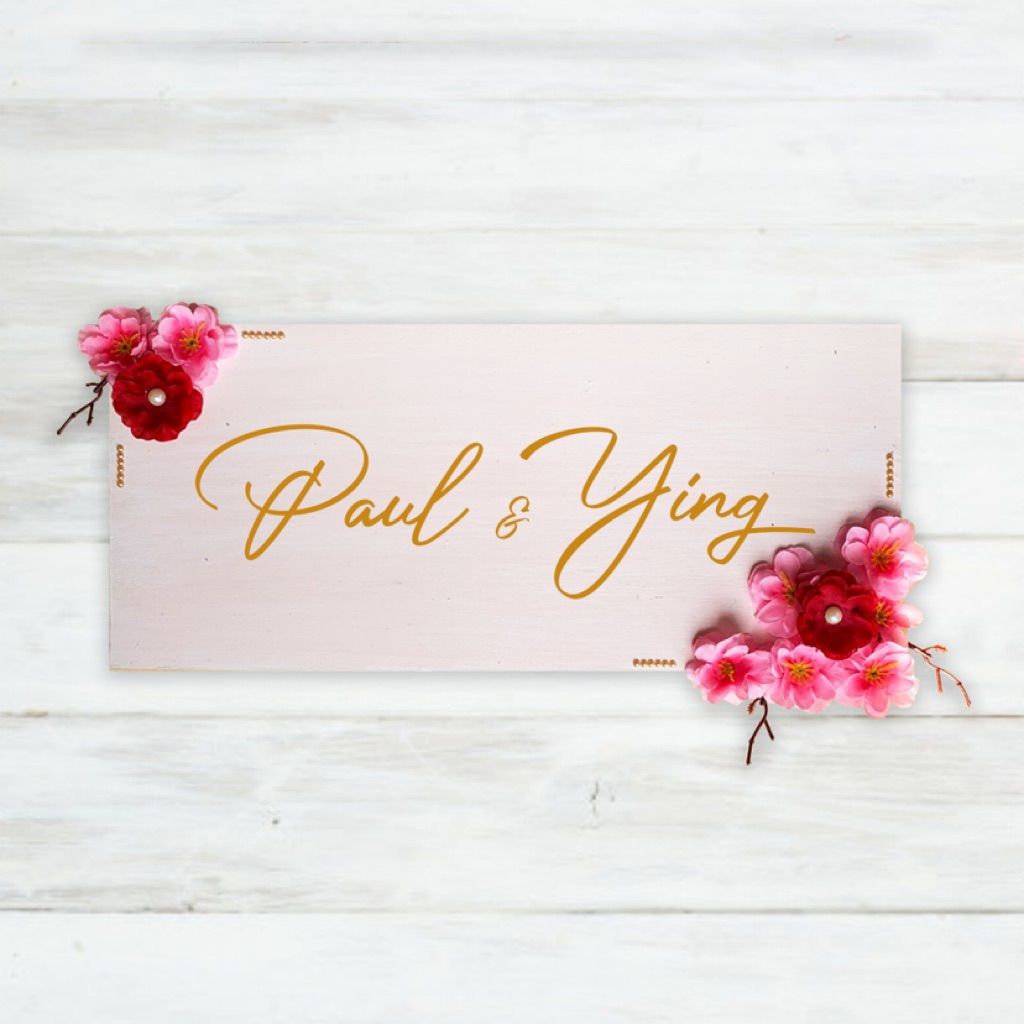 Personalised name plaques are a popular Chinese New Year decoration idea especially if you're celebrating CNY for the first time in a new home. Consider this sweet CNY name plaque with pink and red Flowers (available on Madsanedesigns) topped with pink flowers on the diagonal ends with your and your partner's name in classy gold letterings. Hang it outside your main door entrance — perfect for use long after CNY is over!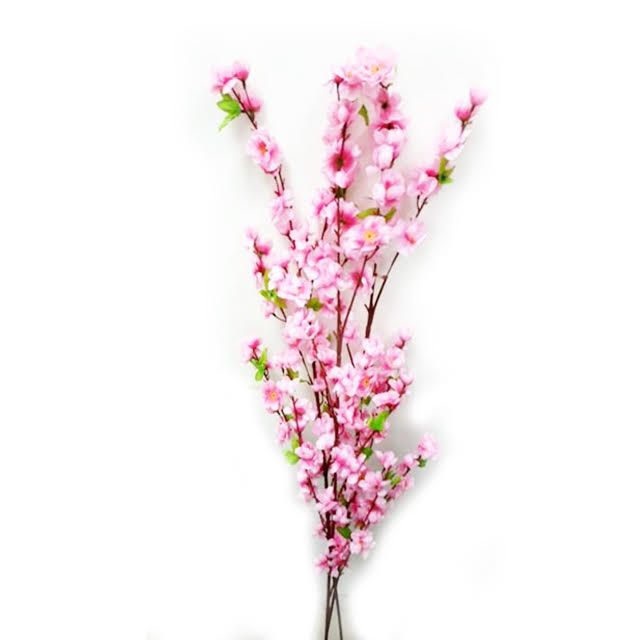 Cherry blossoms can instantly light up any home. They are an easy Chinese New Year decoration idea that's suitable even after the festive season too. This CNY cherry blossom deco (available on snjco.os.sg) is made of plastic and silk and will look pretty in a floor vase placed in the corner of your living room.
Get creative with Chinese New Year decoration ideas this year!
We know that decorating for CNY can be daunting and these CNY decorations can get pricey at times. This curated list will give you some inspiration on how to decorate and get your home red-y for CNY. Once the decor is done, get ready for feasting! Check out this guide on how to organise a hotpot gathering for CNY! If you're all set to get down and shop for CNY decorations, do not miss our Chinese New Year sale featuring attractive deals this season. Which CNY home decor have you got your eye on? Let us know in the comments section below!
This article was updated on 18 Jan 2022. Additional research and updates done by Abigail Chang.
---
New to Shopee? Get $7 off (min. spend $15) with code*: CNYDECO7
* TNC Applies. Valid for new users from 23 to 30 January 2022 only.