As one of the most prized food items in Chinese culture, it is believed that eating abalones will bring one good fortune and abundance for the rest of the year. Hence, abalones are a must-have at steamboats, more so during Chinese New Year reunion dinners. So, beat the supermarket crowd and get your hands on the best canned abalones in Singapore this CNY with our recommendations below!
Is canned abalone good for you?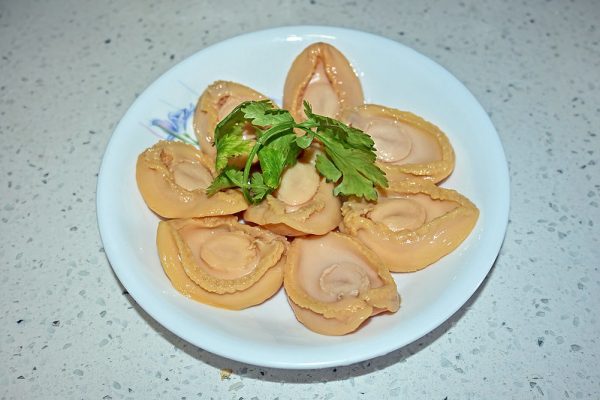 While some might argue that fresh abalones (which can be either wild caught or farmed) have a more authentic taste, canned abalones bring their own set of strengths too! Here are some of them: 
Canned abalones are ready to eat once opened because they contain salt or are already braised in a sauce. This means that you don't have to wash them and can save time on preparation.

Canned abalones are generally more affordable than wild-caught abalones (which are considered rare and hard to get). Illegal poaching and sustainability concerns have also caused the prices of wild caught abalones to soar. 

Canned abalones have a longer shelf life lasting up to a year while fresh abalones are highly perishable and should be consumed on the same day it is bought.
In general, abalone is highly nutritious thanks to its rich source of protein, and it also has a combination of essential vitamins and minerals such as calcium and iron. This can help improve your immunity system and bone strength. Moreover, abalones have low fat and almost no cholesterol is present — great for those keeping track of their calorie count!
How to choose the best canned abalone in Singapore?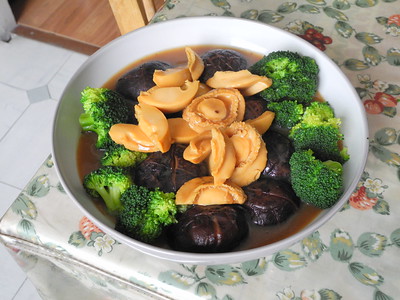 With so many types and brands of canned abalones in Singapore, it can be a challenge to select the perfect one for your CNY reunion dinner. Hence, we've come up with some things for you to consider to ensure you're buying the best canned abalones in Singapore for your needs!
Is further cooking required?
If you're intending to stir fry the abalone or eat it in soups like steamboats at reunion dinner, then getting canned abalone with brine (salt and water) is a good choice as it is light in flavour and won't overpower the main broth. But if you want to eat your abalone straight away, then you should consider a canned abalone with sauce as it is seasoned and just needs a bit of heating up before serving.    
How many people are eating? 
The number of people attending your reunion dinner would also affect the abalone grade you should get. In canned abalones, the quantity generally ranges anywhere from 1 whole piece to 14 pieces or more in a can. Depending on the brand, you can end up with varying sizes in a can.
Drained weight or net weight? 
When it comes to choosing the best canned abalones in Singapore, you should always look for the drained weight instead of net weight. The drained weight determines how much actual abalone is in the can. For instance, cans with a net weight of 425g may actually have a varied drained weight between 50g to 220g.
Which country has the best canned abalones?
Japan, Australia, New Zealand and South Africa are highly regarded as some countries that produce the best quality abalones. However, it is good to note that the abalone species produced in each country are different in terms of taste and appearance. 
| | | |
| --- | --- | --- |
| Country of origin | Taste of abalones | Appearance of abalones |
| Japan | Light flavour, smooth texture | Golden yellow |
| Australia | Sweet flavour, chewy texture | Light brown  |
| New Zealand | Rich flavour, firm texture | Coloured shells |
| South Africa | Strong sea flavour, succulent texture | Dark brown  |
What is the abalone size?
It is also important to check the abalone size, which is measured in terms of the number of heads — where a one-head abalone is approximately equivalent to 600g. It might sound confusing but to put it simply, the fewer the number of heads, the larger the piece of abalone. For example, a two-head abalone (300g) is larger than a four-head abalone (150g). Canned abalones are generally about one-half-head (450g), but this varies across brands. Do make sure to double check the labels as larger abalones are usually more pricey.
Best canned abalones in Singapore
1. New Moon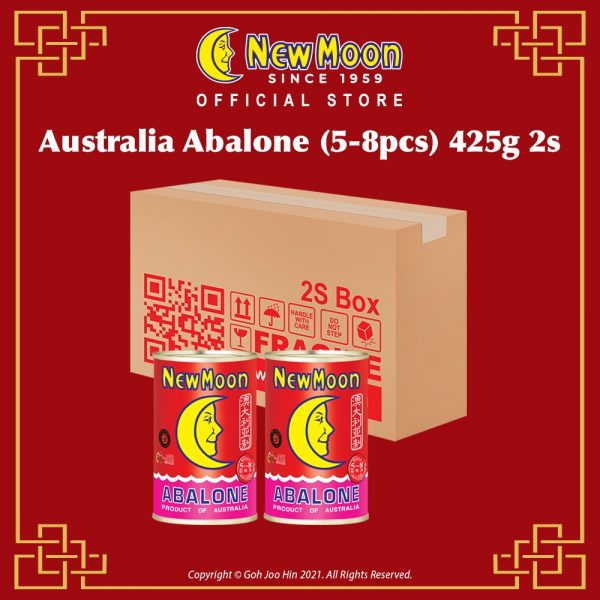 Having been around since 1959, New Moon is definitely one of the best canned abalone brands in Singapore that places emphasis on its quality. New Moon abalones originate from a wide range of countries, so you'll be spoilt for choice! For starters, you can try the New Moon Australia Abalone (available on New Moon Official Store) which is sweet and chewy, harvested from the rocky reef habitats of Tasmanian waters. Meanwhile, the New Moon New Zealand Abalone (available on New Moon Official Store) is more flavourful as it originates from a more pristine habitat. If you have a more exotic palate, then perhaps the New Moon South Africa Abalone (available on New Moon Official Store) would be a better fit given that it has a stronger sea flavor.  
2. Flying Wheel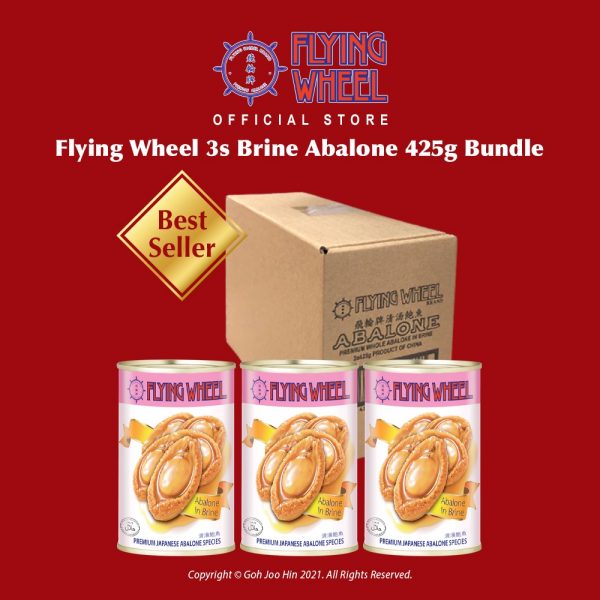 Although new to the market, Flying Wheel is one of the best canned abalone brands in Singapore that specialise in Japanese abalones. Case in point: the Flying Wheel Abalone In Brine (available on 668 Hypermart Trading) which is immediately canned after harvesting for optimal freshness. Each can contains 10 pieces of full-grown Japanese abalones which symbolizes ten-fold fortune to usher in the new year — how auspicious! For a more savory option, you can also try the Flying Wheel Braised Abalone (available on New Moon Official Store) which has been double-boiled in a braised broth.
3. Kinohimitsu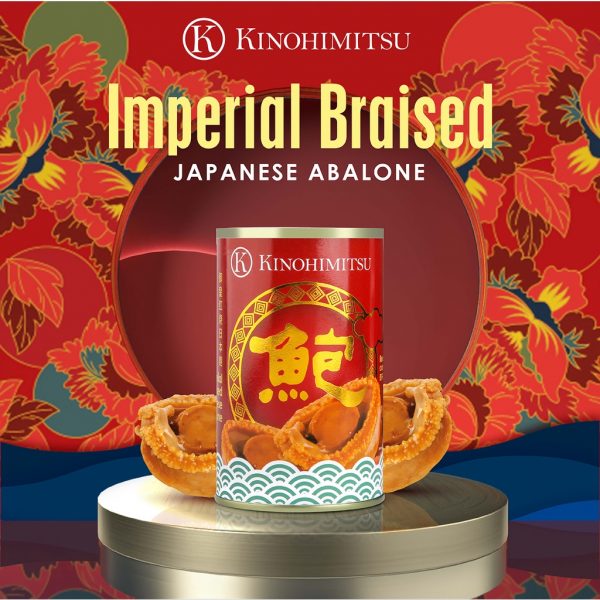 While you may know Kinohimitsu as a renowned collagen brand, they also sell some of the best abalones in Singapore. Specifically, we love the new Kinohimitsu Abalone in Braised Sauce (available on Kinohimitsu Official Store) that is made without antibiotics and anti-bacterial agents. The braised sauce comes from a special recipe developed from stewing old hens for 72 hours. As such, the Kinohimitsu Japanese abalones promise to be rich in flavour and unbelievably tender! 
4. Wang Kingdom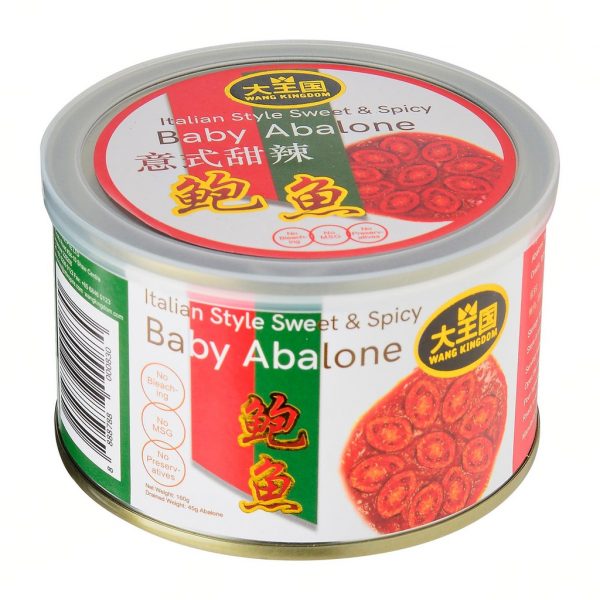 Want a bit of spice in your abalone? Then the Wang Kingdom Italian Style Sweet & Spicy Baby Abalone (available on The Liquor Shop) should be right up your alley. Made with tomato sauce, chili powder and crab sticks, this abalone is a medley of sweet and spicy! It is best mixed with fried rice, although it works just as well with instant noodles and spaghetti too. Of course, you can also choose to get the standard Wang Kingdom Brine Abalone (available on The Liquor Shop) which offers two options — Kippin abalones made in South Africa and Yoshihama abalones made in Japan. 
5. Good Lady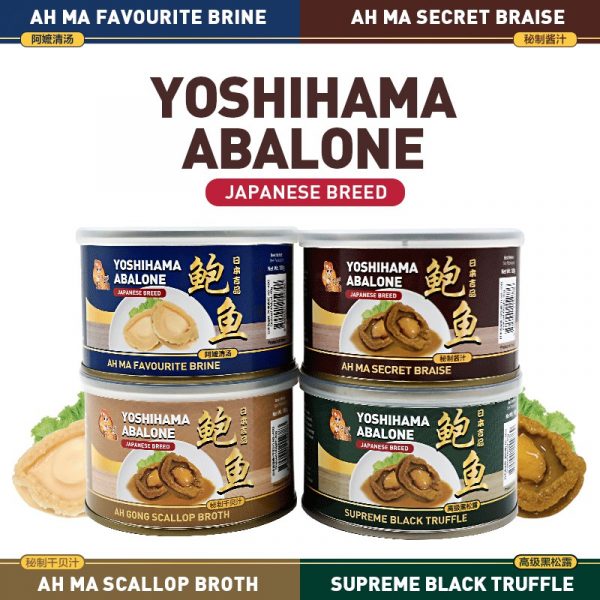 It's time to pamper your taste buds with the many Yoshihama abalone offerings from Good Lady! As one of the best canned abalone brands in Singapore, you can expect only the highest quality abalones which taste as though you had it directly in Japan. Good Lady's Yoshihama Abalones (available on Good Lady) come in four different flavors, each containing a generous serving of six abalones per can. Apart from the standard brine and braised abalones, there's also a scallop broth abalone that achieves a natural sweetness and seafood aroma. If you're more adventurous, then try their black truffle abalone which packs a punch with its unique oaky and nutty smell. 
6. Fortune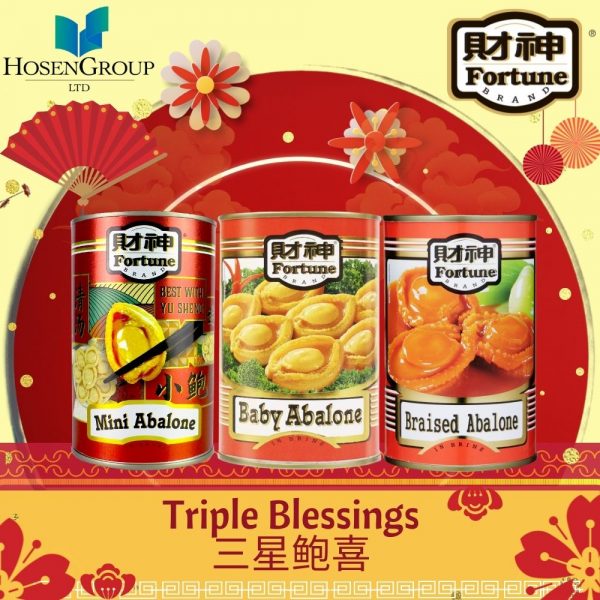 As its name suggests, it is a centuries-old belief that eating abalones will bring one good fortune and abundance for the rest of the year. So if you're hoping to give your new year a boost of huat, the Fortune Triple Blessings Abalones (available on Hosen Group Official Store) are a must-buy! This bundle includes braised abalones and baby abalones that are renowned for their succulent flesh and firm texture. There are also yusheng mini abalones that are bite-sized included in this package — perfect for that annual lo hei! Additionally, spice lovers will be pleased to know that Fortune also offers Mala Baby Abalones (available on Shopee Supermarket) that have been drenched in an incredibly flavourful mala sauce infused with spices — a true mark of one of the best abalones in Singapore!
7. Calmex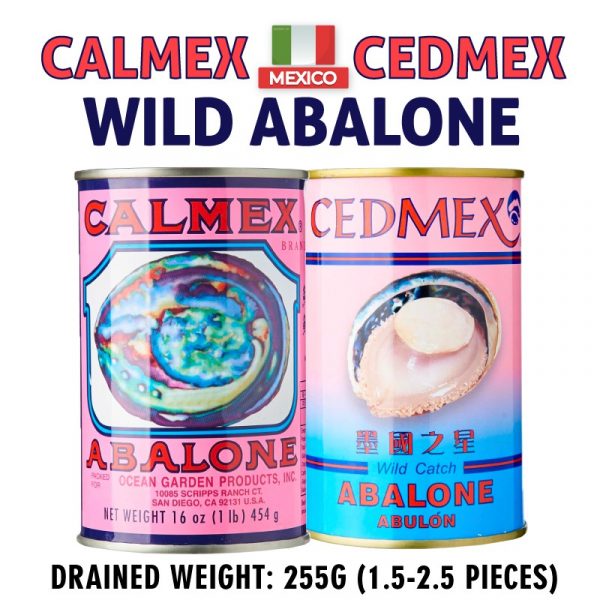 Although pricey, you will find your splurge on Calmex abalones to be worth every penny with their unparalleled quality. In particular, the Calmex Mexico Wild Abalone (available on Good Lady) wows with its texture that is much firmer and bouncier than other abalones. At the same time, they promise to be tender and juicy, which will definitely leave you reaching for another can faster than you can say 'Huat'! This is also THE abalone you want to give your parents or in-laws — the older folks will undoubtedly be impressed at your good taste!
8. Emperor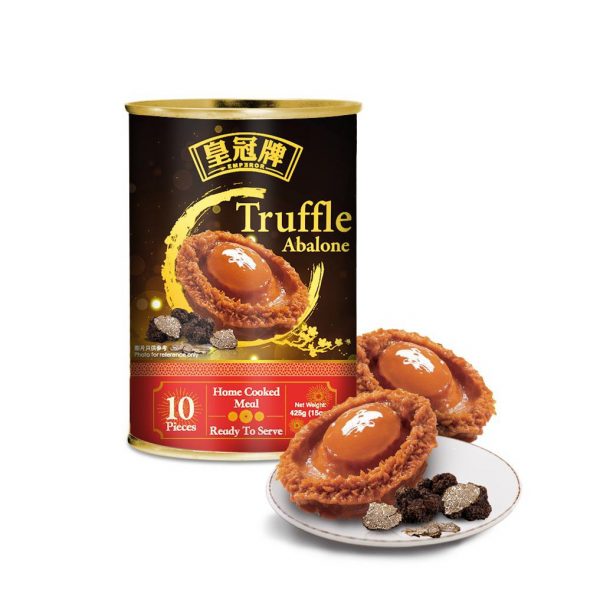 Since ancient times, many have regarded abalone as the 'King of Seafood' for its uniquely delicious taste. As such, it is fitting for Emperor to be one of the best canned abalone brands in Singapore. We especially recommend the Emperor Truffle Abalone (available on SIGMA FOOD PTE LTD) as it is perfectly braised in the right size with a delicious oyster sauce that can be used to stir-fry with vegetables — a great toss-up to your usual steamboat ingredients. Additionally, these highly nutritious Emperor abalones are rich in protein, iron and vitamin A which gives more support to your immune system. 
9. Pan Royal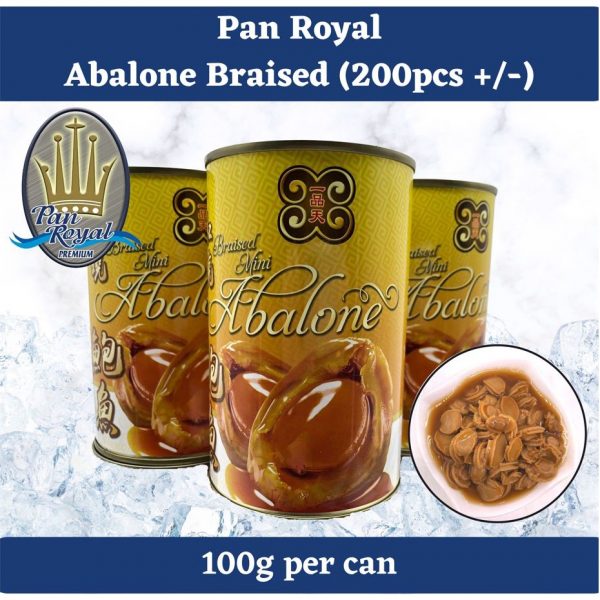 As a leading online seafood shop in the country, we can expect Pan Royal to offer some of the best canned abalones in Singapore. Popular offerings include the Pan Royal Abalone in Brine (available on Savour Gourmet) and the Pan Royal Braised Abalone (available on Pan Royal Premium) which make a good purchase for larger family reunion dinners. After all, there is a generous serving of at least 200 mini abalones per can — what a steal! What's more, next day delivery is available for these Pan Royal abalones as long as you order by 4pm the day before so you don't have to fret on the prep. 
10. Prima Marine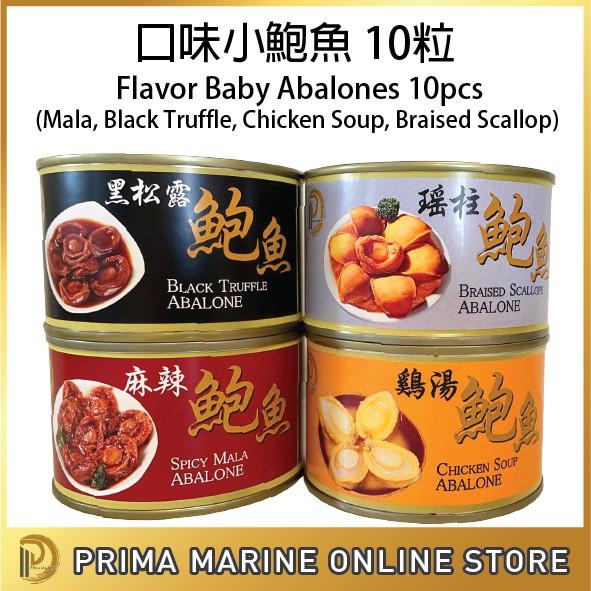 Bored of the usual braised abalones and abalones in brine? Then you should definitely try the Prima Marine Flavor Baby Abalones (available on PrimaMarine 海凌) which come in delectable flavors such as black truffle, braised scallop and chicken soup. We especially love the mala abalone as it is made with Sichuan pepper, chili and soybean sauce. It's all the ingredients needed for a spice kick! If you still prefer something more classic, go for the Prima Marine Brine Abalone (available on PrimaMarine 海凌) which comes in four different sizes that range from 10 to 28 abalone pieces per can. 
11.  Skylight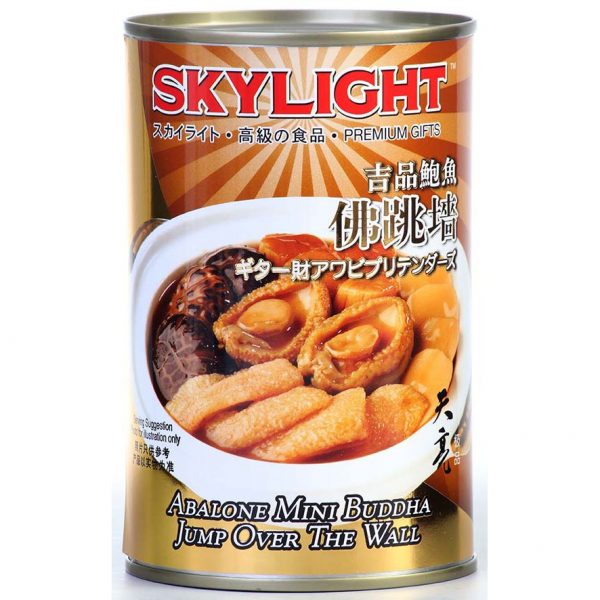 As one of the most awarded abalone brands in Singapore and internationally, you can definitely count on SKYLIGHT to provide you with the best canned abalones. We highly recommend the SKYLIGHT Abalone Mini Buddha Jump Over The Wall (available on The Urban Grocer) which has a flavourful medley of superior ingredients — it will be the highlight of your feastful night! With a nice weight of 425g, this can of SKYLIGHT abalone is the right amount for small families of four people or less. Moreover, it is super convenient and easy-to-cook. Just heat it up and serve!
12. Seaco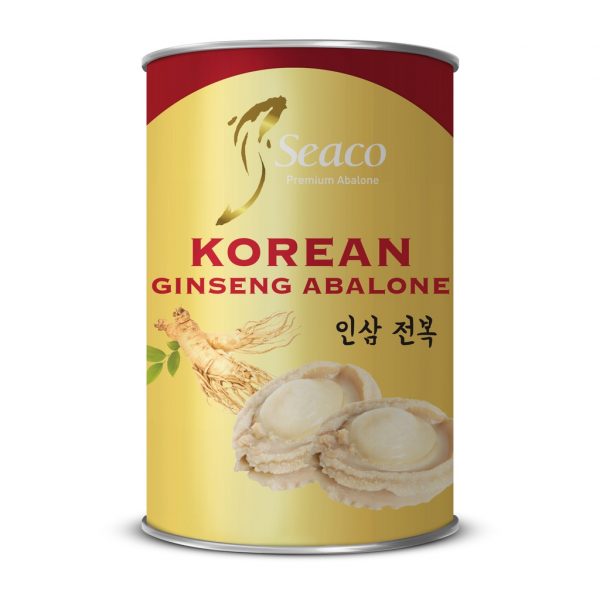 If you're looking to purchase abalones as a gift to your loved ones this CNY, then the Seaco Abalone Gift Set (available on Seaco) might be a good idea. Specifically, we love how the Seaco abalone gift set includes a Korean Ginseng Abalone (available on Seaco) made with real ginseng stalks and succulent abalones. Every taste of its brine sauce will definitely be Seoul-yummy! Furthermore, there's also a Seaco Taste of Heritage Abalone Bundle (available on Seaco) where you can get three cans of abalones at a more value-for-money price.
13. Gin Thye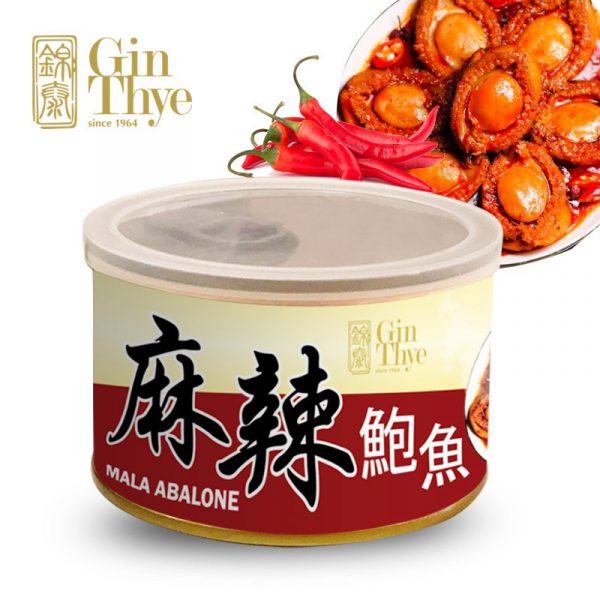 As a reputable household brand since the 1960s, most Singaporeans would definitely have heard of Gin Thye. While they specialise in nostalgic traditional bakes, they do offer some of the best canned abalones in Singapore too. Take for instance the Gin Thye Mala Abalone (available on Gin Thye) which stands out among the sea of milder abalone flavours in the market. Otherwise, you can always opt for more classic flavours like the Gin Thye Premium Brine Abalone and Gin Thye Premium Braised Abalone (both available on Gin Thye) that deliver in both quality and quantity. 
Feast on these best canned abalones in Singapore this CNY 
Now that you know which are the best abalone brands in Singapore, remember to get them ahead of your reunion dinner so you don't have to rush the prep at the last minute. Check out our Shopee CNY Sale for more great discounts and promotions on canned abalones! Alternatively, you can always try out these canned abalone recipes or complete your reunion dinner with these best yusheng in Singapore. All that's left is to equip yourself with the best steamboat pots and learn some tips on how to organise a hotpot gathering!

---
New to Shopee? Get $7 off (min. Spend $15) with the code ABALONE7OFF
*TNC Applies. Valid for new users from 23 to 30 Jan 2022 only.