Nothing sounds more like Chinese New Year than the midnight shuffling of mahjong tiles, the yelling of 'HU' from the winner, and the loud sighs of those who have to pay up. If you know how that sigh feels all too well, chances are you'll probably need more luck this year. Don't lose hope just yet, we're here to lift your spirits up with quirky mahjong-themed items you can buy to usher in some luck from the mahjong gods. So get ready to huat this CNY with these mahjong gifts that you can get for yourself and your kakis! 
Mahjong gifts ideas: Clothing
1. Mahjong Shirt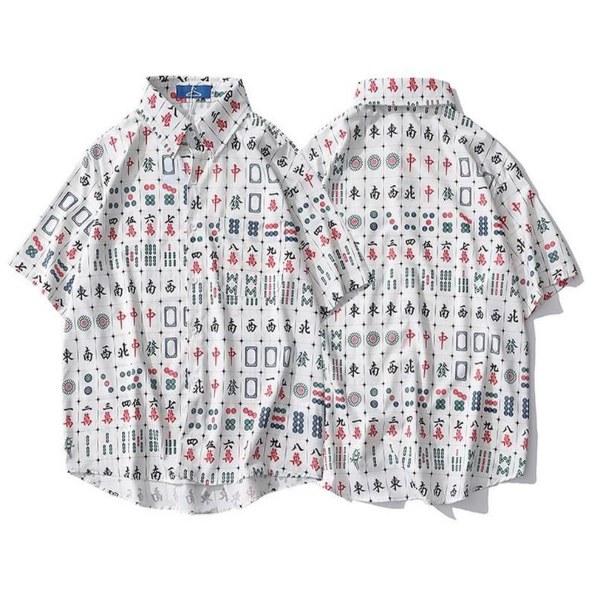 You'll never go wrong with getting a Mahjong Shirt (available on Men's and women's clothing) for your mahjong lover friends. While a men's shirt or women's shirt might seem like a basic idea for a gift, you'll be looking like a walking mahjong set so we're almost certain you'll get all the huat you can get! Additionally, this shirt is fitting for both genders so it serves as a great couple outfit for those who want to bai nian in style.  
2. Mahjong T-Shirt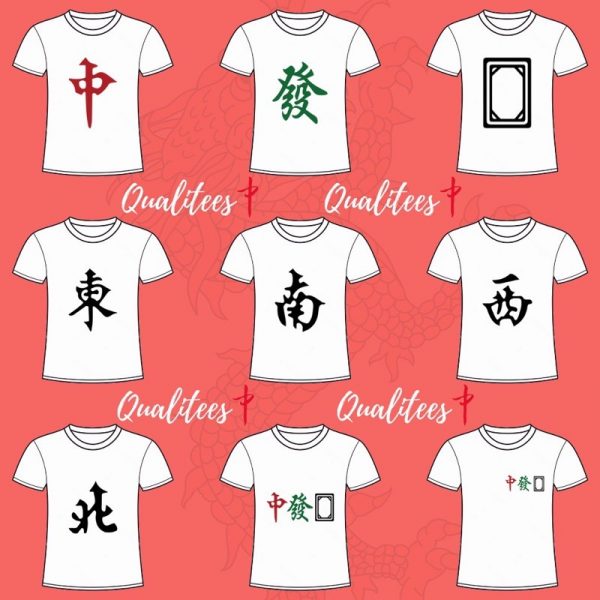 Never got a 'Da San Yuan' in your life? Well, maybe you finally will when you get some of these Mahjong T-Shirts (available on qualiteessg) which are imprinted with the symbols of all the big cards in mahjong. With nine different designs available in seven sizes, this T-shirt is the perfect mahjong gift for mahjong lovers regardless of their size or favourite tile! 
3. Mahjong Hoodie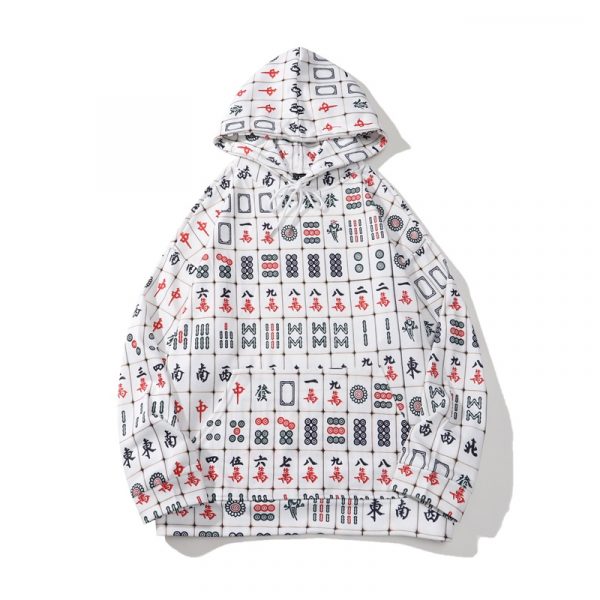 If you have a fashionable mahjong lover friend, getting them a Mahjong Hoodie (available on keepday11.sg) as a gift would be a great idea! After all, you can never go wrong with hoodies. Not only is it stylish, but it might also just be that lucky piece of clothing they need this CNY. Additionally, the inner material of this hoodie is made of terry cloth which is soft and absorbent – comfy even in our sunny Singapore weather!
4. Mahjong Cap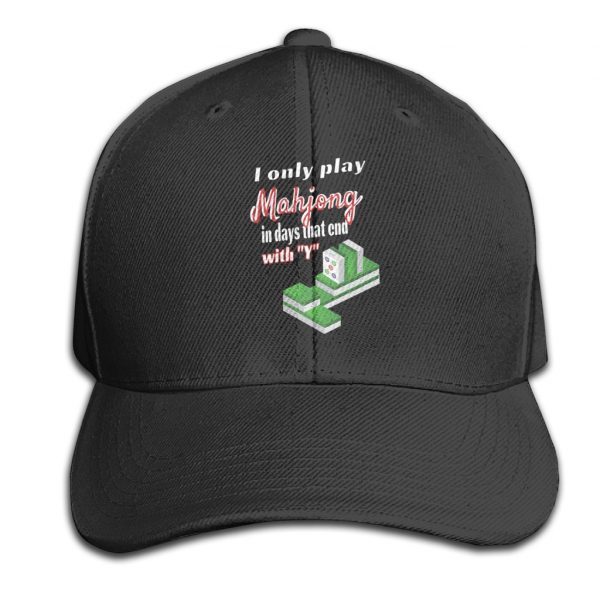 If you know of a friend who plays mahjong only on days that end with "Y" (which is everyday), then getting them this Mahjong Cap (available on MEN'S T SHIRT) would be a fitting mahjong gift. They get to show off their love for the game when they wear this cap, and get some extra huat this CNY 2022 while doing so!
5. Mahjong Socks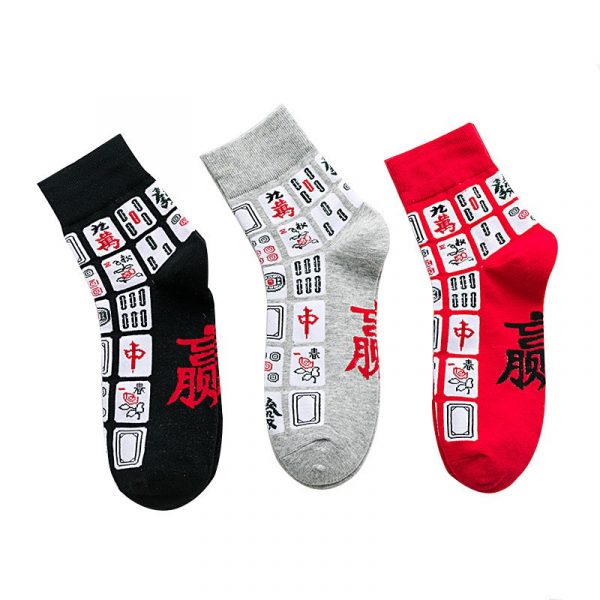 Some believe that if you want to win big at mahjong, you need to have lucky charms from head to toe. That's why Mahjong Socks (available on kafu88.sg) are another great gift idea for your mahjong pals. This is especially so if you usually play mahjong in an air-conditioned room as wearing socks will definitely keep you warm and comfy too.
6. Mahjong Disposable Mask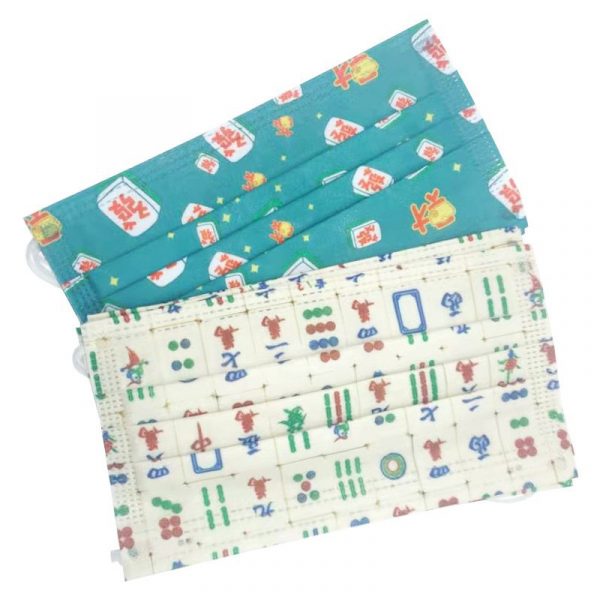 Since wearing masks has been made mandatory over the last two years, getting your mahjong lover friend a Mahjong Disposable Mask (available on FengZhu003.sg) as a gift is an apt choice. In basic mahjong shades, this mask can match almost any outfit for both genders and especially goes well with red outfits – definitely a sign of good luck! For more inspiration for your CNY get-up this year, do check out our guide to stylish CNY outfits.
Mahjong gifts ideas: Jewellery
7. Mahjong Ring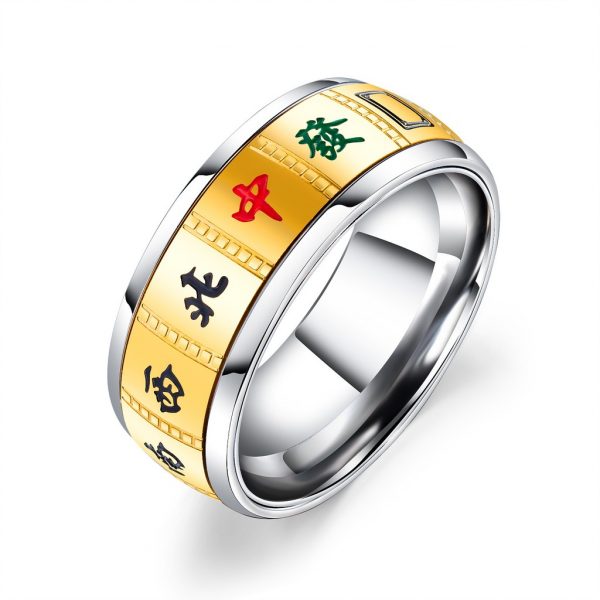 Getting a 'Shi San Yao' in mahjong is like finding a needle in a haystack – there is a possibility of it happening but the odds are extremely slim. But we bet that chance is higher when you are armed with this Mahjong Ring (available on Fashion baby) which boasts its own set of 13 wonders in gold or titanium. This unisex ring also works as a great couple gift for mahjong lovers. 
8. Mahjong Stud Earrings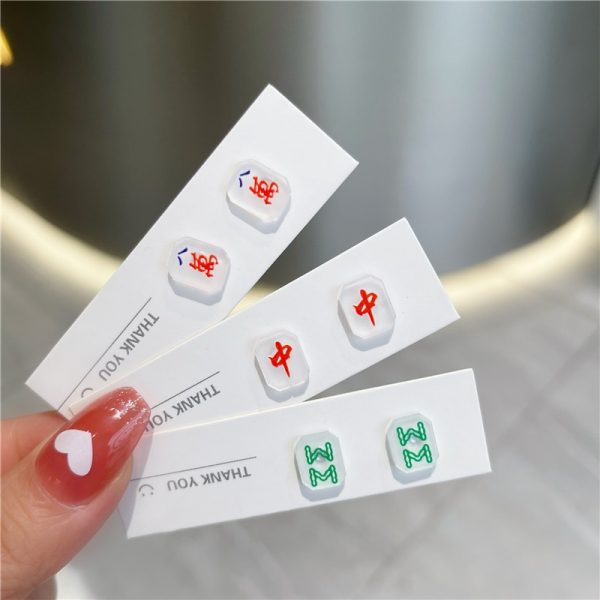 If your girlfriend is an avid mahjong player, then getting her a set of Mahjong Stud Earrings (available on JLShowStore.sg) as a gift would definitely put a smile on her face. These cute mahjong stud earrings are available in 12 different designs including that of the big cards and tiles with the number '8', which is believed to be extremely auspicious in Chinese culture. 
9. Mahjong Necklace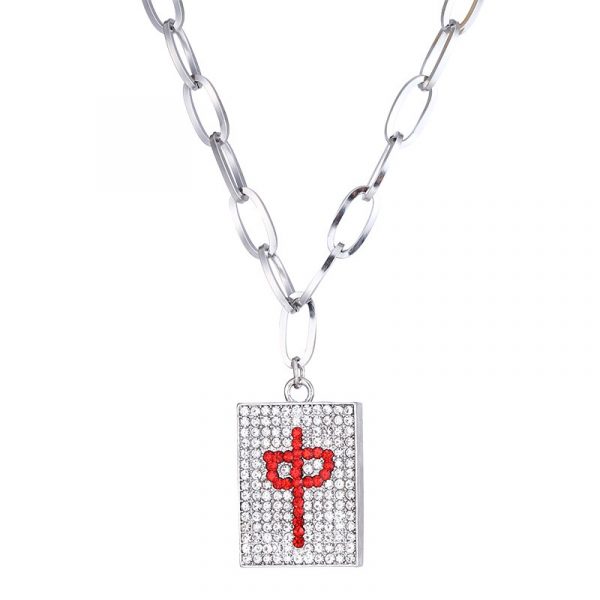 Another great gift idea for your mahjong lover companions would be this Mahjong Necklace (available on TOMOYUKI Jewelry Accessories Store) that adds extra bling to your game. This necklace is plated with a platinum and zircon pendant of either the 'hong zhong' or 'fa cai' tile – definitely a prized gem in our eyes! 
10. Mahjong Bracelet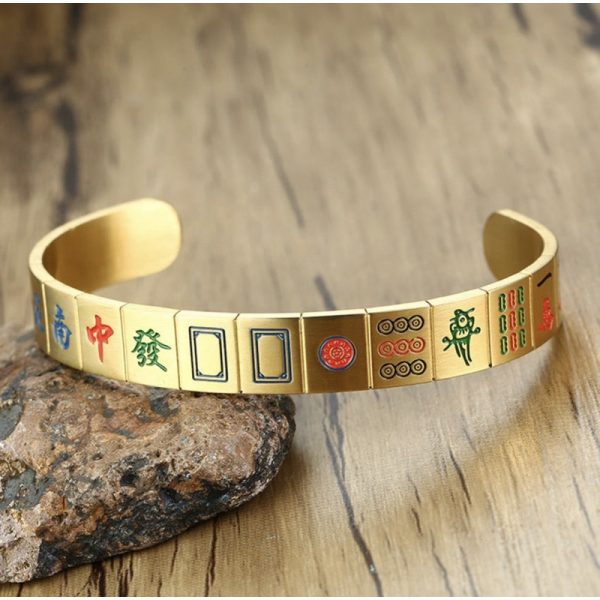 Made of titanium steel that is waterproof and anti-sweat, this Mahjong Bracelet (available on aivyStore) definitely makes a great mahjong gift idea that's suitable for all your female friends. After all, which girl doesn't love a piece of beautiful jewellery on her wrist? This bracelet comes in shiny streaks of silver and gold, featuring the coveted set of 13 wonders' tiles – everything you'll want in a good luck charm! 
Mahjong gifts ideas: Accessories
11. Mahjong Headband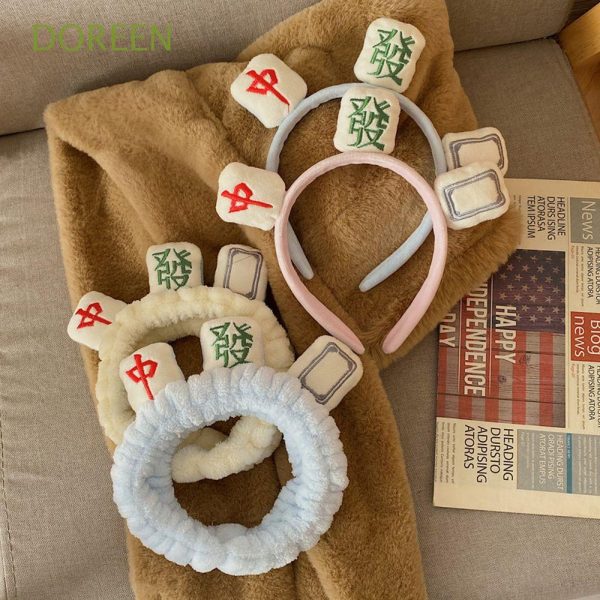 When it comes to the best mahjong gift ideas, you can hardly go wrong with hair accessories like headbands. Case in point: this Mahjong Headband (available on doreen.sg) which comes in an adorable range of designs that boast irresistible cuteness! 
12. Mahjong Messenger Bag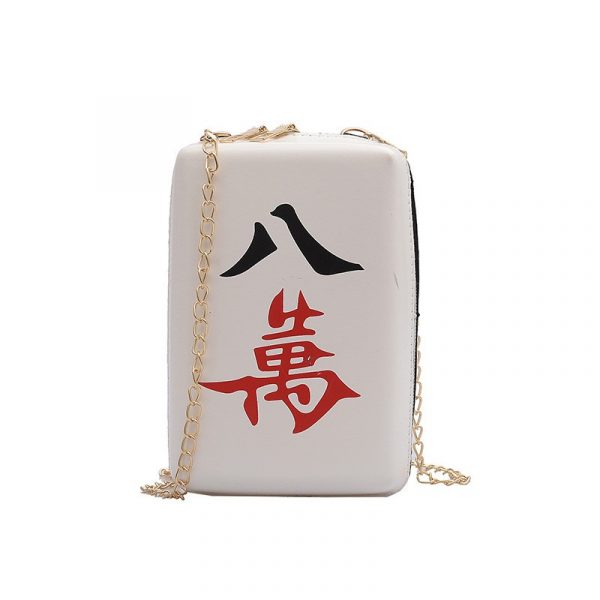 Similar to shoes and clothes, girls can never get enough bags! If you're looking for a budget mahjong gift idea for your girlfriend, you won't go wrong with this Mahjong Messenger Bag (available on chanchunmao.sg) which can be aptly used during CNY. Its minimalistic yet sophisticated design makes this a casual sling bag to go with any outfit. Your girlfriend will definitely be impressed with your refined taste!
13. Mahjong Pouch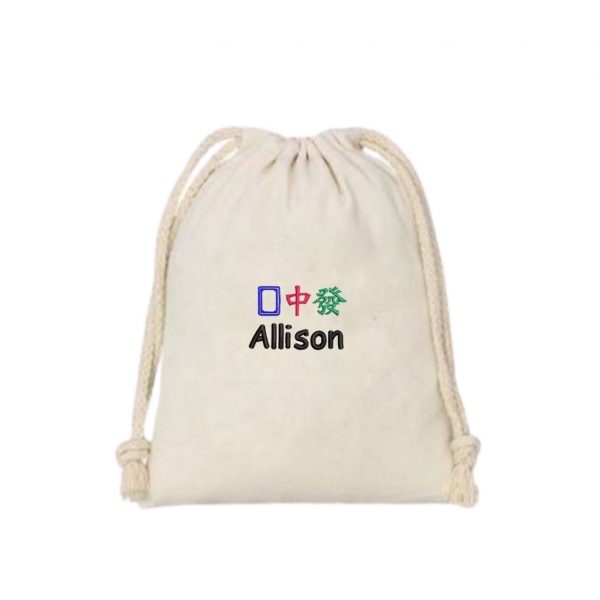 This Mahjong Pouch (available on the92shop) has got to be one of the most personalized mahjong gifts yet! It has the option to customize the name of your giftee with the use of embroidery under the design of the three great scholar tiles. What's more, this drawstring canvas pouch is of the perfect size to store all your barang and mahjong winnings! 
14. Mahjong Nail Stickers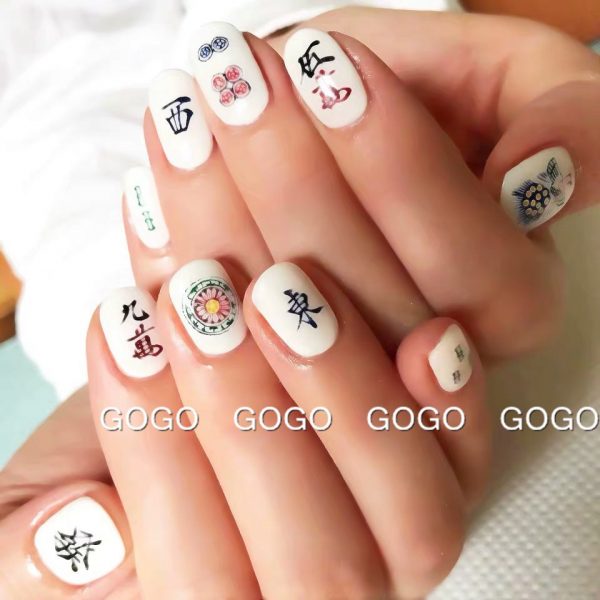 Some people just can't get through a day without getting their hands on mahjong tiles. Thankfully, with these Mahjong Nail Stickers (available on Romantic Beauty Shop), they'll be able to literally have those tiles on their fingers 24/7! Whether it's meant for your mahjong-loving mother, wife, or female colleague, these DIY adhesive nail stickers are a mahjong gift idea they will definitely love.
15. Mahjong Beauty Puff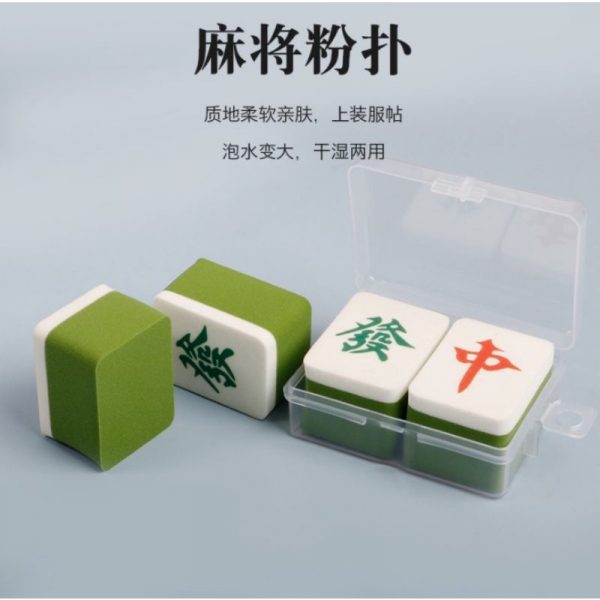 Glam up in luck with these Mahjong Beauty Puffs (available on pandal0.sg) that are truly an ingenious invention! Not to be mistaken for actual mahjong tiles, all you have to do is soak the beauty puff in water before using it so that it becomes bigger and easier to put on your makeup. Definitely a great mahjong-themed gift for a makeup junkie! 
16. Mahjong iPhone Cases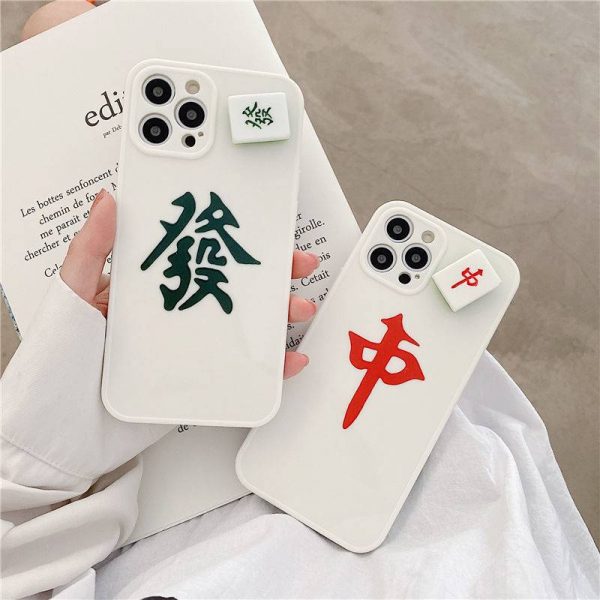 Mahjong iPhone Cases (available on 3C Digital Supermarket 2020) serve as another great gift idea for mahjong lovers thanks to its large imprints of the big tiles such as 'fa cai' and 'hong zhong'. Material-wise, these iPhone cases are made of silicone which is dirt-resistant. For other alternatives, check out our list of best iPhone cases in 2021!
17. Mahjong AirPods Cases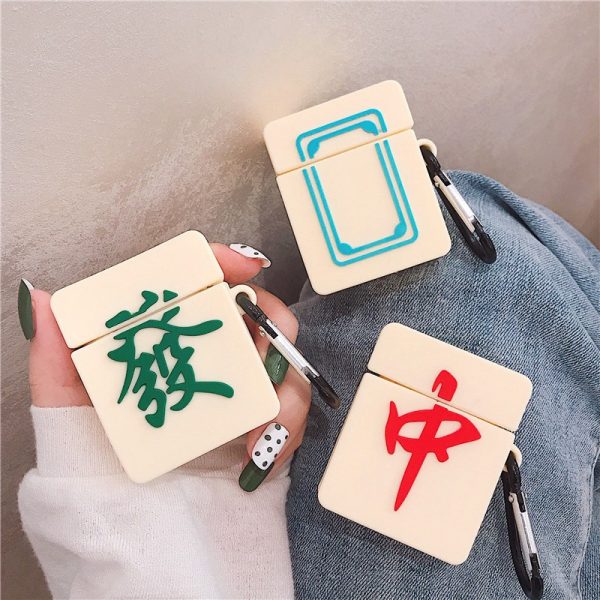 Tune-up in style (and luck) with these Mahjong Airpods Cases (available on airpods case) which are sure to send some extra huat along the way! With a dust-proof cover and a handy hook, these cute Airpods cases sure make some of the best mahjong gifts you can find for your kakis.  
Mahjong gifts ideas: Home items
18. Mahjong Pillow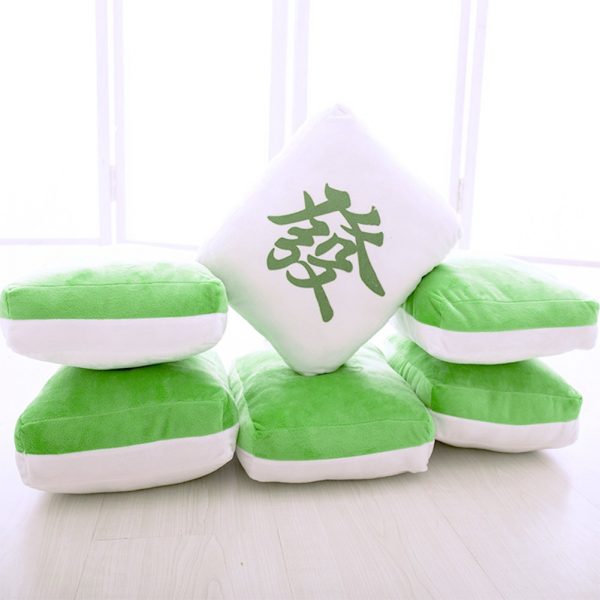 There are plenty of mahjong-themed home items that can be used as gifts. For starters, a Mahjong Pillow (available on Milorhome Official Store) would prove to be beneficial for families who need that extra bit of huat this new year. The mahjong pillow is also the perfect decor for your sofa or bed which would appeal to both young and old mahjong lovers alike! Be sure to check out our roundup of the best pillows in Singapore for more cosy options. 
19. Mahjong Coffee Mug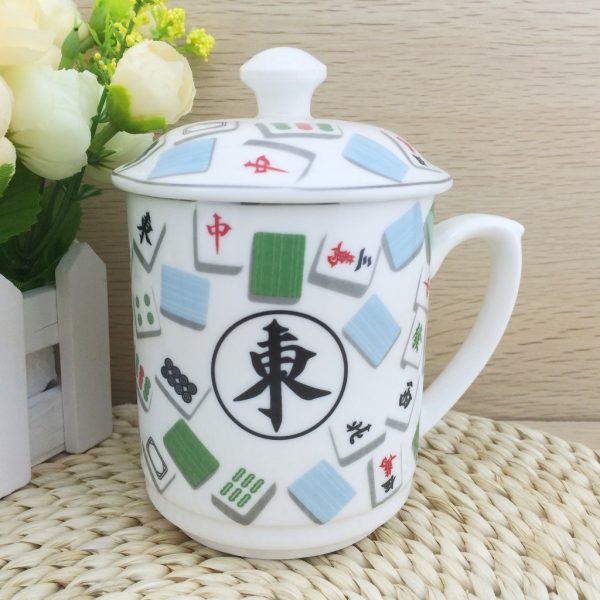 Does dad keep winning during family mahjong sessions? Then maybe it's time to distract him with this Mahjong Coffee Cup (available on olu8bf4ckh) where he can drink his brewed morning coffee from. Designed with a wide array of mahjong tiles, this ceramic mug comes with a lid that prolongs the time before the coffee gets cold – definitely a practical mahjong gift! 
20. Mahjong Tumbler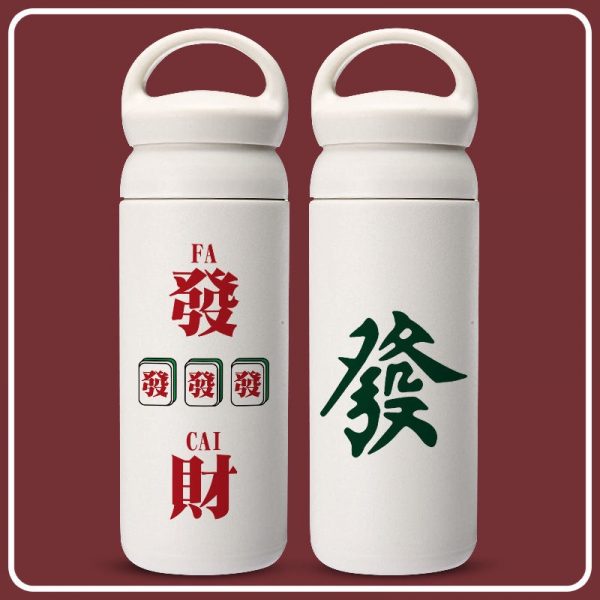 If you drink water regularly, then perhaps investing in a Mahjong Tumbler (available on xjhthao.sg) might be a good choice! Coming in 11 different lucky designs and two sizes, this tumbler is definitely a hit among students and couples alike. Additionally, it comes with a special tea compartment for those who like to keep their morning drink warm and fresh. Check out our list of best coffee tumblers for more suggestions! 
21. Mahjong Night Light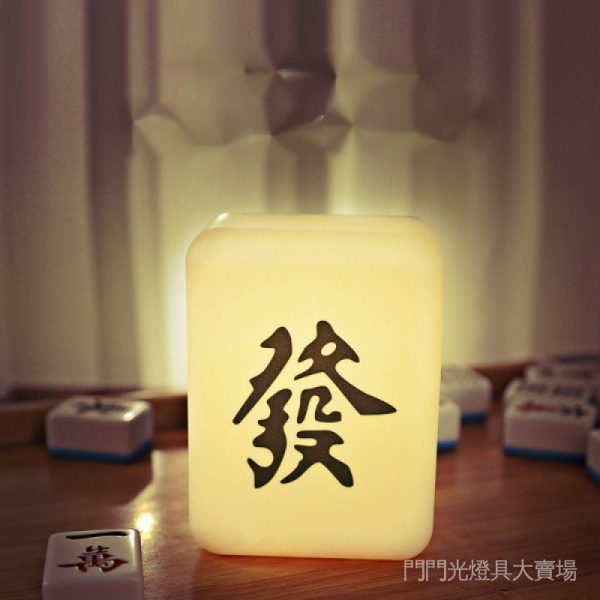 Suffering from nightmares after losing to your aunties at mahjong during CNY? Then maybe you should equip yourself with a Mahjong Night Light (available on hhggtw7tg.sg) that can literally lighten the mood a little. These adorable night lights are 12.5cm tall and radiate either a white or yellow light. With 32 different designs to choose from, you'll be spoilt for choice! 
22. Mahjong Silicone Mould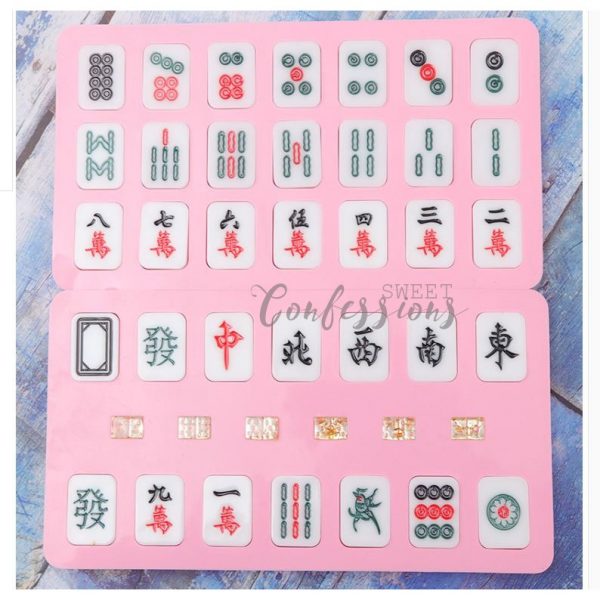 Legend has it that grandmothers will always win in every mahjong game. To stop your wallet from being burned even more, maybe you should give grandma a Mahjong Silicone Mould (available on Sweet Confessions) so that she'll be too busy to come near the mahjong table. These silicone moulds can be used to make jelly or chocolate in the shape of mahjong tiles – how adorable! 
23. Mahjong Floor Mat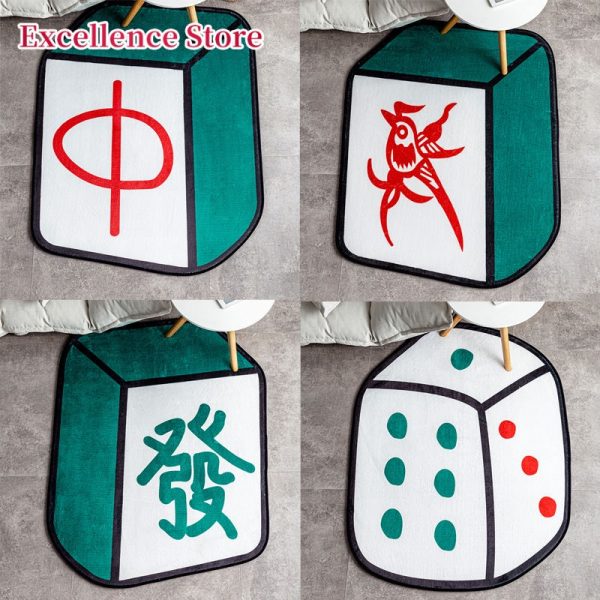 While giving carpets to others as a gift might be inauspicious, you can always buy one for yourself for more luck in the upcoming new year! We recommend these 3D Mahjong Floor Mats (available on Excellence Home Life Store) from Excellence Home Life Store that can be used in your living space or bedroom. They come in four different designs and you can choose between crystal velvet fabric or imitation cashmere which are great materials for mats! 
Mahjong gifts ideas: Food
24. Mahjong Birthday Cake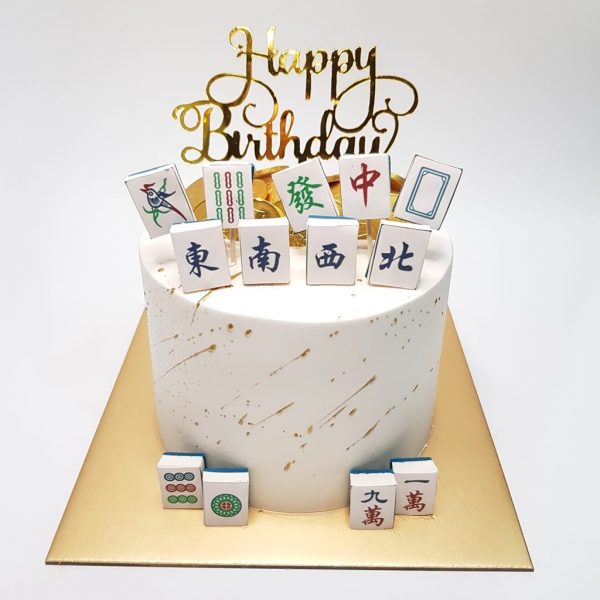 All mahjong lovers will definitely appreciate a mahjong cake for their birthday cake. After all, who can resist a beautifully decorated cake with the best 13-tile combination ever! In particular, we love the Mahjong Birthday Cake (available on Yours Sincerely Bakery) from Yours Sincerely Bakery that is beautifully coated in white fondant with gold splashes. You can choose between the vanilla, lychee rose or mango flavours which all pack a punch. 
25. Mahjong Mooncakes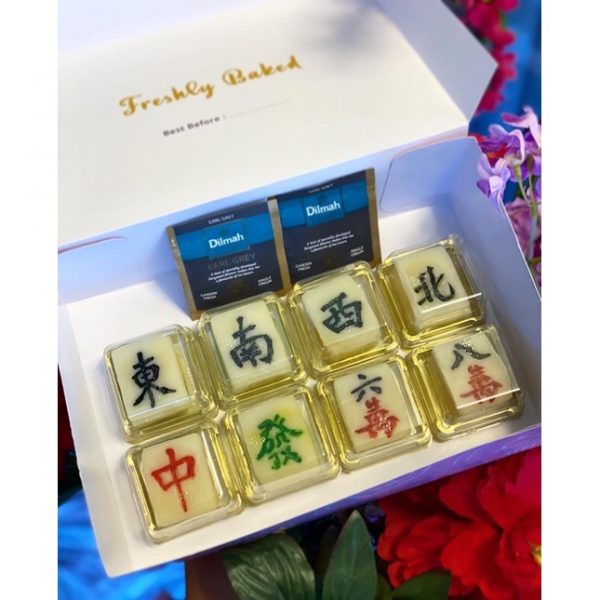 Who says you can only eat mooncakes during Mid Autumn? With these Mahjong Mooncakes (available on jeanlim117), you can indulge in them even during CNY! These mooncakes are perfectly carved with delectable fillings such as homemade custard, lotus with melon seeds, cranberry rose, and gula melaka with coconut flakes. Made in the shape of bite-sized mahjong tiles, this is truly one of the best food gifts you can get for your mahjong lover pals. 
26. Mahjong Chocolates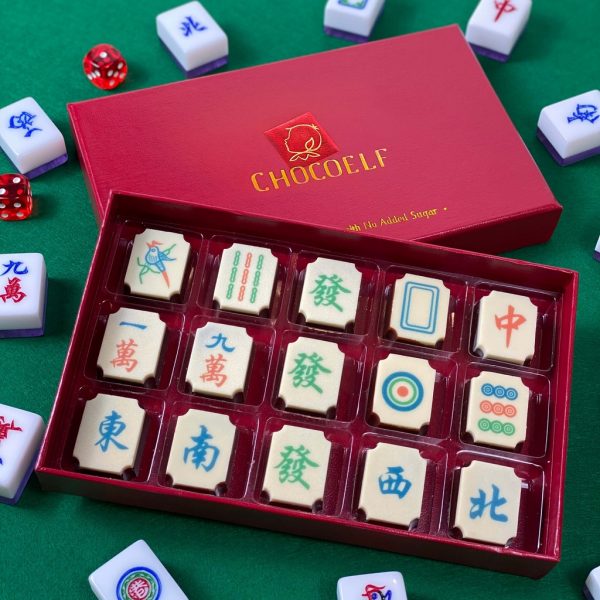 Calling all chocolate lovers! These Mahjong Chocolates (available on Chocoelf) are as addictive as the game itself. These would be the perfect gift for your mahjong kakis with a sweet tooth. These pralines are shaped in the semblance of mahjong tiles and made with indulgent dark chocolate covered in vanilla white chocolate. Boy, we're hungry already!
Mahjong gifts ideas: Miscellaneous items
27. Mahjong Mechanical Keycaps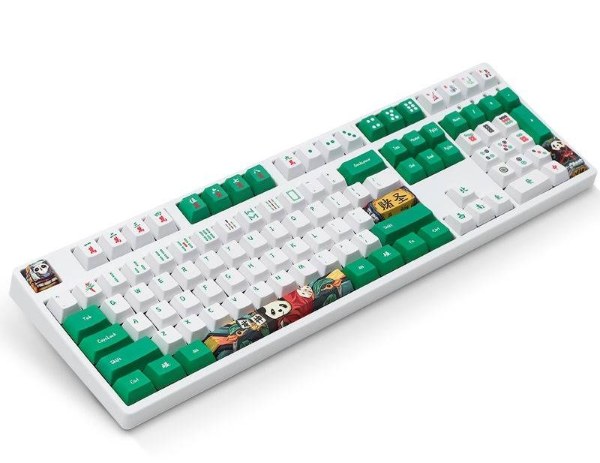 If you're a fan of custom mechanical keyboards, then you should definitely consider these Mahjong Mechanical Keycaps (available on mathewshop.sg) as a mahjong gift idea. Other than their lucky aesthetics, you'll love the oh-so-satisfying ASMR click-clack sounds you get while typing. Be sure to check out the different types of keycaps in Singapore too! 
28. Mahjong Rubik's Cube
Solving a rubik's cube is no easy feat. But with this Mahjong Rubik's Cube (available on giftswonderland) you might just get motivated to actually learn to solve it! Just like the mahjong game itself, solving a Rubik's cube will keep your mind active and improve your reflexes. This cube is available as a three by three or four by four. Check out these other best Rubik's cubes in Singapore that come in different shapes and sizes.  
29. Mahjong Notebook 
Albeit its plain design, this Mahjong Notebook (available on MY HAPPY SODA Christian Gifts) is sure to bring you lots of good luck as you enter the new year! As a great mahjong gift idea, your giftee can use this notebook as a planner for 2022 or even record their mahjong winnings. Here are more options for the best new year planners you can use in 2022!
30. Mahjong Keychain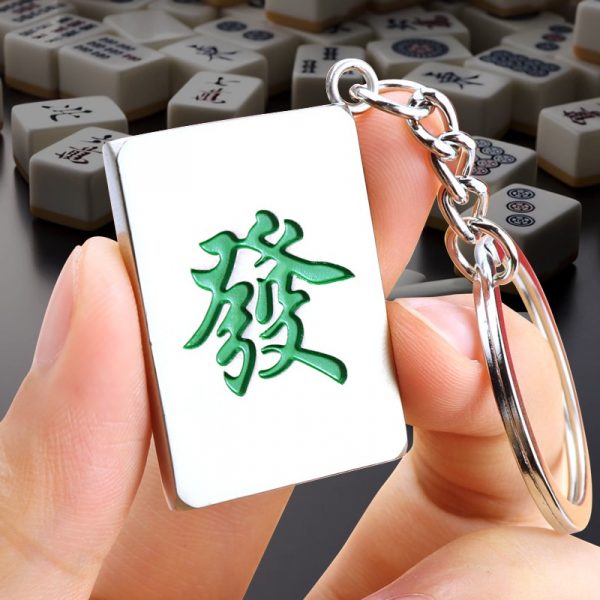 Need a new good luck charm? This Mahjong Keychain (available on The Sweet Stories) might just be that perfect mahjong gift! The metal key holders are flat and stay securely closed, so it is not easy to fall off. Additionally, it serves as a good decor for your keys to add a touch of personality and it is durable with long service life.
31. Mahjong Red Packets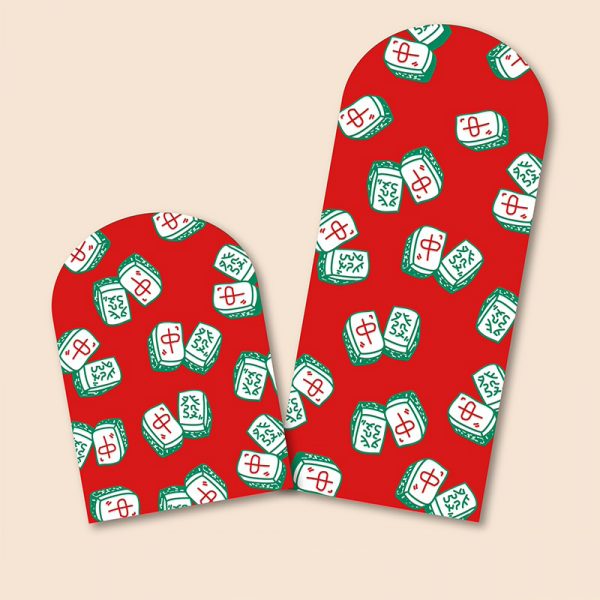 Just got hitched and it's your turn to give out ang paos this CNY? Why not impress your relatives with these adorable Mahjong Red Packets (available on Magic Shop)! Designed with cute little mahjong tiles, we're sure its recipients will feel extra lucky! Be sure to check out the CNY ang pao rates and all the rules and faux pas you need to know.
Bless your pals with these mahjong-themed gifts this CNY
We hope this list of mahjong gifts has made your day a little luckier! Of course, CNY isn't all just about luck and gaming. Indulge in some of the best bak kwa and best pen cai in Singapore which you can order online. Additionally, be sure to buy some of the best canned abalones and follow these easy abalone recipes to impress your relatives and friends. Snag all your other CNY essentials at awesome discounted prices at our Shopee CNY sale!
---
This article was updated on 24 January 2022. Additional research done by Jamantha Lim.
New to Shopee? Get $7 (min. Spend $15) with code*: MAHJONGGIFT7
*TNC applies. Valid for new users from 26 January to 2 February 2022 only.