It may be a cliche, but gifting wine, flowers and Valentine's Day chocolates to your other half just never gets old. Skip the trouble of making your own chocolates and opt for artisanal or gourmet chocolates in Singapore instead! Think IG-worthy and bold flavours to ethically made chocolates that will instantly elevate bae's moods. From artisanal chocolates to interestingly spicy flavours from Mr. Bucket Chocolaterie, check out these cocoa delights for Valentine's Day in Singapore this 2023!
Is chocolate a good Valentine gift?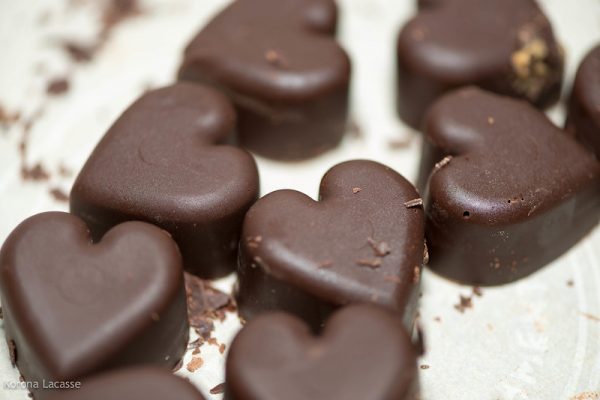 Gifting chocolates and flowers seems to be a Valentine's Day custom globally and they're definitely one of the fail-proof Valentine's Day gift ideas. But have you ever wondered, why chocolates on this special occasion? Besides the fact that the satisfaction from its sweet flavours doesn't discriminate between genders, chocolates actually symbolise love, happiness and passion. From the ancient Aztec times, chocolates have been viewed as an Aphrodisiac. This uncoincidentally traces its origins back to the name Aphrodite — the Greek Goddess of Love.
Now you know why chocolates are such a hit for this romantic date! Let's get on to finding out where you can buy the best chocolates in Singapore. Here we've sourced out both artisanal and all-time favourite chocolate brands you can find for your Valentine's Day gift in Singapore this year!
Artisanal Valentine's day chocolates to express your love
1. Chocoelf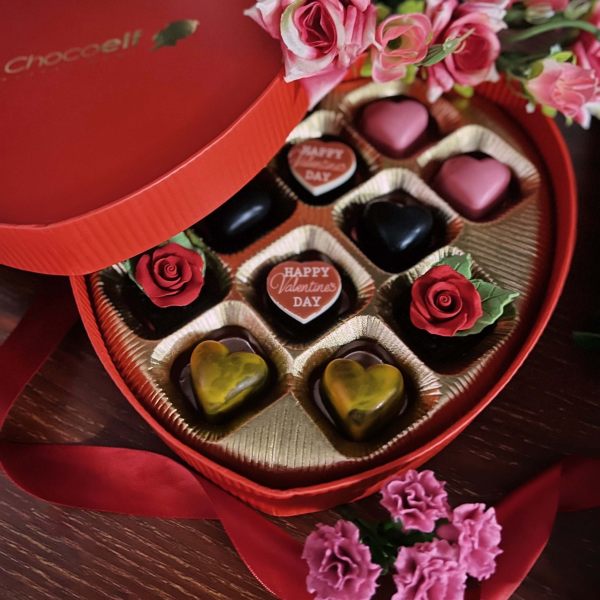 No Valentine's Day chocolate list would be complete without mentioning the creamy goodness of chocolate truffles. This homegrown brand is really big on healthy snacking so it's no surprise that Chocoelf's Valentine's Love Truffles (available on Chocoelf) includes little to no added sugar! That's right, Chocoelf has somehow managed to create chocolates infused with Asian ingredients that you can snack on guilt-free. From Milk Cream to Green Tea, Chocoelf pulls all the stops to offer a health-focused take on the timeless art of artisanal chocolates in Singapore that are perfect as a Valentine's Day snack.
2. Janice Wong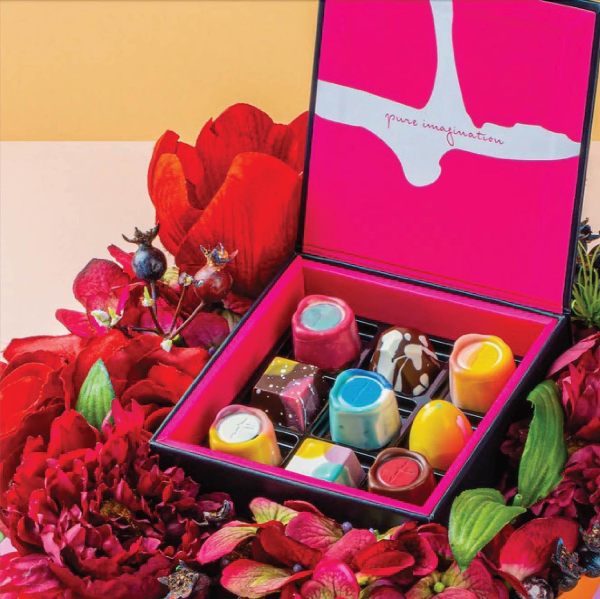 Janice Wong's Valentine's Day Chocolate Box puts a spin on the phrase 'feast for the eyes'. It's no wonder Wong is known as the female Willy Wonka of Singapore. Psst, she has even served her bedazzling desserts to the late Lee Kuan Yew. The chocolates here aren't just a feast for the eyes. Bursting with bold flavours, Janice Wong's chocolates are perfect for your other half as a Valentine's Day gift in Singapore!
From local delights like Kopi Coffee and Chilli Padi to classics like Salted Caramel and Baileys, they look almost too good to eat. With their vibrant colours and multi-layered flavours, Janice Wong's edible art will undoubtedly be the perfect Valentine's Day chocolates as they are truly one of the best in Singapore!
3. ANJALICHOCOLAT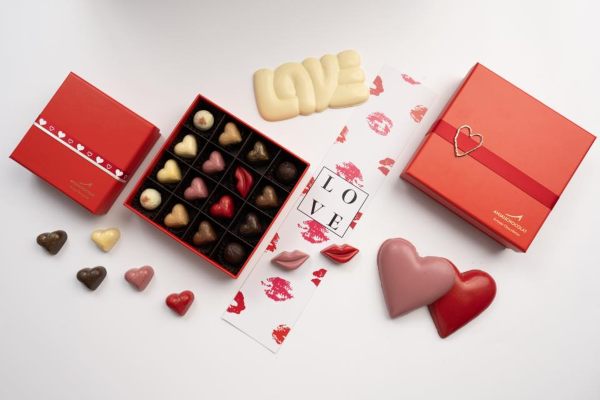 For those of you with adventurous taste buds, ANJALICHOCOLAT has got you covered. This humble homegrown artisan chocolate shop takes pride in its unique flavour pairings such as Star Anise, Mayan Chilli and Sesame chocolates. Their sweet treats are definitely going to be one heck of a surprise for this special occasion!
ANJALICHOCOLAT has a wide range of chocolates you can gift this Valentine's Day in Singapore. This includes a single heart lollipop that's almost too adorable for consumption. There's also the extravagant Ultimate Valentine's Gift Set which comes with 50 different flavours of truffles and bonbons. Your bae will surely be delighted with all the yummy options!
4. Mr Bucket Chocolaterie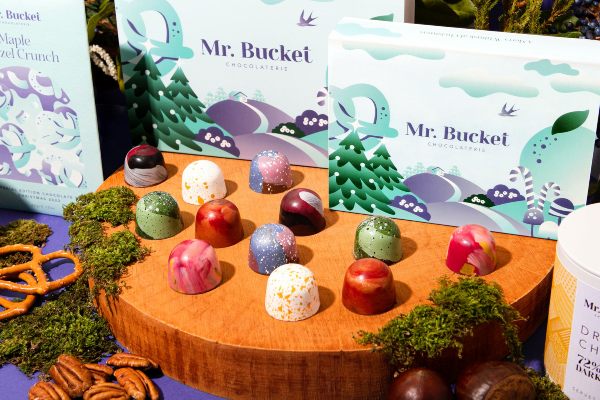 It's not every day you get to give mala–flavoured bonbons for Valentine's Day chocolates. If your partner's a diehard fan of artisanal and gourmet chocolates in Singapore, there's no reason you should skip Mr Bucket! Tucked away in Sin Ming, Mr Bucket is an open-concept chocolaterie that specialises in the intricacies of bonbon making. From Double Soy Caramel to Salted Egg Yolk, Mr. Bucket wears its Charlie and the Chocolate Factory influence on its sleeves with its gamut of colourful and unique bonbon flavours. You'll also be greeted by the store's passionate oompa loompas who are more than glad to help you find your preferred chocolates.
5. Hello Chocolate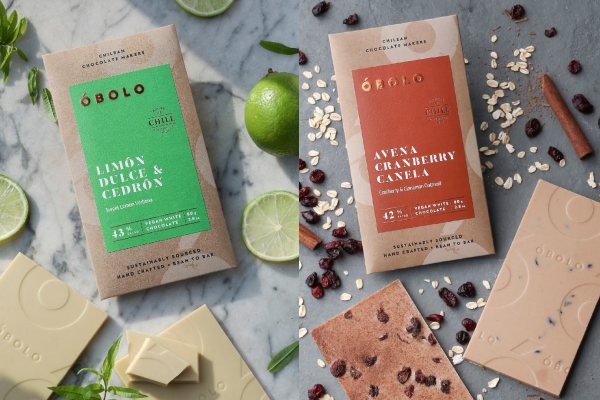 Unlike the aforementioned, Hello Chocolate is not an independent brand but rather, an assembly of the top bean-to-bar chocolate makers from all around the world. They carry over a dozen brands, including Zotter Chocolate from Austria and Beau Cacao from France. 
From pistachio-stuffed Pralus bars to Peruvian origin dark chocolate bars, Hello Chocolate doesn't hold back in delivering a myriad of high quality, artisanal chocolates to us Singaporeans who are ardent chocolate fans. To sweeten the Valentine's Day deal, opt for their customised chocolate gift to add a personal touch! 
6. Lemuel Chocolate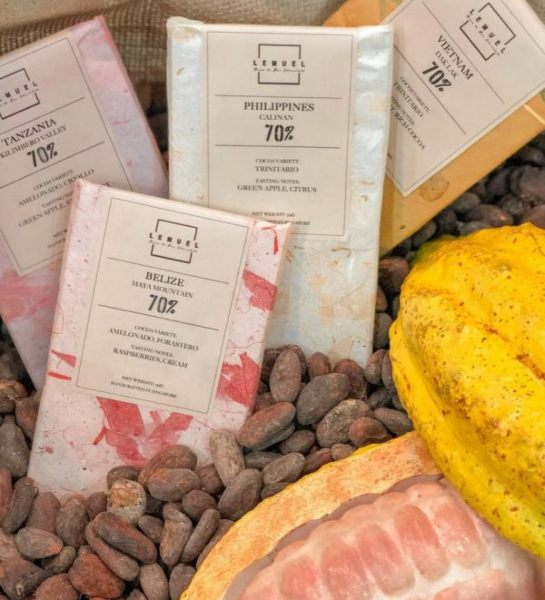 For purists who appreciate the finer details, there's nothing like sampling chocolate from a bean-to-bar manufacturer. From the initial sorting to the final moulding, Lemuel Chocolate fully controls the process. The folks prefer to keep things simple with its cocoa bean and organic cane sugar chocolate recipe. The end result is a myriad of chocolate offerings that raise the bar for chocolate excellence. Speaking of bars, their single-origin bars would be fantastic options for Valentine's Day chocolates. Your partner is in for a treat as Lemuel Chocolate includes fruity hints that further elevate the taste of these artisanal chocolates.
Psst, while these aren't exactly artisanal chocolates, we couldn't help but highlight their online exclusive Blackout Brownies. With 72% dark chocolate ganache, you'll be hard pressed to find a more decadent chocolate treat for a Valentine's Day gift in Singapore!
7. Fossa Chocolate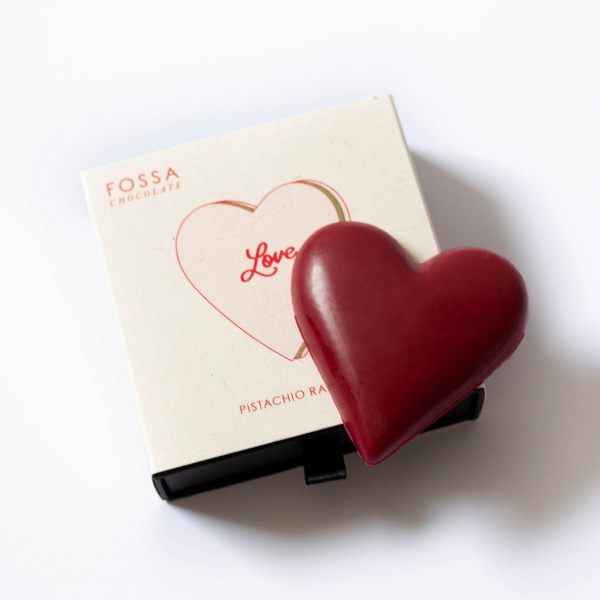 If you're all about aesthetics and would love your chocolate gift to be a feast to the eyes as well as the stomach, you've hit the jackpot. Choc on Choc is a chocolate brand originating from the U.K. Started out by a father-daughter team in 2003, they are best known for their beautifully designed handmade chocolates. 
Think chocolates in the form of handbags, lollipops, lips and more. They have a whole range of Valentine's Day chocolates that will leave you spoilt for choice. Their designs cater for more than just romantic occasions, so if you're up to gifting your partner with something a little more cheeky and playful, you could even consider options such as their Toilet Roll Chocolate.
Looking for something more hands-on? Check out their activity kits which come in several interactive forms, such as the Chocolate BBQ Kit. It comes with Belgian chocolate to melt, marshmallows and chocolate strawberries for dipping. Talk about a sweet and fun Valentine's day gift idea — this is seriously one of the best kinds of chocolate gifts you can get in Singapore!
Popular chocolate brands to gift this Valentine's Day in Singapore
8. Lindt Lindor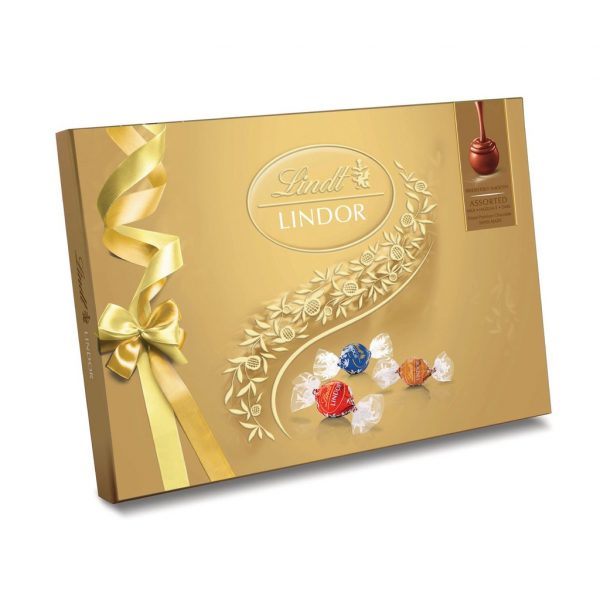 Expressing your love through gifting chocolates need not necessarily mean that you have to purchase gourmet chocolates. Sometimes, sticking to the classics could be the way to your partner's heart. If you haven't already heard of this brand, Lindt Lindor is a classic chocolate brand and a go-to for many when it comes to chocolate gifting.
The Lindt Lindor Milk Gift Box (available on Shopee Supermarket) comes highly recommended especially for fans of smooth and creamy chocolate that are slightly on the sweeter side. Otherwise, go for the Lindt Lindor Assorted Gift Box (available on Shopee Supermarket) for a greater variety of flavours including white, extra dark and hazelnut chocolate truffles.
9. Ferrero Rocher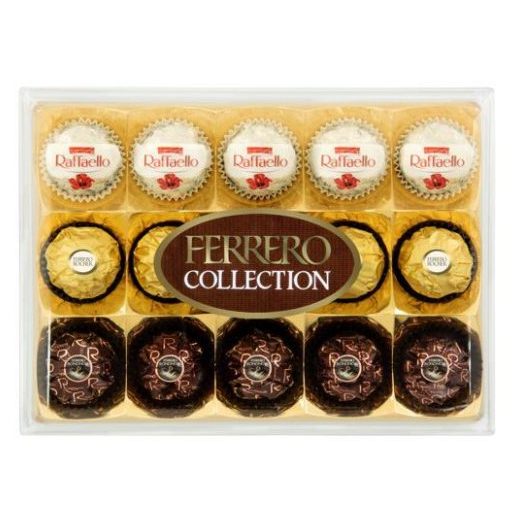 When it comes to chocolates, it'd be a crime not to mention Ferrero Rocher. This popular brand with Italian origins has got decades of history under its belt. Its tagline, 'Share something special' cannot get any more apt for Valentine's Day.
The most adorable and suitable Valentine's Day chocolate to gift your partner would undoubtedly be the Ferrero Rocher Heart T8 (available on MJJ IND) which comes beautifully packed in a heart-shaped box. And if you are being more practical (because who really eats so few pieces, right?), there are other options like the Ferrero Rocher Collection T15 and Ferrero Rocher T30 (both available on Shopee Supermarket), with the former consisting of not just one, but three flavours!  
If your bb loves bouquets and chocolates, give her the best of both worlds with a chocolate bouquet! This Ferrero Chocolate Bouquet (available on meowmeowshop.sg) is so gorgeous and comes with lovely baby breaths too! You can also browse a range of other snack bouquets to find the one with her favourite snacks!
10. Godiva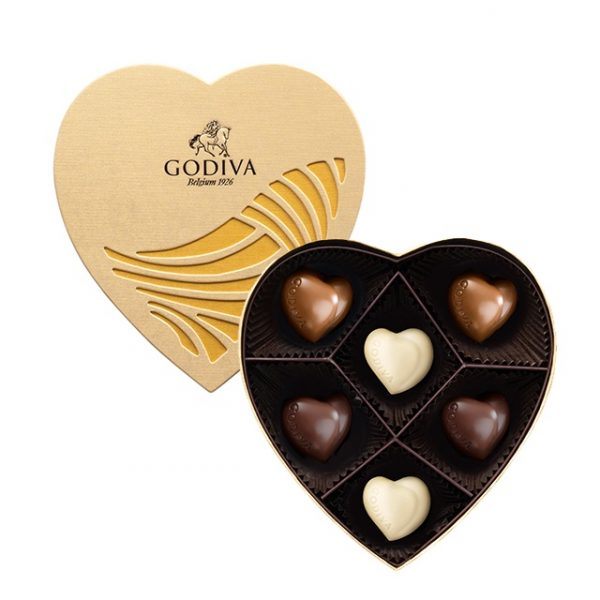 If you are on the prowl for something more premium, look no further than Godiva's range of irresistibly indulgent and smooth chocolates. This brand started out in 1926 and has been consistently working to improve their Belgian chocolates, so you know that you can count on them when it comes to getting the best quality chocolates in Singapore. 
The Godiva Gold Hearts Chocolate Gift Box (available on Far East Flora Official Store) is a timeless Valentine's Day gift idea. The gorgeous heart-shaped box is packed with six pieces of milk, white and dark chocolate hearts. Needless to say, it would do the trick of winning the heart of your other half!
11. Cachet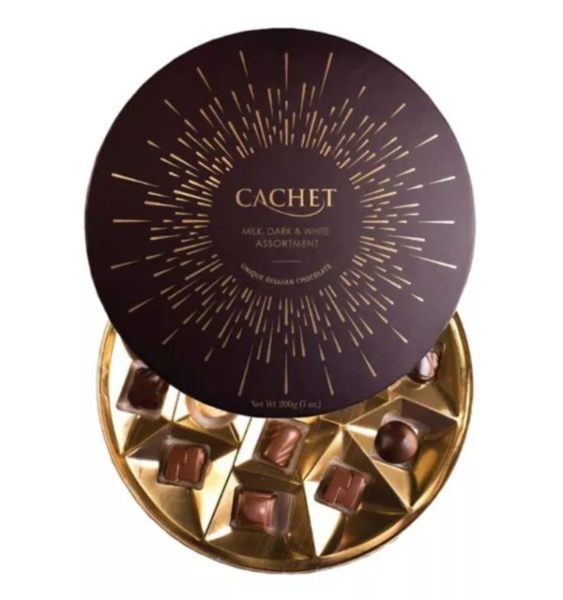 Those who frequently shop at grocery stores and love to explore different brands and types of chocolates should be no stranger to Cachet. This brand has got a huge range of chocolates — heck, even their dark chocolates come in a number of varieties!
If you are looking to appreciate chocolate in its full glory, the Cachet Round Brown Box (available on Shopee Supermarket) will be the best way to do so. Another no-frills option would be the Cachet Dark Chocolate Peppermint Crisp (available on Choco Express Official Store) which makes for a wallet-friendly Valentine's Day chocolate gift.
Up the ante this Valentine's Day with artisanal and popular chocolates in Singapore
We hope this list has proved helpful in solving your woes on where to buy sweet chocolates for Valentine's Day in Singapore! Interested in other yummy treats to celebrate the season of love? Browse the various candies and pastries on Shopee Supermarket and you might just discover the right listing for your partner. And if you're thinking of where to head for your date, check out these quiet and romantic date spots in Singapore for some peaceful alone time or pop by a romantic restaurant for a meal to celebrate your romance. For more amazing deals and promotions, be sure not to miss our Valentine's Day Sale!
This article was updated on 2 February 2022. Additional research done by Caryn Tan.