Singapore's National Day is just around the corner! Even if you didn't manage to secure tickets for this year's National Day Parade (NDP), you can still express your pride with red and white outfits! Don't be mistaken – we're not referring to tacky T-shirts emblazoned with "I LOVE SG". From tried-and-tested Singapore National Day outfits to more subtle variations of the standard red and white outfit combo, we show you all the ways you can show your love for Singapore this National Day. Keep scrolling! 
Red and white National Day outfits in Singapore: For every Singaporean
1. The Haji Lane Hipsters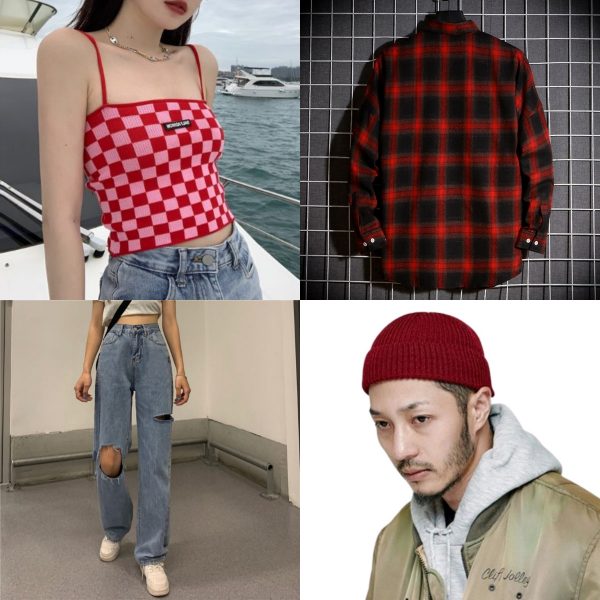 Lined with colourful, Instagram-worthy mural walls and an eclectic mix of cafes and bars, Haji Lane is definitely one of the hippest districts in Singapore to see and be seen at. Capture the spirit of this hipster neighbourhood through bold and funky clothes this National Day! 
Making a trip down to Haji Lane for National Day #OOTD snaps? Clad in patriotic red and white stripes, this Red Checked Crop Top (available on XiaoZhaiNv Clothing Official Store) is perfect for those putting together a grunge-inspired National Day outfit! Throw on your edgiest pair of High Waist Ripped Jeans (available on XiaoZhaiNv Clothing Official Store), and you're all set!  
For the guys, nothing screams 'hipster' more than a classic Red Checkered Flannel (available on Men wardrobe). Pair it with a White Cotton Jockey Singlet (available on Inner Statement Singapore Official Store) and some Khaki Cargo Pants (available on ROUGH) to complete your hipster-inspired Singapore National Day outfit. Bonus: to make your red and white outfit pop, throw on a Maroon Knit Beanie (available on Marko Republic Mall)! 
2. The Kiasi Singaporeans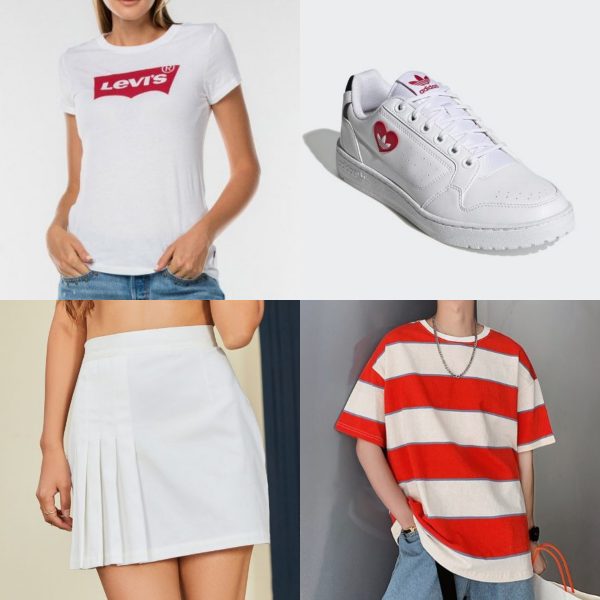 As one of the 5 'K's (kiasi, kiasu, kiabo, kiabor, kiachenghu) used to describe the classic Singaporean, kiasi-ism refers to Singaporeans' risk-averse character. Tend to play it safe? A simple red and white outfit will be the natural choice for you this National Day. However, simple doesn't have to mean boring – we show you how! 
Ladies, you can't go wrong with the classic, ultra-comfy Levi's Womens Slim Crew Logo Tee (available on Levi's Official Store). Complete your Singapore National Day outfit with the Lovito Asymmetrical Pleated Skirt (available on LOVITO OFFICIAL STORE). It's the perfect piece for elevating your National Day clothes without too much effort!
For the guys who live in oversized T-shirts, this Oversized Red And White Striped T-Shirt (available on Plus size men's clothing store 8XL) will be right up your alley! Finish off the look with a pair of Adidas Originals NY 90 Sneakers (available on adidas Official Store). These kicks are not only stylish, but also tie in perfectly with the red and white outfit theme!
3. The CBD Parents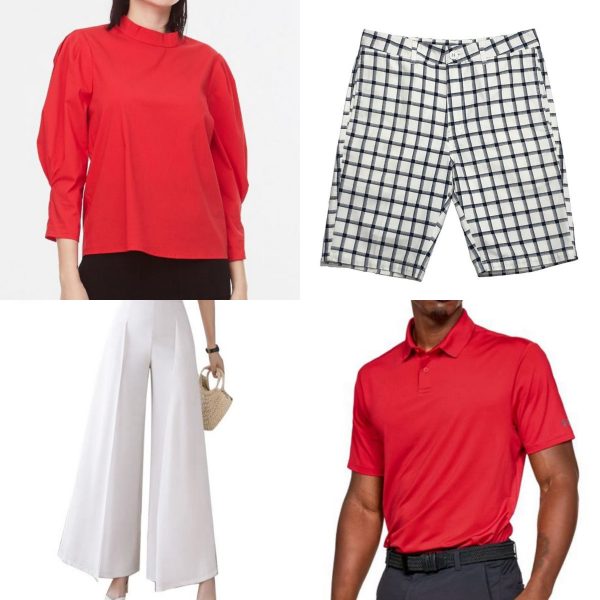 We understand that working parents don't get to spend as much time with their kids. That's why National Day will be a great opportunity for family time with these fun things to do with kids! Go for comfortable and fuss-free National Day clothes so you can keep up with your little ones. 
Mums can pair an iORA High Neck Puff Blouse (available on iorasg Official Store) with a sophisticated pair of Celmia Wide Leg Pants (available on Celmia Official Store) for a more put-together look. Plus point – these pieces can be repurposed as office wear after celebrations, making this one of the perfect National Day outfits for working mums in Singapore!
Dads can go for a simple Under Armour Crestable Performance Red Polo (available on Under Armour Official Store). To elevate the red and white outfit, throw on a bold checkered pair of Hush Puppies Men's Cargo Bermuda (available on HushPuppies USA Official Store). This red and white outfit will be a breath of fresh air from the usual dress shirt and pants look! 
4. The Heartland Homebodies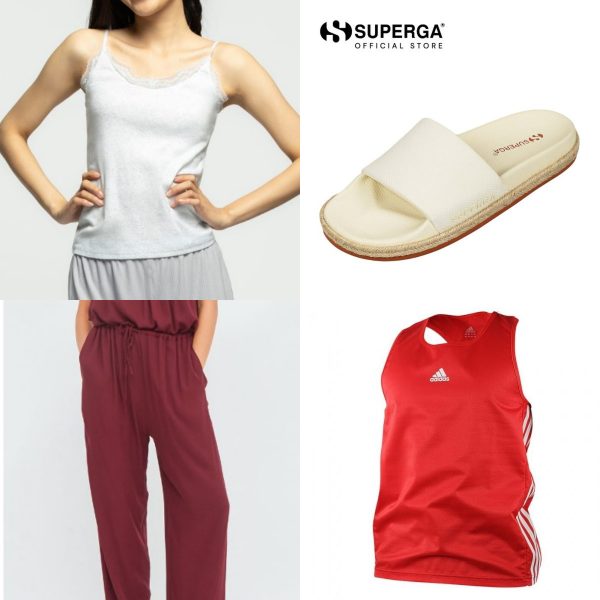 Planning to sleep in on the public holiday? You can still put together an impressive National Day outfit with these red and white loungewear options! Ladies, pull on a pair of slouchy Shopatvelvet Maroon Lounge Pants (available on shopatvelvet.sg). These babies are definitely able to take you from the living room to the cafe! Pair the pants with the super-soft 6IXTY8IGHT CAMILIA Cami Top (available on 6ixty8ight Official Store), and you're ready to while the day away in style. 
As for the gentlemen, you can't go wrong with a trusty Adidas Red Singlet (available on Sporting House Official Store). Going for an early-morning kaya toast and kopi run with the missus? Slip on a pair of comfy yet stylish Superga 1908 Organic Rope Slides (available on Superga Singapore Official Store) to complete your Singapore National Day outfit! (Psst: Don't just spend your National Day playing games or catching up on dramas. Challenge your partner to some of the best online games for couples!) 
5. The ActiveSG Ambassadors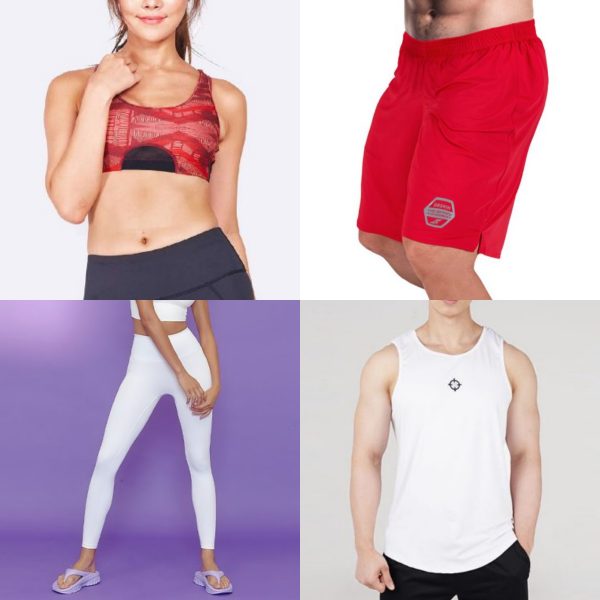 If you love staying fit on your day off, why not hit the gym in a red and white sportswear outfit to show your love (and good figure) for Singapore this National Day? For fitspo queens, show off that toned body with some high-stretch XEXYMIX Signature Leggings (available on XEXYMIX Official Store). Pair them with a bold, patterned FUNFIT Knockout Racerback Sports Bra (available on Funfit Official Store). Put together, this Singapore National Day-friendly outfit is bound to turn heads in the gym and the streets! 
For the guys, the Rigorer Performance Tank Top (available on Rigorer Singapore Official Store) is the perfect top for intense weight-lifting sessions. Channel the National Day spirit and throw on a striking red pair of DRSKIN Men's Dri-Fit Shorts (available on DrSkin Korea Official Store). Best part? They're great for everywhere from the gym to the basketball court! 
6. The Cool Cafe-Hoppers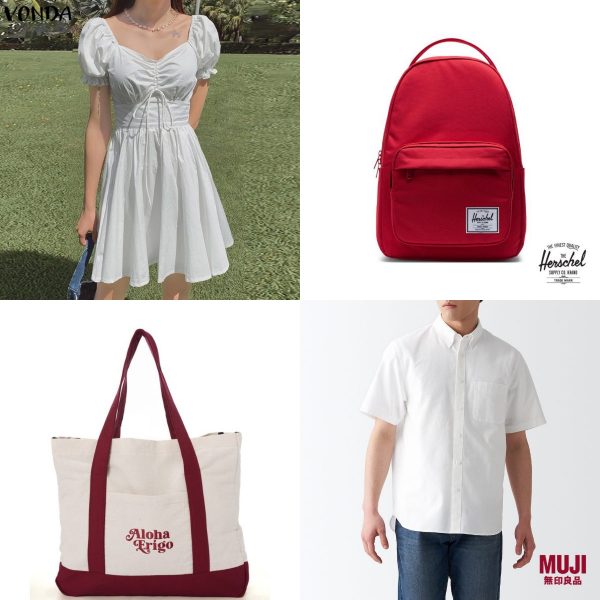 Celebrating this National Day cafe-hopping in Singapore? Join in the festivities by sporting red and white outfits! Whether you're hitting up the hip cafes in Tiong Bahru or exploring cool neighbourhoods in Singapore between your coffee runs, we've got you covered with some Singapore National Day outfit ideas ready for the 'gram! 
For the gals, this VONDA White Pleated Dress (available on VONDA Official Store) is perfect for a cafe date with your sweetheart. The trendy, puffed-sleeve design and ruched bust adds a touch of flirty playfulness to your overall vibe! Don't forget to pair the dress with the Erigo Two-Tone Aloha Tote Bag (available on erigostore.sg) for a patriotic pop of colour. 
Guys can opt for a MUJI Washed Oxford Button Down White Shirt (available on MUJI Official Store) that's National Day appropriate and extremely wearable on a day-to-day basis. Complete your Singapore National Day outfit with the Herschel Miller Backpack In Red (available on Herschel Singapore Official Store), which you can use to store an extra jacket in case your date gets cold in the cafe – aww! 
7. The Paiseh Patriots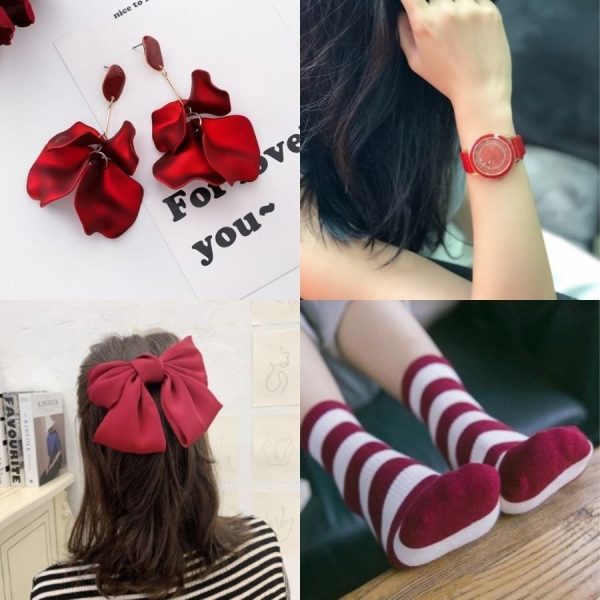 If you're too paiseh (shy) to display your patriotism through red and white outfit choices, why not slip on some red and white accessories? Red and white striped socks (available on the92shop), Zeca red fashion watches (available on Zeca Watches Official Store), red rose petal earrings (available on AIshang Jewelry Store) as well as red ribbon hairbands (available on luckyday.sg) are great and subtle details to add to your Singapore National Day outfit. Show your love for Singapore this National Day! 
8. The Tamchiak Foodies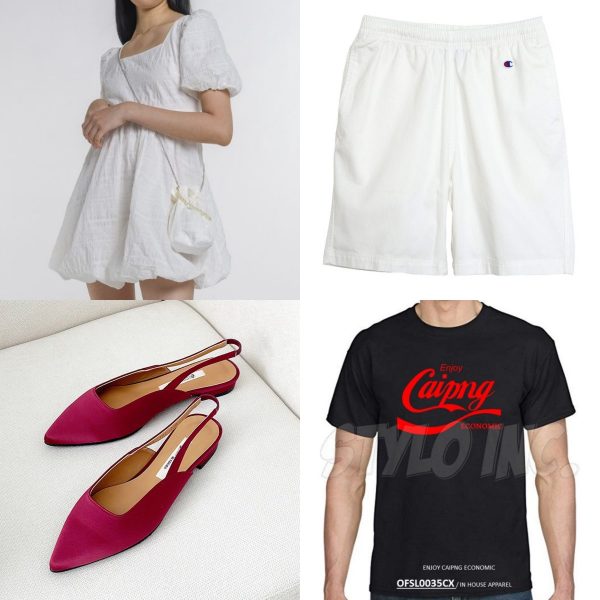 It's no secret Singaporeans love food. If you identify as a tamchiak (gluttonous) Singaporean, you'll definitely appreciate National Day clothes that are also food baby-friendly! 
Ladies can opt for this breezy YISHION Women White Babydoll Dress (available on YISHION). The flare-out cut allows you to indulge in your favourite local snacks this National Day without worrying about looking bloated! Don't forget to throw on a comfy yet stylish pair of The Kelly Studio Slingback Flats (available on thekellystudio.sg) if you're going to be standing in line like any good Singaporean for your National Day feast! 
Meanwhile, food-loving fellas can go for this cheeky Enjoy Caipng Graphic T Shirt (available on PAWN INC.) . It's sure to draw chuckles from any economical rice lover! Match it with a pair of laidback Champion Off-White Shorts (available on Champion Official Store), which features a stretchable waistband perfect for a day of eating and drinking! 
9. The Vintage Vanguard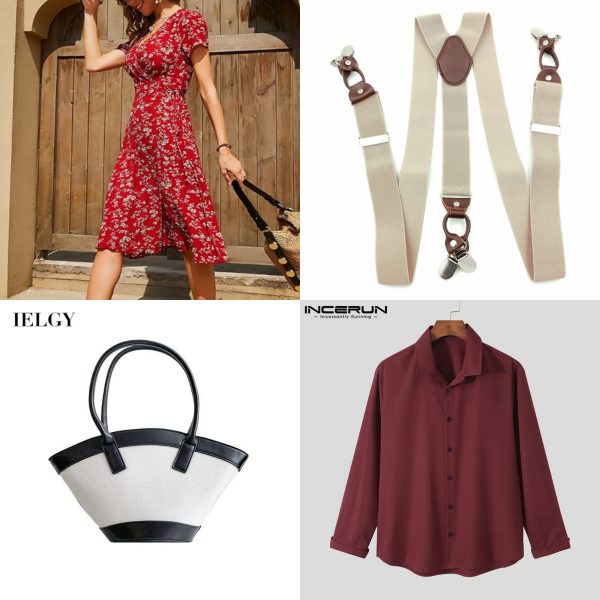 All about vintage fashion? Take yourself back to the first few years of Singapore's independence this National Day with retro red and white outfits! 
Girls looking to channel old-school vibes in their Singapore National Day outfits can consider this Lovito Boho V Neck Dress (available on LOVITO OFFICIAL STORE). Its flared, A-line cut is not only incredibly flattering, but also serves as a nice throwback to the midi dresses popular in the '60s! Don't forget to finish off your retro Singapore National Day outfit with a trendy, vintage-looking IELGY White Stitching Bucket Bag (available on IELGY Official Store)! 
For the lads, this INCERUN Maroon Long Sleeve Shirt (available on INCERUN Official Store) is perfect for channelling vintage vibes while sticking to the red and white outfit theme! Pair this with a plain white oversized shirt, or wear it as it is. If you fancy the latter option, take things up a notch with some White Elastic Suspenders (available on crystal668.sg). It'll have you looking like you've just stepped off the set of The Little Nyonya in no time!
10. The Modern Merdeka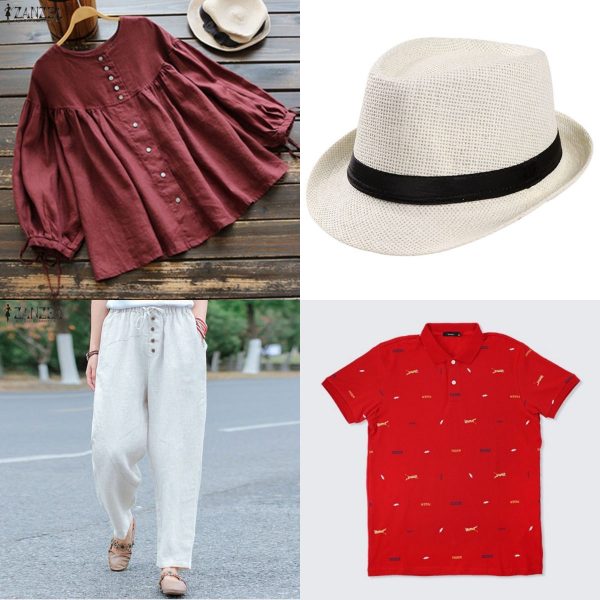 Even if you're in your 60s, you can never be too old to dress up for National Day in Singapore. Upgrade your wardrobe with some of these stylish yet modest National Day clothes! For a chic yet age-appropriate outfit pairing, ladies can wear a ZANZEA Peplum Button Down Blouse and a loose-fitting pair of ZANZEA White Drawstring Pants (both available on Zalora Singapore Official Store).
Meanwhile, men can opt for the quirky Bossini Tiger All Over Print Polo (available on bossini Online Official Store). Complete your Singapore National Day outfit with a fun White Straw Fedora (available on FancyQube)! 
11. The Atas Asians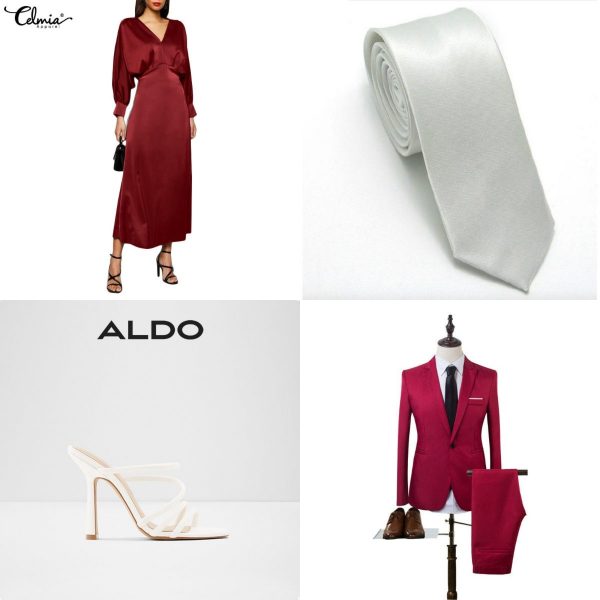 Seize the public holiday and take your date out to one of the most atas (sophisticated) high tea spots for an unforgettable afternoon. Whip out your favourite gown or suit – who says National Day clothes can't be fancy? 
Ladies can accessorise this classy CELMIA Satin Batwing Maxi Dress (available on Celmia Official Store) with some fine jewellery. Take the chance to slip into these gorgeous ALDO ARIANNA White Stiletto Heels (available on ALDO Official Store)! 
As for the men, go big or go home with this bold Two-Piece Maroon Tuxedo (available on Coobuy Flagship Store). Top off your fancy Singapore National Day outfit with an eye-catching White Neck Tie (available on bangting.sg). Decked in this ensemble, you're guaranteed to turn a few heads!
Red and white National Day outfits in Singapore: For Singaporean tots 
12. The Tried And Tested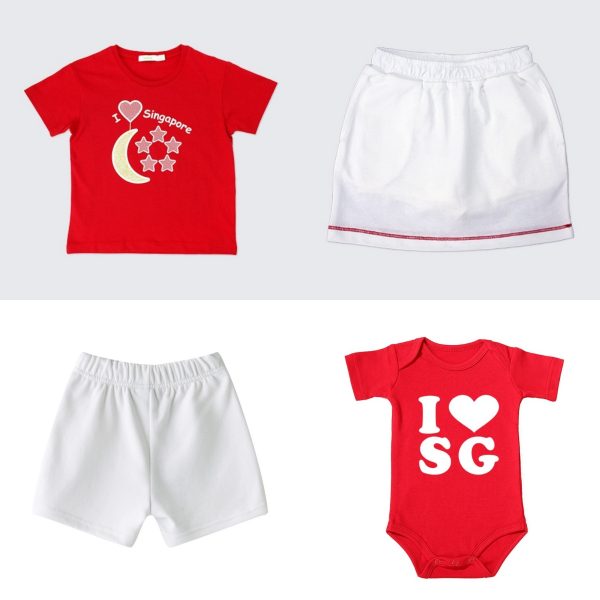 When it comes to National day outfits for tots in Singapore, nothing beats a simple red and white getup. Wrangle your newborn in a classic 'I Love SG' Cotton Romper (available on kfcjunjun official store). Aside from red, the romper is also available in more subtle colours such as teal, cream, and brown. Those with older children can get them to twin with a Bossini Kids I Love Singapore Graphic T Shirt (available on bossini Online Official Store)! 
Sticking to tried-and-tested National Day clothes combinations don't have to be boring! For girls, the red shirt can be paired with a cute Bossini Kids NDP Skirt (available on bossini Online Official Store). It features red contrast stitching to fit in with the red and white theme. The skirt also comes with inner skorts, so your child can feel free to run about on a family day out. As for the boys, a pair of Plain White Shorts (available on Little Kooma Official Store) will be your best bet! 
13. The Stylish Mini Me's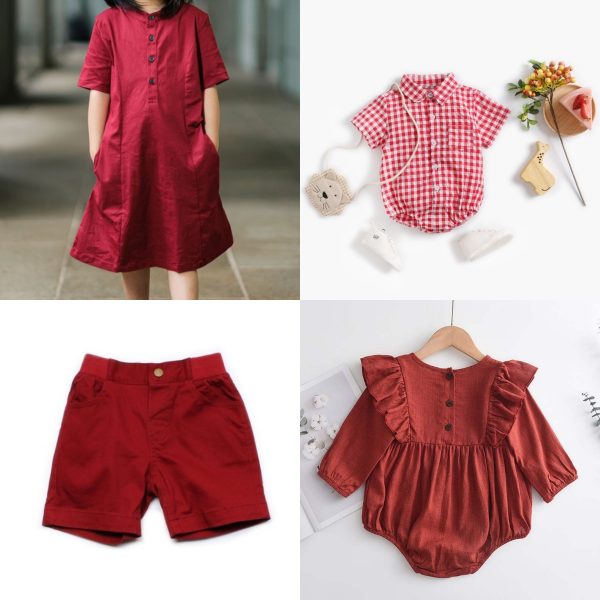 (Credit: Moley Apparels Official Store, Bear Leader Official Store, SANLUTOZ SG)
Looking to switch up your kids' wardrobe this National Day? We urge you to give mini me National Day outfits a try! Mini me styling essentially involves dressing your kids in miniature replicas of your own clothes – how cute is that? 
For parents of newborns, we recommend the adorable Bear Leader Red Peplum Romper (available on Bear Leader Official Store) and Sanlutoz Red Checkered Shirt Romper (available on SANLUTOZ SG) for baby girls and boys respectively. These National Day-friendly clothes will have your critters looking like your spitting image without compromising on comfort! 
For parents of older children, this Moley Apparels Red Cotton Dress (available on Moley Apparels Official Store) is a great option to dress your little princess in! Parents of little boys can also consider the Moley Apparels Classic Red Shorts (available on Moley Apparels Official Store). Simply pair it with a plain white shirt and you've got the perfect red and white outfit for your boy! 
14. The Cheeky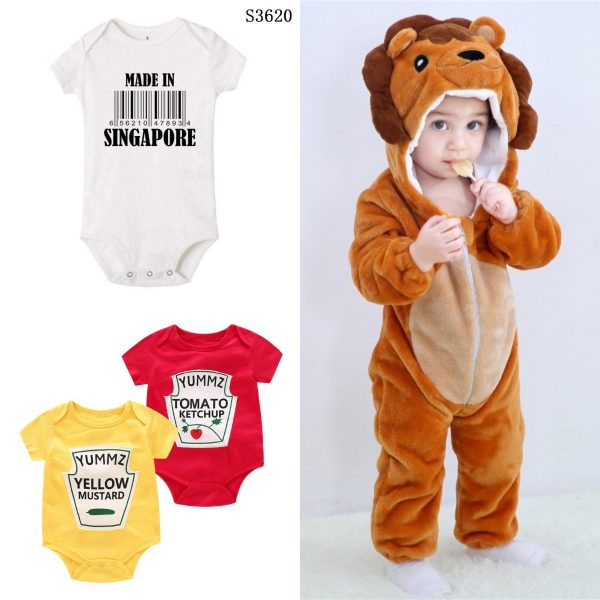 If you love dressing your little ones in fun and quirky clothes, National Day is no time to stop! This cheeky Made in Singapore Onesie (available on kfcjunjun2018.sg.sg) and Tomato Ketchup Onesie (available on youbeisi.sg) is bound to draw a chuckle or two from those around you. Alternatively, go big or go home with an ultra-adorable Brown Lion Onesie (available on haicospl.sg). After all, nothing screams Lion City better than a full-on lion onesie! On top of being comfortable, it'll definitely help your kid stand out in the sea of Singapore National Day outfits. 
15. The Traditionalists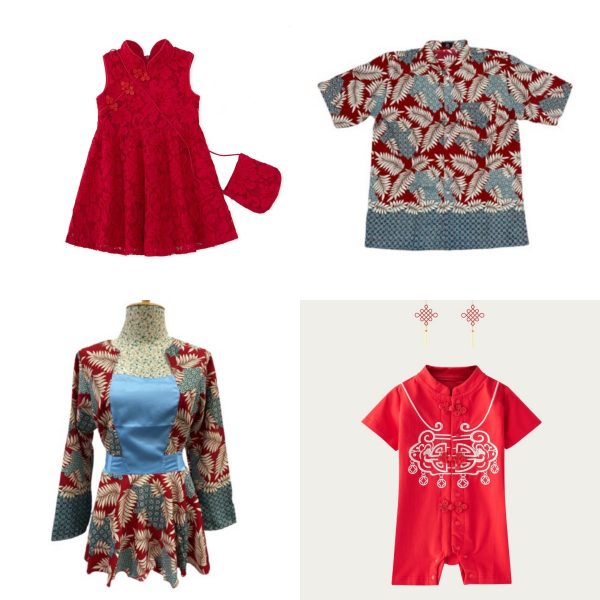 Not a fan of dressing your kids in the usual T-shirt and shorts combo? Consider getting them traditional outfits for Singapore National Day this 2022 instead! Not only are they on-theme, these National Day clothes can also be "recycled" for occasions such as Chinese New Year, Hari Raya, and Racial Harmony Day. Talk about multifunctional! 
Parents of younger kids can opt for this stinkin' cute Ruyi Lock Cheongsam Romper (available on Little Kooma Official Store). Suitable for both boys and girls, it's guaranteed to draw coos and compliments wherever you go! If you fancy something a bit more modern-looking for your tot, the KIDSCRAFTER Little Spring Lace Cheongsam (available on KIDSCRAFTER Official Store) is a compelling option. Bonus: it even comes with a matching lace sling bag! 
Parents of older kids can consider getting the Batik Red Blue Kimono and Batik Red Blue Truntum (both available on HA Mode Official Store)! These matching batik-print outfits fall in line with the red and white outfit theme, and make for the perfect traditional clothes for National Day. 
Show off your Singapore pride in stylish red and white National Day outfits!
Aside from your National Day clothes, there are many other ways that you can show your love for Singapore. Pump yourself up for National Day by recreating some of these famous local drinks like bandung and kopi gu you! Fancy something a little more challenging? Try your hand at making your own nyonya kueh at home this National Day! Psst, don't forget to check out great deals happening at our National Day Sale!
This article was updated on 6 July 2022. Additional research done by Rachel Tan.
New to Shopee? Get $7 (min. Spend $15) with code*: PATRIOTICFASHION15
*TNC applies. Valid for new users from 5 Aug to 12 Aug 2022 only.