Struggling to build your workstation again at home? Many of us have coped with our desks and added contraptions like laptop stands while others have survived by stacking thick books on top of each other. But despite all of that if you are still experiencing stiff necks, backaches, and overall lethargy, then perhaps it's time to explore standing desks! From ErgoEdge to Omnidesk and portable standing desks that you can bring around the home with you, we've collated the best standing desks in Singapore to make work from home less painful and more enjoyable!
Benefits of the best standing desks in Singapore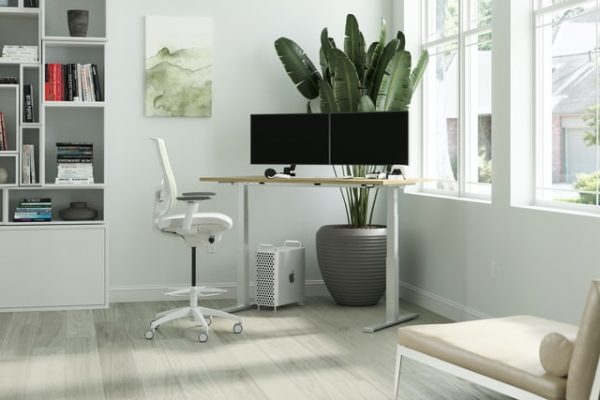 First things first, what is a standing desk? Most standing desks are motorised and come with buttons and dials that allow you to increase their height so that you can comfortably stand while working. How long should you stand at a standing desk per day? According to health and wellness site Healthline, research has shown that 1:1 or 2:1 sitting versus standing time is recommended. That means that you should aim to stand for one hour or at least 30 minutes of standing time for every one hour you sit.
These height adjustable tables in Singapore can cost anywhere between $300 to over $1000, hence it's no surprise then people usually ask 'are standing desks worth it?'. In short the answer is yes as there are many advantages of using a standing desk. According to Healthline, standing desks may:
Burning calories can prevent you from putting on weight. Studies have shown that for the same amount of time you spend sedentary while working, you could have burnt close to 170 additional calories while standing and working. 
It's no secret that prolonged sitting can add stress to your back, neck, and shoulders. Standing while working has shown to reduce lower back and upper neck pain significantly.
Improve mood and productivity
Studies have also shown that standing while working reduces fatigue and improves overall energy. This improves mood which in turn can have a positive impact on productivity levels. Working from home can also cause many of us to lead a more sedentary working lifestyle. We may not have the reason to get up and walk around as when in the office. Hence standing desks are one of the best ways to incorporate movement into our work from home setup.
Types of standing desks in Singapore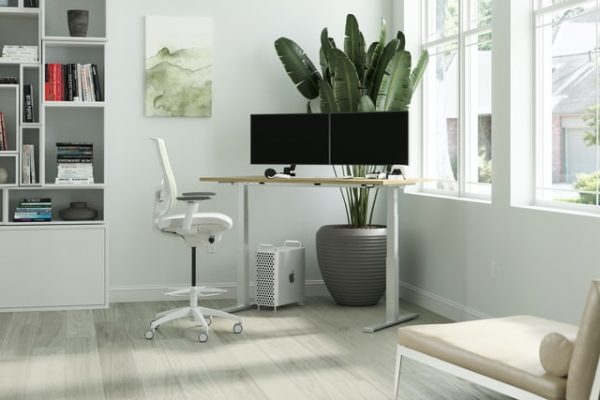 Standing desks can be split into two main types — electric and manual ones. Electric standing desks have built-in motors for one-touch height control. Meanwhile, manual standing desks will need you to work your muscles and crank the mechanism to alter the height. Each type of standing desk has its own pros and cons, so be sure to find out more below before buying!
Types
Electric Standing Desk
Manual Standing Desk

Pros

Can withstand heavier weight

Built-in power outlets for your computer peripherals (some models)

Memory preset ability

No physical strain

Doesn't require electricity

More affordable

No risks of motor fault

No motor noise

Cons

Costly

Motor noise

Require electricity

Doesn't hold as much weight

Require energy to lift

Awkward handle placement (some models)
Which is the best standing desk in Singapore for you?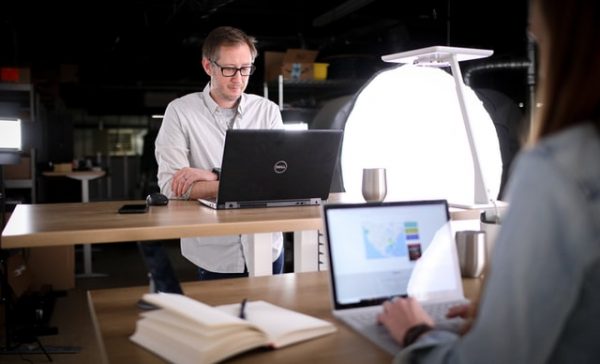 The best standing desks in Singapore depend very much on the height range, weight limit, and also the price point you're comfortable with. Choose from electric standing desks to manual ones and sneaky desk converters (check out bonus item #8) for those who don't want to get rid of their current desks!
Standing Desk
Height Range (cm)
Weight Limit 
Noise (when adjusting desk height)
Controller Function

Electric standing desk

Omnidesk Pro 2020

60 to 125cm

130kg

~63.6dB

4 memory presets

EverDesk+ Max

60 to 120cm

120kg

<50dB

4 memory presets & Health Coach function

Flight™ Pro Motorized Height Adjustable Table

64 to 129cm

120kg

<50dB

4 memory presets

ORION Basic Electric Standing Desk

73 to 123cm

50kg

<50dB

4 memory presets

Xiaomi Squirrey Electric Height Adjustable Smart Desk

73 to 123cm

50kg

~50dB

4 memory presets

AUKEY Electric Standing Table

70 to 120cm

82kg

<50dB

4 memory presets

Manual standing desk

Hollin 8 Ergonomic Table 

77 to 106.5cm

60kg

Almost no sound as powered by a pneumatic lifting mechanism

–

[DEKOREA] Manual Standing Desk

74cm to 118cm

120kg

<50dB

–

Flight™ Manual Hand Crank Height Adjustable Table

69 to 113cm 

80kg

–

–
Best electric standing desks in Singapore
1. Omnidesk Pro 2020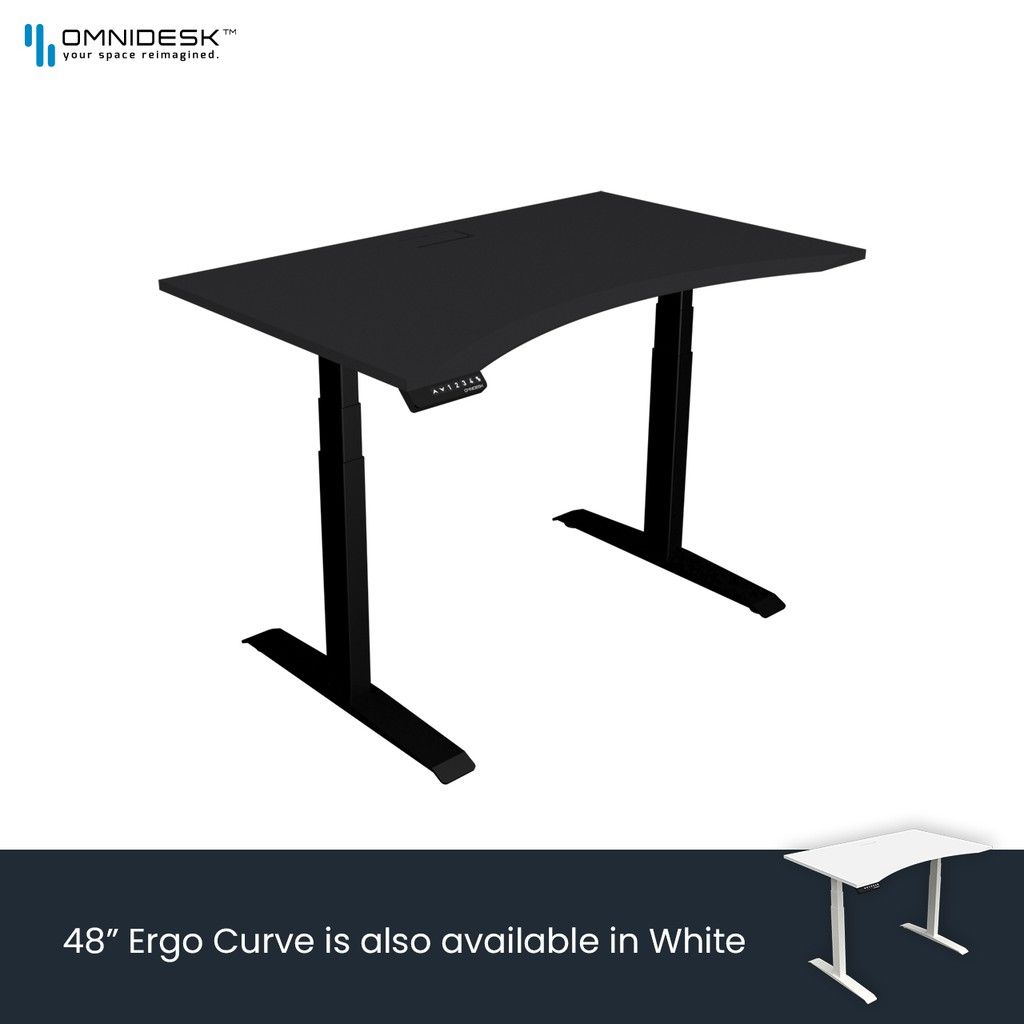 If you've been browsing standing desk listings for a while now, then chances are you've come across Omnidesk, another local brand that's made impressive inroads with the work from home crowd! Their Omnidesk Pro 2020 (available on Omnidesk) might have a hefty price tag but the build and design beget it. 
For starters, the option of the curved desk allows you to position your arms in a more natural way without hitting the edges of a straight desk. You'll also appreciate the micro-textured coat surface on this Omnidesk that's designed for easy mouse tracking so the whole table is essentially a trackpad! Another USP of this Omnidesk is its ease of self-assembly. With cable management trays, you can secure all your cables away for a neater configuration. Amp up your setup with monitor arms and PC holders from the brand too. Bonus: We also spy a height adjustable Mini Desk (available on Omnidesk) for the little ones to enjoy the benefits of the best standing desks in Singapore.
Check out this video if you're keen on assembling the Omnidesk on your own: 
2. EverDesk+ Max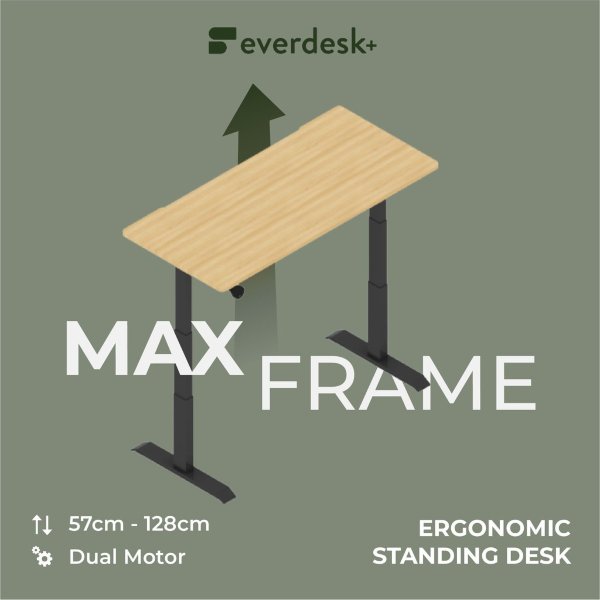 This list of best standing desks in Singapore is not complete without ErgoEdge. This local brand has been in the spotlight for manufacturing ergonomic height-adjustable tables in Singapore that have revolutionised work from home! The EverDesk+ Max (available on ErgoEdge) comes with a dual motor (meaning both legs are motorised), has a weight limit of 120kg, and a height range of 60cm to 124cm. It also boasts custom memory control functions meaning you can select any of the four present heights with a single click of a button. 
In addition, it comes with a built-in Health Coach which provides reminders for you to sit or stand at regular intervals! That's not all! This adjustable table in Singapore also comes with Unigroove design — an ergonomic cut that allows your cables to run-up to the tabletop without causing a gap between the desk and the wall! The Unigroove design also allows you to hide unsightly cables, dock your phones and tablets and add on peripherals such as a monitor stand to amp up your workspace however you like!
Sometimes, you've got to see it to believe it. Check out this EverDesk+ Max desk in action here:
3. Flight Pro Motorized Height Adjustable Table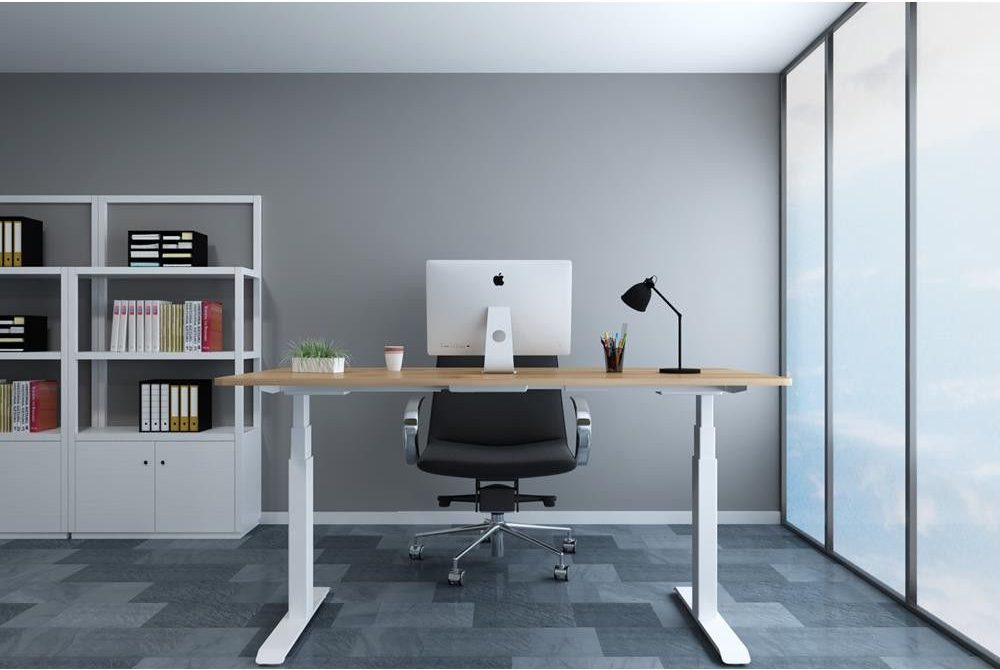 The sturdy build of this Flight Pro Motorize Height Adjustable Table (available on Flight.TM) won us over! It boasts well-made spindles for smooth adjustability, a 65cm long footplate and 2.5cm thick table top that's scratch and water resistant. The table's height adjustment functions are also less than 50dB (lower than the sound of conversation at home) and comes with preset controllers so you don't have to waste extra time figuring out the perfect height for you.
In addition, the desk is designed with a chamfered edge or 45-degree slope on all four sides of the table. If you've kids running in and out of your study then this might be one of the safest and best standing desks in Singapore to invest in!
4. ORION Basic Electric Standing Desk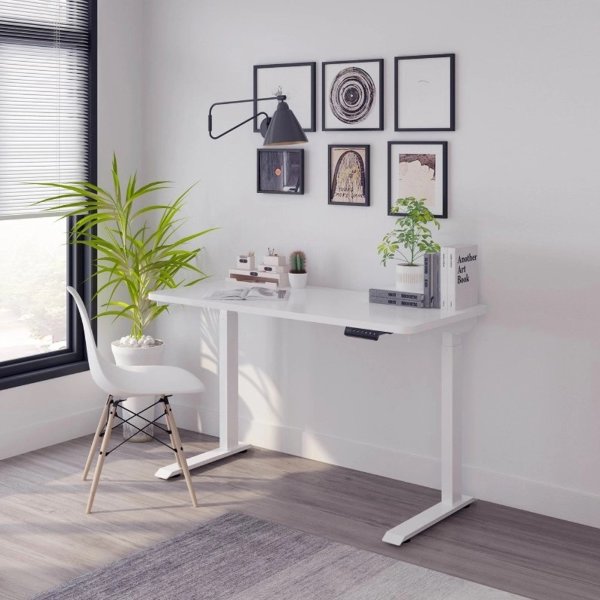 This has got to be the best-looking standing desks in Singapore! The ORION Basic Electric Standing Desk (available on TakeAseat) boasts two stylish wooden designs alongside classic black and white ones to match your home office interiors. However, one thing to note is that the table can only withstand a maximum load of 50kg, hence it's not ideal if you're looking to pack heavy monitors and other paraphernalia on it. Otherwise, if you're going for a minimalist workstation with just your laptop and stationery then this desk could be the one for you!
5. Xiaomi Squirrey Electric Height Adjustable Smart Desk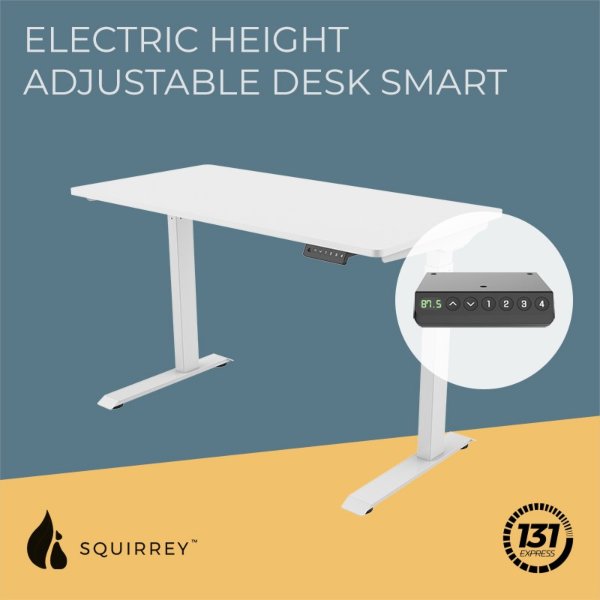 Is your house equipped with loads of Xiaomi smart products? If that's the case, you need to get a Xiaomi Squirrey Electric Height Adjustable Smat Desk (available on 131Express) to complete your setup! This is one of the most budget-friendly electric adjustable tables in Singapore. It featured four height memory presets and a large tabletop surface of 120cm by 60cm. The built-in anti-collision system prevents the tablet from ascending or descending when an obstacle is in place, making it the best standing desks in Singapore for homes with young children.
6. AUKEY Electric Standing Table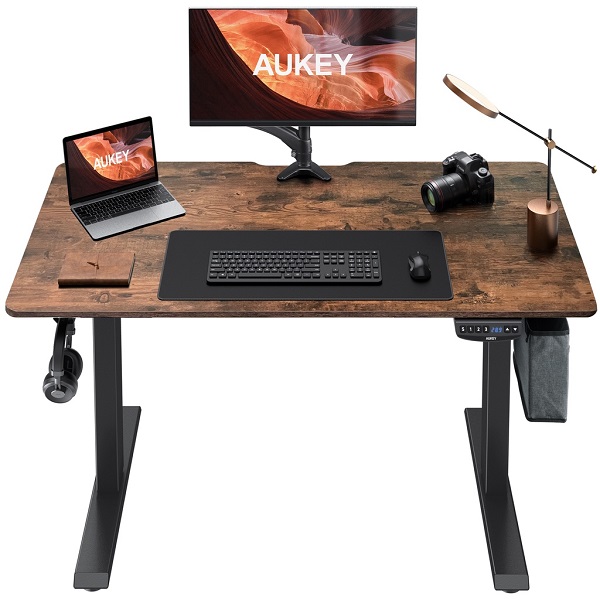 If you need a standing desk with extra safety features then the Aukey Electric Standing Table (available on Aukey Official Store) is the one for you. This budget-friendly electric adjustable table in Singapore comes with an anti-collision feature that will stop moving the moment it detects any obstruction in its path.  Aside from its useful safety features, the Aukey standing desk also boasts superb aesthetics. Its walnut wood table top looks extremely stylish and there's also a free large gaming mouse pad that comes with every order!
Best manual standing desks in Singapore (<$500)
7. Hollin 8 Ergonomic Table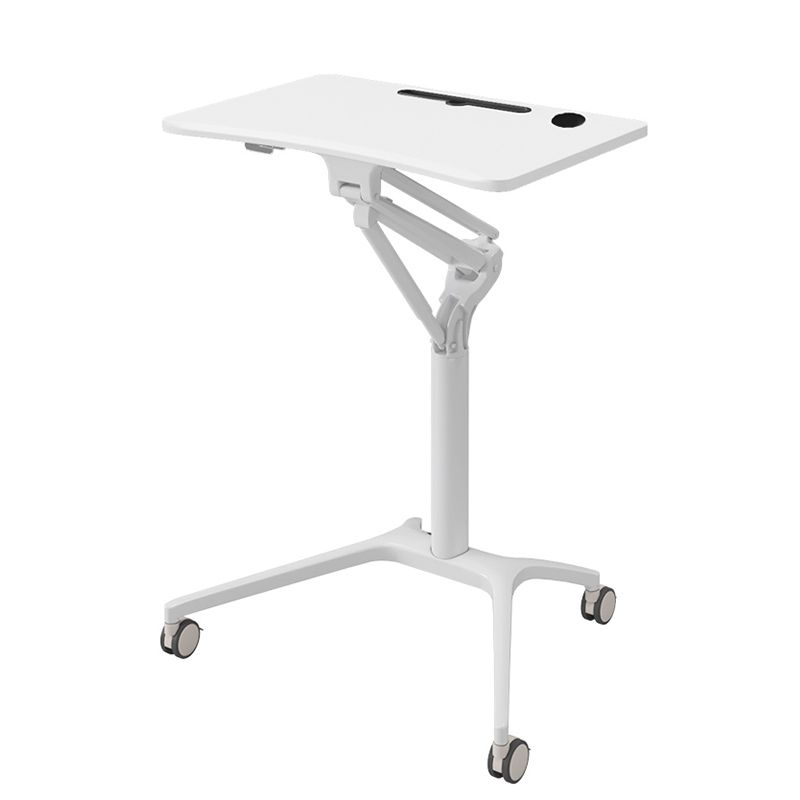 Need a standing desk that you can set up in any part of your home? The Hollin 8 Ergonomic Table (available on Hollin Furniture Official Store) is one of the best standing desks in Singapore to do that with! Although it doesn't have the ease of controller functions like in motorised standing desks, you can easily adjust the height on this portable standing desk by pressing a lever on the side of the table. It operates via pneumatic lifting (or air powered), meaning there'll be almost no sound when you adjust the height of this table.
We love how you can set this table up anywhere! Lower it to use as a bedside table or lift it higher when you want to stand and work. Do you fear that a mobile standing table might not be as stable as a motorised desk? Think again! Its V-shaped legs and aluminum alloy finish allow the table to easily take up to 60kg of weight. The caster wheels are also lockable so you can rest assured that this table won't 'roll away' when you leave your desk for a break.
8. [DEKOREA] Manual Standing Desk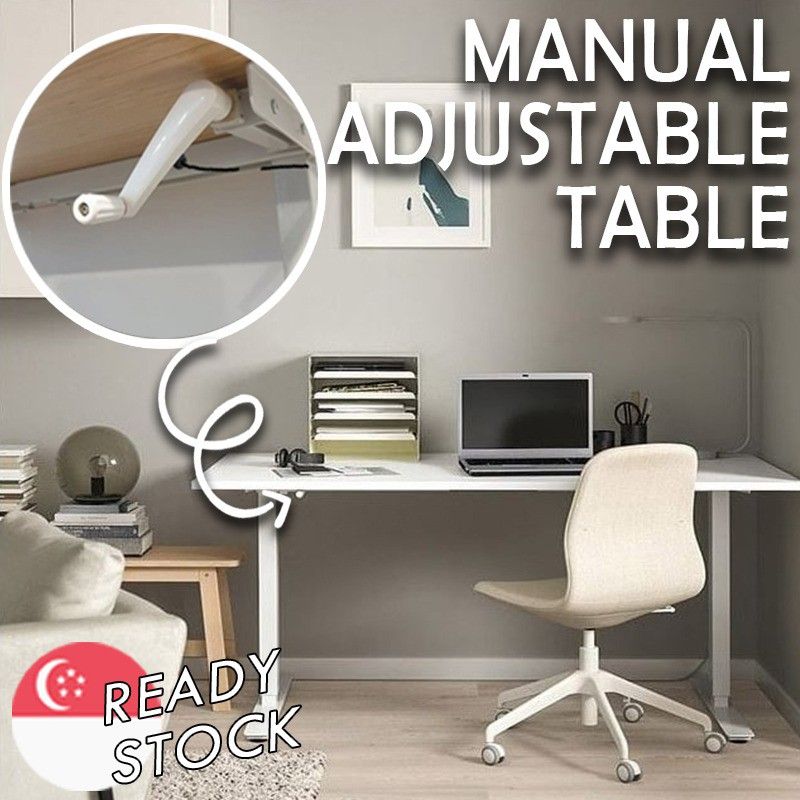 Manual height adjustable tables in Singapore are relatively cheaper compared to their motorised counterparts. Hence if you're on a budget, the [DEKOREA] Manual Standing Desk (available on Dekorea) variations going for less than $500 will be the perfect addition to your work from home setup. The (hidden) manual crack frame will allow you to adjust the height of the table easily and without creating much noise. The best part is, it comes with free delivery and installation so you can start working on this table almost immediately!
9. Flight Manual Standing Desk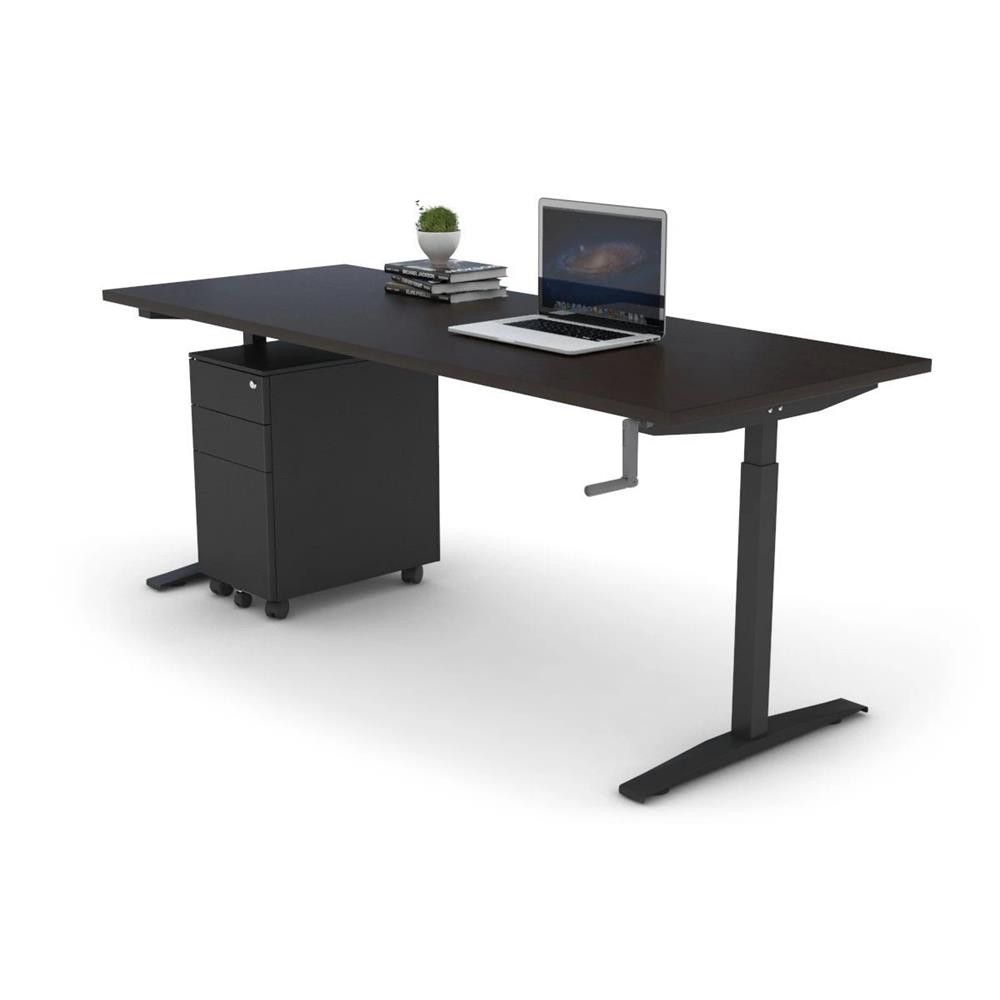 Prefer the manual standing desk option over electrical ones? Then this Flight Manual Hand Crank Height Adjustable Table (available on Flight.TM) will surely catch your fancy. Apart from the desk's easy-to-use hand crank, furniture geeks will also appreciate the engineering that went into building this desk. The table's legs are powered by synchronous telescopic spindles, manufactured by German company, Ketterer. The company specialises in height adjustable spindles (or table legs) for you to enjoy a smooth height adjustment every time you crank it up or down. The sturdy slope designed footplate together with an anti slip base leveler lend this height adjustable table in Singapore a sturdy, reliable build.
Bonus: Desk converters
10. Arccoil 32 inch Converter Table Riser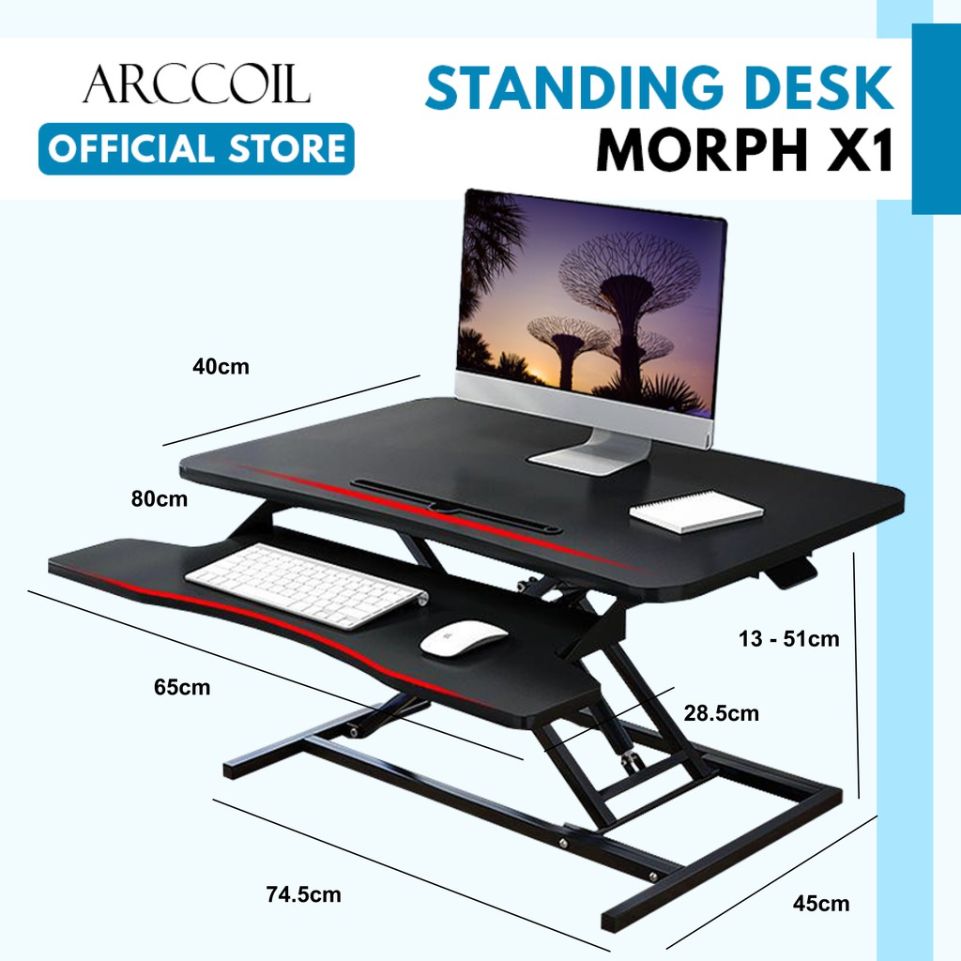 Is your current table not a height-adjustable desk but otherwise works completely fine? Guess what! You can still enjoy the benefits of the best standing desks in Singapore by converting your existing desk into a standing one! Simply place the Arccoil 32 inch Converter Table Riser (available on Arccoil Official Store) onto your existing desk and transition from sitting to standing whenever you feel like it. Position your laptop on the higher tier and your keyboard on the lower tier. Ensure that the laptop is at eye level when you're seated for a comfortable work experience. When you want to stand, use the gas spring system to prop up the desk converter so you can stand and work!
Stay organised with these standing desk accessories
1. Aluminium Desk Organiser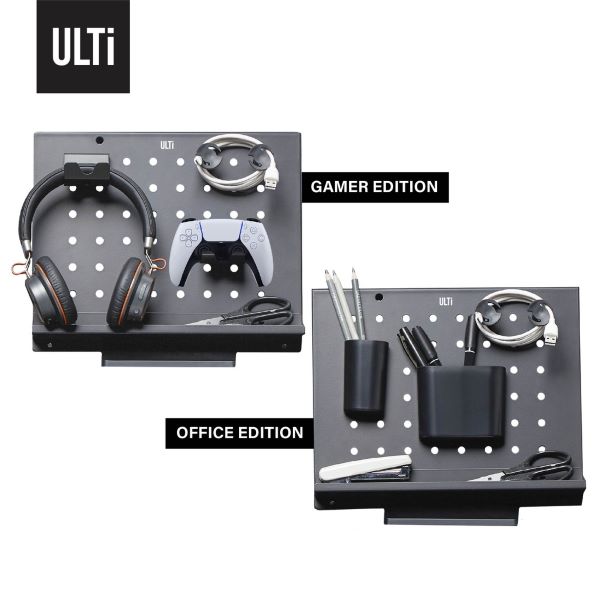 It goes without saying that a clean, tidy workspace boosts productivity and aids concentration. To declutter easily and keep things neat, get the Aluminum Desk Organiser (available on ULTi Official Store). This nifty tool is designed to be space-saving, giving you additional room for all your knick-knacks like writing essentials and electronic gadgets. Avid gamers and streamers can even go for the gamer edition that's designed to keep your headphones, console, and wires in order! Furthermore, this desk organizer allows for flexibility with three different mounting options — you can hang it on a desk divider, let it sit on the table, or have it wall-mounted! 
2. Under Desk Cable Management Tray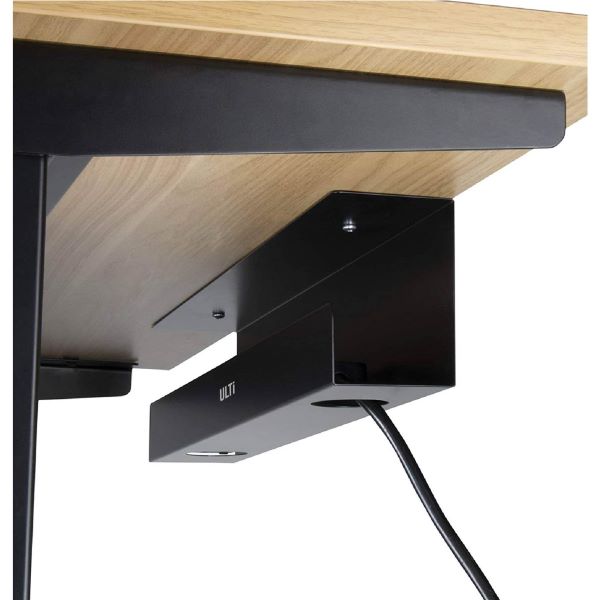 With multiple monitors and chargers at your workstation, the amount of wires can be a real hassle. To avoid them going haywire, get an Under Desk Cable Management Tray (available on ULTi Official Store) to keep them tucked out of sight (and out of mind). This cable management tray is designed to route and conceal your cords, cables and power strips so your desk will always remain organised. There's also a front opening on the tray for easy access when you see the need to rearrange your wires. Its minimalist aesthetic is also an added bonus, as it blends well with any standing desk design.
3. Clamp-On Keyboard Tray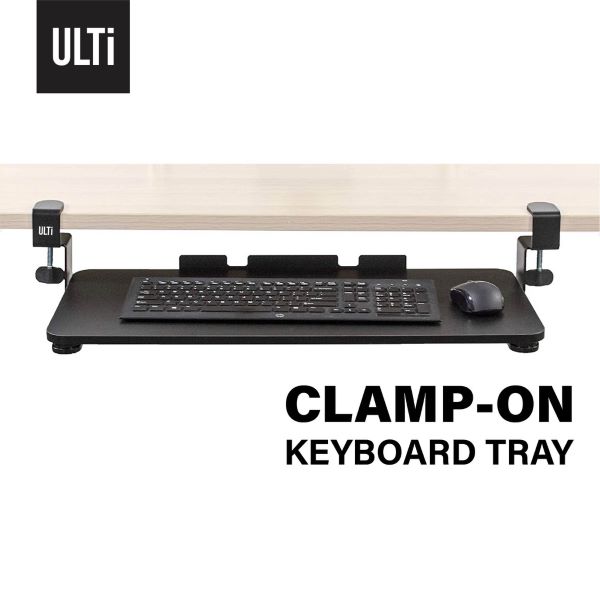 Just purchased a mechanical keyboard? Give your desk more space with this Clamp-On Keyboard Tray (available on ULTi Official Store)! This ergonomically designed tray will let you type away in comfort as it angles your wrist and posture in a comfortable position. Simply attach it under your table with the steel clamps and you can pull it in and out smoothly whenever you need to use your keyboard. Do note that your desk surface needs to be less than 3.8cm thick!
4. Monitor and Laptop Mount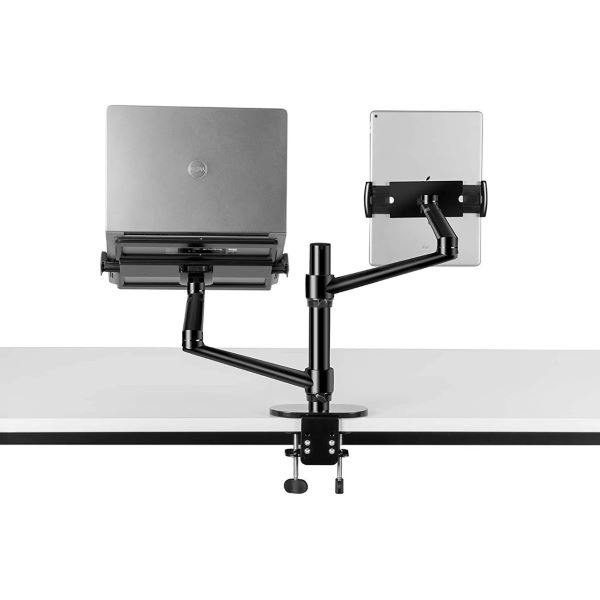 Upgrade your WFH setup instantly with this Monitor and Laptop Mount (available on ULTi Official Store) that lets you position your screens to any angle you need. With this mount, you can rotate your monitor from landscape to portrait orientation in a swivel. In addition, it is equipped with a quick-release plate that makes monitor installation and removal a piece of cake. What's more, the integrated cable management system keeps all your wires organised, ensuring that your work desk will always be in tip-top condition!
Say bye to strained necks with the best standing desks in Singapore
Create a conducive and comfortable work environment for yourself with these best standing desks in Singapore. When you do the transition from standing to sitting, make sure you're as comfortable as possible. Learn about the best office chairs to adjust your posture and the best office chair back support to cushion your lower back when you're pulling long hours. Otherwise, you'll probably need these best desk organisers to tidy up your home workstation. Check out other high quality furniture which you can snag at great discounts during our Shopee Home furniture sale! 
This article was updated on 17 March 2022. Additional research was done by Caryn Tan.