If you're finding it hard to focus at work, it could be because you've got a cluttered office desk! Tidying up your desk from time to time is a great way to keep your desk neat and your mind clear. Desk organisers are one easy way to make that possible. Unsure about the types of table organiser tools you'll need? Fret not, we have some suggestions outlined for you below.
Stationery organisers
1. Desktop stationery organiser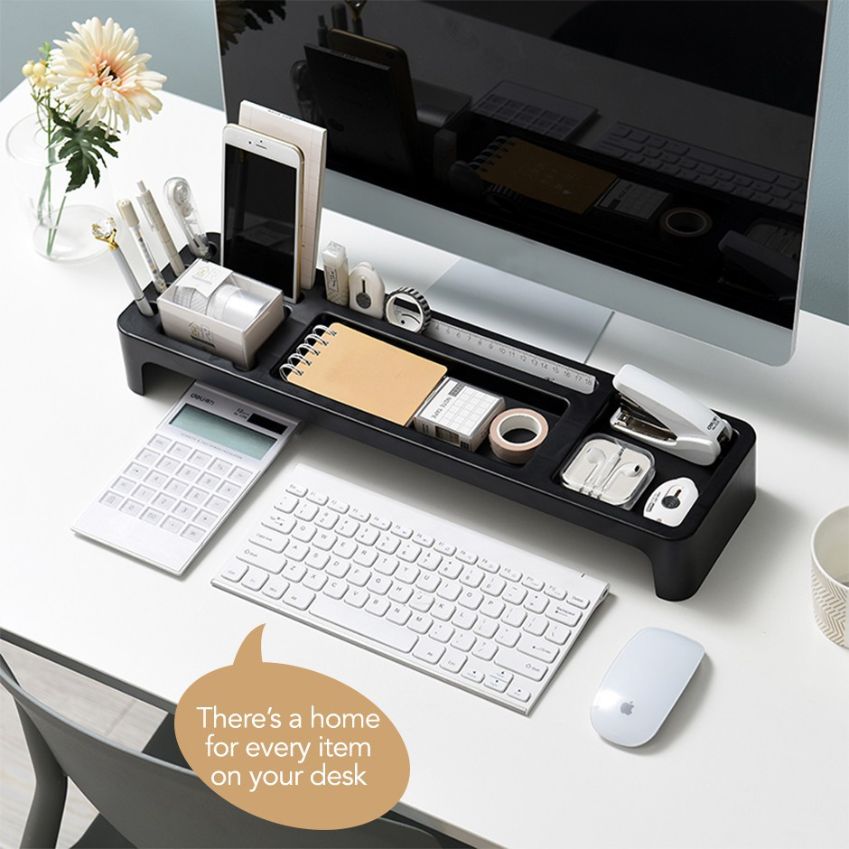 Stationery organisation will really help in decluttering your desk. Thankfully, someone felt the same way and made a Keyboard Organiser (available on SG NICE LOCALSHOP)! This unique desk organiser stores your stationery neatly in front of your computer monitor. It's also slightly elevated so that you can slip your keyboard underneath it at the end of the work day. Talk about convenience for under $15!
2. Clear drawer organiser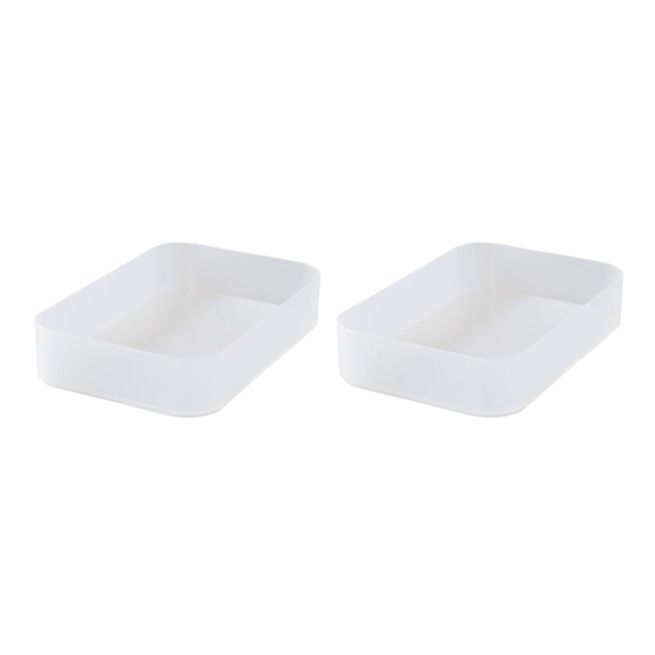 Keep your office supplies well-organised with a MUJI PP Organizer Box (available on MUJI Official Store). This set of polypropylene drawer organisers allows you to tidy your stationery along with gadgets like power banks and phone chargers. Use the varying sizes of these clear desk organisers to place on the desk or in your drawers, in any combination you prefer!
3. Desktop stationery holder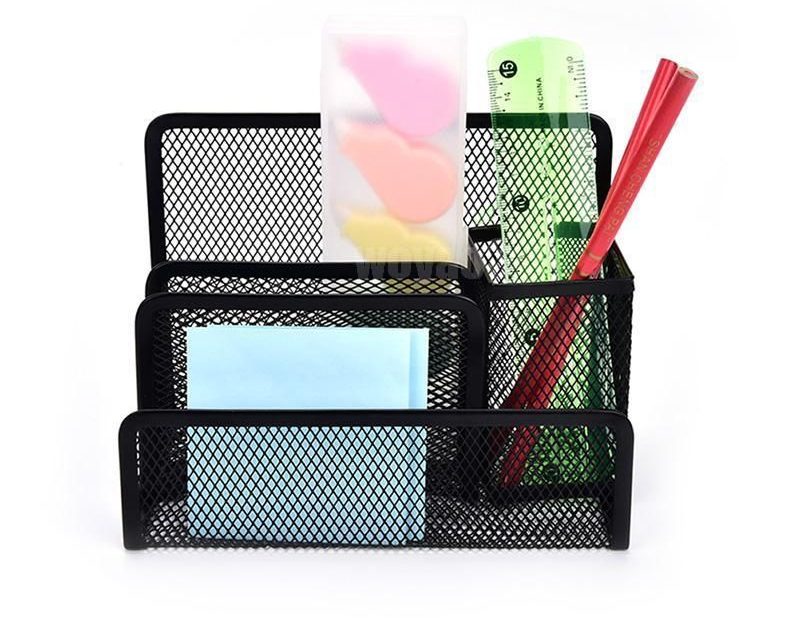 Here's a desk organiser that won't take up too much space! This Mesh Desk Organiser  (available on woyao3) features several deep slots — including a nifty slot for your sticky notes and a slot for your documents. If you don't own much stationery and just want a desk organiser that won't take up much room, this table organiser is your best bet!
4. Mini stationery drawers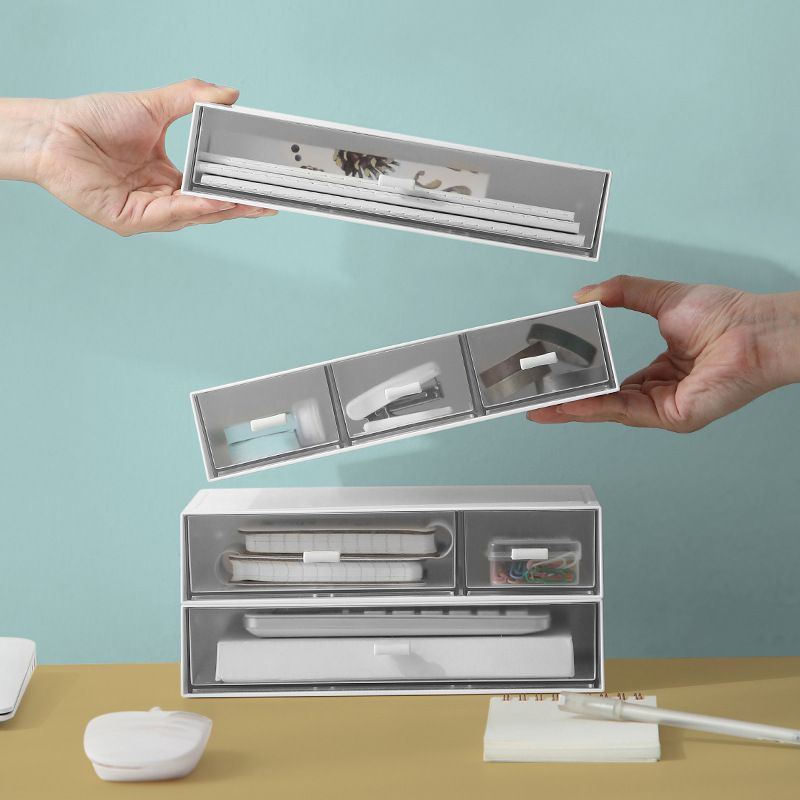 If you're sharing a desk and office supplies with a colleague, consider getting this Stationery Drawer Storage (available on idori.sg). This desk organiser is stackable and comes with many drawers to keep important document folders and stationery supplies. You could even display an office desk plant on the top shelf! Spread the joy of tidying up with your colleague today!
5. Rose gold stationery holder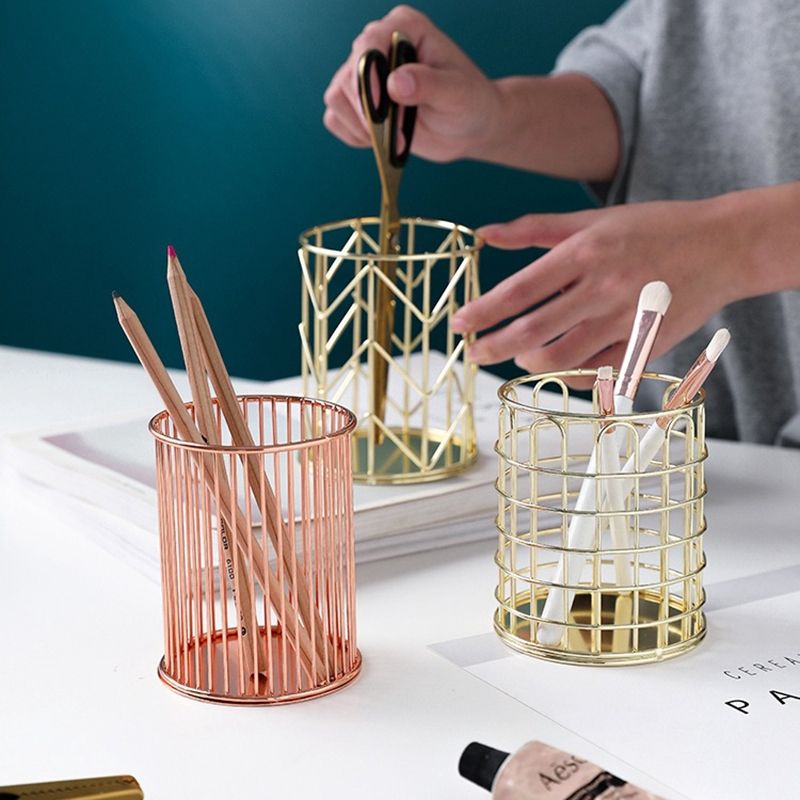 Rose gold is such a trendy colour right now, and we love the elegance it adds to any setting.? You can't go wrong with this Metal Pen Pencil Holder (available on Ossayi Official Store) available in rose gold and gold finishing as well as three different designs!  This is one stylish table organiser that can instantly transform your work table and might just tempt you to get working a little more too!
6. Tape holder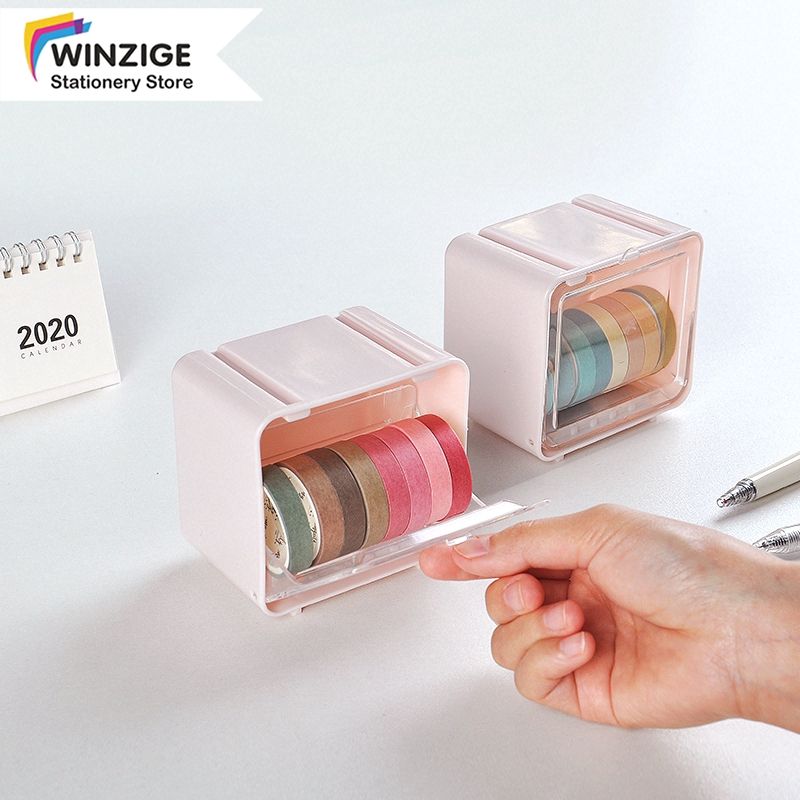 Tape stationery holders are a great addition to any set of desk organisers. If you're a big fan of washi tapes then this Tape Cutter Tool (available on winzige.sg) will allow you to use the tape at ease. Even if you use regular tape, this tape cuttle tool is a clever office equipment to have. It'll allow you to keep all scotch tapes in one place and allow you to easily pull and use them without fussing around for your scissors!
7. File organiser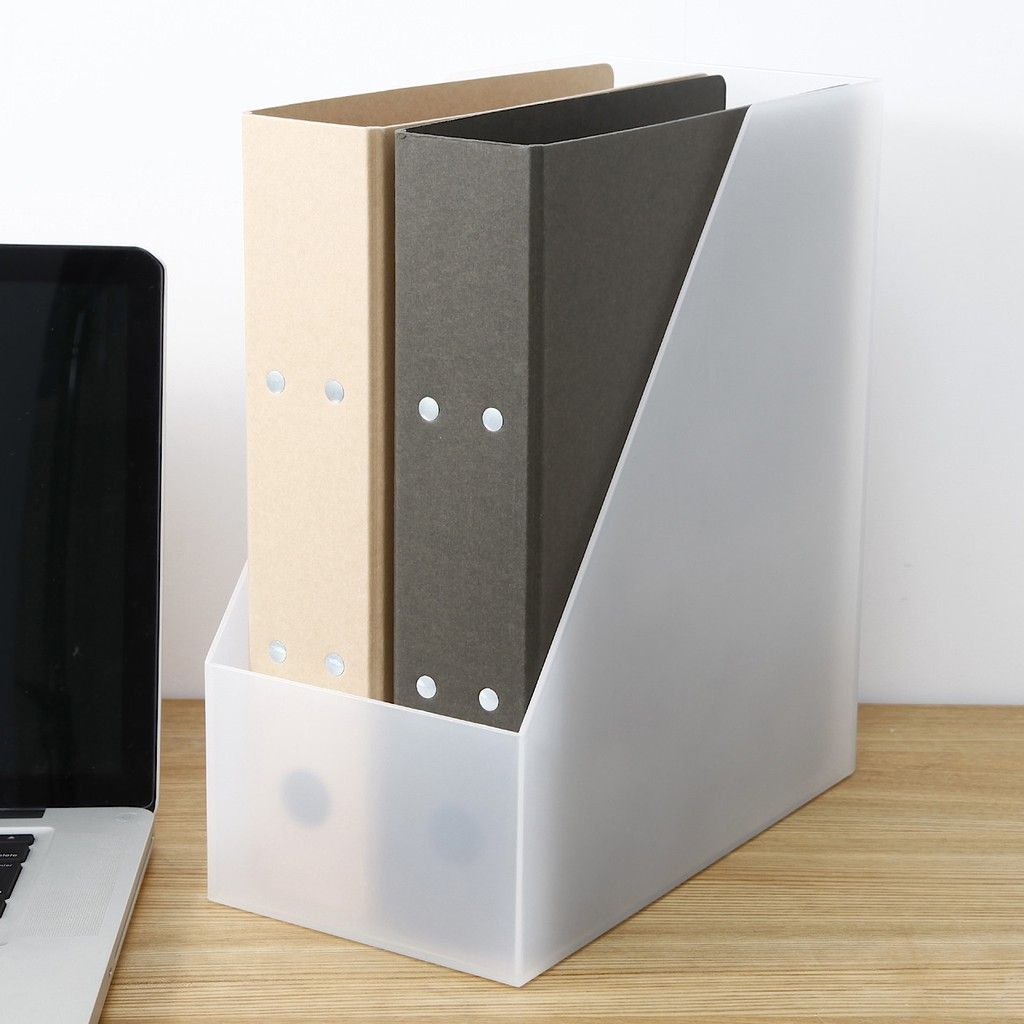 Bulky files clutter the look of any work table. Declutter and organise with these PP Stand File Box (available on MUJI Official Store). These clear and white grey table organisers are large enough to fit your ring files and folders. Get a couple of these and place them side by side on your table so you can see all your work files at a glance. Pro tip: Paste a label sticker onto the file folder so you know exactly what those files contain!
Cable organisers for your desk
8. Power socket storage box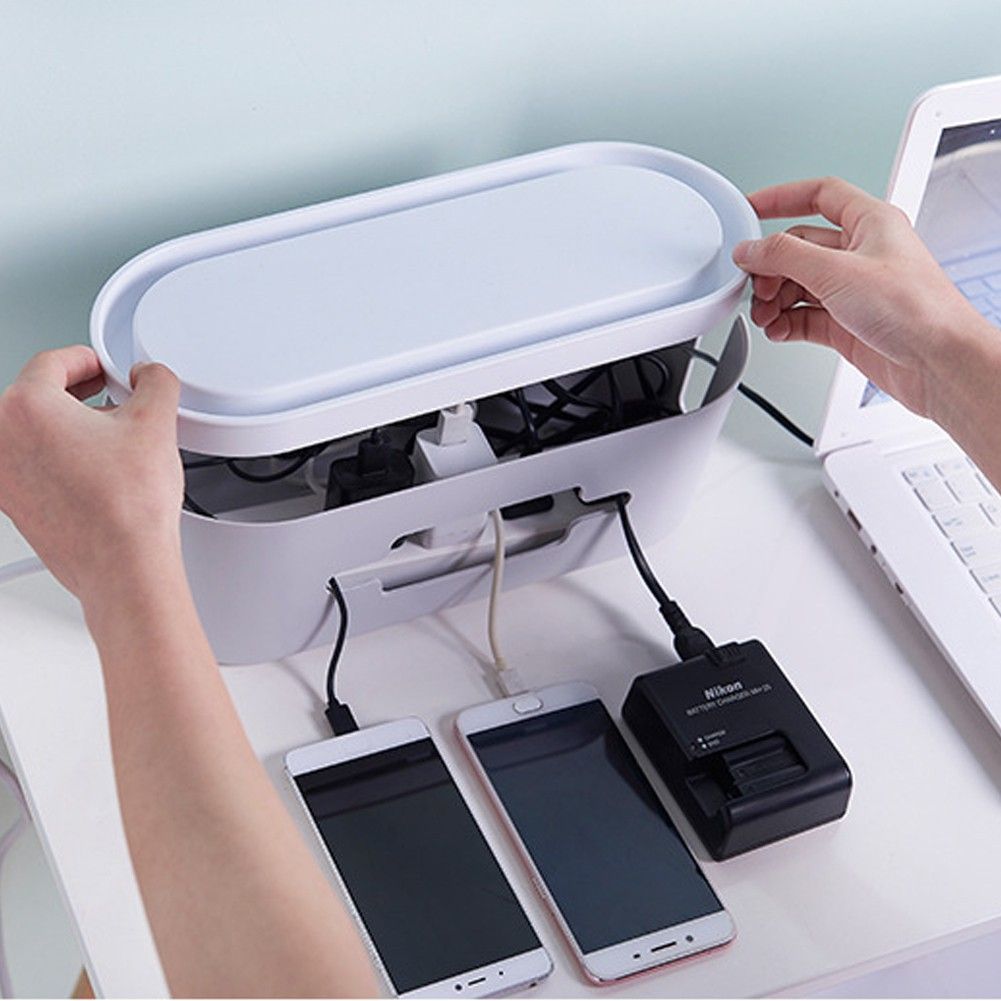 Hate having messy cables all over your table? Well, so do we! A Power Socket Storage Box (available on Spiderman 3C digital shop) can help in tidying up the mess. This desk organiser helps to store unsightly cables and also comes with enough room to store the power extension dock. It even comes with outlets for you to extend your charging cables, whether for your smartphone or laptop.
9. Baseus magnetic cable clip organiser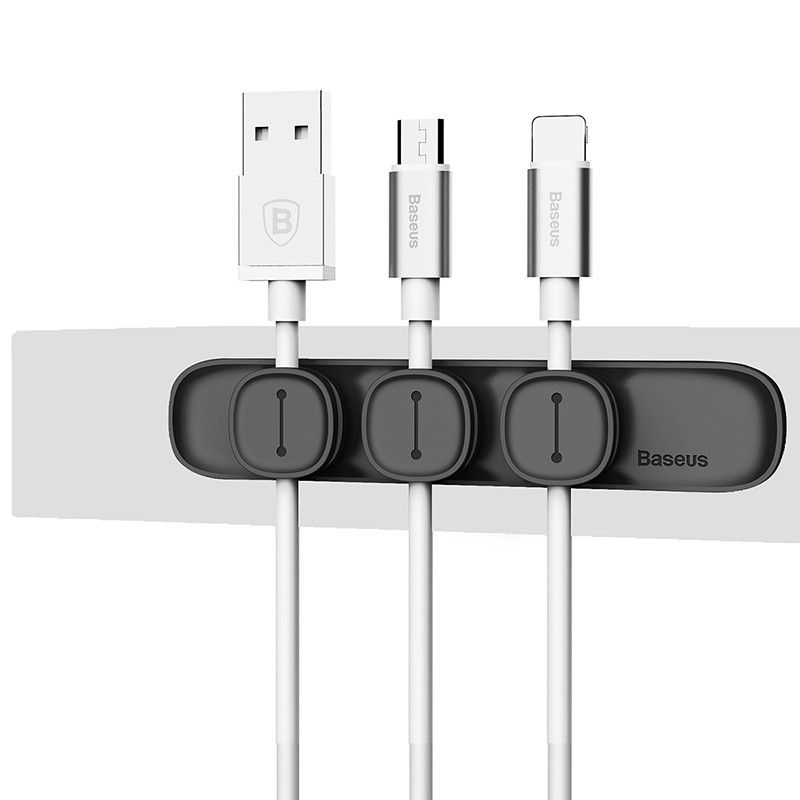 Not a fan of the cable storage box? Then try the Baseus Magnetic Cable Clip Organiser (available on Basues Flagship Store). Affix this desk organiser tool along the edge of your table (preferably close to your laptop's charging port). Once attached, simply hang your cable through each cable clamp. The best part is that each clamp has a magnetic base so you can reconfigure the arrangement of the cable without removing it from the clip. It's a great table organiser accessory if you hot desk a lot!
Basket storage & trays
10. Rose gold storage baskets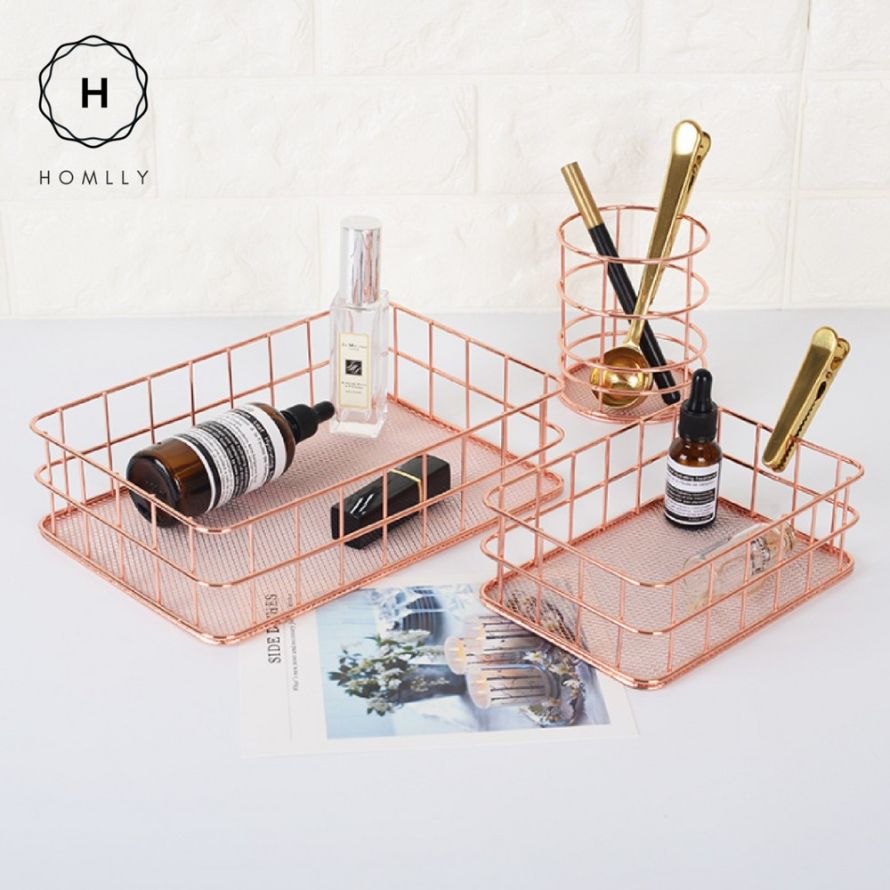 If your office has a chic interior design, why not complement the vibe with this Rose Gold Grid Tray Holder (available on Homlly Global)? Its sturdy metal frame will store your office supplies and gadgets even when filled to the brim. Choose from the small and large trays or round and square holders to store your desk accessories. Trust us, you won't be able to resist this pretty table organiser!
11. Fabric storage baskets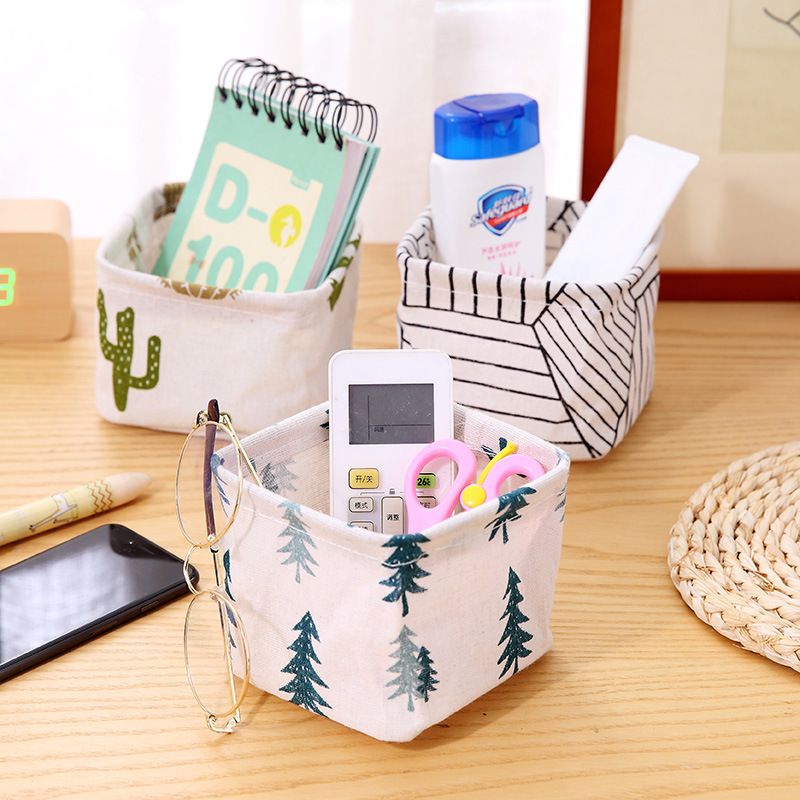 Are you one for cutesy desk organisers? This Mini Fabric Storage Basket Foldable (available on  SUPO Depot Official Store) is perfect to store miscellaneous items like calculators to even your hand sanitisers. Its depth is great for items that you might want to keep at arm's length but still accessible. We also love these baskets for their designs — from a cone shaped Christmas tree to cactuses and a geometric design, there's surely a design that'll sit pretty on your desk!
12. Shelf hanging basket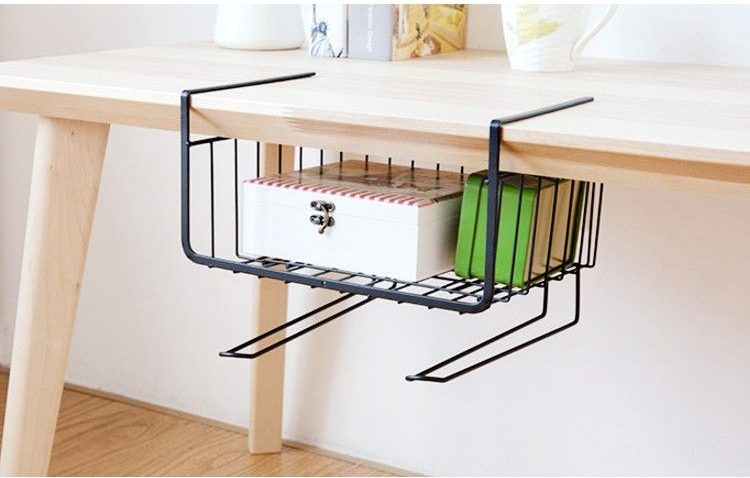 If you have a large desk with overhead shelves then you might prefer this Hanging Basket (available on Dmai's store)! It isn't as portable as the basket table organisers above but it shines where it really matters: keeping things neat and off the desk. Just hang this off the edge of your desk shelf and store your office supplies, books and even coffee mugs! 
13. Gold jewellery tray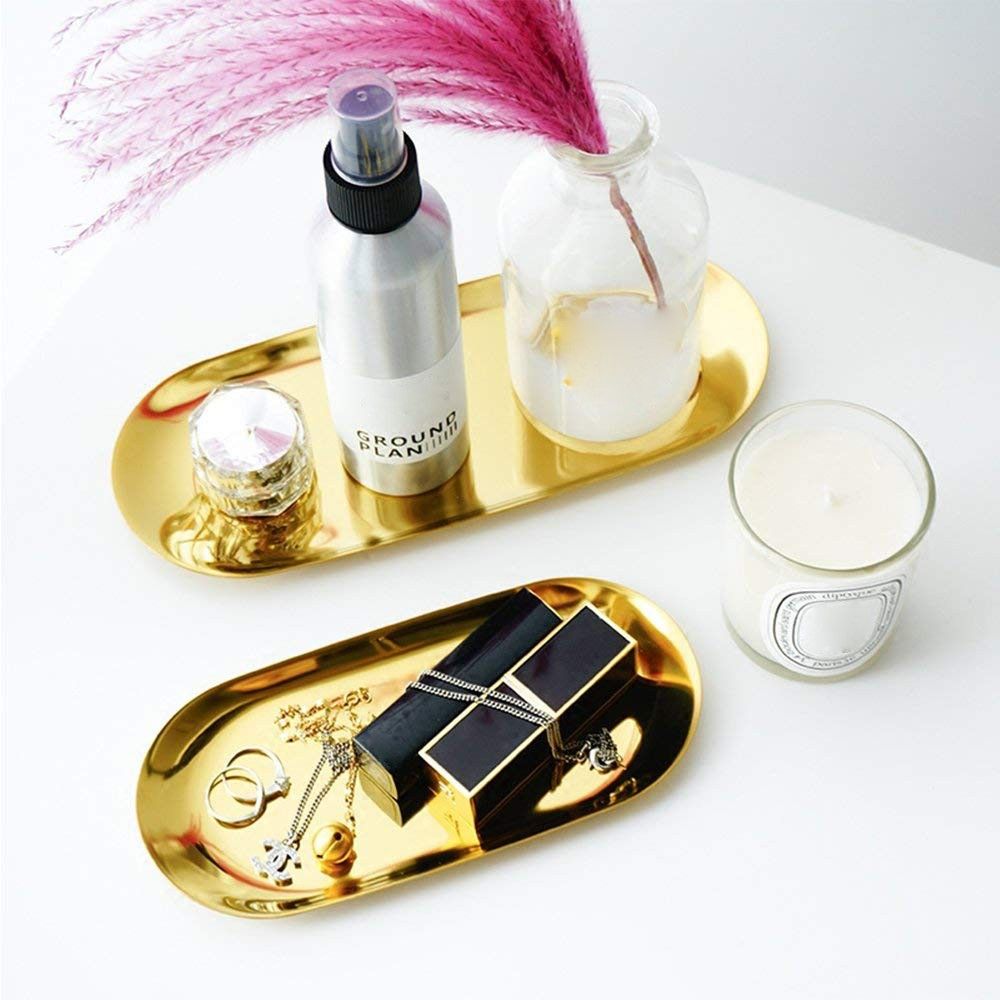 Find yourself touching up your makeup or accessorising for days when you have ladies' night plans? Well, here's a fuss-free solution for you! Simply rest your jewellery pieces and prop your most essential makeup items on this Gold Oval Stainless Steel Trinket Tray (available on Car Light). These trays also make for dainty office desk decor pieces with their oval shape and gold finishing.
Wall storage and holders
14. Metal wire mesh
Metal Grid Wire Mesh (available on BumRose) is another popular desk organiser accessory for folks who love keeping their items off the desk. With this wire mesh, you can display memos, photos and even store office supplies and desk plants on the wire shelf that comes with the product. The best part is, you can get this wire mesh in different finishes like rose, gold and even black.
15. Hexagon memo board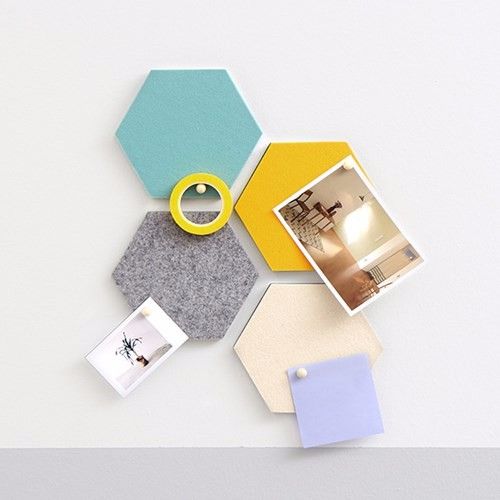 Prefer pinning things to a board instead of clipping them? Then you need to get these colourful Hexagon Memo Boards (available on From Seoul)! They are easy to mount on the wall and can serve as a display board for photos, memos, jewellery holders and more! We recommend getting a number of these for your office — especially in your brand's colour.
16. Fixate Gel Pads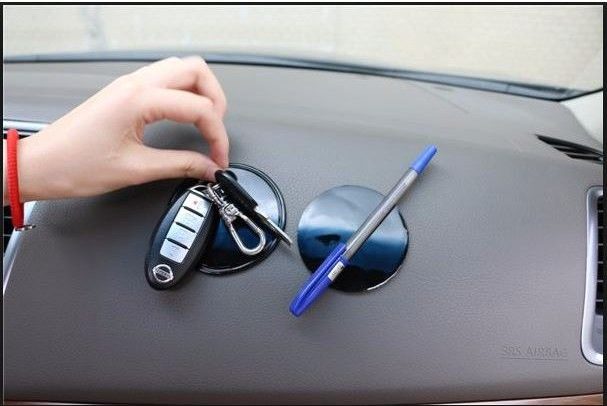 Fixate Gel Pads (available on Jiapalang.com) are all the rage when it comes to desk organisers. These are a special type of gel pad that can easily be affixed to most surfaces to hold various types of office supplies, gadgets and accessories by simply sticking them onto the pads. It's also a very affordable way to tidy up your desk! At a price of around $2, you can buy a set of these innovative desk organisers and stick them to surfaces on your work desk or walls next to it.
17. Bubble wall pockets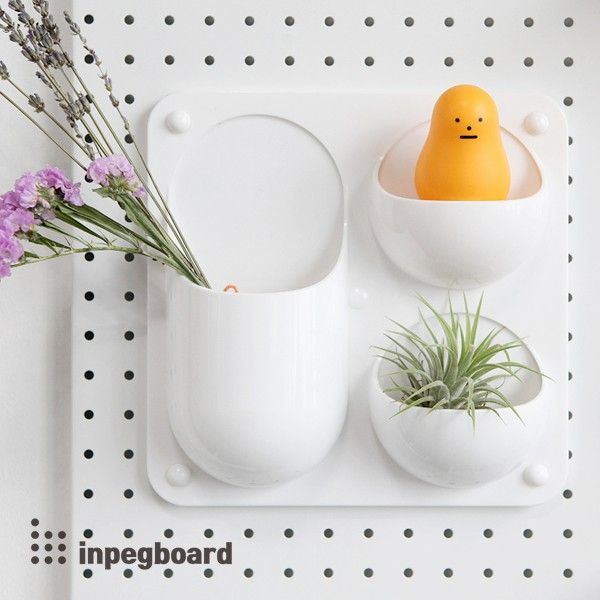 If you have a wall beside your workspace, you're in luck! With this Bubble Wall Pocket (3 Types) for Wall Organizer Storage (available on inpegboard.kr), you can store snacks or even artificial plants or flowers. Simply use a 3M tape to install it on any wall surface or use a magnet if you want to install it on a metal surface. This desk organiser comes in white and black and in various pocket sizes. This table organiser is a definite must buy if you find yourself with many pretty accessories but nowhere to put them.
Tissue box holder
18. Tissue paper holder with storage space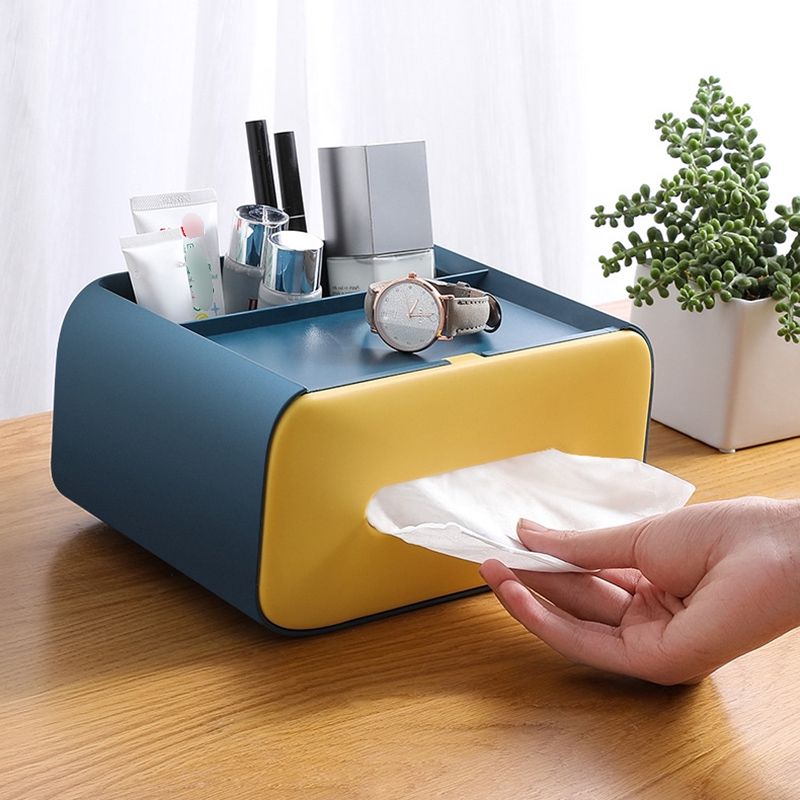 Here's a handy desk organiser tool for folks who love having tissues nearby. This Multifunctional Tissue Box Desk Storage  (available on fashionshophr) is not just a tissue holder but also includes a space for your cosmetics or valuables like your smartphone. If you're one of those who's always losing your phone under piles of papers then we recommend buying this table organiser for sure!
19. Nordic-style tissue paper holder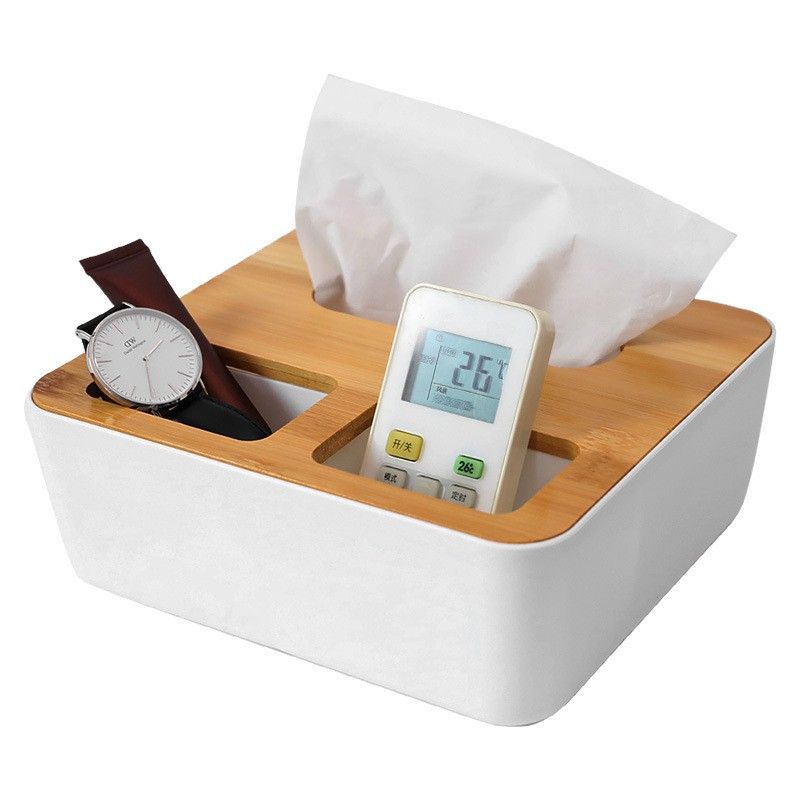 Not a fan of large, colourful storage boxes? This Nordic Style Tissue Storage Box (available on Oenen Official Shop) comes with a storage box and phone holder as well. If not for your office desk, you can even place this desk organiser on your vanity table. It's a good way to tidy up your makeup and jewellery pieces as well.
Look beyond desk organisers and declutter other areas in your home!
Your home could also use some of these organisation tips. Check out these hacks on how to organise your kitchen with nifty storage ideas that you'll surely thank us for. Once done, turn your attention to your bedroom and ensure you've built a bedroom that'll help you improve your sleep quality. Check out other high quality furniture you can snag at great discounts during our Shopee Home Furniture Sale!