Smartphones have a lot to live up to these days. Intense gaming sessions with friends. Frantic conversations over Telegram to send across the latest memes. And plenty of photo-taking to make sure your life is Insta-worthy. With so much going on, the last thing you want is for your phone battery to die on you. What to do, then? Enter fast-charging power banks. From lightweight and portable models to wireless power banks that you can simply place your phone on, here are our picks of the best power banks in Singapore!
Best fast-charging power banks
1. Xiaomi Mi Power Bank 3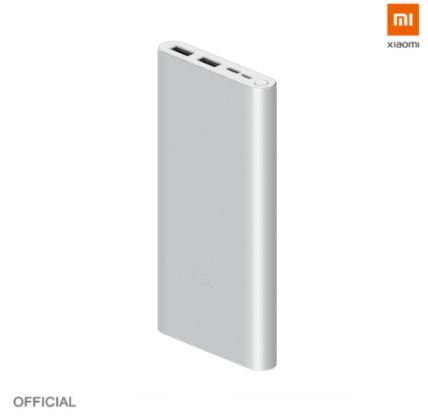 If you are looking for the best power bank for your buck, Xiaomi power banks are the one for you. While Mi Power Banks are easily overlooked for their minimalist designs, they actually boast some of the fastest charging rates. Need a recommendation? Try the Mi Power Bank 3 (available on Xiaomi Official)! One of its key features is its ability to fast charge two devices simultaneously. This can be extremely helpful since large capacity power banks tend to have slow charging times. But thanks to Xiaomi power banks, this won't be a problem. The Mi Power Bank 3's high density batteries also allow for multiple charges across Android and Apple devices. In addition, the battery's 15.3mm thin body makes it one of the slimmest high capacity power banks in Singapore.
2. HUAWEI AP09S Two-Way SuperCharger 10000mAh Power Bank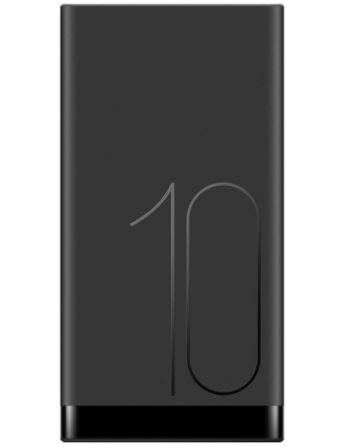 You don't have to own a Huawei smartphone to enjoy this sleek and elegant power bank. The Huawei AP09S Two-Way SuperCharger Power Bank (available on ePlaza) is one of the best power banks that combines function and design. Its black matte casing and smooth texture is something for the eyes to marvel at but it's not just a pretty power bank. Under its metallic body is a supercharging powerhouse. This Huawei power bank features a two-way supercharging capability. What's that? Well, you can get your phone to about half its battery capacity within 30 minutes of charging. At the same time, it only takes about two and a half  hours to charge the power bank itself. It's a great option for folks in need of a quick charge while on the go.
3. Anker PowerCore Speed 10000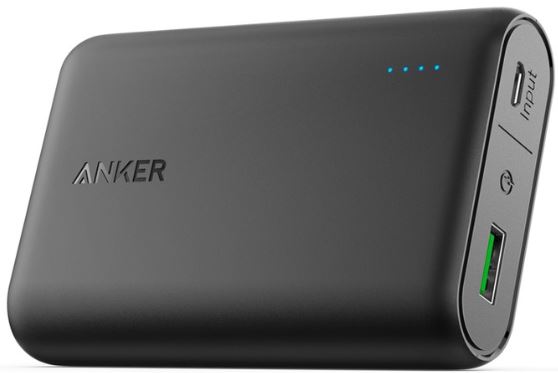 Fan of Anker power banks? The PowerCore Speed 10000 (available on Anker Official Store Singapore) features charging performances that level with the popular Mi power banks. It  boasts Anker's proprietary technology 'Power IQ' which allows Anker power banks to adapt to the fastest possible charge of any device. It even has heat control to prevent battery overheating – a problem for fast charging power banks. The PowerCore Speed 10000 is also portable and compact enough to fit into your palm or pocket!
4. ORICO 5000mAh Smart Power Bank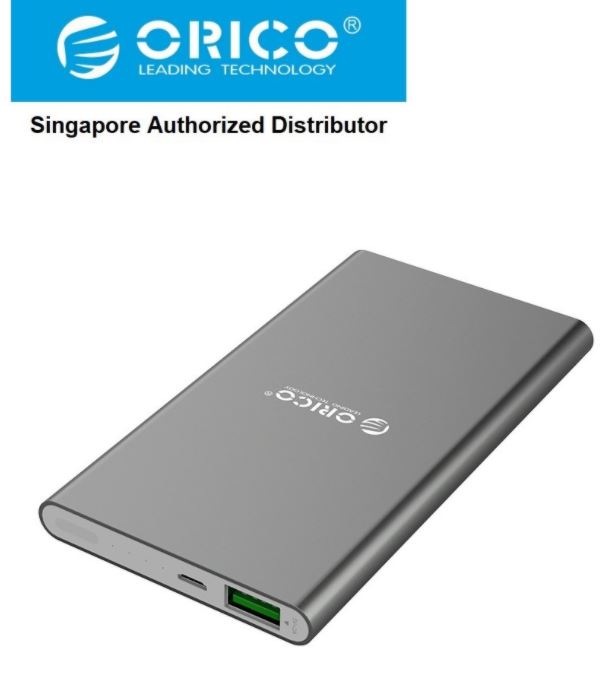 Is portability your main concern? Then the ORICO's 5000mAh Smart Power Bank (available on Orico Official Store Singapore) is the power bank to buy! By prioritising its lightweight properties, this Orico power bank is perfect for users who want to travel light without worrying about low battery levels. Enjoy fast dual-way charging, multiple charge ports and Type-C port compatibility when you carry this along on your travels!
Best wireless power banks
5. Mophie Charge Stream Powerstation Wireless XL (10,000mAh)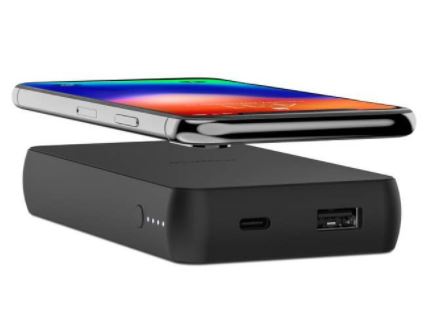 When it comes to finding the best power bank in Singapore, you can't avoid talking about wireless charging. With the rise of Qi-enabled smartphones, more are getting on board the wireless charging hype train. If you have a Qi-enabled smartphone then the Mophie Charge Stream Powerstation Wireless XL (available on Mophie Singapore Official Store) is a reliable power bank to use! What we adore about this power bank is the 'priority charging' feature. Basically, you can charge a mobile device while your power bank charges via a wall socket. The power bank will prioritise charging your mobile device and will only charge itself once your mobile device is done charging.
6. Baseus Wireless Fast Charge Powerbank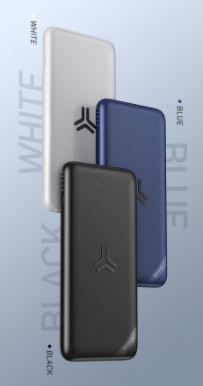 Some of  the best wireless power banks can charge more than one phone at a time! The Baseus Wireless Fast Charge Powerbank (available on Baseus Flagship Store (Singapore)) is that it allows you to charge up three devices at one go! Thanks to Qualcomm 3.0 quick charge technology, you can easily shorten the downtime of your devices with its multi-charge capabilities. Also, don't fret about such Baseus power banks overcharging your devices — the current supplied to each phone is automatically adjusted to match the phone's current requirements.
7. Qi Wireless Charger Power Bank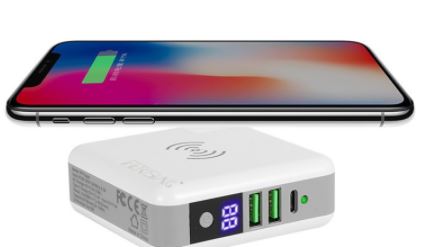 The Qi Wireless Charger Power Bank (available on szbba1990.sg) provides charging without a cable and without blowing a hole in your pockets! Simply rest the phone on the wireless power bank. It's the best wireless power bank for users who own flagship phones with wireless charging capabilities. The wireless power bank also has a unique way of charging multiple devices. Most power bank chargers feature two USB ports for two charging cables but with a wireless charger, you can charge one phone by resting it on the power bank's top and another via cable. It provides convenience for users who lack an extra charging cable.
Best budget-friendly power banks
8. Rock P63 Mini Digital Display Power Bank 10000mAh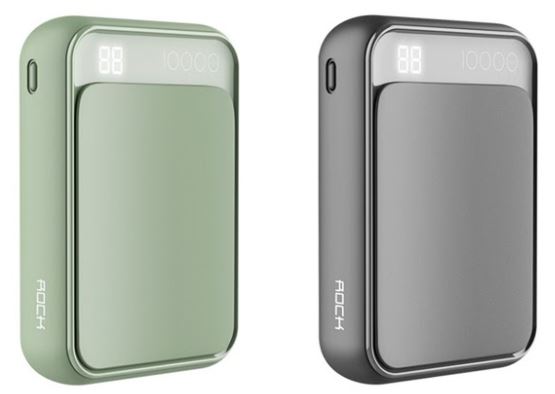 Rock P63 Mini Digital Display Power Bank (available on Rock Singapore) is a budget-friendly option coming in at just under $25. It skips on most of the fancy features and gets to what you truly need: a good charge. This Rock power bank features a simple battery capacity display along with a single USB output. It also comes with a USB-C input so you can recharge the portable charger quickly at the end of the day. We especially like the power bank's smooth texture and the elegant tea green and matte black colours. If you're looking for a no-frills, value-for-money power bank then this is probably the one for you!
9. Zola Jade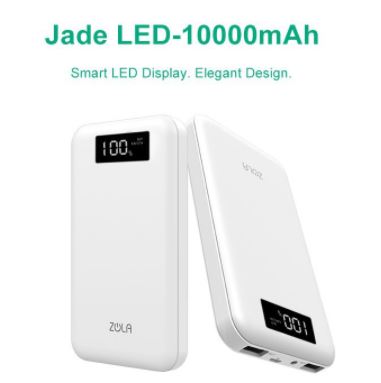 If you're looking for an affordable power bank in Singapore with a large capacity, try the Zola Jade (available on electronics_secrets). Despite going for less than $20, the Jade has a 10000 mAh capacity and outshines the competition with its elegant design. Technology wise, the Jade features a basic LED display. This lets users conveniently refer to existing charge levels and know exactly when the Zola power bank is due for a charge.
10. Yoobao M4 Pro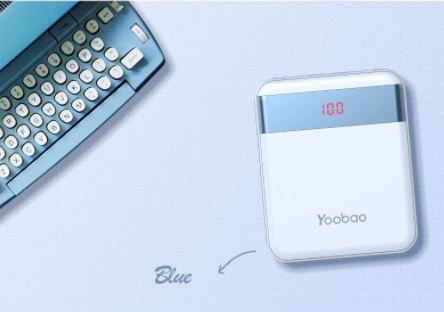 Charge indicators on power banks can sometimes be too vague. If you feel the same way, then you'll like the Yoobao M4 Pro (available on Blue Rhino It Distribution). The M4Pro comes with a digital display featuring the amount of charge left in clear digits. It's the best power bank in Singapore for users who need to keep track of their charge down single digits. Get your Yoobao power bank today and worry less about your charge!
Best designed power banks
11. Ugreen 20000mAh Power Bank With Lightning Cord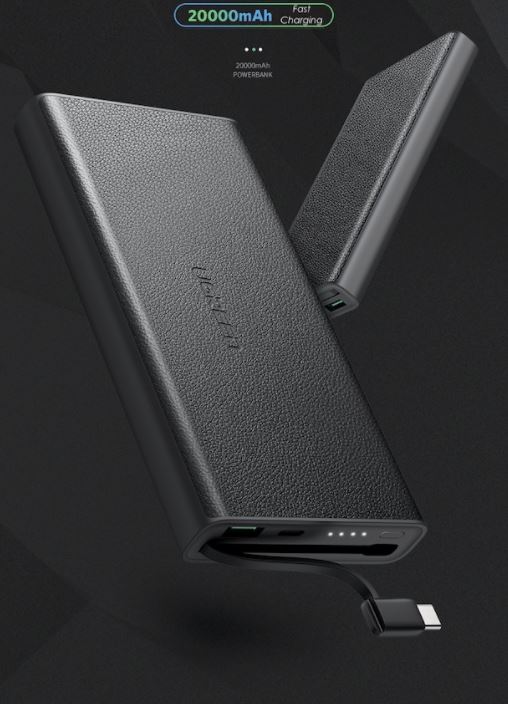 For those unaware, Ugreen is a rising tech brand that produces top quality mobile devices including power banks! A notable mention would be Ugreen's 20000 mAh Power Bank With Lightning Cable (available on BClifestyle). It comes with its own lightning cable — iPhone owners rejoice! The in-built lightning cable is great for users who often forget to bring their own charging cables. 
With the in-built lightning cable, the power bank is also capable of turning itself off automatically once it detects a phone has finished charging. This is probably one of the best power banks when it comes to smart functions. Aside from in-built lightning cables, you can also charge a separate device like a Nintendo Switch!
12. Samsung Battery Pack Power Bank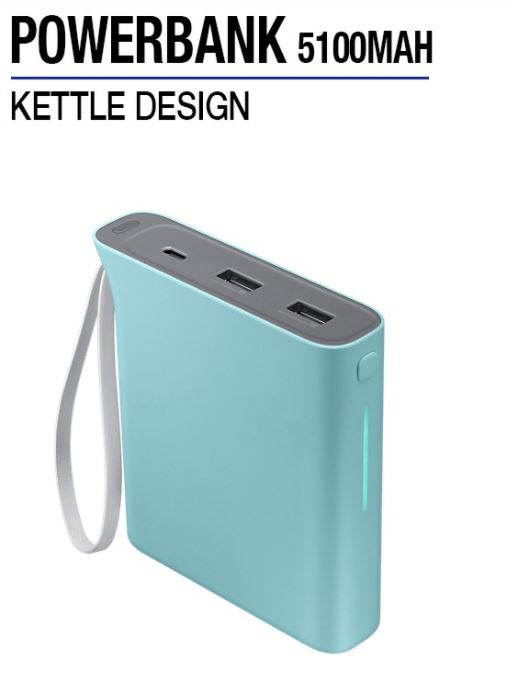 As the brand of innovation — you can trust Samsung to provide the best in technology and design. That's why with the Samsung Battery Pack Power Bank (available on ePlaza), you get the best of both worlds! At a glance, the Samsung power bank is designed for maximum portability with its compact design and wrist strap. Beyond its user-friendly design, the 5100 mAh battery features two full charges with Samsung Fast Charge technology that will keep your devices charged on the go.
13. Miniso Quick Charge Power Bank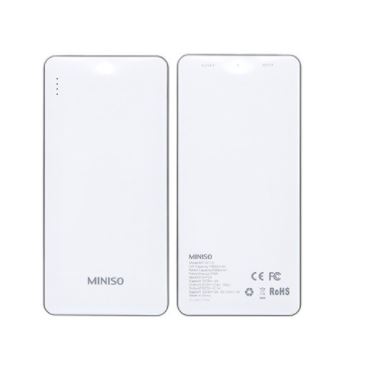 While it's one thing to have a huge power bank with tonnes of capacity this also usually means you'll be lugging a heavier power bank., Fortunately, Miniso's Quick Charge Power Bank (available on Miniso) offers the best of both worlds by being light, portable and of high capacity. With 10000mAh and a minimalist, slim design that allows it to fit snugly in your pockets, you'll never need to fret about bulging pockets and 1% battery charge on your devices again!
14. Mophie Power Boost Mini External Battery (2,600mAh)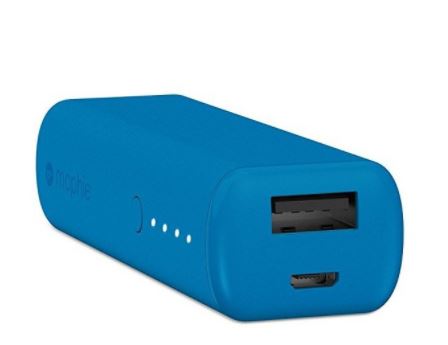 Mophie has some of the best pocket-sized power banks if you're looking for a power bank that's not too chunky. Straying away from the conventions of bigger is better, check out the Mophie Power Boost Mini External Battery (available on MacLink Pte Ltd)! Its compact size allows you to tuck it into side pockets of your work bag so you can always get an extra charge on-the-go. With the battery capacity of 2600mAh,  this portable charger is just right for a full charge. This mini Mophie power bank is a terrific buy if you're on the lookout for a handy back-up portable charger.
15. PRODA Chicon Wireless Power Bank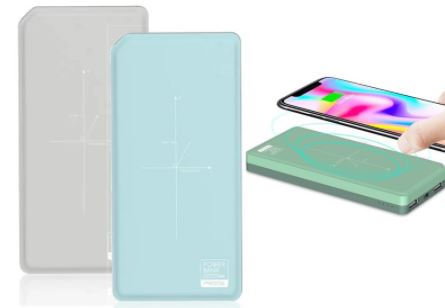 Shopping for the best wireless power banks that refrain from being too bulky? With the PRODA Chicon Wireless Power Bank (available on PRODA Official Store), you get a mini portable charger that's also capable of wireless charging. We love this PRODA power bank because of its compact size — which is really good for folks who like to hold both their power bank and smartphone in their palms while they charge. At less than 200g in mass, you'll have no issues carrying this out and about. 
16. RAVPOWER 6700mAh Pocket-Size Power Bank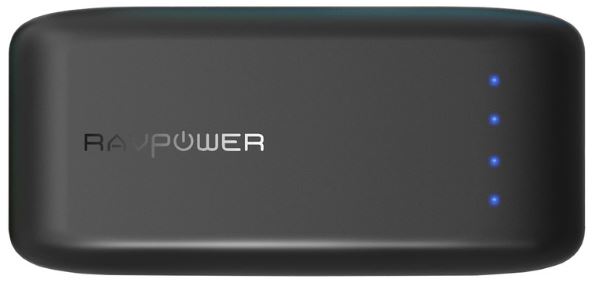 RAVPower wows with their RAVPower 6700 mAh pocket-size power bank (available on Gadget King Official Store). It's THE best power bank for emergencies – especially if you often forget to charge the night before. This RAVPower power bank  device easily fits into your palm and into any pocket too. Despite being a pocket-size power bank, RAVPower has surprisingly included a quick charge function to ensure a full charge in under three hours!
Best multi-purpose power banks
17. iWalk Scorpion Air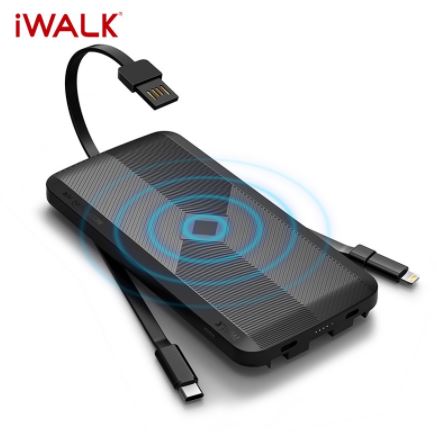 Left home without a charging cable? Don't fret — iWalk Scorpion Air (available on iwalk.sg) is one of the best wireless power banks as it offers four convenient charging options! Thanks to its scorpion-like design, iWalk's power bank has gone the extra mile to ensure your phone stays fully charged, regardless of whether you own the necessary cables. From its built-in USB-C cable to wireless charging properties, the Scorpion Air caters to all kinds of phone owners and does so without compromising on its compact premise and design.
18. Anker PowerCore 13400 Nintendo Switch Edition Powerbank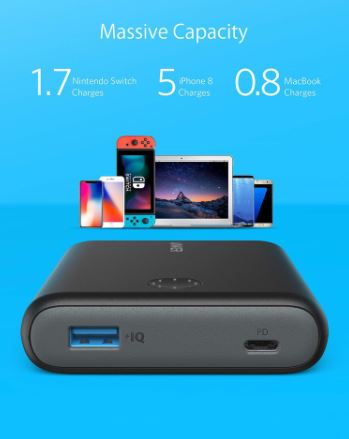 Are you a big fan of Nintendo Switch games? Then you might want to consider investing in Anker's PowerCore 13400 Nintendo Switch Edition power bank (available on Anker Official Store Singapore)! It's a power bank that is best suited for your console device, especially if you often play your games remotely. This unique power bank has been calibrated to the power needs of the Nintendo Switch consoles and can provide up to 10 hours of additional remote play time. You don't even need to stop gaming while it charges your Switch!
Need to charge other devices as well? The PowerCore 13400 Nintendo Switch Edition also supports charging for other USB compatible devices like your mobile phone. Just make sure you have the right cable for the job and you're set for a much-needed charge!
19. Aukey PB-T11 V2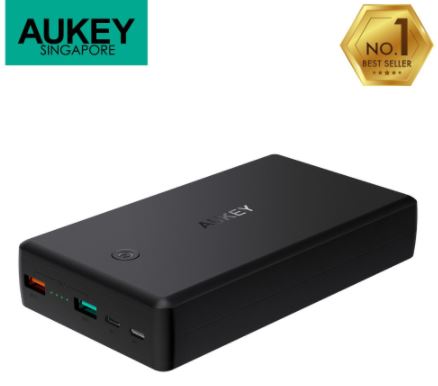 If gaming on your Nintendo Switch for extended periods is your main consideration, why not give Aukey's PB-T11 V2 (available on Aukey Official Store) a shot? With 30000mAh of power, owning this Aukey power bank will guarantee that your devices will never run out of battery again! Combining its gigantic 30000mAh capacity with Quick Charge 3.0, you'll be able to power all kinds of devices and charge them up to full within minutes.
20. Goal Zero Venture 30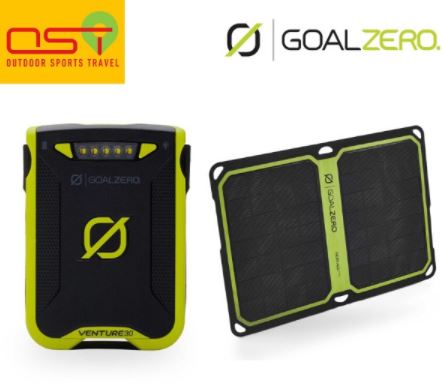 Seeking the best power banks in Singapore that are also environmentally friendly? The Goal Zero Venture 30 with Nomad 7 solar panel (available on OST Official Store) will be right up your alley especially if you're often outdoors. With its solar panel, you can charge the power bank even without a power outlet. Just prop it up on its side outdoors and let nature do the work. This solar powered power bank even has a protective and rugged casing that prevents damage from shock and dust – perfect for outdoor environments.
21. Anker PowerCore 26800mAh Portable Power Bank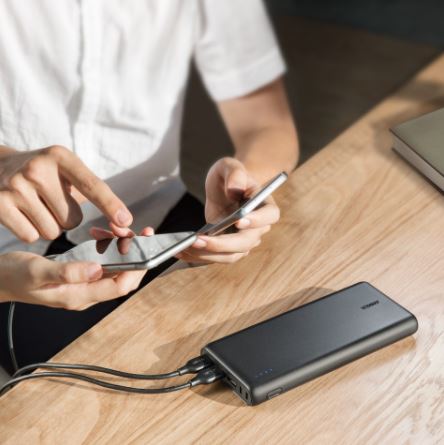 Anker has one of the best power banks that will satisfy your smartphone's energy needs for your next trip abroad. With the PowerCord 26800 mAh Portable Power Bank (available on Anker Singapore Official Store), you don't have to worry about running out of juice while hopping from one city to another. One notable feature about this power bank is the way it resolves the issue of long battery recharge times. Users tend to avoid large capacity power banks because they take long to recharge themselves. Fortunately, this Anker power bank avoids this by providing two micro USB ports. By plugging in two micro USB cables that are directly linked to electric sockets, you can effectively double the power bank's charging speed! A full recharge would take around six hours — but it's totally worth it if you consider how it can supply all your energy needs during a long day out.
Find the best power banks for you on Shopee Singapore
From the best wireless power banks to pocket-friendly mini companions, you'll never need to fret about device downtime again thanks to the diverse array of power banks for sale! For more electronic deals, check out our 9.9 sale for bargains you won't want to miss. Who knows? You might discover a hidden gem among the plethora of fantastic products.
Didn't manage to find the best power bank in Singapore for you? Then browse through our collection of power banks for more options! We have power banks that range from below 5000 mAh to over 20000 mAh. Keen on buying an affordable phone that's great value for money? Read our guide to the best budget phones in Singapore. Additionally, if you're planning to head for an outdoor camping trip then make sure to pack along a power bank while going through this guide to camping in Singapore!
This article was updated on 3 September 2020. Additional research done by Bryant Tay.