Isn't there just something so satisfying about digging into a plate of spicy biryani? The best biryani (or briyani) spots in Singapore should hit all the right notes — authenticity, flavour, price, and most importantly — fork-tender meat that promises to melt in your mouth. From moist and fluffy mutton dum biryani to lamb shank and vegetarian variations, here's a shortlist of popular and value-for-money biryani meals across the island.
Best biryani spots in Singapore to add to your foodie wishlist
1. Mr Briyani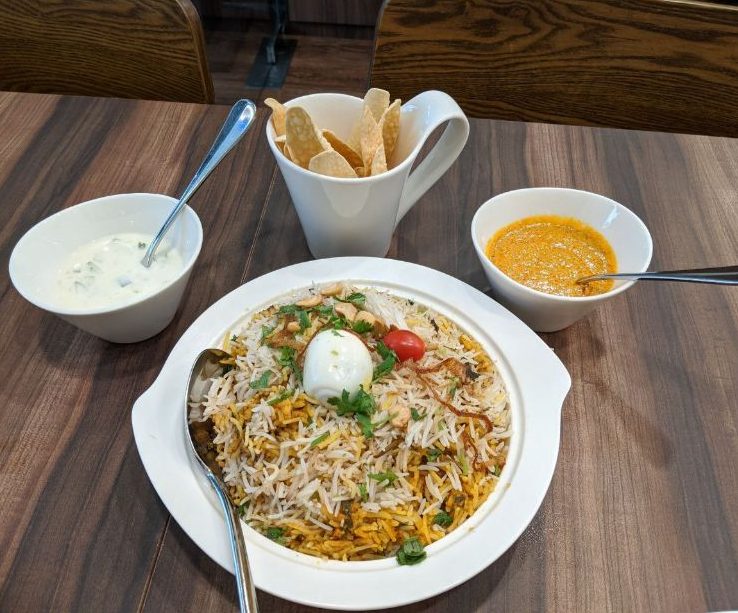 Hyderabadi biryani is one of the most popular biryani varieties, known for its aromatic flavours and tender meat slowly cooked in the dum (a one-pot slow-cooking method) style. It's slightly drier than other varieties, but the rice (when done right) remains amazingly fluffy. Cooked with a blend of spices and fried onions, the dish is big on flavour.
Mr Biryani is one of the best Hyderabadi biryani spots in Singapore that nails this dish with finesse. We ordered the Hyderabadi Chicken Dum Biryani for two to share and were more than satiated with the flavourful basmati rice served with two good-sized and super tender pieces of chicken. Definitely have the raita and the interesting mirchi ka salan (mix of chilli, peanut, spices and yogurt) sauce on the side, that goes nicely with the rice.
Address: 32 Norris Road, S(208274)
Check out the other locations here
Opening Hours: Daily, 11:30am – 3:30pm, 6 10:30pm
Available for delivery
2. Allaudin's Biryani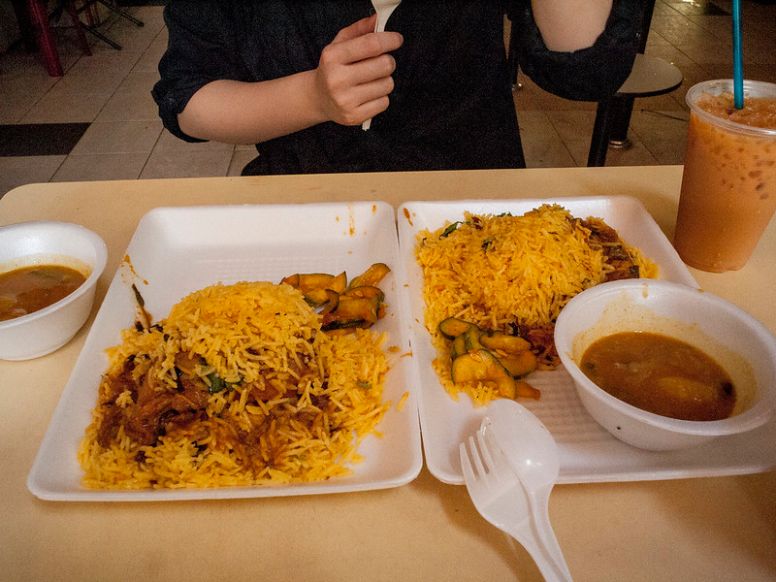 There isn't anything that hasn't already been said about the nasi briyani at Allaudin's. Singapore Michelin Guide has even awarded the establishment the Michelin Plate — easily earning top spot in our list of the best biryanis in Singapore. At just $5, get a plate of chicken, mutton or fish biryani accompanied with a scoop of dhal (lentils) and achar (pickled cucumbers). Dig into the fluffy rice and fall-off-the-bone meat, amidst the bustling Tekka Market. Expect a queue during lunch and dinner time (both on weekdays and weekends) but for the price and almost cult-status of this best hawker stall, you simply cannot give Allaudin's a miss.
Address: Tekka Centre, 666 Buffalo Road #01-232, S(210665)
Opening Hours: Daily, 8am – 8pm
3. Zaffron Kitchen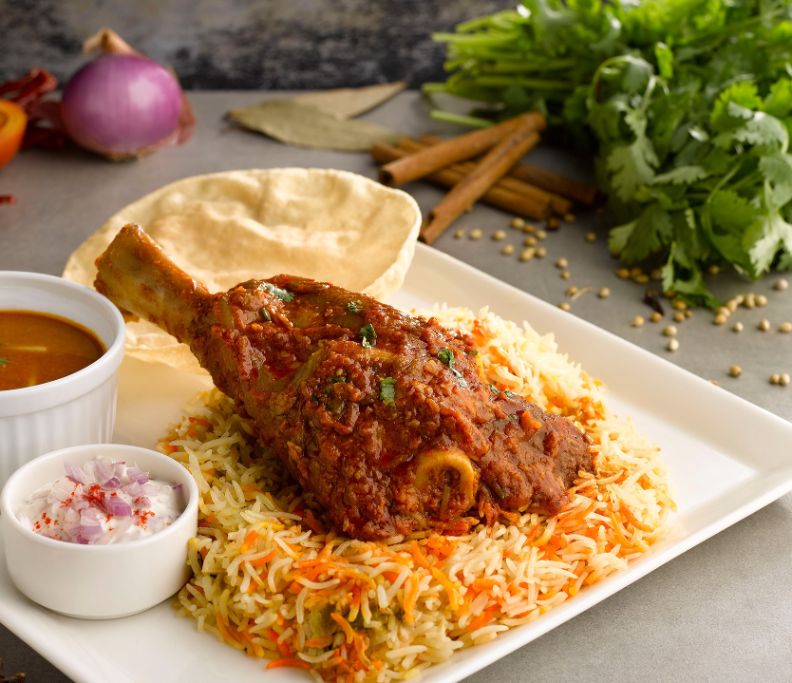 Zaffron Kitchen boasts a contemporary, cosy ambience while dishing out North Indian cuisine. This award-winning restaurant has charmed foodies with its curries, tandoor breads, meats and burgers including a Chicken Tikka Burger and Chat Masala Fries for a starter. However, it's the biryani variety we want to talk about. From the Lamb Shank Biryani (pictured above) to the signature Zaffron Chicken Biryani and Vegetable Biryani, there's definitely something for everyone here. The chicken biryani is cooked in the dum style and wrapped with a thin layer of dough to lock in the flavours. Use your fork to 'break' the shell and tuck into the moist rice and chicken beneath for a scintillating experience. Definitely, one of the best biryanis in Singapore to enjoy over a catch up with friends.
Address: Westgate, 3 Gateway Drive, #01-20 S(608532)
Check out other locations here
Opening Hours:
Mon – Fri: 11:30am – 3pm, 5pm – 10pm
Sat – Sun, eve of PH, PH: 11:30am – 10:30pm
Available for delivery
4. Srisun Express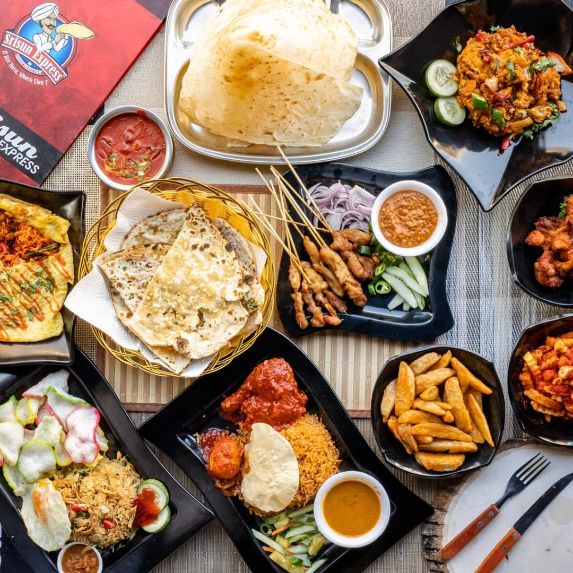 Looking for a place to head to after the 10.30pm alcohol curfew currently in place? Add Srisun to your list of best supper places to head to with friends. This 24/7 nasi biryani spot in Singapore doesn't disappoint with its extensive menu ranging from prata to goreng noodles and of course the chicken, fish, mutton and vegetable biryani sets. We are huge fans of the chicken biryani! Choose between fried, sambal or curry chicken. It's a simple, unassuming dish but the moist gravy laden rice will leave you feeling satisfied and not jelak at all!
Address: 56 Serangoon Garden Way, S(555952)
Check out the other locations here
Opening Hours: 24/7
Available for delivery
5. Arunachala Bhavan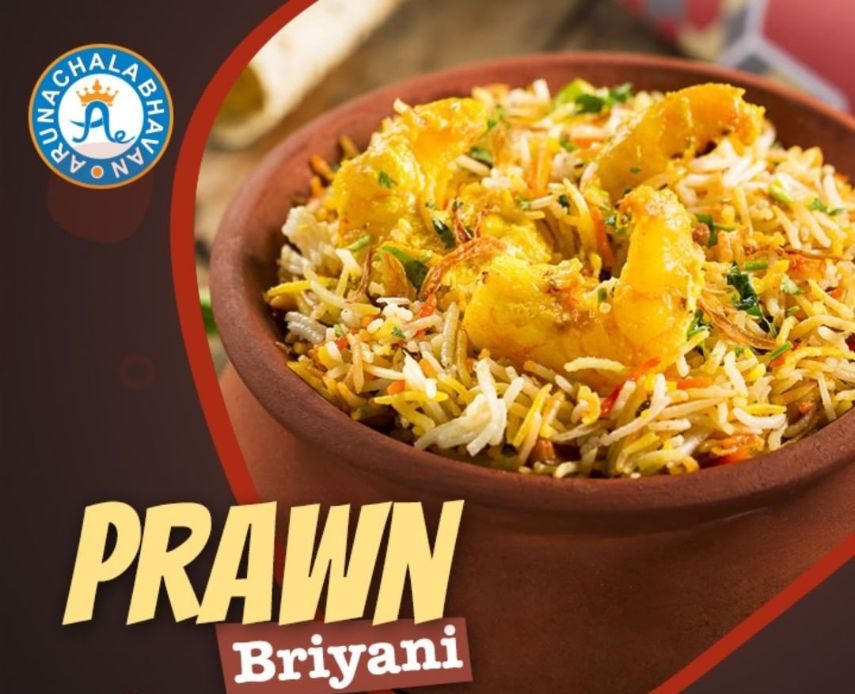 Tucked away from the glamorous line of Indian restaurants on Race Course Road, it's easy to miss Arunachala Bhavan — a hidden gem worth discovering. Its unassuming shopfront and interiors belie the quality South Indian fare it serves up — think fresh dosas, kothu parathas and chapati sets. But they are also popular for dishing out some of the best biryanis in Singapore. Order their signature Prawn Biryani ($12) — cooked with biryani masala, an assortment of warm spices, vegetables and juicy pink crustaceans for a truly satisfying meal.

Address:
40 Race Course Road, S(218556)
Opening Hours:
Daily, 11am – 11pm
Available for
delivery
6. Chat Masala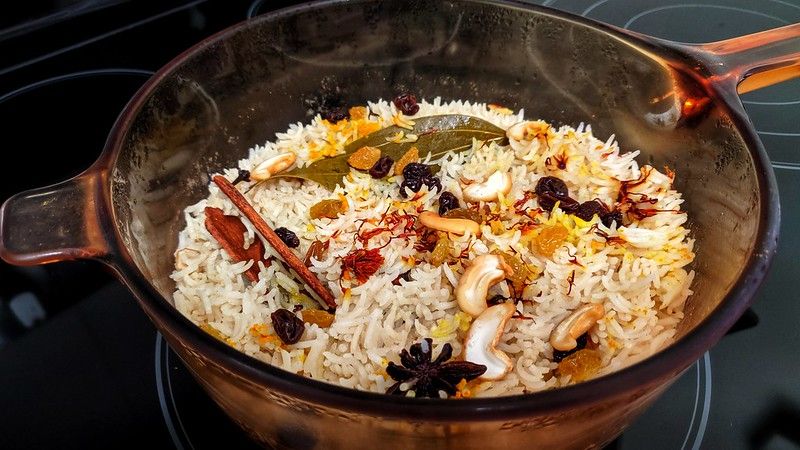 Easties rejoice! Chat Masala earned a place on our shortlist of the best biryani places in Singapore with a delicious range of biryani — chicken, mutton, prawn, fish and vegetable. Although slightly pricier, you'll be treated with the North Indian fare with a full suite of starters, meats and desserts plus options for vegetarians too. Did we mention there's a dedicated kid's menu with Chicken Kebab Rolls? Make a reservation here for your next Sunday meal with the family!
Address: 158 Upper East Coast Road, S(455254)
Opening Hours:
Tues – Sun: 12noon – 2pm, 6.30pm – 10pm
Available for delivery
7. Ali Nachia Biryani Dam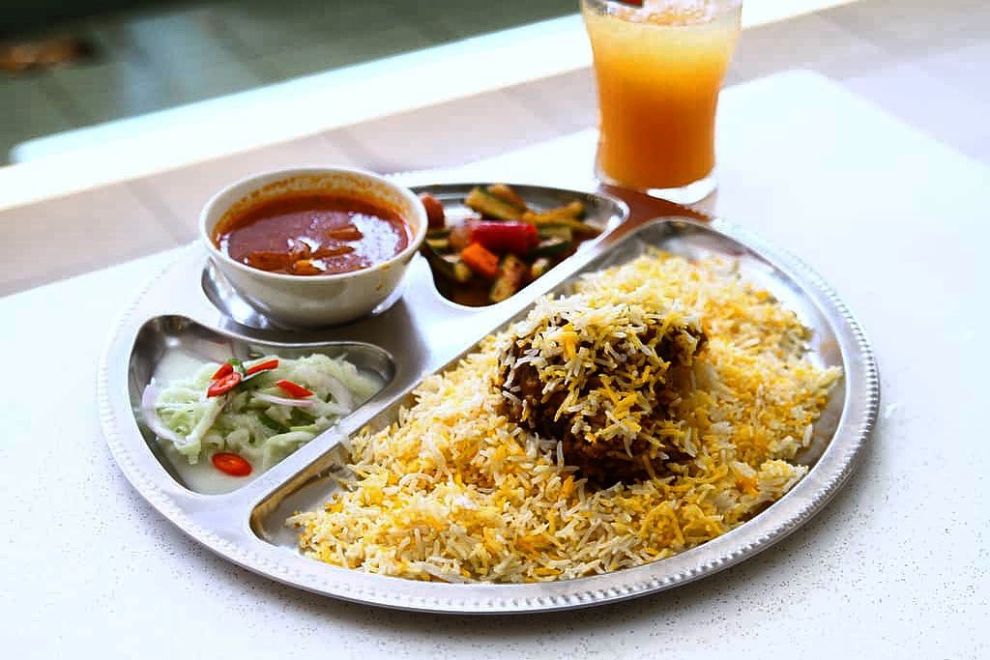 If you've been on a nasi briyani hunt in Singapore's CBD, then you've got to pay Ali Nachia a visit. Served on a thali (round metal plate), with raita, achar and curry, choose from their flavourful chicken, mutton and fish dum biryani varieties. These are the only three dishes on the stall's menu, giving a nod to the authenticity of this stall which was formerly situated in Tanjong Pagar Railway Station during the 1970s.
Address: 9 Hoe Chiang Road, S(089314)
Opening Hours:
Mon – Sat: 11am – 3pm
8. Biriyummy SG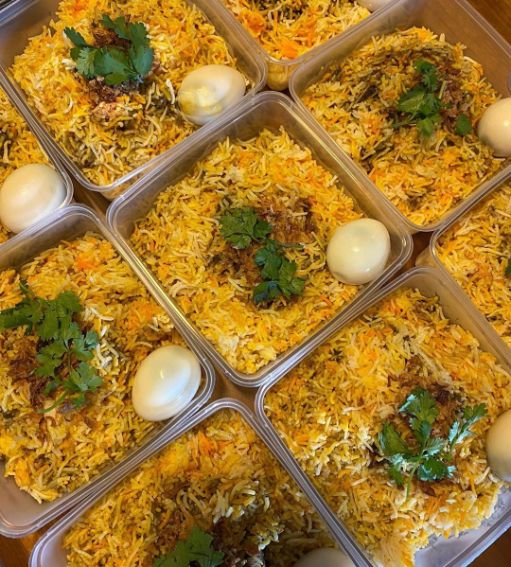 Biriyummy SG may be new to the biryani game but they have raked in rave reviews from satisfied customers singing praises of their generous portions and succulent meat. Place orders for chicken, mutton, prawn and even the new crab dum biryani variety for your party of five! They also do single dish specials including Chicken Sambal and Mutton Varuval. Psst, you may also get a free dessert thrown in with delivery!
Available for delivery and catering. DM them to place your order.
9. Sakunthala's Food Palace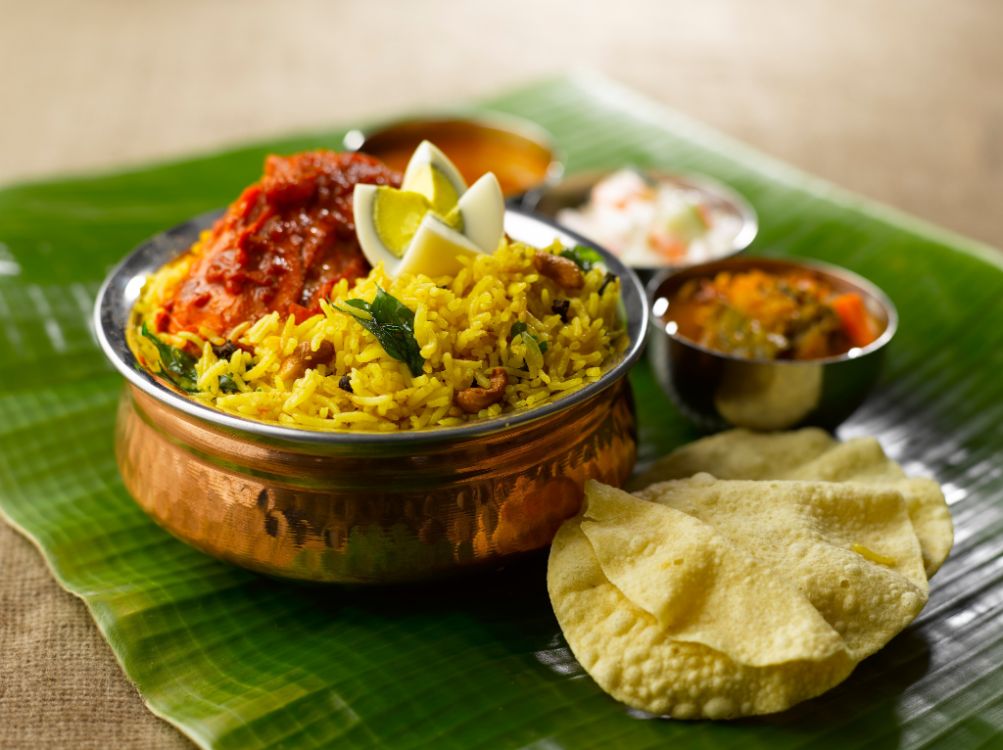 Sakunthala's is often counted among the best Indian restaurants in Singapore and is known for its affordable range of North and South Indian cuisine. Their dum biryani doesn't disappoint — tuck into the usual suspects like chicken, fish, mutton, vegetable and egg biryani. This is also one of the best biryani places in Singapore for large group gatherings (when they're allowed). Don't forget to order an ice-cold lassi to wash down the biryani!
Address: 66 Race Course Road, S(218570)
Opening Hours: Daily, 11am – 10.30pm
Available for delivery and catering
10. Grace's Pot Indian Restaurant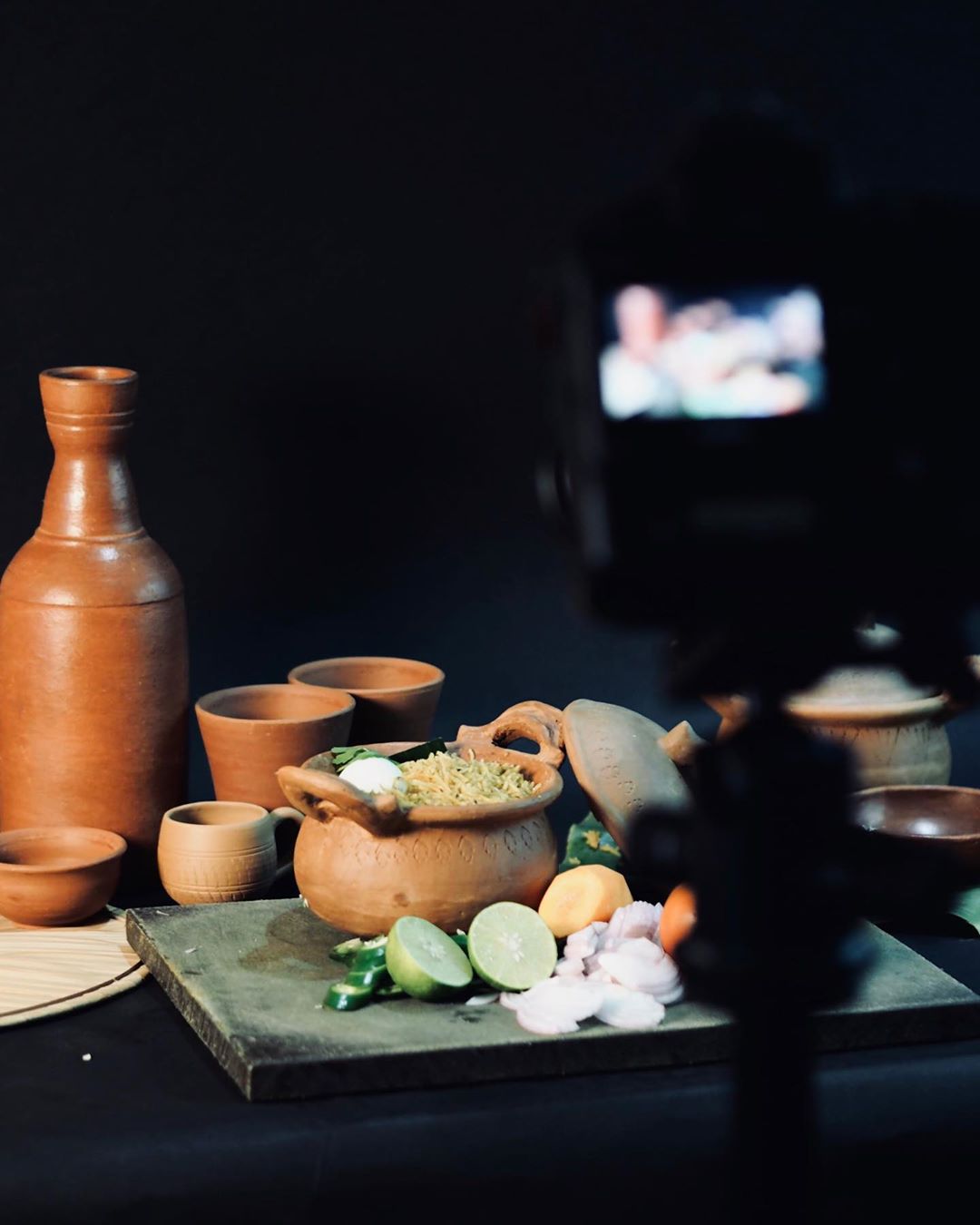 No, we didn't forget you north-siders. Go to Grace's Pot for home cooked and heartwarming Indian dishes. Relish their biryani — chicken, mutton, prawn and the quail biryani variety too! Other must-try dishes include the various Chatti Choru (claypot wok) dishes. Don't forget to order the unique Amra (Kedondong) fruit juice when here too. This refreshing and healthy green drink is high in antioxidants, good for the heart and comes with a sour plum for an added sour zest.
Address: 441 Sembawang Road, S(758401)
Opening Hours: Daily, 11.30am – 10pm (including PH)
Available for delivery and catering
11. Makanan Bollywood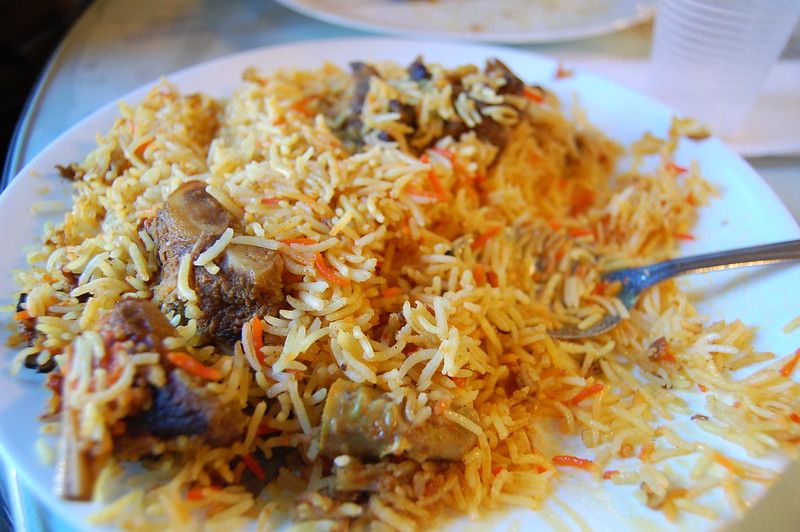 Makanan Bollywood may be tucked out of sight in the basement of Peninsula Plaza but that hasn't stopped customers from talking about their biryani. It's a simple food stall set up with tables and stools and serves up comfort food — from crispy prata to goreng noodles and a piping glass of teh tarik, you get the gist. But talk is that this stall also serves up one of the best nasi briyani in Singapore. Go for the dum mutton or chicken rendition — tender meat and a delicious curry await. The mutton biryani goes for about $7.50 and runs out by lunch, so get here early if you can!
Address: Peninsula Shopping Centre Singapore, 3 Coleman Street, #B1-06, S(179804)
*Moving to Funan Mall at the end of 2020
Opening Hours: Daily, 8am – 8pm
12. Rocking Rickshaw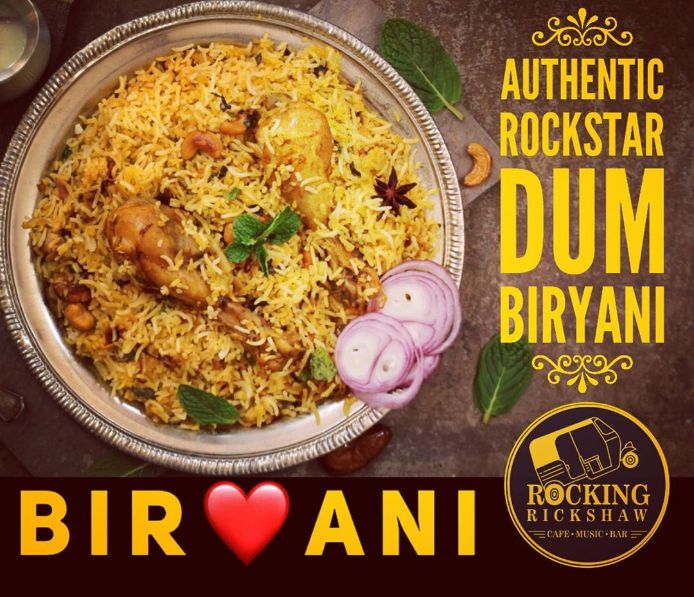 Rocking Rickshaw is more than just a place for Bollywood live music (Deejays have been invited for now). Their menu includes some mouth-watering food too including — Tarkari (Veg) Kesari Biryani and Lamb Shank Biryani. The former is a vegetarian biryani infused with saffron and vegetarian biryani spices while the latter is a piquant plate of slow-cooked lamb shank with basmati rice and traditional herbs and spices. This is definitely one of the best biryani places in Singapore for welcoming the weekend over good food and thumping Bollywood music.
Address: Kallang Wave Mall, #01-12, 1 Stadium Place, S(397628)
Opening Hours: Daily, 11am – 1am
Available for delivery
13. Butter & Spice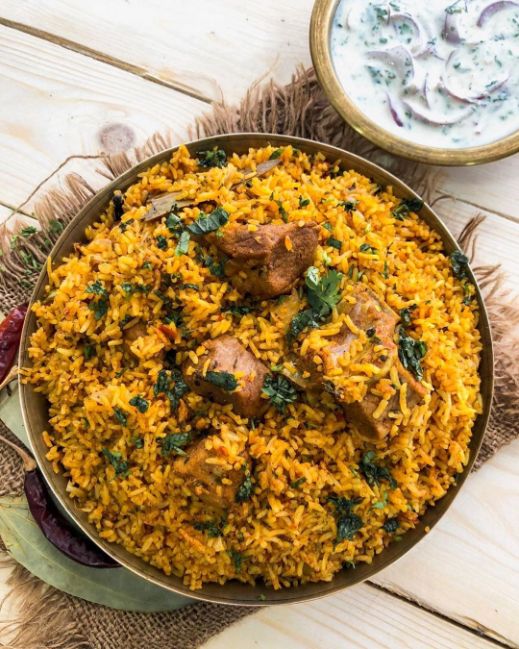 Hankering for your biryani fix? The Chicken Tikka biryani is one to try at Butter & Spice. If you love the skewered chicken tikka then the biryani version will win you over in no time and keep you full for longer! Otherwise go for the lamb, prawn or vegetable biryani. They've received rave reviews for their chicken and seafood dishes and value-for-money set meals which will set you back about $15 per pax for an appetiser, main dish, rice or naan and dessert.
Address: Katong Point, 451 Joo Chiat Road, #01-01, S(427664)
Opening Hours:
Mon – Tues, Thurs – Sun: 11am – 10.45pm
Available for delivery
The best biryani in Singapore is just a walk-in or a click away
We hope you've bookmarked these nasi briyani spots in Singapore for your next foodie hunt. The gastronomic journey never ends for us. Check out this shortlist of the best xiao long bao spots in Singapore or the best vegan ice-cream places in Singapore for a refreshing, guilt-free treat after a plate of biryani!