Love cooking but hate doing the dishes? We feel you! Rather than letting your dread pile up as your dirty dishes sit in the sink, why not invest in a dishwasher to lighten your load? While free-standing dishwashers are ideal for plus-sized kitchens, there are also plenty of portable and countertop dishwashers to choose from if you're looking to maximise space at home! Here, let our guide to the best dishwashers in Singapore help you pick one worthy of a spot in your kitchen, in 2023. 
Do we really need a dishwasher?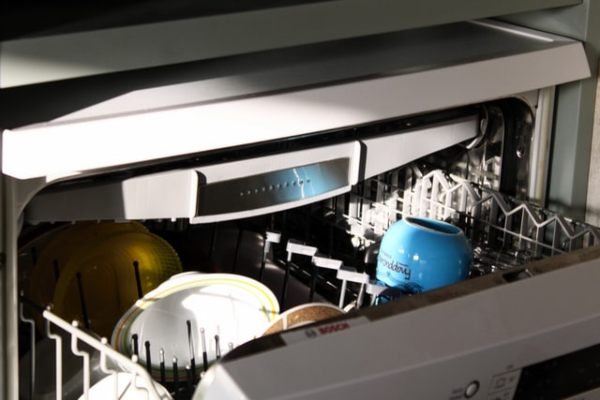 Growing up, many of us have helped or at least seen our parents wash the dishes by hand. Dishwashers? Probably something mostly seen on US sitcoms. However, a dishwasher can be a worthwhile investment for your home, especially with increasingly busy work lives these days. We've included a list of pros and cons to owning a dishwasher so you can decide for yourself!
| | |
| --- | --- |
| Pros | Cons |
| Convenient, saves you time and effort to wash dishes manually  | Can be costly, and takes up kitchen space |
| Saves water and more energy-efficient | You may still need to pre-rinse your dishes before putting them into the dishwasher |
| Kills germs, more hygienic | Requires maintenance and cleaning on a regular basis |
| Especially helpful for big families | May not be necessary for single-person or small households |
What are the different types of dishwashers?
Built-in dishwashers are installed into your kitchen cabinet system. They tend to produce less noise and won't take up any of your counter space. They also have a large capacity, ranging from around 10 to 15 place settings. Each place setting resembles the capacity for a large and small plate, bowl, cup, saucer and cutleries that one person would use in a meal. 
Freestanding dishwashers can be placed anywhere, as long as there is access to water and drainage. They come in various sizes to cater to different family needs. This is a good option for homeowners who did not factor in cabinet space for a dishwasher when renovating their kitchen. 
Countertop portable dishwashers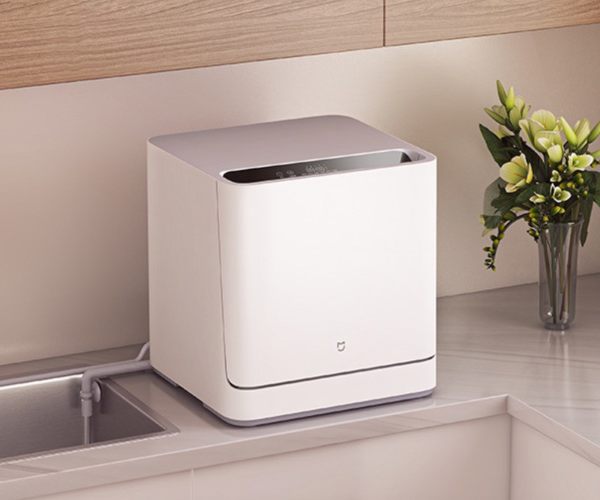 Countertop portable dishwashers are some of the best space-saving dishwashers in Singapore. They usually come with a detachable water tank, allowing you to use the machine without plugging it into a water outlet. Due to its compact size, countertop portable dishwashers have limited capacity (about three to six-place settings) that may not be sufficient for big families. However, it will be perfect for couples or single-person households. 
How to load a dishwasher?
While the steps to run your dishwasher may differ from model to model, there's only one right way to load your dishwasher. This important step determines your dishwasher's effectiveness. Learn the tips for loading your dishwasher the right way below.
Pre-rinse:

Only necessary for heavily soiled dishes

Things to avoid putting in dishwasher:

Sharp knives, wooden wares, non-stick pans, fine china and reusable straws

Washing utensils in dishwasher:

Place your spoons and forks facing up in the dishwasher utensil tray, and knives facing down for safety reasons. Avoid cramming too many utensils together at once, or they will not wash well.

Loading the dishwasher:

Load from the back to the front to maximise your space

Unloading the dishes:

Remove from bottom up so you don't drip on your dry dishes

What should go in the top rack:

Thin plastic wares should go here to prevent them from melting in the bottom rack. You can also place wine glasses here. 

What should go in the bottom rack:

The bottom rack has the strongest sprays and should be populated with plates. Face them towards the centre and lean them downwards. Pots and pans, as well as bowl and cups, should be placed here too, facing down. 
Best dishwashers in Singapore for big kitchens (2023)
1. Electrolux AirDry Inverter Free-standing Dishwasher Esf5512lox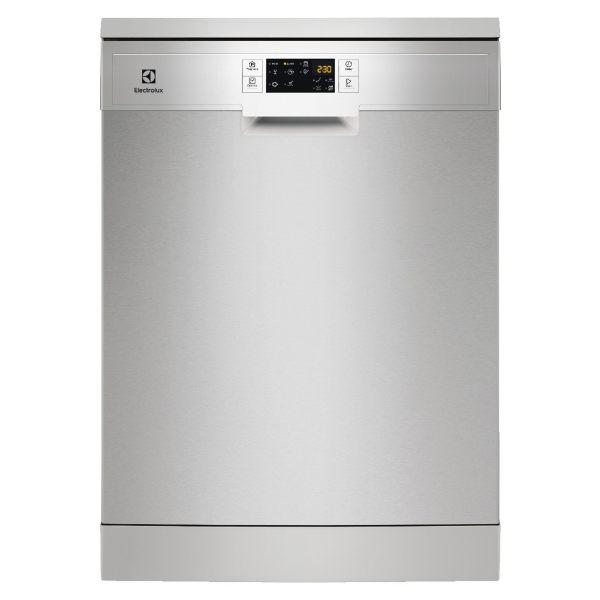 Preparing a feast for the family means you will be using several pots, pans and maybe even a wok. But not all dishwashers have the capacity to hold these larger size cookware. Thankfully, the Electrolux AirDry Inverter Free-standing Dishwasher Esf5512lox (available on Gain City Official Store) can hold up to 13 place settings, allowing room for even your largest pots and pans! 
You don't have to worry about water and energy consumption when using your Electrolux dishwasher to clean greasy dishes. This large appliance boasts an A+ rating for energy efficiency (moderately good energy efficiency) and a two ticks rating for water efficiency (very good water efficiency) — you won't get shocked with your bills! To double down on the energy efficiency, the Electrolux dishwasher is also equipped with a time-saving auto program to optimise the best setting for your load. Alternatively, you can select the QuickPlus program to cleanse lightly soiled dishes within 20 to 30 minutes. 
2. Beko Dishwasher Dvn04x20w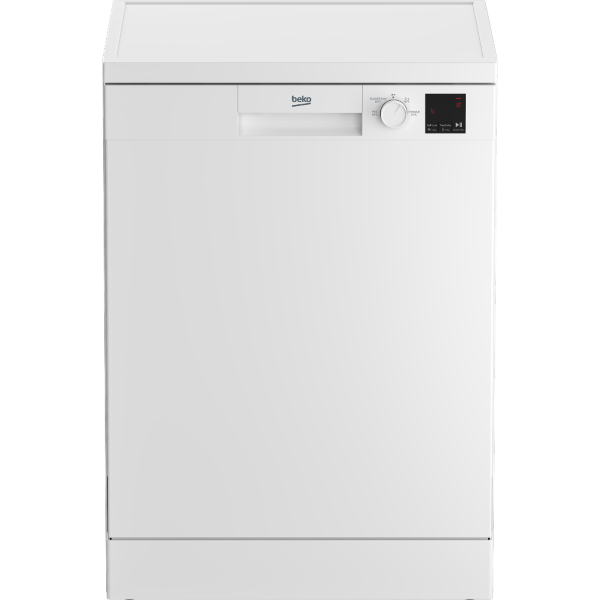 There's nothing not to love about the minimalist white aesthetics of the Beko Dishwasher Dvn04x20w (available on Casa Official Store) which will sit well in any kitchen interior. The Beko Dvn04x20w comes with an ergonomic sliding basket that can be moved freely to make space for larger cookware in the lower rack. 
This Beko Dishwasher also comes with a total of four programmes, including the Intensive 70 degree celsius programme, energy-efficient 50 degrees celsius programme, a quick-start Mini one, as well as a Quick & Shine mode to help wrap the chore up! It certainly is the best dishwasher in Singapore in 2023 to cater to all your dishwashing needs!
3. LG DFB425FP Front Control Smart Wifi Enabled Dishwasher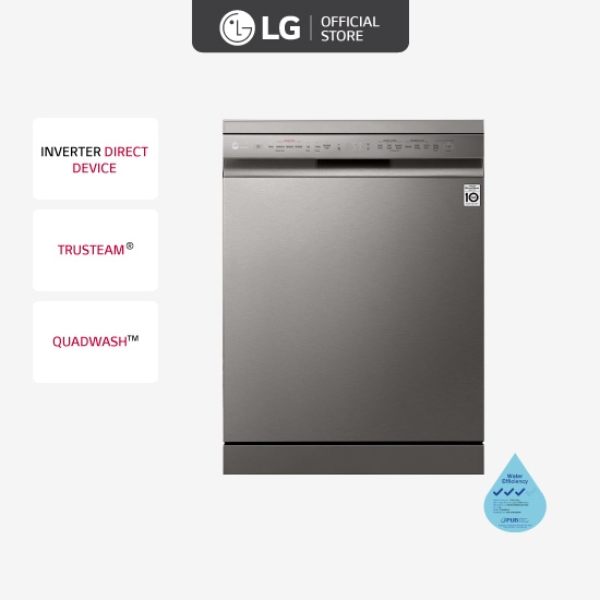 Some of us may be concerned about the effectiveness of a dishwasher when it comes to the cleanliness of our cutleries, plates and bowls. However, the LG DFB425FP Front Control Smart Wifi Enabled Dishwasher (available on LG Singapore) has proven this worry to be unfounded with its innovative LG QuadWash. Equipped with four spray multi-motion arms instead of the standard two stationary arms found in many freestanding dishwashers, you can be assured that no stains stand a chance in this LG dishwasher. This is also the best dishwasher in Singapore for those who can't stand water spots on their tableware, in 2023. Steam from boiling water is produced to sanitise dishes and remove water spots without damaging your luxurious wares.  
This smart home appliance can also be synced with your smartphone! This means going off to do your thing and getting notified whenever a cycle is complete without having to wait by the machine. This LG dishwasher can also be hooked onto Google Assistant and Amazon Alexa to activate voice commands.
Best dishwashers in Singapore for small kitchens (2023)
4. Midea MDWS-3607 White Compact Mini Dishwasher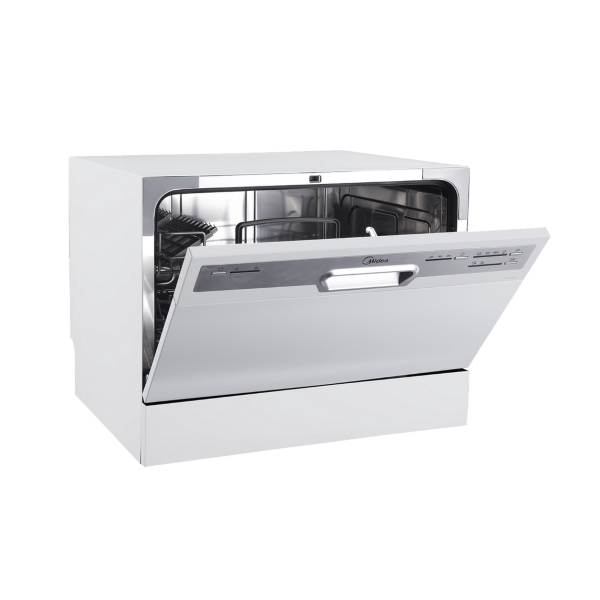 No space for a free-standing or built-in dishwasher? Perhaps the Midea MDWS-3607 White Compact Mini Dishwasher (available on Midea Official) will be a better choice when you're shopping for a trusty dishwashing companion! It comes with a versatile rack system, which can load a wide range of cutlery – everything from dinner plates to ladles. In fact, this Midea dishwasher has a glass program that's gentle enough to handle your drinking glass and crystal plates with care!
The best part about this portable countertop dishwasher in Singapore is its off-peak wash feature. Simply preset the Midea dishwasher's delayed timer to allow it to run automatically at night, so that you'll save time and electricity while sleeping!
5. Toshiba Mini 5L Portable Dishwasher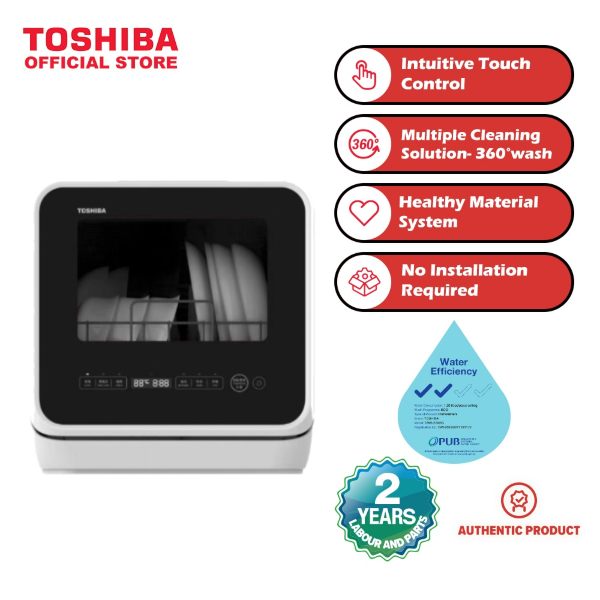 Portable or not, you get to enjoy the best of both worlds with the Toshiba Mini 5L Portable Dishwasher (available on Toshiba Official Store). The Toshiba dishwasher can run solely by a refillable water tank or plugged directly into a water inlet by the sink. This option is great if you're tired of having to refill the water tank all the time. Dishes are sterilised and cleansed to a tee with 72 degrees celsius water under the eco wash mode. If you're pressed for time, select the rapid wash to wrap up the cycle in 29 minutes. 
Aside from washing dishes, this Toshiba dishwasher is the best dishwasher in Singapore in 2023, because it can even be used to wash fruits and vegetables. Yes, you read that right! Simply place your fresh produce into a drainage basket and pop it into the dishwasher. The fruits program will rinse fruits and vegetables with 36 degrees celsius water to wash away hidden germs and residue!
6. Electrolux ESF6010BW Compact Dishwasher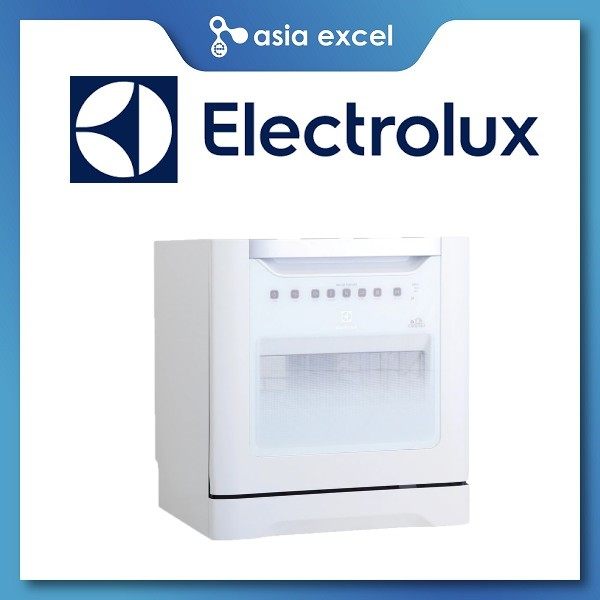 Not keen on portable dishwashers because of their limited capacity? The Electrolux ESF6010BW Compact Dishwasher (available on Asia Excel Pte Ltd) strikes a good balance between size and capacity with up to eight place settings despite its compact size. This makes it perfect for a family of four and more. 
Another impressive aspect of this dishwasher is its multi washing program set. Pick from five programs, including a Mix Soil mode which is designed to clean stubborn stains off pots and pans. If you're only loading half of the dishwasher, save on bills with the Half-Load mode which only takes 30 minutes! 
7. Xiaomi Mijia Smart Desktop Dishwasher S1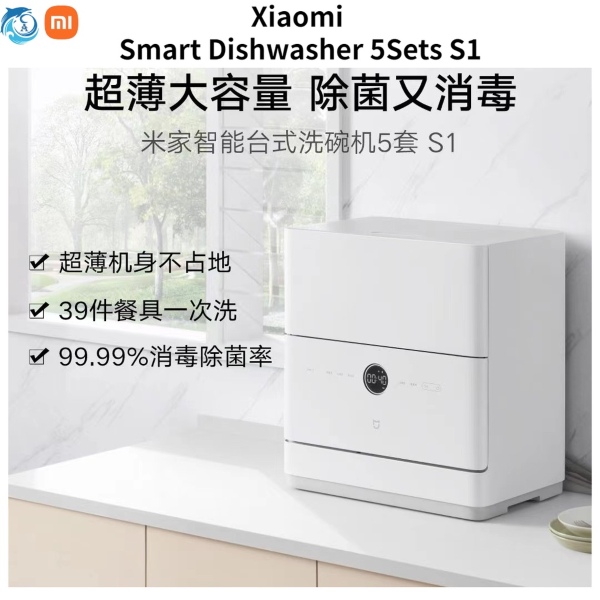 The Xiaomi Mijia Smart Desktop Dishwasher S1 (available on Quality life of youpin_sg. Echos) is probably one of the most aesthetically pleasing dishwashers we've seen – its control panel practically blends in seamlessly with the whole appliance itself! It is also one of the best dishwashers in Singapore in 2023 because of its smart features. Not only does this Xiaomi Mijia dishwasher have a built-in smart water softener system, it can also be controlled via a smart app – so you can disinfect or wash your dishes whenever and wherever you are!
With this Xiaomi Mijia dishwasher, you can choose from up to seven washing modes – including disinfection wash, quick wash, and energy-saving wash. The appliance can even double up as a baby bottle steriliser as its PTC hot air circulation drying is certified to provide a UV disinfection rate of 99.9%.
Best dishwasher detergent in Singapore (2023)
1. Somat Dishwasher Rinse Aid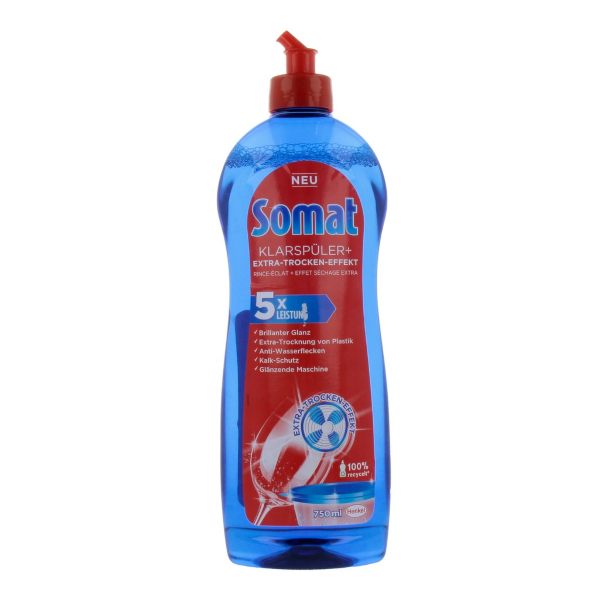 The dishwasher detergent also plays an important part in ensuring your dishes come out shiny and clean. The Somat Dishwasher Rinse Aid (available on Henkel Official Store) works great on glass and stainless tablewares as it leaves them with a brilliant shine. In addition, it helps to eliminate limescale development in your dishwasher, maintaining your machine in tip top condition. 
2.

Finish All In One Max Super Charged PowerBall Dishwasher Tablets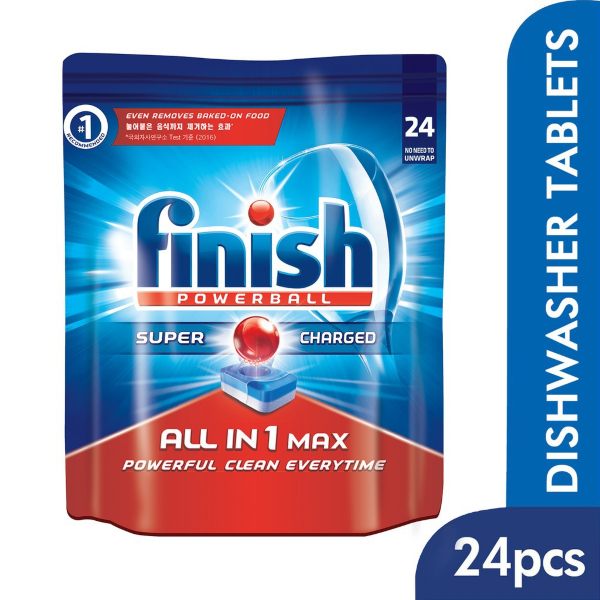 Prefer to use a tablet or capsule for your dishwashing detergent? The Finish All In One Max Super Charged PowerBall Dishwasher Tablets (available on Shopee Supermarket) is one of the most popular dishwashing detergents available in the market. Many homeowners love how convenient it is to use the tablets as no measurements are needed, unlike when using liquid or powder detergents. Each tablet contains a powerball core which helps to give the dishes a dazzling shine. There is also a blue layer designed to cut through grease and a white layer to break down stubborn stains. This multi-action tablet is all you need for your wares and utensils. 
3.

Ecover All-In-One Dishwasher Tablets 22s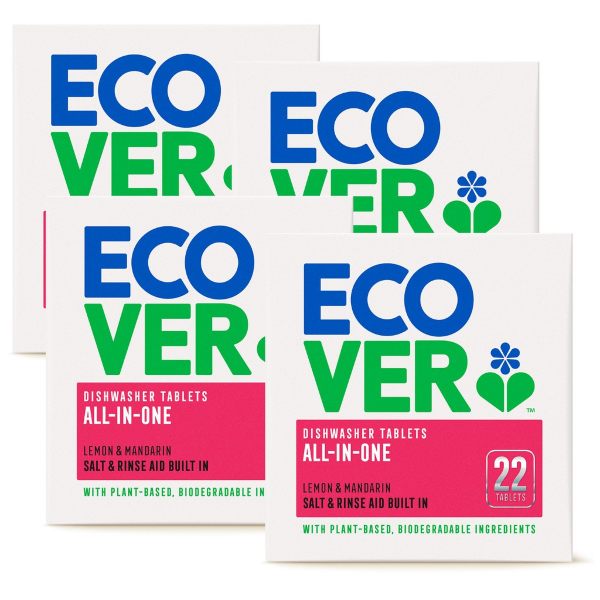 Care for the environment while you care for your wares with the Ecover All-In-One Dishwasher Tablets (available on Corlison Official Store). Made from plant-based, biodegradable ingredients, this eco-friendly dishwasher tablet contains rinse aid and salt action.  So all you need is to pop it into your machine and let it work its magic!
Overview of the best dishwasher in Singapore (2023)
Dishwasher

Size (cm)

Place Setting

No. Of Programs

Water Consumption/
Cycle (L)

Energy Consumption (Kwh)

Noise Level (dB)

Electrolux AirDry Inverter Free-standing Dishwasher Esf5512lox

60 x 85 x 62.5

13

6

11

1.04

47

Beko Freestanding Dishwasher Dvn04x20w

60 x 85 x 59.8

13

4

12.9

2

49

LG DFB425FP Front Control Smart Wifi Enabled Dishwasher 

59.8 x 84.5 x 60

14

10

9.8

0.95

44

Midea MDWS-3607 White Compact Mini Dishwasher
50 x 55 x 43.8

19

5

–

0.61

49

Toshiba Mini 5L Portable Dishwasher 

42 x 43.5 x 43.5

3

4

5L

0.57

–

Electrolux ESF6010BW Compact Dishwasher

55 x 60.4 x 52.3

8

6

8.4

1.25 

60

Xiaomi Mijia Smart Desktop Dishwasher S1
55 x 59.8 x 35

11

7

10.2

0.4-0.8

–
Bid goodbye to manual washing with the best dishwasher in Singapore
No more dry hands, no more dirty dishes and most importantly, no more dishwashing duty. These are the differences the best dishwasher in Singapore can make for you and your family in 2023! Looking for other home appliances to amp up your kitchen? Check out these best microwave ovens for quick meals and best coffee machines for your daily cuppa! Snag them at great bargains during our 8.8 National Day Sale!
This article was edited on 25 July 2023. Additional research done by Foo Pei Shi.