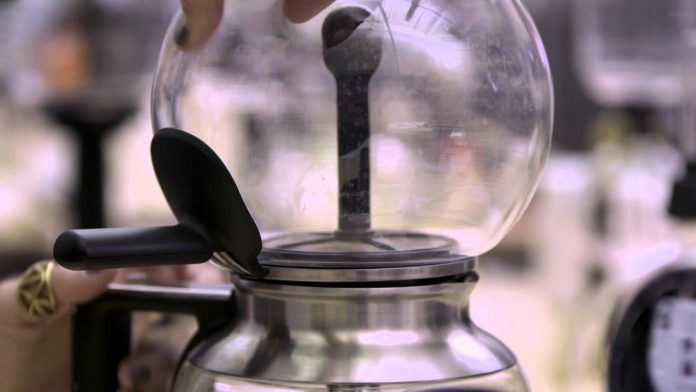 Let's face it — paying over S$5 for a good cuppa can tire out your pocket fast. Having one of the best coffee machines in Singapore will not only give you your morning pick-me-up, but your wallet will also thank you. From coffee machines with grinders for barista-grade espressos, to budget budget coffee makers for those who just want a fuss-free cuppa, here's a rundown of the best coffee machines for the pickiest of coffee aficionados.
Best coffee machines with a grinder for your beans
1. Krups Espresso Full Auto Arabica Display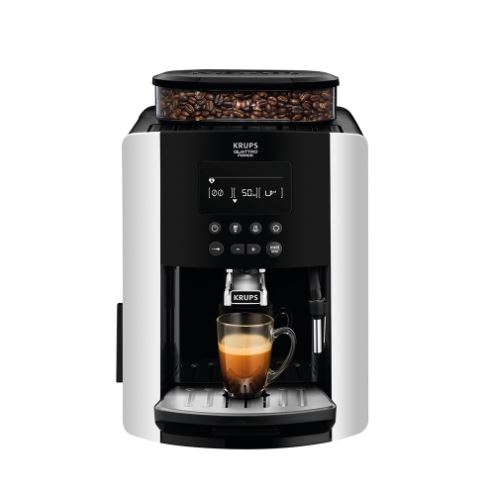 Krups' Espresso Full Auto Arabica Display
(available on
Tefal Official Store
) is the perfect gift for any premium coffee connoisseur, seeing how it's one of the best coffee machines with a grinder. Boasting exceptionally brewed cafe-level beverages, the Full Auto Arabica Display delivers all of this at the push of a button! Beneath its compact frame, you'll discover a myriad of touches that make this one of the best coffee machines.
Using Krups' Quattro Force Technology, this coffee machine offers handy additions like active speed grinding and even bean tamping. The end result is quality bean-to-cup espressos with enchanting aromas and robustly ground beans!
2. Bialetti Mini Express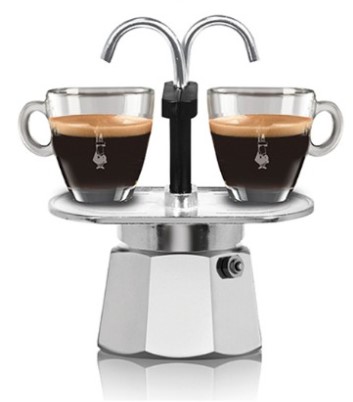 Featuring an entirely different build from the rest of the best coffee machines on this list, the
Bialetti Mini Express
(available on
seoul_unnie.sg
) is as close as you'll get to the original espresso experience. While they aren't the fastest or most technologically advanced appliances, Bialetti's adorable stovetop espresso makers are certainly a rarity in today's market of fancy high pressure pumps and automatised brewing processes!
The Bialetti Mini Express works like how a normal moka pot would. First, unscrew the coffee machine's top and fill the water container. Then, cover the base with the funnel and add your preferred coffee grounds. Finally, watch the magic happen as pressurised steam passes through the funnel, causing your coffee to trickle out!
3. Cuisinart Cold Brew Coffee Maker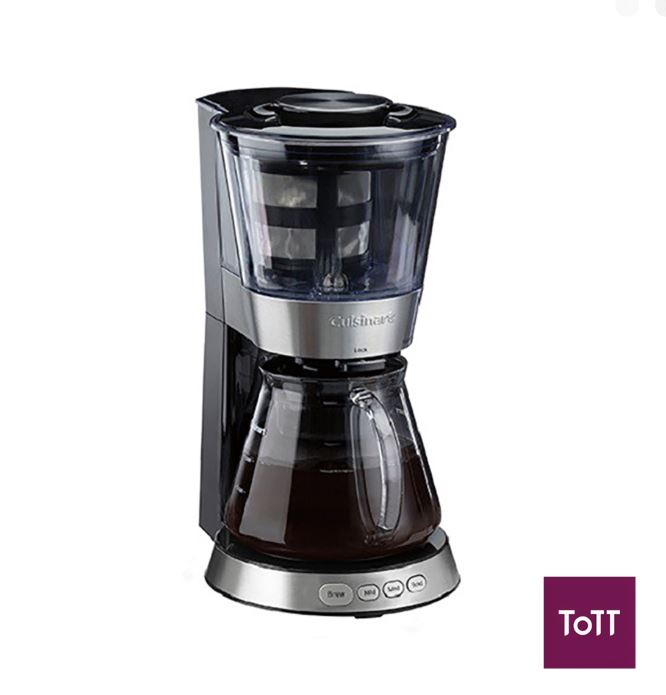 If you're a regular
cafe hopper
, you'll be no stranger to the term 'cold brew'. surely be nohave seen the term cold brew pop up often! Prepared by submerging coffee grounds for prolonged periods, you'll enjoy a less acidic beverage that's mixes smooth and complex flavours.
While these cafes will dabble with all kinds of ornaments and add-ons to produce the best cold brew,
Cuisinart's Cold Brew Coffee Maker
(available on
ToTT Official Store
) is a must-have for your kitchen if you're a fan of these mellow cold brews. utilises a simple and effective immersion technique to concoct its coffee concentrate!
Unlike some of the best coffee machines for cold brews that let grounds idly sit around, Cuisinart has designed this coffee machine to minimise the brewing time taken by using spin technology to quicken flavour extraction! In just 25 minutes, you'll have a cup of mildly strong cold brew coffee ready for consumption. This is a noticeable contrast to the usual cold brew steeping process of 24 hours!
4. KitchenAid Siphon Coffee Maker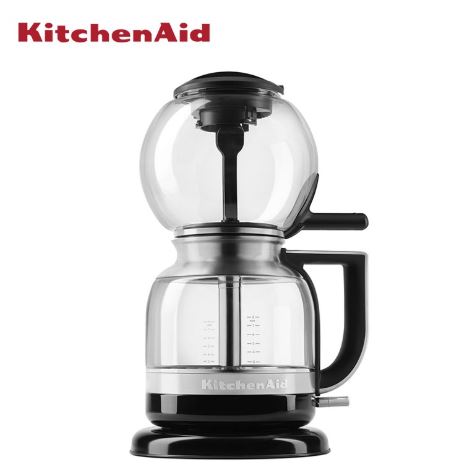 If you're a coffee fanatic, you'll agree that siphon coffee is a fantastic brewing method! While it was popular form in the early 20th century, this rare art has given way to more convenient coffee machines with grinders. Keen on giving siphon coffee a try? Why not do so with
KitchenAid's Siphon Coffee Maker
(available on
KitchenAid Official Store
)!
Drawing inspiration from flasks you'd usually see in a chemistry lab, the globular coffee machine consists of two main parts: an upper sphere for brewing and a lower water reservoir chamber. After adding your preferred grounds and filling the water chamber, flick the switch and watch the magic unfold! The sight of water rising and falling due to the vacuum effect is definitely one to behold — making this one of the best coffee machines for those wanting a theatrical brewing experience. Don't believe us? Why not watch it for yourself below!
5. Philips Grind and Brew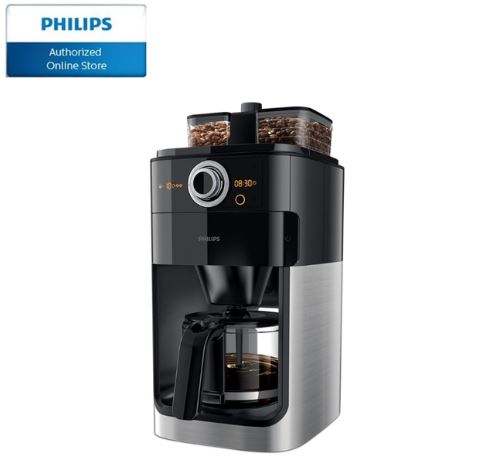 Tired of the same old brews? Creative experimentation is the name of the game if you're thinking of buying coffee machines with grinders like the
Philips Grind and Brew
(available on
Philips Official Store
) push experimental boundaries! Coming with separate containers, you can mix-and-match beans to discover flavour profiles that'll satisfy the most demanding coffee drinkers.
Revolutionary feature aside, the Grind and Brew coffee machine includes handy additions like Grind Selector to let you determine the fineness of your coffee grounds and an AromaSwirl nozzle that circulates the brewed coffee so its taste is evenly spread. These customised options combine to provide a well-loved coffee machine that caters to every coffee palate.
Best coffee machines that use pods
6. Nescafe Dolce Gusto Infinissima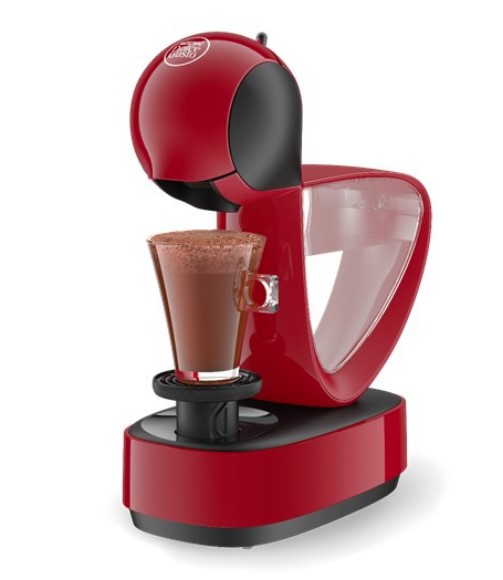 Intrigued by this coffee machine design? We are too! The
Nescafe Dolce Gusto Infinissima
(available on
NESCAFE Dolce Gusto Official Store
) boasts a unique aesthetic that will make it an eye-catching piece for your kitchen. The Infinissima's sleek look combines a globular pod holder with an angular water tank for a coffee machine that would fit into any modern home.
As part of the Dolce Gusto brand, the coffee machine is capable of brewing over 40 types of drinks, ranging from traditional iced lattes to Starbucks-graded caramel macchiatos. It's the Infinissima's potent combination of simplicity, design and functionality that makes it one of the best coffee machines to buy.
7. Nespresso Essenza Mini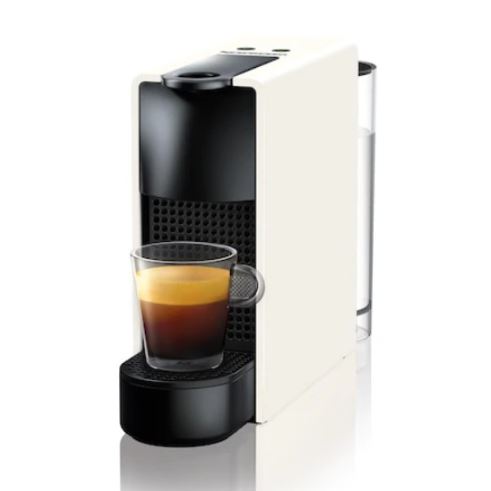 Don't have the countertop space to house an espresso machine? Don't fret — the
Nespresso Essenza Mini
(available on
Earth
) rivals just about any of the best coffee machines with its superior espresso brewing capabilities! With a 19-bar pressure pump, the Essenza Mini successfully brews espressos with maximum efficiency while occupying minimal space.
Besides possessing a pint-sized design that most
coffee
enthusiasts will adore, the Essenza Mini comes fully featured with additions like auto-shutoff, rapid preheat time and variable brew sizes to fit various cup sizes. You'll also enjoy a complimentary 14-capsule package that lets you sample Grand Cru pods with every purchase.
8.
illy Y3.2 iperEspresso Machine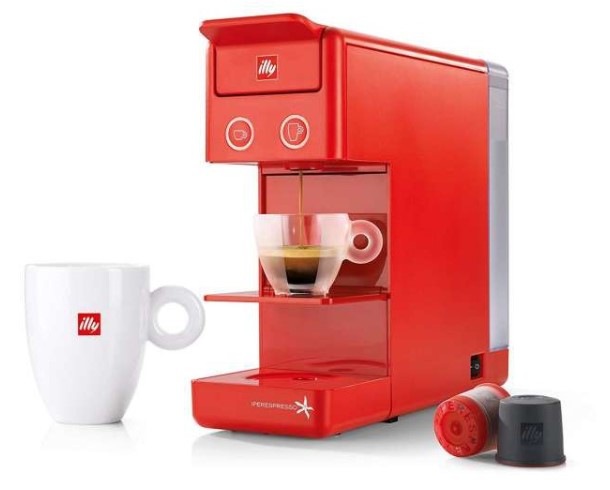 Keen on alternatives to your usual array of Nespresso pods? Competing with some of the best coffee machines from Nespresso,
Illy's Y3.2 iperEspresso machine
(available on
euracoofficial
) sets out to serve authentic Italian espressos. It accomplishes this by packing its espresso capsules with gourmet Arabica flavours, including favourites like Colombian and Ethiopian blends.
Espresso fans will appreciate how the iperEspresso maintains overall temperature consistency with a high-pressure pump to deliver a rich cuppa! Ultimately, it's the attention to details that help Illy's coffee machine stand out from the competition.
9. Nescafe Dolce Gusto Piccolo XS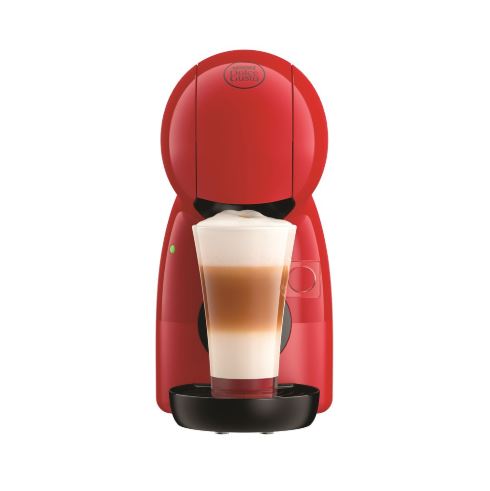 Shopping for the best coffee machines with the greatest versatility? The
Nescafe Dolce Gusto Piccolo XS
(available on
NESCAFE Dolce Gusto Official Store
) offers over 30 options without complicating the brewing process! From hot chocolate to iced coffee, it's ideal for anyone who doesn't want to fiddle with premium settings. It's no wonder many owners rate it as the best entry-level coffee machine!
For those not used to automatic machines, you'll adore the Piccolo's manual Custom Control Lever system! It lets you customise the beverage's mixture and overall strength so you can fine-tune your cuppa joe. This can be handy for veteran coffee drinkers looking to spice things up and get creative with their coffee blend.
10. JVD Mini Corseto
A beginner to coffee brewing and aren't yet willing to cough a huge sum of money for a coffee machine? The
JVD Mini Corseto
(available on
JVD Official Store
) trims excess bells and whistles to deliver an appliance that doesn't break the bank! As one of the more affordable options on our best coffee machines list, the Mini Corseto holds its own against the competition with its easy-to-use design.
Leveraging on its expertise in creating stylish hotel accessories, you can definitely rely on the French-based manufacturer to deliver a coffee machine that adheres to high aesthetic standards. Besides being a steal at such a price, the Mini Corseto is also compatible with
Nespresso pods
, making it perfect for previous Nespresso machine owners seeking an alternative.
Best coffee machines for that perfect cuppa joe every day
With nothing but the best coffee machine recommendations, we hope you've managed to find one that best fits your coffee drinking preferences.Get these coffee machines and more delivered straight to your doorstep by checking out Shop From Home promo. If you're more of a tea person, here's a dazzling selection of unique tea flavours you can try. Alternatively, if you're preparing snacks to pair with your coffee, check out the best air fryers in Singapore that money can buy!
---
New to Shopee? Get $7 off (min. spend $15) with code*: WAKEUPCOFFEE
*TNC Applies. Valid for new users from 8 June to 15 June 2020 only.]]>