Love the clicky feel of typing on a mechanical keyboard? You're certainly not alone! While membrane keyboards have dominated the scene with their affordable pricing and lightweight portability, mechanical keyboards have recently made a meteoric comeback! Thanks to their gorgeous aesthetics and sheer customisability, the best mechanical keyboards have garnered support from gamers and creatives alike. Wondering what all the fuss is about? Scroll on as we cover the best premium and budget mechanical keyboards in Singapore to grace the market.
Best mechanical keyboards in Singapore
1. Razer Huntsman Mini — For space-conscious setups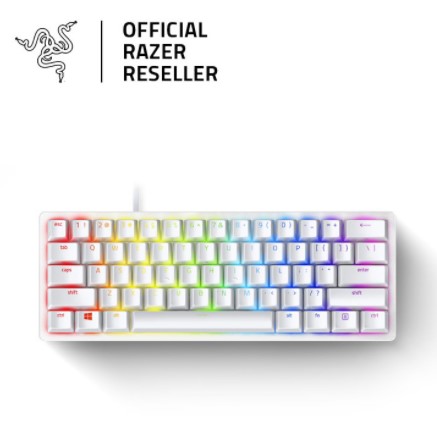 They just take up too much space! If you're tired of the best mechanical keyboards occupying too much tabletop real estate, why not give 60% keyboards a try? By ditching the number pad, F-keys, and directional arrows, 60% of keyboards strip away the excess and grant the purest typing experience possible with its alphanumeric setup. Of the bunch, we recommend Razer's Huntsman Mini Mercury Edition (available on Razer Official Store)!
As far as Razer mechanical keyboards are concerned, the Huntsman Mini is their finest creation yet! Razer has spared no expense in ensuring a premium typing experience. This is all thanks to its high-end aluminum top plate and durable doubleshot PBT keycaps. With these, you'll never need to fret about fingerprint stains or easily worn-out keys. Additionally, Razer has also included its Linear Optical switches. These advanced mechanical switches do away with traditional moving parts and instead rely on light beams to send keystroke signals. The end result is a quieter and swifter typing experience that'll please ardent keyboard users! 
Even though the Huntsman Mini Mercury edition is already easy on the eyes, we won't stop you if you want to bring its aesthetics to the next level with the Razer PBT Keycap Upgrade Set (available on Razer Official Store). Choose from black, green, and quartz pink to liven up your setup. 
2. Armaggeddon MKA-3C — For budget gaming rigs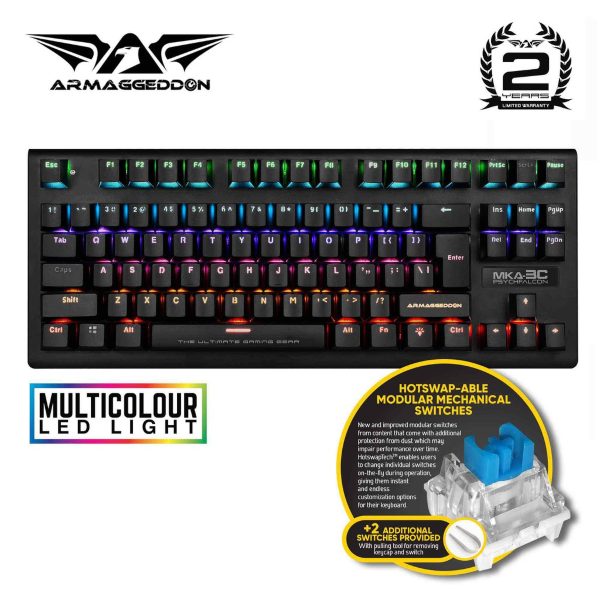 New to the world of the best mechanical keyboards in Singapore and are unsure of whether you'll like them? We recommend Armaggeddon's MKA-3C (available on Armaggeddon Official Store) as one of the best budget mechanical keyboards to try out! Don't let its wallet-friendly pricing fool you — this Armaggeddon mechanical keyboard is as durable as they come. This is due to concave Kevlartech keycaps and 50 million cycle mechanical switches!
The MKA-3C relies on Oetumu's modular switches to give it that satisfying typing click sound. Unhappy with its actuation and feel? Simply swap them out! Armaggeddon offers the tools needed to change individual keycaps and switches so you can freely alternate between blue, red, brown, or black Otemu switches to find out which fits your fancy.
3. Fancy081 — For customisable gaming rigs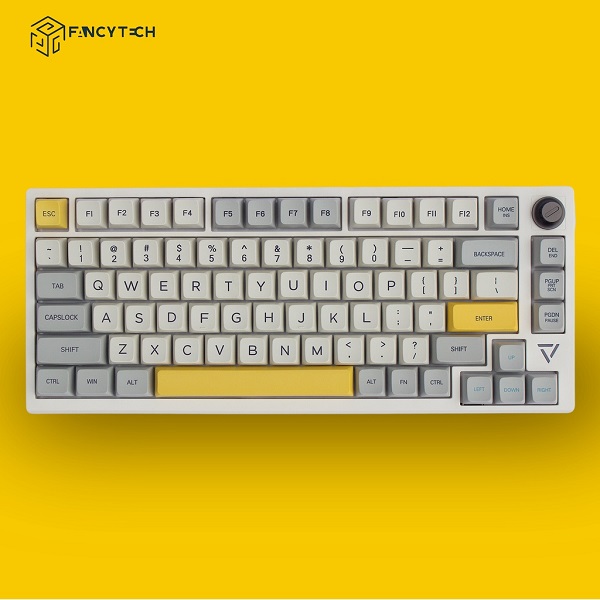 The Fancy081 Mechanical Keyboard (available on ColorGamer.sg) is the one to snag if you're looking to constantly switch out components. This mechanical keyboard is hotswappable, which means you can replace the key switches for a different typing experience. Whether you're going for Gateron clicky switches or Kailh linear switches, the Fancy081 Mechanical Keyboard can support them all! The keycaps are also removable, so you can easily replace any with your favourite artisan keycaps.
One of the other things we love about the Fancy081 is how it comes with a volume knob. Forget about having to find the volume function key because the knob is all you'll need now! Don't worry about customisability because the volume knob can also be switched out. We recommend going for some metal volume knobs for that extra atas feel to this best mechanical keyboard!
4. Keychron K6 — For minimalist typing goodness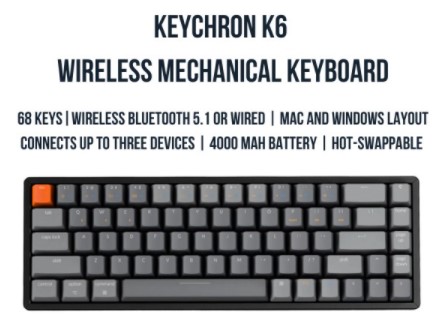 On the lookout for the best budget mechanical keyboards that do away with the edgy gaming aesthetic? Make sure to give Keychron's K6 (available on Aftermarket) a shot! While Keychron mechanical keyboards first started out as Kickstarter darlings, the K6 has garnered tremendous recent support thanks to its dedication to delivering an elegant and convenient typing experience. Its monochrome keycaps complement the stripped-down design of the K6, allowing users to minimise space occupied and maximise productivity.
It's not often that you find a wireless mechanical keyboard in Singapore that supports both Windows and Mac! With its dedicated options and command keys alongside the ability to connect up to three devices, the K6 excel in multi-device usage thanks to this versatility.
5. Logitech G915 TKL — For convenient wireless typing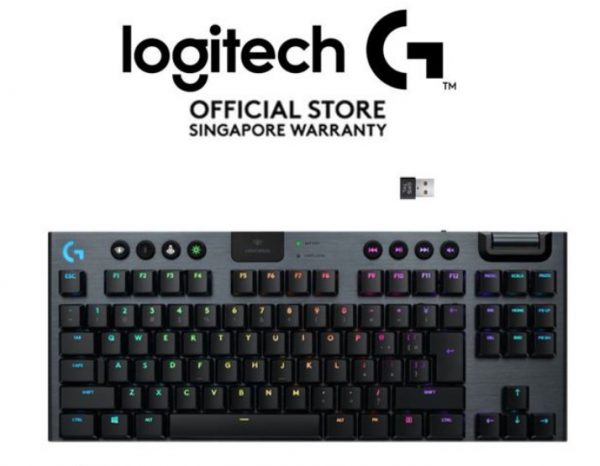 TKL keyboards represent that sweet spot between 60% keyboards and full-scaled ones! By removing the number pad, users are left with a lighter and more ergonomic keyboard that's perfect for any keyboard usage on the go. With the Logitech G915 TKL (available on Logitech G Official Store), you'll enjoy the best of the original G915 in a space-saving ten keyless package! Expect nothing short of premium materials, a long-lasting 4000mAh battery, and fancy design touches as the G915 TKL is crafted for ultra-portability without compromising on overall performance.
To stand out from the best mechanical keyboards in Singapore, this Logitech mechanical keyboard features the company's iconic Lightspeed wireless technology! With lightning-quick 1ms response time, it's the technology that Esports players use for minimal input delay. Also, the G915 TKL shows off its new low-profile switch technology that possesses all of the responsiveness and tactile accuracy of a traditional mechanical keyboard, at half the usual height. Choose from Clicky, Linear and Tactile variations as each switch type cater to your specific typing needs!
6. Corsair K100 RGB — For hyper-responsive keystrokes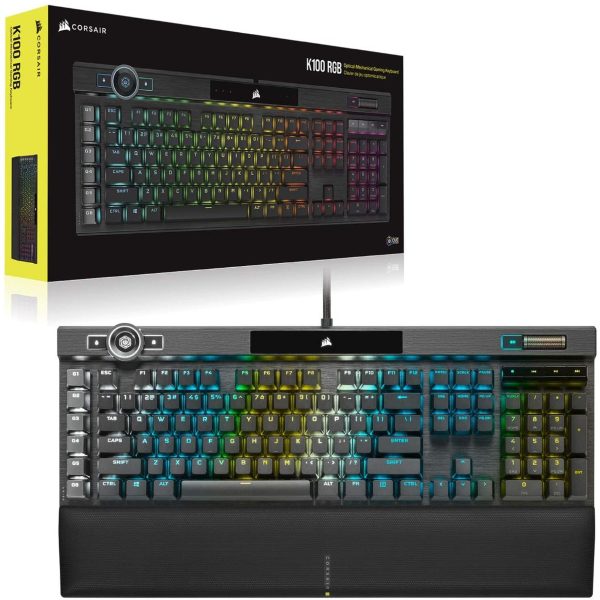 As the successor to the Corsair K95 RGB Platinum (available on Corsair Official Store), the Corsair K100 RGB (available on Make Fine Computer (S) Pte Ltd) certainly has huge shoes to fill. Fortunately, the K100 RGB knocks it out of the park with the refinements that make it the most feature-packed mechanical keyboard to date. Like the aforementioned Huntsman Mini, this Corsair mechanical keyboard packs optical-mechanical switches that offer lighter and faster actuation! In addition to this, the K100 RGB fully takes advantage of its size by providing a full set of programmable keys. This allows for macro inputs and dedicated media buttons and scroll wheels for easy control. To amp up the durability of your keyboard, switch out the keycaps to these CORSAIR Gaming PBT Double-shot Keycaps (available on Corsair Official Store). They are made from dense PBT to reduce key fading.
Want to futureproof your rig with the best that keyboard technology has to offer? As keyboards and mice tend to have milliseconds in input delay, Corsair keeps this to a minimum with the K100 RGB's 4000 Hz polling rate. By keeping the delay to a quarter of a millisecond, each gaming session with this best mechanical keyboard guarantees that you'll be at the top of your game.
7. SeenDa Bluetooth Keyboard Retro Round Keycap — For vintage layouts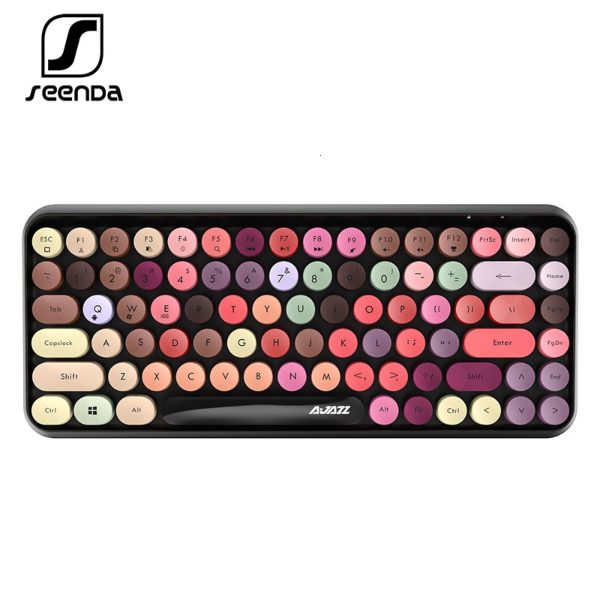 Although most of the best mechanical keyboards in Singapore focus on delivering peak gaming performance with their gamer aesthetic, we won't blame you if you're tired of the run-of-the-mill RGB lighting and flat-looking keycaps. To break this trend, why not try the SeenDa Bluetooth Keyboard Retro Round Keycap (available on Seenda Official Store)! Resembling a typewriter keyboard, this retro-looking accessory features rounded keycaps that help differentiate it from your standard fare of mechanical keyboards in Singapore. It also adopts a floating key design so each keycap is elevated above the top surface of the keyboard's case. This makes maintaining and cleaning this Seenda mechanical keyboard a breeze!
8. RGB One-Hand Mechanical Gaming Keyboard — For hardcore mobile gaming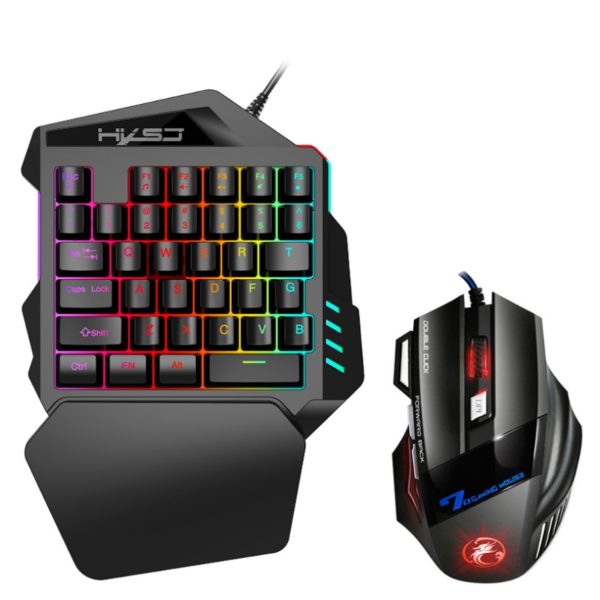 Who says the best mechanical keyboards in Singapore can't include one-hand gaming keyboards? Thanks to the RGB One-Hand Mechanical Gaming Keyboard (available on Fantasy Group), mobile users can also get in on that sweet mechanical keyboard action! With support for iOS and Android devices, this best budget mechanical keyboard is perfect if you love mobile gaming. From boasting a strong battery life to letting you fully personalise your mobile gaming session with its 35-key setup, you'll be hard-pressed to find a better mechanical keyboard that's tailored towards mobile gaming.
Jumping on the mechanical keyboard bandwagon with these popular brands
From Corsair to Razer mechanical keyboards, we hope you've found the best mechanical keyboards to suit your daily usage! Didn't find your favourite model here? Hop on over to our catalogue of gaming keyboards! To complete your gaming layout, check out our recommendations for the best gaming monitors and best gaming mice so you can improve your overall gaming performance. If you're looking for electronics, keep your eyes peeled for our Black Friday and Cyber Monday Sale happening from today till 29 November 2021.
This article was updated on 24 May 2022. Additional research done by Caryn Tan.
---
New to Shopee? Get $7 (min. Spend $15) with code*: KEYBOARDS7OFF
*TNC applies. Valid for new users from 27 Nov to 4 Dec 2021 only.