Enchanting and serene, aquariums are more than what meets the eye. According to Bluereef Aquarium, viewing an aquarium has a calming effect on our minds and helps to relieve stress. During this period of WFH and HBL, add a touch of nature to your abode by building a mesmerising marine oasis for your pet fish! Before you dive in, here are nine decoration ideas to get your fish tank design started. 
How to choose the right fish tank design?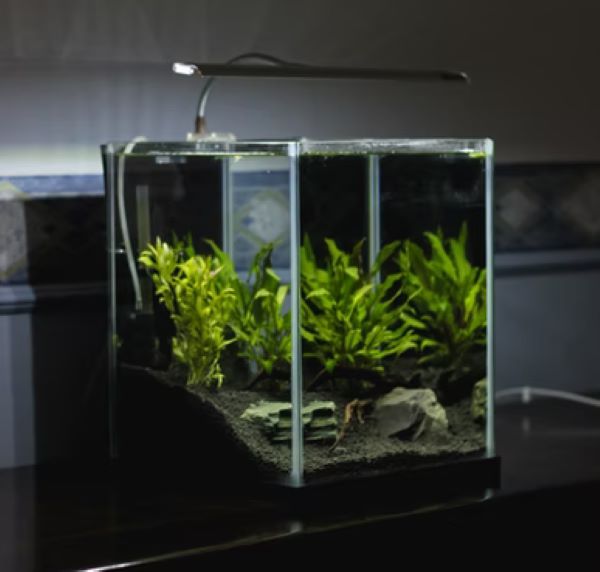 Aside from visual appeal, fish tanks should be a healthy, comfortable home for your pet fish. Before buying a tank, make sure to research the specific species of your fish and its needs. For instance, a betta fish requires a tank of at least five gallons (~19L) such as the GEX Marina Aquarium Tank or the Rimless Crystal Glass Tank (both available on ivenbetta). On the other hand, a guppy requires a tank of at least 1 gallon (3.7L) such as the Acrylic Fish Tank (available on Shopee Supermarket).  
As a general rule of thumb, your aquarium should have one gallon (~3.8L) of water for each inch of a fully grown fish. Keep in mind the amount of space you have carved out at home for it, and check the dimensions accordingly. If you're worried about making rookie mistakes, invest in a bigger tank as they allow for more time to troubleshoot water issues. 
Pro tip: Place your fish tank away from direct sunlight and sources of heat as these can affect water temperature and promote algae growth.
Fish tank designs come in a variety of shapes, such as tall, narrow ones and wide, long ones. Apart from making it fit nicely in your crib, also consider the species of your fish as different fish have different tank preferences. For instance, active fishes like the barb species and cichlids need longer fish tank designs to swim in. For a wide tank, we recommend the classy IB Glass Tank (available on ivenbetta). For a species like angelfish and discus are less active, so narrow fish tank designs suit them well. For a narrow fish tank design, you can get the GEX Glassterior Fit 200H Glass Tank (available on ivenbetta).
Fish tank design tips
1. Stick to a colour scheme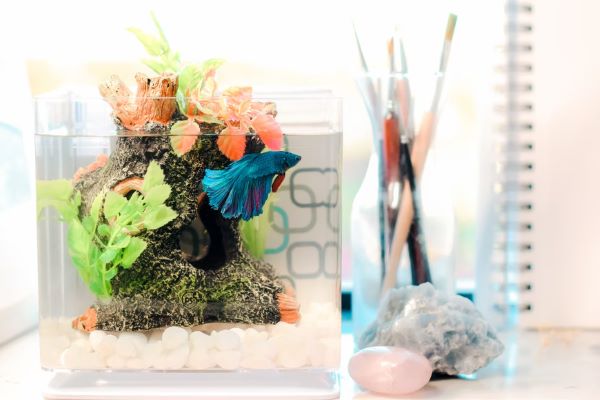 Before dipping into decoration ideas, decide on a colour palette to work with for your fish tank design. We recommend picking a colour scheme that suits the aesthetics of your home. If you have a Scandinavian theme going on, opt for a lighter colour scheme using white and light pink elements. If you want your marine exhibit to stand out more, go for bolder colour schemes. You can even choose to use a grayscale palette using blacks, greys and whites to go with an industrial themed home. 
2. Make a bed for your fish tank with aquarium gravels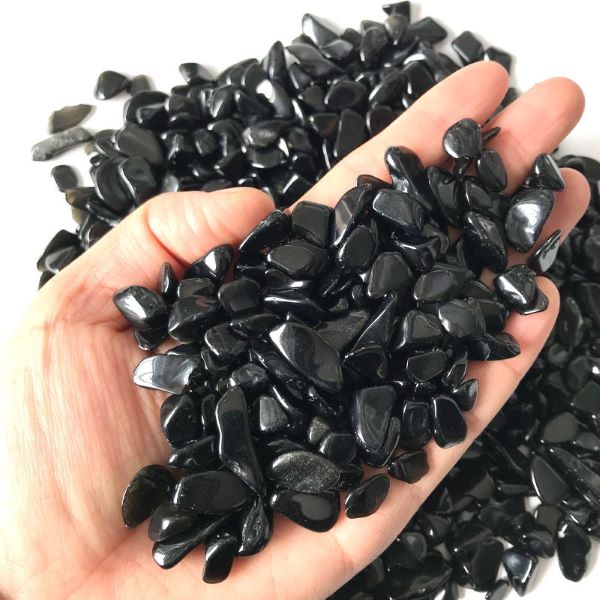 Every fish tank needs a foundation, and aquarium gravels are often used as the base layer of a fish tank. They come in different sizes, shapes and colors — which can make your fish tank design more attractive. Apart from visual appeal, aquarium gravels also bring many benefits to the table too. For example, they provide a home for healthy bacteria to thrive in, and doubles as a place for your fish to hide. 
We recommend going for colours like greys, blacks and white to mimic a natural habitat. Unnatural colours can stress your fish out, which can cause it to fall sick easily. While aquarium gravels are recommended for most situations, they are not suitable for grow-out aquariums meant to raise young fry. 
3. Use natural elements like driftwood and live plants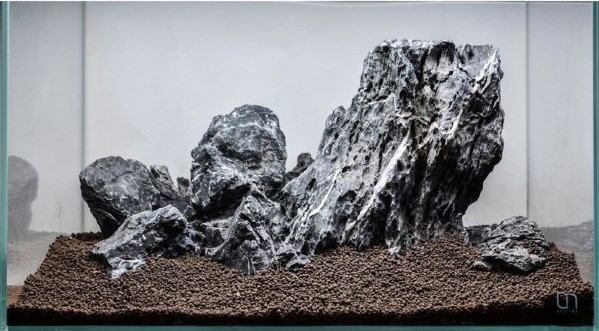 For a natural fish tank design, there are a host of different elements that you can utilise. One of the most stunning options are Ryuoh Stones (available on June.Xi Home & Garden) that resemble a mountainscape. These stones are an essential element for the Iwagumi aquascaping style made popular by Takashi Amano, a famous aquarist. Do note that with these stones, you'll need to change your water at least once a week as it hardens the water.
Another popular aquarium decor is Natural Driftwood (available on Aquarium Studio). Driftwoods can make for a great focal point for your aquarium, and also provide benefits for your pet fish! For instance, they help to boost your fishes' immune systems, and keep viruses at bay. We also recommend adding some greens with live aquarium plants such as a Water Fern (available on Babyfishaquarium) and Anubias Nana (available on ivenbetta). Live plants help to add oxygen to the habitat, creating a healthy environment for your fishes!
4. Create a vibrant aquascape with artificial elements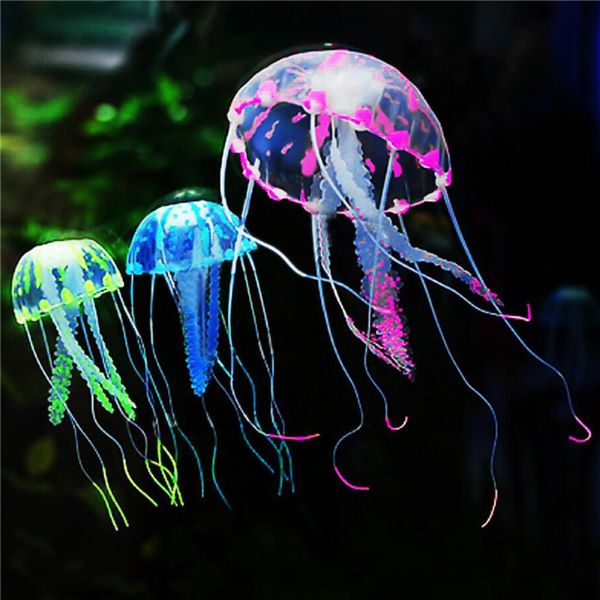 These days, artificial plants and animals look so life-like that you and your guests alike won't be able to tell the difference. You can choose from a huge variety of Plastic Water Plants (available on Ella Pet Store) or sea animals like Jellyfish Simulation (available on de312.sg) to make your fish tank design a vibrant, colourful one. Apart from the bold colours, artificial plants are also easier to maintain, as you can remove and clean them when dirt accumulates. 
5. Add your personal touch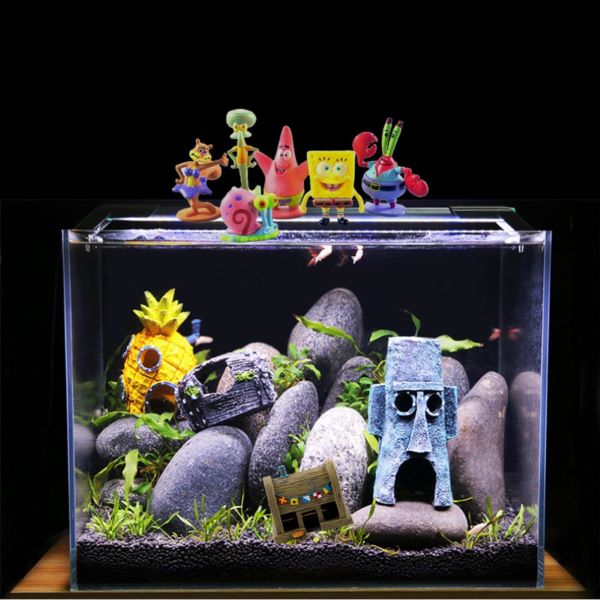 Apart from classic decoration ideas using natural materials, designing your fish tank can be a heap of fun when you add fish tank ornaments into the mix! You can find fish tank ornaments of your favourite characters such as Sponge Bob Square Pants ornaments (available on babylove2019.sg) and Hulk (available on Screw wholesale). These will surely be a hit for your little ones, or if your partner is a Marvel fanatic. 
You can also find options like a skull model (available on lsllb.sg) for Jurassic World vibes — bury it in black gravel and scatter plastic bones across to mimic a monochromatic excavation site! If you prefer a dreamy aesthetic, get the Castle Ornament (available on totopop.sg) that looks straight out of a Disney movie! Alternatively, turn it into a playground for your fish with a Clay Pot Refuge (available on Ultimate Aqua).
6. Make it minimalist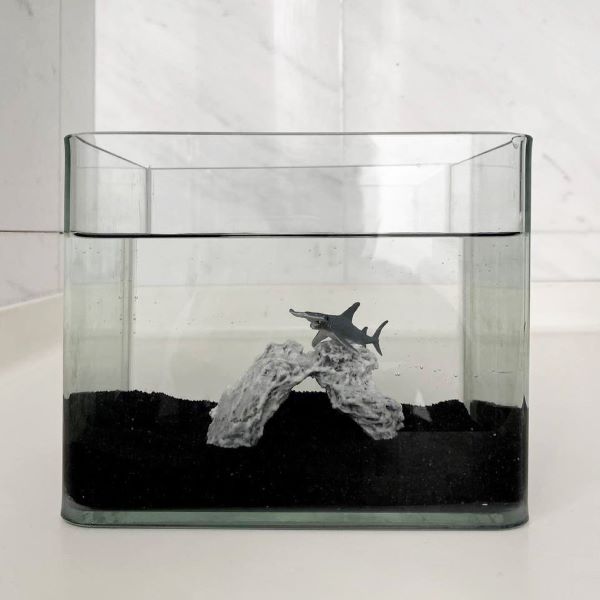 While it is common to see fish tanks heavily adorned with plants and ornaments, simple fish tank designs are equally stunning. These are perfect for minimalist homes, and can make for a great centrepiece. To create an avant garde setup that looks like a piece of art, go for a Black Lava Rock (available on builtech_enterprise) or a white one.
Juxtapose it against a contrasting colour for your bedding. We recommend using Natural White Turquoise Gravel (available on ziqidonglai), Dark Grey Natural Gravels, or Angel Slate Stones (both available on Stone Garage Singapore).
7. Adorn it with crystals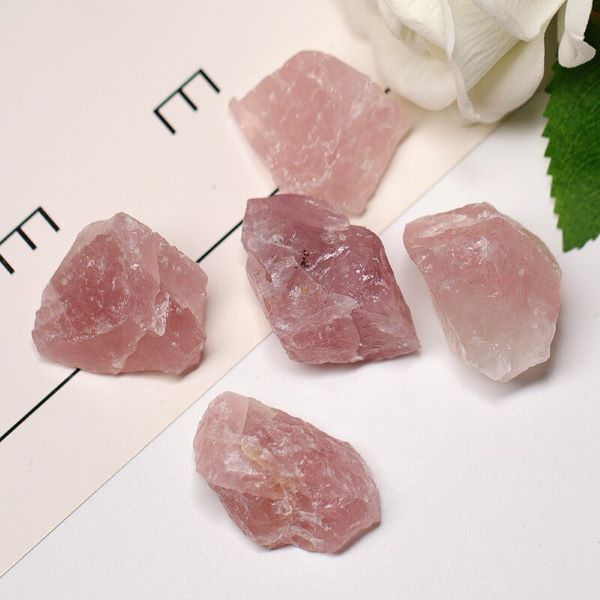 Crystals are known to be healing stones. Not only do they emit tranquility, they also make your fish tank design even more aesthetically charming. However, do note to only use crystals that are aquarium safe. We highly recommend using Rose Quartz (available on Moonbite Crystals) which helps to cleanse and promote positive energy and Aquamarines (available on Natural Stone Beads.sg) to instill peace.
8. Add personality with your favourite objects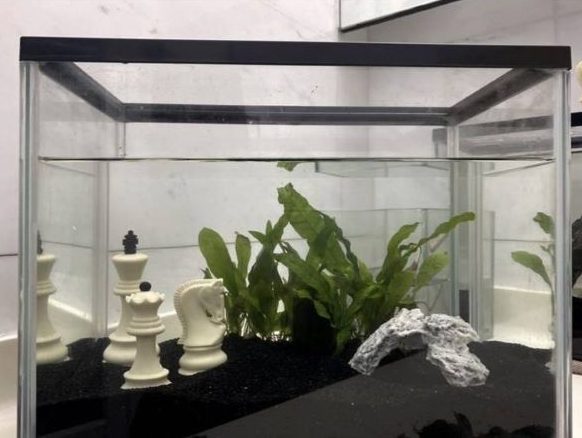 The possibilities are endless when it comes to fish tank decoration ideas. One decoration idea to consider is to utilise objects that represent you or your favourite hobbies (think mahjong tiles and chess pieces). For this DIY project, you'll need some Aquascaping Glue (available on Living Shrimply) and Aquarium Mosaic Tiles (available on fidtriharis.sg) to create a fish tank design that shouts your personality. With some patience, you can even create a villa or a cafe with tiles and ornaments!
9. Use a backdrop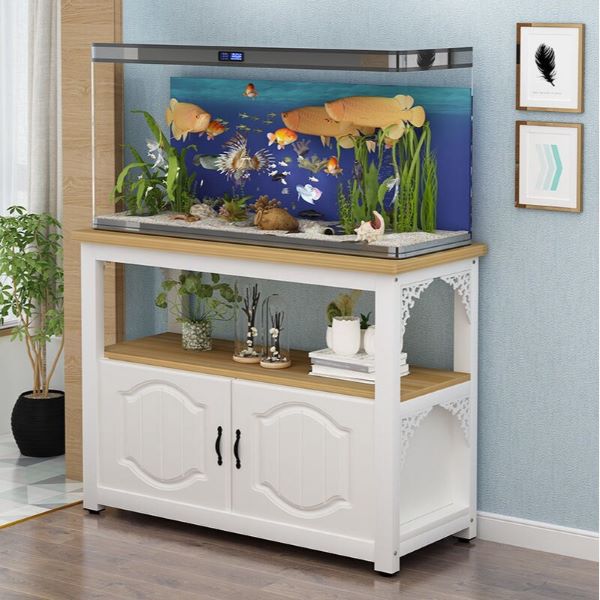 To complete your fish tank design, we recommend pasting a background at the back of your fish tank. This is a great decoration idea that allows you to create the setting you want — such as an ocean or a garden. Apart from that, fishes like to have hiding spots, and seeing a glass reflection makes them feel unsafe. Therefore, having a backdrop makes the aquarium more comfortable for your pet fish! You can get a variety of Natural PVC Backdrops (available on FunPetAqua.sg) as well as Plain Black Background Stickers (available on bakulstickerwo4.sg).
10. Use tank lights for gentle illumination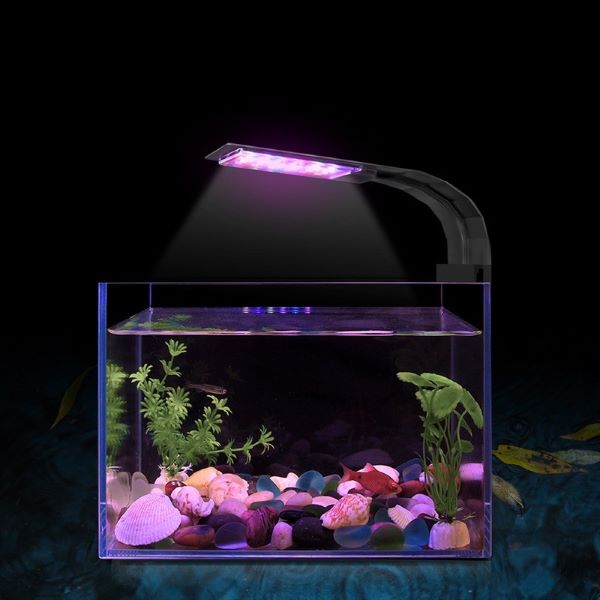 For a finishing touch, utilise fish lights to put a spotlight on the fish tank design you've decorated. Fish lights not only make your very own marine exhibit visible at night, they are also an essential part of your fishes' growth! For instance, lighting helps live plants in your aquarium to photosynthesis, boosting oxygen levels. Opt for an LED Fish Light (available on Tophouse1.sg) as they do not produce heat and will not affect the water temperature.
Decorate your home aquarium with these fish tank design ideas
Let your imagination run free with these fun fish tank design tips! For those with the young'uns, this makes for a great educational opportunity and family bonding activity. Looking for more ways to spruce up your home with nature? Check out the best indoor plants for your home and office. Have a fur kid at home? Read our home decor tips to pet-proof your home!