Crispy, golden skin. Juicy, tender meat. It's little wonder that fried food has its die-hard fans. There's no need to be coy about admitting your love for fried food. However, it's hard to fully enjoy a plate of fried chicken when you're busy worrying about the extra inches it'll add to your waistline! Here's when an air fryer comes in handy.
Touted as a healthier alternative to traditional methods of frying, air fryers can reduce the oil in your food by up to a whopping 80%. Here are some of the best air fryers in Singapore that deserve a spot in your kitchen for delicious, guilt-free fried food.
Best air fryers in Singapore under $100 
1. Mayer Air Fryer MMAF3000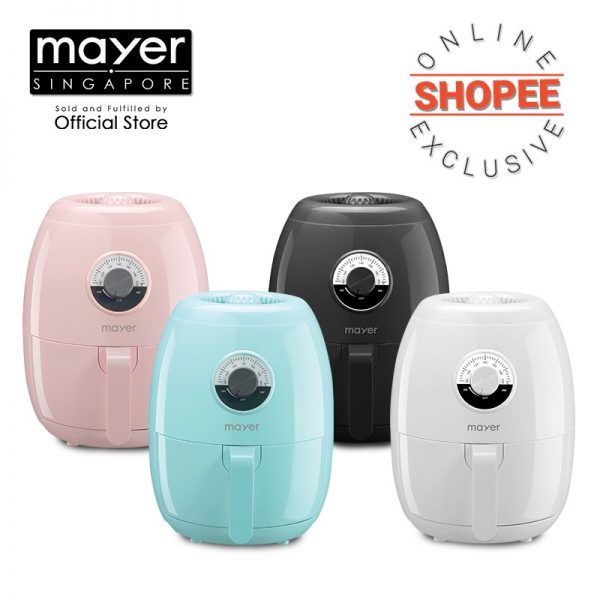 [/su_button]
This sleek and compact Mayer Air Fryer MMAF3000 (available on Mayer Official Store) that's exclusively available on Shopee is the best air fryer in Singapore for anyone who cares about home aesthetics! Besides having a wide temperature range of 80 to 200-degree Celsius, this air fryer also comes with overheating protection, a cool-touch handle and non-slip base so you don't have to worry about overcooking your food or accidentally scalding yourself! The basket tray can also be removed to thoroughly clean leftover grease and food crumbs. What's best about this cheap Mayer air fryer is that it comes in two colours — pink and mint which can give your kitchen a pastel pop of colour!
2.
Airbot Air Fryer AF550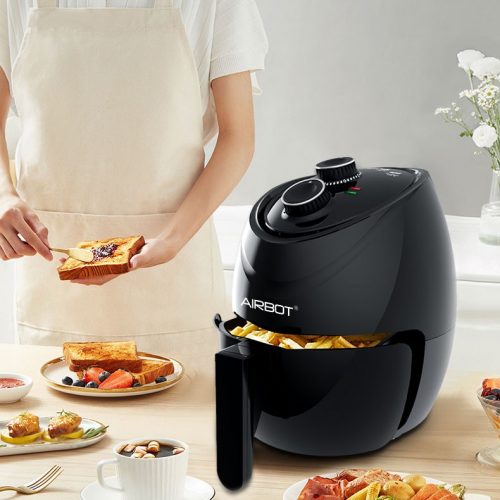 Looking for a budget friendly air fryer in Singapore that also boasts a large capacity? This Airbot Air Fryer AF550 (available on Airbot Singapore) that has a 5.5L capacity ticks those boxes! With the rapid air technology that circulates air around the entire unit without oil, you can now enjoy delicious fries and meals in a healthier way. What's more, this Airbot air fryer also comes with an adjustable temperature of up to 200-degree Celsius and a 30-minute timer that will automatically shut off once the timer is up. The pot is also coated with non-stick coating, making cleaning up less of a hassle. Bring out your inner Masterchef with one of the best cheap air fryers in Singapore! 
3. PowerPac PPAF36 Air Fryer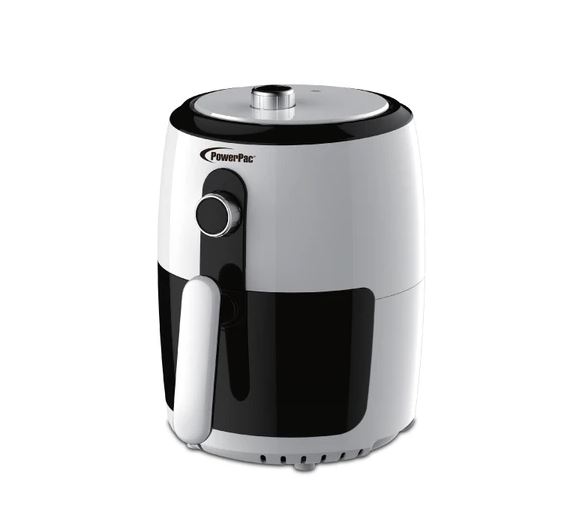 Powerpac's PPAF636 Air Fryer (available on PowerPac Official Store) is small, functional and one of the best air fryers in Singapore in terms of affordability. It's so compact, it'll barely take up any countertop space! Don't be fooled by its small size though, it's powerful enough to fry a serving of chicken nuggets at one go! Clean up is also made easier thanks to its dishwasher-safe tray that is removable. Overall, this PowerPac air fryer is a great budget option if all you need is a simple air fryer that's just right for feeding two.
4. Mayer MMAF89 Air Fryer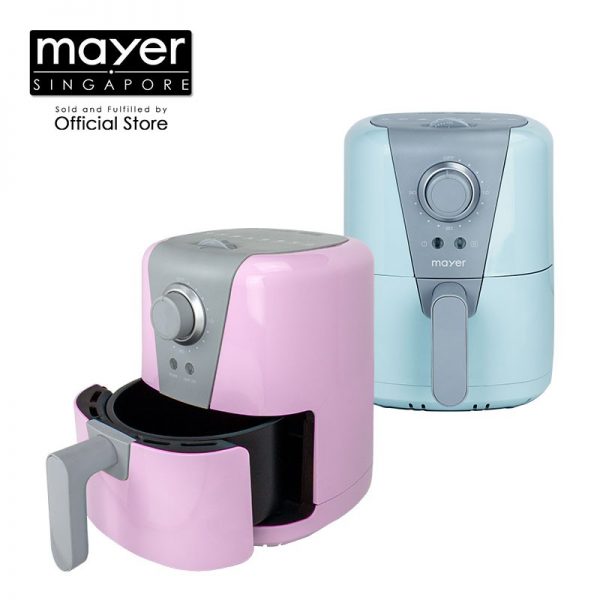 As the saying goes, big things come in small packages is definitely the case for Mayer's MMAF89 (available on Mayer Official Store)! Utilising Mayer's patented rapid air circulation technology, the MMAF89 whips up healthier, guilt-free fried food in a shorter time. Apart from its budget-friendly pricing, this air fryer also gives a dash of style in your kitchen appliances. Available in pastel pink and mint colours, this cheap Mayer air fryer can easily spice up your kitchen decor with their eye-popping colours!
5. Airbot AF200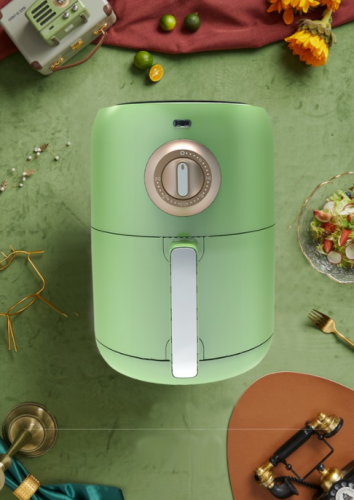 If you're a stickler for aesthetics, you definitely have to grab the Airbot AF200 Air Fryer (available on Airbot Singapore) This mini compact 2.5L air fryer comes in a mesmerising green body with rose gold handles, and is perfect for small families where you can store them away easily in the corner of the kitchen!
On top of that, it offers a rapid pre-heating function in 1 minute so you can enjoy your food warm and fast, plus resistive coil that allows it to be 25% more power efficient. Cooking never felt easier than this!
6. EuropAce EAF5450V Air Fryer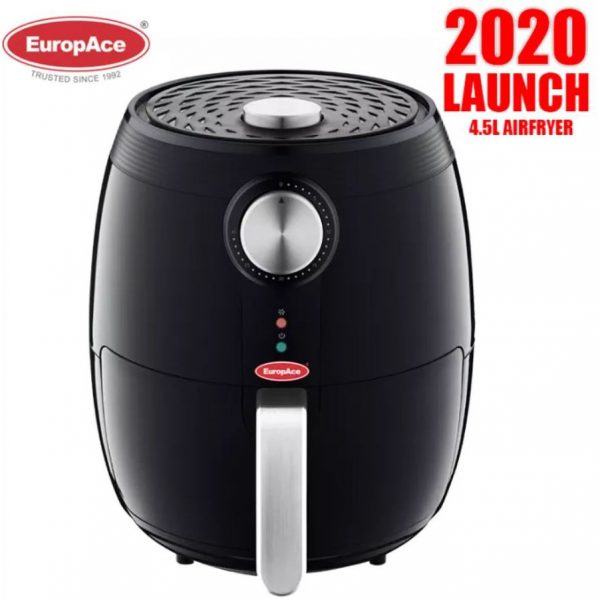 As a popular kitchen appliance brand, EuropAce's line of air fryers in Singapore is certainly reliable. If you're looking for a cheap air fryer with a sizable capacity then consider the EuropAce Air Fryer EAF5450V (available on Europace Official Store). At 4.5L, it'll be suitable for feeding five people at one go.
Other notable features of this model include a non-stick basket for easy cleaning, three-dimensional air circulation and a temperature range of 80 to 200-degree Celsius that's perfect for frying food like chicken wings!
7. Mayer MMAF88 Air Fryer
Mayer's MMAF88 (available on Mayer Official Store) is definitely one of the best air fryers in Singapore when considering mid-range and value-for-money models. It boasts a rapid air circulation technology which allows food to be cooked with up to 80% less oil than traditional frying methods while retaining the same great taste of your favourite french fries. Best of all, thanks to the air fryer's non-stick inner pot, you can even get away with light clean up! For more forgetful users, the MMAF88 will automatically switch off once cooking is complete.
8.
Aztech AirCook AAF7630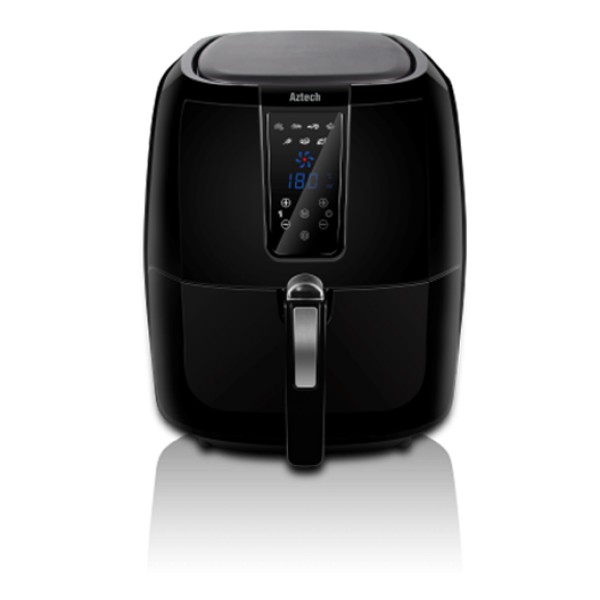 With Aztech AirCook 5.5L AAF7630 (available on Kyla by Aztech Official Store), you'll be able to cook enough to feed a party of guests with this air fryer in Singapore. Packing a 5.5L cooking pan, roast, fry and even bake to your heart's content with the amount of space available! In addition to its huge capacity, the Aztech air fryer even offers a digital LED display and touch screen interface so you can be in full control of the cooking process. For air fryer beginners, simply toggle with the seven available presets that cater to different food types like frozen seafood and you'll be good to go!
Best air fryers in Singapore under $300 
9. Philips Daily Collection Airfryer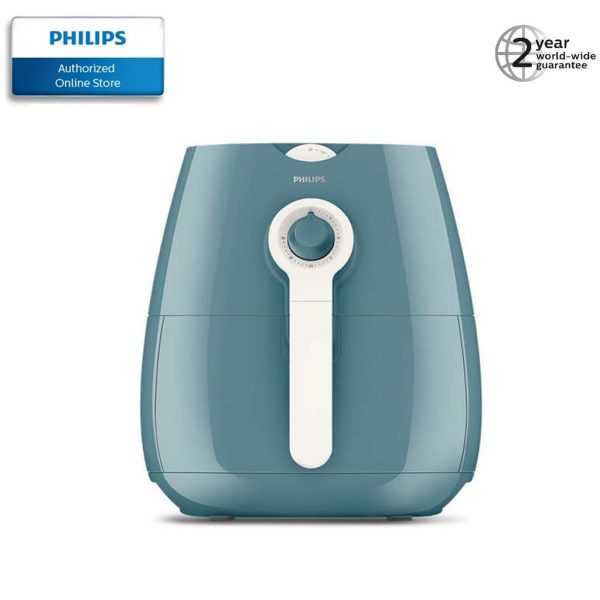 Unsure of what types of food you can offer for a houseparty? Preparing convenience food like dumplings with the Philips Daily Collection Airfryer (available on Philips Certified Store) in your kitchen. Using Rapid Air technology to evenly cook the contents with hot air, you'll have no problems whipping up a feast with this air fryer. Given its ability to bake, roast and grill on top of regular frying capabilities, you'll have tonnes of fun exploring different cuisines and trying out different air fryer recipes with Philips air fryers!
Best premium air fryers under $600
10. Tefal Actifry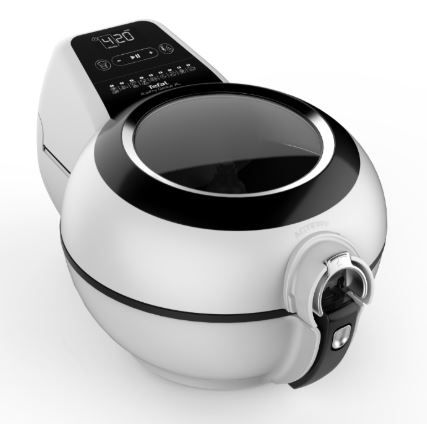 Don't be put off by its price point — the multitude of benefits offered by Tefal's ActiFry air fryer (available on Spectrum.sg) definitely justifies it! Widely praised among kitchen experts for being one of the best air fryers in Singapore, the ActiFry will blow your expectations with its superb culinary know-how.
Straying from conventional basket designs, the Tefal air fryer consists of a 3.5L bowl and a paddle that cooks the food evenly in the hot air! You'll be amazed at how easy cooking is when taking advantage of its Dual Motion Technology and unique settings like Wok and World Food that allow for complete meals to be prepared at one go.
11. Philips Premium Airfryer XXL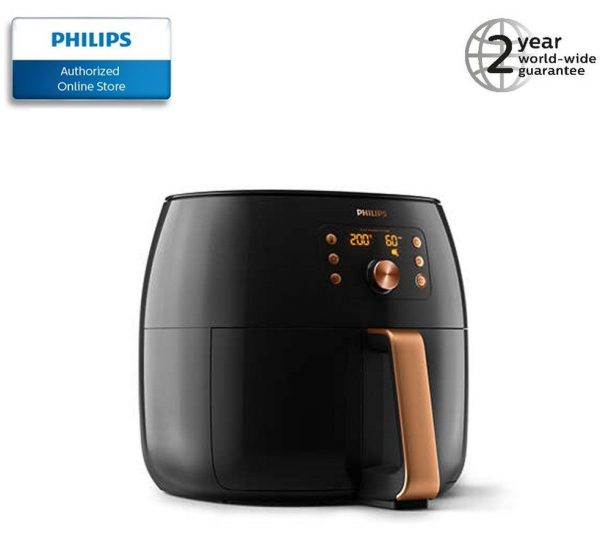 Being a renowned household appliance brand, you can certainly expect Philips to up the ante when it comes to air fryer technology and producing some of the best air fryers in Singapore. Leveraging upon its revolutionary Smart Sensing technology, the Philips Premium Airfryer XXL (available on spystrade) changes the way you cook large-scale family meals! By automatically adjusting the time and temperature required to perfectly cook your food, you can effortlessly channel your inner Gordon Ramsey with a few taps.

Pressed for time? The Airfryer XXL utilises Rapid Air to create seven times faster airflow than conventional air fryers to supercharge the cooking process. If you're health conscious, don't fret — the air fryer automatically separates and captures excess fat with its Fat Removal technology! The end result is perfectly cooked food complete with crisp skin and tender meat that's free from excess grease.
Say goodbye to cholesterol-laden fried food with these best air fryers in Singapore
It's not hard to see why air fryers are gaining popularity in Singapore given their sheer versatility and health benefits associated with them! Even if you're no kitchen ace, these best air fryers are sure to give you a hand as you're experimenting with recipes and cooking up your favourite dishes. Feeling uninspired because you're lacking the necessary ingredients? Why not check out these meat delivery vendors in Singapore that offer delivery of ingredients to your doorstep for your next stay-home culinary feast! Once you've bought these air fryers, put them to the test by referring to these easy Korean recipes and meal prep ideas. Get inspired and make cooking easy and fun today!
Our July Brands Festival is happening from 15 July to 27 July 2021, so head over to grab the best deals and offers on your favourite brands now!
This article was updated on 12 July 2021. Additional research done by Jaslynn Yeo.
---
New to Shopee? Get $7 off (min. spend $15) with code*: AIR7FRYER* TNC Applies. Valid for new users from 16 to 23 July 2021 only.