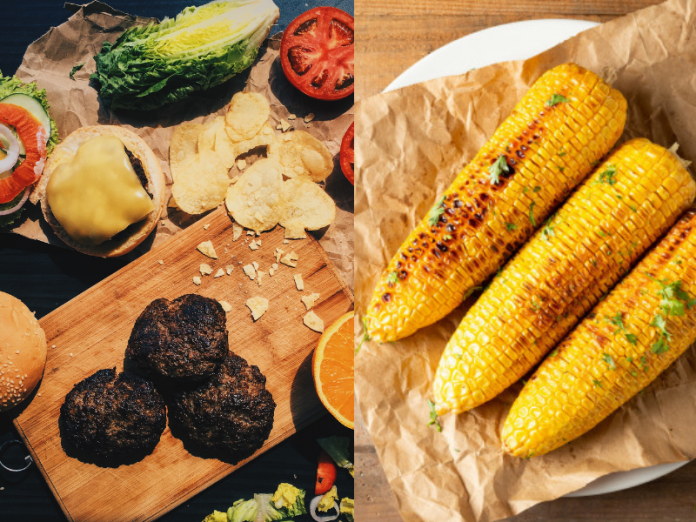 If you're on a diet but can't imagine living in a world without fried food, consider preparing your meals with an air fryer! It's an alternative cooking method that is healthier than deep frying. Better yet, air fryers will prepare your meals in a neat and timely fashion – some air fryer recipes don't take more than 15 minutes! So if you're keen on dishing out a mean air fryer cuisine, here are 9 easy air fryer recipes that even beginner cooks can whip up with ease!
1. Air Fried Bagels [Time Taken: 11 – 12 Mins]
https://www.instagram.com/p/BhFEleYlfoM/?tagged=airfryerrecipe
The air fried bagels make a good air fryer recipe to begin with. The recipe features a simple set of ingredients. It doesn't have any complex cooking techniques either. Just lay out the right mix of ingredients, roll up the flour to the optimal thickness and let the air fryer do its magic! We recommend making a couple of these bagels for breakfast along with a strong brew of your favourite coffee!
2. Air Fried Potato Chips [Time Taken: 15 Mins]
https://www.instagram.com/p/BnJnstthT_M/?tagged=airfryerrecipe
Need something even simpler? How about this air fryer recipe for potato chips? This dish features an even simpler set of ingredients BUT takes some skill to get the right mix of flavours with the various spices. If you aren't looking for anything funky, you can try out the recommended flavours like BBQ, Chipotle Ranch and Cheddar Sour Cream!
3. Air Fried Eggplant [Time Taken: 5 – 7 Mins]
https://www.instagram.com/p/BnJcDGEB6Dh/?tagged=airfryerrecipe
Afraid of carbs? Try out this eggplant air fryer recipe. It's healthy AND delicious. The best part about this recipe is that it doesn't require oil at all – perfect for folks who are looking to cut down a few extra calories! Other than the breadcrumb coating, you can choose any form of spice to sprinkle on this comforting snack. You can even enjoy it without the guilt since you're technically munching on a vegetable.
4. Buffalo Chicken Egg Rolls [Time Taken: 14 Mins]
https://www.instagram.com/p/BnHIEx2lNMy/?tagged=airfryerrecipe
Pump up the protein! And some good fat of course. This air fryer recipe is ideal for hardcore meat lovers on a diet. You'll find that meals like these are a beacon of hope on your journey to a healthier lifestyle. Try making some of these buffalo chicken egg rolls as a cheat snack or even a protein replenishment after a good workout session. It's definitely an air fryer recipe that will provide a quick boost to your day!
5. Ranch Zucchini Chips [Time Taken: 5 – 6 Mins]
https://www.instagram.com/p/Bm_SP1WAP7h/?tagged=airfryerrecipe
Here's another guilt-free snack, ranch zucchini chips! This air fryer recipe also makes for a great party snack! After all, a typical zucchini can provide more than enough slices to serve up a small gathering of friends. You can also try various types of sauce dips to go with your zucchini chips! We recommend the roasted red pepper hummus, as it provides a nice mushy texture that adds a little spice to your chips!
6. Bacon & Cheese Egg Bites [Time Taken: 9 Mins]
https://www.instagram.com/p/Bm3gkDxlRrA/?tagged=airfryerrecipe
This is a match made in heaven. Bacon alone is enough to satisfy any meat lover. But bacon AND cheese? Wow… If you love the salty flavours of bacon along with the mix of cheese then this is the air fryer recipe for you! You can even try air frying them in cupcake holders – forming a shape that's perfect for a packing! Try this dish as a light alternative for lunch or maybe as a little afternoon snack!
7. Corn On The Cob [Time Taken: 8 Mins]
https://www.instagram.com/p/BmwcTjRghrZ/?tagged=airfryerrecipe
Who can ever say no to corn on the cob? Although a simple dish, it packs loads of flavours that is sure to satisfy anyone's taste buds. Corn is often cooked using traditional methods, but you can also consider giving it a run through the air fryer! This recipe works for those looking for a gluten-free food option as well!
8. Crispy Pizza Ravioli [Time Taken: 6 Mins]
https://www.instagram.com/p/BmhQN3IlCuq/?tagged=airfryerrecipe
If you need another creative mix, allow me to introduce the crispy pizza ravioli! The crispy pizza ravioli is an air fryer recipe that mixes in the scrumptious flavours of a pizza into a piece of fried ravioli. If the flavours of this snack isn't enough for you, try pairing it up with some marinara sauce. The delicious dip has a flavour that complements the cheese-y mix of the pizza ravioli.
9. Air Fried Rice with Teriyaki Edamame & Pineapple [Time Taken: 15 Mins]
https://www.instagram.com/p/BmHdWovg_dt/?tagged=airfryerrecipe
Can't live without rice? Well, here's an air fryer recipe that includes your favourite ingredient! This is also a dish for folks who like their dishes on the sweet side. The teriyaki sauce and pineapple promise a touch of sweetness that goes well with a hearty bowl of rice. The inclusion of edamame provides an added crunchy texture that complements the softness of the rice.
Hungry for more healthier food options?
Other than air fryer recipes, you can also consider other unique cooking tools – like sushi makers and pressure cookers – to help you whip up a meal in 15 minutes! If you need even more recipe ideas, check out our guide on quick and easy meal preps for folks who're looking to control their daily diet, or cool Nestlé Recipes every Singaporean ought to try once.
Alternatively, you can consider dining at one of Singapore's many vegan and vegetarian food outlets. These food places provide some of the most savoury dishes that are rich in vegetables – a bonus if you're looking to add more greens into your diet.
Psst, did you know that the Shopee 10.10 Brands Festival is happening from 21 Sep to 10 Oct? Besides huge discounts from some of your favourite brands like Samsung, you can also enjoy Million $ Discounts off products from Apple, Dyson, SK-II and more!
In addition, Shopee's Super Mart Sale will be happening from 26 Sep to 1 Oct! Don't miss out on the attractive deals up to 70% off and collecting 12% Cashback vouchers for you and your friends!
This article was updated on 23-09-2020. Additional research was done by Lydia Ng. 
---
New to Shopee? Get $7 off (min. spend $15) with code*: 9AIRFRY
* TNC Applies. Valid for new users from 27 Sep to 4 Oct 2020 only.