Mousepads are the unsung heroes of any gaming setup. While they might not be as prominent as your mechanical keyboard or gaming mouse, there's plenty of nuance that goes into buying the best gaming mousepads. From cloth-stitched mousepads that allow for maximum control to hard mousepads that emphasise quick flicks, it comes down to personal preference when deciding which is best for you. From Razer to Steelseries, here are the best gaming mousepads to optimise your in-game performance!
What to consider when choosing the best gaming mousepads
Mousepad materials have progressed since its humble frayed cloth beginnings. Think cordura fabric for extra grip, to smooth plastic that lets your mouse freely glide across its surface. If you prioritise frictionless and reflex-based mouse movements, hard pads will be perfect for you. More of someone who needs pinpoint accuracy? Soft mousepads will be right up your alley! For a more in-depth comparison, check out the video above.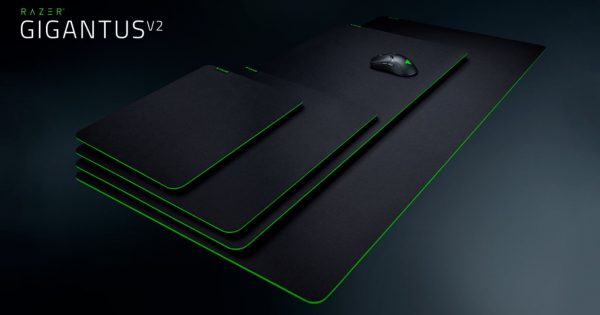 Unless you're limited by your desk space, bigger is better when comparing the best gaming mousepads! If you're someone who games on lower mouse sensitivity, you'll appreciate the extra space allowance as you track and flick to your targets. Also, extended mousepads and mats accommodate all kinds of mouse grip styles with their additional space, so claw and fingertip grip gamers won't feel left out.
Fess' up — gaming sessions mean you're often at your PC for long hours. During this time,  things like dirt, sweat and water droplets can build up on your gaming mousepad. If you're one who doesn't want to spend too much effort on cleaning your set up, hard mousepads are extremely easy to clean — just rub a wet cloth on its surface and you're done! Conversely, while soft cloth-based mousepads are great for pinpoint accuracy, they do require a bit more care as you'll need to rinse and air-dry them before lightly scrubbing off any dirt with a microfibre cloth.
Best gaming mousepads for all kinds of gamers
1. Logitech PowerPlay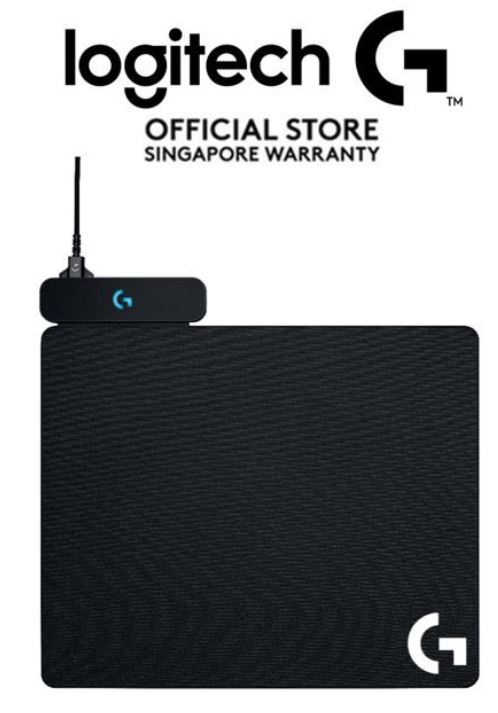 The worst thing that can happen while you're gaming is for your wireless gaming mouse to suddenly run out of battery mid-game. Fortunately, with best gaming mousepads like Logitech PowerPlay (available on Logitech G Official Store), you can keep dead batteries at bay. Whether you prefer hard or soft mousepads, Logitech has you covered with its interchangeable cloth and plastic surfaces that'll charge up your PowerPlay-compatible mice. Worried about how the PowerPlay mat's constant charging will ruin your mouse's battery in the long run? Logitech has incorporated a charging limit that keeps battery levels between 85 and 95 percent so battery cycles are optimised for your wireless mouse.
2. Razer Goliathus Speed Pikachu Limited Edition Bundle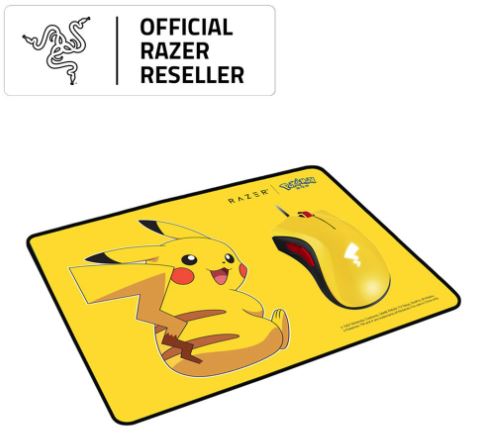 Big fan of Pokemon? Make sure you add Razer's Goliathus Speed Pikachu Limited Edition Bundle (available on Razer Flagship Store) to your collection of Pokemon merchandise. Just like your favourite Pokemon mascot, the Razer Goliathus Speed mousepad lets your mouse glide over speedily thanks to its smooth and taut weave. This lets you nail those awesome flick shots while still maintaining control over your mouse's movement! Also, if you're shopping on a budget for a gaming setup, this best gaming Razer mousepad bundle has you covered with its yellow version of the fan-favourite Razer Deathadder Essential.
3. Corsair MM350 Pro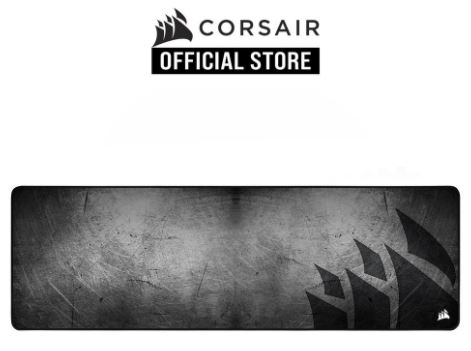 If you're all about that gaming setup aesthetic, Corsair's MM350 Pro (available on Corsair Official Store) will fit your needs. Unlike the rest of these best gaming mousepads, the MM350 Pro deviates from the usual all-black look with its grey graphic that's both minimalist and eye-catching. As the design is printed on, the MM350 Pro won't obstruct your mouse or fade with time. Also, you'll never need to fret about running out of space as this extra large Corsair mousepad is 930mm long and 400mm wide! Low mouse sensitivity gamers can rejoice as you can make huge sweeping movements without repeatedly needing to lift your mouse.
4. Steelseries QcK Edge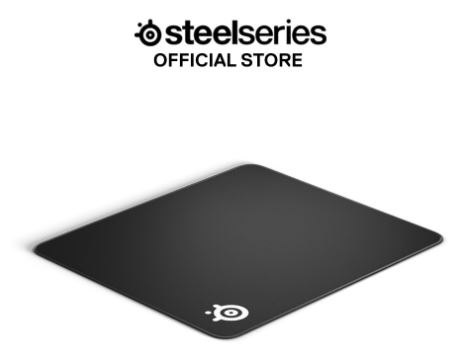 The Steelseries QcK Edge (available on Steelseries Official Store) is perfect for you if you're tired of the gimmicks that accompany some of the best gaming mousepads. Since 2001, Steelseries mousepads have established themselves as the go-to for gamers wanting to up their performance. With lifetime sales breaching the 10 million mark, it's safe to say Steelseries's QcK mousepads offer a unique, no-nonsense formula that's popular among pro gamers. With the QcK Edge, your mouse will be gliding on micro-woven cloth with stitched edges so there won't be any fraying! Ultimately, this combination allows for maximum mouse control and durability, letting you use the QcK Edge for years to come.
5. BenQ Zowie P TF-X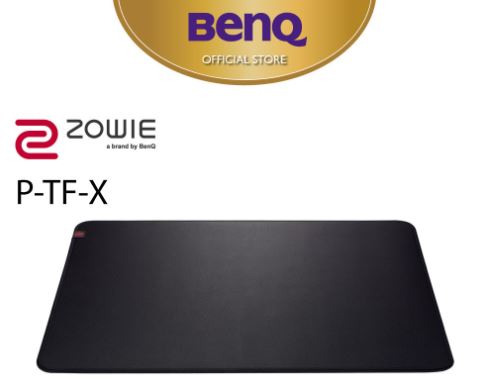 Cloth? Plastic? Why not both! The BenQ ZOWIE P TF-X (available on BenQ Singapore) features the unique hybrid of cloth and plastic materials. This allows for one of the best gaming mousepads that nail that middle ground between control and speed! From letting your mouse glide across your mousepad with minimal stopping power to offering enough friction for micro-adjustments, you'll love how the P TF-X offers the best of both worlds. Combine all this with artisan-level stitched edges and you have a versatile gaming BenQ mousepad for FPS games that'll suit all kinds of gamers.
6. Logitech G440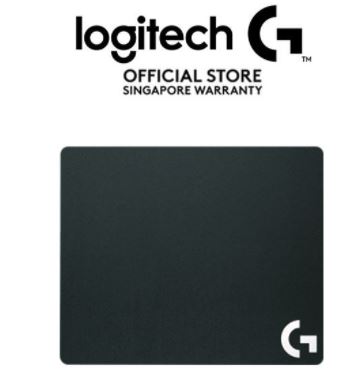 While most best gaming mousepads in Singapore are soft and cloth-based, the Logitech G440 (available on Logitech G Official Store) offers the alternative of being hard and optimised for lightning-fast flicks. If you're already an ace in placing your crosshair and tracking your enemies, the G440 hard mousepad lets you practice those highlight-worthy reaction shots thanks to its slick material. Additionally, the G440's low friction surface ensures your gaming mouse's feet and cables don't get worn down over time.
Psst, are you a messy eater? Get the G440 clean in a jiffy! The non-absorbent material makes the mousepad easy to clean with a single wipe.
7. Razer Goliathus Chroma Extended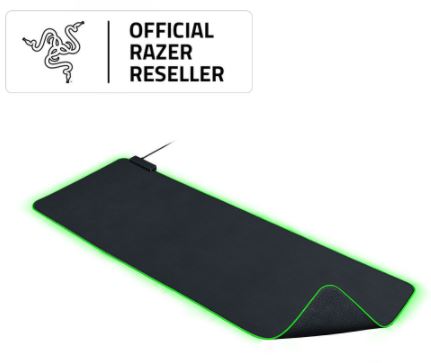 Can't get enough of that Red-Green-Blue goodness? Why not complement your RGB gaming mouse and keyboard with the Razer Goliathus Chroma Extended (available on Razer Flagship Store)! With more than 16.8 million colours, the Goliathus Chroma Extended makes use of Razer's proprietary lighting system to deliver unique RGB customisation. Bonus points if you own other Razer gaming gear and synchronise them! Can't decide between control and speed? This Razer mousepad utilises a micro-textured surface that offers both so you'll game in comfort!
Fragging out with these best gaming mousepads
From the e-sports ready quality of QcK mousepads to the wireless convenience of Logitech PowerPlay, we hope our recommendations have helped in your search for the best gaming mousepads! Interested in other types of gaming accessories? Complete your gaming rig with these best gaming monitors and best gaming mouse models.