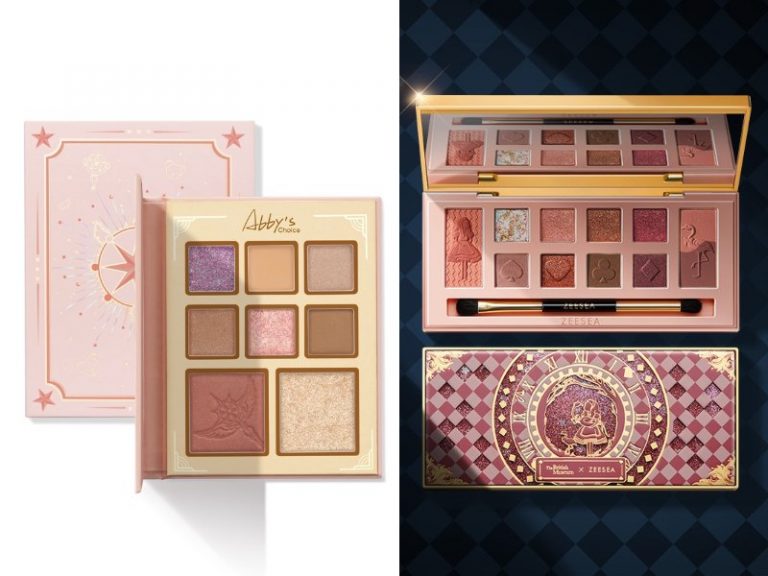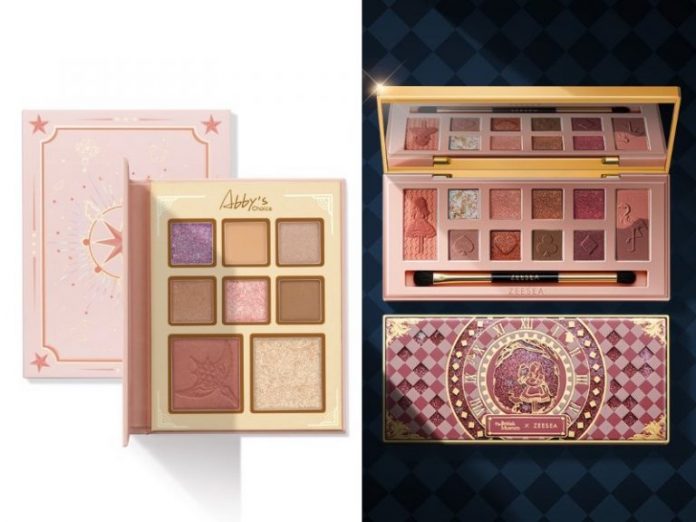 There's been plenty of spotlight on Korean beauty brands, but we're noticing a rise in C-Beauty with up and coming Chinese brands Perfect Diary and Zeesea. Affordably priced and dressed in super pretty packaging, it's no wonder these domestic labels are highly talked about among top beauty bloggers in China! We review Perfect Diary and Zeesa to find out what's the hype behind their top-selling products like the Perfect Diary eyeshadows and Zeesea powder!
Perfect Diary review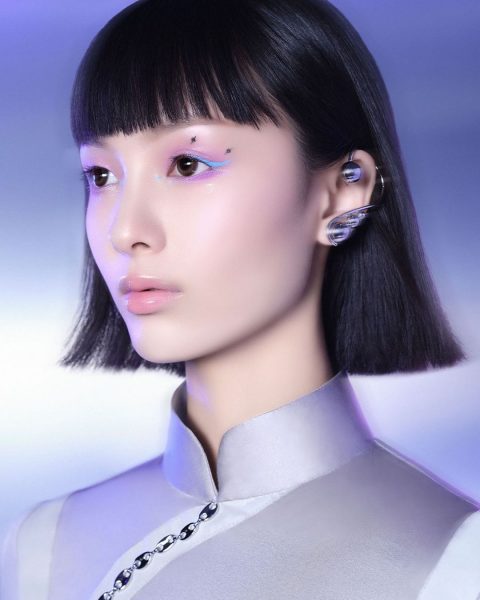 Whether you're looking for cosmetics that are unconventional or wanting to incorporate bold colours into your makeup looks, Perfect Diary will be right up your alley! Established in 2017, Perfect Diary is an award-winning makeup brand owned by Guangzhou Yatsen C-commerce Company Limited. The brand carries an extensive range of cosmetic products that feature creative colours and packaging, a hit among the younger generation!
Even China's famed 'Lipstick King' Li Jia Qi sung praises for the brand's products! Read on for our review of the top five must-buy products from Perfect Diary!
1. Perfect diary x Sanrio Weightless Soft-velvet Blurring Loose Powder Set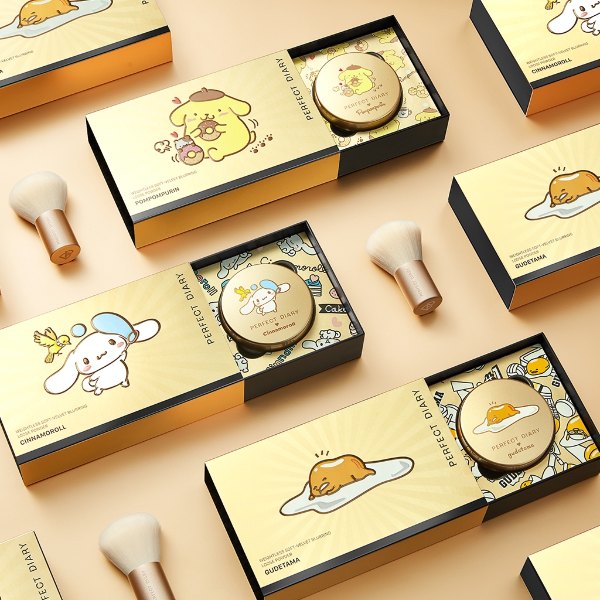 Can we take a moment to appreciate how cute the packaging is for the Perfect diary x Sanrio Weightless Soft-velvet Blurring Loose Powder Set (available on Perfect Diary Official Shop)? In collaboration with Sanrio, Perfect Diary released these adorable loose powders featuring our favourite characters like Gudetama, Pompompurin and Cinnamoroll! The set not only comes with the brand's signature loose powder, but also a fluffy kabuki brush for convenient application. This loose powder is perfect for those with combination to oily skin as it boasts superb oil control properties. The powder is ultra-fine and will help your makeup last longer and minimise the appearance of pores. You can get the Weightless Soft-velvet Blurring Loose Powder in three shades — translucent, fair and natural — to match your skin tone!
2. Perfect Diary Glamour Select Velvet Liquid Lipstick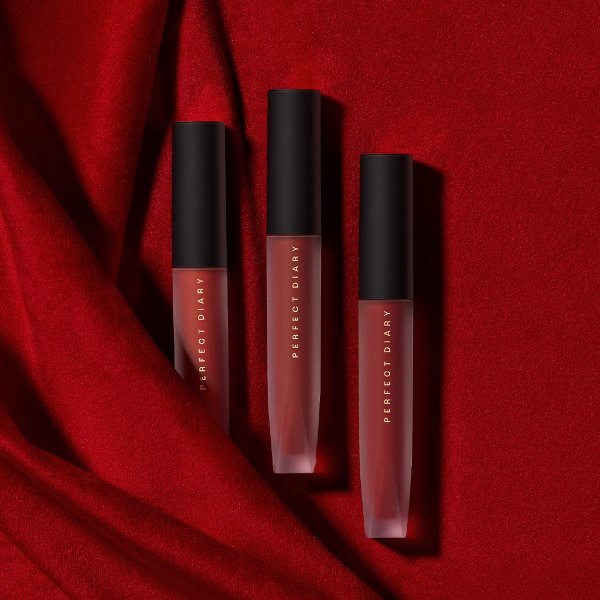 Another one of brand's best-seller is the Glamour Select Velvet Liquid Lipstick (available on Perfect Diary Official Shop). Velvet liquid lipsticks are nothing new in the beauty industry. They deliver a soft matte finish with longer-lasting power than regular lipsticks. However, what sets the Perfect Diary Glamour Select Velvet Liquid Lipstick apart from the rest is how it feels on the lips. The consistency of this liquid lipstick is so light, you'll forget you're wearing anything on your lips! Plus, the moisturising formula will not dry out your pout. However, the downside to having a more hydrating formula is that this liquid lipstick isn't transfer-proof. So think twice before kissing your partner on the cheeks! 
To cater to the Asian market, all of the shades in the range are specially designed for Asian skin tones. The hottest shade is V08, a soft beige pink colour that's great for everyday wear. Meanwhile, those into bolder lip colours will like V01 — a chilli red shade that will bring radiance to your complexion! 
Pro Tip: Transit your makeup from day to night easily with the Perfect Diary Glamour Select Velvet Liquid Lipsticks! In the day, apply a thin layer of liquid lipstick to your inner lips for a natural gradient lip effect. And when it's time to party at night, layer on the liquid lipstick till it's fully opaque for a strong and vibrant colour! 
3. Perfect Diary Fancy Carp Eyeshadow Palette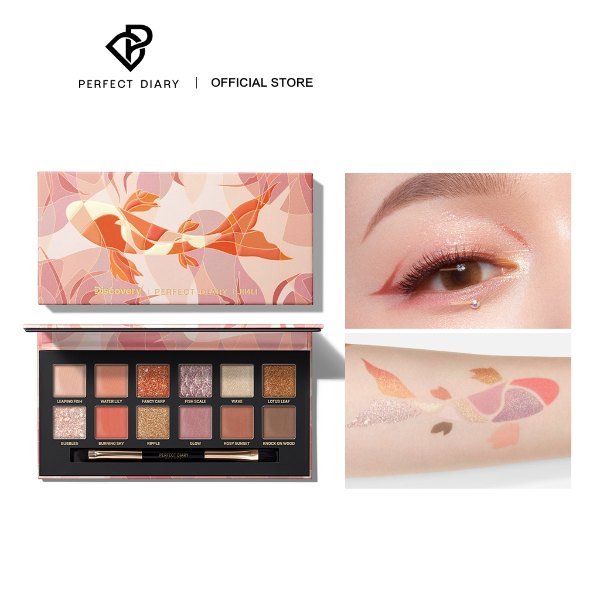 New to Perfect Diary and looking to make your first purchase from the brand? We highly recommend starting your collection with the Perfect Diary Fancy Carp Eyeshadow Palette (available on Perfect Diary Official Shop). The carp represents good luck in Chinese and its glorious sunset hues are the main inspiration for this palette. There are 12 highly pigmented eyeshadows in this Perfect Diary palette — five soft mattes, three duo-chromes, three shimmers and one pressed glitter shade. The combination of orange, peach pink, brown and purple hues make for an array of creative looks. You'll never get bored of this Perfect Diary eyeshadow palette! 
Moreover, the shades are a dream to blend and have minimal fallouts. To get the best results from 'Bubbles', the pressed glitter shadow, we suggest patting it onto your lids with your fingers rather than a makeup brush. This application method helps the glitters to adhere nicely on your lids and give a dazzling finish to your overall makeup look! 
4. Perfect Diary Star Dust Diamond Highlighter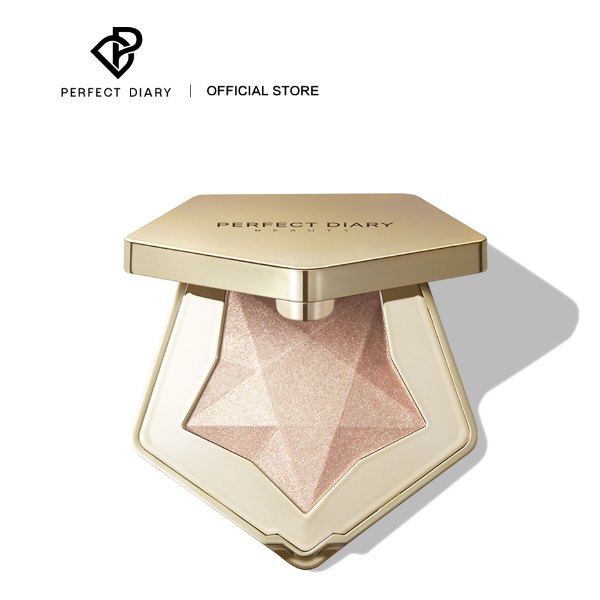 Make your features pop with the Perfect Diary Star Dust Diamond Highlighter (available on Perfect Diary Official Shop)! Dusting a little highlighter on the highest points of your face — forehead, brow bone, nose tip, cheekbones, cupid's bow and chin — can make all the difference! This ultra-sparkly highlighter comes in four beautiful shades. If you can't decide on the shade to purchase, we highly recommend going for the 02 Light Champagne highlighter. Featuring a yellowish-beige shimmer sheen, this highlighter is the perfect fit for warm and neutral Asian skin tones. 
The Perfect Diary Star Dust Diamond Highlighter is unlike the usual metallic highlighters we often see from Western makeup brands. Highlighters with metallic hues can be a little too dramatic. The Perfect Diary highlighter, however, adds only a layer of light-reflecting micro shimmer to achieve a radiant glass skin effect!
5. Perfect Diary Cardcaptor Sakura Charm Gift Set 
Always been a huge fan of the Japanese shōjo manga series, Cardcaptor Sakura? You can now unleash your magical powers with this gorgeous Perfect Diary Cardcaptor Sakura Charm Gift Set (available on Perfect Diary Official Shop)! It comes with a Perfect Diary eyeshadow palette, pressed powder, lip cream and a pair of dainty Cardcaptor Sakura Charm earrings! Moreover, all the items in the set are embossed with the Cardcaptor Sakura's signature polygon icon. If you're a collector of Perfect Diary's limited edition products, this is one not to be missed! 
The Perfect Diary Star Light Eyeshadow Palette (available on Perfect Diary Official Shop) is definitely a highlight of this gift set. It contains six eyeshadows, a blusher and a highlighter — an all-in-one Perfect Diary eyeshadow palette to have in your makeup pouch! We love that all the eyeshadow shades are wearable and fool-proof, making this a beginner-friendly makeup palette to have on hand. 
Zeesea review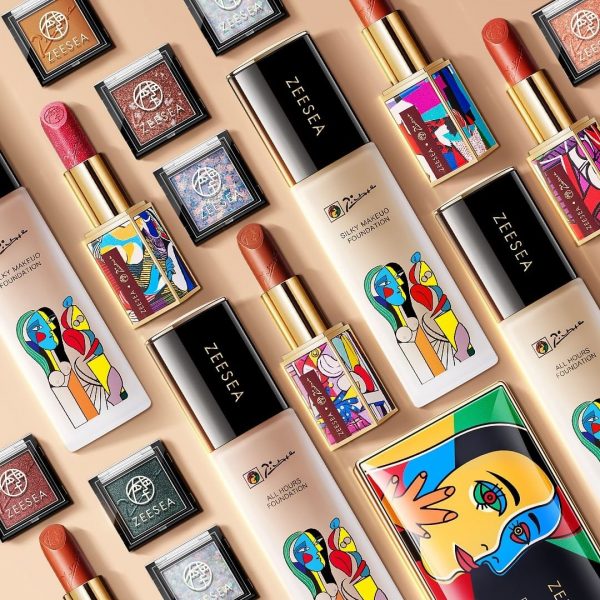 Prefer a more artistic flair to your makeup? Zeesea's collaborations with The British Museum and The National Gallery is perfect for all artsy-fartsy beautyholics! The brand produced beautiful Van Gogh and Picasso makeup masterpieces that are definitely worth collecting. Zeesea is a Chinese makeup brand established in 2011. With almost 10 years of cosmetic manufacturing experience under its belt, you can trust this C-beauty brand to be ahead of the latest trends. Unlike regular cosmetic brands that go for girly or cutesy packaging to appeal to the younger crowd, Zeesea exudes a different class with its abstract art centric designs. Step into the world of art and discover Zeesea's best offerings below!
1. ZEESEA ✕ British Museum Matte Pressed Powder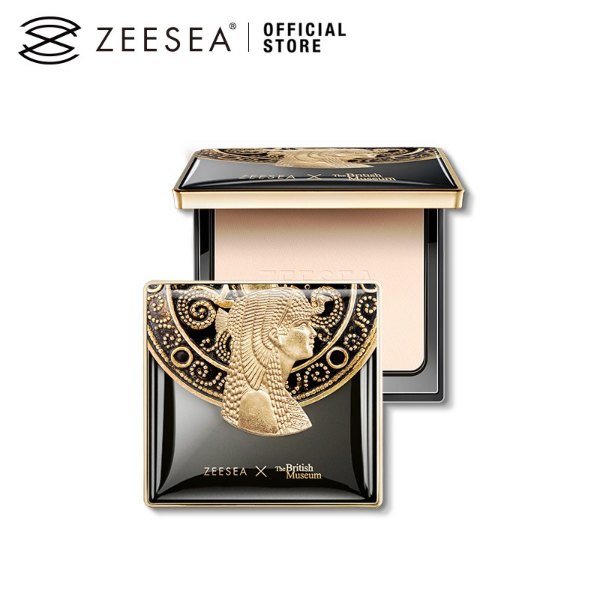 One of the greatest hit items that shot Zeesea to fame is its pressed powder. In collaboration with The British Museum, Zeesea has released a brand new limited edition packaging for its best-selling product — the ZEESEA ✕ British Museum Matte Pressed Powder (available on ZEESEA Official Store)! Featuring the silhouette of the Egyptian queen, this packaging looks both mysterious and majestic and is the proud winner of the Red Dot Award 2020. 
This holygrail Zeesea powder is perfect for girls who need a little more coverage on top of their foundation. The finely milled powder boasts light to medium coverage and have superb water-resistant properties. This allows your makeup to adhere and remain flawless even in sweaty or rainy situations, great for the tropical weather in Singapore! The Zeesea powder works well on combination to oily skin and can effectively absorb excess sebum to keep your skin looking smooth and matte throughout the day. Bid adieu to unsightly midday grease with this Zeesea powder today!
2. ZEESEA Colorful Mascara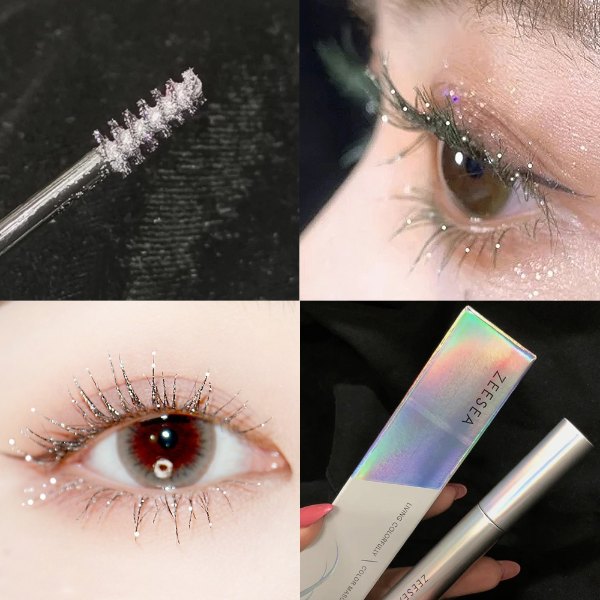 The latest addition to lash cosmetics aside from coloured mascara is glitter mascaras! Now you can wear the sparkle on your lashes with Zeesea Silver Diamond Colourful Mascara (available on ZEESEA Official Store)! What you'll find in this attractive holographic tube is a transparent mascara filled with silver micro glitters. The transparent mascara acts as an adhesive to lock the glitters in place while holding the curls in your lashes. Hence, there's no need to worry about the glitters falling into your eyes — especially for contact lens wearers. But it's advisable not to rub your eyes, as with most mascaras, or you may smudge the glitters onto your lower lids. 
To make your lashes stand out even more, we suggest using the Zeesea Colourful Mascara in darker shades like black or blue before coating on the silver diamond mascara. This will create a nice contrast so the glitters pop stand out! Moreover, the Zeesea Colourful Mascaras (with the exception of the silver diamond one) are designed with excellent lash lengthening capabilities. They are also water and smudge proof so you can enjoy beautiful fluttery lashes all day. For more mascara recommendations, check out our list of the best mascaras for Asian lashes! 
3. ZEESEA Picasso Velvet Matte Lipstick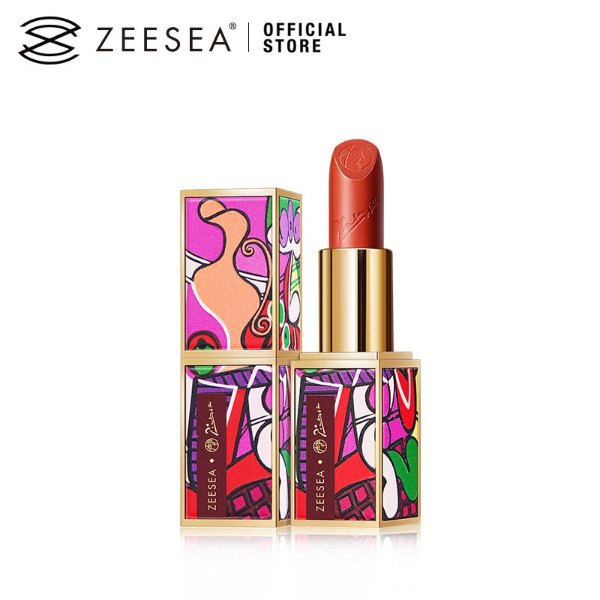 Show off your million dollar pout with the limited edition ZEESEA Picasso Velvet Matte Lipsticks (available on ZEESEA Official Store)! The lipsticks are encased in an eyecatching golden packaging decked in funky abstract patterns inspired by Picasso's famous works such as Nude And Still Life and Italian Woman. As a cherry on top, the lipstick bullet also comes embossed with Picasso's signature. These make the lipsticks a work of art worthy of a spot on your vanity! 
But that's not all! These ZEESEA lipsticks don't just excel in terms of packaging, but also formula. They deliver a smooth, velvety matte finish that feels comfortable on the lips. They contain vitamin E and sunflower seed oil to keep your lips nourished and chaps at bay. Additionally, they have impressive colour payoff, giving a full opaque coverage with just one swipe! With over 10 shades to choose from, you're bound to find one that suits your makeup style perfectly! 
4. ZEESEA x British Museum Alice in Wonderland Eyeshadow Palette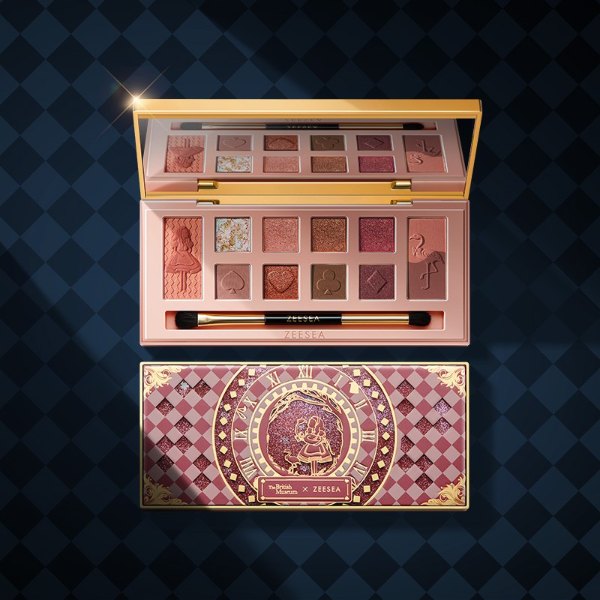 Are you ready to join ZEESEA on a curious adventure down the rabbit hole? The ZEESEA x British Museum Alice In Wonderland #03 Eyeshadow Palette (available on ZEESEA Official Store) will take you on a fun ride with its mesmerising packaging and exciting colours! Psst, shake the palette gently and watch as the liquid glitter spring to life behind Alice's silhouette! Additionally, many of the eyeshadows are embossed with designs from the Disney animated film. This includes Alice in her signature dress and the Queen of Hearts' favourite flamingo mallet! Designed for the diehard fans of Alice in Wonderland, this palette feature 12 sweet eyeshadow colours ranging from peach to brown. It's a wearable palette that can create many natural-looking feminine eye looks. 
If you're a more adventurous beauty junkie, we suggest checking out the  ZEESEA x British Museum Alice In Wonderland #02 Eyeshadow Palette (available on ZEESEA Official Store) instead! Inspired by the mysterious Cheshire cat from Tim Burton's 2010 film, Alice In Wonderland, this palette is jampacked with turquoise and bluish hues to create an extraordinary look. It will definitely come in handy when you're recreating these creative Halloween makeup ideas!
5. ZEESEA Four Colour Powder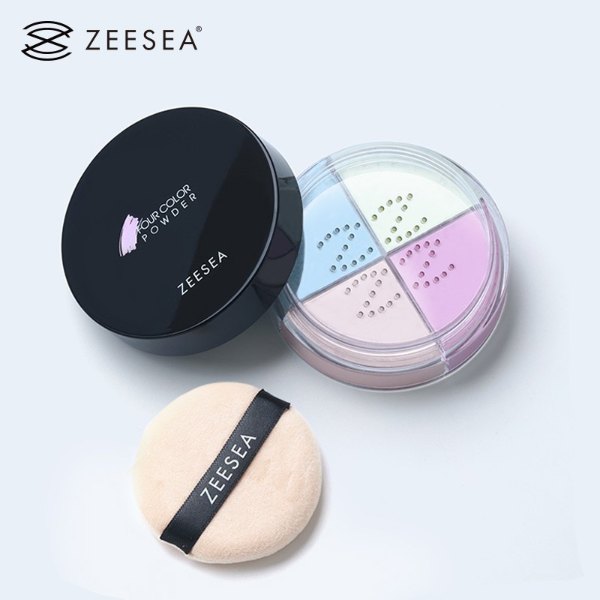 Can't get the highly raved Givenchy Prisme Libre Loose Powder out of your head but not willing to fork out nearly $100 over a makeup product? We feel you! Fret not, you can now try for yourself a multi-colour powder without breaking the bank thanks to the ZEESEA Four Colour Powder (available on ZEESEA Official Store)! At less than $20, you get four specially selected powder shades that can help to even out your skin tone. This silky loose powder comes in a variety of colour combinations. The blue tinted powder helps to neutralise yellow hues while the green tinted powder hides redness. The result? An even complexion with a glow from within radiance!
Pro Tip: Pour the powder out into the lid and mix the colours together for a quick solution to even out your overall skin tone. For a more targetted application, we suggest removing the sieve. This allows you to dip your powder brush into specific shades according to your needs. 
Let C-beauty have a place on your vanity table
Whether it's the Perfect Diary eyeshadow palettes or the ZEESEA pressed powder, these quality C-beauty cosmetics will surpass your expectations and bring you more inspiration in your beauty adventure! Still a diehard K-beauty fan? Our guide to the latest Korean makeup trends will be right up your alley! For other fun makeup ideas, check out our step-by-step tutorials to show-stopping graphic eyeliner looks.