With physical sales for vinyl records recently exceeding CDs according to MRC Data, it's safe to say vinyl is back and stronger than ever! If the intricacies of analogue music have piqued your interest, we don't blame you — the vinyl music experience is unmatched when it comes to audio quality and sheer nostalgia. Unfortunately, this niche hobby can be hard to get into with the complexities of vinyl record players. From damping to phono preamps, here's everything you'll need to know when choosing among our best turntables in Singapore.
How to choose the best turntable in Singapore
Before diving in, here are some tips to keep in mind when choosing the best vinyl record players in Singapore for you.
Cartridges: As cartridges convert the record's physical grooves into electrical signals, they certainly play a big part in determining your turntable's sound quality. Specifically, keep in mind trackability and stylus shape so your turntable is able to track minute changes in vinyl's grooves for maximum tonality.
Drive System: Two main systems dominate the turntable scene, namely belt drive and direct drive. Belt drive turntables operate more silently and have reduced vibrations. However, the rubber belt strap requires regular maintenance which can be a hassle. Alternatively, you can give the more long-lasting direct drive system a go! Unfortunately, they can also cause plenty of motor vibrations which can affect audio quality.
Vinyl Record Speed: Ensure the turntables you're buying support the common record speeds 33RPM and 45RPM. This lets you listen to vinyl records at their intended speeds so they sound as intended!
Phono Preamplifiers: Keen on turning up the volume? Look out for built-in phono preamplifiers that amplify any audio signal from your turntable. This lets you easily connect your turntable to your sound system and further round out the sound produced.
Indulging in the timelessness of vinyl records with these best turntables in Singapore
1. Audio Technica AT-LP60XUSB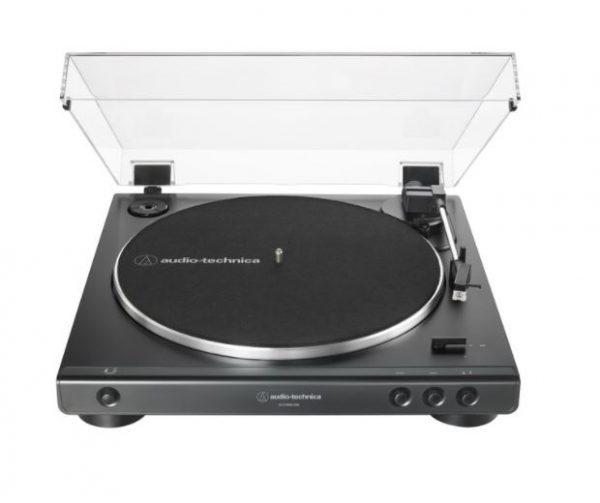 Want to get your feet wet with vinyl players in Singapore but don't want to break the bank? The AT-LP60XUSB (available on Audio Technica S.E.A. Official Store) will suit you nicely thanks to its affordable pricing. Compared to the clunky design of older record players in Singapore, the LP60X features modern improvements that help to make the record playback experience a  beginner-friendly one! One notable feature is Audio Technica's use of a Dual Magnet cartridge. Overall, this makes your records sound more refined and helps the turntable excel in acoustic music. This combined with its solid sound mix that balances out the bass and treble make the LP60X an excellent entry-level choice for the best turntables in Singapore.
2. Denon DP-300F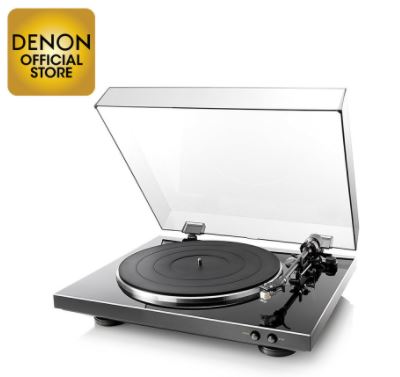 If convenience is the name of the game, then the fully-automatic Denon DP-300F (available on Denon Official Store) will be perfect for you! With the touch of a button, the tonearm lifts up and gently lowers itself onto the record so you can effortlessly start and stop playback. This means no more repeatedly walking back and forth to return the needle to its resting position with each album playback. Additionally, Denon's automatic playback preserves the needle from premature wear and tear, letting you enjoy sublime audio before necessary maintenance. Keen on experimenting with new parts? Take advantage of the DP-300F's moddability that lets you swap out cartridges so you can finetune your listening experience!
3. Years Stay Suitcase Turntable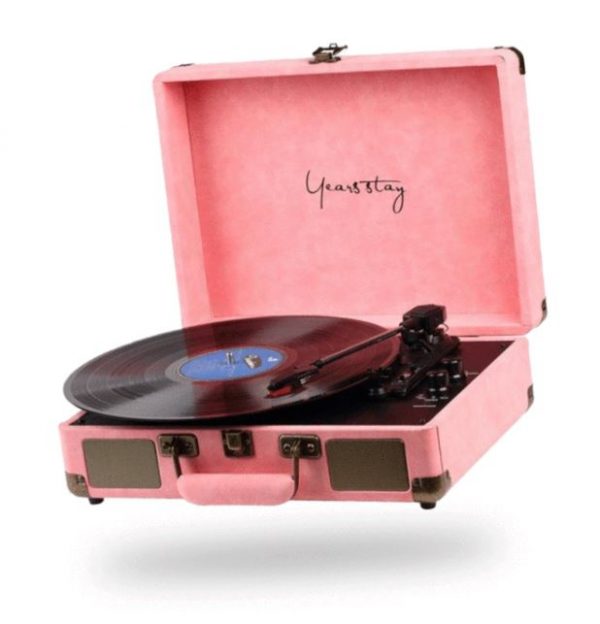 Of the best turntables in Singapore we're featuring, Years Stay suitcase turntable (available on The best stereo store) certainly stands out because of its sheer novelty. After all, it's not often you see a vinyl player in Singapore packed in a pastel coloured suitcase. Aesthetically, we love how the manufacturers have managed to cram everything into such a compact and lightweight space. This ultimately transforms the suitcase turntable into a portable music player that'll light up any gathering with your friends. Record player newbies will also be glad to know the Years Stay turntable has a ruby stylus that's especially durable and has an expected lifespan of 2000 hours!
4. HYM DUO Hybrid Turntable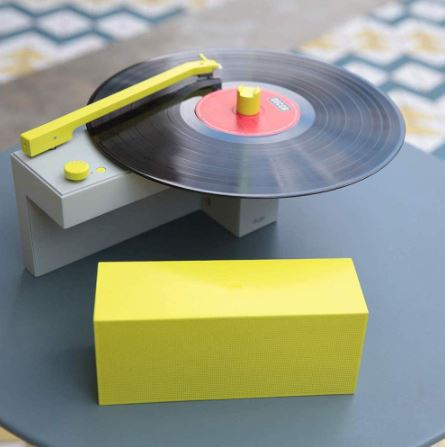 Who says the best turntables in Singapore have to be complicated to set up? With the DDUO Hybrid Turntable (available on Starry Korea), HYM lets you dive right in with its deconstructive take on record players. Don't let its chromatic colours and toy-like appearance fool you — the DUO is an all-in-one stereo system that's engineered for the modern listener. Audiophiles can rejoice as the DUO features a deceleration belt design that minimises humming and utilises Audio Technica's AT36000L cartridge to produce superior audio.
Psst, curious about the DUO's rectangular block? Behind its ingenious minimalist lies versatility you won't find anywhere else! Once you're done rocking out to your favourite tunes at home, detach the Bluetooth speaker and bring the DUO with you. The speaker packs a 10 hour battery life and will give any Bluetooth speaker a run for its money.
5. TEAC TN-5BB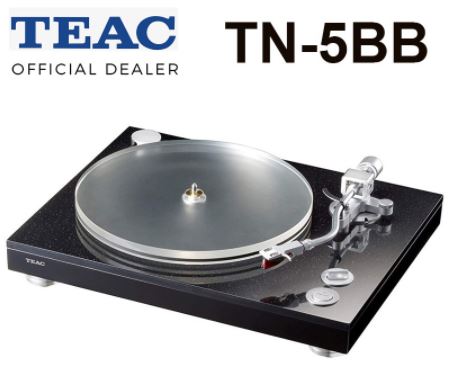 There's a good reason why the TEAC TN-5BB (available on TREOO.com) is so highly regarded among vinyl enthusiasts. To command its premium price tag, TEAC has gone to great lengths to deliver one of the best turntables in Singapore when it comes to overall quality. For starters, the TN-5BB utilises a hybrid chassis that meshes a synthetic marble top plate with a multi-density fibreboard base plate. This allows for maximum stillness as motor vibrations are dampened for optimal sound balance during playback! Also, the TN-5BB is one of the few turntables in Singapore to recommend playing vinyl records without a turntable sheet. This is thanks to its 20mm-thick acrylic platter that allows for crystal clear sound! Ultimately, it's these fine touches that make TEAC's TN-5BB a must-own for vinyl advocates.
6. HYM Seed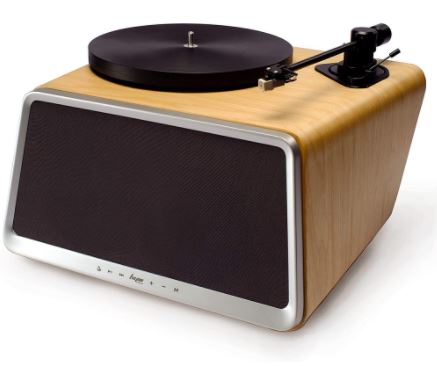 Active speakers? Amplifiers? If all of that sounds like it'll take up too much space, why not invest in all-in-one turntables in Singapore like the HYM Seed (available on ROXY DISC HOUSE)! By incorporating everything into one turntable, the Seed turntable considerably lowers the barrier for entry if you're interested in dabbling with vinyl. Interestingly, you won't find any issues with turntable performance despite having a bass-heavy speaker that's blasting away. This is due to its tri-point suspension system that isolates the platter from the speaker's drivers, thus preventing the rumbling from affecting your appreciation of the vinyl playback. Also, as an art deco piece, the Seed impresses through its minimalist aesthetics that combines the warmth of its wooden enclosure with its contrasting metal accents.
7. Sony PS-LX310BT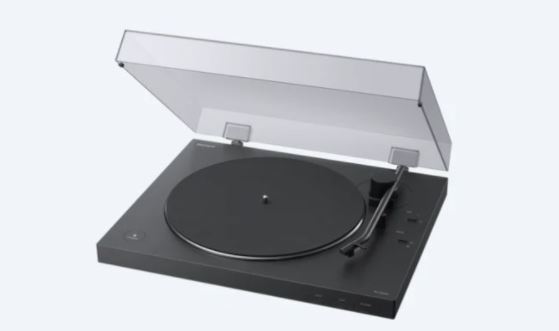 We get it — cable management for the best turntables in Singapore can be a disaster to deal with. Fortunately, with the Sony PS-LX310BT (available on Rack85), you can experience authentic vinyl sound with wireless freedom! Regardless of whether you prefer headphones or speakers, Sony has you covered with its wireless connectivity that makes for an enjoyable audio experience despite being slightly compressed over Bluetooth. When hooking the LX310BT to proper bookshelf speakers, the sound quality reaches a whole new level as instrumentals are accentuated and vocals sound extra crisp.
Guide on how to clean vinyl players and turntables in Singapore
If you're a grizzled vinyl veteran, you'll know that dust and dirt are the biggest enemies, even for the best record players and turntables in Singapore. This is because minor accumulation of particles can cause major distortion in your listening experience! To help you along, here are some brief tips to keep your turntable in tip-top shape.
First, start with the stylus.

Cartridge stylus cleaners

are a lifesaver as they gently remove particles from the stylus tip. Start cleaning by gently lowering the tone arm until the tip touches the cleaner gel, making sure minimal contact is made. Repeat until the stylus tip is clean.

Next, it's time to wipe the record player's surface and turntable. Use an anti-static

microfibre cloth

to get rid of smudges and fingerprints. For more stubborn stains, use

rubbing alcohol

for deeper cleaning.

As much as possible, use the dust cover when the turntable is not in use. Alternatively, if your turntable does not come with one, drape your anti-static microfibre cloth over it instead.

Vinyl records are prone to gathering dust as much as their turntable counterparts so make sure you give them a good wipe down before and after use.
Enjoying music in its purest form with these vinyl players in Singapore
From premium turntables to convenient all-in-one vinyl record players, we hope our list of the best turntables in Singapore has helped you in finding the right machine for you. Interested in expanding your vinyl collection? Check out these hotspots for vinyl records in Singapore! Need quality speakers to amplify your music? Give these best home speakers a look through.