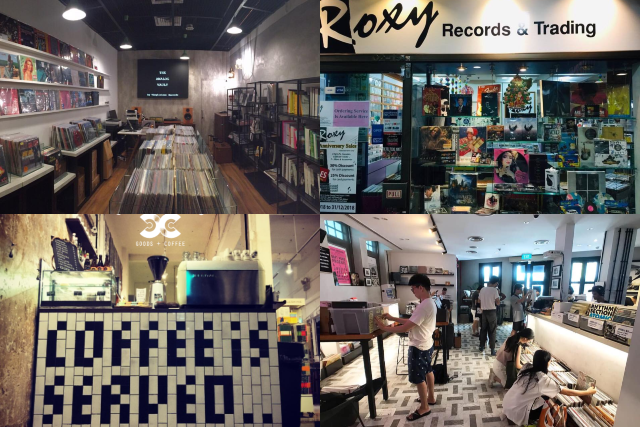 Records are flying off the shelves in what seems to be a vinyl records renaissance in Singapore. Preferred for their incredible sound quality and vibrant art packaging, it would be an absolute shame to disregard vinyl records as mere relics of the past.
On one hand, collecting vinyl records in Singapore seems completely outdated — especially with streaming giants Spotify and Apple Music on the rise. Yet, it's difficult to not appreciate the  charm and tangibility of physical vinyl records. Wondering where to get your fix for vinyl records in Singapore? Head to any of these stores for an eargasmic experience!
Vinyl record stores in Singapore
1. Red Point Record Warehouse

Tucked away in a commercial building filled with garment factories, Red Point Record Warehouse is the place to buy old school vinyl records in Singapore! Originally started as a way for Mr Ong to showcase his favourite pieces, the collection has grown considerably as he continued sourcing for rare pieces and received generous donations from fellow vinyl fans.
With thousands of records for sale with some even dating back to the 50s, this is a record warehouse you can get lost in. From classic jazz albums to obscure Asian records, you'll surely find what you're looking for given the sheer diversity of genres available!
Address: Block B, 80 Playfair Road, #06-11, S(367998)
Opening Hours: Thurs – Sun: 11am – 7pm
2. Curated Records

Don't let the small records collection at Curated Records fool you! This cosy vinyl records store in Singapore boasts a sublime record collection hand-picked by store owner, Tremon Lim. Records include Japanese rock, retro funk and even smaller indie gems! The store also shows plenty of love for local indie artists and occasionally provides a stage to present their talent and foster the Singapore indie music scene!
If you find yourself in the vicinity, make sure you pop into one of these Instagram-worthy Tiong Bahru cafes to complement your record hunting journey!
Address: 55 Tiong Bahru Road, S(160055)
Opening Hours: Tues – Sun: 1pm – 8pm
3. Roxy Records & Trading

Our list of vinyl record stores in Singapore would be incomplete without mentioning Roxy Records & Trading! Known for importing alternative music genres since 1962, the small family business has faithfully served customers by delivering a veritable collection of records, CDs and cassette tapes that would please even the most discerning audiophile.
Need help in selecting a vinyl record? The knowledgeable and welcoming staff at Roxy Records & Trading will be more than happy to guide you, even going as far as ordering the record if they don't already house it! Now that's what we call service!
Address: Excelsior Shopping Center, 5 Coleman Street, #02-15, S(179805)
Opening Hours: Mon – Sat: 12pm – 9pm
4. The Analog Vault


If you ever need convincing on why listening to music on vinyl is worth the hassle, you'll need to visit The Analog Vault! The first thing that'll catch your attention is the high-end Linn LP12 transcription turntable. Revered for its unmatched vinyl playing abilities, you'll definitely appreciate the LP12's pure, unadulterated sound that'll make you an instant fan of vinyl!
If your record's looking a little worn out, make sure to bring it down for servicing! The store has a special Nessie Vinylmaster that delicately cleans and dries your vinyl record, restoring it to prime condition. Besides its fancy turntable and record cleaner, The Analog Vault also takes great pride in its analogue culture — selling books and vinyl records in Singapore that champion analogue appreciation. You'll even find some of the best electronic and hip-hop records here if you dig deep enough!
Address: Esplanade Mall, 8 Raffles Avenue, #02-10, S(039802)
Opening Hours: Daily, 1pm – 9pm
5. Inokii
Hidden among the rows of stores in Far East Plaza is Inokii, a specialised records store selling metal-related merchandise and vinyl records in Singapore. Any self-respecting metalhead has to check this place out for its myriad of records, starting from popular death and black metal subgenres to rarer alternatives like gothic and folk metal! Cramped interior aside, you'll appreciate how the store regularly stocks up on obscure records and CDs, ensuring that no metalhead leaves the store disappointed. If you're a merchandise collector, pop over to the opposite side of the store for imported band T-shirts and posters.
Address: Far East Plaza, 14 Scotts Road, #03-30, S(228213)
Opening Hours: Daily: 2pm – 8pm
6. White Label Records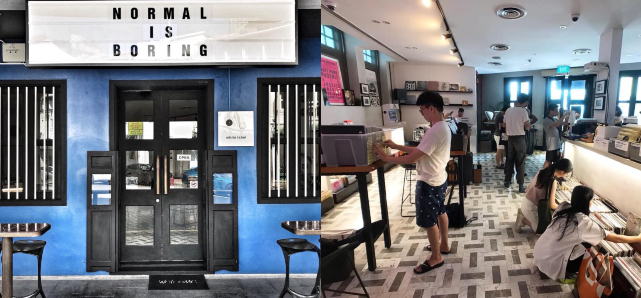 Led by the creative minds behind The Analog Vault and #vinyloftheday, White Label Records is a hip vinyl record store by day and watering hole by night. It's easy to see why many choose this place as their go-to for vinyl records in Singapore given how you can rummage for your favourite records with a cocktail in hand!

Built from the ground up as a hub for music lovers, White Label Records is a place for like-minded vinyl enthusiasts to kick back and relax while perusing record collections. Live bands, DJs and a spread of tasty bar bites and delectable drink concoctions will leave you merrymaking all night long.
Address: 28 Ann Siang Road, #01-01, S(069708)
Opening Hours:
Tues – Sat: 11am – 12am
Sun: 11am – 5pm
7. Choice Cuts Goods + Coffee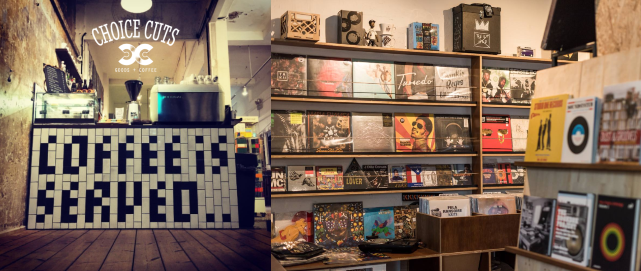 Nothing quite beats digging through crates for rare vinyl records in Singapore while indulging in a quality cuppa joe! Oozing retro vibes, you can find everything from specialty coffee and craft beers to hip-hop inspired streetwear and vinyl records at Choice Cuts Goods + Coffee. Being personally in charge of the curation process, rest assured that the Matteblacc DJs know their stuff as they introduce visitors to the world of 80s and 90s hip-hop!
The specialty coffee is no slouch either, boasting a strong and rich flavour while featuring the finest roasts from Honduras, Ethiopia and Brazil. If you're the type that loves live DJ sets, check back with their social media for news on upcoming jams! With guest DJs invited to play hourly sets, the record store transforms into a mini party space as you marvel at their turntable dexterity and feel good mixes. Furthermore, if you're an aspiring disc jockey, make sure to ask about the free introductory workshop to vinyl DJing!
Address: Katong Point, 451 Joo Chiat Road, #01-07, S(427664)
Opening Hours:
Tues – Thurs: 11am – 10pm
Fri: 11am – 11pm
Sat: 9am – 11pm
Sun: 9am – 10pm
Looking for a playlist brimming with good vibes? Check out our relaxing music guide for a range of pianists and DJs that will make your day! Alternatively, if you're looking for places to unwind with your buddies after a long day, read our guide to the best bars with games in Singapore!