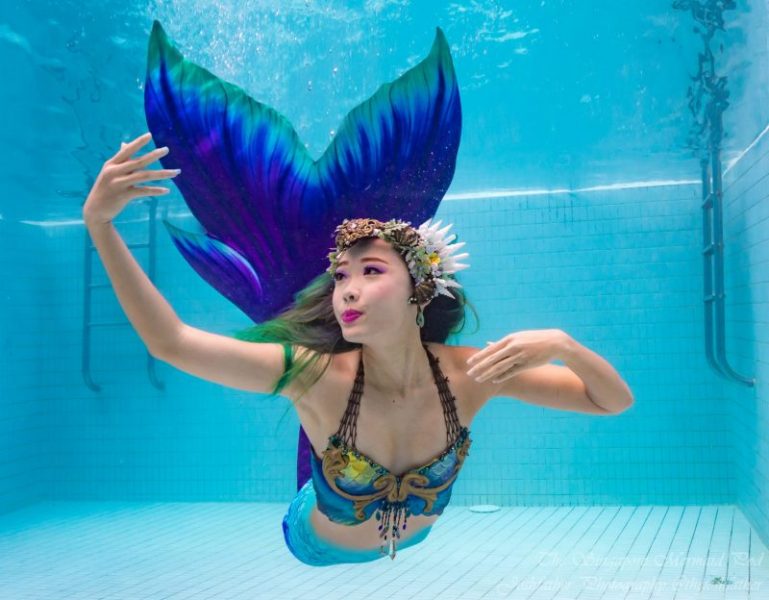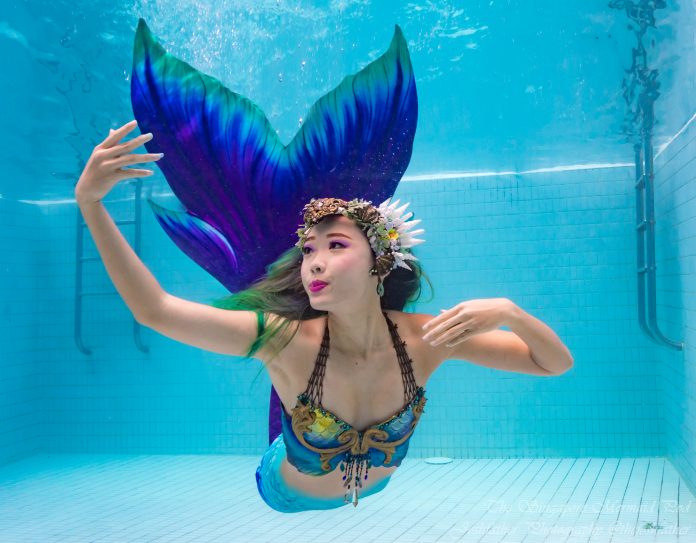 Given my laptop's questionable water-resisting abilities, I'm presently unequipped to conduct aquatic interviews.
It's the sole reason why I'm meeting a mermaid on dry ground at her graphic-design day job instead of somewhere exciting like, say, in a 16 feet-deep pool.
As I wait for her to appear, I conjure mental images of the mermaid species by digging around the recesses of my mind that store a now-defunct childhood imagination.
I envisage their streamlined bodies gliding swiftly through calm, cerulean waters; how they, unlike the rest of us vile land creatures, treat the fish swimming past them as friends, not food. They lie on beachrocks in the low tide, lounging dreamil — oh there she is.
Not lounging on a beachrock but walking towards me, as impossible as that may sound.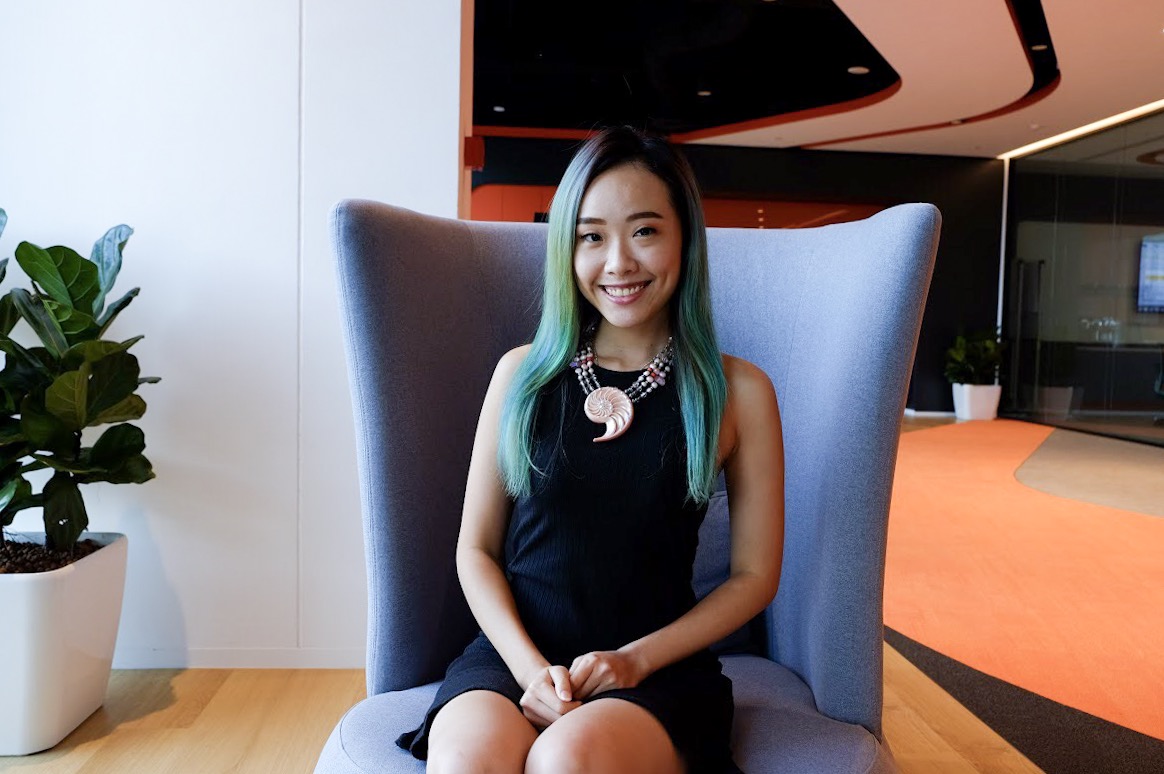 Her tresses cascade down her shoulders, a teal waterfall fading into a shade of seafoam green. It catches the sunlight, glistening softly as she sits down. I notice her porcelain complexion, so luminous it puts SK-II users to shame.
Move over, PITERA™.
Eunice by day, Eunike by night
Eunice Aw (@eunicewonders) is known by her colleagues as that young, capable graphic designer who draws up in-app design collaterals for Shopee's regional marketing team. Having designed for Sea Group, Shopee's parent company, and subsequently Shopee for four years now, Eunice is good at what she does.
Graphic design, however, was never her primary ambition in life.
Becoming a mermaid was.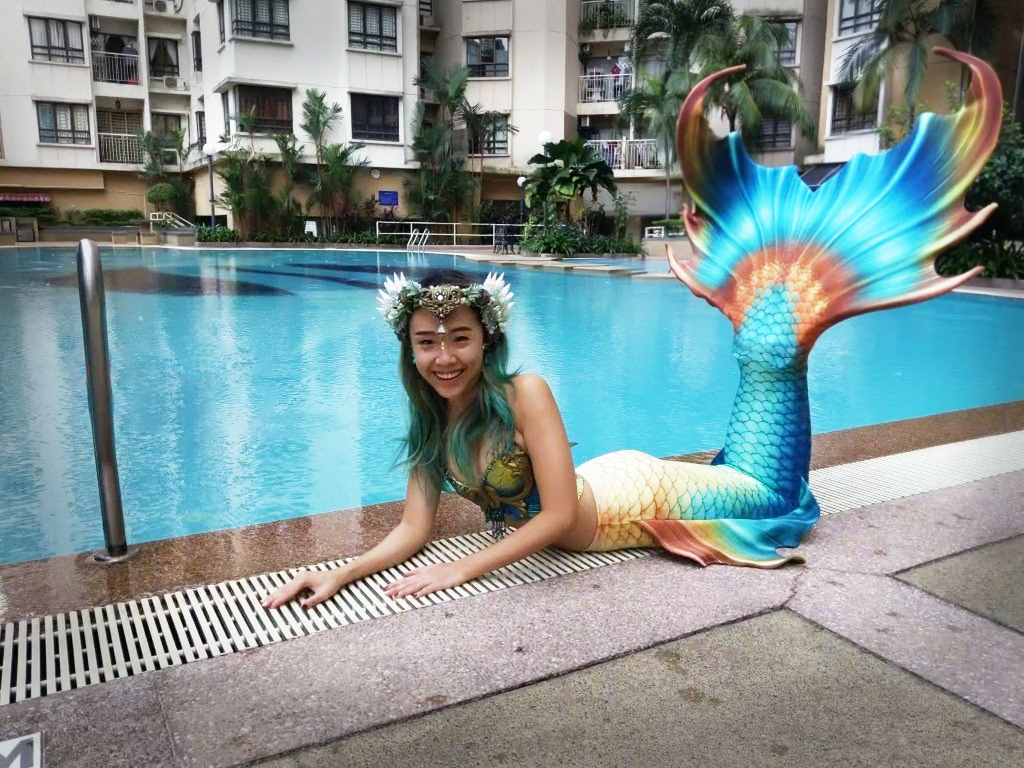 After years of putting it on hold, Eunice's dream finally materialised last year when she commenced mermaiding lessons at The Singapore Mermaid School. That's when Eunike, her after-office-hours mermaid alter ego, was born.
Held on weekday evenings at Parkroyal's five metre-deep pool, the mermaiding lessons Eunice attends imparts the requisite knowledge for interested individuals to become mermaids.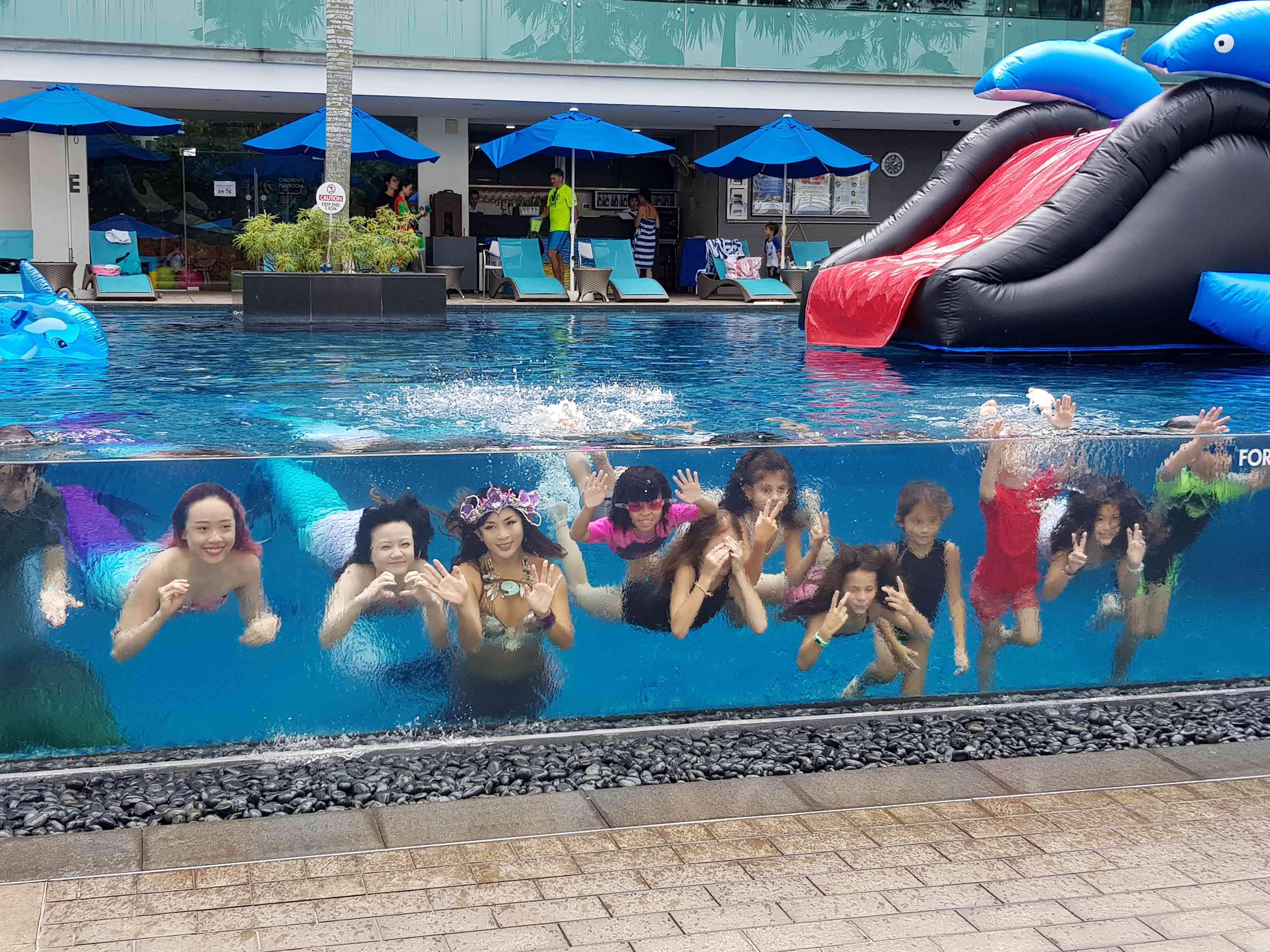 I'm not only referring to the practical aspects of mermaiding, like aquatic locomotor skills essential for propelling one's body forward underwater. From what Eunice shares, textual knowledge on mermaid mythological and cultural understanding of the species is also covered during lessons.
This mermaiding curriculum is holistic indeed.
Both figuratively and literally, this hobby ain't a walk in the park
If you thought becoming a mermaid was easy, well, think again.
"Breath-holding is very challenging for me, especially when I'm swimming or dancing underwater…" Eunice trails off, tilting her head to the side before emitting a thoughtful hum.
"I remember my record being 43 seconds, which isn't long. We've girls who can do 58 seconds or more!"
Controlling one's breath release while manoeuvring underwater with both legs bound within an artificial tail is a fundamental skill in mermaiding. Competency will develop further as one progresses through the course's four difficulty levels, but certainly not without dedicated training and consistent practice.
Remember Ariel from The Little Mermaid? You would if you had a Western-centric childhood and consumed Disney's cartoons for entertainment.
Ariel didn't wear goggles and nose clips underwater. Likewise, neither do Eunike and her mer-sisters.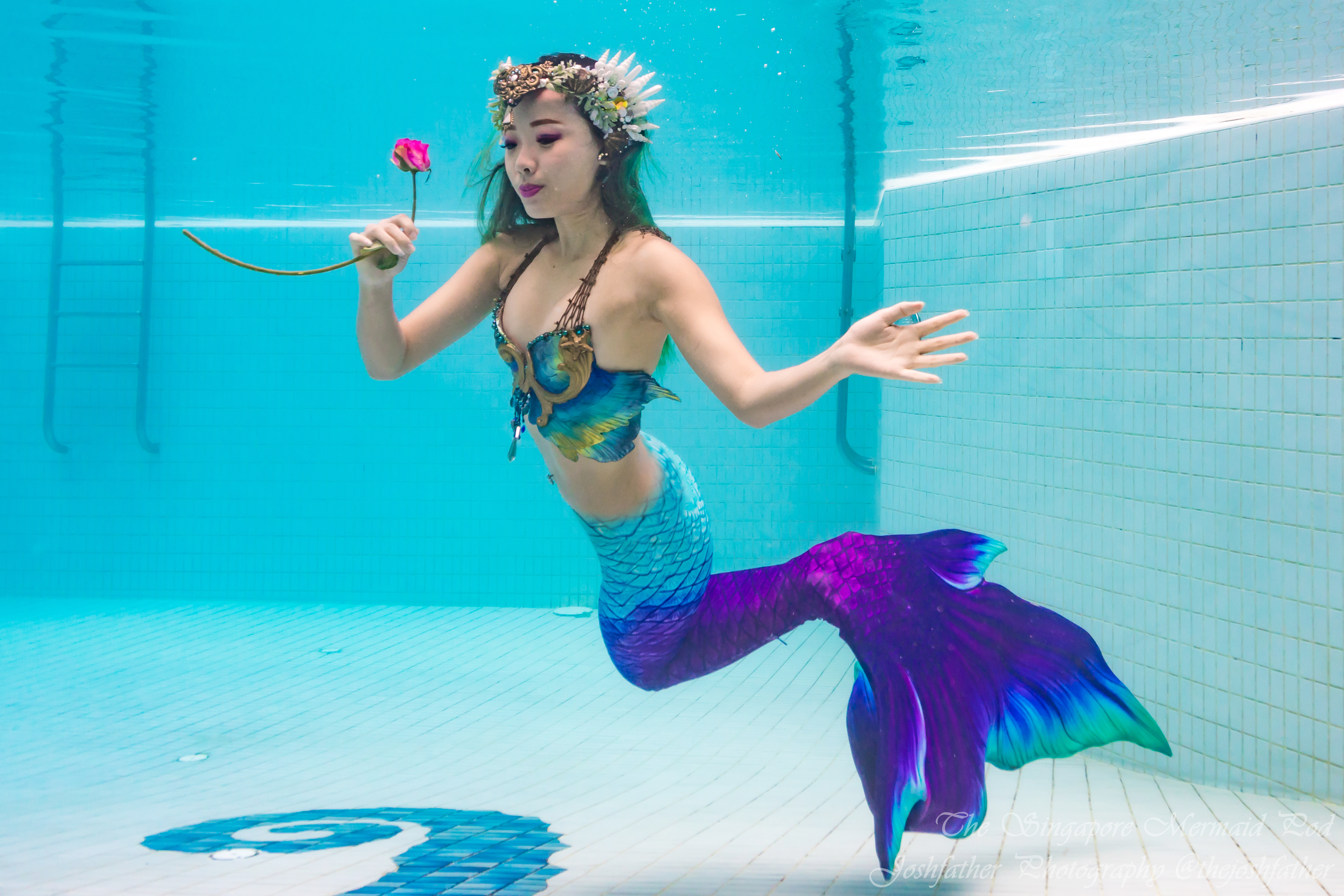 "When you're performing or if you want to take videos, you can't wear goggles. You'd need to put on eye-gel, if not the chlorine will irritate your eyes and turn them red."
Oh uh, ouch.
It's a compromise that all mermaids-in-training take, of course. The blurry underwater vision coupled with eye irritation are inevitable for creating a believable mermaid. That and having water travel up your nose when doing underwater tricks without a nose clip are necessary sacrifices that contribute to the bigger goal of authenticating the mermaid.
Prepare your wallets for the price-tag
The silicon mermaid tail Eunice owns from FinfolkProductions values at $1,400 USD. Before shipping fees are added.
You may now add the salient cries of a bank account to the mix of stinging eyes and burning nostrils.
While fabric tails are cheaper and easier for beginner mermaids in training, a sturdy iridescent custom-made silicon tail is what every aspiring mermaid hopes to one day swim with.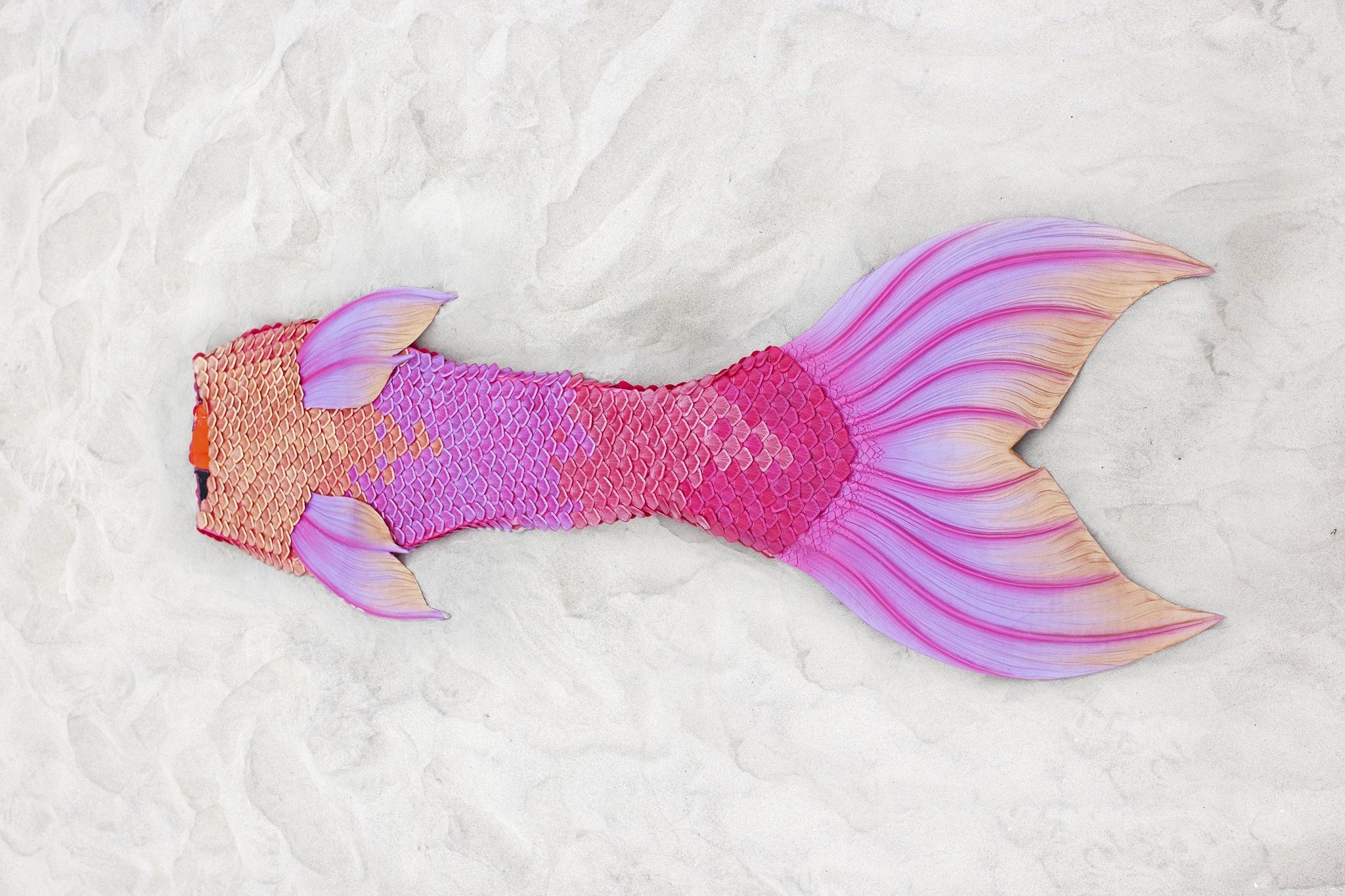 But that's just the tail. There are plenty of other accessories that mermaids would love to own.
Eunice points to the seashell shaped necklace she's got on, "This is from Merbella Studios — they are like the Hermes of the mermaiding world. All their items are one of a kind, and I was lucky I managed to snatch this for $93 USD."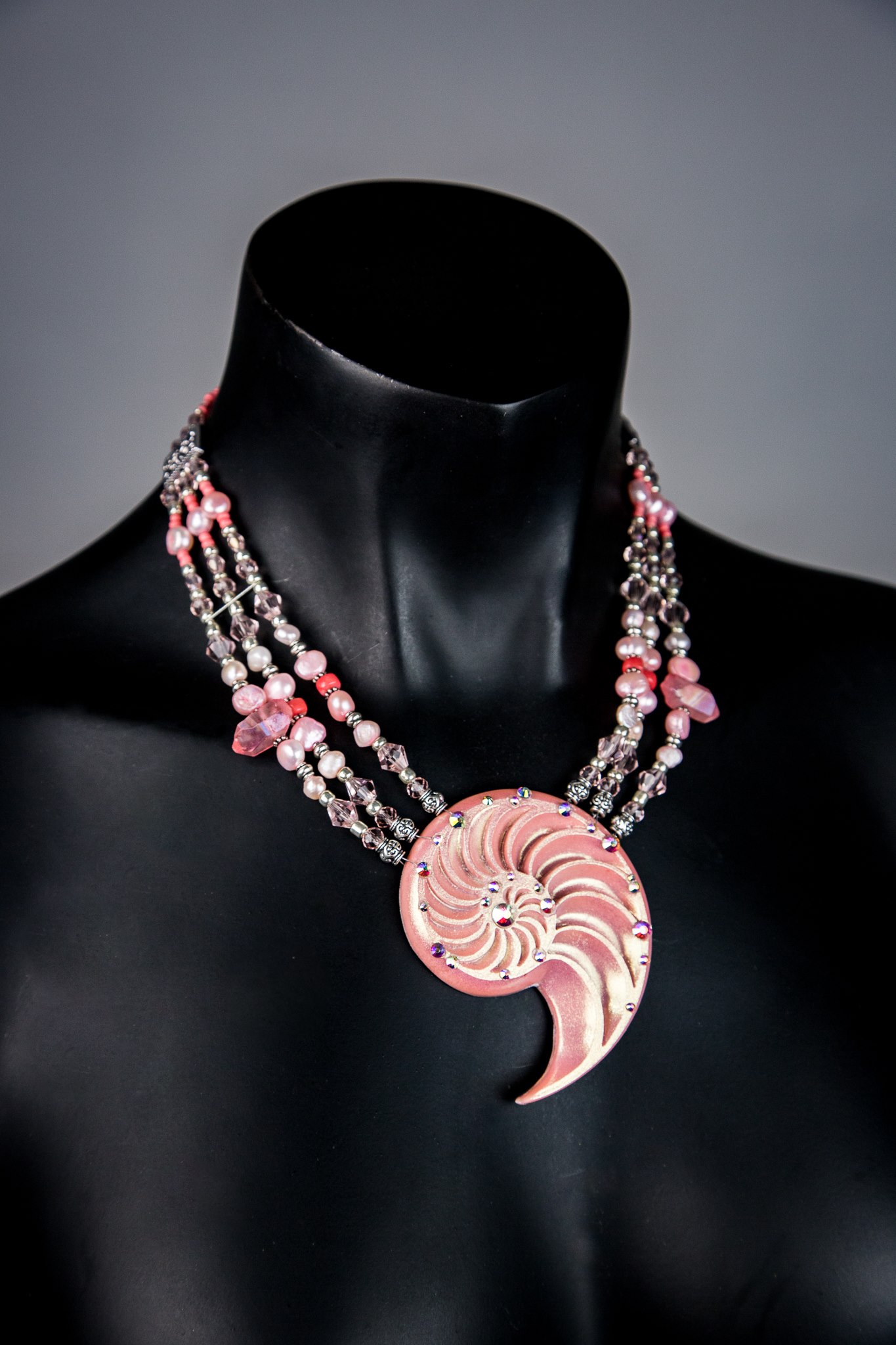 "Oh and! —" she pauses briefly, fingers flying across her phone's touch-screen before coming to a rest, "I bought this Finned Atlantis Top for $285 USD, andddd I also purchased this rare Cobra crown for……" She continues speaking, enthused as she details her latest mermaid accessories haul.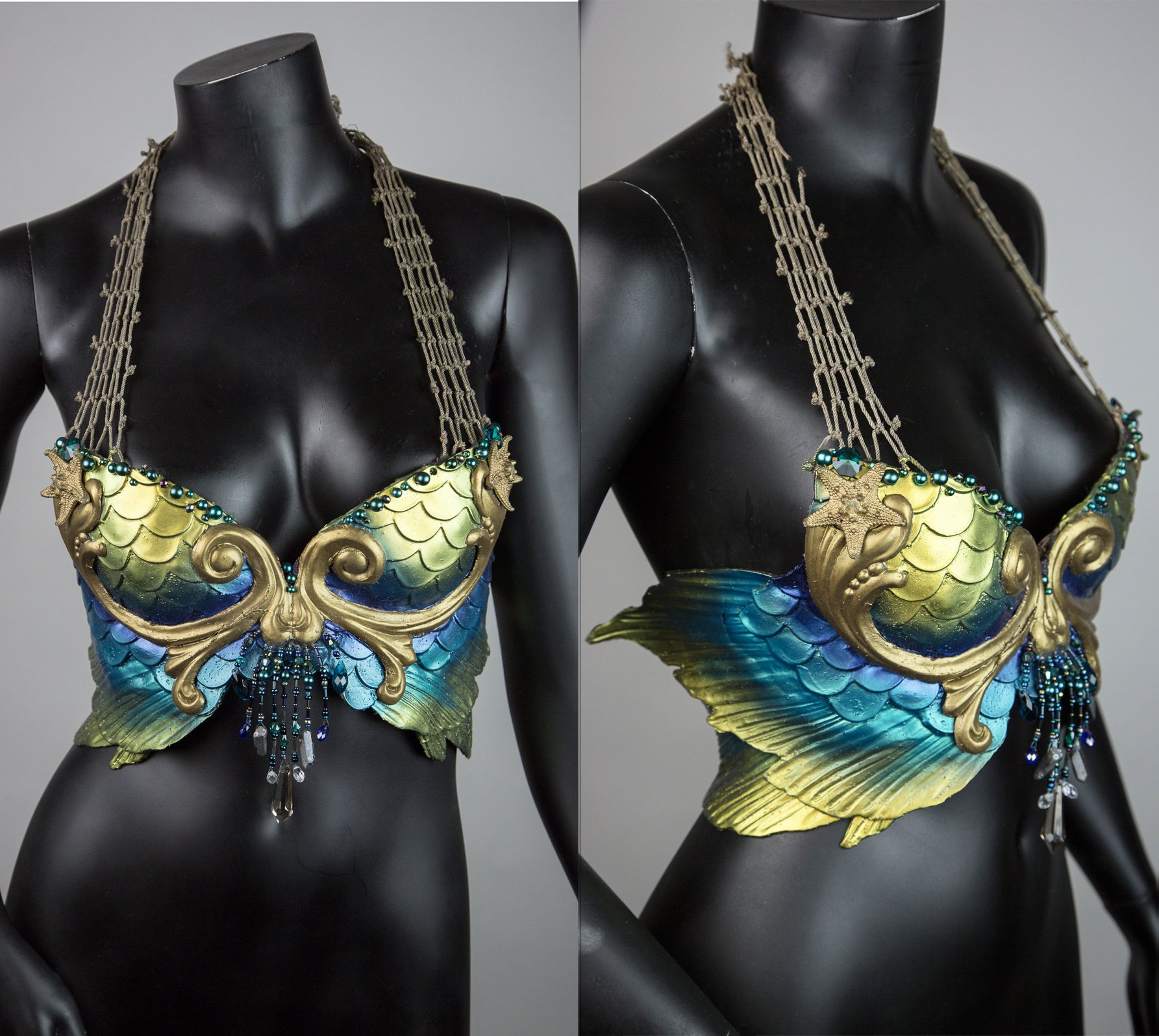 Everything is terribly exquisite, with a price to match.
Eunice shows me pictures of the cheaper "counterfeits" around, but they all pale in comparison to Merbella Studios' originals. You really do pay for the quality you get.
The ideal mermaid? Pfft. Honey, there's no such thing
"The mermaiding community is very positive, and we've pledged against body-shaming. Mermaids come in all shapes and sizes, and all types are equally beautiful! As long as you're happy with yourself, you don't have to care what others think. "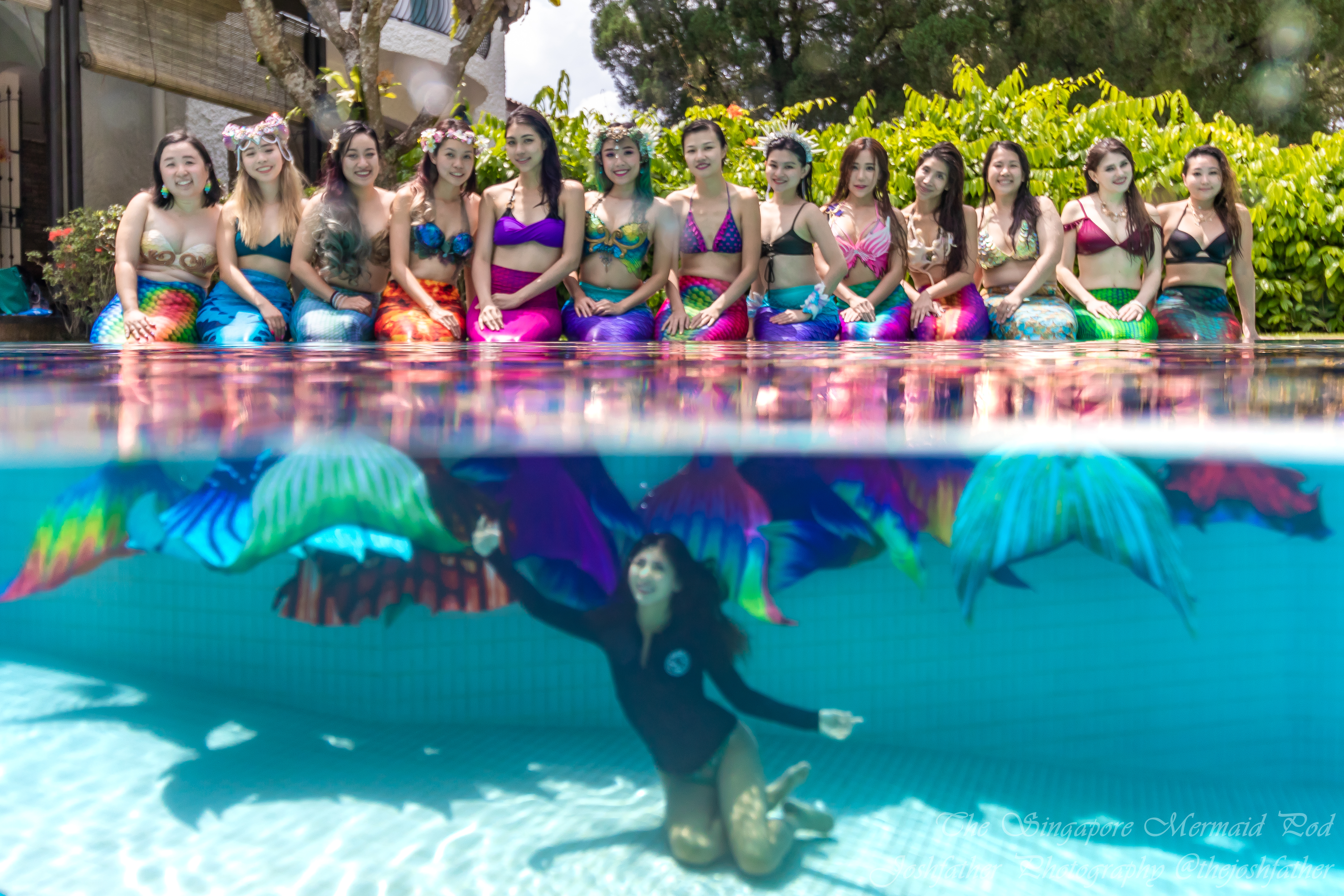 Eunice swipes through a couple of Instagram profiles owned by mermaids. She proves her point. No matter your age, gender affiliation or body type, you can become a stunning mermaid.
I'm surprised but comforted that body positivity is taken so seriously within this community, especially since mermaids have been conventionally idealised as youthful, beautiful and slim by popular culture and the media.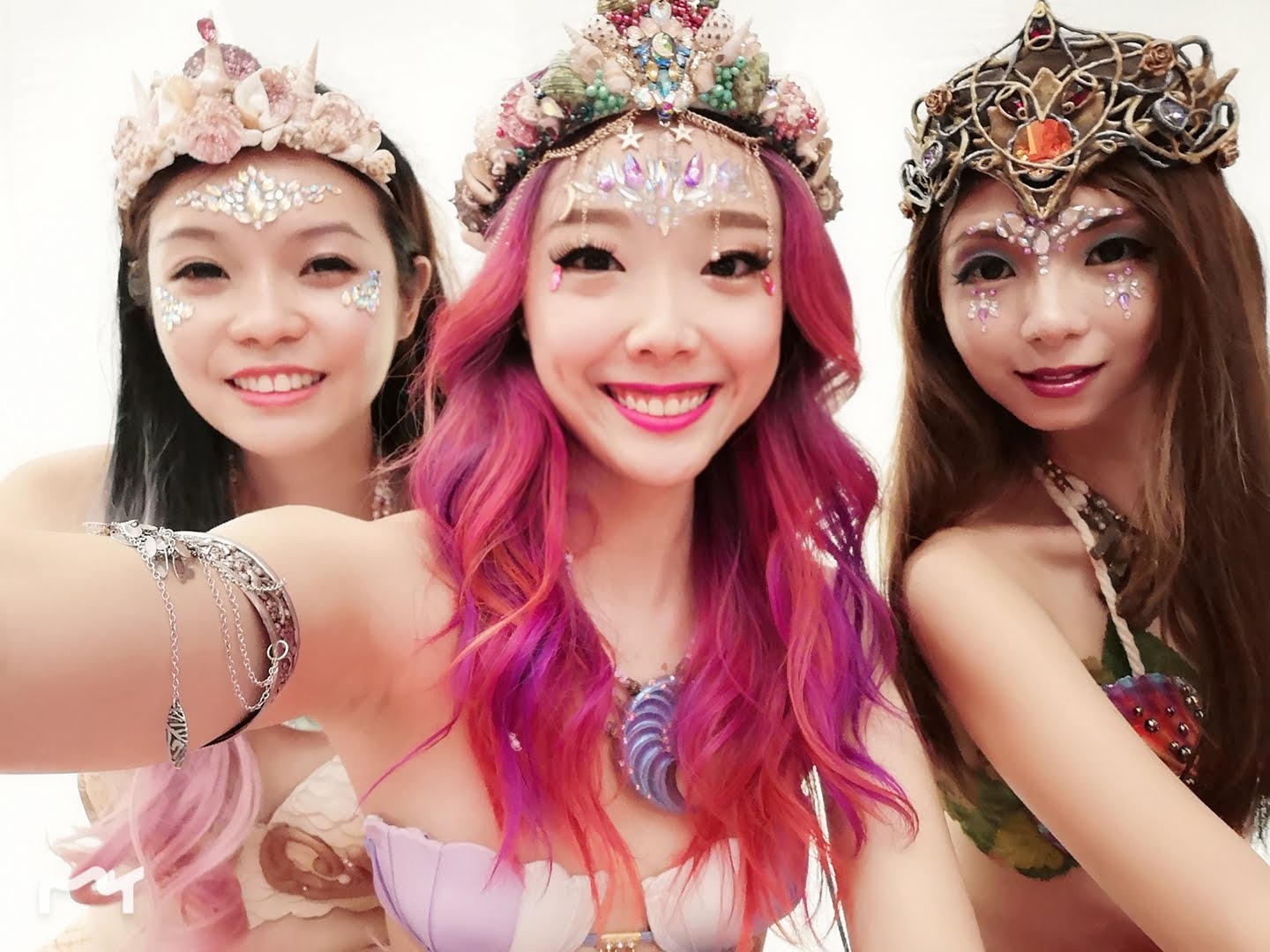 Mermaid or not, be the best, unique version of yourself every single day. And be proud of it. Individuality is prized but far too underrated.
---
Yeah buoy, with a community this vibrant we're certain that you'll never feel like a fish out of water. Water you waiting for? Come make waves with Shopee today!