A good backpack is one that is able to store everything from your laptop to a handy water bottle. But guys often make the mistake of picking one without considering whether it compliments their dress style. For instance, you wouldn't want to be seen carrying a slouchy canvas backpack when you're all suited up for a work interview. If you're looking for a stylish yet functional backpack, don't worry, we've got your back! Read on to check out some of the best backpacks for men to shine through any look.
What to consider when getting a backpack for men?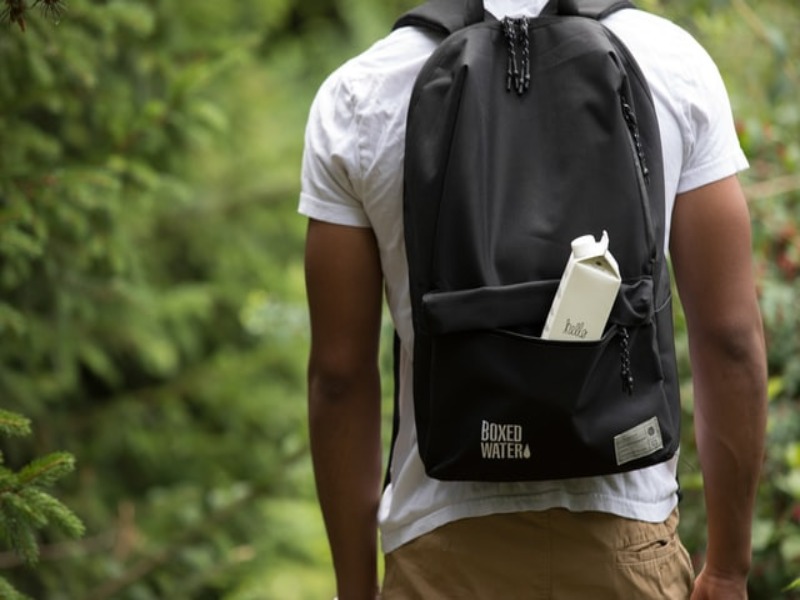 When choosing the best backpack for men, there are a few things to take note of. After all, you'll want one that can last you for a few good years and is steadily comfortable at the same time. Here are some factors to consider when choosing a backpack for men: 
As a number one priority for most guys, the comfort of a backpack is definitely something to look out for especially if you're buying one for everyday use. Some brands equip their backpacks with padded shoulder straps while other brands add a padded hip belt to distribute the weight to your leg muscles.
Nylon and polyester are the two most commonly used backpack materials since they can last for up to 15 years with proper care. Other durable backpack materials include textiles such as canvas. If you're looking for a more premium and sturdy choice, leather is also one of the most durable backpack materials, being able to last up to 30 years with proper storage and cleaning. 
Looks-wise, you have to decide if you prefer a backpack with a plain-coloured design or one with bold prints and patterns. Either way, it should complement your dressing and be able to fit all your necessities. If you're particular on in-built security features, you should get backpack designs that come with locking zippers, slash-proof materials and camouflaged pockets.
If you're buying a backpack for everyday use, find a backpack with monochromatic colours that can seamlessly blend with your overall look no matter what you're wearing. For those who are more adventurous and flamboyant in dressing, you can always choose louder colours for your backpack that will jazz up your style! 
Your backpack should be proportional to your torso length and hip size. If you don't get the size right, the weight won't be distributed properly and may cause you back pains. The trick is finding a backpack that is big enough to fit your stuff but not too big or bulky that it becomes a burden. 
One of the most overlooked factors when choosing a backpack is its net weight. Experts recommend that a loaded backpack (especially for use outdoors and hiking) should not weigh more than about 20 percent of your body weight. For example, if you weigh 65kg, your backpack should not be more than 13kg. Thankfully, most backpacks for everyday use weigh around 3kg only. 
Best men's backpack brands for school 
1. Fjällräven Kanken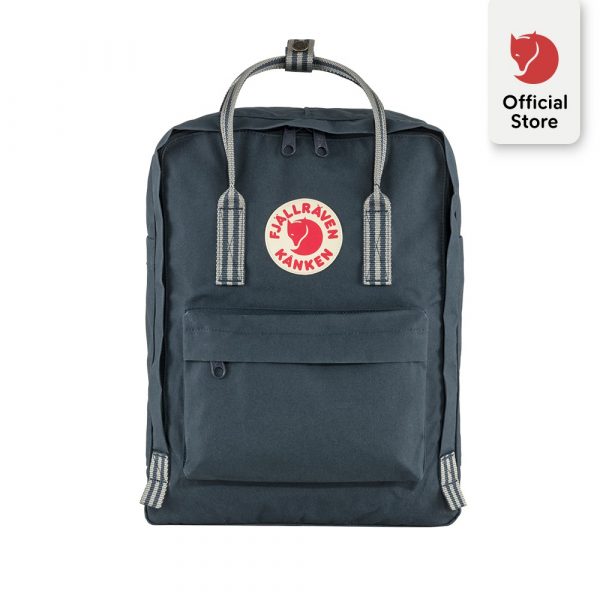 The Fjällräven Kanken backpack is a good backpack brand for men who are going for a youthful and edgy look. In particular, we love the Fjällräven Kanken Classic Backpack – Blue Series (available on Fjallraven Official Store) because of its wide variety of blue hues such as Royal Blue, Blue Navy and Blue Ridge. Design-wise, its iconic box shape proves to be simple and practical, with adjustable shoulder straps. There are also two side pockets and a zipped front pocket to keep those bits and bobs you want at hand.
Bag volume: 16L 
2. Herschel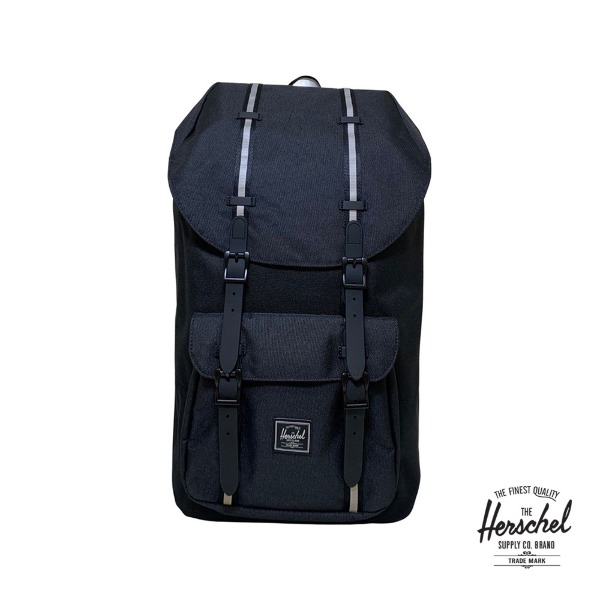 As a relatively new brand founded in 2009, Herschel is another popular option when it comes to choosing the best backpacks for men in Singapore. And it's not hard to see why! The Herschel Little America Backpack (available on Herschel Singapore Official Store) comes with a striped fabric liner and adjustable magnetic strap with metal pin clips that perfectly balances both form and function. This Herschel backpack is also padded with a 15-inch fleeced laptop sleeve on the inside – a great buy for students!
Bag volume: 25L
3. JanSport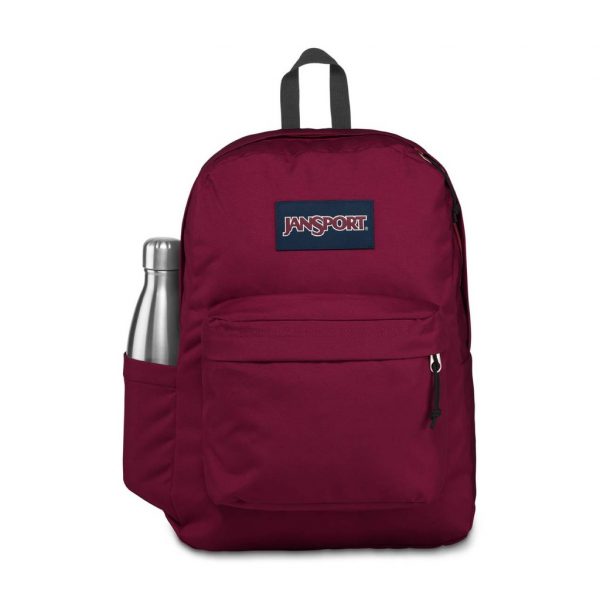 While JanSport mainly caters their bags for students, we can safely say that backpacks like the JanSport Superbreak Backpack (available on The Planet Traveller Official Store) are one of the best backpacks for men of all ages. Made in part with recycled materials, this iconic JanSport backpack is truly a green option for those who are all about sustainability! It is available in over a dozen sleek colours such as Russet Red, Classic Camo and Blue Dusk. 
Bag volume: 26L
4. Bata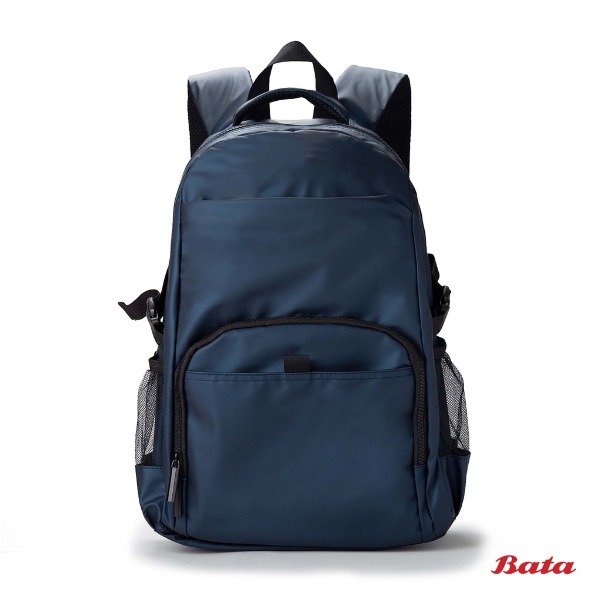 Bata may be well known for its white school shoes, but did you know that it is also one of the best backpack brands for men? We especially love the Bata Prive Backpack (available on Bata Singapore) which is the perfect bag for school! Made with textile material, it has ample compartments and space which makes it easier to sort your books and files. Moreover, this Bata backpack is available in a stunning shade of navy blue that is a hit among students. Priced below $50, we can totally see why this is one of the best backpacks for men in Singapore! 
Bag volume: ~25L
5. Hush Puppies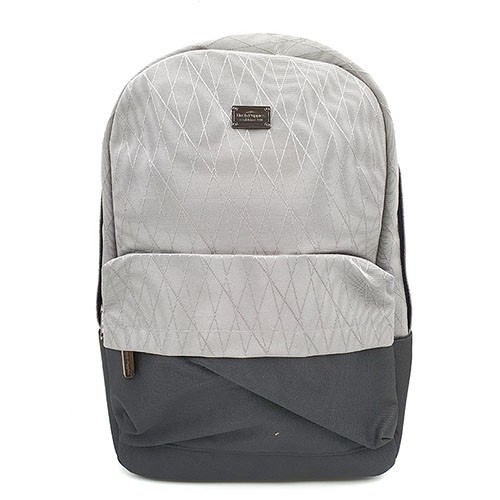 Hush Puppies may be a brand that focuses on casual footwear, but they are also renowned for their nylon backpacks for men. That's why we have no qualms about this Hush Puppies Men's Backpack (available on HushPuppies USA Official Store) which is the perfect bag for school or casual wear thanks to its simple yet stunning design. Made of nylon, this Hush Puppies backpack is very stretchable and can comfortably accommodate large amounts of things without breaking apart. 
Bag volume: ~20L
6. MAH
Looking for a trendy school bag? If so, MAH Casual Fashion Bag (available on MAH Official Store) would be perfect for you. With its velvety soft shoulder strap, the MAH backpack is designed to maximise comfort for students, especially those who have to carry their study materials and laptops to school. And this is thanks to the vacuole filling used in its straps that's made to be less taxing on one's shoulders. Not to mention, this MAH backpack is made with a water-resistant material that'll ensure your study materials and precious gadgets will always be shielded from the rain!
Bag volume: ~20L
Best men's backpack brands for work
7. Jeep Buluo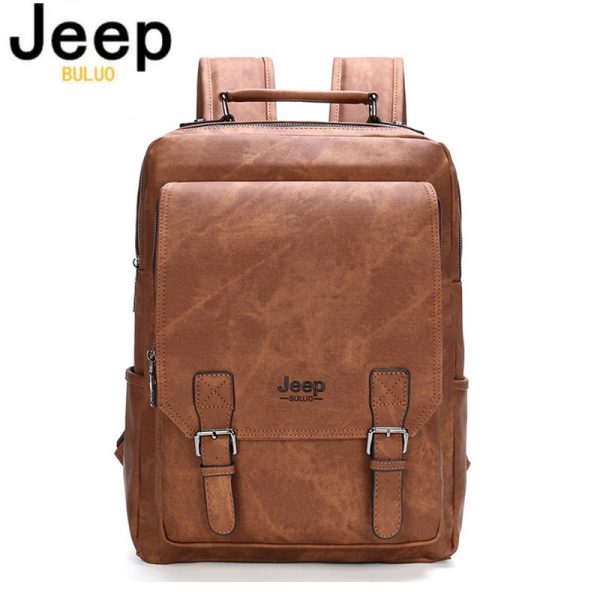 Are you a fan of leather backpacks? We are too! That's why we can't keep our eyes off this beautiful Jeep Buluo Leather Backpack (available on Jeep buluo.sg) which is available in either khaki or black. As one of the best backpacks for men, it is made of split leather which has a good flexibility as compared to other types of leather. This Jeep Buluo backpack also makes the perfect office backpack as it is designed with an internal laptop and cell phone pocket. 
Bag volume: 20L
8. Timbuk2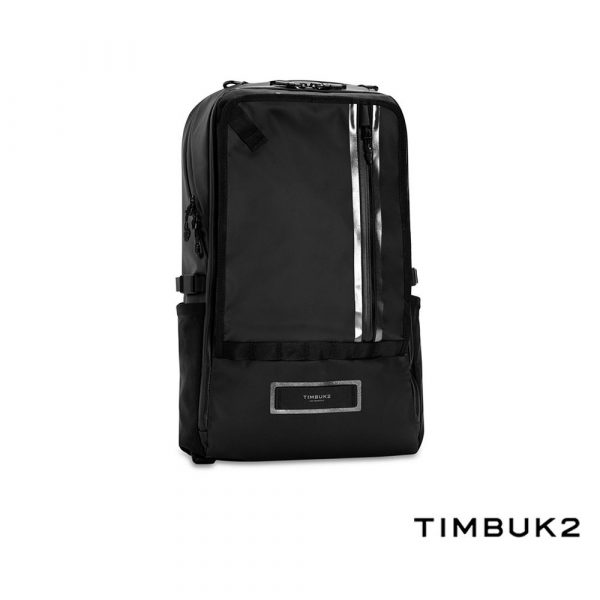 Designed for daily use, the Timbuk2 Especial Scope Expandable Pack (available on Timbuk2 Singapore Official Store) is definitely one of the best office backpacks for men around. From your lunch to a change of clothes, it can store almost anything given its spacious width of 12 inches. But if you still need more space for bigger items like a bicycle helmet or a pair of shoes, there is an expandable zip gusset to save the day! This Timbuk2 backpack is also paired with a waterproof back panel pocket so all your barang is kept dry.  
Bag volume: 24L – 36L
9. Fossil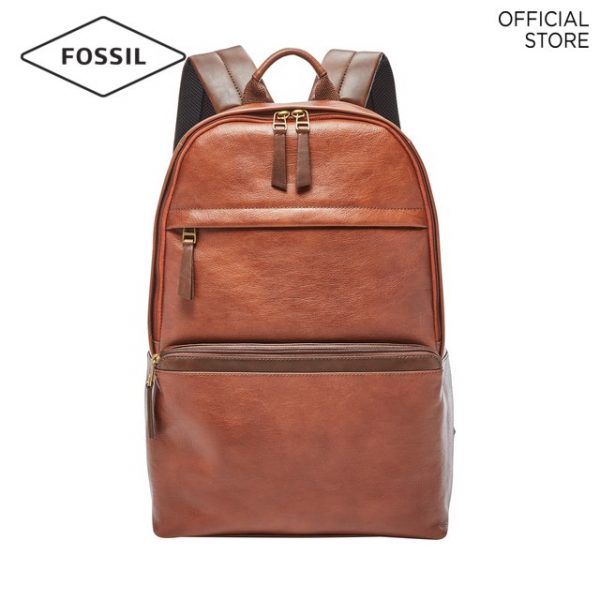 There's just something about a brown leather office backpack for men that has a classy touch to it! Take for instance the Fossil Evan Backpack (available on Fossil Singapore Official Store) which is made of pebble leather that has a natural strength and quality. More than that, it is designed with a single top handle and adjustable straps of up to 54.6cm when extended so it is comfortable to carry without compromising on style! This Fossil backpack is truly one of the best backpacks for men around. 
Bag volume: ~20L
10. Picard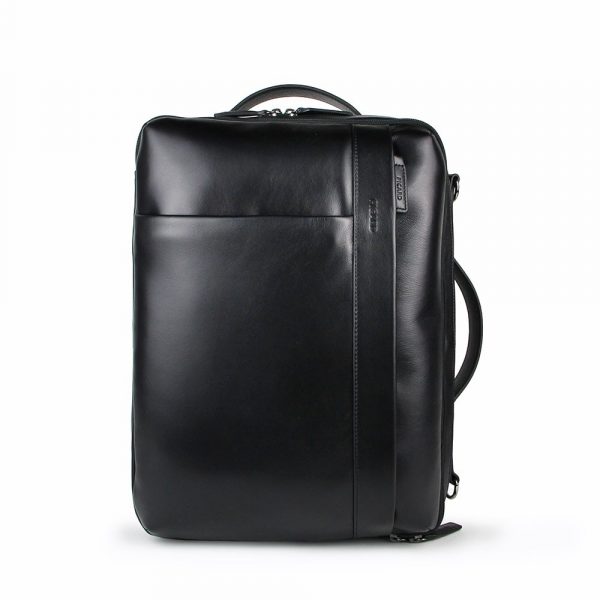 Other than following the best skin care routine for men, you can look professional with the Picard Alois Men's Leather Backpack (available on LAB (Picard Official Store)) too! As one of the best office backpacks for men in Singapore, it can be doubled up as a briefcase for work. It is made of Nappa leather which is much smoother and breathable than other leather materials. This Picard backpack is available in glossy shades of black and cognac, and offers good functionality and aesthetic quality. 
Bag volume: ~24L
11. Thunlit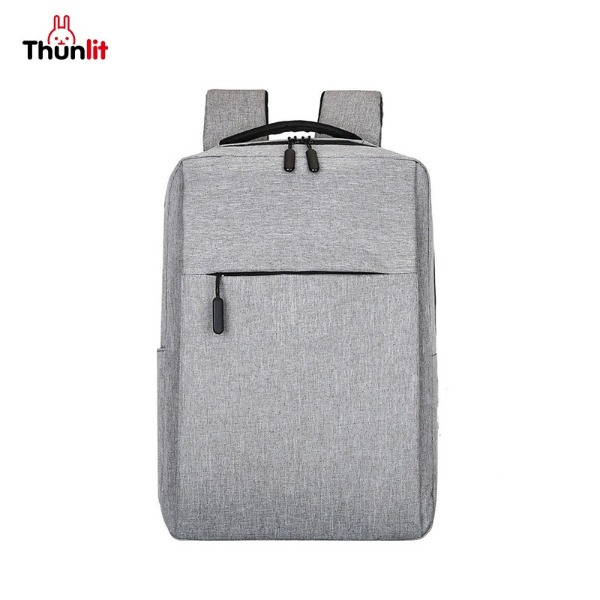 With a price point below $10, there's no way we are skipping on getting this Thunlit Laptop Backpack (available on Thunlit Official Store). With side pockets that can fit mini water bottles and a laptop sleeve, this is definitely one of the best office backpacks for men in Singapore! What's more, this Thunlit backpack is made of a fabric that is wear-resistant and scratch-resistant so it'll probably last you a few good years. All that's missing now is to get some of the best luxury watches for men to make you the fashionista of the office! 
Bag volume: 20L – 35L
Best men's backpack brands for travel
12. Timberland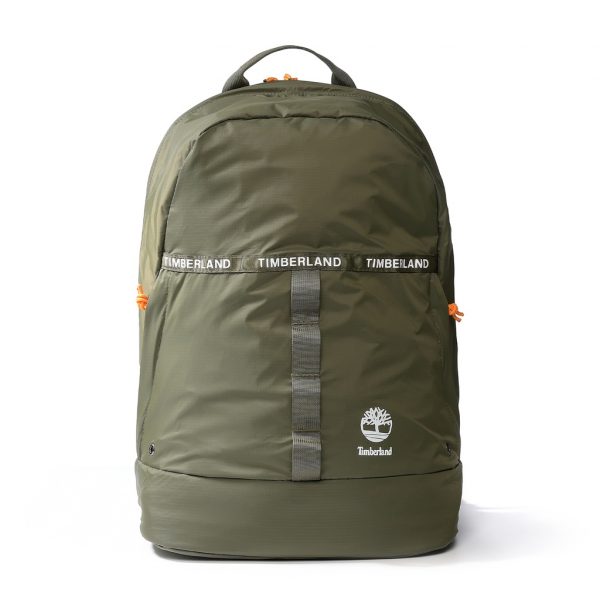 Timberland may be more known for its men's boots but their backpacks are on par too. Designed with a simple, streamlined look, the Timberland Haverhill Backpack (available on Timberland Official Store) is definitely one of the best travel backpacks for men. It is made of 100% recycled materials such as nylon and polyester so you can fit as many things in without having to worry about creases. This Timberland backpack also includes a hidden zip entry to the main compartment for added security. 
Bag volume: 20L
13. Mark Ryden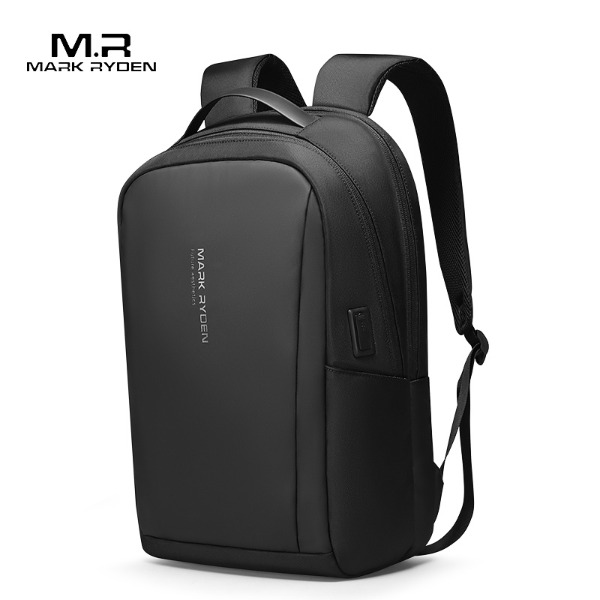 Need to charge your mobile phone while on the go? Then this Mark Ryden Travel Backpack (available on MARK RYDEN Official Store) would be perfect for you! As one of the best office backpacks for men in Singapore, it is fitted with a USB charging port that works at the open of a lid. There is also a digital pocket behind the main pocket so you can store your laptop or tablets separately. Did we mention that this Mark Ryden backpack is waterproof too? Colour us impressed! 
Bag volume: ~30L
14. Tigernu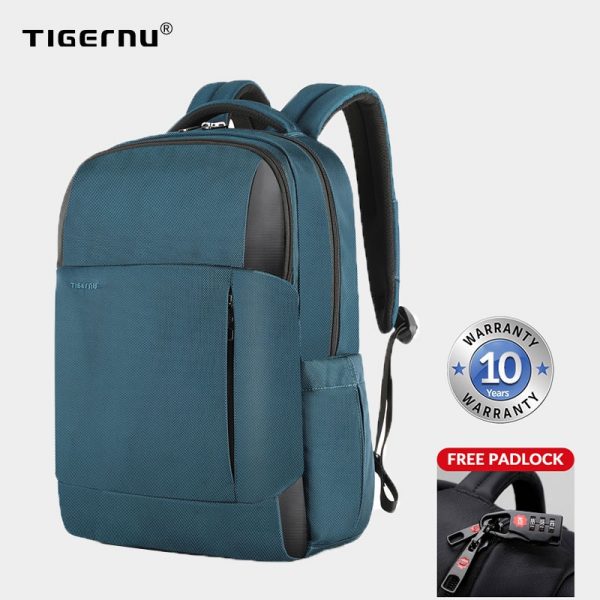 Not many backpack brands for men focus on in-built security features, so it's nice to see that Tigernu backpacks come equipped with plenty of those! Case in point: this Tigernu Fashion RFID Anti-theft Backpack (available on Tigernu Official Shop) that has a smart anti-theft pocket at the front zipper and free padlock for an extra layer of security. This is good for storing your valuables such as your wallet and house keys! Aesthetics-wise, it is available in chivalrous shades of navy blue and army green.
Bag volume: ~21L
15. Ozuko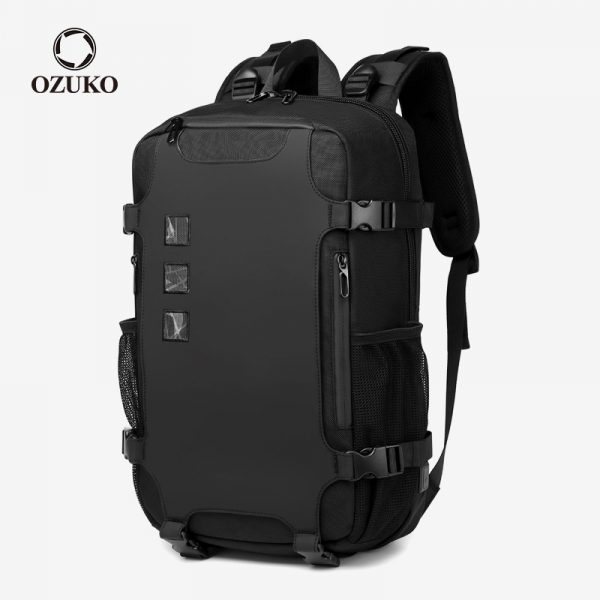 As its name suggests, this Ozuko Multifunction Men's Backpack (available on ozuko.sg) is the perfect buy if you're all about functionality! As one of the best travel backpacks for men, it is designed with a multi-layer structure including a laptop compartment and built-in pocket. There is also a zipper pocket on the side of this Ozuko backpack to store handy items like an umbrella. But what's best is probably the external USB charging port which will definitely be a lifesaver when you're travelling! 
Bag volume: ~16L
16. American Tourister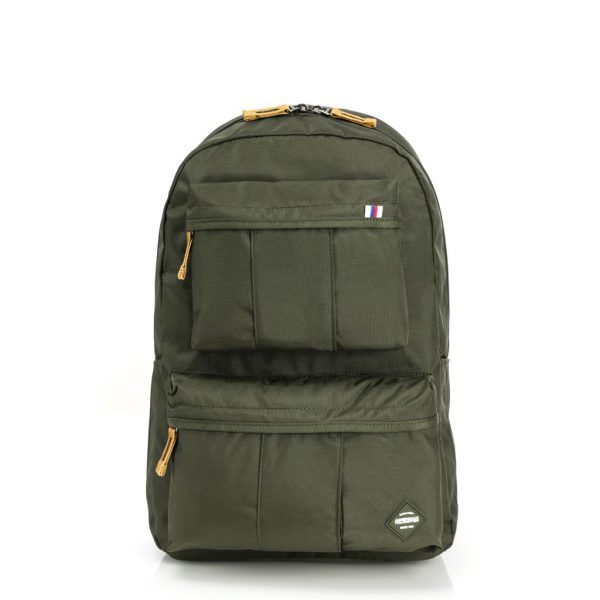 If you always bring along tissue packets and hand sanitizers everywhere you go, you'll love this American Tourister Riley Backpack (available on American Tourister Official Store). It comes with many small compartments in the front to store these knick knacks. Available in four colours, this American Tourister backpack is made of 100% polyester and comes with an internal antimicrobial lining​. This allows your bag to stay cleaner and fresher for longer. Alternatively, consider some of the best carry-on luggage including these American Tourister luggage!
Bag volume: 24L
17. Peak Design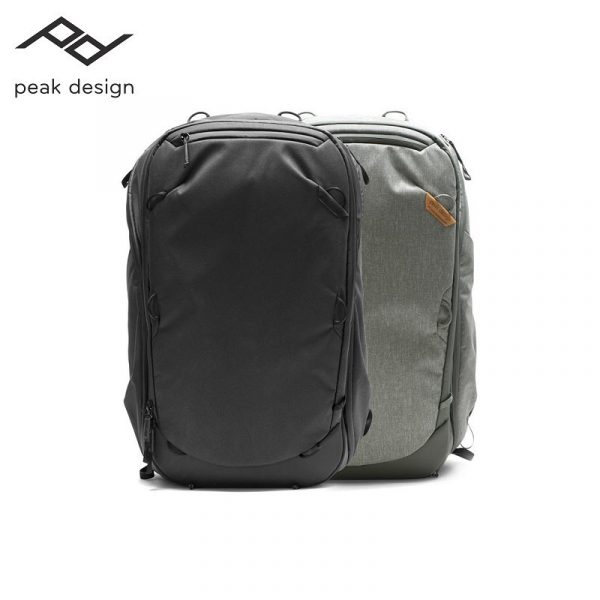 The best travel backpacks for men are versatile and durable, which is exactly what the Peak Design Travel Backpack (available on Peak Design Official Store) is. With top, side, front and rear access via intuitively placed weather-proof zips, you'll never have to fret over making a mess in your packing. This Peak Design backpack is also able to expand should you require more space – a must-have for international travel! Moreover, there are plenty of external and internal pockets to better organise your belongings. 
Bag volume: 30L, expandable to 45L
18. Bostanten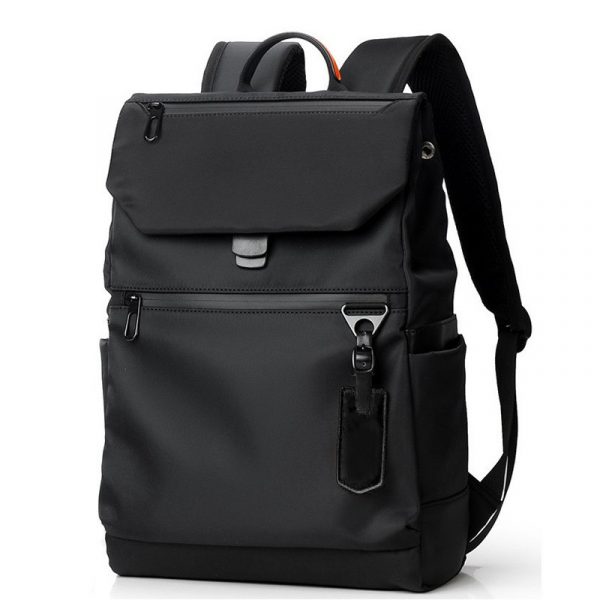 If you're looking for the best travel backpacks for men, then the Bostanten Men's Outdoor Backpack (available on Bostanten Official Store) should be right up your alley. Designed with a breathable shoulder strap that is waterproof, this Bostanten backpack is definitely comfortable and durable for your travels rain or shine. Additionally, it has a large internal structure capacity, equipped with a laptop compartment and a hidden zipper bag. Talk about practicality! 
Bag volume: ~14L
Best men's backpack brands for backpacking
19. Converse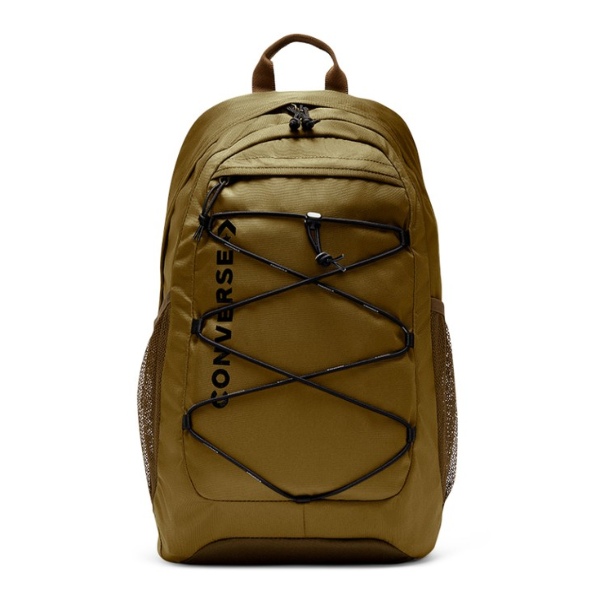 Another frontrunner in our list of best backpacks for men has got to be the Converse Swap Out Backpack (available on Converse Official Store) which is made of 100% recycled polyester and comes fitted with an internal laptop sleeve. This Converse backpack also comes with two cargo cords on the front which can be used to secure additional gear such as extra clothing that you want quick access to! Furthermore, the Green Onyx hue of this bag is so sleek you can match it with almost any outdoor outfit. 
Bag volume: 26L
20. The North Face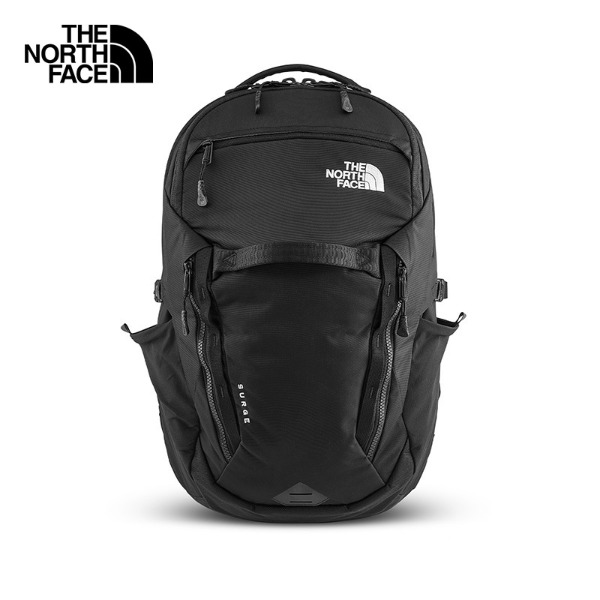 If you're looking for the best backpacks for men in Singapore, you'll love this The North Face Surge Backpack (available on The North Face Official Store) which comes with three large zippered pockets on the front for easy organisation. This can be used to store everything from clothes to shoes. Smaller items like sunglasses, phones and keys will fit in the external fleece-lined pocket better. Additionally, this The North Face backpack comes with a removable waist belt to better support the bag's weight accordingly. 
Bag volume: 28L
21. Crumpler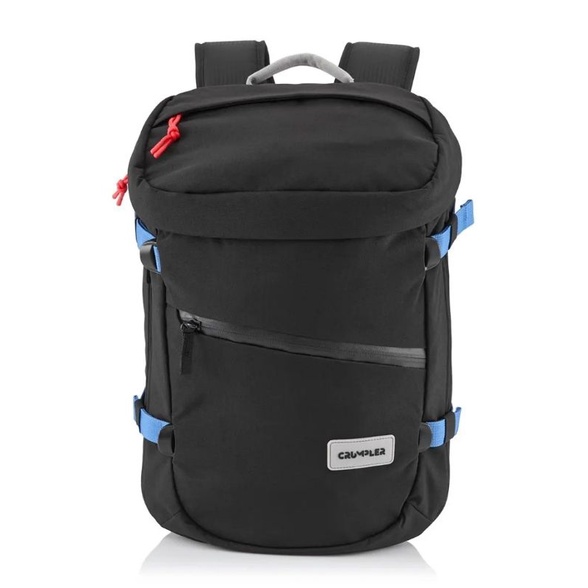 While it might look slightly bulky, we can assure you that this Crumpler Tucker Backpack (available on AUTHENTIC PRODUCTS ONLY) is the perfect companion for your travels or trekking adventures. This Crumpler backpack is padded with an expansion gusset that can expand as your day goes by, so you don't have to worry if you need space for extra shopping. What's more, there are several internal sleeve pouches and a water bottle holder for easy compartmentalisation – truly a mark of one of the best travel backpacks for men! 
Bag volume: 24L
22. Nixon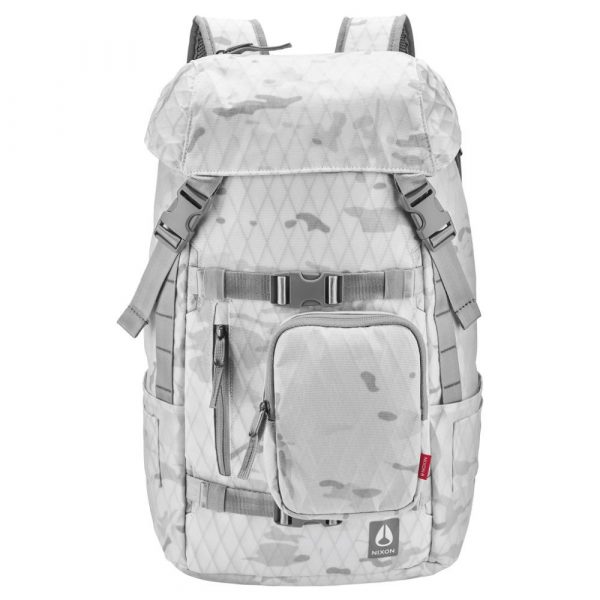 The Nixon Landlock 30L Backpack (available on Nixon Singapore Official Store) is every backpacker's dream come true! It has all the necessary compartments to store different items such as a front pocket for accessories and a back panel tablet stash for devices. At around 0.6kg, this Nixon backpack will definitely go easy on your shoulders. Can we also just say that this one of the most aesthetic best travel backpacks for men we've seen?
Bag volume: 30L
23. Deuter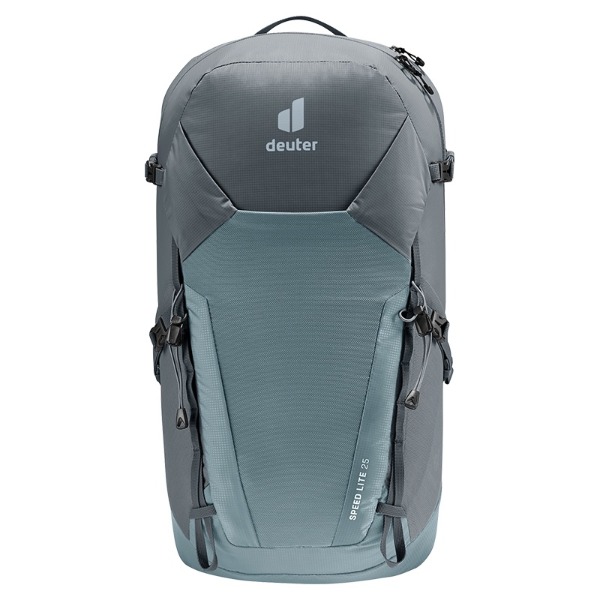 As a renowned German outdoor brand since 1898, you can surely count on Deuter to produce some of the best travel backpacks for men in Singapore. We recommend the Deuter Speed Lite Backpack (available on deuter Official Store) which has an athletic V-cut for extensive freedom of movement. Those who enjoy hiking will also love how this Deuter backpack has a coating for rain protection thanks to its water and grease-repellent properties. Additionally, it has a goggle holder on the shoulder strap for convenience should you want to get a dip in a lake while hiking! 
Bag volume: 25L
Best men's backpack brands for gym
24. Puma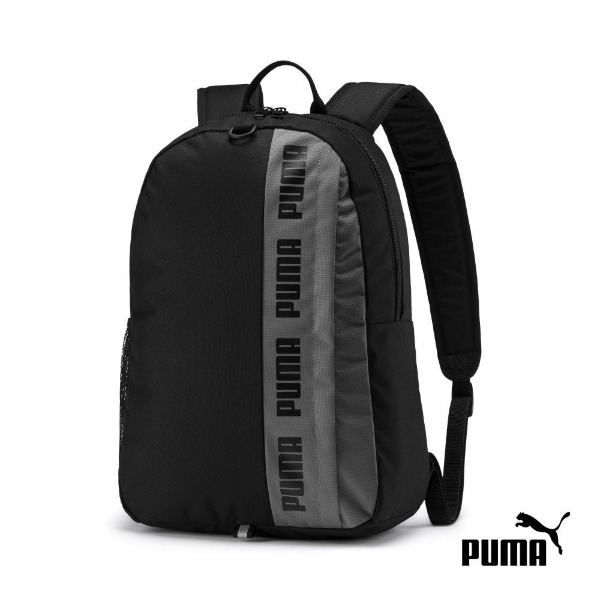 If there's any backpack brand for men that focuses on maximising your comfort, it has got to be Puma, which is a well-loved brand since it was founded in 1948. The Puma Phase Backpack (available on PUMA Singapore Official Store) comes with adjustable padded and curved shoulder straps so that your back does not ache. This Puma backpack is padded with a back panel for increased comfort which is perfect after a workout at the best gyms in Singapore!
Bag volume: 22L
25. Nike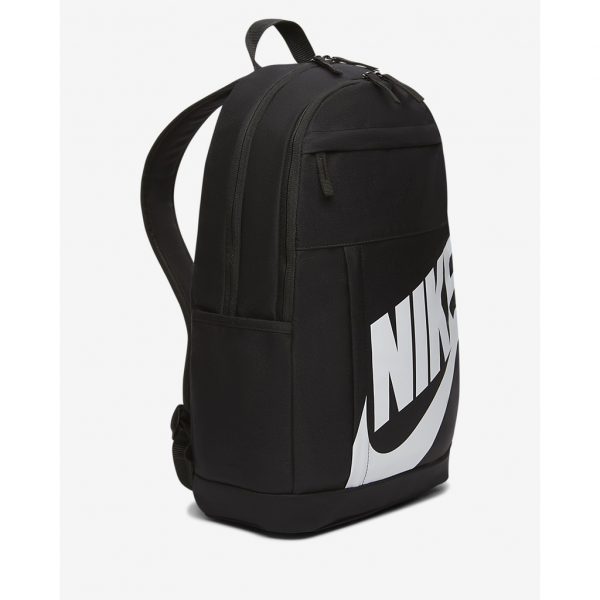 Nike is a brand recognised internationally so it comes as no surprise that their backpacks are some of the most well-liked among men. Specifically, we recommend the Nike Sportswear Backpack (available on crownsportsg) for gym-goers who are looking for a more stylish alternative to their usual gym bags. This Nike backpack comes with padded shoulder straps that offer supportive comfort – great after an already tiring workout! 
Bag volume: ~20L
26. Adidas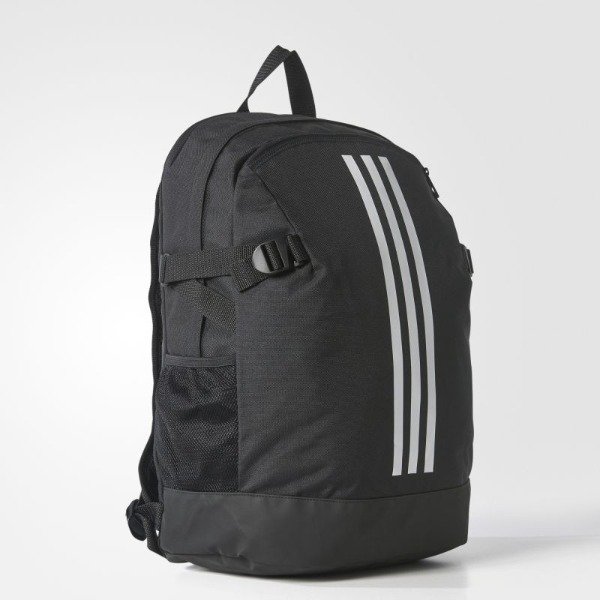 Planning to head to the gym after work? Then this Adidas Power IV Backpack (available on Sporting House Official Store) will come in handy! You can stash your workout clothes and trainers in the main compartment and slide your work laptop into the inner padded sleeve. As one of the best backpacks for men in Singapore, this Adidas backpack is made of 100% weaved polyester which is durable and lightweight. 
Bag volume: 25L
27. Under Armour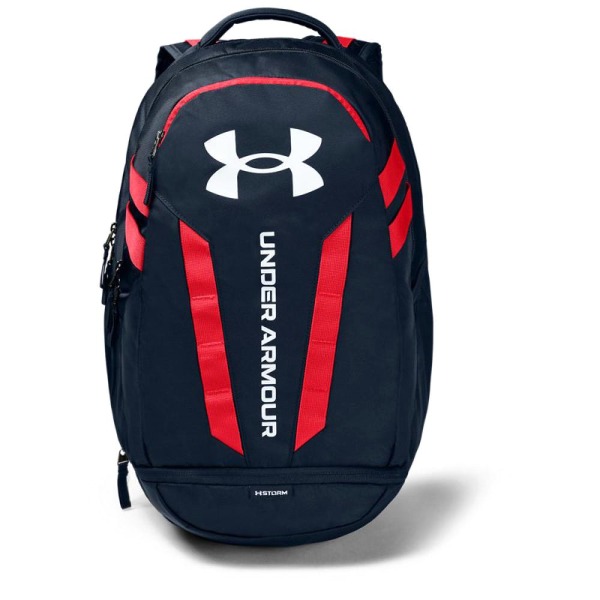 We can't write a list of best backpack brands for men without including offerings from Under Armour, a sports apparel brand that has been around since 1996. Sports players will love the Under Armour Hustle 5.0 Backpack (available on Under Armour Official Store) which is catered for athletes. This Under Armour backpack is not only waterproof, it also has adjustable shoulder straps for extra comfort. The best part of all? A gusseted section at the bottom of the bag to store your laundry or extra pair of shoes. Time to say goodbye to shoebags! 
Bag volume: 29L
28. Fila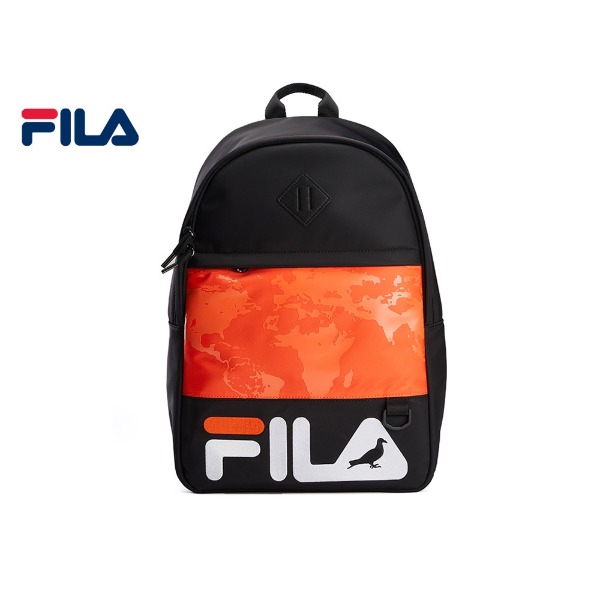 Still looking for the best men's backpack for use at the gym? Consider this Fila Logo Backpack (available on FILA Official Store) which is a collaboration product together with streetwear brand Staple Pigeon. At 16L, it has more than enough space to fit all your gym clothes, shoes and even protein powder in it! What's more this Fila backpack has an adjustable strap that can be fitted according to your height. Just remember to spritz on the best mens' perfumes before leaving the gym to smell as good as you look with your new backpack!
Bag volume: ~16L
Best men's backpacks you should be sporting 
Armed with this list of backpack brands for men, all that's needed is for you to rock some of these men's fashion styles in Singapore for a fashionable #OOTD. Don't forget to further complement your look with these best men's wallets and style up with these best casual shoes for men such as slip-on shoes, sneakers and boots. We're sure your date will be impressed! Otherwise, consider some of the best laptop tote bags which you can get at great deals during our Great Shopee Sale!