Whether you're going on a short trip or trying to avoid additional checked baggage fees, bringing a carry-on luggage can make your travel experience smoother! The best carry-on luggage bags today are spacious, lightweight and compressible. Need recommendations on what models to look for? Read on for our roundup of the best carry-on luggage in Singapore.
What is the best size for carry-on luggage?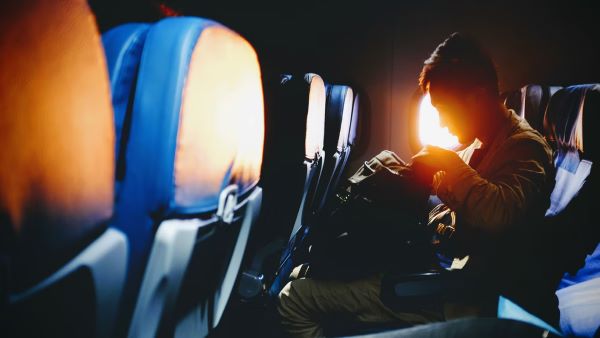 As carry-on luggage have to be stowed away in the overhead compartment or the seat under you, there are size limitations to take note of. In general, most airlines allow for a carry-on luggage of 22 inches long, 14 inches wide, and 9 inches high (55.8cm x 35.5cm x 22.8cm). That said, do be sure to double-check with the airline you're flying with to avoid additional baggage charges. For your reference, we've compiled carry-on luggage limitations of popular airlines (economy class) that Singaporeans travel with below.
| | | |
| --- | --- | --- |
| Airline  | Carry-on luggage size  | Carry-on luggage weight  |
| Singapore Airlines | Sum of length, width, and height should not exceed 115cm | Up to 7kg |
| Korean Air | 55cm x 40cm x 20cm | Up to 10kg including second baggage |
| Virgin Australia | 56cm x 36cm x 23cm | Up to 7kg |
| Scoot | 54cm x 38cm x 23cm | Up to 10kg including second baggage  |
| Jet Star | 56cm x 36cm x 23cm  | Up to 7kg including second baggage |
| Emirates | 55 x 38 x 20cm | Up to 7kg |
Hard case vs soft case carry-on luggage – which should you choose?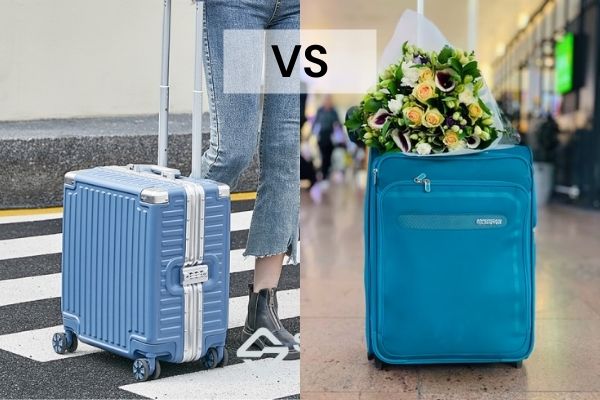 Can't choose between a soft case wheeled luggage and a hard case wheeled luggage? Here's the pros and cons of each option to help you decide!
Type of carry-on luggage
Pros
Cons
Best for

Hard case

Easier to clean, dry, and maintain

Water-resistant

Provides more protection for items inside

Harder to fit into tight spaces

Less flexible for extra storage

Travelling to rugged places where rain and snow may be common

Soft case

More flexible – easier to fit into small spaces or squeeze more items in

Comes with more outer pockets for easy access to things you need often

More susceptible to stains and smell

Tends to come with only two wheels

Travellers who plan to do a lot of shopping
Best hard case carry-on luggage in Singapore
1. Lojel Vita
Carry-On Luggage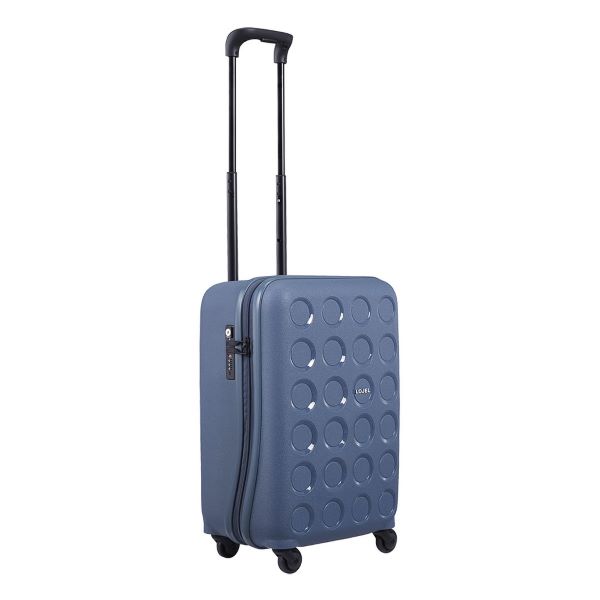 Constructed from a hardy polypropylene exterior shell, the Lojel Vita Carry-On Luggage (available on The Travel Store Official Store) comes highly recommended as one of the best cabin-sized luggage in Singapore. Its durable exterior shell decreases chances of permanent scratch marks and withstands extreme weather conditions well. Additionally, the Lojel Vita comes with tamper-proof security measures like double coil zippers and TSA lock system so you won't need to worry about luggage thieves. This combined with its spacious interiors makes it a prime choice if you're in the market for quality luggage.
2. Urbanlite Rubik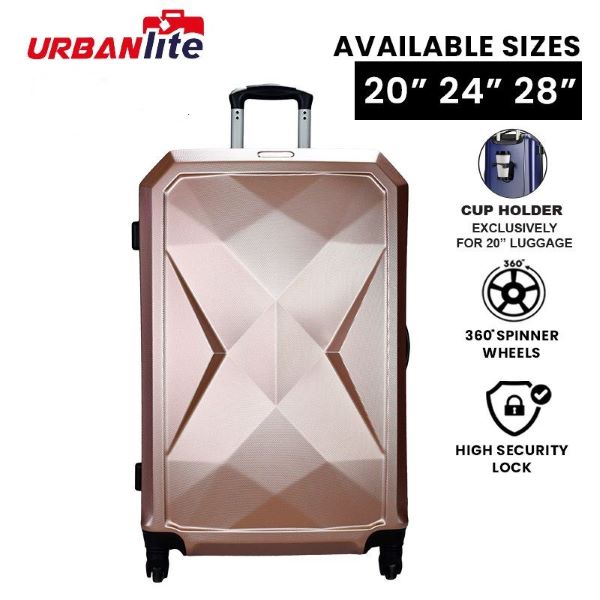 The best carry-on luggage needs to be both durable and easily maneuverable. Fortunately, this is the case for the Urbanlite Rubik (available on Universal Traveller Official Store). Featuring 360-degree multi-directional wheels that allow for silent, fluid motion and a freely adjustable telescopic trolley handle, the Urbanlite luggage makes dealing with heavy loads a breeze! It even features fully-lined interiors and an ABS plastic shell to protect your belongings from accidental knocks so you can travel worry-free.
3. Travelsupplies World Polo Luggage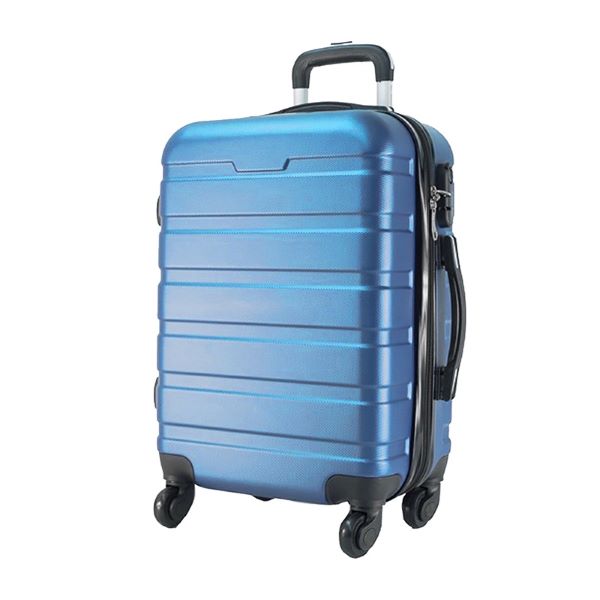 With 40 years of experience in the luggage industry, the folks at Travelsupplies Bags and Luggage sure know what they're doing with their carry-on luggage designs. The Travelsupplies World Polo Expandable Hard Suitcase (available on TRAVELSUPPLIES BAGS AND LUGGAGE Official Store) may just be the best hard shell carry-on luggage especially if you're a business traveller. Apart from 360-degree spinner wheels that allow for easy maneuvering, this Travelsupplies luggage is also equipped with a side mounted combination lock to provide extra security. This best cabin-sized luggage also features inner mesh dividers and cross straps to keep your things organised! 
4. Calvin Klein Carry-On Luggage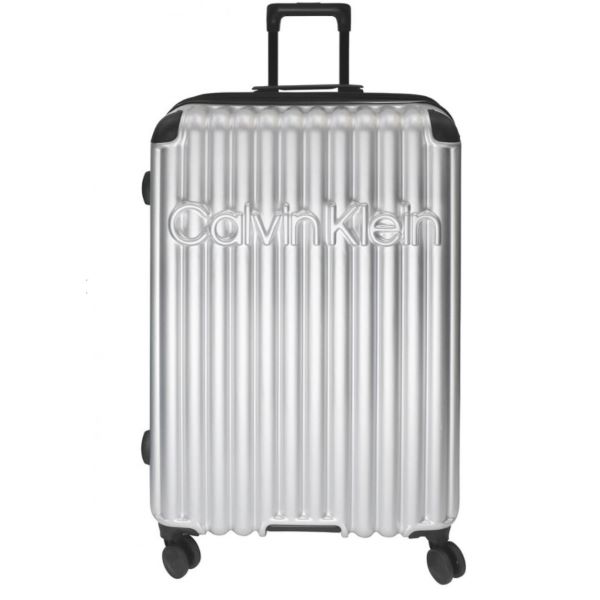 If you're all about the aesthetics, the Calvin Klein Carry-On Luggage (available on Universal Traveller Official Store) is one of the best options in Singapore that can pair well with your airport outfit. We love its understated design that looks classy and minimalist – definitely a piece that'll amp up your style factor. In terms of functionality, the Calvin Klein luggage also packs a punch with eight multi-directional wheels, built-in combination lock, and multiple pockets within to keep things neat. 
5. Delsey Clavel 4-Double Wheels Trolley Case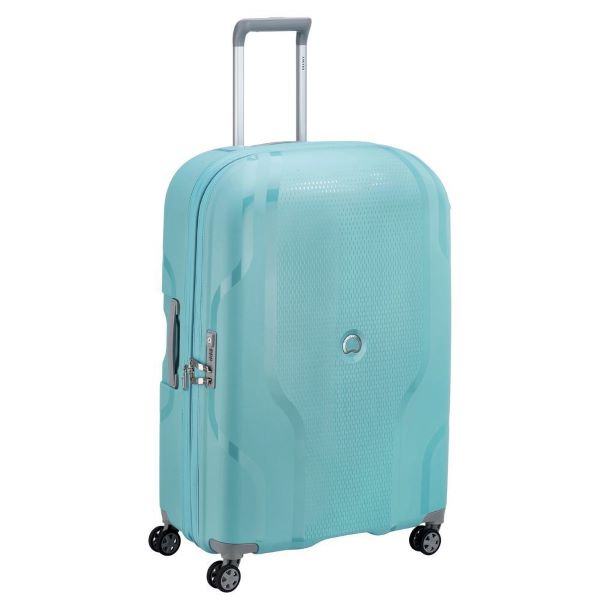 For those who tend to pack a tad too much for your travels, a lightweight carry-on luggage is your best bet to avoid exceeding weight limits. Coming in at 2.4kg, the 20 inch Delsey Clavel 4-Double Wheels Trolley Case (available on Delsey Singapore Official Store) is the best option when it comes to super light cabin luggage in Singapore. It is also expandable so you don't have to hold back on shopping overseas! We also love its well thought out compartments including two shoe pockets for optimal storage. What's more, you can choose from colours like pastel blue, pink, and yellow – these bright colours will definitely stand out from the usual blacks and navy blue suitcases for easy identification. 
6. JetKids Carry-On Luggage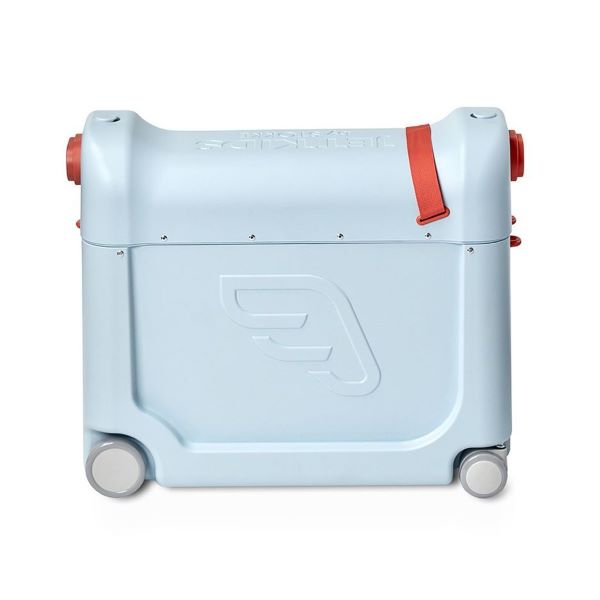 Travelling with kids can be a stressful affair, which is why you'd want to be more than adequately prepared for the journey. The JetKids Suitcase (available on Pupsik SG Official Store) is one of the best multifunctional carry-on luggage in Singapore that will come in handy when flying with your tots. Apart from storing all your barang, this cabin luggage doubles as an inflight bed your kiddos can sleep on as well as a leg-rest for greater comfort. This is made possible by its unique lid which acts as an extension from the airplane seat to become a mini bed. This feature has been officially approved by airlines like Singapore Airlines, Virgin Australia, and AirAsia. That said, we recommend double checking with the airline you're flying with. 
Best soft case carry-on luggage in Singapore
7. Osprey Transporter Wheeled Carry-On Luggage
While soft shell luggage have a bad rep of being non-water-resistant and prone to absorbing weird smells and stains, the Osprey Transporter Wheeled Carry-On (available on The Planet Traveller Official Store) defies this notion with its weather-proof exterior. It is made of water-resistant TPU-coated fabrics to withstand rugged elements, and is also abrasion resistant for added durability. Another unique feature that stood out to us is how it converts seamlessly from a wheeled luggage to a carry-on backpack. This comes in handy when you encounter terrains that make wheeling inconvenient, allowing your hands to be free while carrying it! That's why this trolley backpack is one of the best cabin-sized luggage in Singapore!
8. Kamiliant Pontos CLX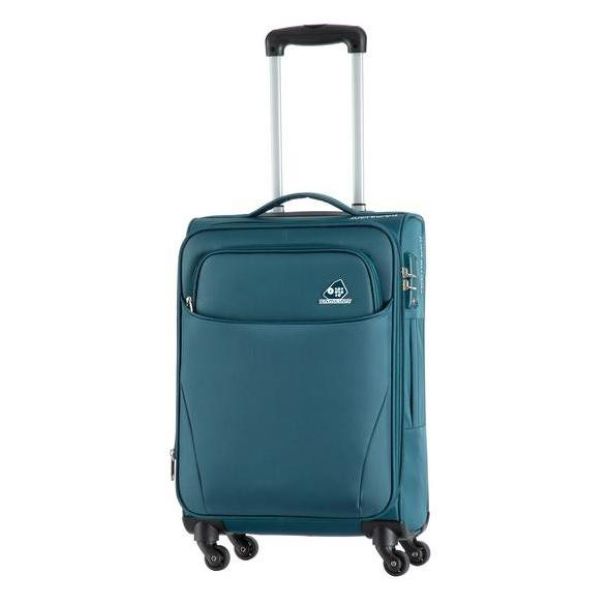 Kamiliant is a travel brand that's big on colours! Whether you're a fan of their colourful hues or the American Tourister brand, Kamiliant's Pontos CLX Soft Case Lugagge (available on American Tourister Official Store) deserves a mention on this list of best carry-on luggage options. Besides an aesthetically pleasing design, the Kamiliant luggage has also placed emphasis on delivering a highly functional luggage bag. Built from Teflon coating fabric, the Pontos CLX offers fantastic protection against stains and water, guaranteeing your belongings stay clean and dry. While its four-way expander cleverly camouflages all that holiday shopping!
9. American Tourister Speedair Rolling Tote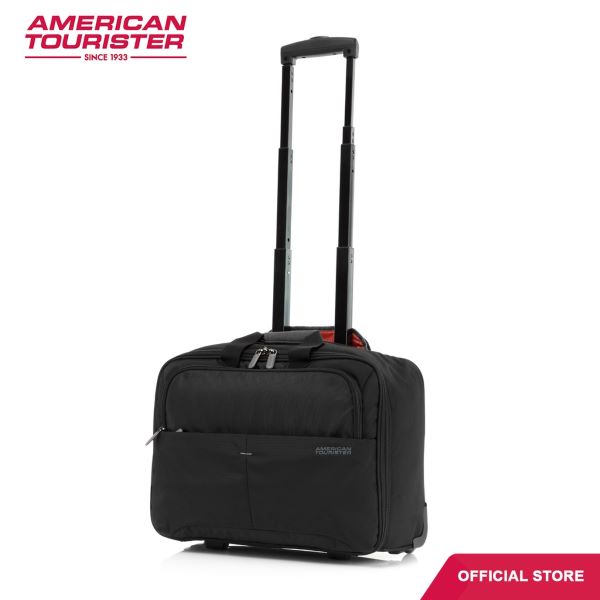 For business travellers who need their laptops on the flight, the American Tourister Speedair Rolling Tote (available on American Tourister Official Store) will be your best travel companion. The American Tourister luggage features a laptop compartment that's easily accessible, as well as multiple pockets for electronic gadgets. In addition, this best carry-on luggage in Singapore is compact and weighs only slightly more than 2kg. This is great for those who prefer to travel light, and a smaller cabin luggage helps to restrict your packing to the essentials. 
10. MUJI Foldable Soft Carry Bag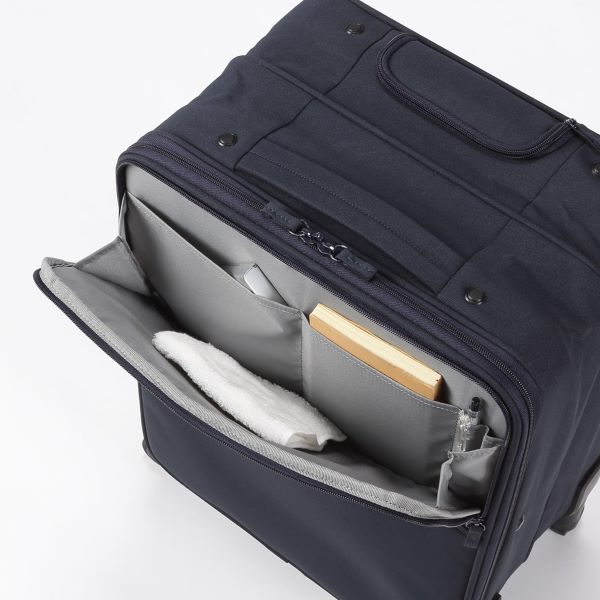 MUJI is known for their minimalist designs and durable quality. The MUJI Foldable Soft Carry Bag (available on MUJI Official Store) lives up to its name with durable polyester fabric that has been treated to be water repellent. We also love the convenient outer compartment that comes with multiple pockets – including one for a pen which you'll need to fill up those travel declaration forms! That said, it is noteworthy that water repellency deteriorates across years of wear and tear. It is also recommended to store this luggage in a dry, well ventilated area to prevent its material from being compromised. 
Best carry-on backpacks & duffel bags in Singapore
11. Targus Urban Expandable Backpack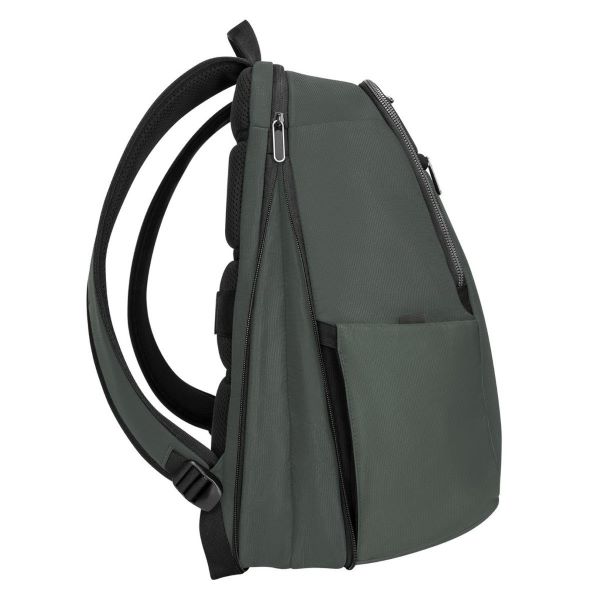 Those who prefer to have their hands free while roaming around the airport can consider the best carry-on backpacks instead! One of our favourite options is the Targus Urban Expandable Backpack (available on Targus Official Store). It is one of the best carry-on backpacks in Singapore with a padded laptop compartment and expandable main compartment. You'll definitely need the extra room on your return flight after your shopping sprees! The Targus backpack also sports padded shoulder straps for added comfort.
12. The North Face Base Camp Duffel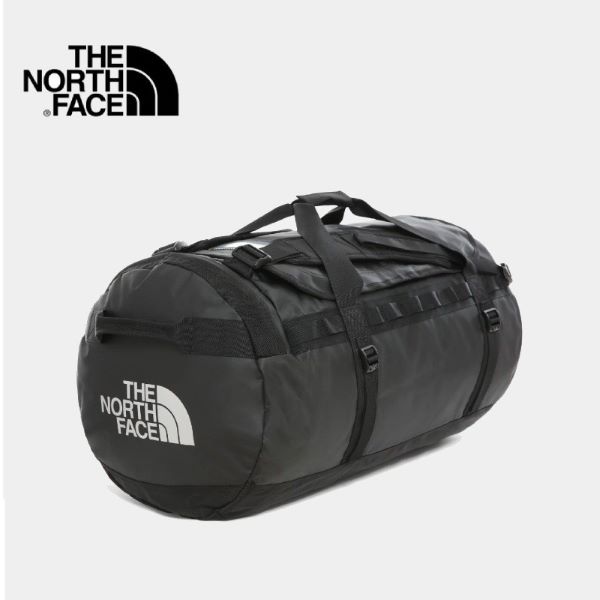 Mountain lovers who plan a hike in every itinerary can consider the The North Face Base Camp Duffel (available on The North Face Official Store) – one of the best carry-on backpacks in Singapore that has unmatched durability to tide through your rugged expeditions. This The North Face duffel bag is constructed with water-resistant material and double stitching to ensure its hardiness. Its shoulder straps are also designed to offer an ergonomic fit, allowing for the much-needed comfort you'll need while going the distance. It's also equipped with two padded side handles to make it easier to carry around. For more hiking essentials, check out our article on what to bring for a hike.
13. Ozuko Waterproof Travel Duffel Bag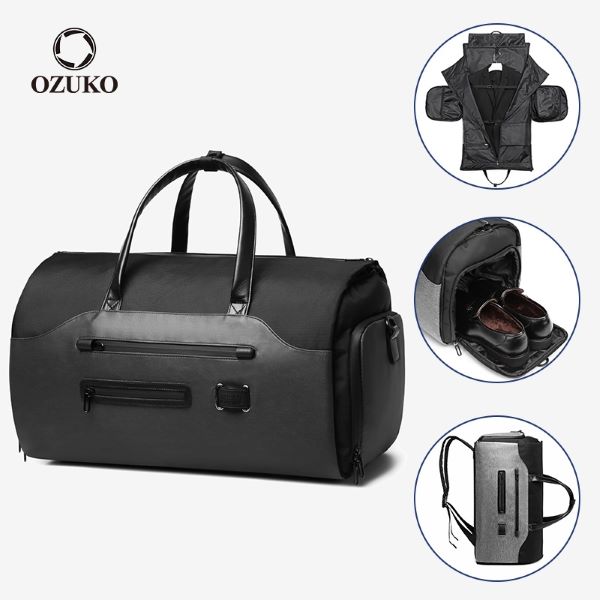 We stan travel bags with multiple compartments, and the designers of the OZUKO Travel Business Duffle Bag (available on ozuko.sg) won our hearts with their carefully curated construction. This duffle bag can be opened up flat when fully unzipped, and you'll find that no space within is wasted with its deluge of pockets. Its innermost compartment allows you to store clothing like blazers and suits without having them crumpled along the journey. This is especially convenient for business travellers who need to head to their meeting upon touchdown. Furthermore, it can be carried in three different ways as a backpack, shoulder bag, or handbag. 
Jet off to your next destination with the best carry-on luggage in Singapore
Need a comprehensive packing list on what to pack in a carry-on luggage? Be sure to check off these carry-on luggage travel essentials. Browse our range of travel accessories such as packing cubes to keep things neat. In addition, remember to get one of the best overseas SIM cards before flying to stay connected on your journey! 
This article was updated on 29 March 2022. Additional research done by Liang Shi Nan.