The last thing you need after a relaxing vacation is to receive a bill for sky-high roaming charges from your telco. After all, who can blame you for over-sharing your travels on Instagram Stories and making all your friends envious?
To protect yourself from unexpected charges, get yourself a prepaid overseas SIM card! Most overseas SIM cards offer free data for a period of time, without the fear of additional data charges. Before you buy one though, do consider the following:
Length of the trip
Most overseas SIM cards offer unlimited data for a certain number of days. However, your trip may sometimes last longer than the number of days on the SIM card. If so, you can decide if you rather endure a day or two without data, or prefer to spend more and purchase one with a longer validity.
How much data do you normally use
Take that amount, and multiply that by two or three times, depending on how much you share on social media! A simple 10-second Snapchat story can use more than 1.9MB of data. And when you're streaming live videos of your travel moments, all that data can add up. If you're a data-hungry user, it might be better to go for overseas SIM cards with unlimited data.
Are you sharing data with your friends?
We all have that one friend who loves to ask you to share data during the trip. While this can be a cost-effective option, turning on your WwiFfi hotspot can drain your battery very quickly! Unless your friends are very light data users, it's probably better to get a separate SIM card for yourself.
And with that, we have a list of recommendations for the best overseas SIM cards you can get! These have been highly rated on Shopee Singapore, and provide you data-hungry folks with tons of value!
For Asia – 8 Days Unlimited Data SIM Card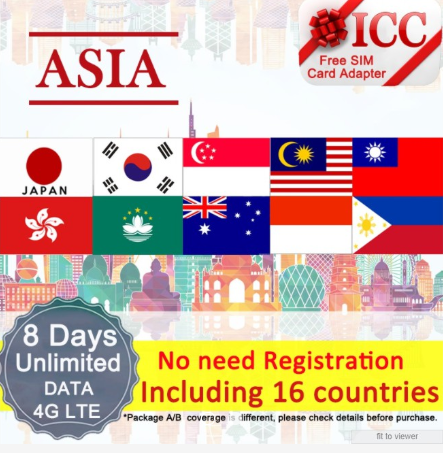 This Data SIM Card for Asia (from icctravel) provides you with the greatest value if you're looking to travel across a few countries in the region! You get data coverage for 16 countries, including favourite destinations like Japan, Australia and Hong Kong.
Amount of data: Unlimited data for 8 days
Price: $21.85 (Free shipping)
Coverage: 16 Asia Pacific countries
For Japan – 8 Days Unlimited 3G Prepaid Data SIM Card (DoCoMo)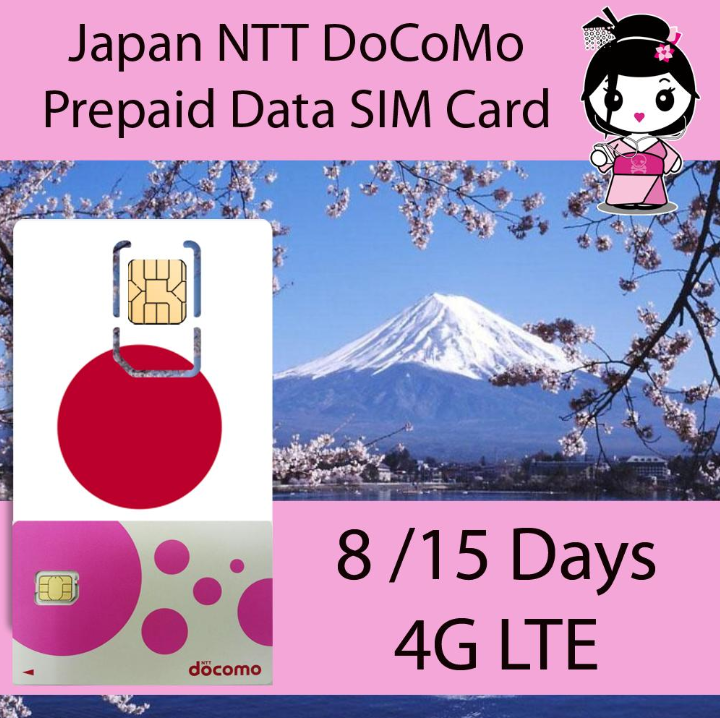 Japan is a breathtaking country, and you will definitely want ish to share the amazing views of Mount Fuji or the fashion-forward trends in Harajuku. Don't forget the amazing fresh sushi and tasty ramen you'll eat every day! This Prepaid Japan SIM Card (from tamaghost) provides you with 8 days of unlimited data from the largest telco in Japan, NTT DoCoMo. 11, 15 and 30-day SIM cards are also available as well.
Amount of data: 8 days of unlimited 3G data + 2GB 4G LTE data
Price: $24 (Free shipping)
Telco: NTT DoCoMo
Coverage: Whole of Japan
For South Korea – 8 Days Unlimited Data Prepaid SIM Card (SK Telecom)
If you're obsessed with K-pop, you must have data available for Instagram in case your favourite K-pop star suddenly walks past you in Seoul! This South Korea Prepaid SIM Card (from aquanix.sg) will do the trick. With 8 days of unlimited data provided by one of South Korea's largest telco, SK Telecom, you can go crazy with all your fangirling on social media.
Amount of data: 8 days of unlimited data (First 4GB at 4G LTE speed, subsequent data at 3G speed)
Price: $21 (Free shipping)
Telco: SK Telecom
Coverage: Whole of South Korea
For Taiwan – 5 Days Unlimited 4G Data SIM Card (FarEastTone)
Fans of street food won't be disappointed with the amazing night markets in Taiwan! Make your friends drool over that XL Crispy Chicken and flame-grilled beef cubes with the help of this Taiwan SIM card (from icctravel). This one has 5 days of unlimited data provided by the FarEastTone network without any limits on internet speed!
Amount of data: 5 days of unlimited 4G data
Price: $19 (Free shipping)
Telco: FarEastTone
Coverage: Taiwan
For Thailand – 8 Days Unlimited Data SIM Card (TrueMove H)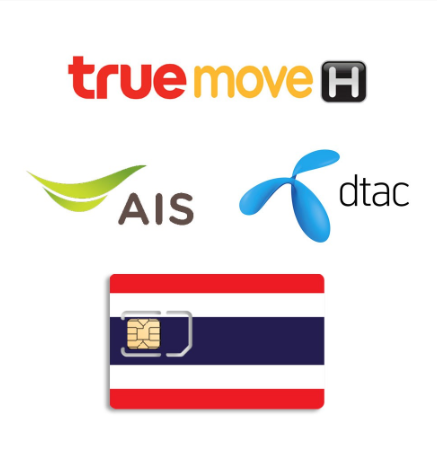 A trip to the Land of Smiles isn't complete without sharing your shopping haul from the malls and street markets! With the 8 days of unlimited data for only $5.10, this Thailand data SIM card (from aquanix.sg) gives you the biggest bang for your buck.
Amount of data: 8 days of unlimited 3G data + 2.5GB 4G LTE data
Price: $19 (Free shipping)
Telco: TrueMove H
Coverage: All of Thailand
For Malaysia – 7 Days, 15 GB SIM Card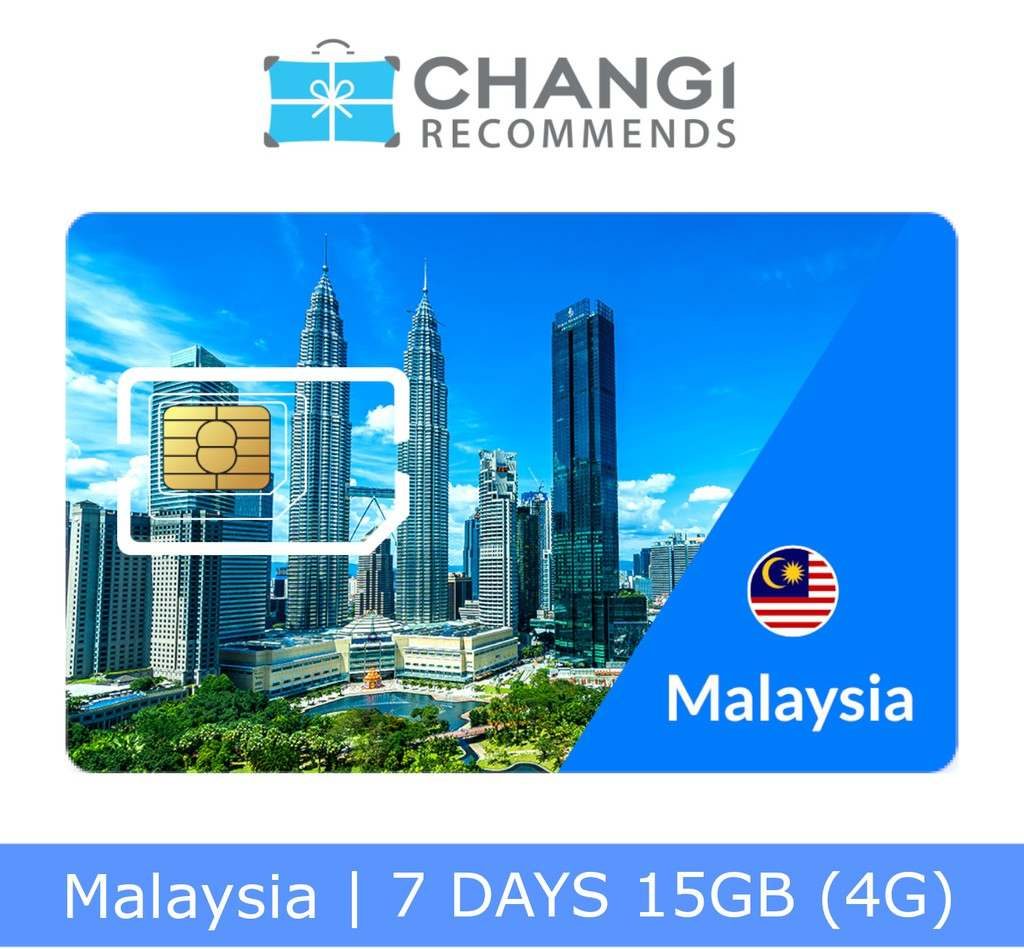 If you're taking a flight to Malaysia, then get a 15 GB data SIM card for 7 days (from Changi Recommends) at only $11.50 and pick it up at Changi Airport! Be connected the minute you land in Malaysia and enjoy a strong connection throughout your stay.
Amount of data: 7 days 15GB data + 5RM Local call and International calls
Price: $11.50 (Pick Up from Changi Recommends' counters at Changi Airport Departure Terminals 1,2,3,4)
Coverage: All of Malaysia
For Australia & New Zealand – 3GB 30 Days Prepaid SIM Card (3UK)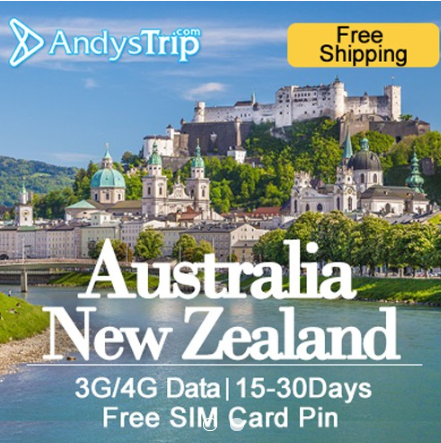 Australia and New Zealand have a great variety of experiences for travellers. You can go from surfing at beautiful beaches along the Gold Coast to tasting wines at famous wineries! You wouldn't want to miss out on sharing these amazing memories with your friends though! This Australia and New Zealand Prepaid SIM Card (from andystripsim) has 3GB of data for 30 days, which is more than enough for a long trip to the Down Under!
Amount of data: 3GB for 30 days
Price: $28
Telco: 3UK
Coverage: Australia + New Zealand
For Europe + UK – 12GB Data Prepaid SIM Card (Three)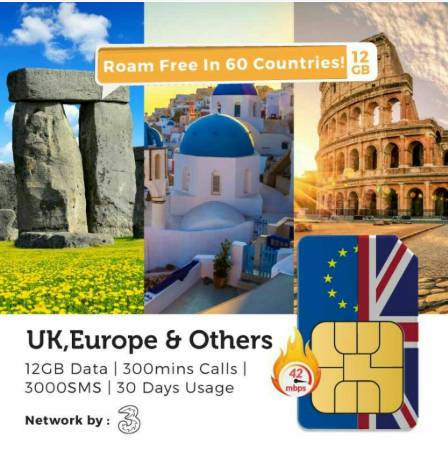 Europe is every travel junkie's paradise! Continue to keep your friends updated on your adventures with this Europe prepaid SIM card (from hello1010.sg) that packs 12GB of data. You won't need to worry about changing SIM cards whether you are visiting the beautiful Swiss Alps or the majestic castles in the United Kingdom.
Amount of data: 12GB for 30 days
Price: $49.90 (Free Shipping)
Telco: Three
Coverage: In 60 countries including European countries, UK & USA. Check the product listing for more info.
For The United States and Canada – 15 Days Unlimited Prepaid SIM Card (T-Mobile)
A holiday trip to the United States or Canada can give you enough photos and videos to hype up your Instagram feed for the whole year! There are plenty of photo opportunities for you on picturesque streets of New York, and don't get us started on what a beautiful city Vancouver is!
Prepare for your mass Snapchat spamming with this T-Mobile Prepaid SIM Card (from andystripim) that has 15 days of unlimited data. This one covers both the USA and Canada, which is perfect if you're also planning to visit both countries.
Amount of data: Unlimited 4G data for 15 days
Price: $35.90 (Free Shipping)
Telco: T-Mobile
Coverage: The United States and Canada
While shopping for your overseas SIM card for the next holiday, do check out our guide on travel essentials and the best travel apps! If you know of any other good buys for a vacation, feel free to share them with us in the comments section!
Be sure to also check out Shopee's ongoing travel deals for up to 50% discounts on overseas transport and attraction tickets!