No doubt there's a lot of buzz in Singapore about travelling to Japan, now that the country has finally lifted COVID-19 restrictions on international visitors. And your first stop might possibly be Tokyo, everyone's favorite city. For many travellers, having a bowl of the city's greatest ramen is a highlight, but finding the perfect bowl may be tough with the sheer abundance of shops and noodle soup varieties. To fulfill your ramen dreams, we've put together a list of Tokyo's best ramen places, from the classic to modern styles, including Michelin-starred options too! 
What are Japan's new travel regulations?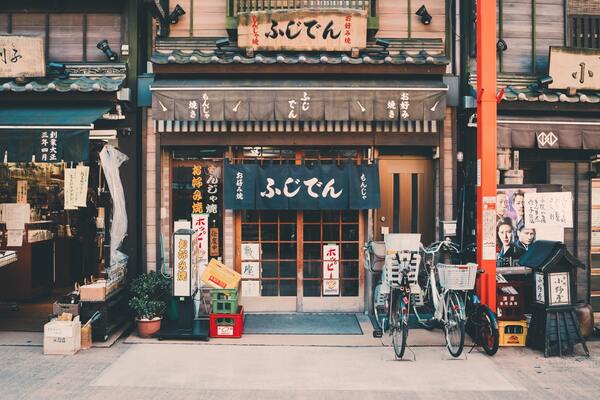 From October 11, Japan will reopen its borders to independent foreign travellers and reintroduce visa-free entry. You'll only be required to present a negative PCR test result obtained within 72 hours of departure, with the exception of individuals who have received at least three doses of the vaccine. The need for quarantine and on-arrival testing will also be removed. 
Is Tokyo famous for ramen?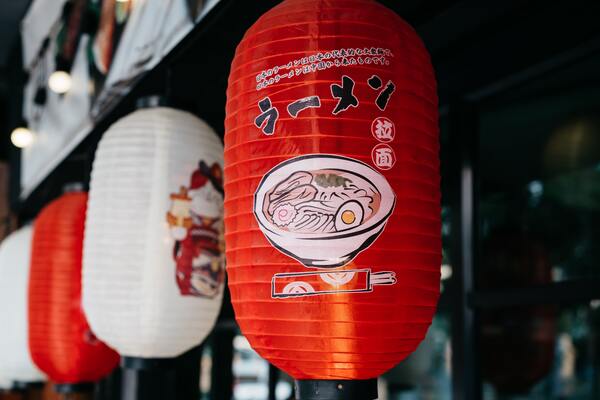 One of the most iconic dishes in Japan is ramen; with its rich, warm broth, chewy noodles, and tender cuts of meat, what's not to love? With more than 100,000 eateries in Tokyo, it seems like more than half of them offer ramen on their menus! This traditional Japanese meal is available in a variety of flavours, including Hakata-style Tonkotsu ramen, spicy ramen, vegan ramen, and pork-free choices. So in a nutshell, yes, Tokyo is best known for ramen, particularly in popular areas like Shinjuku and Shibuya. 
How much is ramen in Tokyo?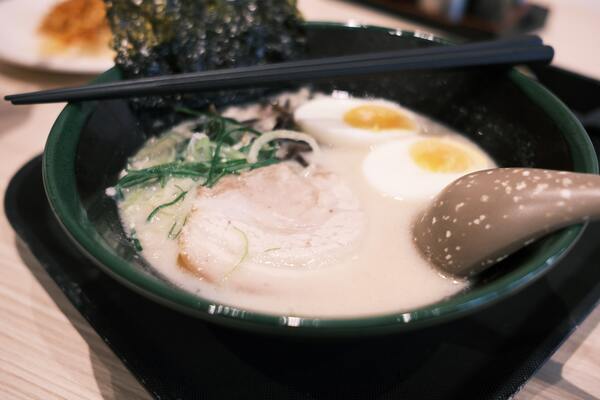 From large national chains like Ichiran to small, family-run establishments, ramen is an affordable meal that typically costs between 600 and 1,200 yen (around SGD 6 – 12) a bowl. Even with additional toppings, a side dish, and a beverage like beer, it's unlikely to exceed 2,000 yen (around SGD 20).
Best ramen places in Tokyo: Shinjuku
Due to its fusion of modern and traditional Japanese culture, Shinjuku is frequently referred to be the beating heart of Tokyo. More than that, it is also one of Tokyo's best ramen hotspots. Visit these best ramen places in Shinjuku today! 
1. Toripaitan Kageyama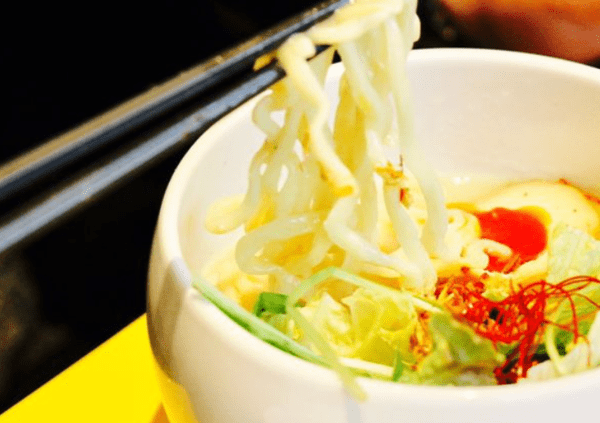 Toripaitan Kageyama is the best ramen place to visit in Shinjuku if you're a big fan of both ramen and chicken. They serve paitan ramen, which is one of the best chicken soups in Tokyo. A bowl of ramen contains its renowned chewy, thick noodles, perfectly cooked eggs, steamed chicken, and red-leaf lettuce. The soup also comes with a slice of lemon on the side. We suggest adding the lemon halfway through your meal to see what a difference it can make. The addition of the citrus flavour cuts through the richness, giving the soup a gentle sour note at the end! If you've got any leftover broth, don't hesitate to enjoy it with the free rice. Oh, so heavenly!
Address: 1 Chome-4-18 Takadanobaba, Shinjuku City, Tokyo 169-0075
Operating hours:
Mon – Sat: 11am – 11pm 
Sun, 11am – 10.30pm
2. Fu-unji (風雲児)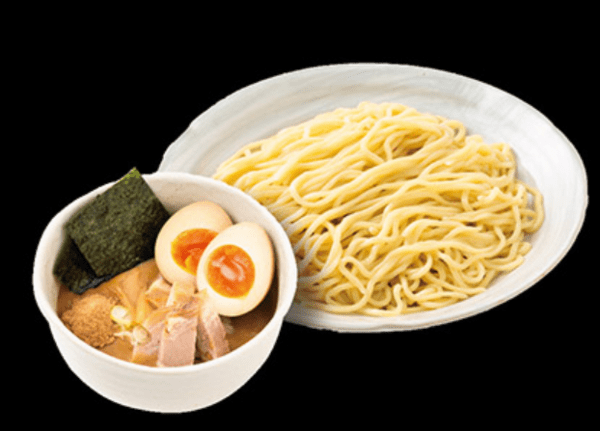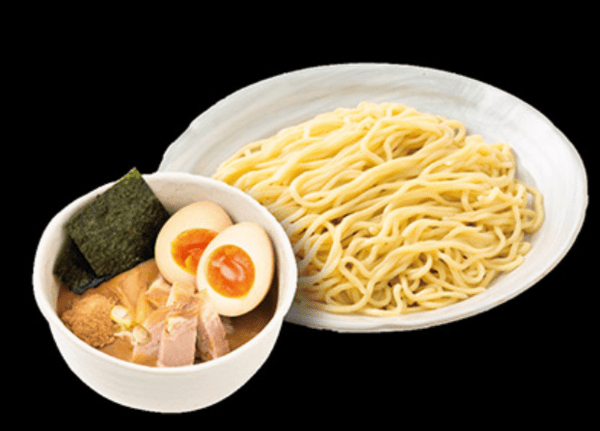 Fu-unji made its name as one of the best ramen shops in Shinjuku, serving up Tsukemen. Imagine chewy noodles topped with chashu pork, scallions, and bamboo shoots, all dipped in a delicious chicken and seafood broth. This screams UMAMI! For that one final step, pour hot water into the leftover salty stock, and bottoms up till the last drop! If you're heading over at dinner time, you should also try another crowd-favorite, Kamatama-men. It features chewy noodles tossed in a hearty egg sauce and topped with chashu, menma, and sudachi (a type of citrus fruit). It's hence no surprise that Fu-unji is also known as one of the best ramen places in Tokyo! 
Address: 2-14-3 Yoyogi, Shibuya-ku, Tokyo 151-0053 
Operating hours:
Mon – Sat: 11am – 3pm, 5pm – 9pm
3. Menya Kaijin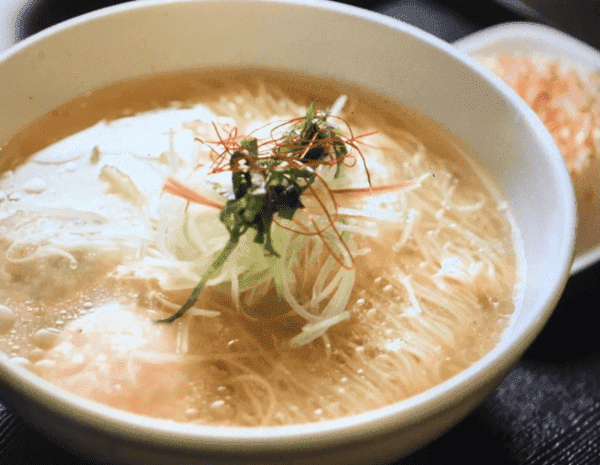 A hidden gem of a ramen-ya in Tokyo, Menya Kaijin is famous for serving one of the best shio ramen in Shinjuku. Its name, "god of the sea," makes you salivate at the thought of its mouthwatering ramen. They use fresh sea bream, yellowtail amberjack, salmon, and conger eel to make their super flavourful bone broth. Enjoy the chewy texture of Menya Kaijin's handmade noodles made with two different types of flour. The ramen at Menya Kaijin also offers exciting toppings such as chicken cartilage and shrimp dumplings, which pairs well with the golden broth!
Address: 3 Chome−35−7, Shinjuku City, Tokyo 160-0022 
Operating hours: 
Mon – Fri: 11am – 3pm, 4.30pm – 10pm
Sat – Sun: 11am – 10pm
4. Horiuchi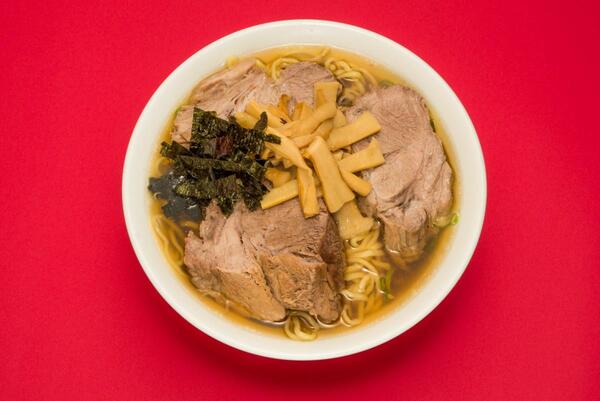 One of Shinjuku's best ramen restaurants, Horiuchi delivers traditional Japanese ramen. Their shoyu ramen is a good mix of springy noodles immersed in a mild-tasting soup. However, if you're up for an intriguing twist, try their Natto ramen! It features natto, a fermented soybean product, in addition to the typical thick noodles smothered in a flavourful broth and garnished with fresh green onions. Enjoy the neba-naba sticky sensation in your mouth as you continue to mix the natto and noodles! Meanwhile, for meat lovers, go for their chashu ramen that comes with generously thick slices of pork on top! 
Address: 1 Chome-4-7 Nishishinjuku, Shinjuku City, Tokyo 160-0023
Operating hours: 
Mon – Sat: 8am – 11pm
Sun, 10am – 11pm
5. Ichiran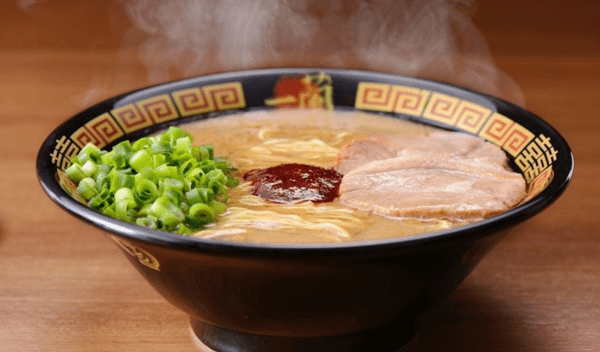 Ichiran has long been one of the most popular and best restaurants to specialise in Hakata-style Tonkotsu ramen in Tokyo. And for our Halal friends, good news — they've opened a pork-free ramen restaurant in Shinjuku. The broth here is made from chicken and is a deep, umami-filled soup that compliments the thin noodles and toppings incredibly well. One of the most well-liked toppings is the simmering beef, which is typically served with spring onions, eggs, and a dollop of spicy sauce that completes the entire dish. Ichiran is well-known for its seating booths for lone diners, so you can enjoy the best ramen alone in Shinjuku while also watching the best anime series too! 
Address: 6F Peace Building, 3 Chome−34−11 B1F, Shinjuku City, Tokyo 160-0022
Operating hours: Daily, 10am – 6pm
6. Ichijyoryu Ganko Ramen Souhonken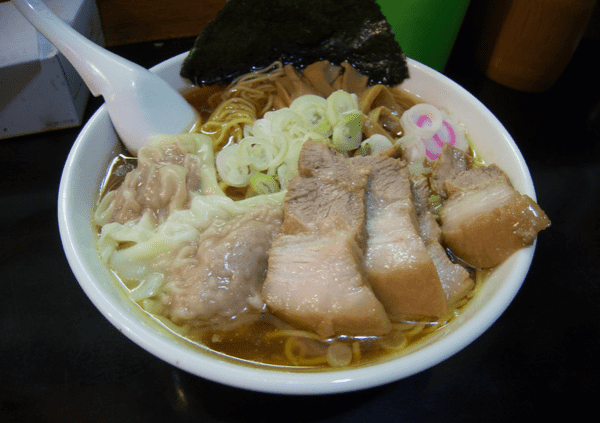 This one's made for the real ramen geeks! Ichijyoryu Ganko Ramen Souhonken is one of the best ramen joints with fans who will visit Shinjuku multiple times a week. It's very likely that you'll find a line there at any given time. With day-to-day variations in cooking, you're sure to uncover gems like oyster ramen as well as classic broths. One of their most popular dishes is the Gehin soup which combines pork and dried fish for an intense flavour that gives that oomph! Do note that the restaurant is run by an elderly couple who don't speak much English so this one may be a little challenging if you don't speak Japanese. But it's definitely worth your trip if you're on the hunt for an extra special, never-the-same-flavour-twice bowl of ramen!
Address: 106 Maison de Yotsuya, 4-1 Funamachi, Shinjuku, Tokyo 160-0006 
Operating hours: Daily, 9am – 1pm
7. Menya Sho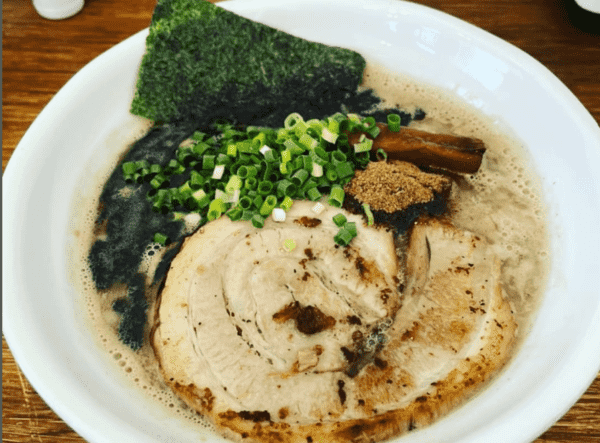 Look no further than Menya Sho if you're seeking the best, most foreign-friendly ramen shop in Shinjuku. For those who cannot read Japanese, Menya Sho offers an English menu and great service similar to that of Hai Di Lao. The staff is also quite welcoming, offering aprons and hair ties and thus, giving off a lovely, homey vibe. The most popular item on the menu is this chicken shio ramen which is a chintan-based soup. The chicken and veggies are simmered gently to make the broth, which also includes four distinct salt mixes from France, Italy, Mongolia, and Japan. You would experience the salty flavour notes with your first bite, followed by the savoury chicken broth. How refreshing!
Address: 7 Chome-22-34 Nishishinjuku, Shinjuku City, Tokyo 160-0023
Operating hours: Daily, 11am – 3pm, 6 – 9.45pm
Best ramen places in Tokyo: Shibuya
Looking for the best ramen in Shibuya other than the typical popular franchise? Try these delectable noodles, meat, and broth bowls listed below; your Tokyo itinerary isn't complete without sampling them! 
8. Menya Nukaiji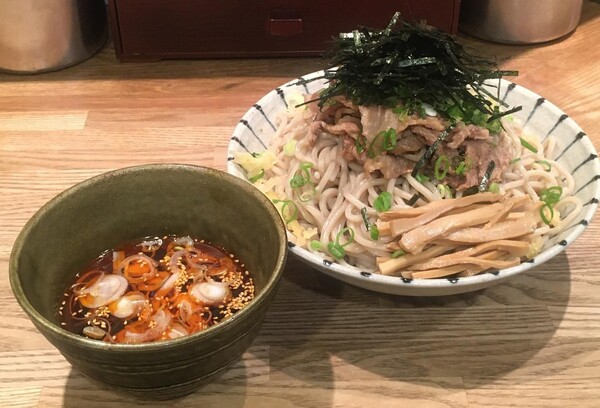 Time to add Menya Nukaiji to your list of best ramen places to visit in Shibuya! This Udagawacho hotspot uses a rich, delicious gyokai tonkotsu broth made from simmering chicken, pork and seafood. This flavourful soup goes well with the classic firm noodles. For an extra kick, try mixing in some yuzu or kuro shichimi seasoning powder.  Also, pair your noodles with one of the many Japanese craft beers for the best Shibuya ramen experience. Don't forget to make room for the tamago kake gohan (rice topped with a raw egg), which is complimentary with every bowl of ramen! 
Address: 3-12 Udagawacho, Shibuya, Tokyo 150-0042
Operating hours:
Mon – Sat: 11am – 3.50pm, 6 – 7.50pm
9. Usagi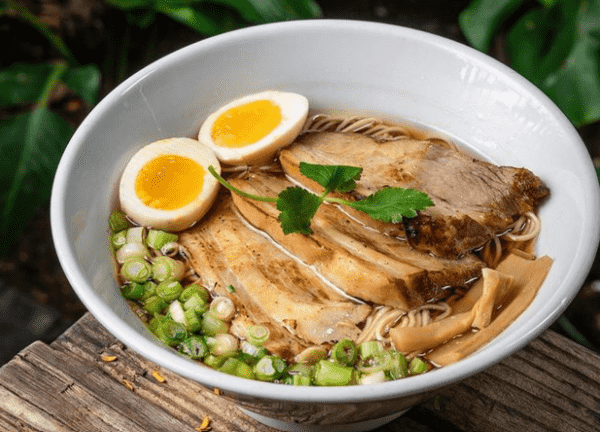 There's nothing more "Shibuya" than combining traditional Japanese cuisine and modern pop culture, and that's what makes Usagi one of the best ramen shops in Tokyo too! Usagi's specialty lies in its sous vide-styled chashu. The chashu toppings are created from Yamanashi's famous delicious Mioudori chicken and are seasoned with a variety of aromatic herbs. Mmmm… expect a burst of tasty juices as you take a bite of the meat! The atmosphere, though, is what draws people here the most. Usagi is one of the best cosy restaurants in Tokyo to enjoy a bowl of delicious ramen with hip-hop music playing in the background! 
Address: 8-13 Shinsencho, Shibuya City, Tokyo 150-0045
Operating hours:
Tues – Sat: 11.30am – 2.30pm, 6 – 9.30pm 
10. Dogenzaka Mammoth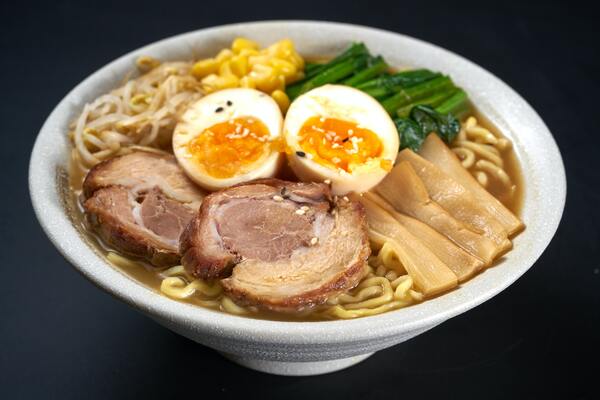 Next on the list of the best places in Tokyo for a bowl of tsukemen is Dogenzaka Mammoth. Their tsukemen's unique selling point is the richness and viscosity of the broth, which is made possible by the use of vegetables, seafood, and pork bones. It's highly recommended that you try their Ultimate Wheat Germ Noodles, which are strands of savoury-sweet noodles abundant in vitamins B-complex and E. These minerals, like those found in the best Japanese skincare products, are well-known for aiding in weight loss, improving skin, and having anti-ageing and anti-fatigue qualities. Time to take a dip and slurp 'em noodles soaked in all that thick, tasty yet healthy goodness! 
Address: 2 Chome-10-1 Dogenzaka, Shibuya City, Tokyo 150-0043
Operating hours: Daily, 11.30am – 10pm
11. Art Masashiya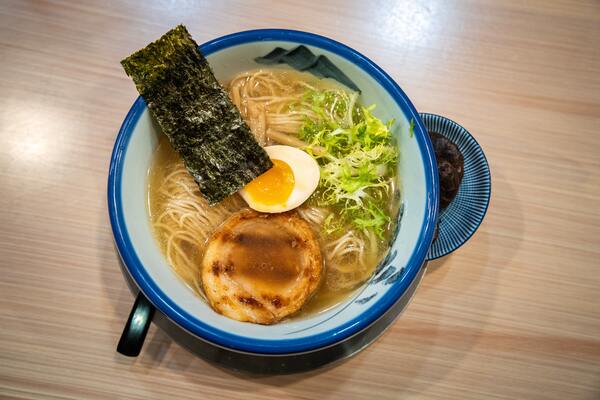 One of the best ramen restaurants in Tokyo, Art Masashiya is situated in the tranquil neighbourhood of Shibuya Dogenzaka and is distinguished by its IG-worthy cafe aesthetics. They take pride in their mineral-rich nutritious broth, premium soy sauce from the island of Shodoshima, and homemade flavoured oil. The noodles are also quite a treat because they resemble both traditional ramen noodles and Japanese soba noodles. Their triangle-shaped fried egg topping is one of a kind too, accompanied by soft chashu pork. Be sure not to miss the lunch window as Art Masashiya only caters to the lunch crowd! 
Address: Shibuya Tokyo Prefecture, 2-8 Nanpeidaicho, Shibuya City, Tokyo 150-0036
Operating hours: 
Sun – Tue: 11.30am – 3pm 
Thurs – Sat: 11.30am – 3pm 
12. Kippōshi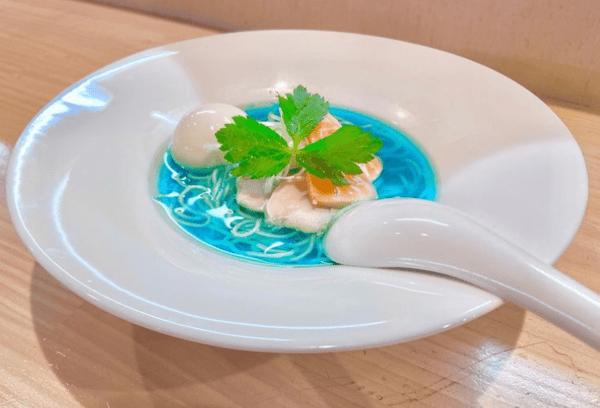 Kipposhi is undeniably one of the best ramen restaurants in Tokyo. Their secret for success? The owner's firm belief that ramen is nothing more than an artistic endeavour. As such, he elevated the ramen experience by adding fresh flavours. The Blue Ramen, which mimics The Hawaiian Sea, is what makes Kippohi stand out as one of the best ramen places in Shibuya. People have been excited to try The Blue Ramen since it has become a social media craze. The blue ramen uses chicken stock as its base and while the colour may seem intimidating at first, the first taste of the soup will certainly leave your taste buds in awe! 
Address: 1 Chome−11−5, Jinnan, Shibuya, Tokyo 150-0041
Operating hours: 
Sun – Tue: 12pm – 3pm, 6pm – 9pm
Thurs – Sat: 12pm – 3pm, 6pm – 9pm
13. Shinbusakiya Ramen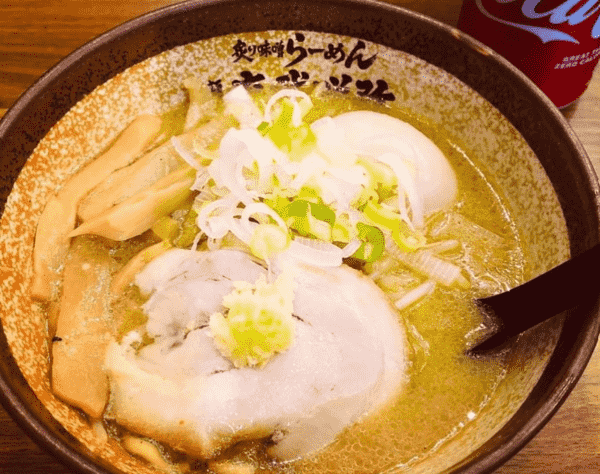 Shinbusakiya is the best place to go for miso ramen in Shibuya with vegetarian, gluten-free, and halal alternatives available. Their broth is made from a combination of stir-frying miso and garlic at high heat. Dense with flavours and spices, this is a dish that stimulates greater appetite. Due to its slight greasiness, a great way to enjoy this dish is to pair it with a bit of grated ginger. Each table has a bottle of garam masala that can be used to enhance the flavour of the ramen. Add a bowl of steaming white rice and some garam spice to it to make your own bowl of curry rice and zeng your experience at Shinbusakiya! Psst… this is also one of the best ramen places in Tokyo to enjoy a late-night supper! 
Address: 2-10-3 Dogenzaka, Shibuya-ku, Tokyo 150-0043
Operating hours: 
Mon – Thurs: 11am – 5pm
Fri, 11am – 6am
Sat – Sun: 7am – 6pm
14. Sugoi Niboshi Ramen Nagi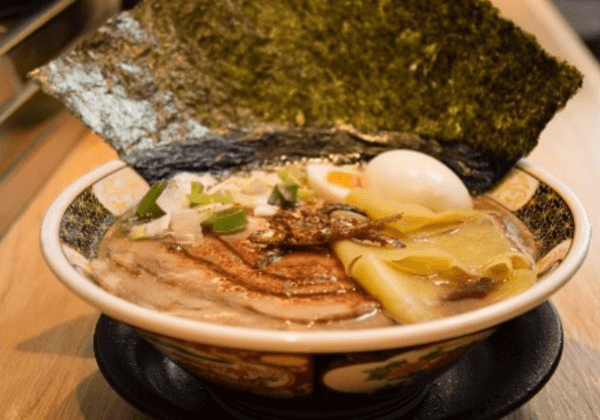 Sugoi Niboshi Ramen Nagi is one of the best ramen shops in Tokyo that specialises in anchovy ramen, a dish that is scarcely available in Shibuya. The anchovy soup is created with 20 different types of anchovies, giving it a flavourful depth that pairs beautifully with the handcrafted thick noodles. For big eaters, you can also upsize your ramen for free!  More importantly, you don't have to worry about any fishy smell as it has been properly controlled by expert chefs! You can also customise the ramen to your liking, including the firmness of the noodles, the intensity of the taste, and the amount of oil used.
Address: 2nd Yagi Building 1F, 3-7-2 Shibuya, Shibuya-ku, Tokyo 150-0002 
Operating hours: 
Mon – Thurs: 10.30am – 1am
Fri – Sat: 10.30am – 3am
Sun, 10.30am – 10pm
Best ramen places in Tokyo: Michelin Star guide
There are currently three Michelin Star ramen restaurants in Tokyo (each boasting one Michelin star). If you're looking for a special meal without breaking the bank, head over to these stellar noodles in Tokyo! 
15. Nakiryu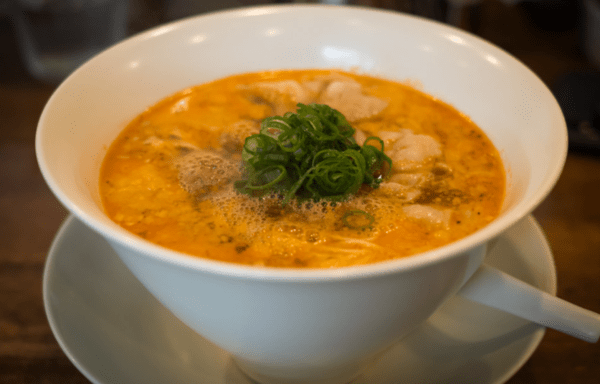 Nakiryu is one of the first best ramen restaurants in Tokyo to receive a Michelin Star. The shoyu, shio, and san ramen (more sour tatanmen) at Nakiryu are top-notch. However, their best-selling item is the original tantanmen. The tantanmen is inspired by the fiery Szechuan cuisine dan-dan noodles, which include minced pork, a lot of Szechuan pepper, and chilli oil for a kick. And, the addition of black vinegar and apple vinegar give the soup a subtle sourness. Overall, it creates a nutty broth that goes nicely with the thin noodles. And the best part? A bowl only costs less than SGD$10! What a steal!
Address: 2-34-4 Minamiotsuka, Toshima-ku, Tokyo 170-0005
Operating hours: 
Mon, 11.30am – 3pm
Wed – Sun: 11.30am – 3pm, 6pm –9pm 
16. Konjiki Hototogisu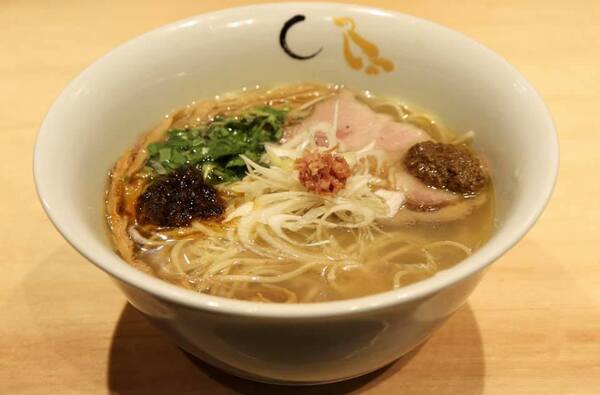 Another best ramen place in Tokyo that has joined the prestigious Michelin Guide rank is Sobahouse Konjiki Hototogisu. The signature shouyu soba is created with three different soup stocks — pork broth, wa-dashi (Japanese stock), and hamaguri clam dashi — and is topped with truffle sauce, porcini oil, and flakes for a powerful umami flavor. The restaurant does, however, suggest the shio soba. The base stock is a delicately balanced blend of two types of salt (Mongolian rock salt and Okinawan sea salt) and perfectly complements the seafood sweetness from the hamaguri clam and red sea bream. Italian white truffle oil, porcini mushroom sauce, pancetta bacon bits, and inca berry sauce are then added to the noodles, giving the dish an extra depth of flavour. Without a doubt, you'd want to finish up the soup till the very last drop!
Address: 2-4-1 Shinjuku, Shinjyuku-ku, Tokyo, 160-0022
Operating hours:
Mon – Fri: 11am – 3pm, 6.30pm – 9.30pm
17. Ginza Hachigo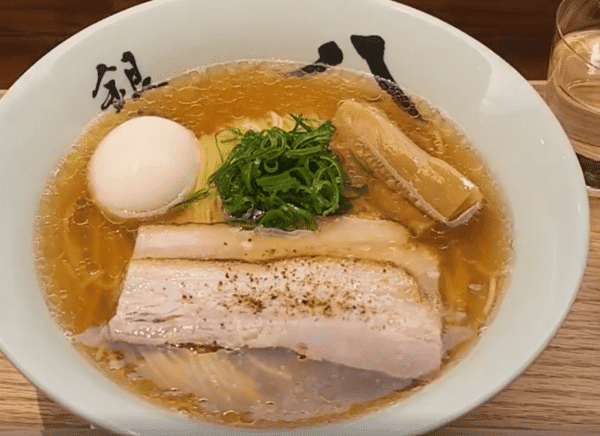 In Tokyo's affluent Ginza neighbourhood, Ginza Hachigou delivers delectable ramen with French cuisine influences. One of the best ramen restaurants in Tokyo, its contemporary ramen was awarded a Michelin star in 2022! For starters, they do not use tare. Tare is a Japanese cuisine seasoning used in ramen and other dishes. Instead, the owner blends Japanese and Western elements like kombu, dried shiitake, dried tomatoes and uncured ham, with free-range chicken and duck as the base. The Italian prosciutto, chicken, and duck provide salty and rich undertones. But there's also an elegant touch to everything, giving birth to a revolutionary ramen taste!
Address: 3-14-2 Ginza, Chuo-ku, Tokyo 104-0061
Operating hours: Daily, 11am – 3pm, 5pm – 7pm
It's time to slurp the best ramen in Tokyo! 
Now that you've read our extensive list of the best ramen places in Tokyo, we hope you're ready to embark on your ramen adventure! But before you do, remember to purchase some of the best carry-on bags to pack your necessities. Additionally, get one of the best overseas SIM cards before flying to stay connected throughout your trip. Don't forget to bring back some of the best Japanese snacks as souvenirs too!
This article was updated on 19 October 2022. Additional research done by Jamantha Lim.
New to Shopee? Get $7 (min. Spend $15) with code*: 17BESTPLACESINTOKYO
*TNC applies. Valid for new users from 22 Oct to 29 Oct 2022 only.