Halloween (31 October) is almost here, and it's time to put your bravery to the test. Brace yourself for a deluge of hair-raising haunted houses, shows, and exhibits! For those with young children, we've got you covered as well with family-friendly activities. Read on for our roundup of Halloween events in Singapore for kids and adults in 2022!
Scare yourself silly at these Halloween events in Singapore (2022)
1. Halloween Horror Nights 10 Singapore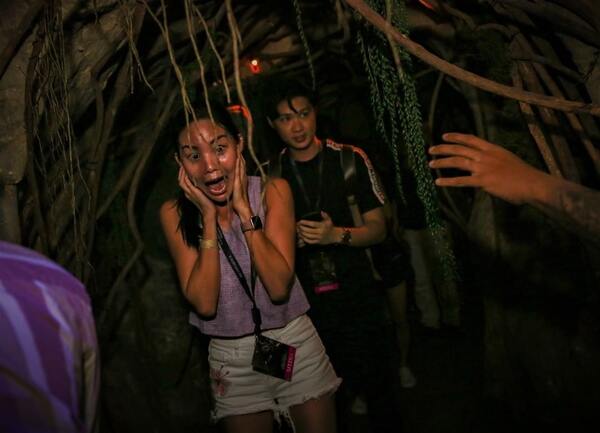 Evil has returned. Halloween Horror Nights is finally back in Singapore for its tenth run in 2022! If you dig thrilling experiences at haunted houses and scream your lungs out with jump scares, don't miss out on this Halloween event at Universal Studios. You can expect three haunted houses, two sinister scare zones, special experiences, live shows, and even Halloween-themed food! This includes Operation: Dead Force, where you'll meet the Special Forces Against the Dead (SFAD) whose mission is to eradicate zombies. Halloween Horror Nights 10 in Singapore will also be featuring Die-ning with the Dead this 2022. Feast on a horror-themed meal to amp up your spooky experience!  Get your Halloween Horror Nights ticket (available on DirectConnect Official Store) ASAP before they're sold out!
Pro Tip: Do note that Halloween Horror Nights Singapore is not recommended for children below 13 years old. In addition, costumes, full-face masks, and applying full-face Halloween makeup are not allowed at HHN! 
Address: Universal Studios Singapore, 8 Sentosa Gateway, S(098269)
Dates: Now till 5 November 2022
Time: 7.30pm – 2am (weekends), 7.30pm – 1am (weekdays)
Price: $68 (non-peak), $78 (peak), $288 (R.I.P tour)
2. Momok Drive-Thru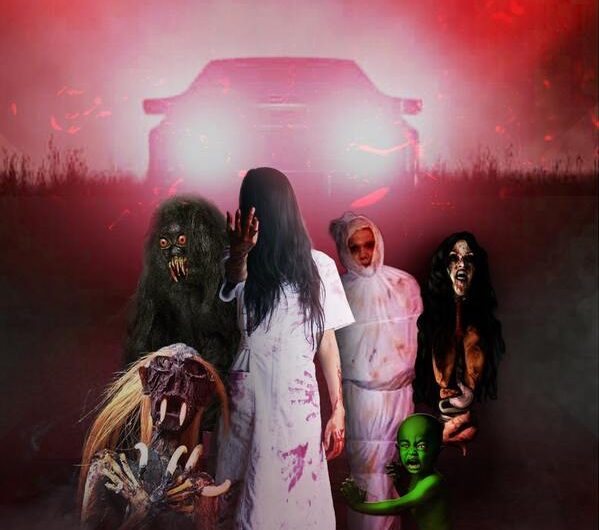 Intrigued by local folklores and legends? Don't miss out on Momok Drive-Thru, Singapore's very first drive-through haunted house happening this 2022! This Halloween event is organised by paranormal enthusiasts. Instead of mindless jump scares, each momok (which means ghost in Malay) has a story behind them, and a guide will be sharing spooky tales. It'll be held at Kampong Wak Hassan in Sembawang – a site in Singapore that's notorious for its creepy stories. It's definitely not for the faint-hearted, but if you're in for a thrill this Halloween, jio your squad to brave this activity together! For those who don't drive, you can still participate in the event on foot, on bikes, and on scooters.
Address: Kampong Wak Hassan (specific location TBC)
Dates: 27 – 31 October 2022
Time: 7pm – 3am
Price: $45
3. Harrowing Halloween at Discovery Centre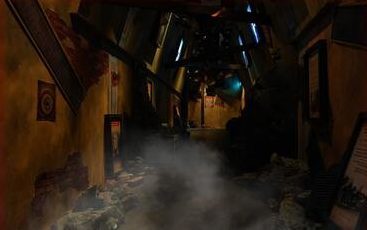 Buckle up and get onboard the Discovery International Airlines' Flight 013 at Harrowing Halloween – an event back by popular demand in 2022 at Singapore Discovery Centre! Apart from a flight-themed haunted house, you can also look forward to a series of games and craft activities. Don't forget to get temporary Halloween tattoos to amp up the fun! Another highlight is interactive After Dark Tour: (Law) Lore of a Hungry Ghost – a permanent exhibits gallery that will bring you through the journey of a mysterious resident. You'll also get to learn about Chinese superstitions and taboos!
Address: Singapore Discovery Centre, 510 Upper Jurong Road, S(638365)
Dates: 1, 7, 8, 14, 15, 21, 22, 28 – 30 October 2022
Time: 7pm – 11pm
Price: From $20
4. SuperSpook 2022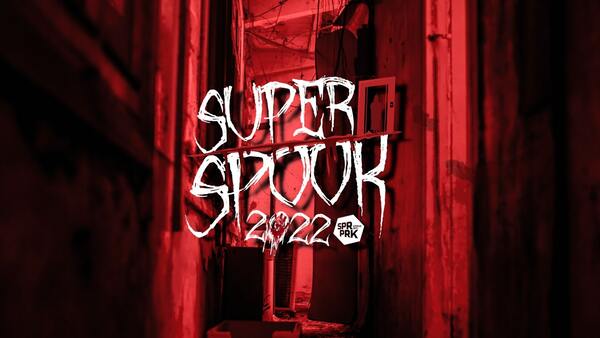 This 2022, SuperPark Singapore will be transformed into a haunted maze for SuperSpook 2022! This Halloween event is not for the faint-hearted. Brace yourself for ghoulish adventures as you traverse the maze. Setups include a heartland playground, where you'll enjoy a game of marbles with the lonely child with a vacant stare. Look out for the butcher, whose kitchen is dripping with blood. While this event is for those above 18, those with kids can also join in the fun with SuperSpook Junior at the SuperPark kid's gym! There will be Halloween-themed games and activities at this event, and a pumpkin-themed bouncy castle for the little ones to expend their energy!
Pro Tip: Wear comfortable clothing that you can easily move in for this Halloween event in Singapore – athleisure outfits and covered shoes are recommended! You're also advised to stretch before the event. Note that no masks, costumes, and full-face makeup are allowed.
Address: SuperPark Singapore, Suntec City (North Wing) #02 -477, 3 Temasek Boulevard, Tower 1, S(038983)
Dates: 21 – 23, 28 – 30 October 2022
Time: 5.30pm – 7.30pm, 8pm – 10pm
Price: From $38.25
5. Hell's Museum @ Haw Par Villa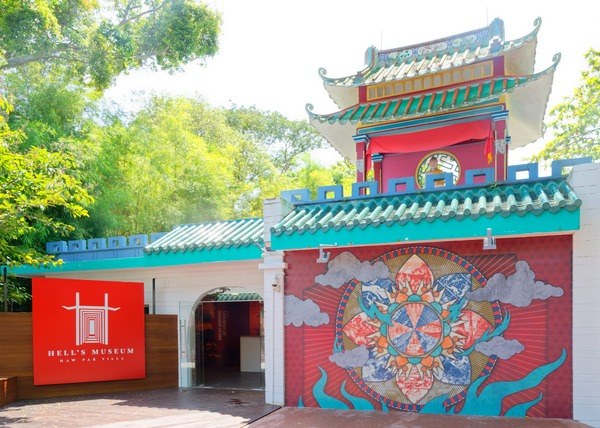 Would you pay money to go to hell? Well, not literally of course. We're talking about going to Hell's Museum at Haw Par Villa as a Halloween activity in Singapore! While the museum is open all year round, we think there's no better time to visit than in October to busk in the creepy festivities. Here, you get to learn more about the infamous 10 Courts of Hell and discover concepts behind the graphic representations of sins and punishments in the afterlife from the different major belief systems. With many picture opportunities of Chinese deities both indoors and outdoors, you'll definitely have a hell of a time!
Address: Haw Par Villa, 262 Pasir Panjang Road, S(118628)
Opening Hours: Wed – Sun, 10am – 6pm
Price: $10 (child), $18 (adults)
*NOTE: This activity is not recommended for children under 9 years old
Indulge in the magic of music at these Halloween events in Singapore (2022)
6. The Halloween Experience at Gardens By The Bay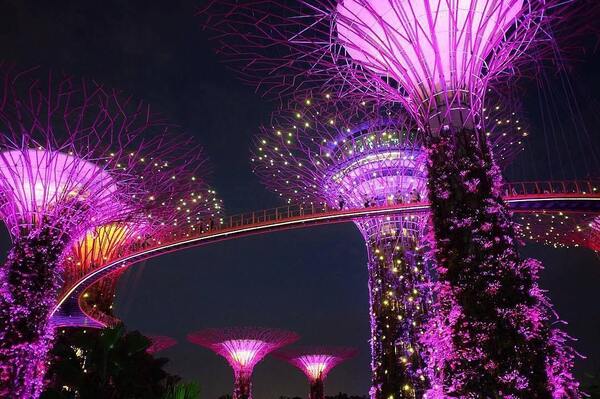 Edgy EDM, hip-hop bops, and food and beverages to boot – these are what you're in for at The Halloween Experience 2022! Held at Gardens By The Bay, this themed music festival is an event by Episode that will feature international artists such as 22Bullets and local deejay Farah Farz. You can also look forward to other local artists who will be rocking it on stage, including Kaylova, Caden, and MC Sonorus. While this music festival is rated M18, those with kids can still bring their little ones along for the second day of the event – Episode Junior: Halloween Kids Blitz 2022. It'll be a load of fun with activities like a pumpkin sweep contest and arts and crafts! 
Address: The Meadow, Gardens By The Bay, 18 Marina Gardens Drive, S(018953)
Dates: 29 – 30 October 2022
Time: 3pm – 12am
Price: $78
7. Marquee Halloween 2022: Marqueeverse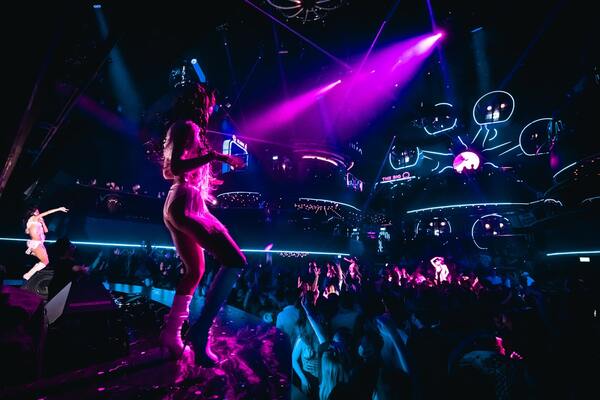 Want free admission to one of the best clubs in Singapore? Be one of the first 100 guests to arrive at Marquee dressed up in full Halloween costume and your wish shall be granted! The most OTT one will even stand a chance to win attractive prizes. If you live for themed parties, this will definitely be a night to remember! 
Address: The Shoppes At Marina Bay Sands, B1-67, Galleria Level, 2 Bayfront Avenue, S(018972)
Date: 29 October 2022
Time: 10pm till late
Price: From $40
8. Beautiful Sunday: Boo! – A Halloween Special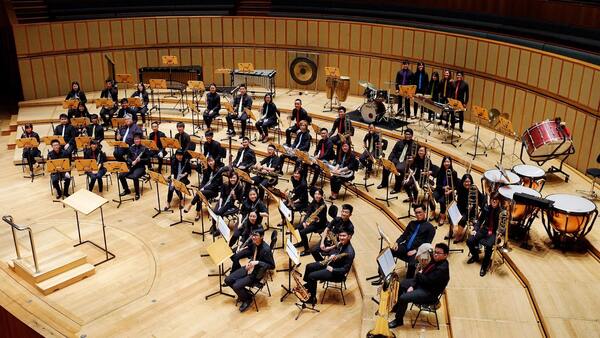 Prefer a laid-back Halloween activity that doesn't involve horror or partying? Sit back, relax, and immerse in enchanting tunes instead at Boo! – A Halloween Special, an event at Esplanade Singapore this 2022! The Mus'Art Youth Wind Orchestra will be bringing you pieces from movies like Spirited Away and Enchanted. If your partner is a fan of these classics, this would be a perfect date idea for October. To make things even better, it's completely free – you'll just have to register beforehand to secure your seats!
Address:  Esplanade Concert Hall, 1 Esplanade Drive, S(038981)
Date: 9 October 2022
Time: 2pm – 3pm
Price: Free
9. Singapore Symphony Orchestra, Halloween Night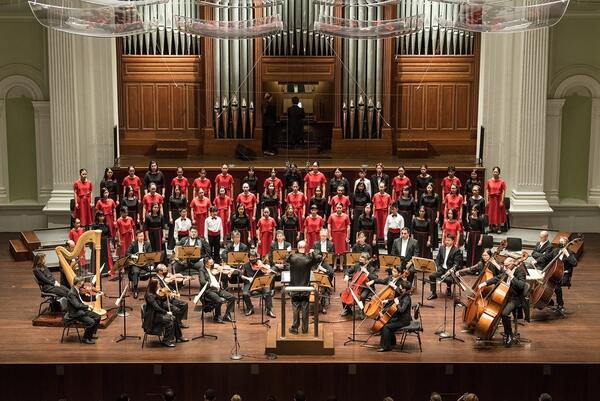 If Halloween were a musical note – it'd definitely be D minor. The Singapore Symphony Orchestra will be holding a Halloween Night concert, and we're sure they'll keep their audience at the edge of their seats with their chilling tunes. They will be featuring Loraine Muthiah on the pipe organ, bringing you pieces such as Enemy Mine and Suite Gothique. For those who appreciate classical music, this 2022 Halloween event in Singapore might just be right up your alley!
Address: Victoria Concert Hall, 11 Empress Place, #01-02, S(179558)
Dates: 29 – 30 October 2022
Time: 8pm on 29 October, 4pm on 30 October
Price: $5
Enjoy a little BOO! at these Halloween activities in Singapore for kids (2022)
10. Trick Or Thrills At Universal Studios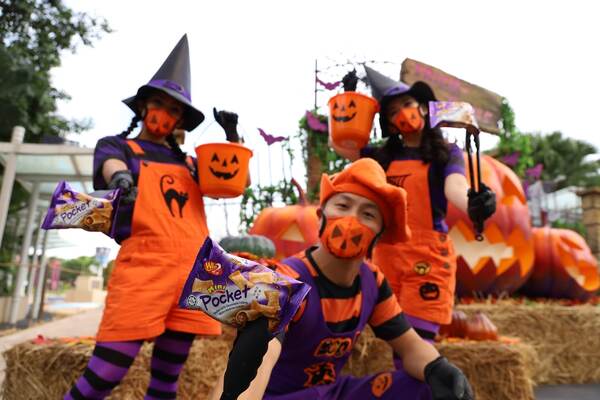 In October, it'll be Halloween Horror Nights by night, and Trick Or Thrills by day over at Universal Studios Singapore. For those with young kids, this Halloween event in 2022 will make for a great weekend activity! The little ones can have a ball of time catching the Sweet and Sour Squad on their parade through the park. Psst, they'll be sharing Halloween candy, so get ready for your Halloween baskets to receive them! In true Halloween spirit, kiddos will also get to trick or treat with Universal stars who will be dressed in themed costumes! They can look forward to meeting Gru's Girls and Minion Monsters too!
Address: Universal Studios Singapore, 8 Sentosa Gateway, S(098269)
Dates: Now till 6 November 2022
Time: 11am – 6pm
Price: $58 (child), $68 (adults 13 and above)
11. Opera Estate Trick Or Treat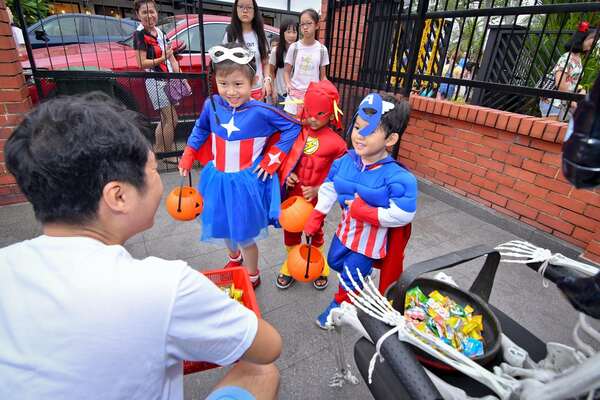 Wondering if there's trick or treating in Singapore? Avid Halloween junkies will know that over at Opera Estate, Trick Or Treat is an annual Halloween event that the young' uns can enjoy. The organising committee links up with people who would like to welcome trick-or-treaters at their homes. These houses will then be available for children to knock on. Get their favourite costumes ready to hit the streets for candy! 
Address: Universal Studios Singapore, 8 Sentosa Gateway, S(098269)
Date: 29 October 2022
Time: 5pm – 8pm
Price: Free
12. S.E.A Aquarium Deep Boo Sea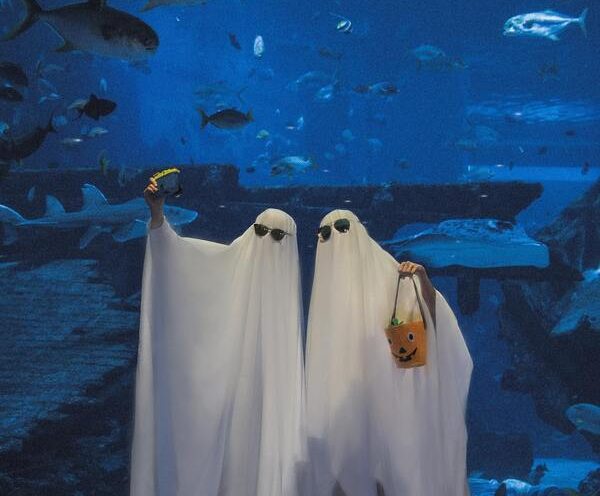 Dive into the Deep Boo Sea of S.E.A Aquarium Singapore this Halloween 2022 for a whale of time with your kids! Bring along your Halloween baskets to gather sweet treats along the Trick or Treat trail. For photo opportunities, you'll get to meet friendly manta rays dressed in their Halloween best! To spot them, head over on a weekend or public holiday at the following timings: 1.30pm, 3pm, and 4pm. Don't forget to say hi to their Skeleton Divers who will be swimming by the Ocean Habitat daily at 4.15pm!
Address: S.E.A Aquarium, 8 Sentosa Gateway, S(098269)
Dates: Now till 8 November 2022
Time: 10am – 5pm
Price: $41 (child), $51 (adults 13 and above)
13. Museum of Ice Cream: I Scream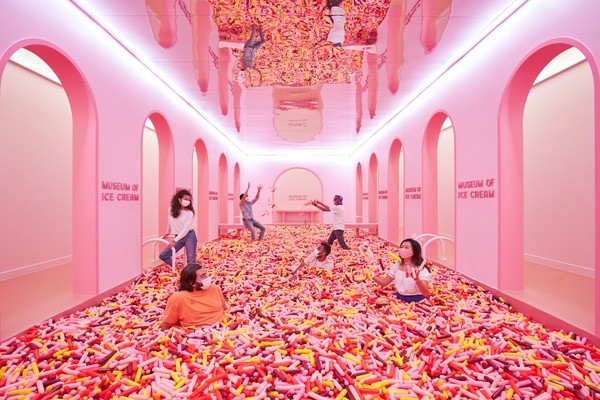 'I scream for ice cream' has never gotten more literal than this! The Museum of Ice Cream (MOIC) will be organising one of the most highly-anticipated Halloween events in Singapore this October 2022. At this kids-friendly event, your little ones can dress up for the occasion and explore over a dozen interactive installations. This includes a mysterious ice cream fortune teller who's set up camp in a creepy corner. There will also be sweet treats at the museum's Apothecary Lab which will serve up a slew of sips and tasty concoctions. We recommend trying the exclusive Graveyard Sundae and Haunted Milkshake for a taste of your sweetest nightmare!
Address: Museum Of Ice Cream, 100 Loewen Road, Dempsey, S(248837)
Dates: 1 – 30 October 2022 (Thurs – Sun)
Time: 10am – 10pm
Price: From $36
BONUS: Fun Halloween activities in Malaysia (2022)
14. Legoland Halloween Brick-or-Treat Monster Party
Planning a list of things to do in JB? Then you've got to include Legoland on your itinerary. Specifically, this October is a good time to pop by the theme park to participate in their Brick-or-Treat Monster Party. At this Halloween event, you get to watch a new 4D movie 'The Great Monster Chase' and take pictures with fantastic LEGO Halloween decorations. There is also a monster disguise costume contest where you can show off your zaniest and silliest outfits. All that's left is for you to purchase your Legoland Malaysia Tickets (available on NPN Travel) at great promo deals! 
Address: 7, Persiaran Medini Utara 3, 79100 Nusajaya, Johor
Opening Hours:
Fri – Mon: 10am – 6pm
Tue: 10am – 5pm
Thu: 10am – 5pm
Price: From RM69 (SGD $21)
Do people go trick-or-treating in Singapore?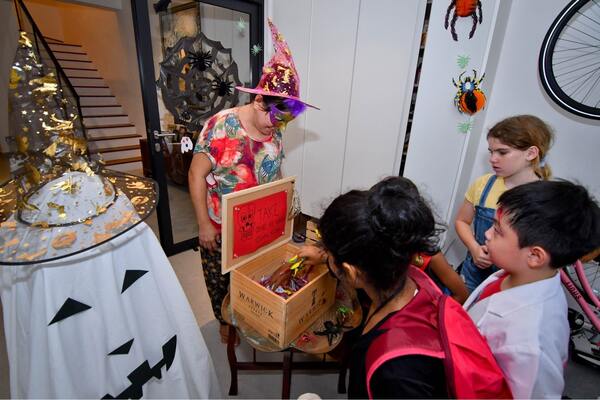 While trick-or-treating is not a widely practised tradition in Singapore, there are a few neighbourhoods that are known for welcoming trick-or-treaters in the spirit of Halloween. This includes Opera Estate, Woodlands, and Chip Bee Gardens. In general, your best bet would be areas with low-rise terrace houses and bungalows. 
Have a spook-tacular time at these Halloween events in Singapore (2022)
From spine-thrilling scarefests to family-friendly fun, have a ghastly good time at these Halloween events in Singapore in 2022! Heading to one with best-dressed prizes to be won? Get some inspiration from our lists of Netflix-inspired Halloween costumes and kids' halloween costume ideas to spook things up. And if you have furballs, let them join in on the festivities too. Here are some Halloween costumes for pets that are super cute and adorable! 
This article was updated on 10 October 2022. Additional research done by Gabriel Choo.