Notice fungus growth or a mouldy stench in your home? You need a dehumidifier! By reducing the moisture in our humid environment, a dehumidifier can help prevent such problems. Read on for our guide to know more about the best dehumidifiers in Singapore that you can purchase!
What does a dehumidifier do?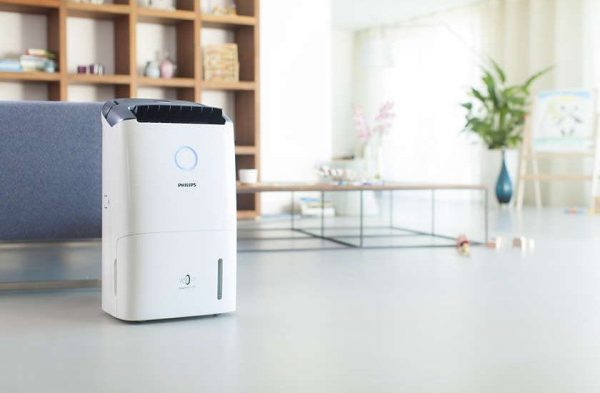 Dehumidifiers serve to take the moisture out of air when it is too humid. They are typically used during summer and spring when humidity is the highest. That makes it rather essential for homes in Singapore, where humidity levels can go up to 90% in the morning and average at around 70% throughout the day. High humidity can result in fungus growth, ruining our furniture and harming our health. A simple dehumidifier can help to reduce such risk. 
Dehumidifier vs humidifier — What is the difference?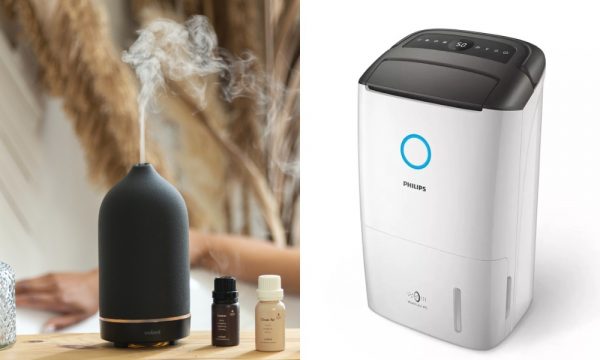 Humidity levels in the air surrounding us can make or break comfort levels. Depending on several factors such as the country you are in or the time of day, humidity levels can vary drastically. When the air gets too dry or too moist, that is when dehumidifiers and humidifiers come into play — the two serve the same purpose of altering humidity levels but have opposite functions. Check out the table below to gain a better understanding of the difference between the two. 
Appliance
Purpose
Best for

Dehumidifier

Takes moisture out of the air when it is too humid

Countries like Singapore with constantly humid climate

Summer and spring seasons

Bedrooms, storerooms and laundry areas with little to no ventilation

Humidifier

Adds extra moisture to dry air

Countries with dry climates

Bedrooms in Singapore with air-conditioning switched on all the time
Why should I get a dehumidifier?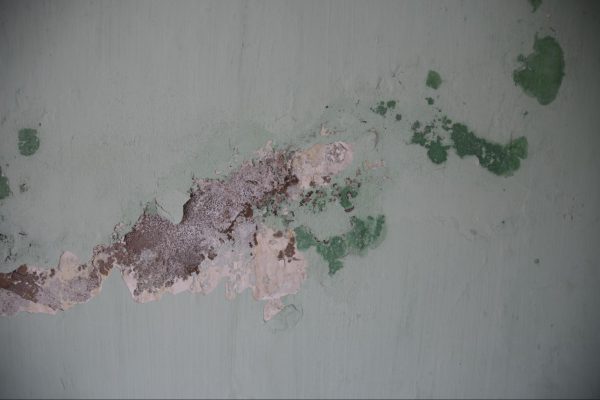 Should asthma be an issue for you or anyone living in your home in Singapore, it is best to get a dehumidifier. High humidity can trigger allergies and impact our health. Even if you don't have asthma, you may experience discomfort due to damp air. Aside from health risks, dehumidifiers can also prevent mould from developing on surfaces such as ceilings and walls. If you have wood, glass or other organic materials, a dehumidifier is very necessary for maintenance purposes in order to prevent mould growth. This is similar to how we store our precious cameras and camera lenses in a dry box to ensure that they are void of any mould! As such, dehumidifiers are important to keep the indoor air relatively drier, giving similar comforting effects as air purifiers and air coolers would. 
Where is the best place to put a dehumidifier in my home in Singapore?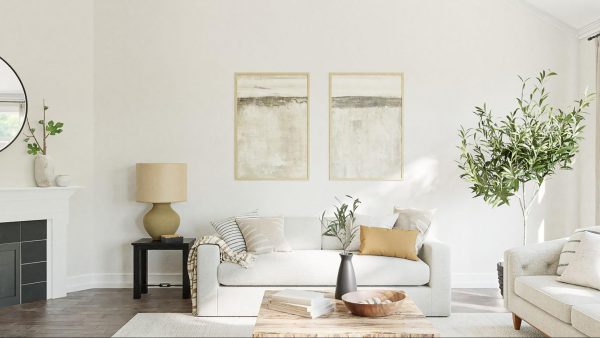 There is no single correct place on where to place a dehumidifier at home. However, studies have shown that the most humid areas in a typical modern Singaporean home would be in wardrobes, bathrooms, laundry areas, storage rooms and sometimes living rooms if there is poor ventilation. 
How do I choose a dehumidifier?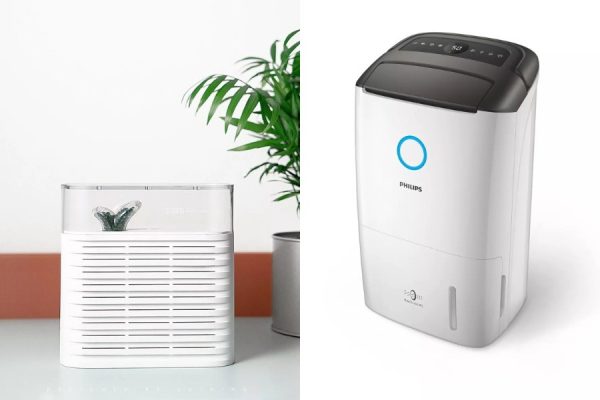 With a myriad of options to pick from, you may be spoilt for choice when picking the best dehumidifier for your space. Here are some factors to consider when making your purchase. 
Typically, dehumidifiers are chosen based on size and power required, which differs according to the space that they are placed in. The larger the space, the more powerful your dehumidifier should be. 
There are many types of dehumidifiers available in the market, including large electronic ones and portable mini dehumidifiers that can be transported around. Learn about the pros and cons of each type below. 
| | | | | | |
| --- | --- | --- | --- | --- | --- |
| Types of dehumidifiers | Best for | Coverage | Cost | Reusability | Portability |
| Large electronic dehumidifiers | Living rooms, large bedrooms | From 15sqm to 185sqm | From $299.00 | Water tank needs to be emptied on a weekly basis | Typically comes with wheels attached, but heavy and troublesome to move around |
| Mini electronic dehumidifiers | Smaller bedrooms and home office | For areas less than 15sqm | From $22.00 | Water tank needs to be emptied on a daily basis | Small, light and compact, easy to carry around |
| Dehumidifying agents | Smaller wardrobes, shoe cupboards and bathrooms | For incredibly small but humid spaces with no ventilation | From $0.88 | Many come with refill packs. Some come with reusable options via reheating | Easy to pack and bring overseas or to be kept in bags |
Best electronic dehumidifiers in Singapore (2022)
1. EuropAce 3-in-1 Dehumidifier EDH6251S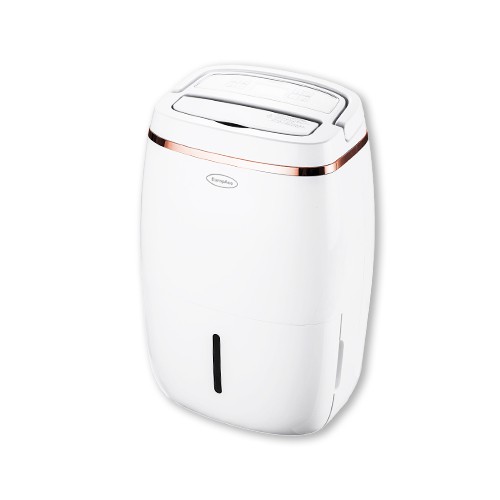 For those who are looking for a dehumidifier to extract moisture out of large living space, do consider the EuropAce 3-in1 Dehumidifier EDH6251S (available on EuropAce Official Store). This machine has an area coverage of a whopping 40sqm, making it one of the best dehumidifiers for homes in Singapore with relatively poorer ventilation. On top of the large area coverage, the EuropAce dehumidifier is equipped with air purifier functions and a laundry mode which helps to dry your clothing fabrics. These are in addition to their handy water tank full indication and real-time display of ambient humidity so you can keep track of your surrounding air quality!
2. Mistral 20L Dehumidifier with Ionizer & UV MDH200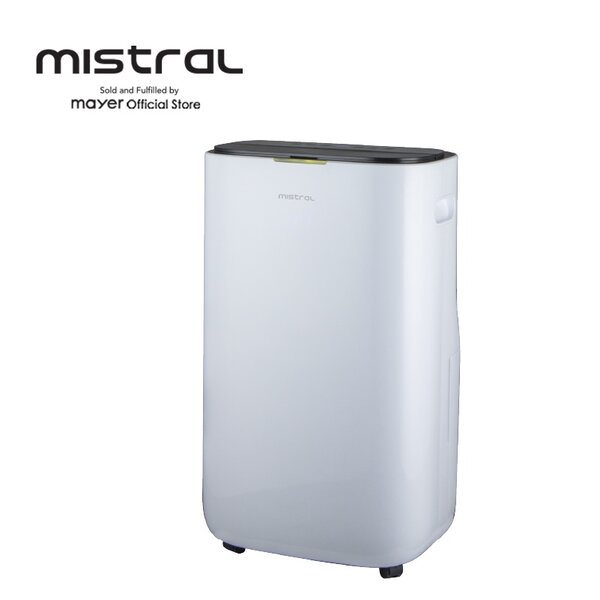 When it comes to the best large dehumidifiers in Singapore, we must not overlook the Mistral Dehumidifier with Ionizer and UV Lamp (available on Mayer Official Store). The dehumidifier comes with plenty of positive reviews that it significantly reduces the air moisture in the rooms of a typical modern Singapore home! What's more, this dehumidifier also comes with an ionizer and UV lamp, which helps to remove particulates and odours in the room. This makes it one of the best options for dehumidifiers in Singapore especially if there is someone in the household who suffers from asthma or other respiratory issues!
3. LifePro DH24 Dehumidifier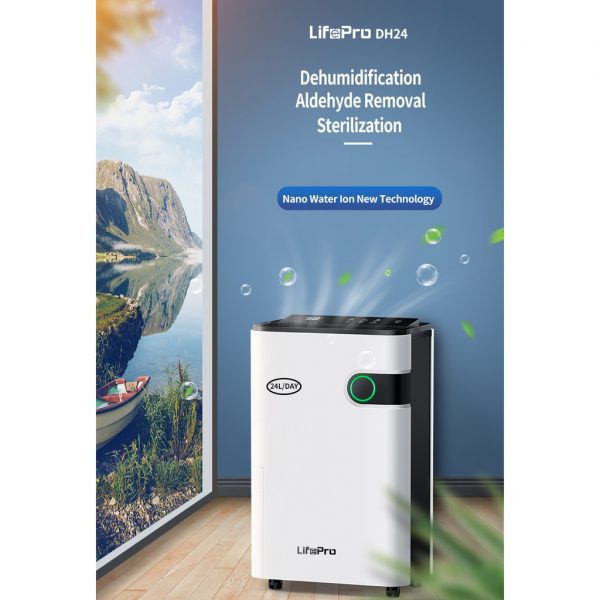 Getting a dehumidifier at home is beneficial for our health. The dehumidifiers from LifePro recognise the importance of their functions and strive to significantly improve the air quality around you! For bigger spaces in your home such as in your living room, check out the LifePro DH24 Dehumidifier (available on Value Max) which provides daily dehumidification of up to  24L. Fret not if the dehumidifier is too heavy for you to carry home. It comes with four wheels attached, making it easily movable. There are also many other LifePro dehumidifiers with varying capacities such as the LifePro DH70 (available on Value Max) that can power up in rooms as huge as 180sqm!
4. Philips 2-in-1 Air Dehumidifier 5000 Series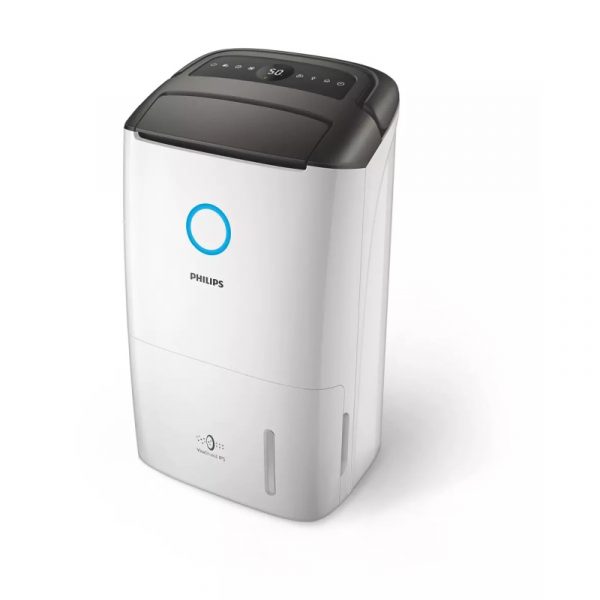 When it comes to getting home appliances like dehumidifiers in Singapore, Philips is surely one of the best bets. Their Philips 2-in-1 Air Dehumidifier 5000 Series (available on Philips Home Appliances Store) is one of the best dehumidifiers in Singapore when it comes to power. One of these alone can dehumidify up to 25L per day and can even remove ultra-fine particles of 20nm! The amazing reviews for this Philips dehumidifier serve as a testament to its quality and this product even comes with a 2 years warranty for those concerned about initial damages.
5. Xiaomi Mijia Electric Air Dehumidifier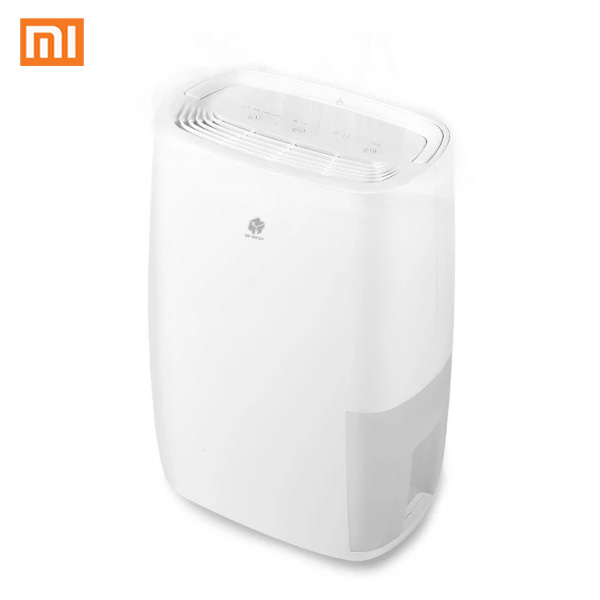 Xiaomi products make use of smart technology and are known to be relatively affordable for the amount of convenience and functionality that their products provide. Their Xiaomi dehumidifiers are no exception. At less than $400, the Xiaomi Mijia Electric Air Dehumidifier (available on YURI Official Store) can absorb moisture in the air of up to 1L per hour. This smart appliance can also be controlled via the Mi Home mobile app. Talk about convenience when homeowners will be out the entire day or overseas for trips!
6. Midea Dehumidifier MDDF-16DEN7-QA3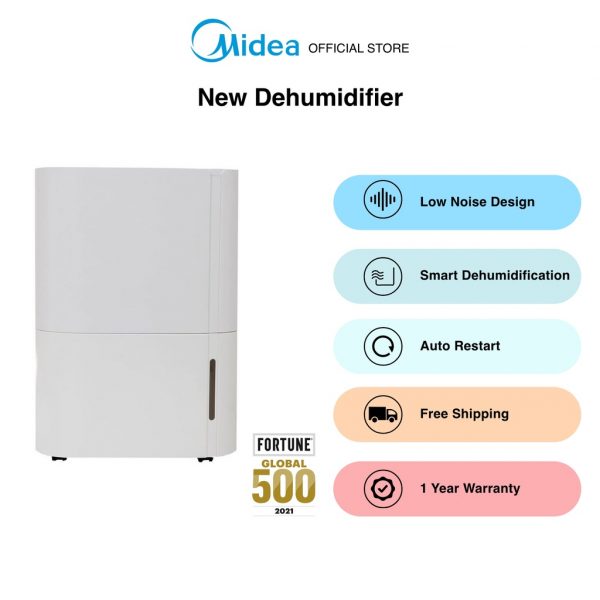 We all know that when it comes to appliances, having a trade-off between power and noise is not uncommon. The Midea Dehumidifier (available on Midea Official) may seem bulky, but noise should be the least of your concerns. The machine operates at just 37dB noise levels, which is lower than the average of 40dB in quiet library spaces! So feel free to leave this dehumidifier switched on for the entire night as there will not be any compromise on having a peaceful ambience for a restful sleep.
7.

Sterra Sun Dehumidifier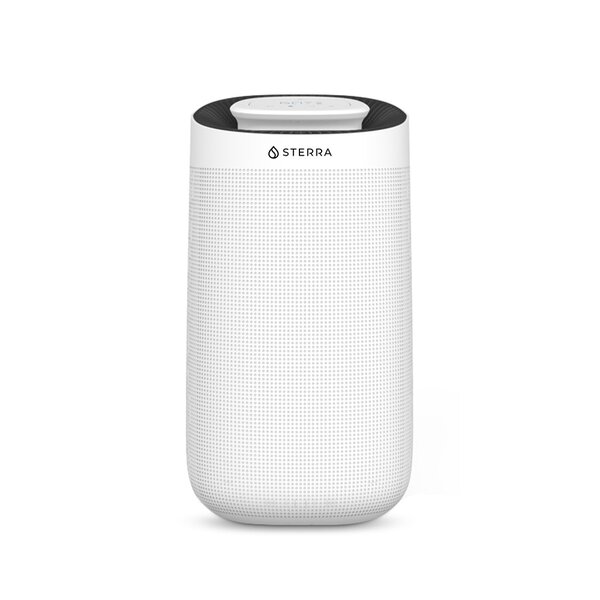 The Sterra Sun Dehumidifier (available on Sterra SG) may look small, but they are quite a formidable force to be reckoned with! Occupying less than one square foot of floor area, this Sterra dehumidifier can fit into tight spaces around your house while absorbing moisture in the air. Its humidity level can also be adjusted using the smartphone app, providing an elevated level of convenience. For those with kids at home, a child lock function is also provided to prevent the tampering of settings. So rest assured and let this dehumidifier work its magic!
Overview of the best electronic dehumidifiers in Singapore
Large electronic dehumidifiers
Room coverage 
Water tank capacity 
Additional features
Cost

EuropAce 3-in1 Dehumidifier EDH6251S 

45sqm

5.5L

Comes with an air purifier and laundry mode settings

Continuous drainage option

Water tank full indication & auto shut-off

$329-$649

Mistral Dehumidifier with Ionizer and UV Lamp

15sqm

4L

Memory & auto restart function

Built-in ionizer and UV lamp

Water level sensor and auto-cut off

$495-$499

LifePro DH24 Dehumidifier

65sqm

5L

Smart touch panel for easy usage

Three-colour intelligent humidity indicator 

$179-$719

PHILIPS 2-in 1 Air dehumidifier 5000 Series

104sqm

4L

Removes ultra-fine particles of 20nm

Healthy air lock for filter replacement and full tank alert

Digital humidity sensor gives numerical feedback on humidity

$779

Xiaomi Mijia New WideTech WDH318EFW1 Electric Air Dehumidifier

18sqm

2.6 – 4L

Three comfortable humidity modes (40%, 50%, 60%) with three different fan speeds

Built-in silver ion bacteriostatic filter

$359.73

Midea Dehumidifier MDDF-16DEN7-QA3

30sqm

3L

Automatic tank management system

$319

Sterra Sun Dehumidifier

30sqm

3.2L

Control humidity level via app

Child Lock

$349
Best portable electronic dehumidifiers in Singapore (2022)
8. Xiaomi Mijia Portable Plant Air Dehumidifier
Mould and spots can grow not just in the walls and ceilings, but also in areas that are hidden from plain sight, especially in smaller spaces such as wardrobes and storage rooms. It is thus important to consider getting a portable, mini dehumidifier in Singapore such as the Xiaomi Mijia Portable Plant Air Dehumidifier (available on Kathyshop) to keep mould at bay. This small machine has a capacity of 150ml and comes with colour-changing particles which are as functional as they are pleasant-looking. These are SiO2 crystals that gradually turn from colourless to green along with the amount of moisture being absorbed. They serve as an indicator for the user to know when it is time to activate the drying function!
9. Simplus Dehumidifier 600ml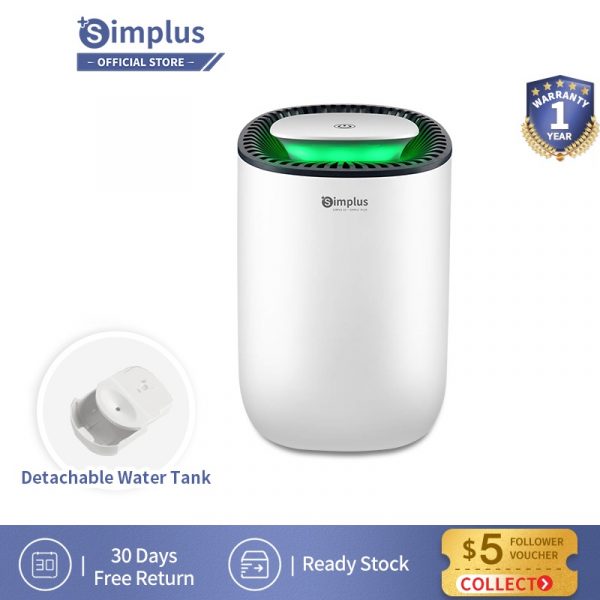 Looking for a dehumidifier in Singapore that is efficient, portable and easy to use? This Simplus 600ml Dehumidifier (available on Simplus Official Store) is the best of all three worlds and is one of the most popular choices for mini dehumidifiers in Singapore. For one, the dehumidification capacity is at 300ml per day and operates on a one-touch control system. That means that using this device is as simple as just a push of a button! What's more, it is ultra-light and compact so you can shift this portable dehumidifier to various rooms to combat Singapore's humidity!.
10. ION PureAir Dehumidifier D60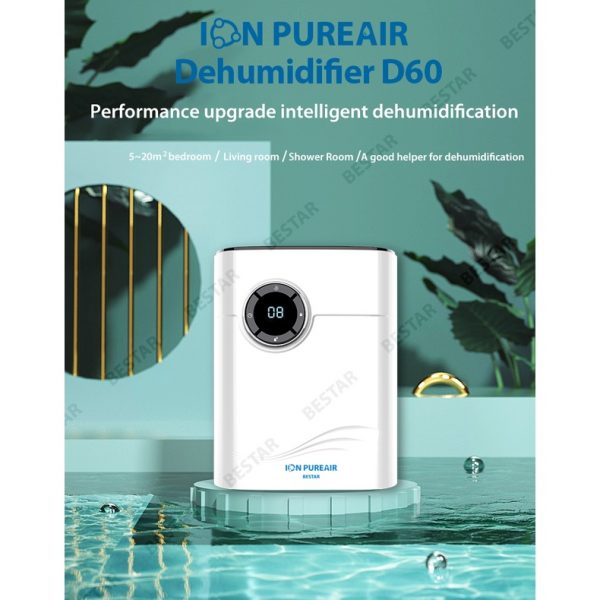 The hundreds of good reviews on the ION PureAir D60 Dehumidifier (available on BeStarSG) leave no room to wonder why this is one of the best choices for mini dehumidifiers in Singapore. This mid-sized dehumidifier has a tank capacity of 1200ml and can absorb up to 400ml of moisture a day! This dehumidifier also comes with a free drainage tube and remote control, making its usage much more convenient for users and works as one of the best user-friendly and portable dehumidifiers you can find in Singapore.
11. Vedai 1.3L Dehumidifier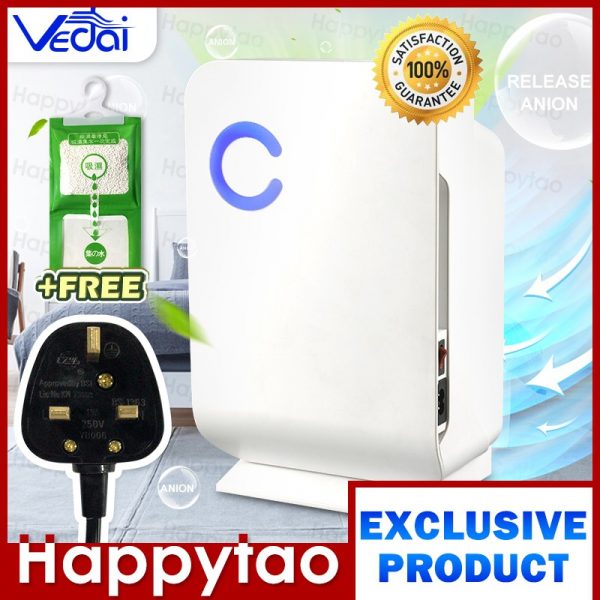 If you are in search of a dehumidifier for your bathroom or a mid-sized bedroom, then the Vedai 1.3L Dehumidifier (available on happytao.sg) should be your best solution. This dehumidifier may be rather small and compact, but it also doubles up as an air purification system. It comes with a double-layer filtration system to eliminate pollutants from your surrounding air! The automatic system also makes it extra convenient for home users in Singapore who are often out and about, as this mini dehumidifier will turn off when the water tank is full. All users have to do is empty the tank when that happens and the dehumidifier will be up and running again!
Overview of the best portable electronic dehumidifiers in Singapore 
Portable electronic dehumidifiers
Dehumidification capacity 
Size (mm)
Additional features
Cost
Xiaomi Mijia Portable Plant Air Dehumidifier
150ml/day
123 x 120 x 40mm

SiO2 crystal indicator that gradually turns from colourless to green along with the amount of moisture being absorbed

$26.50
Simplus 600ml Dehumidifier
300ml/day
146 x 146mmm x 227mm

Noise levels of less than 35dB

$55.90
ION PureAir D60 Dehumidifier
400ml/day
245 x 200 x 110mm

Noise levels of less than 40dB
Comes with a drainage tube

$42.90- $99.90
Vedai 1.3L Dehumidifier
500ml/day
129mm x 183mm x 287mm

One button to power on/off for easy usage
Whisper technology with no compressor

$59.90
Best dehumidifying agents in Singapore (2022)
12. Charcoal Moisture Absorber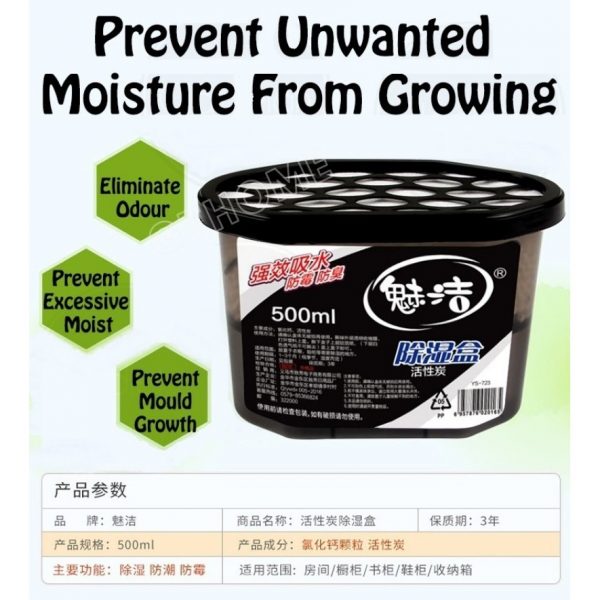 When it comes to small spaces such as wardrobes or showers, having a dehumidifying agent may be the most convenient option. The Charcoal Moisture Absorber (available on Gladleigh) is one of the best-selling dehumidifying agents in Singapore for good reason. It freshens up damp closets by absorbing the moisture of up to 500ml and also removes odour! Typically, one pack of this charcoal dehumidifier can last up to two to three months.
13. Thirsty Hippo Dehumidifier Moisture Absorber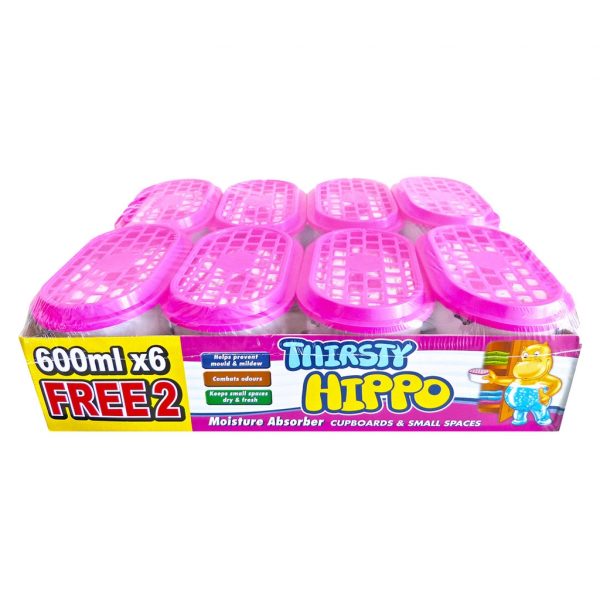 If you have read anything about dehumidifying agents in Singapore, then you should be no stranger to this flashy pink moisture absorber. The Thirsty Hippo Dehumidifier Moisture Absorber (available on RB Home Official Store) is a classic go-to that will never go wrong if you're looking for a small dehumidifier that you can place in wardrobes and shoe cupboards. Each Thirsty Hippo packet has a capacity of 600ml and they are also conveniently sold in larger quantities and at lower prices, so you can be sure to get the bang for your buck!
14. Gong100 Silica Gel Desiccant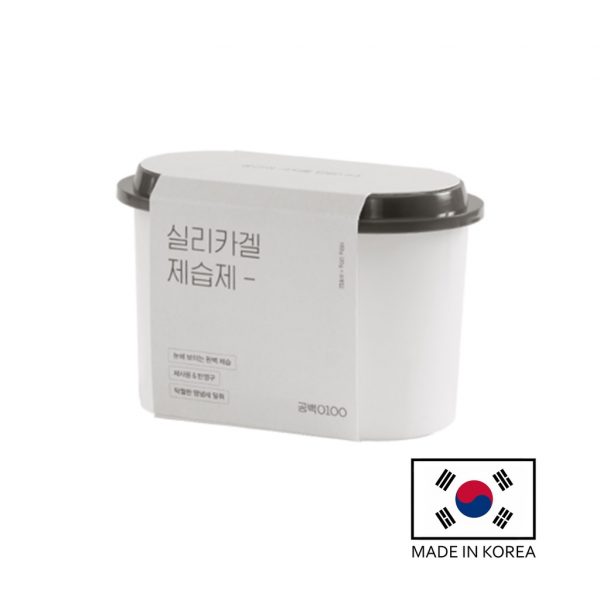 Quite possibly the most convenient and compact dehumidification agent that you will stumble upon would be the Gong100 Silica Gel Desiccant (available on Dekorea). These come packed with sachets of small silica bead packs, which effectively remove moisture from tiny spaces such as the insides of your shoes. What's best is that these silica gel packets are also refillable. Just buy their Gong100 Silica Gel Desiccant Refill Sachets (available on Tots.sg) and place them into the main set whenever necessary! The small packets are also reusable — when the beads turn dark green, simply pop them into the microwave for a minute at 700W and repeat this process three times. With this Gong100 product, you can have fresh and new silica bead packets to keep the moisture at bay!
15. Slurpy Bear Moisture Absorber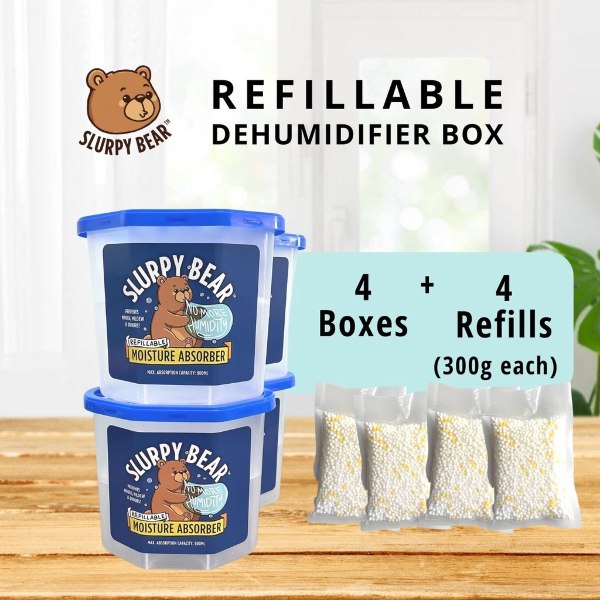 Another frontrunner on our list of best dehumidifiers in Singapore has got to be the Slurpy Bear Moisture Absorber (available on SB Home). That's all thanks to its compact size and shape which makes it perfect for use in small spaces such as bathrooms and shoe cabinets. This Slurpy Bear dehumidifying agent takes the form of tiny beads and simply needs to be poured into the box to work. Additionally, we recommend getting Slurpy Bear Moisture Absorber Refills (available on SB Home) which come in refreshing scents such as anti-odour charcoal, zesty lemon and jasmine tea! 
Overview of the best dehumidifying agents in Singapore
| | | |
| --- | --- | --- |
| Dehumidifying agents | Dehumidification capacity | Cost |
| Activated Charcoal Moisture Absorber | 500ml | $10.88 |
| Thirsty Hippo Dehumidifier Moisture Absorber | 600ml | $16.61 |
| Gong100 Silica Gel Desiccant | Varies according to the number of refill packets inside the box | $8.80 |
| Slurpy Bear Moisture Absorber | 800ml | $12 – $61 |
Comfortable living spaces in sunny Singapore start with the best dehumidifiers
Don't let moisture in the air dampen your spirits (wink) and get rid of all the excess water vapour with our list of best dehumidifiers in Singapore! We hope that you now better understand the importance of having a good dehumidifier at home, just like how the best air purifiers would function to prevent haze and dusty air! Having a cosy and comfortable living space is of paramount importance and what better way to enjoy this home environment than with the best smart TVs in Singapore? Furnish up your home with the best dining tables and the best sofas to complete the look!
This article was updated on 31 October 2022. Additional research done by Jerald Ang.