Halloween is just around the corner and this year and we're bringing it up a notch with this list of spooky Halloween costume ideas for the whole family (Dads, there's no escaping). If you're still unsure of the alter ego you and your family should adopt, let us give you a hand!
1. Aye aye, captain!
Put on your fiercest face and get ready to sail the seven seas! As one of the hottest Halloween costumes in Singapore, pirate costumes are a fun and quick solution for last minute costume ideas.
For the adults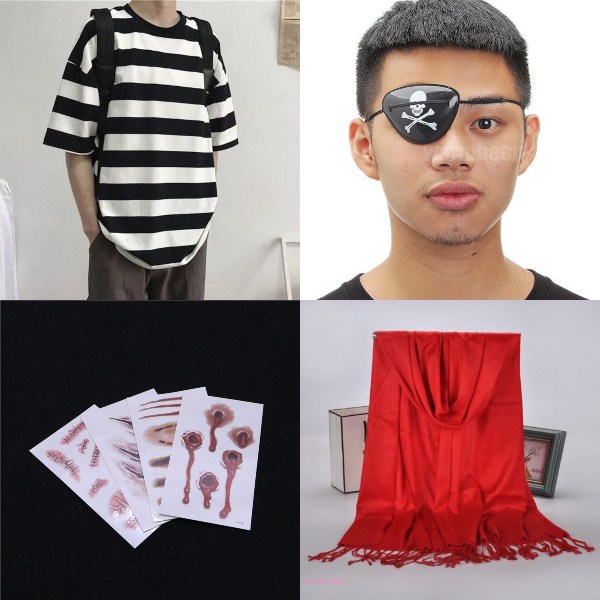 Dads, you don't have to put on a tacky costume to look like a pirate. Pair a striped shirt (available on glcsbmy.sg) with black jeans and borrow a red scarf (available on Closetonline Women Flagship Store) from your wife to tie around your waist. Accessorise with a pirate eye patch (available on warmbeen.sg) and hook to complete the look. Don't forget to stick on the scar tattoo (available on caisheng.sg) for the perfect pirate makeover!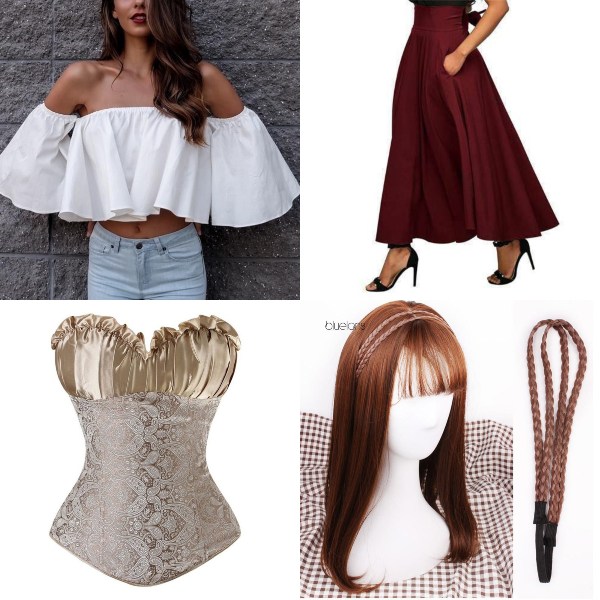 Mums, dressing up as a pirate doesn't mean you have to look tough and rugged. Show off your sexy side by wearing an off-shoulder top (available on icebear2018.sg) paired with a flowy, flared skirt (available on yuankai888.sg). Wear a bustier (available on nkshop.sg) over the outfit for a flattering silhouette. Lastly, complete your pirate Halloween costume with a braided headband (available on Bluelans)!
For the kids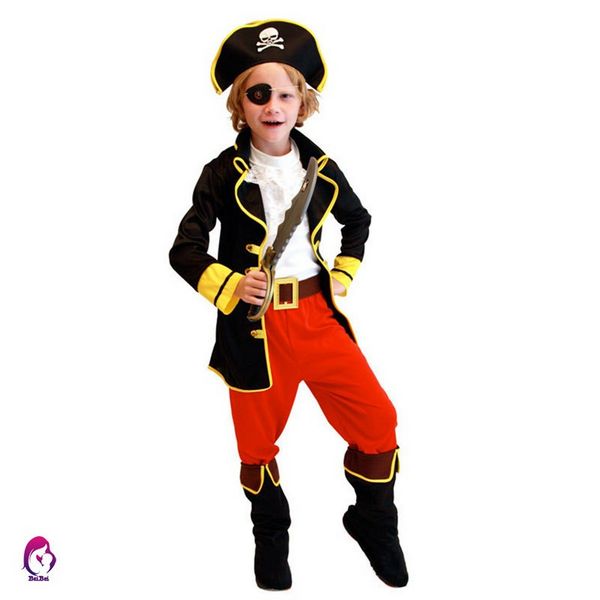 Little pirates, get ready to walk the plank! Dress the young ones up in cute kids' pirate costumes (available on Bei Bei maternal and child store). Hand them a pirate sword (available on cafe.sg) and send them off to conquer the seas! Teach them the pirate dance so the whole family can perform at the Halloween party!
2. May the force be with you
Halloween is the best time to dress up as your favourite movie character. If your family is a huge Star Wars fan, this Star Wars-inspired Halloween costume idea is perfect for you! 
For the adults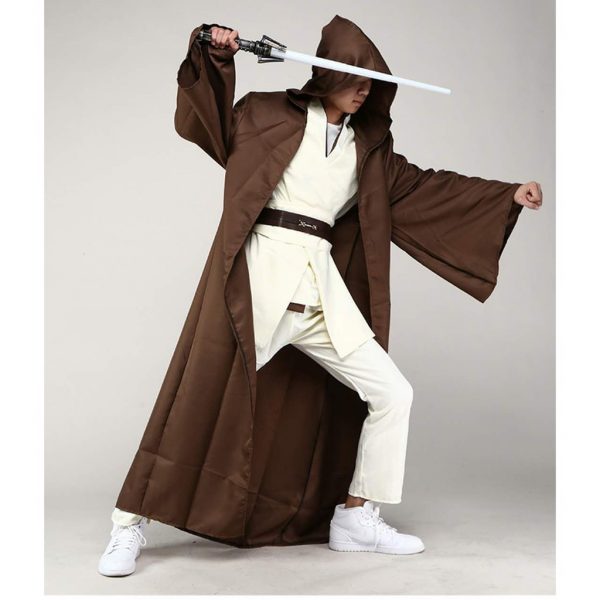 Step into Obi-Wan Kenobi's shoes and train like a Jedi this Halloween. This Jedi Halloween costume (available on wujianhui0530.sg) in Singapore comes in various sizes and has all the things you need to fight off the fearsome army of Stormtroopers!
For the kids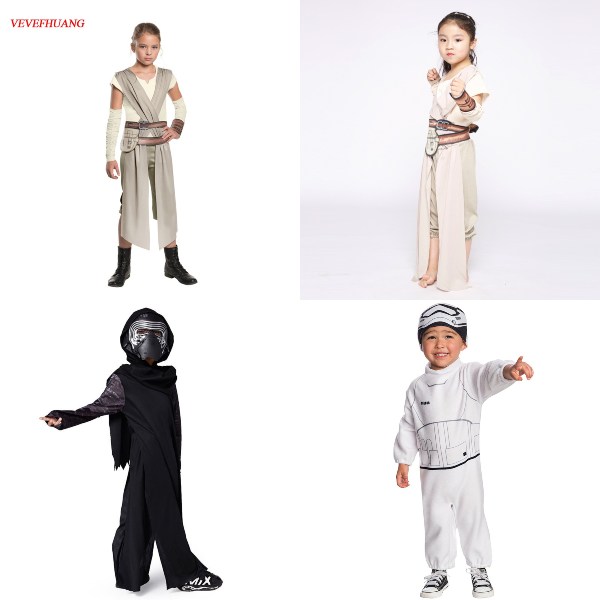 Let the kids live out their movie dreams in these cool Star Wars Halloween costume ideas! Show off your daughter's brave and tenacious side with Rey's costume (available on axibest) or prepare your son for a fierce battle in a smaller sized Jedi costume (available on Mac ipad .sg)! Do your kids identify with the dark side? If so, Kylo Ren's Halloween costume (available on Costume Boutique) and Stormtrooper costumes (available on Affordable Kids Costumes) would be perfect Halloween costume ideas for these little monsters! 
3. Abracadabra!
Wizards and witches, it's time to sign up with the school of magic this Halloween! Do you have what it takes to become a powerful sorcerer? Put your spells to the test with these magical Halloween costumes in Singapore!
For the adults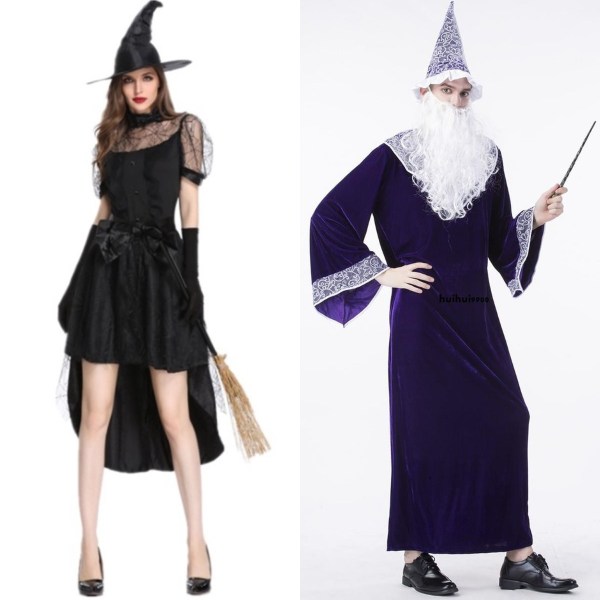 Ladies, charm everyone's socks off with a mysterious witch Halloween costume (available on azazel.sg) before kicking off on your broomstick. Enhance your pout with a dark lipstick, which is sure to draw attention when you burst into witchy laughter! 
For the guys, channel your inner wisdom and step into the role of Gandalf the Grey with a wizard costume (available on Xiao Zhai Store). Lead the hobbits through the treacherous Halloween party and wave your magic wand (available on hailipeng.sg) to impress the crowd.
For the kids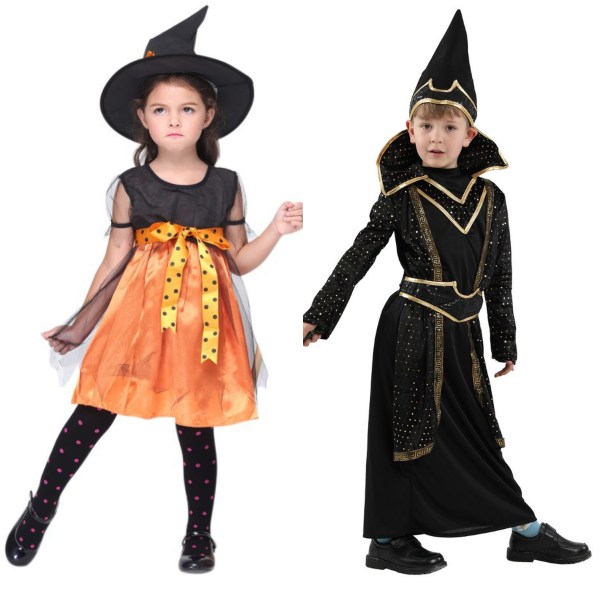 Kids' witch costumes (available on Pandada Pets Shop) and children's wizard outfits (available on huihonshe.sg) are classic Halloween costume ideas for the little ones every year and there's a good reason for it! Encapsulating spellbinding style and endless whimsical fun, these Halloween costumes in Singapore bring your children's trick or treating experience to a whole new level. Psst, parents, this may be the only way for your kids to hold a broom for once! 
4. Do the boogie all night long!
Why opt for mainstream costumes when you can go back in time and be your favourite pop icon! This is one of the best Halloween costume ideas in Singapore to introduce your kids to legendary characters from the past who have helped shape the fashion and music scene! 
For the adults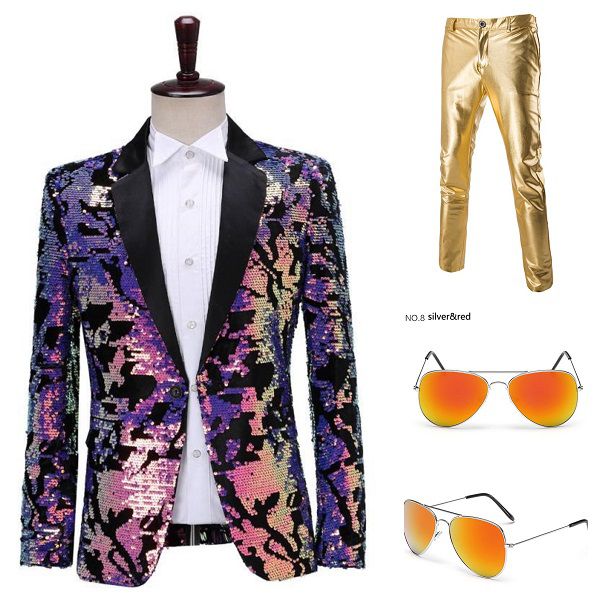 Bring back the king of rock and roll with this dazzling Halloween costume in Singapore! Sporting his signature shiny sequin jacket (available on wedding dresses) and flashy leather pants (available on aimini.sg), you're on the right track to a night full of Elvis Presley's great hits and endless hip swinging moves! Don't leave the house without drawing on some thick sideburns and remember to put on a pair of iconic aviator shades (available on samjune.sg)!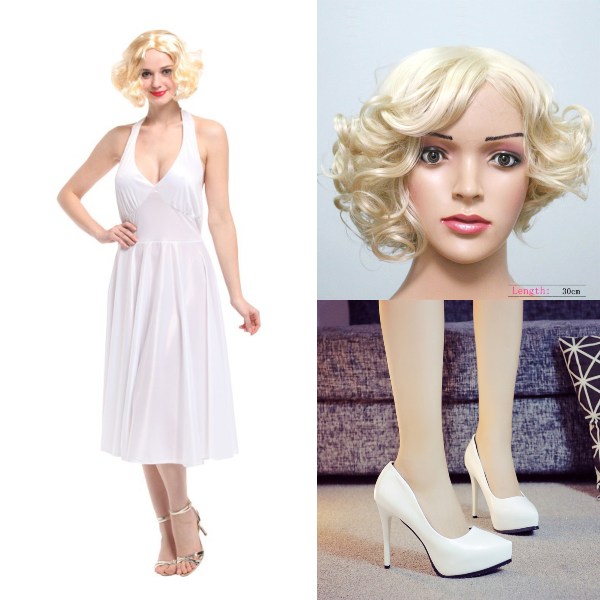 Dress up as the biggest Hollywood bombshell this Halloween. With a short blonde wig (available on sixminutes.sg) and a glossy red pout, you're off to a flirty Halloween night! You'll also need a Marilyn Monroe dress (available on kittyA) for this Halloween costume idea, complete with her signature beauty mark (simply draw it on with an eyebrow pencil) and a pair of white heels (available on Private custom women shoes). Ooh, it's getting hot in here!
For the kids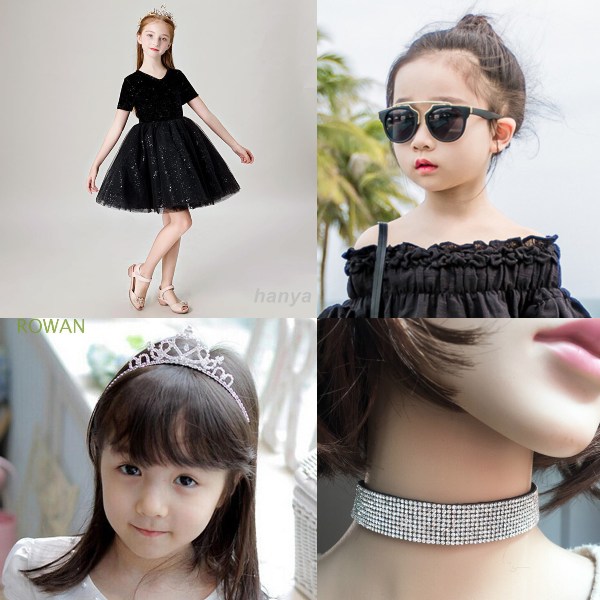 Your little doll deserves to be the biggest fashion icon this October with one of the most beautiful Halloween costume ideas in Singapore! Adopt Audrey Hepburn's style and classiness with this gorgeous little black dress (available on z8wq.sip.sg) for your princess and tie her hair up into a big bun topped off with a diamond tiara (available on rowan.sg) and diamond choker (available on xinzhizhu666.sg). Throw on a pair of kids' sunglasses (available on AmazingStore) and your daughter is all ready for Breakfast at Tiffany's!
5. Yee-haw!
Ride off into the sunset with the whole family this Halloween with a themed Wild Wild West Halloween costume in Singapore! From cowboy hats to the loud gunshot sounds, this Halloween costume idea guarantees a night of memorable fun and laughter! 
For the whole family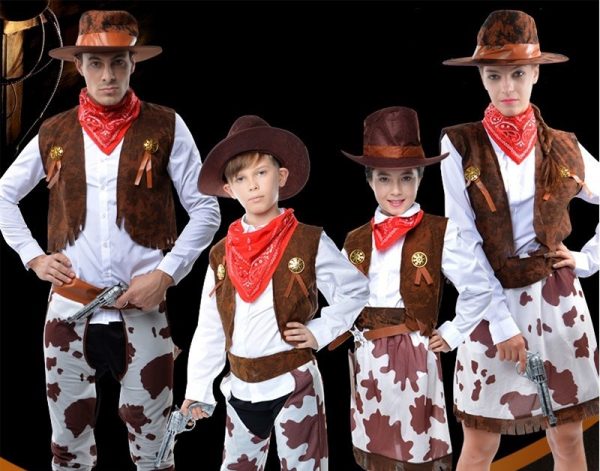 Cowboy and cowgirl costumes are some of the easiest last-minute solutions for your Halloween costumes in Singapore. Look for costume sets, such as these wild wild west Halloween costumes (available on fashionduck.sg) which includes almost everything your family needs to be real cowboys and cowgirls! You can even bring along weapons such as a toy gun or a lasso to look the part. 
For your pets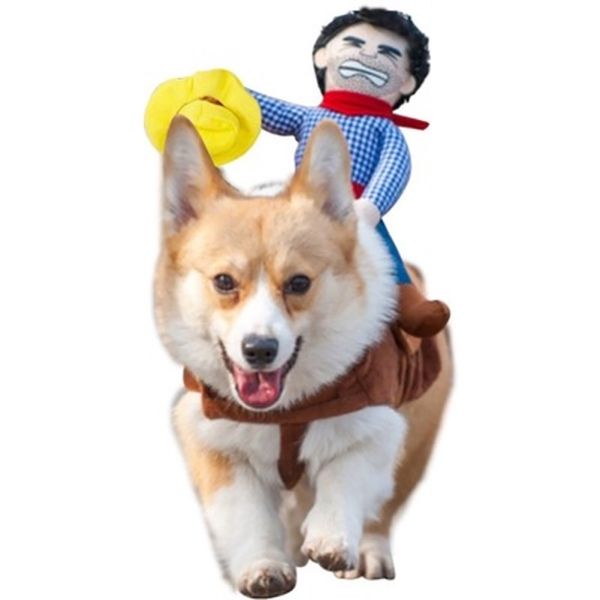 Who needs a horse when your furry pals can come along to the Halloween party as your cowboy buddy! Dress your furballs in cowboy costumes for pets (available on zhaohui474.sg) and you can be sure they'll be bringing all the girls to the barn!
6. Out to save the world!
Villains are lurking in the dark and it's up to you and your family to save the world this Halloween. If your kids are big on Avengers and other superheroes, this will surely be one of their favourite Halloween costume ideas in Singapore! Suit up, there's work to do!
For the adults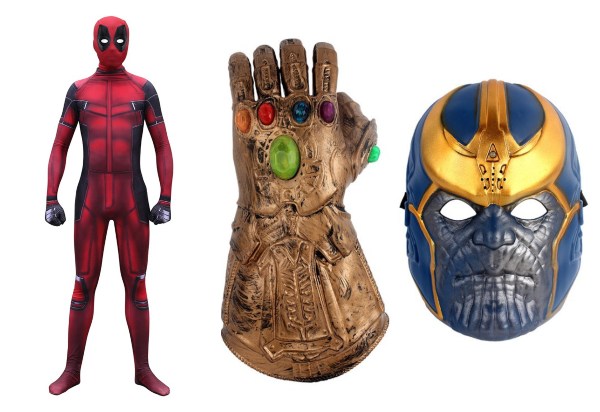 Calling all Dads! Be sure to uphold your valiant image during Halloween! From Superman to Doctor Strange, there are endless heroic costumes to choose from. We suggest dressing up as Deadpool (available on Fashionclothing1), a hero with a surprising sense of witty, raunchy humour! 
If you're not into the mainstream heroes, why not go for the infamous villain who bears the gauntlet for altruistic reasons? Yes, we're talking about dressing up as Thanos! You'll need a Thanos full body costume (available on Bestus.sg) and of course, the Mad Titan's iconic gauntlet and mask (available on V.young. Toy Store) for the perfect recreation. Now, run along and have a snapping good time!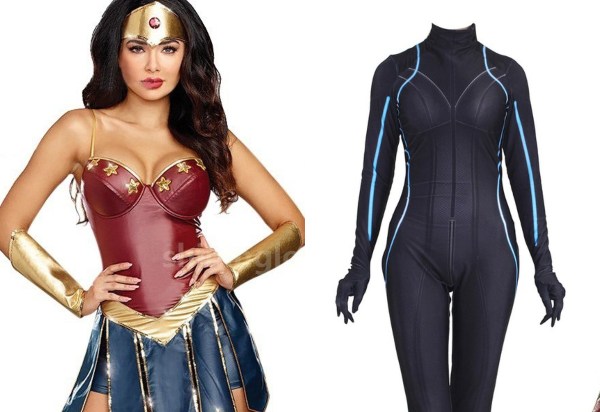 Moms, you are undoubtedly the first hero in your child's life! This Halloween, go all out with a sexy Wonder Woman costume (available on shining Halloween Cosplay) or dress up as the Black Widow (available on Mac ipad .sg) from the Avengers! Show off your heroine prowess so no one messes with your family!
For the kids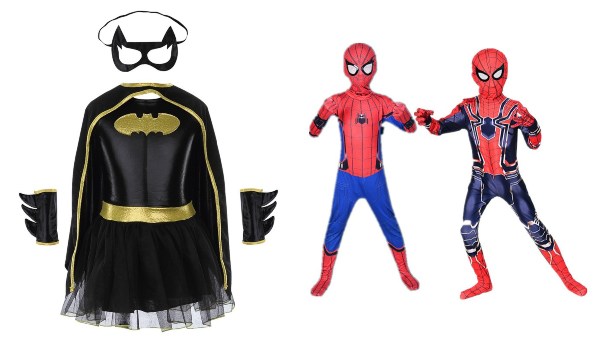 Your little heroes are ready to take on the greatest mission in their life — protect the world! Let them dress up in their favourite heroes, such as Batgirl (available on Ants house) or Spiderman (available on Senning. Fashion Store). It's time for your superhero team to unleash their crime-fighting alter ego!
7. The rise of the undead
What's Halloween without some spooky madness? Attend a Halloween party in matching undead costumes for a perfect reenactment of Zombieland. Don't forget to paint on some special effects makeup for a truly zombified look!
For the whole family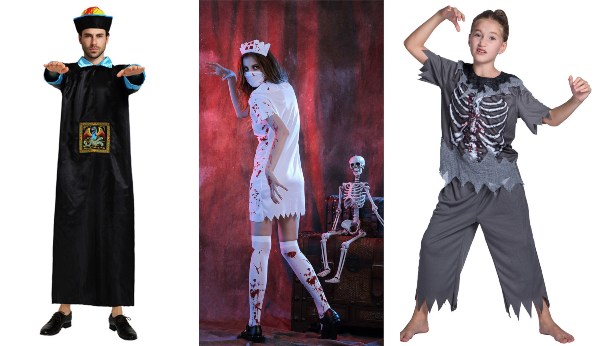 These zombie Halloween costume ideas in Singapore are perfect for the entire family! Comprising of the Chinese zombie (available on alBremen.sg), the resentful nurse (available on Gua1949) and many other zombie characters from all walks of life (no pun intended), your family will definitely scare the daylights out of other party goers! No zombie costume is complete without some bloody makeup. Splatter fake blood (available on Paytm) all over, whiten your faces with white face paint (available on Stationery.sg) and inflict yourself with wound tattoos (available on licenter.sg) for a realistic effect.
8. Survive the night
While The Purge may not be a child-friendly movie, it doesn't mean your family can't come dressed in taunting masks and hoodies for Halloween. It doesn't require many props or accessories and is one of the most convenient last-minute Halloween costume ideas in Singapore.
For the whole family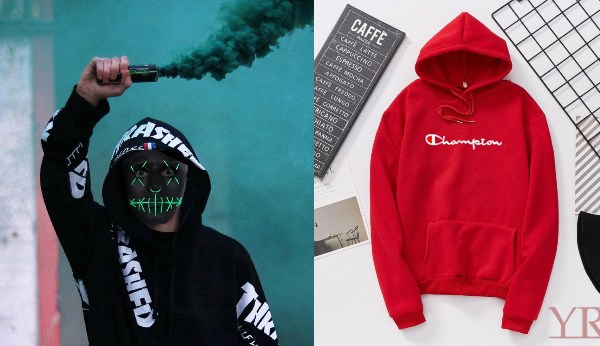 Get everyone in the family to throw on a simple hoodie (available on Yrd Fashion Shop). Needless to say, we mustn't miss out on the American horror film's most distinct element — the masks! If you've got some time to spare, get your kids some of these DIY art masks (available on gooq00) to create their own disturbing mask-ter piece. Otherwise, check out these super cool LED The Purge masks (available on homegardeningshop.sg) that hide your family's identity as you guys party the night away!
9. Ride the magic carpet
We won't be surprised if your child lights up to the idea of dressing up as Aladdin and his crew for Halloween this year. Afterall, Aladdin was a huge movie success among the young and the young-at-heart! So roll up your carpet and grab a lamp, a whole new world is waiting for you and your family this October!
For the adults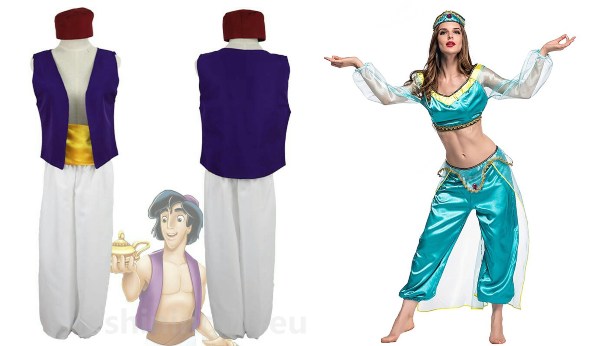 While you may not have 75 golden camels or 53 purple peacocks to boast about, Dads can still look the part with the charming Aladdin Halloween costume in Singapore (available on shining Halloween Cosplay). Don't forget to hold on to your magic lamp (available on savemoneyeveryday.sg), you never know when's a good time to make a wish! Meanwhile, mums will feel like a million bucks in this alluring Princess Jasmine costume (available on SKY LIGHT). 
For the kids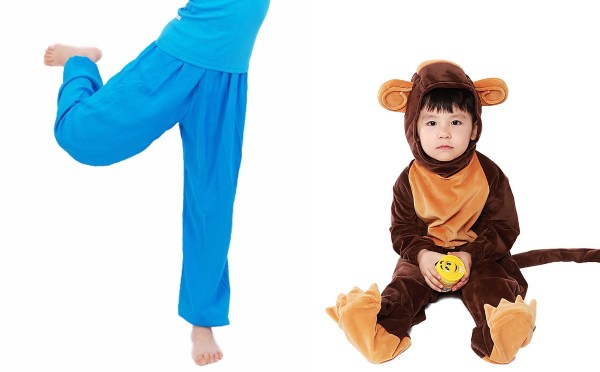 While there's no reason to stop your kids from donning a children's Aladdin costume (available on ESugarのStore) or children's Princess Jasmine costume (available on Cherry☸Cosplay Studio), we think it'd be more fun to get creative with other characters in the movie. Why not dress your child up as Abu, Aladdin's witty monkey and best friend, with this kids' monkey costume (available on Costume Boutique)? Of course, we can't forget the most important character in the show — Aladdin's Genie! Paint on blue body and face paint, pull on a pair of blue harem pants (available on Coobuy Flagship Store) and throw on a ponytail wig (available on Ophelia4656). Don't forget to accessorise with a gold metal ponytail cuff (available on expen.sg) — it's all about the details!
Now that you're all dressed up for Halloween, complete your look with some of these easy Halloween makeup. Thereafter, get the whole family into the mood by watching these horror movies!

---
New to Shopee? Get $7 off (min. spend $15) with code*: FAMCOSTUME
* TNC Applies. Valid for new users from NOW to 31 Dec 2019 only.