Bridesmaids dresses in Singapore –  you love your sisters, but you also have to consider affordable options if you're shelling out for five to six dresses! The solution? Finding bridesmaid dresses that are affordable, pretty, and versatile enough to be worn again and again even after your big day with the man of your dreams! We've done the legwork and rounded up beautiful and affordable bridesmaids dresses in Singapore that you can easily buy online!
1. Multi-way convertible bridesmaids dresses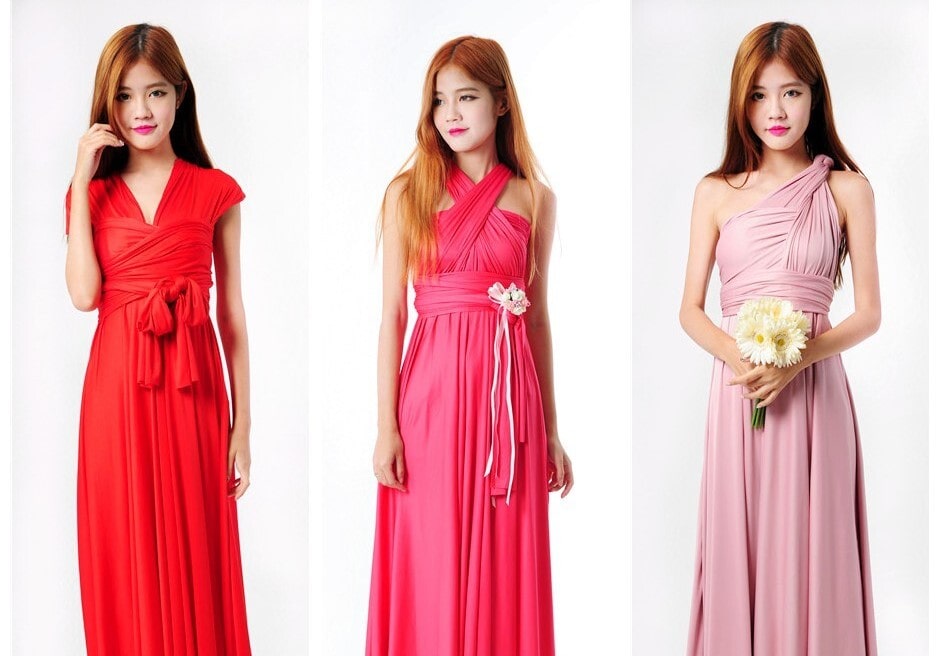 Convertible bridesmaid dresses (available on meowmeowshop.sg) have always been a hot favourite because they are super versatile! Allow your bridesmaids to achieve different looks with the same dress so they can stick to the theme but in a dress style they're comfortable with. From halter-neck styles to tube dresses, these dresses are available in a wide range of gorgeous colours!
The flowy design of this maxi dress makes it really easy for your bridesmaids to move around and perform their bridesmaids duties too! Under the hot and humid weather, this will make the perfect bridesmaid dress in Singapore.
2. Tutu tulle bridesmaids dresses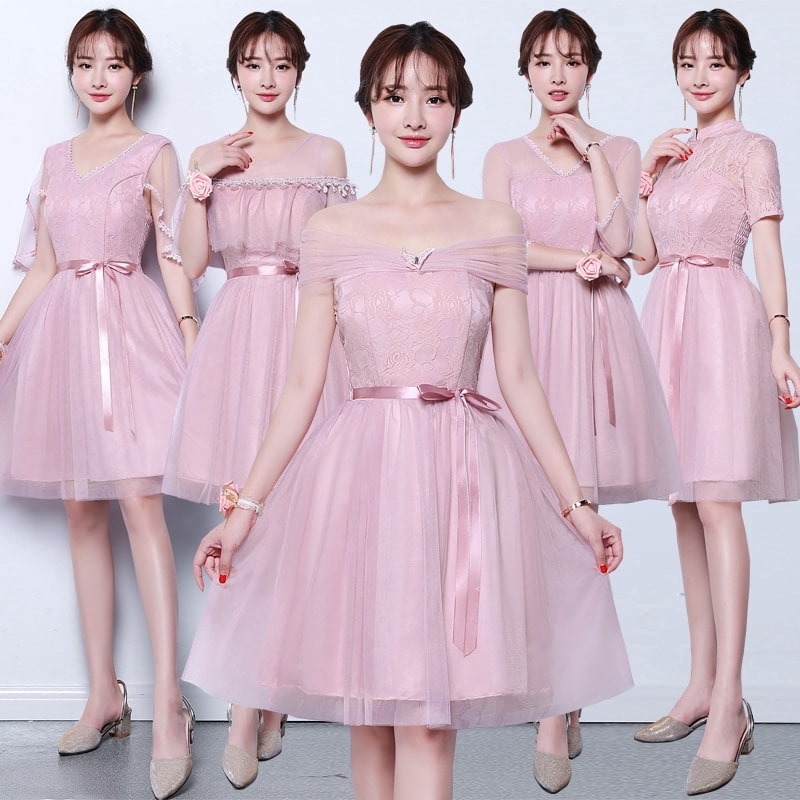 Tulle bridesmaids dresses (available on sofa cover) are popular because they transform your girls into princesses for the day. Usually layered and puffy, they are fun, flirty and very feminine looking. If your bridesmaids are afraid of the heat, go for shorter ones like these!
Some designs are also convertible, allowing your girls to explore different looks so that you don't have to fret over purchasing different bridesmaid dresses in Singapore for each of your girls!
3. Lacey affair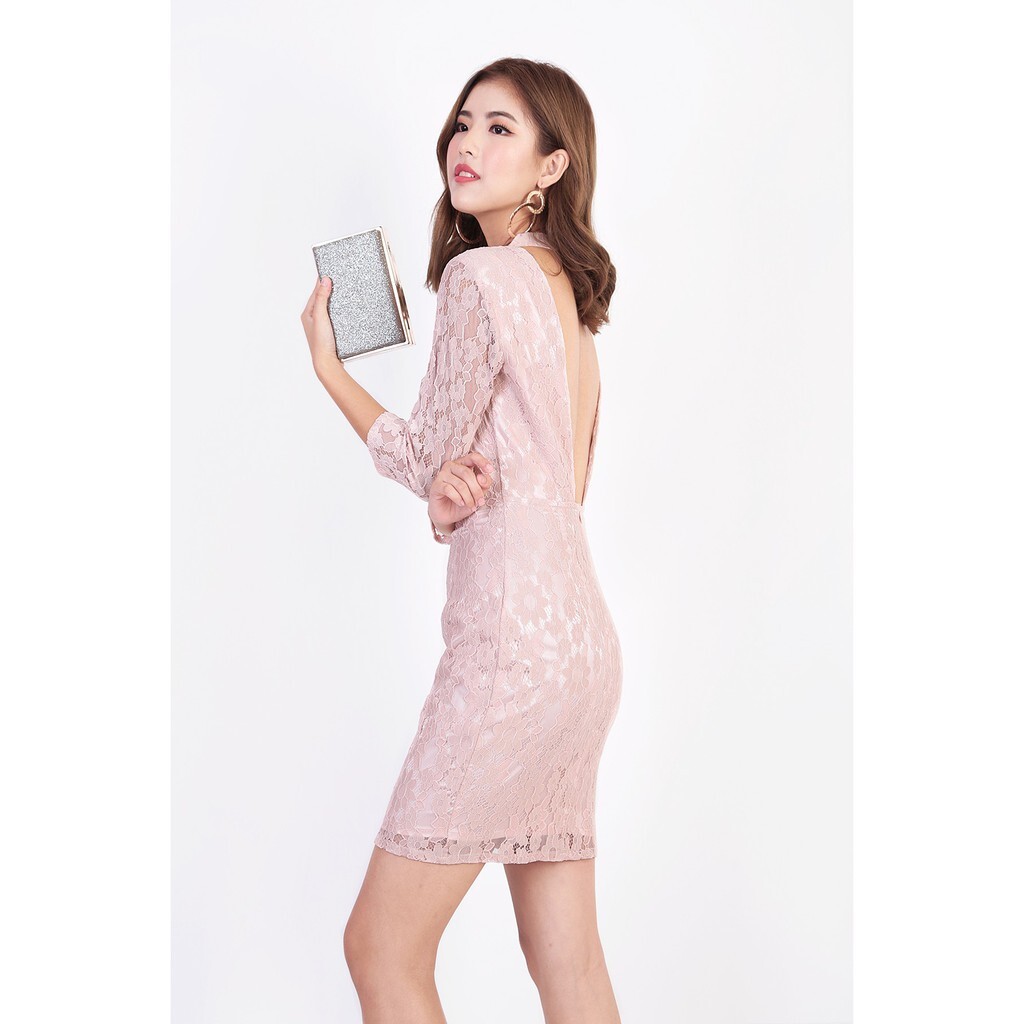 Bridesmaids dresses with lace designs are often one of the top picks for bridesmaid dress fabrics as they create an elegant, timeless look without being too over the top. This Lena backless pink bridesmaid dress (available on MGP Label Official Store) will hug their curves perfectly and help to accentuate their waistlines. Together with a crochet overlay and an open back, your bridesmaids can flaunt their sexy backs while still looking elegant and feminine at the same time. 
Will you be hosting the ceremony at a unique wedding venue? The lightweight material makes this a perfect bridesmaid dress in Singapore especially for outdoor weddings held at a garden or by the beach!
4. Tier me up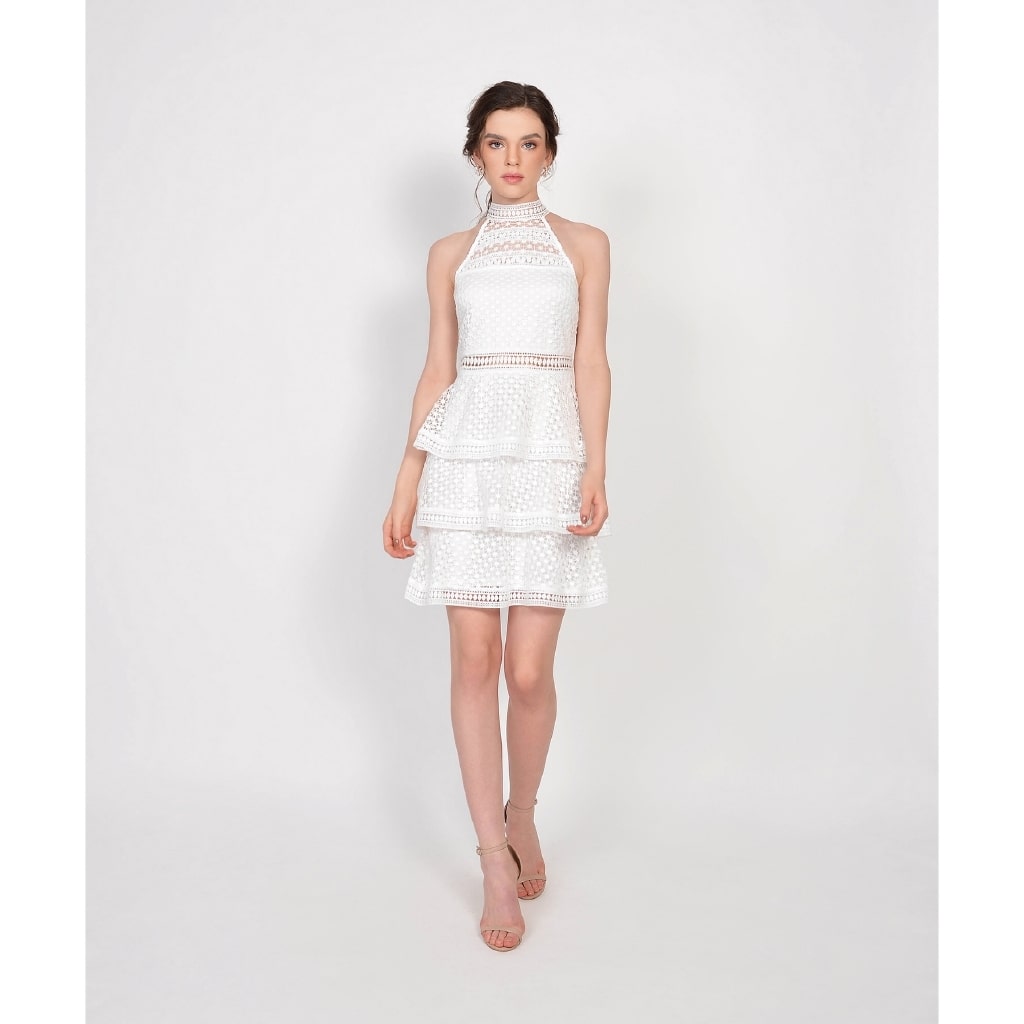 This Her Velvetvase tiered ruffles dress (available on Hervelvetvase Official Store) is super cute and reminds us of the layered wedding cake! You definitely don't want to miss out on this bridesmaid dress in Singapore as it's so versatile that your bridesmaids can even wear it after the wedding. The delicate crochet details on this dress combined with a tiered halter design gives off a flattering fit that will be suitable even for a romantic restaurant date!
5. Sweetheart bustier bridesmaids dresses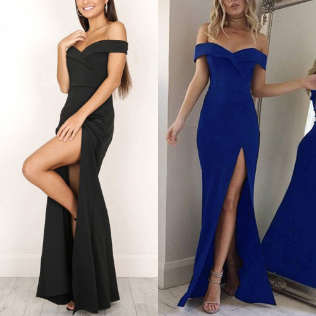 Bridesmaids dresses with a sweetheart neckline (available on Fang Fang Store) enhances the curves of your girls. This dress cut is flattering for most body shapes and is perfect for ladies with smaller assets, since it creates the illusion of a fuller bust. It also works to lengthen the neck and balances out the entire silhouette. 
We also love the deep thigh slit that allows your bridesmaids to show off their legs. Don't forget to take a photo for the gram and hashtag #legsfordays!
6. Toga bridesmaids dresses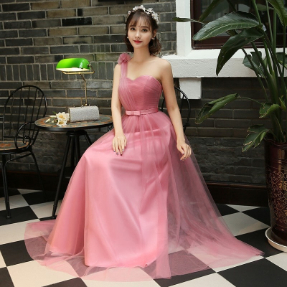 The flowy, relaxed fit of this pink convertible bridesmaid dress (available on Zollzirr-Underwear Wedding Swimsuit) exudes elegance making it perfect for bridesmaids who dislike figure-hugging dresses. Picking a bridesmaids dress design with a cinched waistline will provide a flattering hourglass figure while looking appropriately feminine.
Want to have a consistent style? Go for toga-style dresses! Togas are great for softening broad shoulders and transforms your bridesmaids instantly into Grecian goddesses. This is surely one to add to your wishlist when looking for bridesmaids dresses in Singapore.
7. Ombre bridesmaids dresses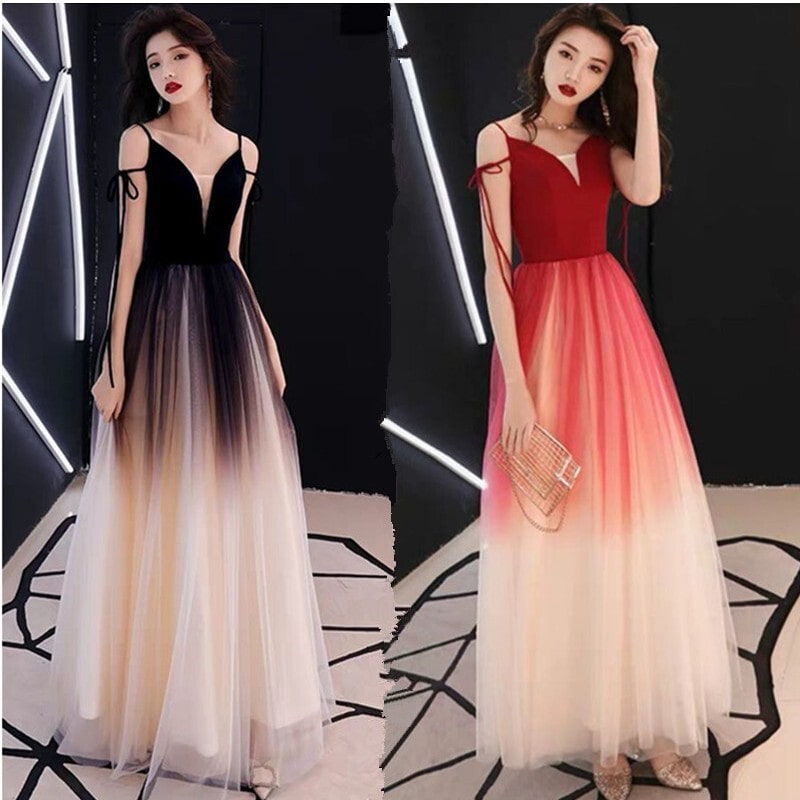 The ombre dress (available on shrimp.fashionshop.sg) trend has been around for a while now and it shows no signs of going away. If you love ombre hues, moody and dark ombre tones will be perfect for a stylishly dark yet romantic wedding. Wearable and versatile, your bridesmaids will probably be able to wear their ombre bridesmaids dresses for other wedding receptions as well!
8. Shine bright like a diamond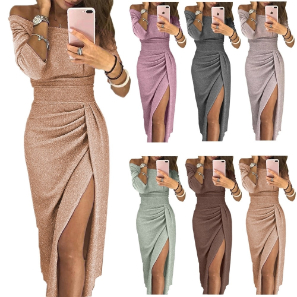 Be extra, be shimmery, be gold. Go for soft, delicate hues to play up that royal element or choose moody sequin bridesmaids dresses that will complement your gown, not overshadow it. Sparkle away while looking sophisticated with this glittery bridesmaid dress (available on lktrading.sg) that'll add a hint of playfulness with that off-shoulder detail. With seven different colours to choose from, your bridesmaids can be dressed in different colour combinations!
9. Pleaty please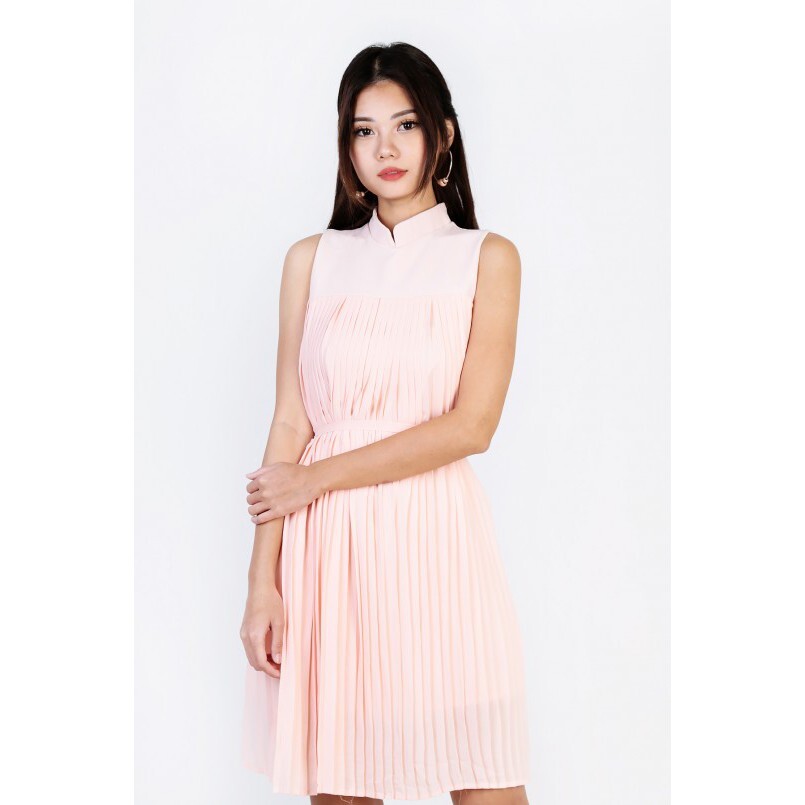 Pleats help to hide any signs of a food baby so your bridesmaids can breathe easy and enjoy the wedding feast! This peach pink bridesmaid dress (available on MGP Label Official Store) is perfect for your bridesmaids who are more conservative and afraid of showing too much skin. Besides that, it also comes with a detachable ribbon for them to decide how they want to wear it. Tying the ribbon around their waist will allow them to accentuate their curves and removing the ribbon will turn it into a flowy shift dress. The two looks for the price of one is truly too good to be missed! This dress is definitely one to consider when purchasing bridesmaid dresses in Singapore!
Dress your girls up in these gorgeous bridesmaids dresses in Singapore  
Of course, no one said that all your bridesmaids have to look the same! Dress them up in the same colour tones but different styles and details to allow their personalities to shine through.  
Are you feeling stressed from thinking of the things to prepare for your big day or simply afraid that you will miss out on something? Tick off the must-haves from this handy wedding checklist including a list of affordable yet stunning wedding dresses you can buy online in Singapore! 
Hosting a wedding during a pandemic can be challenging as there are more restrictions in place.  Fret not! Follow this step-by-step guide on planning a livestream wedding in Singapore to celebrate with those near and far!
This article was updated on 20 August 2020. Additional research done by Melissa Chau.