Whether it's your first or 500th date (who's counting?), we can't think of a better way to spend Valentine's Day than at some of the best rooftop bars in Singapore. Soak in the views with a tipple in hand, nothing beats having your partner beside you to enjoy it all!
Affordable rooftop bars in Singapore with a laid-back ambience
1. Southbridge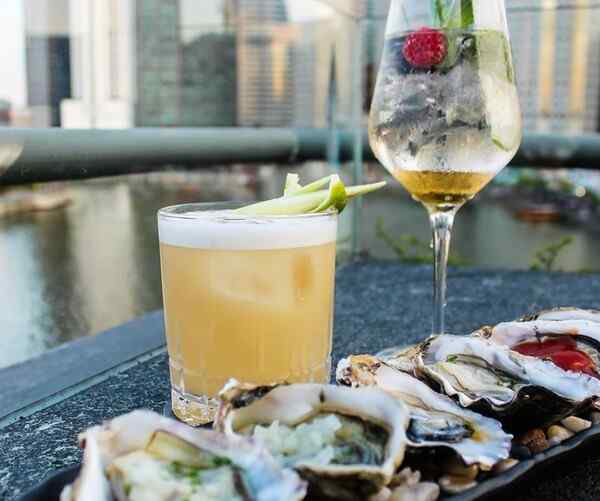 Not only is Southbridge one of the best rooftop bars in Singapore but it's also one of the only bars to serve oysters – a must-try combo! Its intimate setting and view of the Singapore River make it one of our top choices for Valentine's Day. Just be sure to make an early reservation!
Southbridge is also known as one of the most affordable rooftop bars in Singapore. Take advantage of their Happy Hour prices and sip on premium gin and tonic, cocktails, spirits and wines. Bartenders here are always trying new mixes to find flavours that will surely please you and bae. 
Address: 80 Boat Quay, Level 5, Rooftop S(049868)
Opening hours: Daily, 5pm – 12am
2. Mr Stork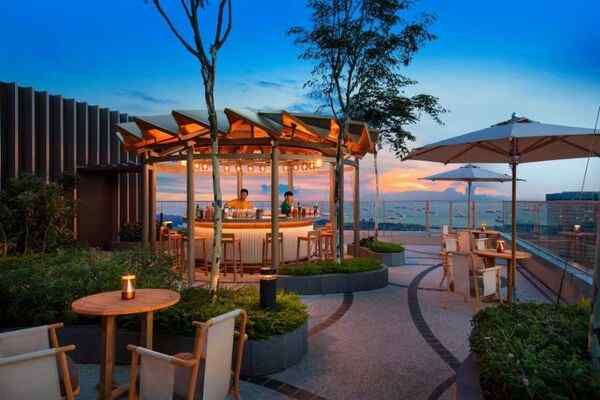 How does sipping on cocktails in a teepee sound? Nestled on the 39th floor of uber-chic hotel Andaz Singapore, Mr Stork is one of the best rooftop bars to head to when in the Bugis area. Cuddle in one of the 10 teepees and enjoy their signature cocktails including Rhubarb, Ruby and The Sling. 
If you and your partner prefer staying off alcohol-added calories, try their Seedlip mocktails. Look forward to mocktails like Groove Baby and Garden of Eden – made from Seedlip garden, passion fruit puree, apple juice and soda water. For food, come back down to earth and head across the road to the cafes at Haji Lane for light bites, jazz and romance.
Address: Andaz Hotel, 5 Fraser Street, Level 39, S(189354)
Opening hours:
Mon – Thurs: 5pm – 12am
Fri: 5pm – 1am
Sat: 3pm – 1am
Sun: 3pm – 12am
3. Potato Head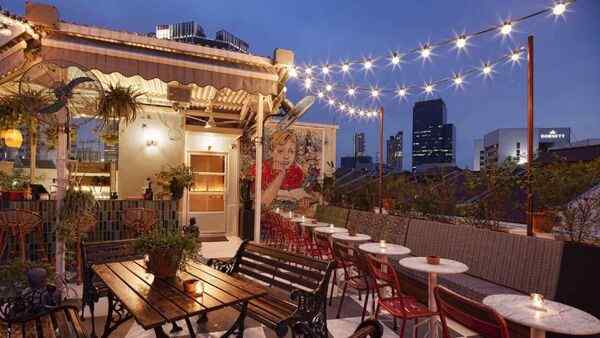 Potato Head is the perfect place for some seriously good grub and tropical cocktails served with a view. If you're fretting over two separate places for dinner and drinks, you don't need to with this best rooftop bar in Singapore. Start the night at Three Buns and dig into Baby Huey – a Tasmanian Vintage beef patty layered with ketchup, cheese, pickles and spiced mayo. Or try their Impossible burgers, the plant-based meat burgers that have taken the culinary world by storm. 
Once full, head on up to the open-air rooftop bar and order their signature concoction Zombie #36 – a rum blend served in a wooden tumbler. Or settle on Royal Gin and Juice – a classic G&T with a zesty twist.
Address: 36 Keong Saik Road, S(089143)
Opening hours: Daily, 12pm – 12am
4. Supply And Demand @ Esplanade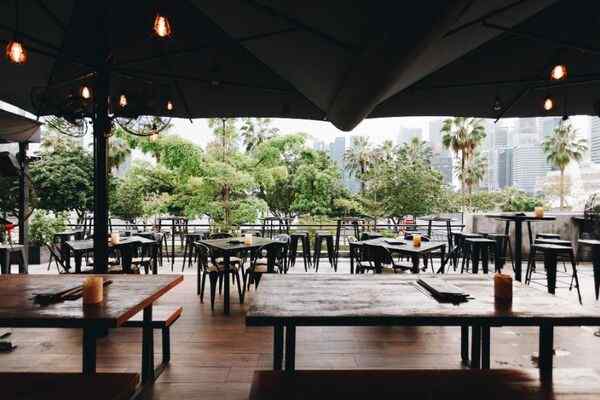 You don't have to burn a hole in your pocket for the best rooftop bar experience in Singapore. Supply and Demand in Esplanade Mall is one of the more affordable rooftop bars in Singapore with a decent view of Marina Bay. Cosy up with your loved one over some pizzas and other bar bites while taking in their signature beer cocktails made with their favourite Italian draught beer, Peroni Nastro Azzurro on tap. 
If you're feeling hungry, head down to the restaurant below for a wider F&B selection – watch the culinary team cook up a storm as they serve fresh pasta and freshly baked sourdough bread by the side. Psst.. we also hear their truffle fries are a must-try! 
Address: Esplanade Mall, 8 Raffles Avenue, #01-13, S(039802)
Opening hours:
Tue – Fri: 11.30am – 3pm, 5pm – 10.30pm
Sat – Sun: 11am – 10.30pm
5. Graffiti Sky Bar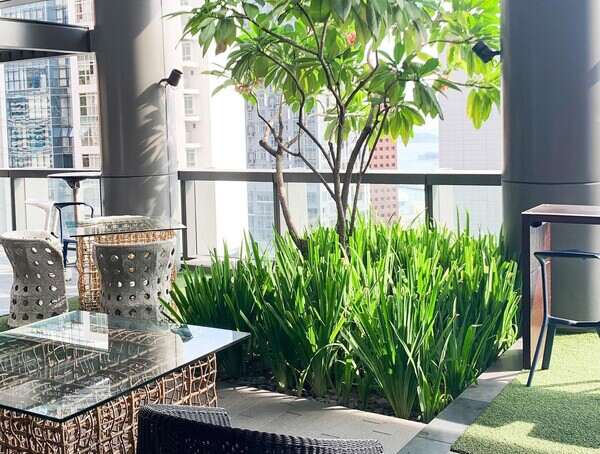 Avoiding the crowds on Valentine's Day is almost near impossible, but you get to do just that at Graffiti Sky Bar. Located atop Carlton City Hotel, this is one of the best rooftop bars in Singapore that boasts views of the passing container ships at Keppel Harbour.
The bar provides an extensive selection of drinks for guests who like to keep things simple. Look forward to classic cocktails, spirits and beers. However, if you're in for an interesting twist, try their signature cocktails including Last Gossip and Chocopop Martini – a delicious vodka-based drink mixed with chocolate syrup! Thanks to their Happy Hour from 3pm – 8pm daily, Graffiti Sky Bar is also one of the most affordable rooftop bars in Singapore!
Address: Carlton City Hotel Singapore, Level 29, 1 Gopeng Street, S(078862)
Opening Hours: Daily, 4pm – 12am
Affordable rooftop bars in Singapore with an

atas

ambience
6. Artemis Grill & Sky Bar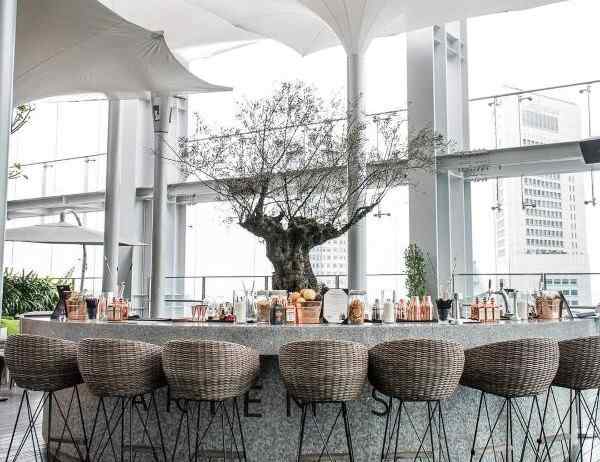 Looking to bring your date to a fancier location? Artemis Grill & Sky Bar is one of the best rooftop bars in Singapore with a bird's eye view of the city skyline. Sitting 40 floors above ground, it's no surprise why it has such an impressive view. The floor-to-ceiling glass panels make it feel like you're drinking among the clouds!
The bar boasts quite a large indoor and outdoor bar area, so expect a crowd if you decide to head here on Valentine's Day! Otherwise, make a party of it and invite a fellow couple to join in the celebrations. Enjoy the Mediterranean dishes with drinks at Happy Hour prices from 3pm till closing – making this one of the more affordable rooftop bars in Singapore as long as you come at the right time.
Address: CapitaGreen Rooftop, Level 40, 138 Market Street, S(048946)
Opening hours: Mon – Fri: 11.30am – 2.30pm, 5.30pm – 10pm
7. Kinki Restaurant + Bar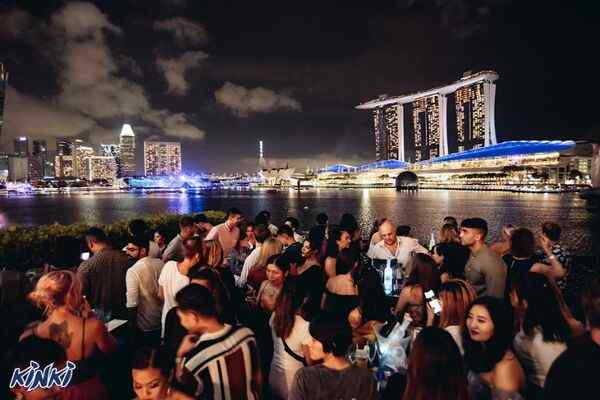 Rooftop bars are fun; even more fun if you can get some dancing in too! Kinki is one of the best restaurants cum rooftop bars and clubs in Singapore. It doubles down on the urban feel with EDM tunes from their resident DJs in the evenings and throws a party you'll remember! Rock to the beats with your partner at Kinki while taking in the panoramic view of the Marina Bay skyline.
A fan of Japanese cuisine? Be sure to fill your tummies on the sushi, maki rolls and donburis before getting your poison of choice. Choose from sake-influenced cocktails and wines and enjoy the night away!
Address: Customs House, 70 Collyer Quay, #02-02, S(049323)
Opening hours: Mon – Sat: 12pm – 3pm, 6pm – 10.30pm
8. Braci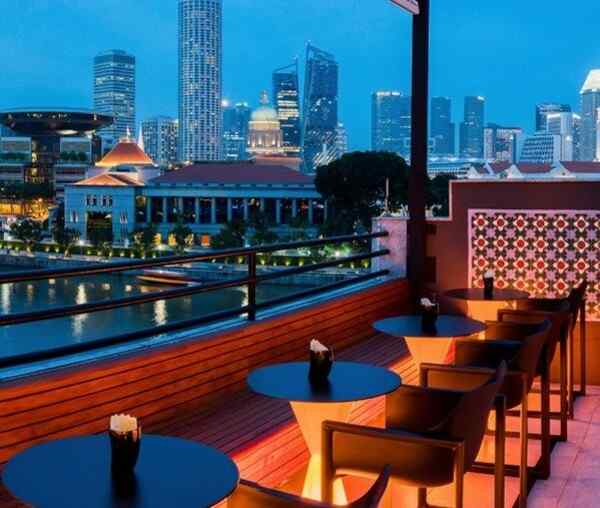 It's hard not to be smitten by Braci. This charming establishment prides itself on using big boy toys such as the Josper oven and shichirin grill to maximise the flavours of their ingredients. It was even awarded one Michelin Star for three consecutive years since 2017, so you can trust that anything served by their chefs and bartenders will definitely satisfy your taste buds. 
Even if you are just heading for drinks at the rooftop bar, you'll be greeted with a good vantage view of the Singapore River. It's definitely one of the best rooftop bars in Singapore to head to especially if your partner appreciates the dolce vita life.
Address: 52 Boat Quay, Level 5/6, S(049841)
Opening hours:
Mon: 6pm – 11pm
Tue – Sat: 12pm – 1.30pm, 6 – 11pm
9. CÉ LA VI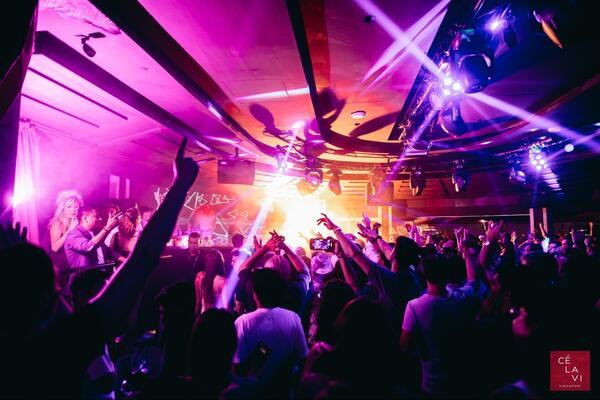 You'd be hard-pressed to find views that rival those from Marina Bay Sands. It then shouldn't come as a surprise that one of the best rooftop bars in Singapore sits atop it on the 57th floor of this world-famous hotel. CÉ LA VI offers glittering views of Singapore's skyline and is also one of the best pre-wedding photoshoot locations. 
Take your special lady or man there on Valentine's day and indulge in their well-mixed cocktails, fine wines, beers and sake. Once you've taken all the selfies you've wanted to, groove the rest of the night away in the CÉ LA VI club lounge.
Address: Sands SkyPark at Marina Bay Sands, Tower 3 Marina Bay Sands, 1 Bayfront Avenue, Level 57, S(018971)
Opening hours: 
Mon – Tues: 5.30pm – 1am
Wed: 5.30pm – 4am 
Thur: 5.30pm – 3am
Fri: 5.30pm – 4am
Sat: 12pm – 4am
Sun: 12pm – 1am
Affordable halal rooftop bars in Singapore
10. Fairytail Bar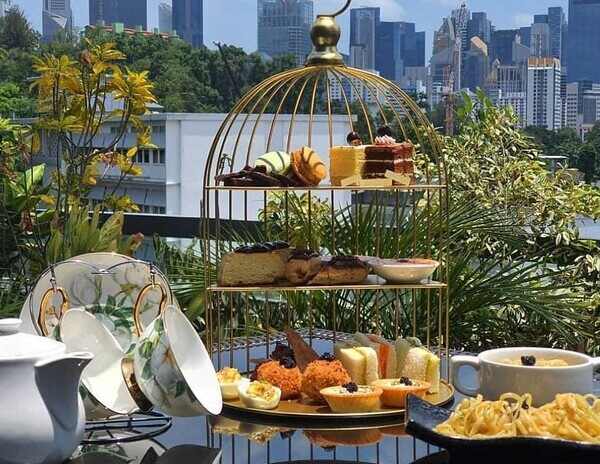 It ain't a fairytale when it comes to enjoying delicious halal food with breathtaking views thanks to the Fairytail Bar! The Fairytail Bar is a Muslim-owned gastro bar in Tiong Bahru; it is located on top of D'Hotel and offers a bird's eye view of Singapore's CBD. In fact, this best halal rooftop bar in Singapore prides itself as a romantic restaurant that pays homage to the bird-keeping tradition by serving food and drinks in bird cages and other bird-themed cups! 
High tea lovers, rejoice! For just $88+, you and your loved one will get to share a Weekend High Tea Set filled with the usual pastries and sweet treats. You'll also be given a book (specially written by Fairytail Bar) where you can follow the story of Anka, a mythical Phoenix. Definitely sounds like a unique Valentine's dining experience!
Address: 231 Outram Road, S(169040)
Opening hours: 
Mon – Fri: 5.30pm – 11pm
Sat – Sun: 12pm – 11pm
11. Wanderlost Lounge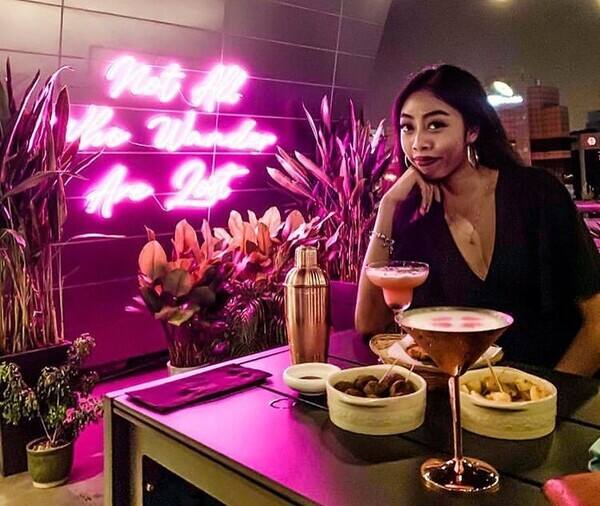 Wanderlost Lounge, nestled among the skyscrapers in the CBD area, is one of the top go-to places for our Muslim friends, thanks to its chic rooftop space and IG-worthy interior. This best halal rooftop bar in Singapore has an intriguing menu inspired by childhood novels such as The Alchemist mocktail, designed based on Paulo Coelho's classic novel. 
Your health-conscious other half will also love how the Wanderlost Lounge only uses natural ingredients in their concoctions. Just imagine a floral drink made up of kiwi popsicle, lavender, passion fruit, ajwain (a type of herb) and topped with chocolate glitter – doesn't that sound magical? This is their all-time favourite: Harry Potter and the Philosopher's Stone! While sipping your mocktail, don't forget to order some of their grilled tapas, such as Swedish meatballs, chicken karaage, and BBQ chicken wings!
Address: Bugis Plus, 201 Victoria Street, #07-04, S(188067)
Opening hours: 
Mon – Fri: 5.30pm – 11pm
Sat – Sun: 12pm – 11pm
12. Lepak One Corner By Yassin Kampung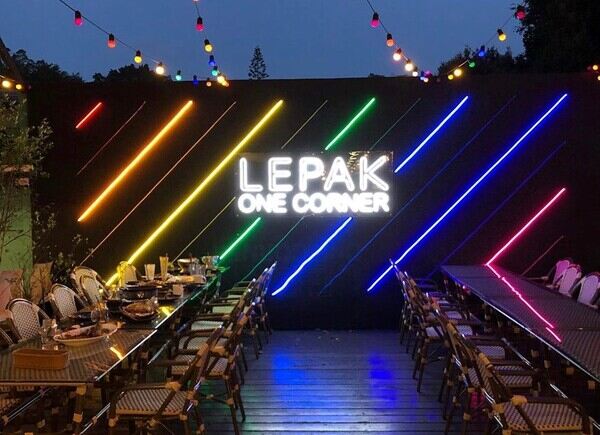 Enjoy a taste of nostalgia with Lepak One Corner, one of the most affordable halal rooftop bars in Singapore. Muhammad Yassin Ng, their head chef, is determined to make you smile with a wide range of fusion dishes. Best suited for couples who prefer a more casual setting, Lepak One Corner serves unique zichar dishes such as Crispy Oat Prawns, 3 Flavoured Fish, and Sichuan Mala Fried Crab. 
They have outlets throughout Singapore, but their Clementi outlet has an alfresco area that resembles rooftop dining, zeng-ed up with an IG-worthy backdrop. So, if you're in the area, be sure to stop by this best rooftop bar in Singapore!
Address: 106 Clementi Street 12, #01-56, S(120106)
Opening hours: Daily, 10am – 11pm
13. Dad's Corner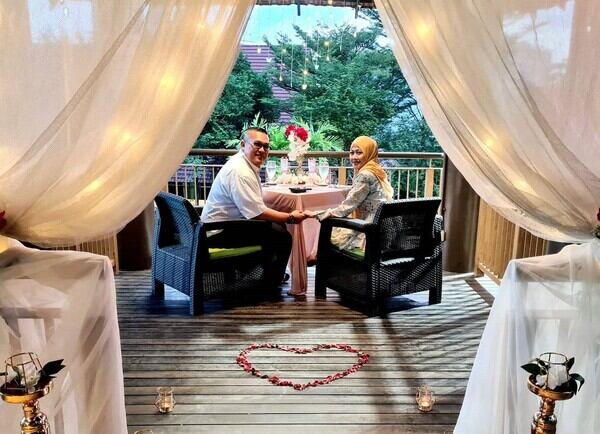 Dad's Corner is the place to go if you love seafood in a bag! The first halal private treetop dining experience, this best halal rooftop bar in Singapore has specially curated a 3-course menu that includes the Soup of the Day, Main Course (choice of Grill Beef Tomahawk, Lobster or Chicken) and Panna Cotta as dessert.
Additionally, their couple's hut is thoughtfully decorated with sheer curtains and fairy lights for a magical touch. Not to mention, it overlooks a beautiful pool, giving you the impression that you're celebrating this special moment on another island! There's no doubt you'll enjoy every minute of this experience with bae, especially with a dedicated staff serving you for the night.
Address: 91 Bukit Batok West Avenue 2, S(659206)
Opening hours: 
Tue – Thur: 12pm – 9pm
Fri – Sun: 12pm – 10pm
Don't stop at the best rooftop bars in Singapore!
Make Valentine's day celebrations extra fun with the best baking classes in Singapore and end off the night at these best glamping spots. Gentlemen, woo your lady love with a beautiful bouquet and get it right with this guide to types of Valentine's Day flowers. Lastly, seal the deal with another V-Day gift for her to show how much she matters to you!
This article was updated on 2 February 2023. Additional research and updates done by Shermyn Tan.