Whether it's your first or 500th date (who's counting?), we can't think of a better way to spend Valentine's Day than at some of the best rooftop bars in Singapore. Soak in the views with a tipple in hand, stunning views of the cityscape and your partner beside you to enjoy it all!
1. Graffiti Sky Bar – Carlton City Hotel Singapore
Avoiding the crowds on V-Day is almost near impossible, but you get to do just that at Graffiti Sky Bar. Located atop Carlton City Hotel, this is one of the best rooftop bars in Singapore that boasts views of the passing container ships at Keppel Harbour.
The bar provides an extensive selection of drinks for guests who like to keep things simple. Look forward to classic cocktails, spirits and beers. However, if you're in the mood for something experimental, try their signature cocktails including Last Gossip and Chocopop Martini — a delicious vodka-based drink mixed with chocolate syrup! Graffiti Sky Bar is also an affordable rooftop bar in Singapore! Head there early to enjoy the Happy Hour from 3pm – 8pm daily.
Address: Carlton City Hotel Singapore, Level 29, 1 Gopeng Street, S(078862)
Opening Hours:
Sun – Tues: 3pm – 12 midnight
Wed – Sat: 3pm – 1am
2. The Screening Room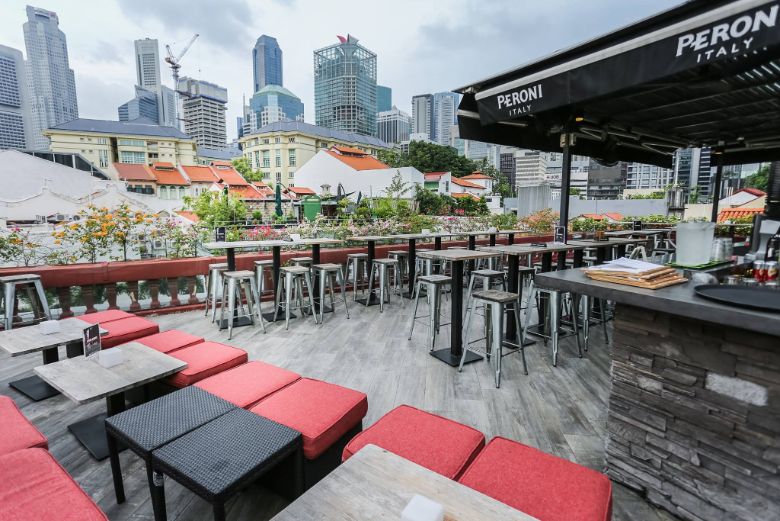 The Screening Room is for couples who love movies with a bit of heritage thrown in. This is one of the best rooftop bars in Singapore with a good view of Chinatown's many traditional shophouses. The bar also overlooks the nearby temples, lit by the soft glow of lanterns come evening time.
What we love about The Screening Room is the rooftop bar's boutique film theatre. Fans of arthouse films can look forward to independent and foreign films on screen. After the movie, head to the rooftop bar and sip on a cocktail as you discuss the movie with your partner.
Address: 12 Ann Siang Road, S(069692)
Opening Hours:
Mon – Thurs: 5:30pm till late
Fri – Sat: 5pm till late
3. Oxwell and Co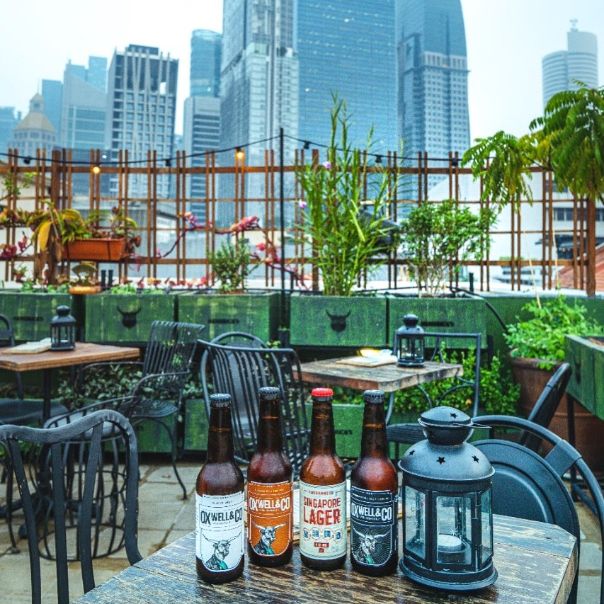 If you and your date fall into the laid-back and chill category, then you'd enjoy Oxwell and Co. The four-storey shophouse boasts not just one, but two bars! Both bars are designed to look like English pubs, while the dining room serves up modern British food.
Once you've ahhed and oohed at their quirky spaces (including an Apothecary-inspired bar on the second floor), head up to their rooftop bar. There, you'll be treated to a vast selection of in-house cocktails made with ingredients from their organic herb garden. The garden herbs in most of their menu items make Oxwell and Co one of the best rooftop bars in Singapore for a truly fresh Valentine's Day experience!
Address: 5 Ann Siang Road, S(069688)
Opening Hours: Daily, 12 noon – 12 midnight
4. Artemis Grill & Sky Bar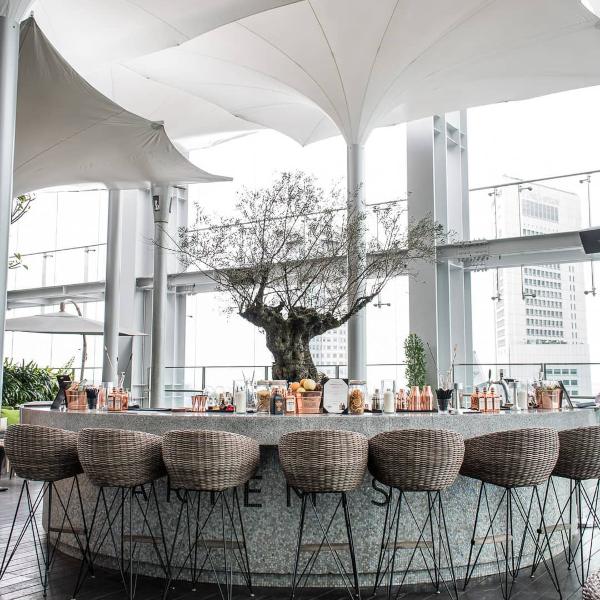 Looking to bring your date to a fancier location? Artemis Grill & Sky Bar has one of the best rooftop bars in Singapore with a bird's eye view of the city skyline. Sitting 40 floors above ground, it's no surprise why it has such an impressive view. The floor-to-ceiling glass panels make it feel like you're drinking among the clouds!
The bar boasts quite a large indoor and outdoor bar area, so expect a crowd if you decide to head here on V-Day! Otherwise, make a party of it and invite a fellow couple to join in the celebrations. Enjoy the Mediterranean dishes with drinks at Happy Hour prices from 3pm till closing — making this one of the more affordable rooftop bars in Singapore as long as you come at the right time.
Address: CapitaGreen Rooftop, Level 40, 138 Market Street, S(048946)
Opening Hours:
Mon – Fri: 11:30am till late
Sat: 6pm till late
5. Kinki Restaurant + Bar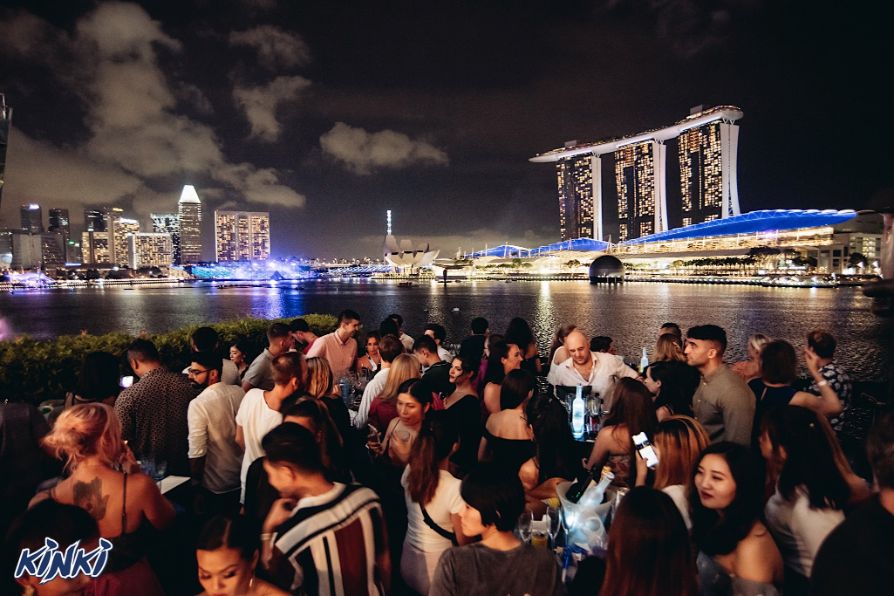 Rooftop bars are fun; even more fun if you can get some dancing in, too! Kinki is one of the best restaurants cum rooftop bars/clubs in Singapore. It doubles down on the urban feel with EDM tunes from their resident DJs in the evenings and throws a party you'll remember! Rock to the beats with your partner at Kinki while taking in the panoramic view of the Marina Bay skyline.
A fan of Japanese cuisine? Be sure to fill your tummies on the sushi, maki rolls and donburis before getting your poison of choice. Choose from sake-influenced cocktails and wines and enjoy the night away!
Address: Customs House, 70 Collyer Quay, #02-02, S(049323)
Opening Hours:
Mon – Thurs: 5pm – 12 midnight
Fri – Sat: 5pm – 2am
6. Southbridge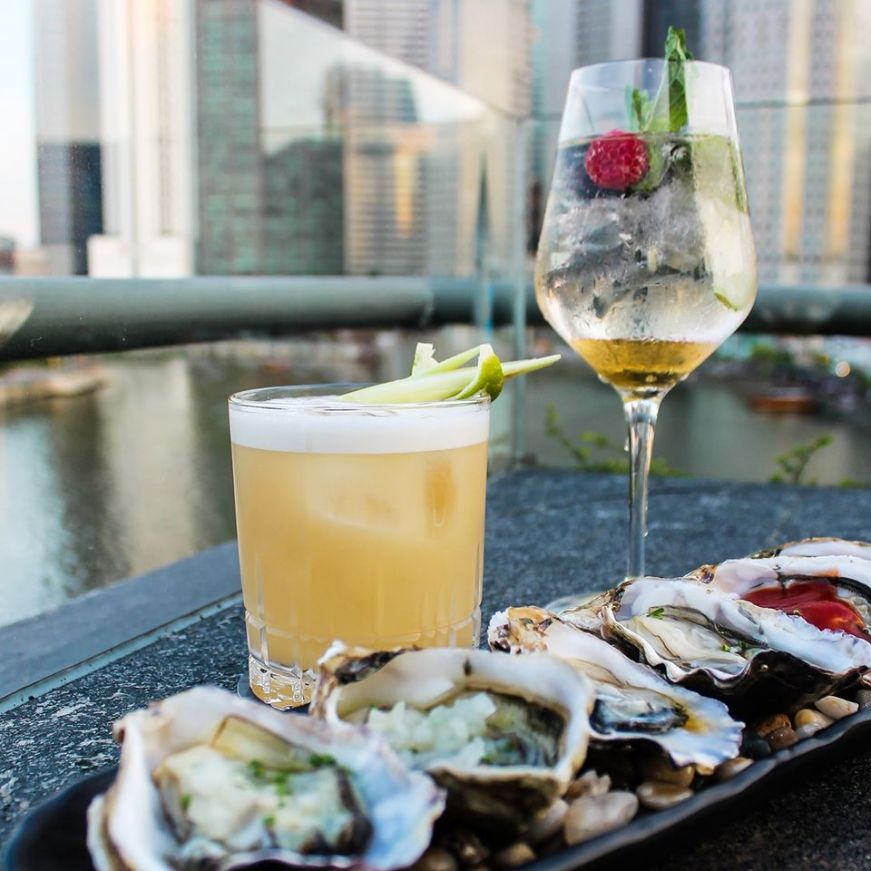 Not only is Southbridge one of the best rooftop bars in Singapore but it's also one of the only bars to serve oysters — a must-try combo! Its intimate setting and view of Singapore River make it one of our top choices for V-Day. Just be sure to make an early reservation!
It's also one of the most affordable rooftop bars in Singapore. Take advantage of their Happy Hour prices and sip on premium gin & tonics, cocktails, spirits and wines. Bartenders here are also always trying new mixes to find flavours that will please any guest!
Address: 80 Boat Quay, Level 5, Rooftop S(049868)
Opening Hours: Daily, 5pm – 12 midnight
7. Sum Yi Tai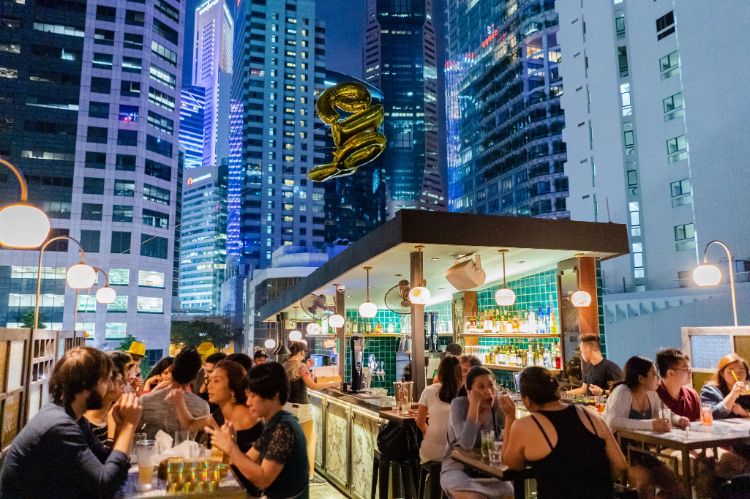 Introduce your love for Canto movies to your partner at Sum Yi Tai! This is one cool bar, decorated with a mix of traditional and pop-cultural references to 1980s Hong Kong. Start off at their Tapas Bar on the ground floor and nibble on king prawn wantons tossed in chilli, or maple honey glazed char siu. Head up the rooftop bar and continue the night with their selection of beer, wine and whiskey. For a more clandestine time, request access to the Mona Lounge — Sum Yi Tai's back-room cocktail bar. Apparently, you need a secret code to get into this one!
This might just be one of the best rooftop bars in Singapore for workaholic couples in the CBD. If you think your partner might not be able to make an early exit from the office this V-Day, you know where to head to!
Address: 25 Boon Tat Street, S(069622)
Opening Hours:
Mon – Fri: 11:30am – 2:30pm, 5pm – 1am
Sat: 7pm – 1am
8. 1-Altitude

https://www.instagram.com/p/B7Qg7gNHGJQ/
Feel on top of the world at 1-Altitude! Perched on level 63 of the One Raffles Place building, 1- Altitude is one of the best rooftop bars in Singapore for a 360-degree view of the city. Not only will you be able to enjoy a spectacular sunset view with your other half, you'll also be treated to delectable cocktails and thumping music from the dance floor once night falls. This rooftop bar has played host to several A-list events and renowned DJs who've graced the bar with their tunes.
Address: 1 Raffles Place, Level 63, S(048616)
Opening Hours:
Sun – Tues: 6pm – 2am
Thurs: 6pm – 3am
Wed, Fri, Sat & Eve of Public Holiday: 6pm – 4am
9. Braci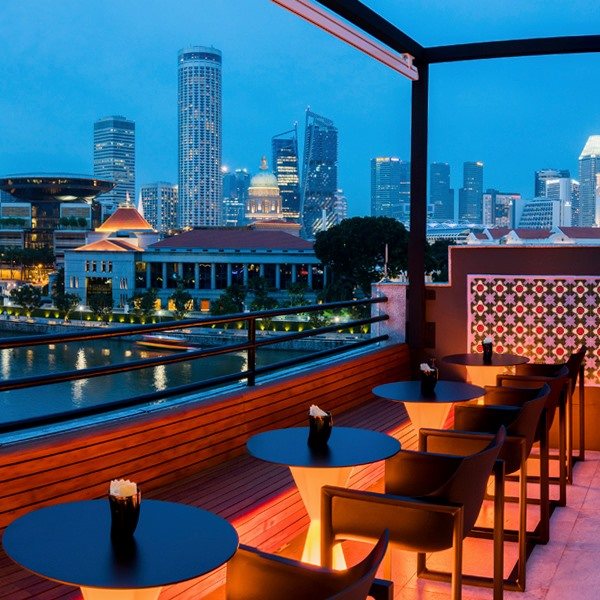 It's hard not to get smitten by Braci. This charming establishment prides itself on using big boy toys such as the Josper oven and shichirin grill to maximise the flavours of their ingredients. It was even awarded one Michelin Star for three consecutive years since 2017, so you can trust that anything served by their chefs and bartenders will definitely satisfy your taste buds. Even if you are just heading for drinks at the rooftop bar, you'll be greeted with a good vantage view of the Singapore River. It's definitely one of the best rooftop bars in Singapore to head to especially if your partner appreciates the dolce vita life.
Address: 52 Boat Quay, Level 5/6, S(049841)
Restaurant Opening Hours:
Tue – Fri: 12 noon – 2pm (Lunch)
Mon – Sat: 6pm – 10:30pm (Dinner)
Bar Opening Hours:
Mon – Sat: 5pm – 12 midnight
10. Mr Stork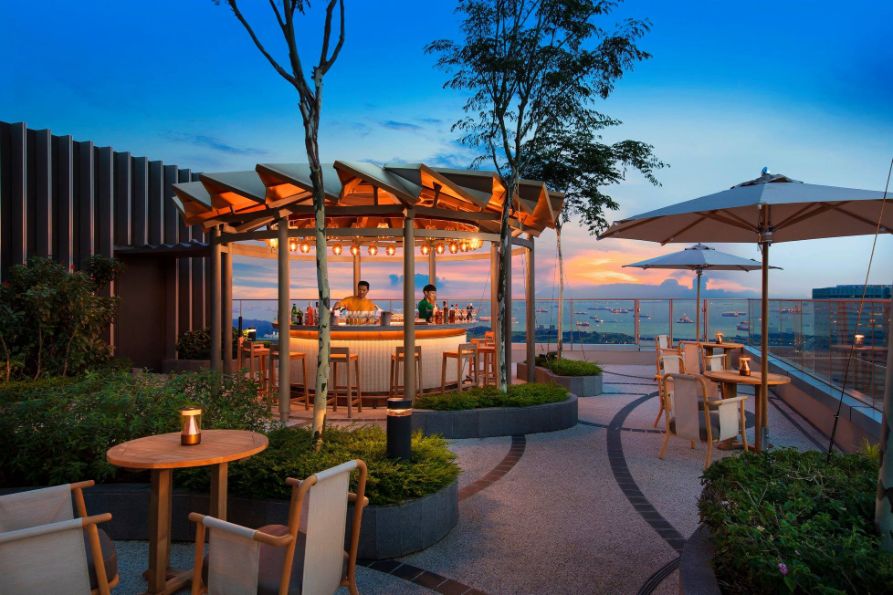 How does sipping on cocktails in a teepee sound? Nestled on the 39th floor of uber-chic hotel Andaz Singapore, Mr Stork is one of the best rooftop bars to head to when in the Bugis area. Cuddle in one of the 10 teepees and enjoy their signature cocktails including Rhubarb, Ruby and The Sling. If you and your partner prefer staying off alcohol-added calories, then try their Seedlip mocktails — Seedlip being the star spirit in all their non-alcoholic beverages. Look forward to mocktails like Groove Baby and Garden of Eden — made from Seedlip garden, passion fruit puree, apple juice and soda water. For food, come back down to earth and head across the road to the cafes at Haji Lane for light bites, jazz and romance.
Address: 5 Fraser Street, Level 39 Andaz, S(189354)
Opening Hours:
Mon – Thurs: 5pm – 12 midnight
Fri: 5pm – 1am
Sat: 3pm – 1am
Sun: 3pm – 12 midnight
11. Potato Head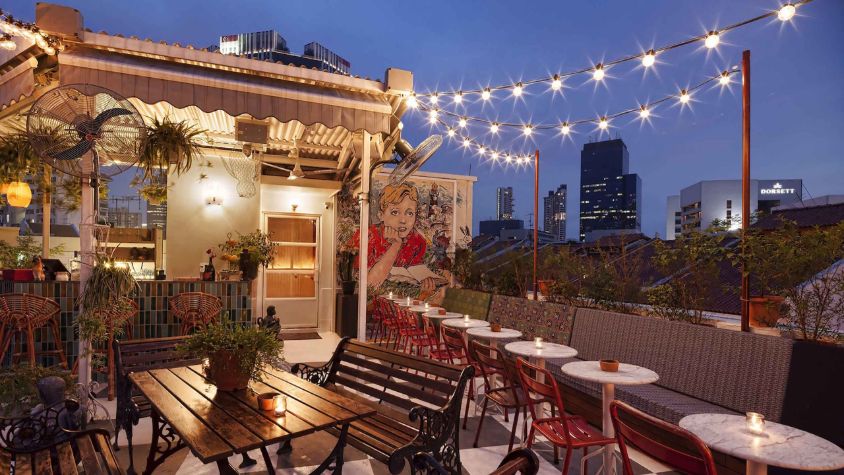 Potato Head is the perfect place for some seriously good grub and tropical cocktails served with a view of course. If you can't think of two separate places for dinner and drinks, you may actually not need to. Start the night at Three Buns and dig into Baby Huey — a Tasmanian Vintage beef patty layered with ketchup, cheese, pickles and spiced mayo. Or try their Impossible burgers, the plant-based meat burgers that have taken the culinary world by storm. Once full, head on up to the open-air rooftop bar and order their signature concoction Zombie #36 — a rum blend served in a wooden tumbler. Or settle on Royal Gin and Juice — a classic G&T with a zesty twist.
Address: 36 Keong Saik Road, S(089143)
Opening Hours: Tues – Sun: 11am – 12midnight
12. CÉ LA VI
https://www.instagram.com/p/BzpKZxFHM8w/
You'd be hard-pressed to find views that rival those from Marina Bay Sands. It shouldn't then come as a surprise that one of the best rooftop bars in Singapore sits atop it on the 57th floor of this world-famous hotel. CÉ LA VI offers glittering views of Singapore's skyline and is one of the swankiest bars in town to be seen at. Take your special lady or man there on V-day and indulge in their well-mixed cocktails, fine wines, beers and sakes. Once you've taken all the selfies you've wanted to, groove the rest of the night away in the CÉ LA VI club lounge.
Address: Level 57, Sands SkyPark at Marina Bay Sands, Tower 3 Marina Bay Sands, 1 Bayfront Avenue, S(018971)
Opening Hours: Daily, 12noon till late
13. Supply And Demand @ Esplanade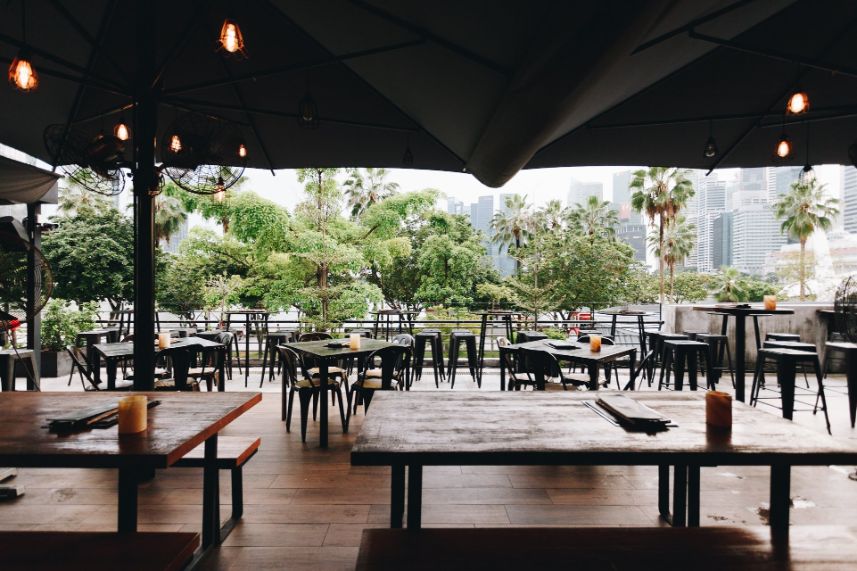 You don't have to burn a hole in your pocket for a rooftop bar experience in Singapore. Supply and Demand in Esplanade Mall is one of the more affordable rooftop bars in Singapore with a decent view of Marina Bay. Cosy up with your loved one over some pizzas, appetisers and other bar bites but if you're feeling hungry, head down to the restaurant below for a wider F&B selection. We hear their truffle fries are a must-try!
Address: Esplanade Mall, 8 Raffles Avenue, #01-13, S(039802)
Opening Hours:
Mon – Thurs: 5:30pm–11pm
Fri: 5:30pm – 2am
Sat – Sun: 12pm – 2am
Don't stop at the best rooftop bars in Singapore!
Continue the V-day celebrations with these alternative ideas for Valentine's Day in Singapore. Gentlemen, woo your lady love with a beautiful bouquet and get it right with this guide to types of Valentine's Day flowers. Seal the deal with a V-Day gift for her to show how much she matters to you!
This article was updated on 20-01-2020. Additional research and updates done by Rajveen Kaur Aujla.