Staycations are popular for a reason: they provide the perfect couples retreat without the high cost of travelling abroad. If you lovebirds enjoy the great outdoors and have fantasised about cuddling under the moonlight, try glamping this Valentine's Day for a change. With the occasion just around the corner, it's time to start planning your romantic getaway with one of these best glamping providers in Singapore!
What is better: camping or glamping?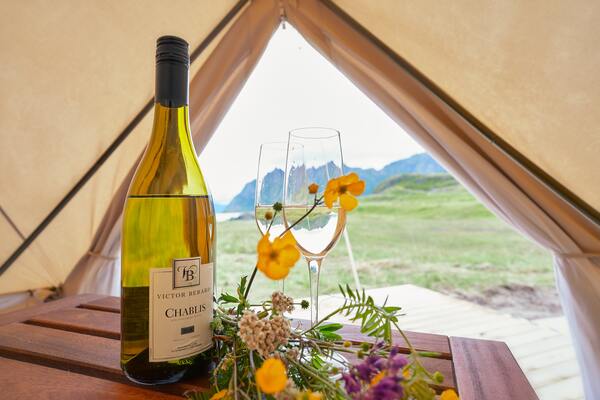 We're all familiar with the concept of camping and probably have done it at least once. Well, glamping is the atas version of camping, bringing you into the outdoors and nestled under the stars – minus the stuffy heat and uncomfortable sleeping bag. Nevertheless, both glamping and camping are about getting away from busy lives to enjoy nature, so it boils down to your personal preference to decide what's better for you! 
| | | |
| --- | --- | --- |
| | Camping | Glamping |
| What it is  | An outdoor camping experience that involves pitching your own tent | A luxury camping experience with amenities provided by a third-party service |
| Facilities provided | Only public toilets and showers available, must bring your own camping equipment | Electricity and full-sized beds provided along with gourmet food available upon request |
| Suitable weather conditions | Not suitable during thunderstorms | Ideal for all weather conditions with indoor glamping spots  |
| Protection and safety | Generally safe | Safer with the availability of third-party service hotlines  |
| Price | Less expensive | More expensive |
Best outdoor glamping providers in Singapore
1. Glamping Society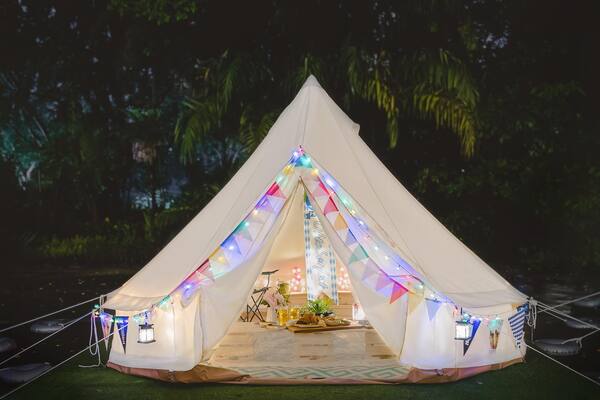 Glamping Society, Singapore's first glamping provider, specialises in converting a luxurious hotel staycation into an one-of-a-kind tent staycation in Singapore! It sets up camp in two places: East Coast Park Area G and the Glamping Farm Resort at Kranji. With an air-conditioned tent that includes a double bed with pillows, dreamy fairy lights, and power outlets, you can be assured of maximum comfort.
Moreover, their couple package takes the romance up a notch with flower petals strewn inside your cosy tent. With the option for an outdoor or indoor picnic set-up, you'll be served a large pizza and sparkling juice. This best glamping provider in Singapore sure knows how to keep your hearts and bellies full! 
Address: 1500 East Coast Park Way, S(468963)
Check out other locations here
Price: From $299
2. Wondrous Glamping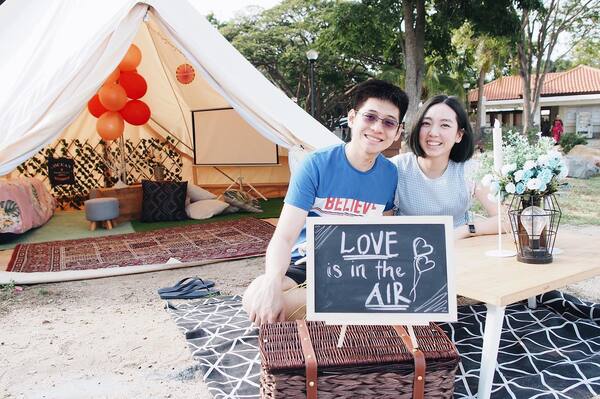 There's nothing more romantic than cuddling under the stars, and with Wondrous Glamping, you get what you wish for. Expect top-notch comfort with cushions, rugs, and your choice of a queen-sized or two single-sized air mattresses. They also have the best portable fans to keep you cool all night.
Rest assured that the ladies at Wondrous Glamping will go above and beyond for your tent staycation in Singapore – be dazzled by their fairy lights and enjoy complimentary chips and a Bluetooth speaker to play some romantic tunes. This best glamping provider in Singapore also handles your Valentine's Day plans by organising a picnic on the breezy beach. Expect an instagrammable moment with balloons, flowers, and even printed photos of you and your boo for just an additional $150!
Address: East Coast Park Area D, S(449876)
Price: From $230
3. Glamping City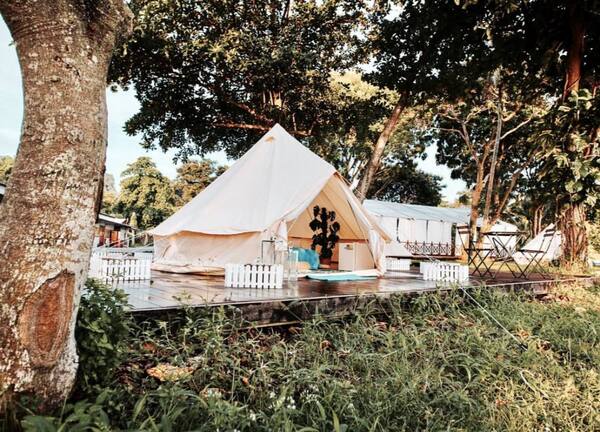 Nothing beats binge-watching the best Netflix dating shows with bae, and with Glamping City, you can do so on an 80-inch screen by the beach! Their Cinema package add-on includes a movie screen with WiFi and a speaker, so you can lay under the stars and watch your favourite Netflix and YouTube films!
Beef up your movie night with a hammock to enjoy the sea breeze and lay a trail of fairy lights back to your tent – their Couples Deluxe tent is fully furnished with an inflatable queen size bed, pillows, blanket, as well as a fan that can run up to 30 hours to keep you cool in the heat. Time to book your weekend getaway with Glamping City, one of the best glamping providers in Singapore! 
Address: East Coast Park Area G2, S(468963)
Price: From $169
4. Glamping Kaki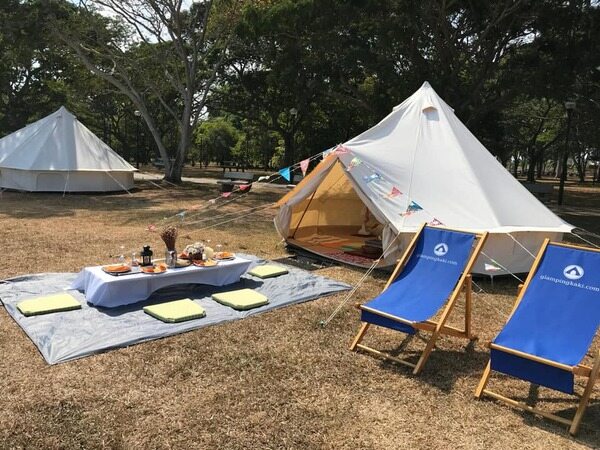 When it comes to a candlelight dinner, we would often imagine it to be at a romantic restaurant, but it's always good to switch things up once in a while. Get your lovely date up and running with Glamping Kaki, one of the best glamping providers in Singapore. On top of setting up your cosy accommodation, the team will also take care of your other logistic needs. 
Opt for the Couples Deluxe medium bell tent which includes a queen size bed, string flags, fans and rose fairy lights. Add a gazebo with an outdoor dining setup, and all that's left is for you to bring the romantic moves. Don't forget to make it extra classy with a bottle of champagne!
Address: 1500 East Coast Parkway, S(468963)
Price: From $210
5. Go Glamping SG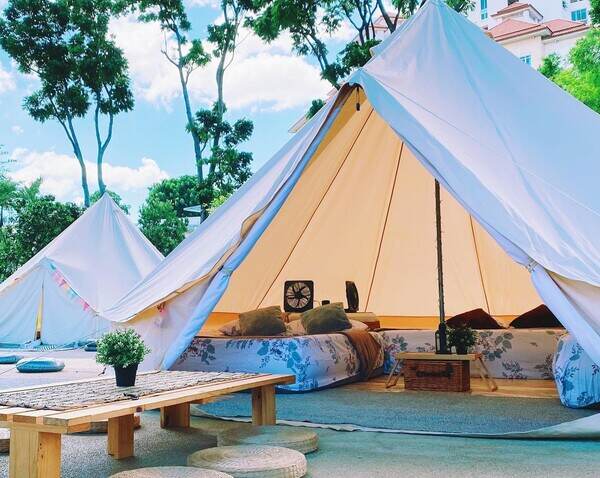 We can't get enough of the seas, and Go Glamping SG provides a luxurious beachfront tent staycation at East Coast Park! Imagine chilling by the windy beach and sipping on a cup of tea while listening to the light crashing of the waves – it's oh so therapeutic. For those who wish to enjoy a BBQ by the sea, head over to their Heritage Chalet at Pasir Ris Park instead! 
With Go Glamping SG, you might never want to go home! Every tent is gorgeously decorated with fairy lights, mini tables, and tatami seats. Additionally, Go Glamping SG is able to brave the storm with their waterproof canvas bell tents that are strong enough to withstand any weather condition. Even in heavy rains, there's no need to scramble to find the next suitable shelter with this best glamping provider in Singapore.
Address: 1500 East Coast Parkway, S(468963)
Check out other locations here
Price: From $240
Best indoor glamping places in Singapore
6. BurnOutSpace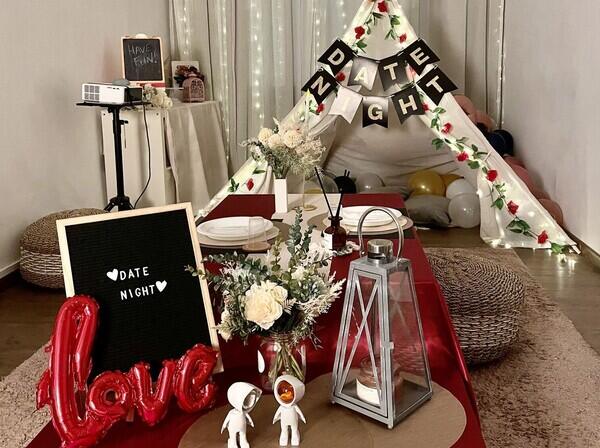 Find it a hassle to pack your
bags
for an overnight stay? Then have a sweet escapade at BurnOutSpace, Singapore's first indoor glamping rooms with hourly rental slots! BurnOutSpace is known for being an affordable alternative daycation, with fully air-conditioned rooms and everything else you could possibly need for 4 – 8 hours.
With a glamping tent decked out in fairy lights, each themed room is also equipped with a projector set-up, comfy sofa, board games, and halal snacks to keep you entertained. Not to mention, you could also top up $20 – $25 for a special Valentines's Day celebration package, which includes a whole dining setup, personalised message boards, and more. Psst… if you're planning to drop by this best glamping spot in Singapore, don't forget to meet their adorable resident cat, Alo!
Address: 78A Syed Alwi Road, #03-01, S(207657)
Price: From $80 
7. The Ritz-Carlton, Millenia Singapore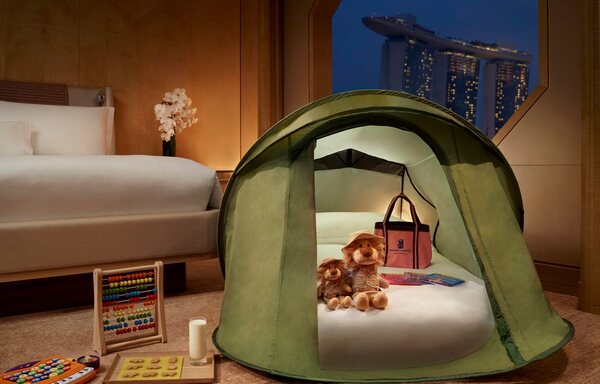 Don't let your kids get in the way of your romantic getaway and let the experts at The Ritz-Carlton Hotel fix you up an indoor glamping paradise in Singapore. Suitable for couples with young children, a fascinating in-room camping experience awaits with a sleeping tent pitched in the middle of the room, complete with some snacks and an engaging activity book!
This overnight stay includes daily in-room dining breakfast and is available in an Elevated Kallang, Deluxe Marina, Premier, Club Premier, or One-Bedroom Millennium Suite. That being said, your family is set for a cosy fuss-free tent staycation at one of the best glamping hotels in Singapore! 
Address: Marina Bay, 7 Raffles Avenue, S(039799)
Price: From $775
8. Fairmont Singapore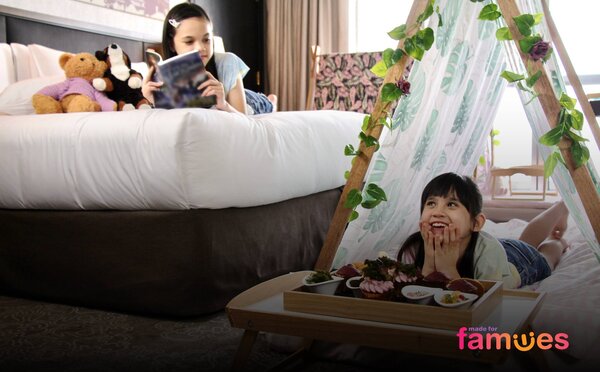 Fancy an opportunity to glamp right in the heart of the city? Try Fairmont Singapore, one of the best glamping hotels for locals and tourists alike. This is one glamping trip that is completely sheltered from the rain, while providing a panoramic view of the stunning Marina Bay Sands. 
Fairmont Singapore provides a glampcation package designed for two adults and two kids, making it another family-friendly destination for your romantic staycation. This package includes welcome amenities, complimentary parking at Raffles City, and adorable teepee tents within the lavish suites! With a luxe camping experience and shopping paradise all rolled into one, what's not to love about this indoor glamping spot in Singapore? 
Address: 80 Bras Basah Road, S(189560)
Price: From $509
9. The Glamping Experience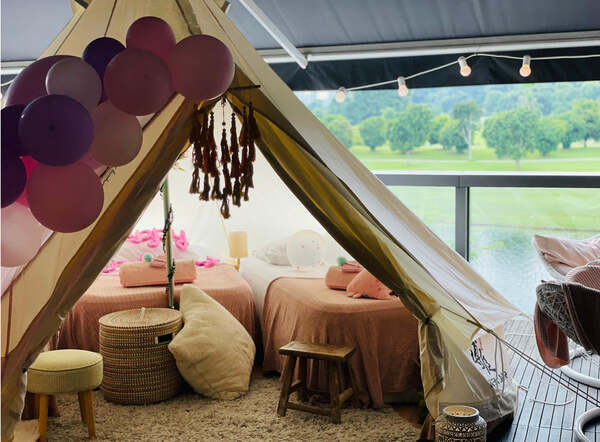 Take the idea of a staycation home with The Glamping Experience, which brings glamping right to your door. We all get lazy from time to time, and staying in after a long week of work can be one of the best ways to unwind with bae. After all, home is one of the quietest places for a romantic date, so why not zeng it up with a stay-in tent staycation in Singapore?
The Glamping Experience handles all of the heavy lifting, from erecting the large bell tent to three single-sized air mattresses, decorative pillows and even balloons! All you have to do is sit back, relax, and watch the glitz and glam unfold right before your eyes. Hands down the best indoor glamping experience anyone can ask for in Singapore !
Address: Vertex, 33 Ubi Avenue 3, #08-08B, S(408868)
Price: From $220
Jazz up your Valentine's date with the best glamping providers in Singapore
You don't have to worry about Valentine's Day being a flop with the best indoor and outdoor glamping providers in Singapore! Surprise your loved one with the best Valentine's Day gifts and pamper him/her with a couples spa retreat. Alternatively, you could also plan a fun-filled day out with these best Valentine's Day activities!