Have you used your SingapoRediscover Vouchers yet? If you answered no, now's the time to make full use of your vouchers for a mini getaway locally! Staycation packages have become even more affordable with the $100 worth of SingapoRediscovers vouchers. Not sure which hotel to go to? We've rounded up the best hotel staycation deals in Singapore including a shortlist of budget and luxury picks. So all you have to do is clear your schedule for a relaxing stay. Psst, the vouchers expire on 30 June 2021, so be sure to act fast and don't let them go to waste!
Best hotel staycations in Singapore sorted by price
1. Harbour Ville Hotel, Hamilton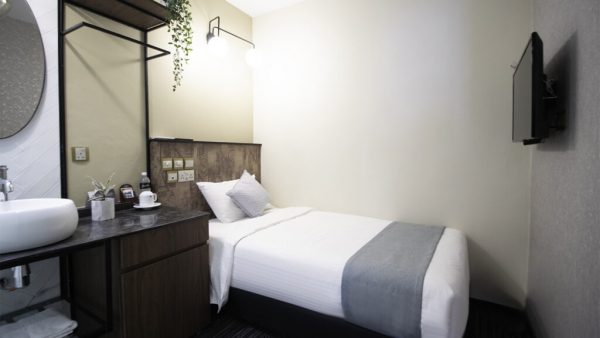 You don't have to book a stay at a renowned hotel to get the best experience. Instead, unwind in the spruced up and newly renovated Harbour Ville Hotel, Hamilton! Located a stone throw away from Bendemeer and Lavender MRT stations, Harbour Ville Hotel, Hamilton is near to town for your shopee spree but far away enough from the crowd. Moreover, each room comes with free Wi-Fi so you can surf to your heart's content while on a break! Psst, just be sure to avoid checking your work email. 
Best staycation deal in Singapore: Snag a 2D1N Harbour Ville Hotel, Hamilton Deluxe Queen Room Package at only $88 and enjoy late check-out (1pm) with ShopeePay!

Address: 40 Hamilton Road, S(209210)
Rates: From $75/night
*Do note that the voucher is only viewable on mobile
2. Arton Boutique Hotel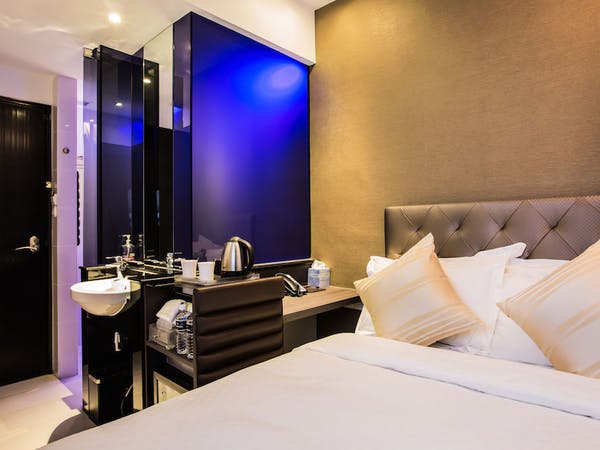 Nestled in central Singapore, Arton Boutique Hotel is a wallet friendly choice for a quick getaway. A stone's throw from City Square Mall and many other well-known eateries and restaurants makes this place a great option for a slumber party with late night suppers! Think popular dim sum buffets and Korean BBQ restaurants — yums!
Grab that deal: Arton Boutique Hotel has different monthly promotions. For the month of November, enjoy a complimentary massage with every direct booking on their hotel website.
Address: 176 Tyrwhitt Road, S(207576)
Rates: From $70/night
3. Hotel Mono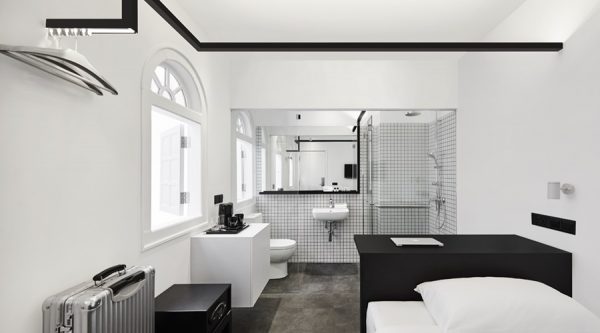 While you'll be instantly drawn to the charming shophouse building, it's really the monochromatic palette of Hotel Mono stuck that's the star of the show. This architectural gem is fitted with Rococo-era windows and stands out from Chinatown's bustle with an all-white facade. Rooms are designed for the minimalist in mind, sticking close to clean lines and neutral colours. If you're keen on clearing your mind and relaxing in a tranquil space, this will definitely be one of the best hotel staycations in Singapore for you!
Grab that deal: Take the kids along for a 2D1N Hotel Mono Staycation Package In Family Room for just $231.20 with ShopeePay!
Address: 18 Mosque Street, S(059498)
Rates: From $81/night
*Do note that the voucher is only viewable on mobile
4. Hotel YAN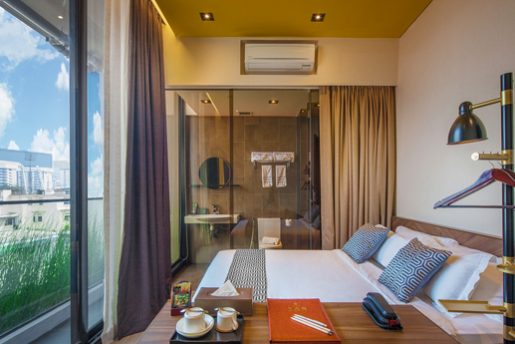 Nestled between two of Singapore's famous ethnic enclaves (Kampong Glam and Little India), Hotel YAN is one of the best hotel staycations in Singapore to experience Singapore's rich cultural heritage! What makes Hotel YAN stand out from other boutique hotels is its attention to detail. From the industrial-chic theme with complementary fixtures and furniture to the friendly staff that are more than happy to recommend nearby heritage sites, the place is great if you're intending to explore the nearby heritage trails and Haji Lane cafes!
Grab that deal: Early birds take note — if you're booking a week in advance, Hotel YAN will reward you with a bonus 40% discount! More info here.
Address: 162 Tyrwhitt Road, S(207581)
Rates: From $87/night
5. lyf Funan Singapore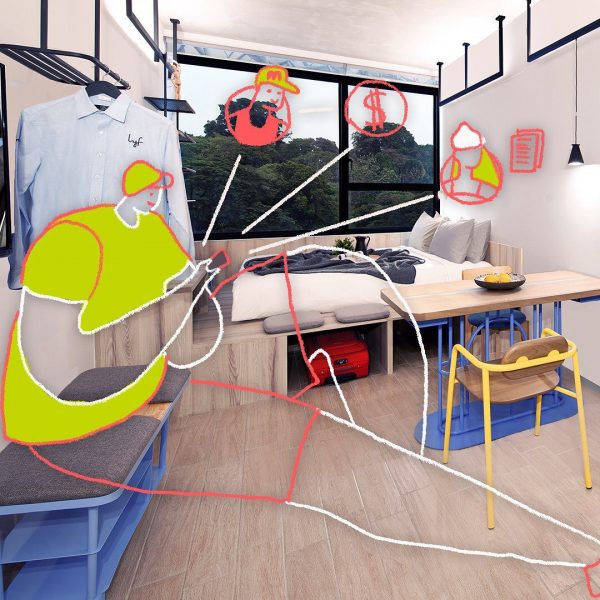 Come for the gorgeous aesthetics, stay for the social community! As one of the largest coliving properties in Southeast Asia, lyf by Ascott is a new-age coliving concept that focuses on social and collaborative experiences. Rather than focus on the ultra luxe experience of modern hotels, lyf Funan Singapore adopts a minimalist and fun spin on the tried-and-true staycation formula. From giant hamster wheels and ball pits to an assortment of Instagram-worthy installations and backdrops, lyf Funan Singapore will certainly dazzle you with its creative amenities and decor.
Grab that deal: lyf Funan Singapore encourages repeated stays through its Ascott Star Rewards programme! Enjoy 10% off best flexible rates and 25% birthday discounts for the Classic tier membership at lyf.
Address: Funan Mall, 67 Hill Street, Level 4, S(179370)
Rates: From $90/night
6. Hotel NuVe Bugis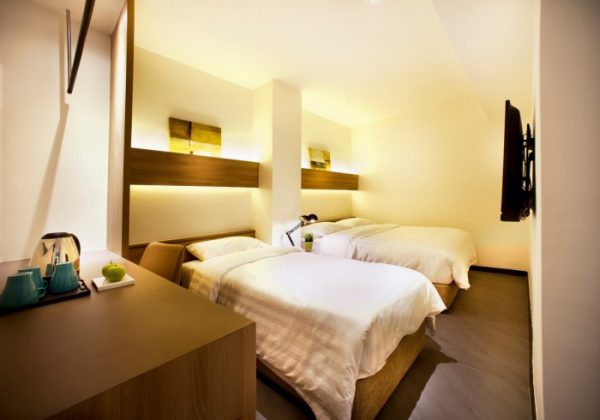 For the budget-savvy, a staycation in Hotel NuVe is in order. Located in Bugis, the hotel is flanked by local dining options with many open till the wee hours of the morning. Wander down Haji Lane's quirky boutiques or stop for brunch at cafes like Working Title or Symmetry. Although its rooms are on the smaller side, they don't skip out on amenities such as a rain shower, in-room safe, flat-screen TV and a power bank that's available upon request.
Grab that deal: Enjoy a 2D1N stay in Hotel Nuve Bugis Basic Room with late check (1pm) at only $88 with ShopeePay!
Address: 9 Jalan Pinang, S(199141)
Rates: From $97/night
*Do note that the voucher is only viewable on mobile
7. Harbour Ville Hotel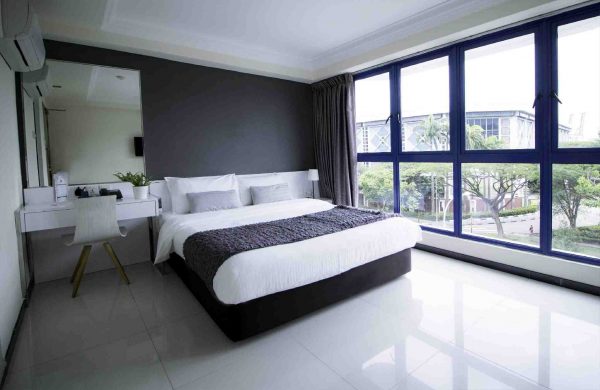 A true gem for among the best budget-friendly hotel staycations in Singapore, Harbour Ville Hotel is the perfect lodging choice for a rejuvenating break. The 100-room property features cosy rooms with essentials including a television, mini-fridge, hairdryer and coffee/tea-making facilities. If you're in the mood for some shopping, Harbour Ville Hotel is conveniently located across Vivo City. Alternatively, if the mall doesn't appeal to you, why not hop on the monorail to explore Sentosa's free and paid attractions or go for a short hike at Mount Faber?
Best staycation deal in Singapore: Enjoy a getaway locally with your loved ones at only $88 for a 2D1N stay in Harbour Ville Hotel Standard Queen Room with ShopeePay!
Address: 512 Kampong Bahru Road, S(099448)
Rates: From $97/night
*Do note that the voucher is only viewable on mobile
8. The Porcelain Hotel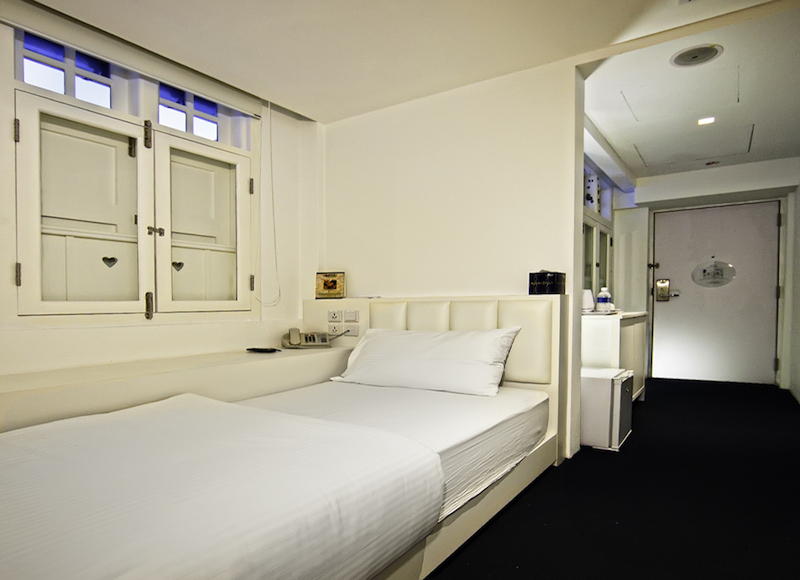 The pristine white facade of The Porcelain gives it an air of opulence, but don't worry about that burning a hole in your pocket! The Porcelain offers wallet-friendly room options that are just as bougie as it's facade. The hotel is located smack in the middle of the Chinatown district, so you can spend some time rediscovering the area!
Best staycation deal in Singapore: The Porcelain offers up to 35% on their Best Available Rate when booking directly with them!
Address: 48 Mosque Street, S(059526)
Rates: From $97/night
9. Soloha Hotel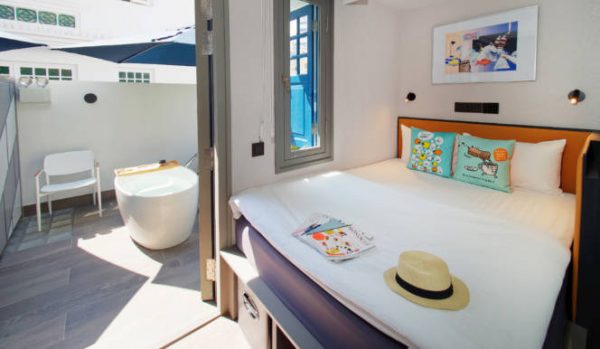 Drop a bath bomb into the outdoor tub at the Hotel Soloha and soak your worries away! Hotel Soloha is truly an Instagram-worthy staycation spot inside out. From the funky common areas with neon lights to the artisanal decorations inside the rooms, this is one of the best hotel staycations in Singapore for the 'gram! While the rooms are not impressively huge, they feel spacious and comfortable thanks to the hotel's space-saving design. 
Best staycation deal in Singapore: Planning a proposal, birthday surprise or hen's night? The 2D1N Hotel Soloha Staycation in Loft Room + Balloon Package ($273) has got you all covered! Spice up the room with the complimentary 25 confetti helium balloons — this will surely be one of the most unforgettable staycations!
Address: 12 Teck Lim Road, S(088387)
Rates: From $98/night
10. Hotel NuVe Urbane, Lavender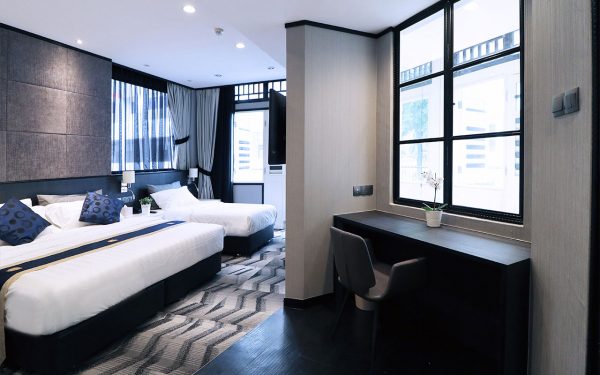 No one would have guessed that the oriental-looking restored colonial building near Lavender MRT station would house a hotel as trendy as Hotel NuVe Urbane. This boutique hotel looks luxurious with its dark tones and modern interior design. But don't worry about the cost, as Hotel NuVe Urbane rooms are kept at budget-friendly prices. Be sure to bring along your swimwear to enjoy some splashing fun time at the outdoor swimming pool!

Best staycation deal in Singapore: Don't miss out on the 2D1N Hotel NuVe Urbane Lavender: Deluxe Queen With Window Room Package + Free Minibar at only $120 via ShopeePay.
Address: 3 King George's Avenue, S(208582)
Rates: From $100/night
*Do note that the voucher is only viewable on mobile
11. Hotel NuVe Elements, Clarke Quay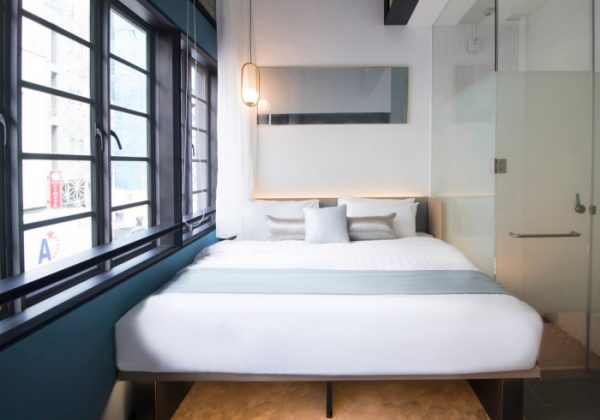 If you like the vibes of Hotel NuVe but want to be located closer to Clarke Quay where it's more happening, then Hotel NuVe Elements, Clarke Quay is your best bet! Housed in a seven storey restored heritage building, this modern hotel boasts a homely interior. Trust us, you'll settle right in at this best hotel staycation in Singapore. From outdoor jacuzzi to rooftop lounge, chill with your friends and take in the beautiful sight of the Singapore River! 
Best staycation deal in Singapore: Snack to your heart's content with the complimentary mini bar service when you purchase the 2D1N Hotel NuVe Elements Clarke Quay: Deluxe King (Full Window) Package ($150).

Address: 41 Hong Kong Street, S(059680)
Rates: From $120/night
*Do note that the voucher is only viewable on mobile

12. Yotel Singapore
Step into the futuristic space at YOTEL Singapore, a hotel that embraces all things tech. Your stay begins with a warm welcome from Yoshi and Yolanda, YOTEL's robots, who are able to navigate all around the hotel to deliver amenities to your room. Check yourself in at the self-service counter and dive straight into your SmartBed when you enter your room. The SmartBeds are able to recline at different angles for sleeping, working or movie time! The hotel is situated right in the middle of Orchard Road, making it so convenient to get to your favourite places around town.
Best staycation deal in Singapore: Enjoy free breakfast, late check-out, $40 F&B credit, robot toy souvenir and a framed photo with the crewbots when you sign up for the Robocation package here!
Address: 366 Orchard Road, S(238904)
Rates: From $140/night
13. Lloyd's Inn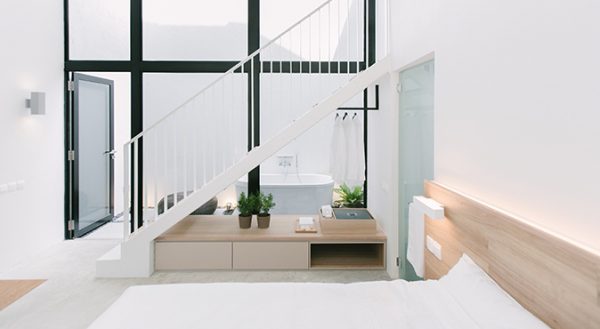 Many have given a nod to Lloyd's Inn for its urban sanctuary vibe and refreshingly clean architecture. You can look forward to cosy sunbeds on the garden deck and a dipping pool at its landscaped gardens. Its Sky Rooms are spacious enough for a sweet couples getaway or if you prefer a private deck with an outdoor dining area, book the Patio Room instead.
Being just a 7-minute walk from Somerset MRT, this is a perfect staycay spot if you wish to be near plenty of shopping options. Guests will also appreciate the vicinity for popular brunch spots like Providore or Wild Honey, to end off a memorable visit.
Best staycation deal in Singapore: Their Eat-Stay-Spa package guarantees an uber-relaxing time!
Address: 2 Lloyd Road, S(239091)
Rates: From $110/night
14. Oasia Hotel Downtown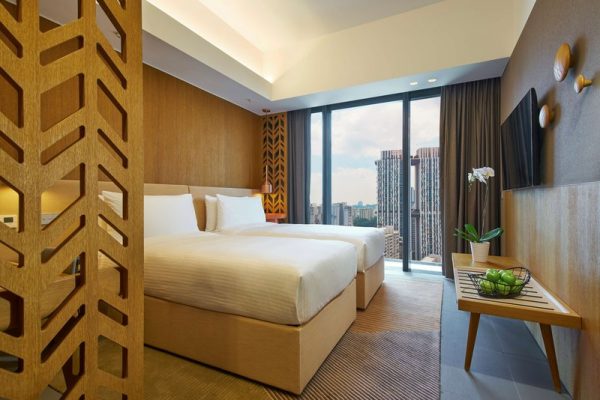 Meshing natural and man-made elements, Oasia Hotel Downtown is one of the best hotel staycations in Singapore for those seeking a getaway in the city centre! Set against a familiar urban landscape in the Central Business District, Oasia mixes things up by including vertical 30-metre sky gardens that transform it into a beautiful tropical skyscraper. Facilities-wise, the hotel has you covered by offering spacious rooms with floor-to-ceiling windows and breathtaking views at its Infinity Pool!
Best staycation deal in Singapore: Book a three nights stay at the price of two with this promotion!
Address: 100 Peck Seah Street, S(079333)
Rates: From $221/night
15. Marriott Tang Plaza Hotel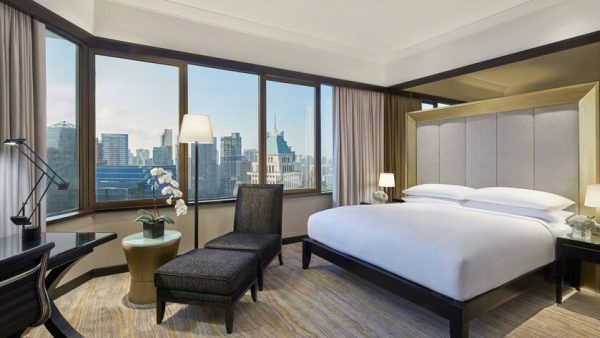 If you're intending to splurge for your next local getaway, why not make plans for one of the best hotel staycations in Singapore at the Marriott Tang Plaza Hotel? Be blown away with this luxury hotel and its architectural aesthetic that pays homage to the famous Forbidden City. As for their rooms, they're nothing short of 5-star excellence. You can expect frills like extended vanity areas and signature Marriott bedding!
Best staycation deal in Singapore: Cuddle up with your partner in either a pool terrace room, executive suite or pool terrace premium suite with the Blissful Romance Getaway package. You'll  enjoy M Club privileges, dinner for two at Marriott Cafe, complimentary parking and Wi-Fi access.
Address: 320 Orchard Road, S(238865)
Rates: From $216/night
16. The Warehouse Hotel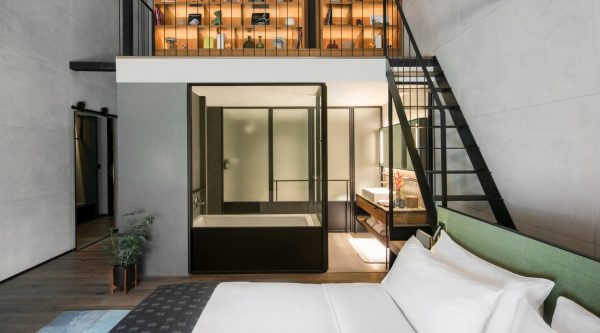 The Warehouse Hotel has a storied past, having operated as a bustling spice-trade warehouse in the 1910s. Rattan seats and terrazzo floor tiles exude the kampong spirit, while pinwheels and dangling light bulbs decorate the lobby's high ceilings. While a bevy of new hotels continues to open in Singapore, The Warehouse Hotel remains on the top of best hotel staycations in Singapore with its stylish contemporary warehouse design.
P.S. Don't miss out on nostalgia-tinged cocktails at the hotel bar! We like the Singapore Sazerac — a concoction of raisin bourbon, pandan bitters, rye, cognac and absinthe.
Address: Robertson Quay, 320 Havelock Road, S(169628)
Rates: From $283/night
17. Andaz Singapore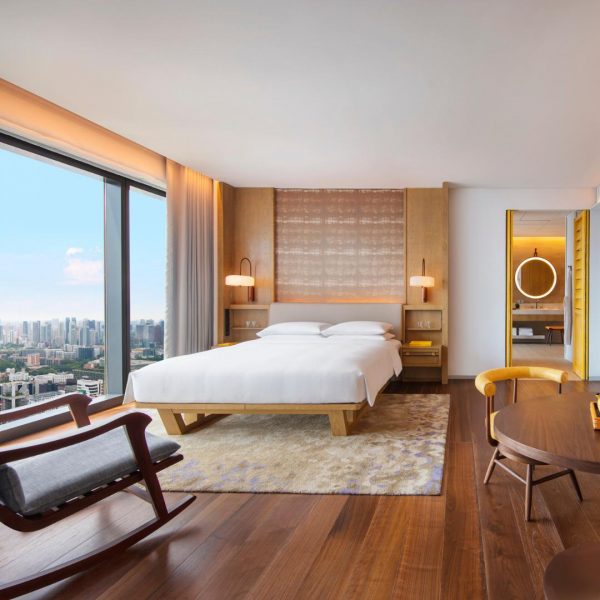 With warm wood accents, floor-to-ceiling windows opening up to panoramic city views and cute yellow folding doors, Andaz Singapore doesn't disappoint when it comes to the best hotel staycations in Singapore. After all, Andaz means 'personal style' in Hindi, so it's no surprise that the hotel knows how to make a statement.
Start and end your stay with a visit to Mr Stork — the hotel's much-talked-about romantic rooftop bar. Apart from a thrilling sky-high view, the bar boasts teepee hut-style day beds that are perfect for star-gazing and cocktail sipping. If you're all for sun-drenched hotel rooms and a romantic rooftop bar, there's no better place to book your next best hotel staycation in Singapore!
Best staycation deal in Singapore: Sign up for free World of Hyatt membership and enjoy exclusive rates up to 10% off!
Address: 5 Fraser Street, S(189354)
Rates: From $390/night (standard rate)
Don't miss out on fantastic staycation promotions in Singapore
From glamorous 5-star hotels to budget-friendly boutique alternatives, you'll be spoilt for choice with this list of the best hotel staycations in Singapore. Don't forget to keep a lookout for the whole suite of SingapoRediscovers promotions here! Planning a surprise birthday staycation? Check out these affordable party favours and decorations under $15! Meanwhile, if staying in the room all day long sounds a tad dull, turn your staycation into an eventful one by indulging in some high tea treats!
This article was updated on 22 April 2021. Additional research done by Iris Tan.