After a long wait, dine-in services can finally resume (with proper distancing measures, of course)! We get it: it can be overwhelming to decide what to eat after doing take-outs or cooking your own meals. So why not treat yourself to a sumptuous Sunday brunch this weekend? From champagne brunches to dim sum or Japanese brunch, here are some of the best places to enjoy Sunday brunch in Singapore!
Best champagne brunches in Singapore for bubbly extravagance
1. Brasserie Les Saveurs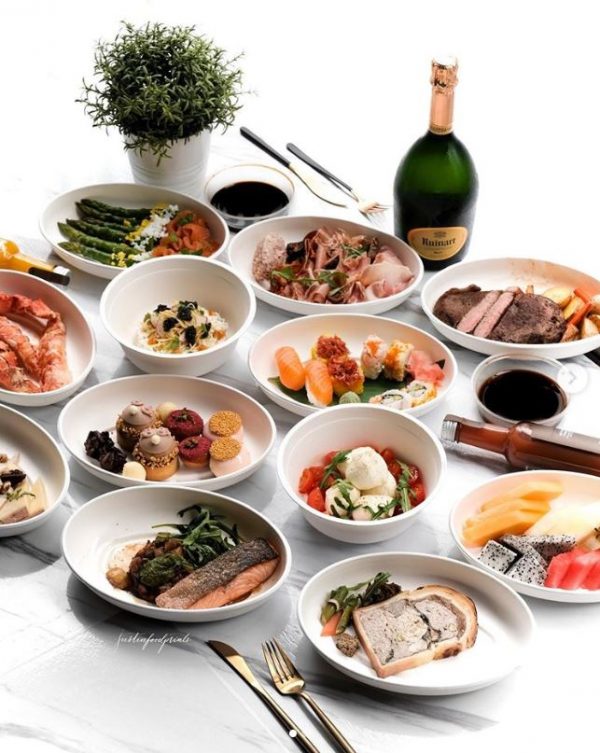 Love a glass of bubbles with your Sunday brunch session? Brasserie Les Saveurs's Champagne Brunch (from $198++) will be right up your alley and tops our list as the most lavish spot for Sunday brunches in Singapore! Held in the grand St. Regis Hotel, you'll love the cold and hot appetisers and exceptional service before you even begin brunch. As for main courses, you can enjoy gourmet food like beef tenderloin and pan-seared foie gras. Wrap up your luxurious meal with delectable desserts like Crepes Suzette to make it the best champagne brunch in SIngapore.
Address: The St. Regis Singapore, 29 Tanglin Road, Lobby Level, S(247911)
Sunday Brunch Opening Hours: Sun: 12pm – 2:30pm
2. Manhattan Bar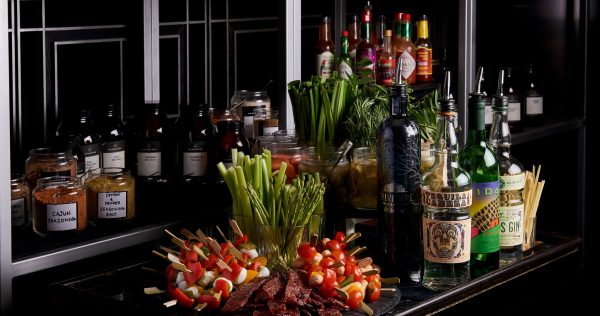 Enjoy free-flow craft cocktails, Bollinger Special Cuvée Champagne and more at Manhattan Bar's Adults-Only Sunday Cocktail Brunch (from $199++). Named 7th best bar in the world by Drinks International, Manhattan Bar's charm lies in its chic, classy New York vibes. With a retro music playlist and comfortable leather armchairs, the bar achieves a sense of sophistication and charm rarely found in other brunch places. Besides the champagne offerings, what we love most is the DIY Bloody Mary Room where you can customise your own version of this popular brunch cocktail! With condiments like ghost pepper, bak kwa and quail eggs, you're welcome to experiment at your own risk! Once you're done, help yourself to a wide selection of food like American oysters, Maine lobsters and hand-rolled bagels. Finally, top off one of the best champagne brunches in Singapore with a hearty American whisky milkshake at the in-house rickhouse!
Address: Regent Hotel, 1 Cuscaden Road, Level 2, S(249715)
Sunday Brunch Opening Hours: Sun: 12pm – 3pm
3. mezza9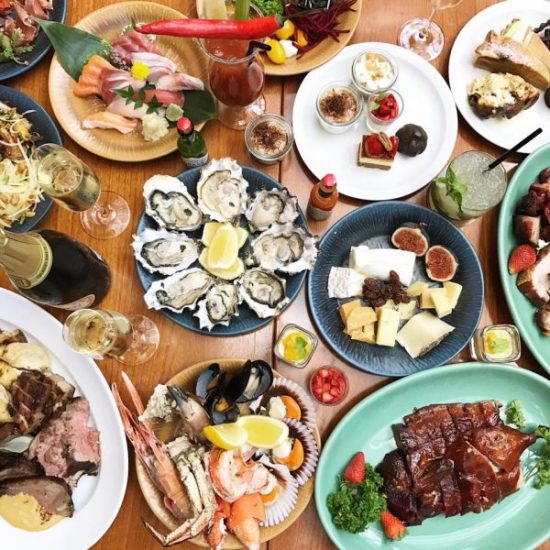 Celebrate important events at mezza9's stylish place with their Sunday Brunch (from $148++)! Aesthetically, we adored how the place's interior looks and feels with its ultra glossy fixtures and use of polished wood. Food wise, mezza9 has a plethora of dishes from different cuisines, such as the tom yam goong, Australian beef t-bone and wok-fried Maine lobster noodles. You'll be impressed by the wide selection of premium offerings which easily makes mezza9 one of the best Sunday brunch locations in Singapore!
Address: Grand Hyatt Singapore, Mezzanine Level, 10 Scotts Road, S(228211)
Sunday Brunch Opening Hours: Sun: 12pm – 3pm
4. Edge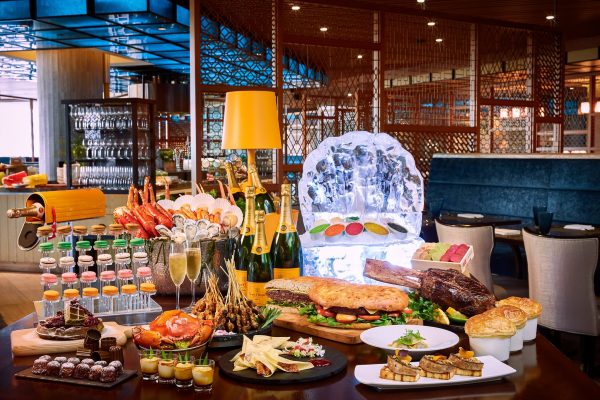 Featuring interactive live food theatres, Edge's Sunday Champagne Brunch (from $175++) challenges typical brunch conventions by offering more than 120 dishes and holding the title of longest champagne brunch in Singapore! At the live stations, you are free to witness the expert chefs cook your preferred food so you can have it served piping hot. The variety here is staggering so we'll try to list the best that Edge has to offer! If you're a meat lover, grab some hay smoked whole baby lamb and Mongolian suckling pig from the Carvery and Pastas station. Need to get your cheese fix? Check out the two-metre long Farmer's Cheese Theatre that offers 30 unique artisanal cheese variations. Complete your champagne brunch experience with made-to-order waffles, crepes, chocolate lava cake and veuve clicquot rosé champagne!
Address: Pan Pacific Singapore, 7 Raffles Boulevard, Level 3, S(039595)
Sunday Brunch Opening Hours: 12pm – 3.30pm
5. Basilico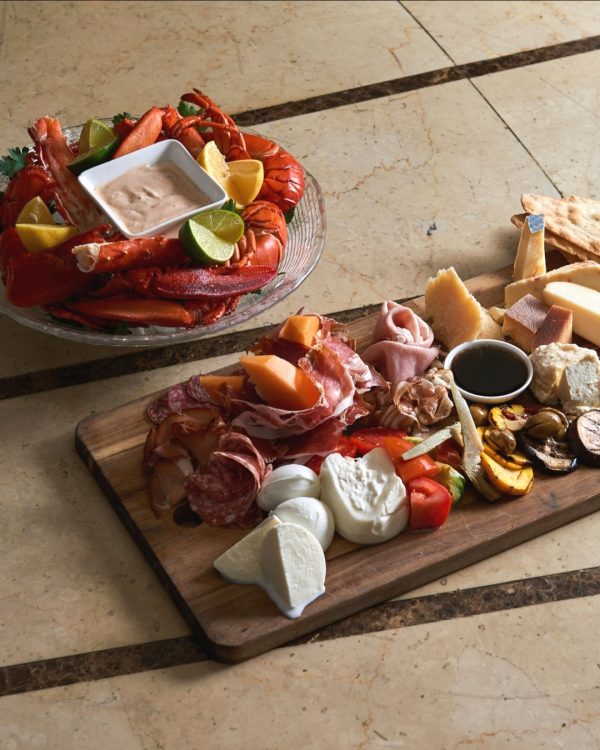 In the mood for some sumptuous Italian food? Give Regent Singapore's Basilico Italian Restaurant and its Weekend Brunch – Di Fine Settimana (from $161++) a shot! Unlike other best Sunday brunches in Singapore on this list, Basilico is open for brunching on both Saturdays and Sundays. This means more opportunities for you to indulge in their authentic Italian fare! Get ready for some lip-smacking good food as Basilico's main courses assault your taste buds. From wagyu beef Carpaccio to poached Boston lobster, you'll enjoy the luxury galore of signature dishes that are sure to delight your senses. It's no wonder many Italian food lovers choose Basilico as their preferred spot for champagne brunches in Singapore.
Address: Regent Singapore, 1 Cuscaden Road, Level 2, S(249715)
Brunch Opening Hours: Sat-Sun: 12pm – 3pm
Best dim sum brunches in Singapore for bite-sized bliss
6. Cherry Garden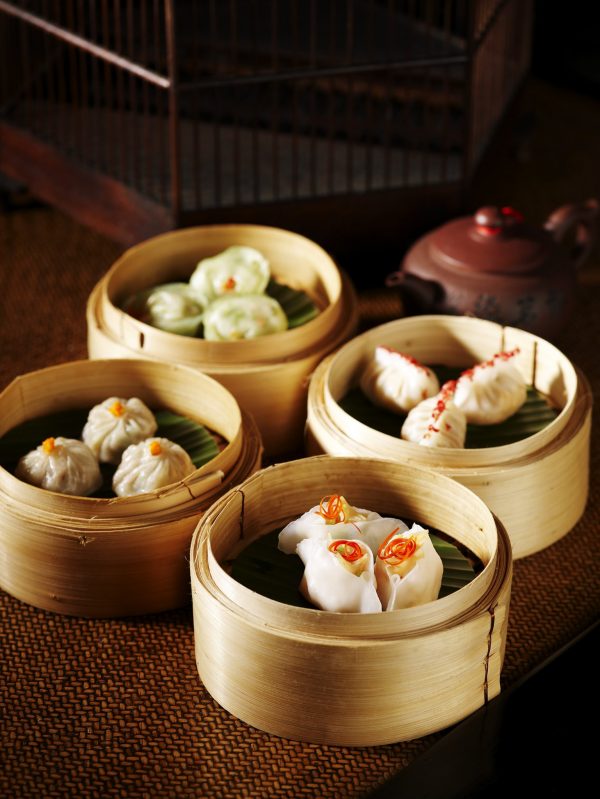 Looking to bring your parents for Sunday brunch? Cherry Garden's Mother's Day Dim Sum Brunch (from $88++) is a good value steal! Thanks to its classic Chinese aesthetic, Cherry Garden's traditional yet luxurious decor will transport you back in time to the olden days. With a wide spread of dim sum selection from their special mother's day brunch menu, you'll be awed with the food available. Dive straight into classic dim sum dishes like steamed pork xiao long bao and braised sliced goose fillet with five spices! Complete your meal with the cherries in nui er hong and aged kuei hua wine cocktail jelly served with lychee sorbet. With sourness from the lychee sorbet paired with a tinge of Osmanthus alcohol, this unique dessert is surely the perfect end to the best Sunday brunch in Singapore!
Address: Marina Square, 5 Raffles Avenue, S(039797)
Brunch Opening Hours: Sat – Sun: 11am – 1pm, 1:30pm – 3:30pm
7. Hai Tien Lo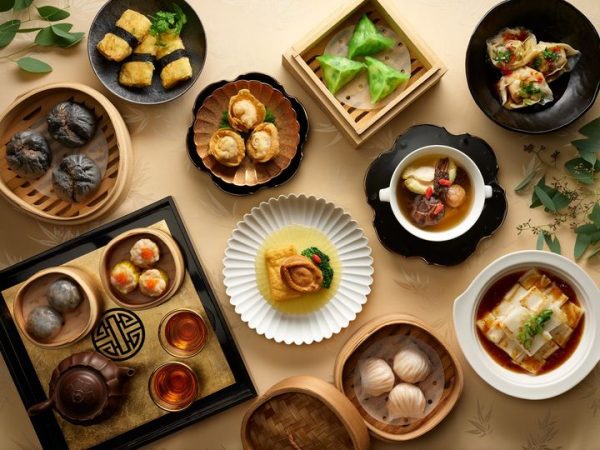 Pan Pacific isn't just the spot for some of the best champagne brunches in SIngapore! Enter Hai Tien Lo — a Cantonese restaurant famed for its luxurious Ultimate Weekend Dim Sum Brunch (from $69.80++). Chef Lai Tong Ping doesn't hold back with his handmade dim sum that deliver a complex mix of flavours and textures. From classics like poached dumplings in chili oil (红油抽手) and steamed prawn dumplings (水晶虾饺王) to contemporaries like Hokkaido cheese tarts, it's safe to say this is far from your average dim sum buffet in Singapore.
Address: Marina Square, 7 Raffles Boulevard, S(039595)
Brunch Opening Hours: Sat – Sun: 11.30am – 2.30pm 
8. The Clifford Pier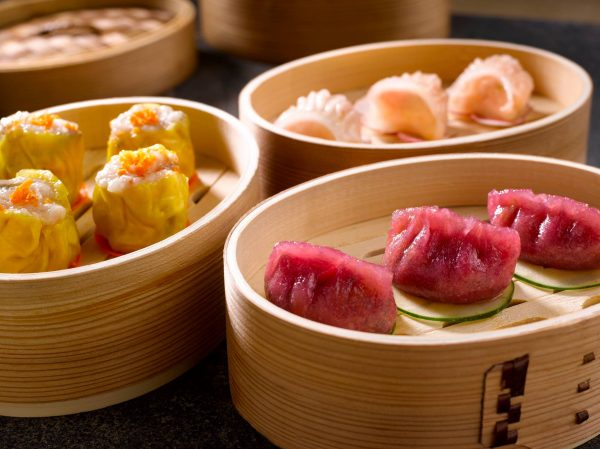 Looking to bring your parents for Sunday brunch? The Clifford Pier's Heritage Dim Sum Brunch (from $58++) is the ideal spot! It's one of the few places that offers diners a breathtaking panoramic view of the Marina Bay area while indulging in traditional dim sum fare. You'll also be taken aback by the overall ambience as the extravagant interior design includes iron chandeliers and radiant marble flooring. Dive straight into classic dim sum dishes like Siew Mai and Teochew fen guo dumplings along with local favourites like kueh pie tee and fried carrot cake! The staff have gone to great lengths to pile on the nostalgia as dishes are served to you from traditional wooden dim sum trolleys. There's even a live three-piece jazz band that plays smooth tunes from yesteryear so older diners can hum along!
Address: 80 Collyer Quay, S(049326)
Brunch Opening Hours: Saturday – Sunday, Public Holidays: 11am – 2pm
Best Japanese brunches in Singapore for sashimi and sushi
9. Tanoke
Thought you've seen it all when it comes to Japanese brunches in Singapore? We bet you haven't seen anything like Tanoke's ala-carte Sunday Brunch yet! Tucked away in a shophouse nook on Purvis Street, Tanoke is certainly a getaway from the usual glitz and glam associated with the best Sunday brunches in Singapore. By focusing on complementing umami-filled food with splendid sake, the restaurant-bar wowed us with its sandos and foie gras eggs benedict that provide an Asian take on classic brunch dishes. With an extra $48++, you'll enjoy free flow sake and beer that include hitotoki sparkling sake, bijofu junmai ginjo and asahi beer. Talk about a good deal!
Address: 7 Purvis Street, Level 2, S(188586)
Sunday Brunch Opening Hours: 11.30am – 3pm
10. Kinki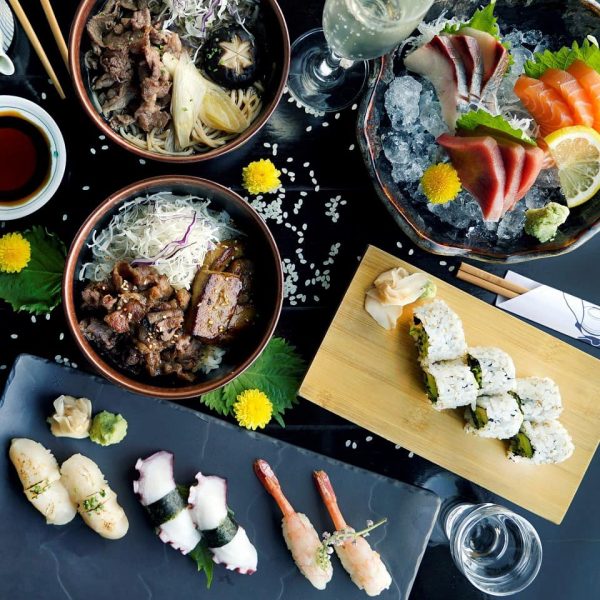 By combining tantalising sashimi with signature Japanese mains, it's hard to disagree with Kinki being one of the best when it comes to quality Japanese brunches in Singapore! Instead of playing it safe with traditional Japanese dishes, Kinki goes all out to impress diners with its contemporary take. From classics like hotate mentaiko aburi to fusion dishes like wagyu foie gras donburi, you're in for a gastronomic adventure when you try Kinki's Bottomless Brunch (from $68++). Once you're done appreciating the scenic view and fantastic food, wash it all down with some free flow prosecco or shochu that'll nicely round out your meal!
Address: Customs House, 70 Collyer Quay, #02-02, S(049323)
Opening Hours (Brunch): Sat: 12pm – 3pm
Indulge in the best Sunday brunch in Singapore for a great mood booster
We hope our list of best Sunday brunch in Singapore has been helpful. With different price points, you'll definitely find a place for Sunday brunch just for you! If you're a fellow foodie like us, why not give cafe-hopping a shot with our favourite Upper Thomson cafes! Alternatively, try some of the best waffles in Singapore for a delicious start to your Sunday. For our Muslim friends, check out some of the best Halal cafes and restaurants in Orchard for more food choices. Whenever food is involved, we've got your back!