Renowned for the incredible array of eateries along its stretch, Upper Thomson Road is certainly a haven for foodies. Besides the myriad of local cuisine and supper places, there are also a host of cafes for you to kick back, relax and people watch from! Regardless of whether you want to unwind over a nice cuppa or indulge in yummy Instagrammable brunches, here are the top Upper Thomson cafes to hit up.  
1. Columbus Coffee
https://www.facebook.com/columbuscoffeeco/photos/a.2015691042017286/2020929588160098/?type=3&theater
Brought to you by the same folks behind Atlas Coffeehouse, Columbus Coffee is a relative newcomer to Upper Thomson's slew of cafes. Nevertheless, it's already gained a loyal following, thanks to its chill ambience and delicious brunch menu. At around $20 per pax, Columbus Coffee might not be as affordable as some of the other options, but the price is well worth it considering the quality of food.
You can find most of Atlas Coffeehouse's signature dishes here including their famous Butterscotch Banana Pancakes. The hot, fluffy butterscotch pancakes are topped with vanilla ice cream and crunchy cornflakes, providing a delightful contrast in your mouth. It certainly makes for a sweet start to your day! 
Address: 220 Upper Thomson Road, S(574352)
Opening Hours:
Tues – Sat: 9am – 10pm
Sun: 9am – 7pm
2. All The Batter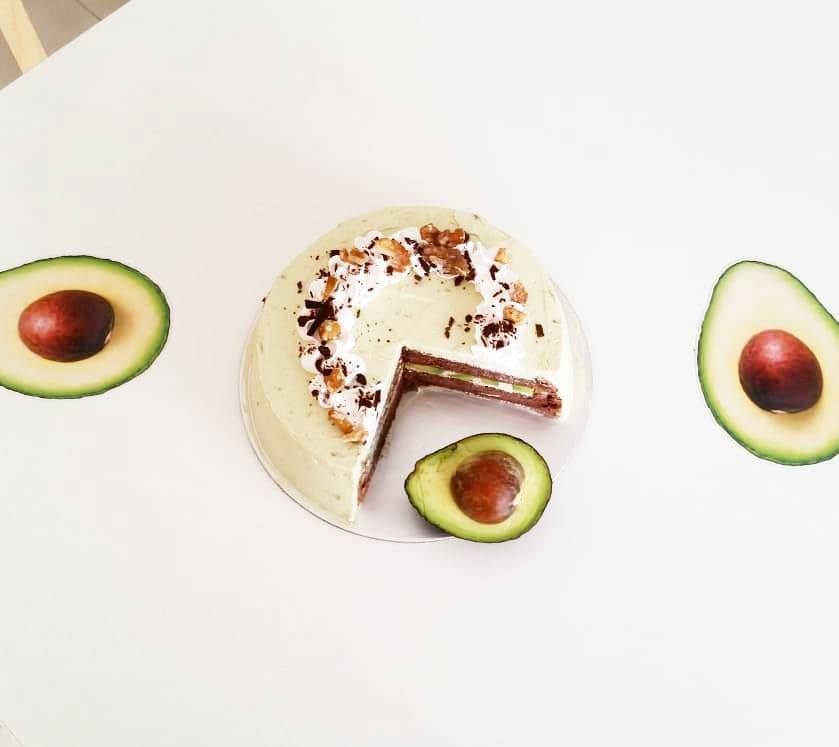 If you can't get enough of avocado, you'll definitely love All The Batter! This Upper Thomson cafe is Singapore's first avocado-speciality cafe serving avocado-infused meals, drinks and dessert. Its idyllic location — nestled within a quiet housing estate — might not be the most convenient but it certainly sets the scene for a chill brunch. 
Try the Avocado Gula Melaka cake in which the sweetness of the gula melaka is balanced out by the creamy avocado. Afterwards, wash your meal down with the Avocado Chocolate milkshake, a rich concoction infused with sweet chocolate. Who said healthy eating couldn't be delicious? 
Address: Adelphi Park, 17 Jasmine Road, S(576585)
Opening Hours:
Thurs – Fri: 12.30pm – 4.30pm
Sat – Sun: 11am – 7.30pm
3. Pacamara Boutique Coffee Roasters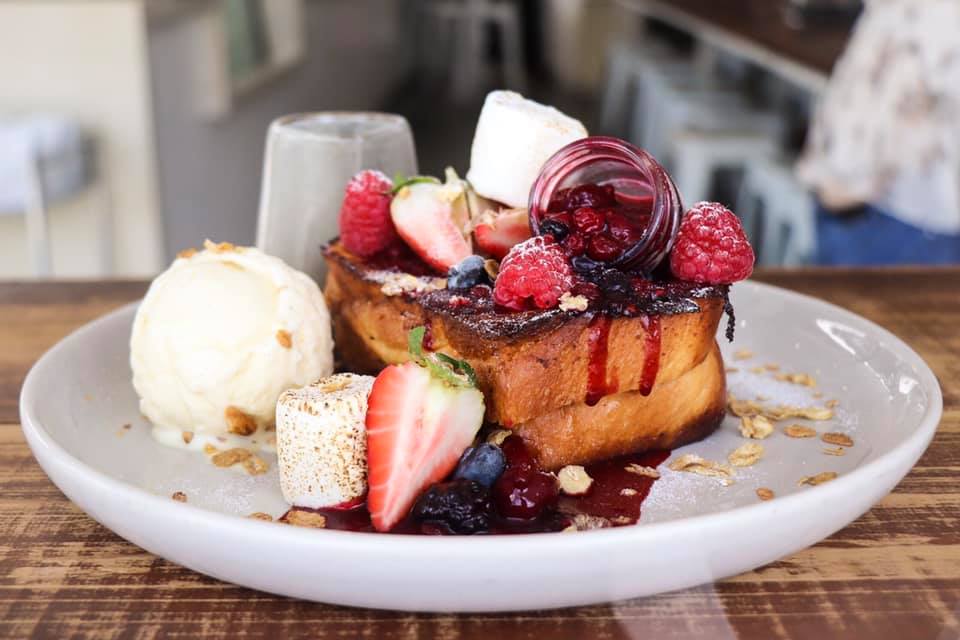 As one of the first cafes you'll spot along the Upper Thomson stretch, you definitely won't miss Pacamara. Don't be fooled by its sparse white exterior — the cafe boasts a huge space decked in minimalist decor, including wide windows that drench the entire cafe in natural light — perfect for those Instagram food shots! 
Touted as a boutique coffee roaster, Pacamara certainly doesn't disappoint. Their signature blend is smooth and has a uniquely nutty and chocolatey taste that'll certainly brighten up your morning. Food-wise, the Banana French Toast is a sweet treat that comprises of vanilla ice cream, salted caramel and fresh bananas stacked on fluffy brioche toast. Starting from $14 for a plate of Eggs and Toast, prices here might be slightly steeper, but you'll be glad to know that they're all nett. 
Address: 185 Upper Thomson Road, S(574333)
Opening Hours: Daily, 9am – 10pm
4. Habitat Coffee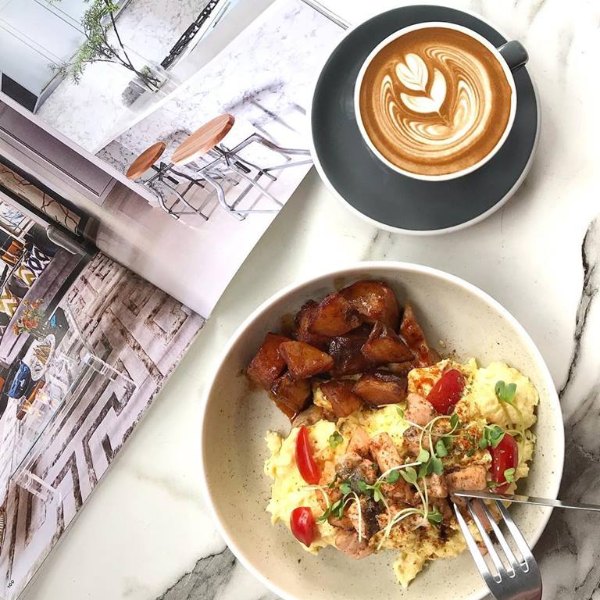 As one of the first cafes to open along Upper Thomson Road, Habitat Coffee is no stranger to the Sunday brunch crowd. The cafe boasts an all-day breakfast menu that also features Asian-inspired rice bowls and various kinds of pastas. Their speciality, however, lies in their coffee brewed with freshly roasted and grinded Arabica beans — the aroma will definitely perk you up. 
If you're feeling peckish, go for the Eggs Tomato Relish — a mouth-watering mash of eggs, secret tomato sauce, bacon and spinach atop a slab of country sourdough toast. Don't forget to order their delicious Mocha Latte for a rich finish as well! 
Address: 223 Upper Thomson Road, S(574355)
Opening Hours:
Tues – Sun: 10am – 10pm
5. Verdure Cafe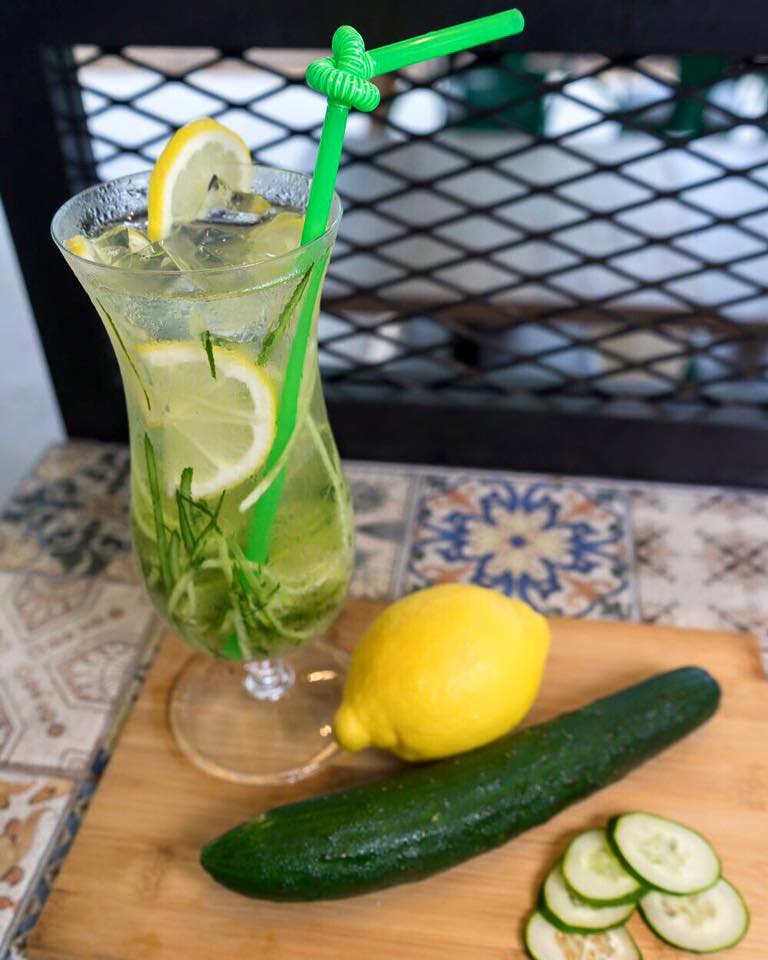 One of the most idyllic cafes along the Upper Thomson stretch, Verdure Cafe is the perfect brunch place for nature lovers. The space is intimate with a few outdoor seats available. 
Pet owners, good news: this cafe is pet-friendly so you and Fido can recharge here after a fun romp at the park! Quench your thirst with their Zucchini Refresher; a testament to its name, the zesty drink is indeed energising. Mains here range from $12.90 to $16.90, which is extremely affordable, especially when considering its location! 
Address: Springleaf Nature Park, 1218 Upper Thomson Road, #01-02, S(787136)
Opening Hours:
Tues – Fri: 11.30am – 10pm
Sat – Sun: 9am – 10pm
6. Nook And Cranny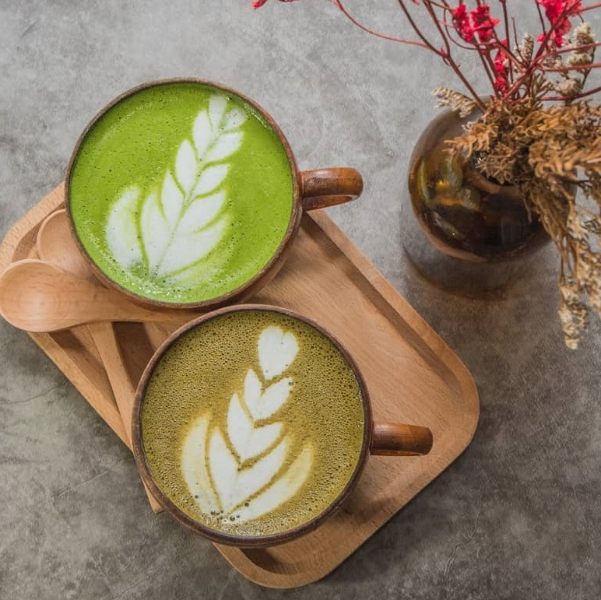 Tucked away in the corridor along Thomson V One (off the main Upper Thomson Road), this warm cafe is easily overlooked. Which is a shame, because it's a great cafe to consider if you're looking for a cosy brunch spot! 
Matcha lovers are in for a treat as Nook and Cranny's matcha drinks have even been voted as one of the best in Singapore. Try their Cold Japanese Matcha Latte, a deconstructed latte drink where you'll have to pour a shot of bitter matcha into a glass of cold milk and matcha ice cream. If you're not a fan of cold latte, the Hot Matcha Latte is a delicious option that hits all the right notes as well!  
Address: Thomson V One, 9 Sin Ming Road, #01-03, S(575630)
Opening Hours:
Tues – Fri: 11am – 10pm
Sat – Sun: 9am – 10pm
7. Yijia Bakery House Cafe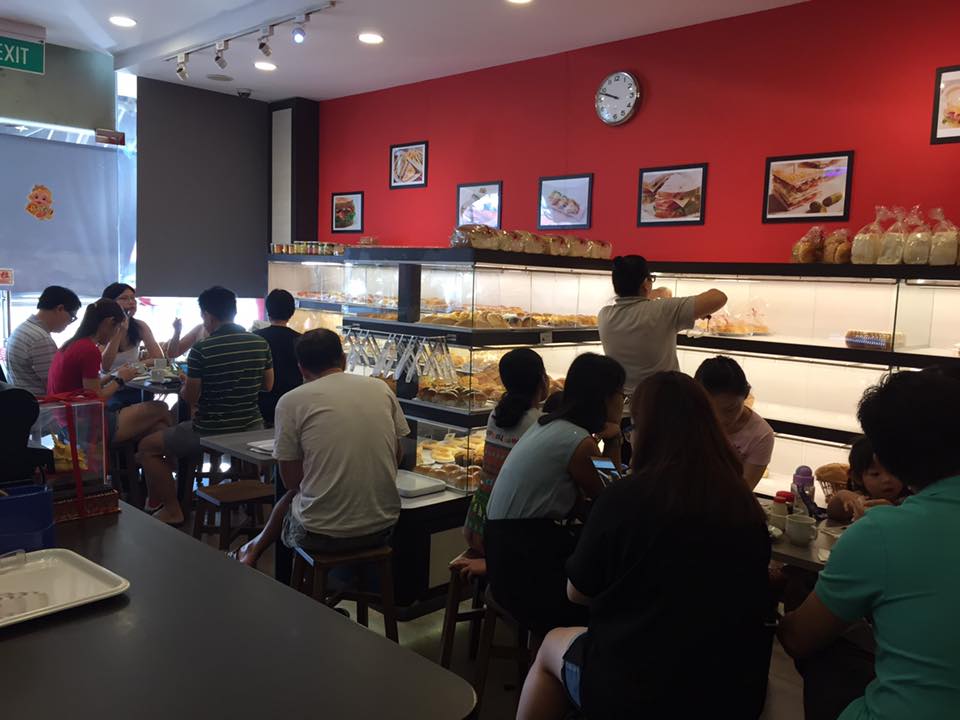 Yijia Bakery House Cafe along Upper Thomson Road is the place to go to if you're craving for a more local breakfast option. From milk buns to pork floss buns, get your fill of old-school Singaporean pastries here! They even serve the regular kaya toast set here for a true-blue Singaporean breakfast. Each set costs around $5 — who said you needed to break the bank for a good cafe breakfast? 
What sets it apart from other traditional bakeries is its in-house air-conditioned seating area, where you can relax over your morning cup of kopi without suffering in the morning sun. 
Address: 229 Upper Thomson Road, S(574361)
Opening Hours: Daily, 7am – 9pm 
8. Dumplings Cafe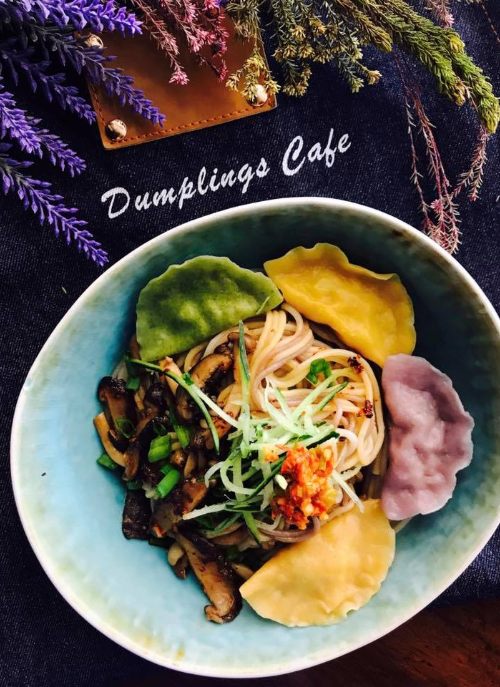 Nestled in the corner of Thomson Plaza is Dumplings Cafe, a rustic little cafe that specialises in — you guessed it — dumplings. The colourful Dumplings Platter, featuring a plate of brightly-hued, naturally-dyed dumplings, will certainly please your eyes and bellies! From the traditional pork dumplings to their orange mala chicken ones, dumpling lovers are in for a treat here. Ambience-wise, its vintage decor evokes a serene vibe, making the cafe a nice retreat from the bustle of the main road. Dining here would cost around $15 per person, which certainly makes Dumplings Cafe one of the more value-for-money cafes along Upper Thomson to check out with your friends. 
Address: Thomson Plaza, 301 Upper Thomson Road, #01-57, S(574408)
Opening Hours:
Sun, Tues, Thurs: 8.30am – 5.30pm
Fri – Sat: 8.30am – 8.30pm
Wed: 11.30am – 8.30pm
9. One Man Coffee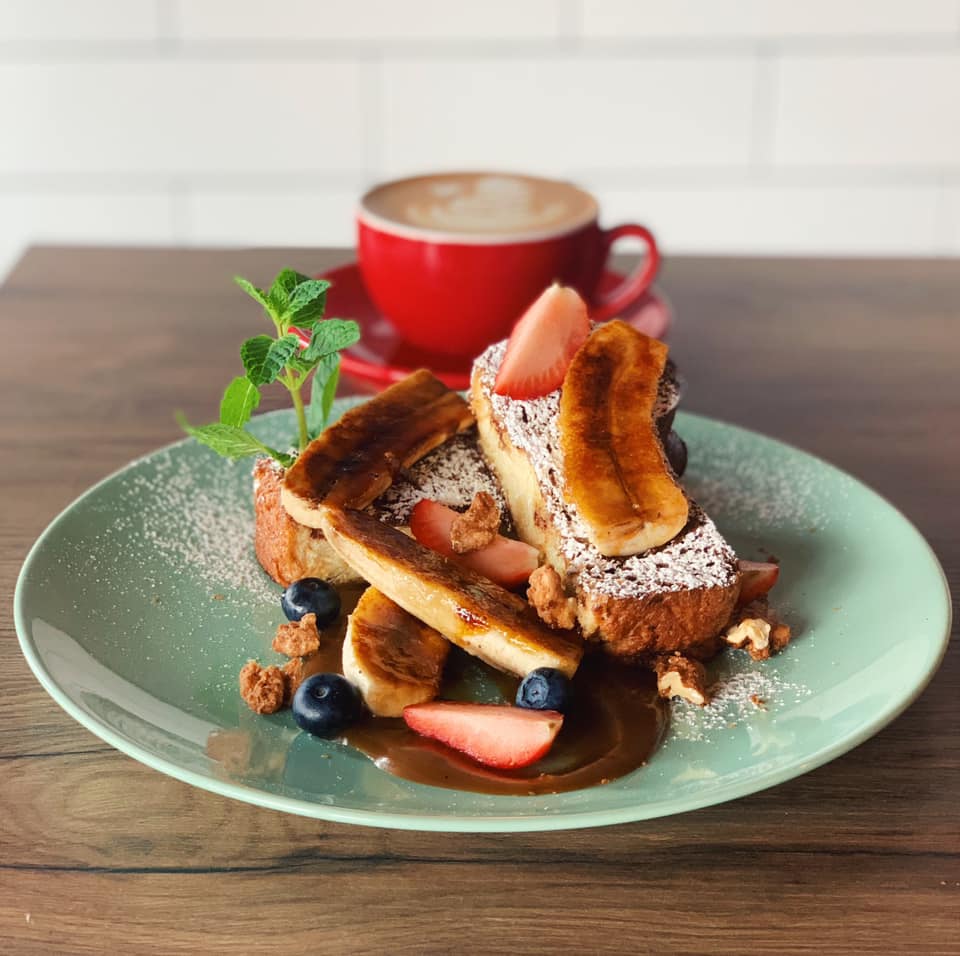 One Man Coffee is a chill cafe along Upper Thomson that shares its premises with gourmet pizza bar Crust. Its mod-industrial decor lends some hipster vibes to the whole joint. One Man Coffee prides itself on its coffee, with coffee beans imported from The Axil Coffee Roasters, one of the most popular coffee houses in Melbourne. Besides their coffee, be sure to try their highly raved French Toast! The fluffy brioche, when complemented with salted caramel sauce and bananas, makes for a sinfully delicious brunch meal. 
Address: 215R Upper Thomson Road, S(574349)
Opening Hours:
Mon, Wed – Sun: 9am – 5pm
10. Belo SG
https://www.facebook.com/belo.sg/photos/a.1458378961063827/2420177578217289/?type=3&theater
Previously known as Les Patisserie, Belo SG has recently rebranded itself as a cafe-cum-bistro bar. It boasts a  spacious, minimalist and comfortable space with reasonably priced menu items. 
Featuring a hearty breakfast set, french toast and even quinoa bowls, their menu has been expanded to include more brunch fare, although favourites like their cakes and waffles are still available. Try their unique Taro Pancakes which are made with real taro and come with a refreshing scoop of coconut ice cream! 
Address: 222 Upper Thomson Road, S(574354)
Opening Hours:
Mon, Wed – Thurs: 11am – 10pm
Fri: 10am – 11pm
Sat: 9am – 11pm
Sun: 9am – 10pm 
11. Thus Coffee
https://www.facebook.com/thuscoffeesg/photos/a.643136735883511/745437092320141/?type=3&theater
Although located off the main cafe enclave of Upper Thomson, Thus Coffee is still worth the trip down. Coffee aficionados will also be pleased to know that their blends are roasted in-house! 
Besides typical Western brunch fare, this humble cafe also serves a selection of Asian-fusion meals like the Chicken Cutlet Jyolmeon and Wagyu Beef Grain Bowl. But don't leave without trying their signature Berry Matcha Lava Cake, an appetising treat oozing with warm matcha lava. 
Address: 4 Jalan Kuras, S(577723)
Opening Hours: Daily, 10am – 10pm
12. Thrive
https://www.facebook.com/thrive.sg/photos/a.228495131183655/227956827904152/?type=3&theater
Health nuts will definitely love Thrive, a bright and chic cafe along the main Upper Thomson stretch. A joint collaboration by health food retailer Boxgreen and renowned acai chain An Acai Affair, the nutrition and tastiness of the food served here is a given!
Kick back and relax over a bowl of Coco Glow, a refreshing blend of acai, fresh fruits and coconut sorbet. With a clean, floral-themed space, relaxing ambient music and cosy, cushioned seats, it's good vibes all around at Thrive!
Address: 215B Upper Thomson Road, S(574349)
Opening Hours:
Sun – Thurs: 11am – 10pm
Fri – Sat: 11am – 11pm
Eat your way through the Upper Thomson cafes 
With the imminent arrival of the Thomson-East Coast MRT line, travelling to these Upper Thomson cafes for your weekend brunch fix will be more convenient than ever. Looking for other must-visit brunch places? Check out our guides to cafes in Tiong Bahru or explore these bars and cafes along Haji Lane! 
---
New to Shopee? Get $7 off (min. spend $15) with code*: THOMSONCAFE
* TNC Applies. Valid for new users from 7 to 14 Nov only.