<![CDATA[Even with the wealth of food options available in the heart of Singapore's shopping district, it can be difficult searching for quality halal restaurants and cafes. Fret not, we've sussed out the best ones for you! From hearty buffets to affordable and authentic meals, here are some of the best halal cafes and restaurants in Orchard.
Best halal restaurants and cafes in Orchard
1. Carousel Buffet Restaurant
[caption id="attachment_27101" align="aligncenter" width="800"]

(Credit:
Royal Plaza on Scotts Singapore
/ Facebook)[/caption]
Showcasing the best of international cuisine, Carousel Buffet Restaurant is a halal restaurant in Orchard with seven open-concept kitchens — meaning you'll get to watch the chefs whip up dishes made live. With so many different ones to choose from, we won't blame you for finding it hard to decide between the various stations!
The snow crabs and lobsters are as fresh as they come and have a natural sweetness to them so snag them before they run out. As for meat dishes, help yourself to the tender and flavourful servings of Hainanese steamed chicken, duck breast and chicken kebab available. Lastly, round off your meal with the flavoured chocolate fountains and premium ice cream!
Address:
Royal Plaza on Scotts, 25 Scotts Road, S(228220)
Opening Hours:
Daily, 6.30am – 10am, 12pm – 2pm, 3.30pm – 5.30pm, 6.30pm – 9.30pm
2. Bebek Goreng Pak Ndut
[caption id="attachment_27100" align="aligncenter" width="960"]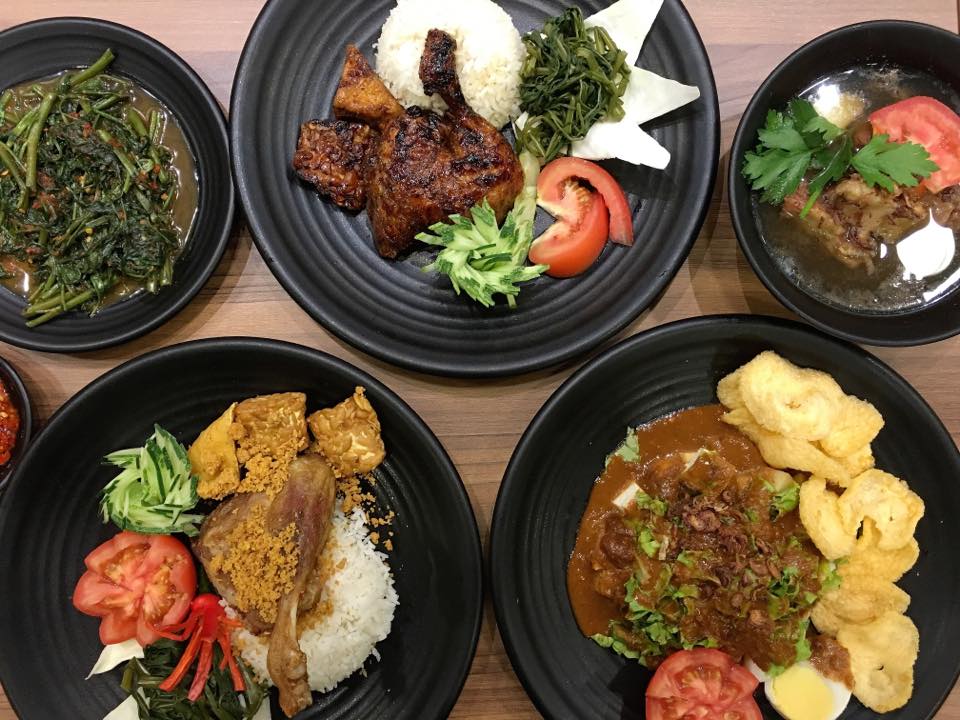 (Credit:
Bebek Goreng Pak Ndut Singapore
/ Facebook)[/caption]
We've all had Ayam Penyet at some point in our lives so it's a surprise to see Bebek Goreng Pak Ndut change things up by using halal duck instead. As one of the few halal restaurants in Orchard to reinvent the wheel, it's definitely attracted its fair share of attention — even Indonesian president Joko Widodo visited to find out what the fuss is about.
To best savour the duck meat, order their Original Crispy Duck with rice! Though fried, the duck meat retains its moisture and combines well with the crispy flour bits to unleash a solid combination of flavours and textures! Alternatively, there's the option of having the Ayam Penyet Original if you're not a fan of gamey duck meat.
Address:
Lucky Plaza, 304 Orchard Road, #01-42, S(
238863
)
Opening Hours:
Daily, 11am – 9.30pm
3. The Rice Table
[caption id="attachment_27106" align="aligncenter" width="1024"]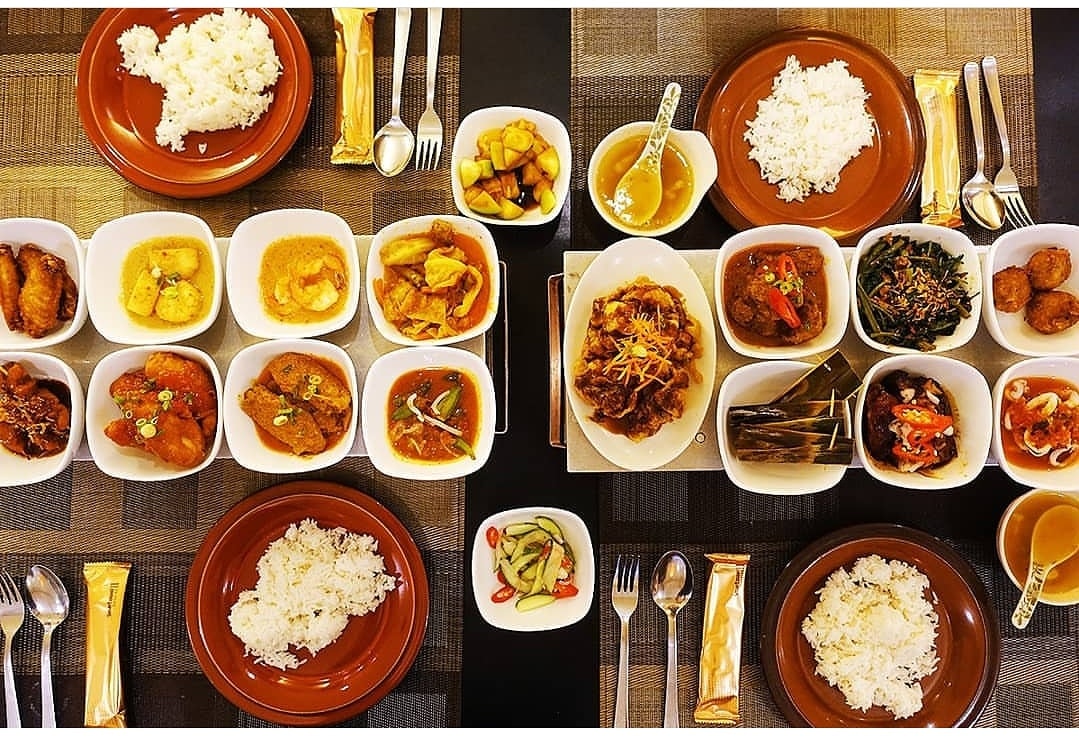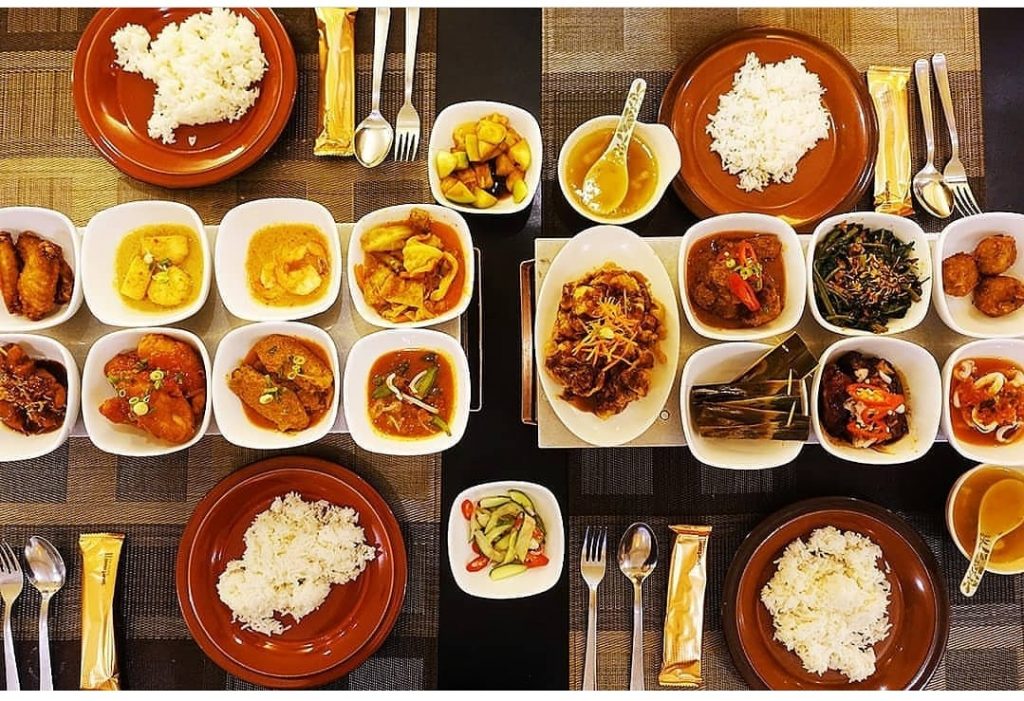 (Credit:
The Ricetable Indonesian Restaurant
/ Facebook)[/caption]
Fancy some Dutch-Indonesian cuisine that's made affordable with an all-you-can-eat buffet? Tucked away on the second floor of the International Building, The Rice Table joins our list of quality halal restaurants in Orchard and exposes diners to the
rijsttafel
way of dining! This Dutch term refers to the unique dining concept of laying out the dishes on the table all at once so diners can enjoy the abundant variety available. At The Rice Table, this means you can enjoy up to 20 different dishes at one go!
The way to best enjoy
rijsttafel
is to first sample milder dishes before working your way up to the more spicy ones. To ensure the food doesn't turn cold, they're placed on a traditional
rechaud
that keeps it warm! When asking for top-ups, we'd recommend doubling down on the savoury Tahu Telor (fried tofu omelette dish that's drizzled with secret sauce) and delectable sweet and sour fish.
Address:
International Building, 360 Orchard Road, #02-09/10, S(238869)
Opening Hours:
Mon – Sat: 12pm – 3pm, 6pm – 9.30pm
4. Fish & Chicks
[caption id="attachment_27103" align="aligncenter" width="800"]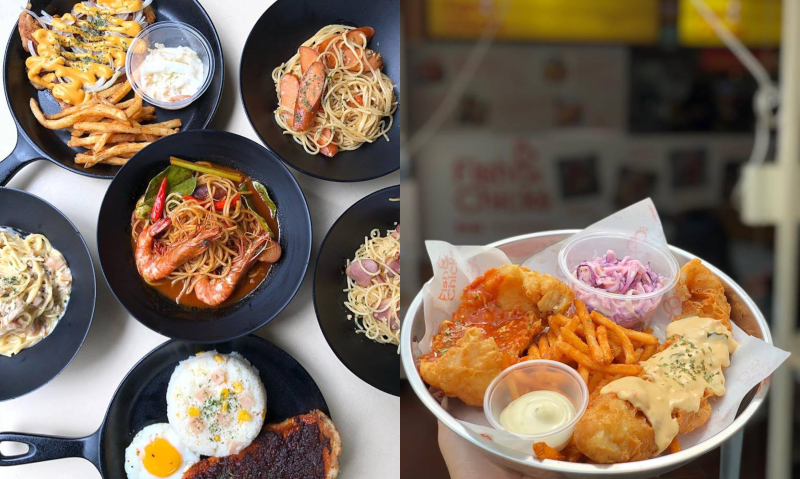 (Credit:
Fish & Chicks
/ Facebook)[/caption]
Doling out jaw-dropping servings of Asian-inspired Western food at affordable prices, Fish & Chicks is one of the more affordable halal restaurants in Orchard or fried food fans! The menu has grown considerably since Fish & Chicks first achieved viral fame through its salted egg fish and chips. They now serve a whole host of other dishes like Sambal Grilled Fish and Smoked Duck Pasta.
Instead of just settling for one flavour, why not go for two with their Best of Both Worlds dish! Coated in a crispy golden batter and slathered with chilli crab and salted egg sauce, the fish fillets complement each other with a perfect balance of flavours.
Address:
Cathay Cineleisure, 8 Grange Road, #B1-01, S(239695)
Opening Hours:
Daily, 11am – 9.30pm
5. So Pho
[caption id="attachment_27105" align="aligncenter" width="960"]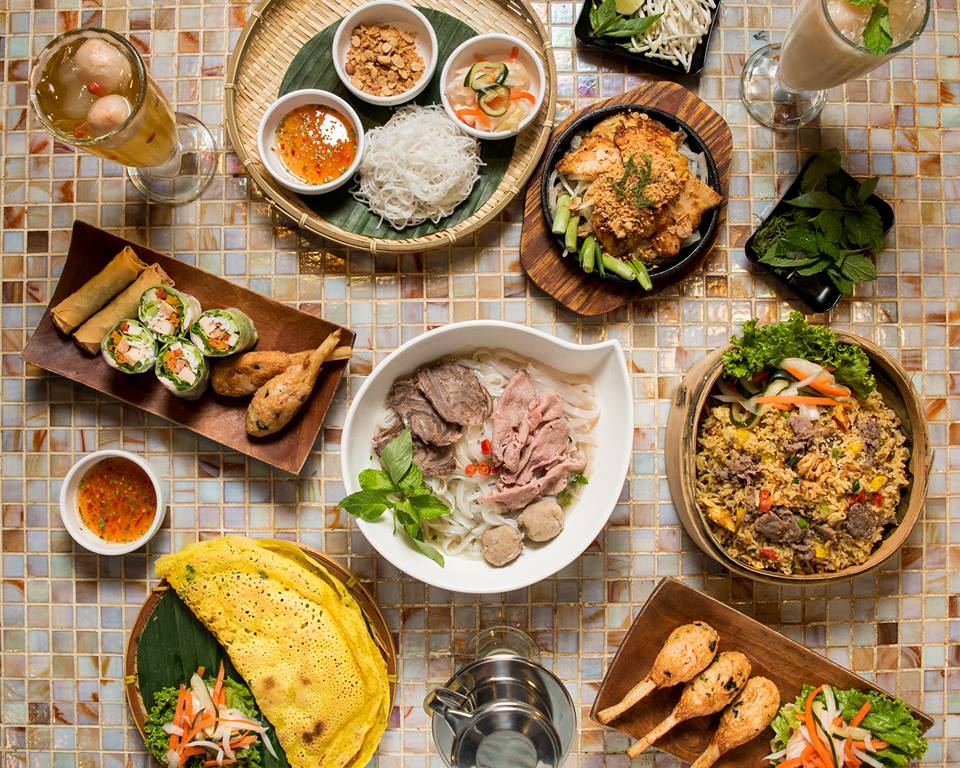 (Credit:
SO PHO
/ Facebook)[/caption]
As one of the few halal restaurants in Orchard to serve Vietnamese food, So Pho welcomes all to experience the freshness of traditional Vietnamese cuisine! Featuring a vibrant and chic atmosphere that blends the old with the new, the restaurant prides itself on delivering a relaxed and casual dining environment while staying true to its Vietnamese roots.
It goes without saying that you should order their Pho! Widely regarded as the go-to comfort food among Vietnamese cuisine fans, the restaurant has big shoes to fill in making sure its version passes the test. Thankfully, So Pho's Beef Brisket Pho hits the spot with its satisfying broth and ample beef portions, making it the ideal dish for a rainy day.
Address:
Paragon Shopping Centre, 290 Orchard Road, #B1-20, S(238859)
Opening Hours:
Daily, 11am – 10pm
6. Jtown Cafe
[caption id="attachment_27104" align="aligncenter" width="800"]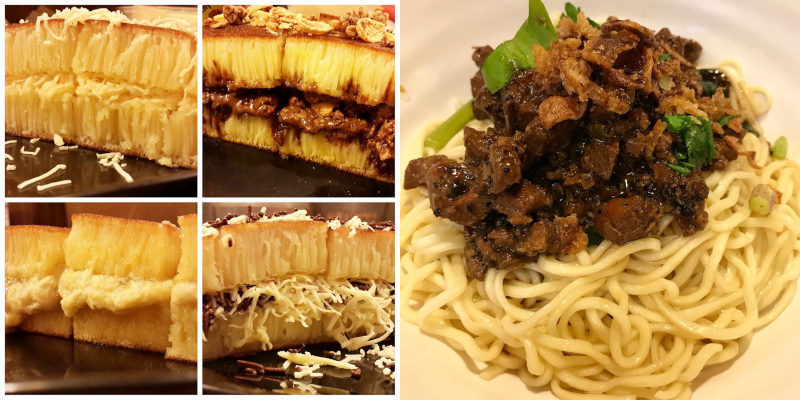 (Credit:
Jtown Cafe
/ Facebook)[/caption]
Located opposite Somerset MRT, Muslim-owned Jtown Cafe spices things up by introducing locals to authentic Indonesian street food. Upon entering, you'll be greeted by the warm staff who'll be more than happy to rattle off the specialities while getting you a table.
Featuring springy handmade noodles and tender chicken slices, Jtown's Bakmie Ayam checks all the boxes when it comes to providing quality and value-for-money food. The ingredients in this dish harmonise well together to deliver an authentic Jakartan dish that you'll rarely find in Singapore. It's no wonder many fans wholeheartedly recommend heading to this lesser known halal restaurant in Orchard, even if just for this dish!
If you're still feeling skittish, complete your meal with their Martabak Manis! Loaded with a variety of toppings that include cheese and durian, Martabak is a form of Indonesian pancake that resembles the Chinese
Min Jiang Kueh
pancake. Any sweet-toothed diner will definitely be satisfied with its potent chewy and sweet combination.
Address:
Midpoint Orchard, 220 Orchard Road, #B1-04/05, S(238852)
Opening Hours:
Mon – Fri: 12pm – 9pm
Sat – Sun: 11am – 9pm
7. Charlie Brown Cafe
[caption id="attachment_27102" align="aligncenter" width="800"]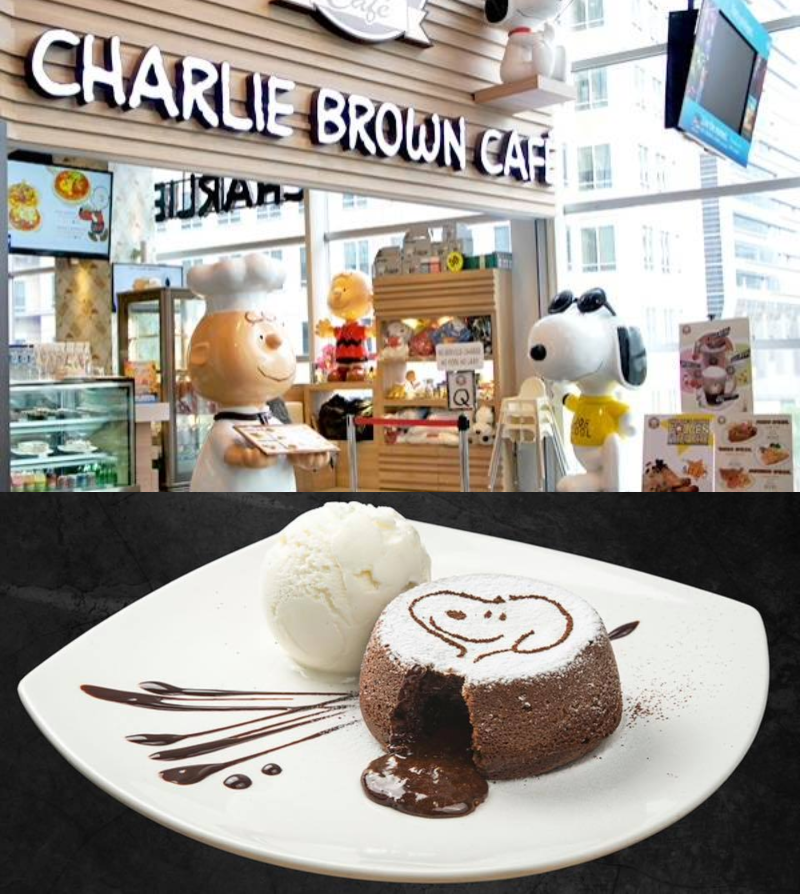 (Credit:
Charlie Brown Cafe Singapore
/ Facebook)[/caption]
If you're part of the camp that believes themed cafes in Singapore serve mediocre food, Charlie Brown Cafe's family-friendly halal restaurant in Orchard surely proves otherwise! From serving themed desserts to providing comics for casual reading, you'll definitely appreciate the effort taken to reference familiar characters. Even though they've been long-time residents at Cineleisure, they've recently overhauled their menu to offer even more reasons to visit the place.
For many, the main attraction of this halal cafe in Orchard is the signature Chocolate Lava Cake. Oozing with velvety chocolate fudge, the staff only bakes Charlie Brown Cafe's lava cakes upon order, ensuring you can enjoy the dessert fresh. Don't skimp and top up the fudge with vanilla gelato! It provides some much-needed lightness to counteract the chocolate fudge's heft.
Address:
Cathay Cineleisure, 8 Grange Road, #04-01, S(239695)
Opening Hours:
Sun – Thurs: 11am – 10pm
Fri – Sat: 11am – 10.30pm
Unable to make your way down due to your overwhelming schedule? Shopee offers a tonne of
food delivery
options to keep you fuelled during the busiest of days. If you're in the mood for some late night halal supper options, make sure to read our guide to the
best supper places in Singapore
. Driving to these halal restaurants in Orchard? Browse through our ultimate guide to the
cheapest carpark rates in Singapore
!
]]>