<![CDATA[You open up your seller's centre to check on your product sales, only to realise that you have quite a bit of work to catch up on! While you're doing a good job of getting people to your store, the numbers are however not reflecting it. You're just not getting enough of visitor to sales conversions.  ☹️ But fret not as we're here to help! Here are 7 tips sellers like you can use to sell better online and increase your products' visibility.
1. Shopee's My Campaigns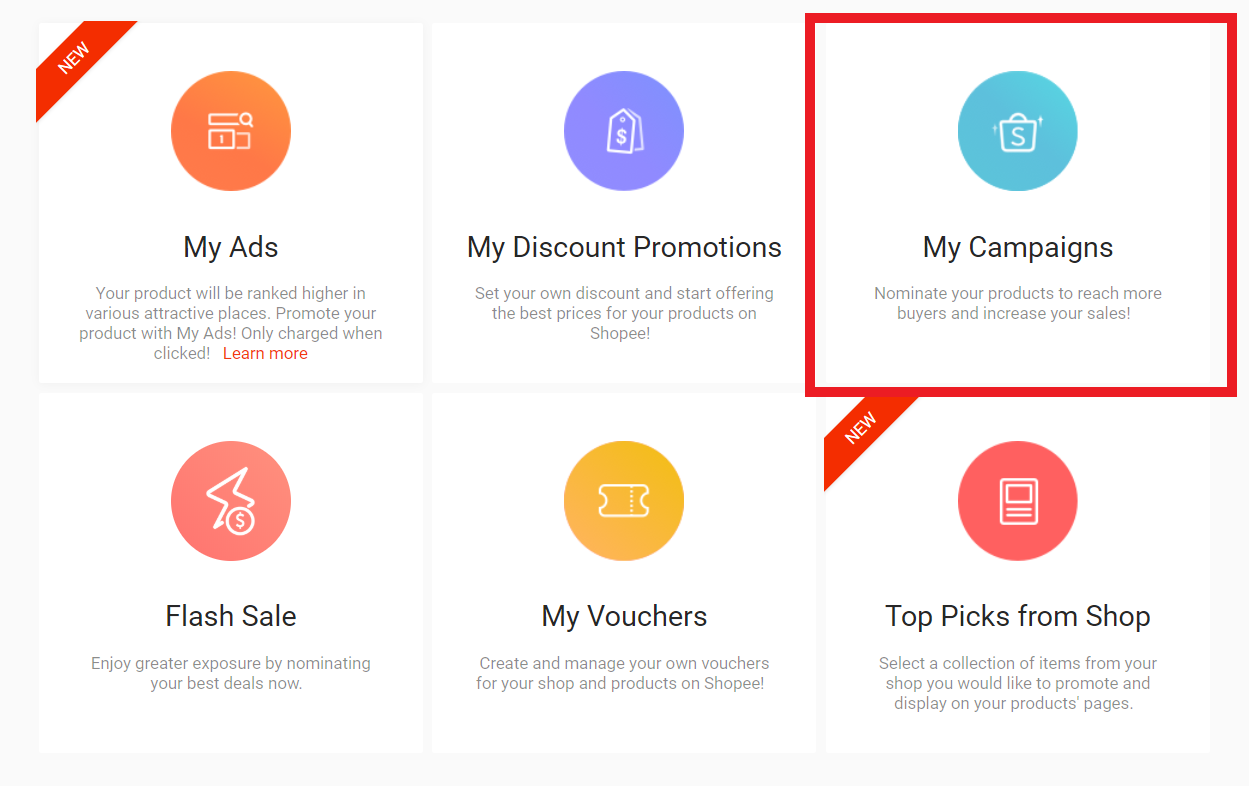 Did you
know that Shopee has several in-app campaigns that can aid sellers like you in increasing exposure of your store an the products you sell?  For instance, "My Campaigns" was created for sellers to nominate their products to be featured on main/category pages. As different campaigns are created from time to time, everyone is thus welcome to nominate their products as long as it fits the category of the ongoing campaign!
Sellers will then have to undergo a selection process whereby the product nominations are based on the following:
a)
Accuracy of the item information
b)
Willingness to give 10-20% discount upon being selected
c)
Price attractiveness of products
Why it helps:
Free of charge! (Isn't that awesome!)

Exposure on in-app and desktop campaign banners

Products are highlighted in email blast and targeted push notifications to Shopee users

Increased click through rate to your store (which means increased shop awareness!)
How to access My Campaigns: Seller Centre > Marketing Centre > My Campaigns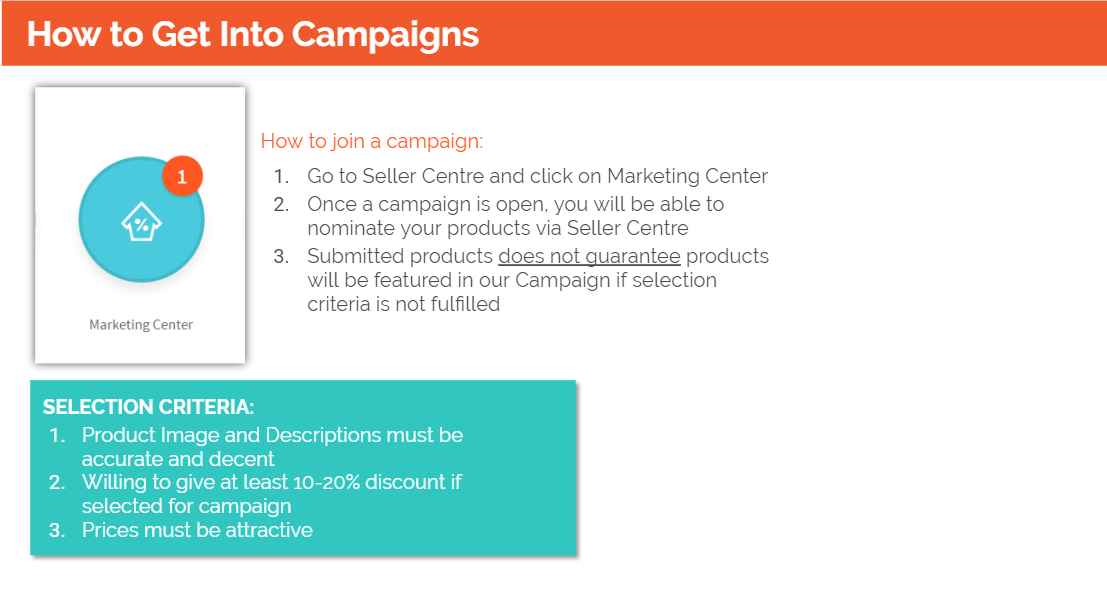 2. Shopee's Top Picks from Shop

"Top Picks from Shop" is another in-app feature that Shopee has that can help sellers to market their products better on the platform. So all you have to do is to create a collection and select a maximum of 8 products that you wish to display as top picks from your shop that you will recommend to buyers.
One tip for maximising usage of this feature – ensure that your product photos are aesthetically pleasing so that buyers are enticed to click on them!
Why it helps:
Increase cross sales when users are browsing items from your shop. Users sometimes prefer to buy more items from one shop to save on shipping, so you're increasing the size of the cart from your shop!

Helps ensure your bestselling items are consistently seen
How to access Top Picks from Shop: Seller Centre > Marketing Centre > Top Picks from Shop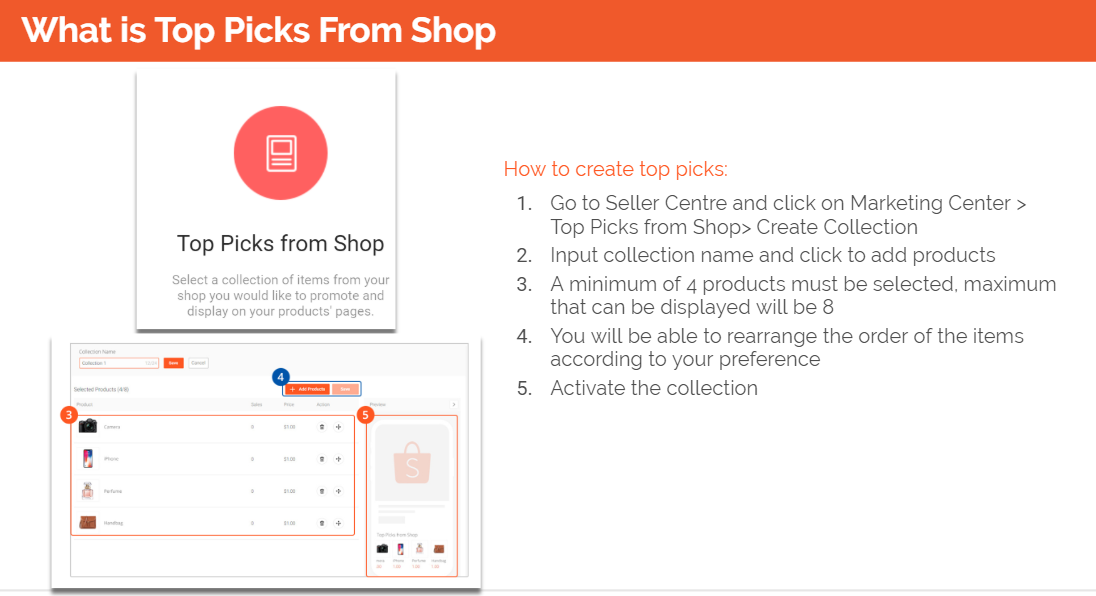 3. Shopee's Flash Sale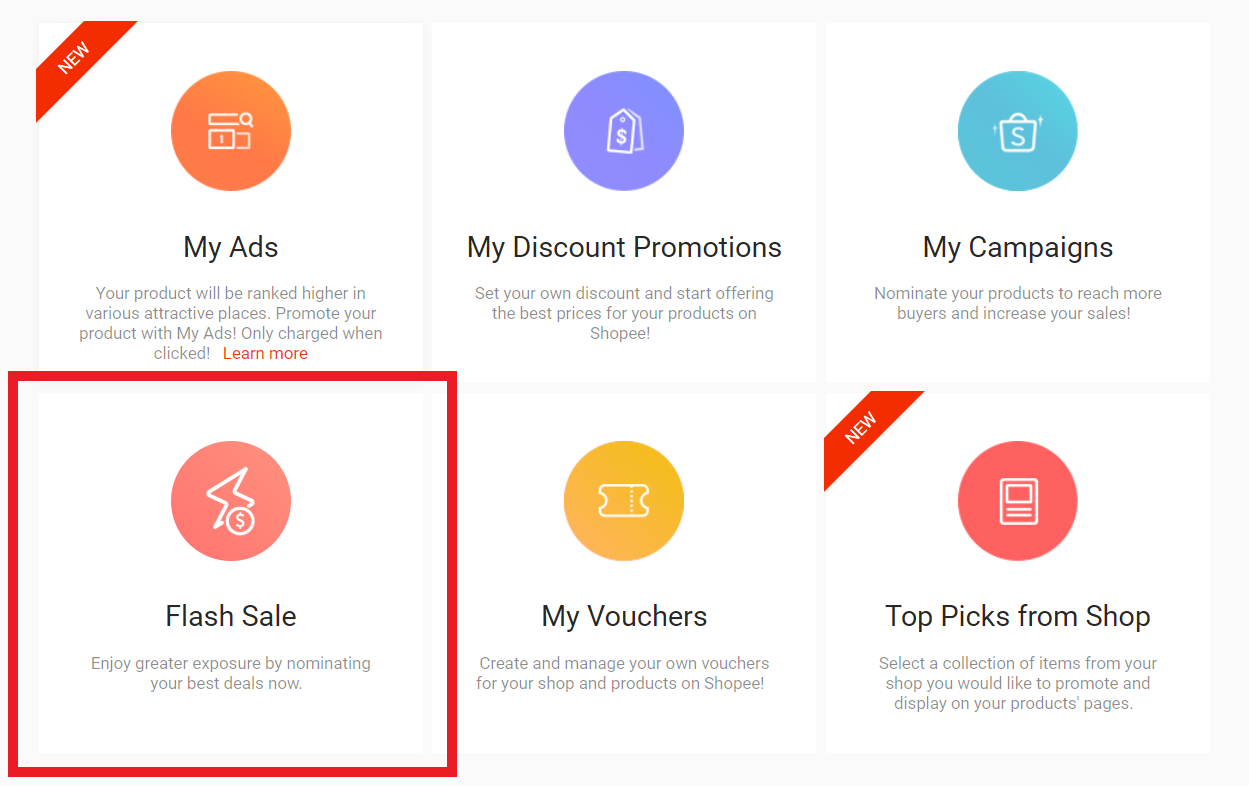 If you are an avid user of the Shopee platform, then Flash Sales will be all too familiar to you! These deals usually appear on the main Shopee homepage, and products featured here are on huge discounts for a limited time. With more than 4,000 average views per flash deal timing, there is no reason not to buy a slot to help increase your products' visibility and potentially increase sales!
Sellers can purchase a Flash Deal slot from
sgsellersolutions
store and select your desired time slot for which you would like to nominate your product. However, remember to allow 5 working days for your seller centre to be updated with the Flash Deals Slots!
Pro tips to get a successful nomination:
a)
Product must be of lowest price
b)
One nomination per time slot
c)
At least 5 stocks minimally for sale
d)
Cover picture of the nominated product must be on white background
e)
No pre-orders are allowed
f)
Shipping must be free
g)
Store must have less than 3 penalty points
h)
Store must have >4 star reviews
Follow these guidelines to avoid being rejected!
Why it helps:
Increase products' visibility (which can potentially increase sales!)

Great for shops looking to clear stocks
How to access Flash Sales:
Buy from
sgsellersolutions
After 5 working days, head to Seller Centre > Marketing Centre > Flash Sales to nominate your slot.
4. Shopee's My Ads

"My Ads" is a powerful function to help your products appear more in Search! There are two types of promotion ads that you can utilise:
a)
Keywords Ads – Sellers can bid for relevant keywords to your products, and your ad will be placed alongside products the user searches for on the site.
b)
Targeting Ads – Sellers can bid for "Similar Products" feature, and your ads will be placed on the product detail page of products similar to yours.
After selecting your relevant keywords, you can then manage your ad duration, budget, bid price and ad details under your My Ads account as well. Once your ad has been running for a few days, you can review the performance report and see how you can improve your targeting for future ads.
Click
here
for more information on how to manage your ads!
Why it helps:
Your items appear higher up in search results.

Low cost and high ROI

Helps to market your products better on the platform

Able to review your performance and improve your future marketing techniques
5. Shopee's My Vouchers

One tool that we find really cool about being a seller on Shopee is the ability to create your own vouchers. Yeap, you read that right! Sellers are able to create vouchers for any of their listed products and entice buyers to purchase more products.
With "My Vouchers", you can easily create vouchers specific to your shop, or even vouchers applied to specific products in your shop. For example, sellers can create vouchers where buyers can receive $3 off any product in the store with a minimum spend of $50, or 5% off specific products in the store with a minimum spend of $75 etc., you get my drift.
There are no restrictions to how you create the vouchers, and you will also have full control over the value, duration and quantity of them. It's that easy!
Click
here
for more information on how to create your own vouchers!
Why it helps:
Increase the size of the cart from your store. If most of your items cost $0.99, creating a voucher of minimum spend $1 will encourage users to buy more.
6. Shopee's My Discount Promotions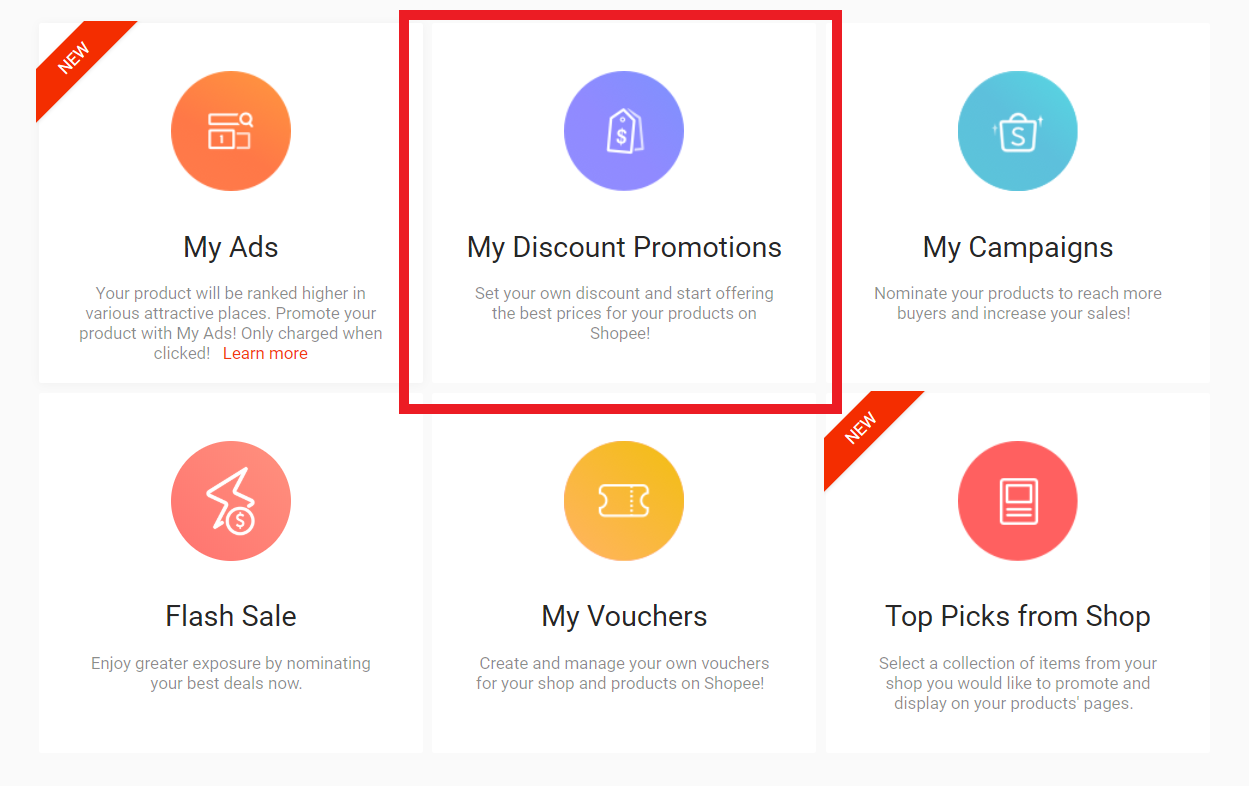 Here's one trick to becoming a power seller on Shopee. Make use of the "My Discount Promotions" tool to set discounts for a limited period of time for your products on Shopee. You can select a specific product to discount, or apply the discount over multiple products. It's all up to you!
Remember to set the purchase limit of your discounted products to ensure that a single buyer does not snap up all your best deals before other buyers get a chance to purchase.
Click
here
for more information on how you can set your own discount promotions!
Why it helps:
Remain price-competitive compared to other sellers, especially if you are not ready to drop the price yet.

Discount promotions help to attract buyers to purchase from your store
7. Going Back to Basics
Of course, while Shopee has some cool in-app tools for users to become better sellers, we must never forget these few simple tips that you can practice to be an awesome online seller.
a)
Good Photography
In this digital age where Instagram, Facebook and Twitter takes precedence in our lives, having good product photography is key to enticing buyers to click on your products. Studies have shown that consumers have shorter attention span and thus are increasingly less interested in spending time to read large amounts of information online.
It is therefore imperative that sellers find a way to capture buyers' attention. By utilising attractive visual content, it can thus help buyers to efficiently process information in a short amount of time, and they are more likely to click on your page to read more.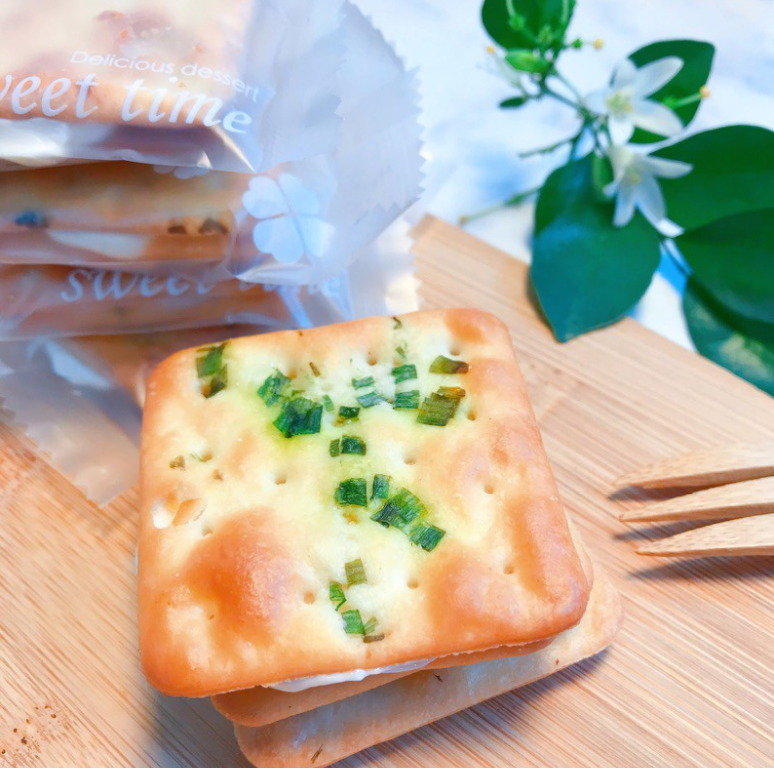 The quote "A picture is worth a thousand words" has never been more accurate in the field of content marketing. Start snapping away!
b)
Detailed Description
What's the next step after successfully capturing consumers' attention with the attractive photos of your products? When consumers click into your page/store, a certain level of interest in your products has been established, and hence you need to retain that attention span.
By having a detailed and clear description, consumers will then be able to understand better what your product offers, and therefore decide if the product is something they want to purchase. Imagine clicking into a page with no explanation on how the product works, I would definitely not want to buy the product for sure!
c)
Product Reviews
Seeking out online reviews has become such a standard part of the online buying process for people these days. As online shopping is all about trust between your brand and the customer, no one will want to purchase products from shops with bad reviews and little or no credibility. Genuine, positive reviews will encourage customers to trust you as someone who cares for them and their overall shopping experience. Thus, this will persuade them to buy from your store.
Sample
of a shop with good product reviews: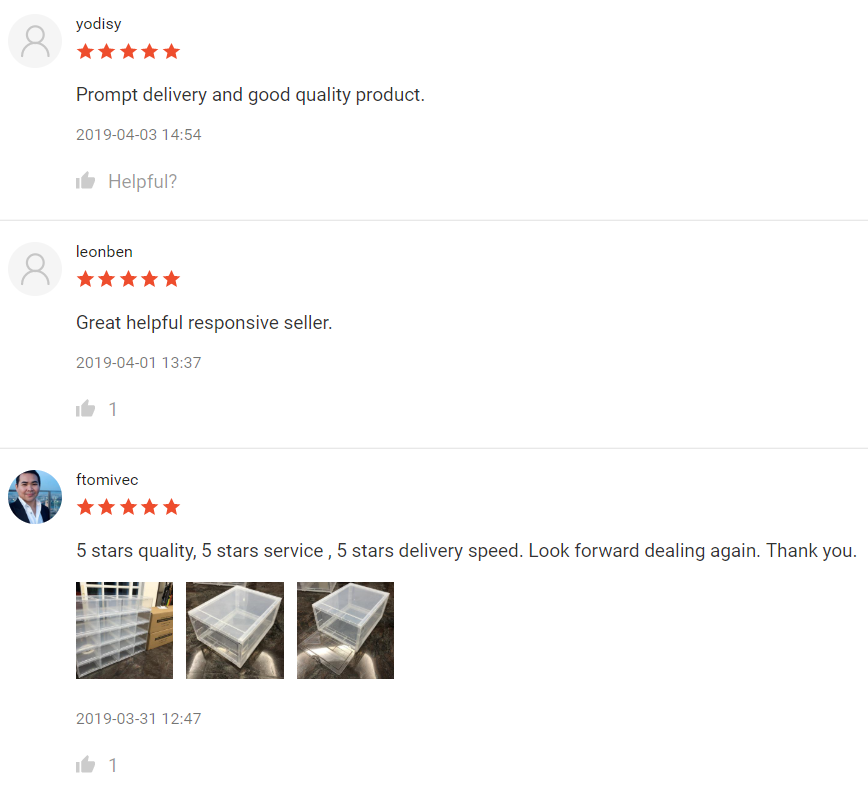 d)
Competitive Pricing
One of the reasons why consumers "store-hop" online is to find the most affordable and value-for-money place to buy their products, therefore make sure you do your extensive research against competitors selling similar products as you! This ensures that your listing remains relevant and competitive in the market for consumers to buy from you.
e)
Good customer service
Need I elaborate on this further? Good customer service is the basic fundamental of e-commerce, or rather, the service industry as a whole. For instance, this means fast and efficient assistance when customers have questions, and real-time support to fix issues when they face problems shopping at your store.
When you go the extra mile to serve customers and ensure they have a good shopping experience, they are likely to revisit your store again in the future. Hence when selling on Shopee, make sure to engage with your customers via the Chat Now function as often as possible and keep your response rate high too. You can keep your response rate high by simply answering your customers' enquiries within 12 hours every day.
Sample
of a great seller with high chat response:

Practice these 7 tips diligently and you will be on your way to becoming a power seller! Share with us your other tips in the comments below!
---
New to Shopee? Get $7 off (min. spend $15) with code*:
SELLERSTIPS
* TNC Applies. Valid for new users from
14 to 21 May
only.]]>