Most couples obsess over their wedding venue, banquet menu and outfits, but there's one important detail often overlooked — the wedding reception table! From fairy lights to table runners and balloons, we've curated the perfect props and decor needed to create a truly stunning tablescape to suit your wedding theme!
For the fairytale themed wedding
Every bride deserves to feel like a princess on her wedding day! A fairytale themed wedding may not be new but it's definitely one of the most magical. Celebrate your happily ever after by setting up a dreamy wedding reception table with the following items.
1. Fairy lights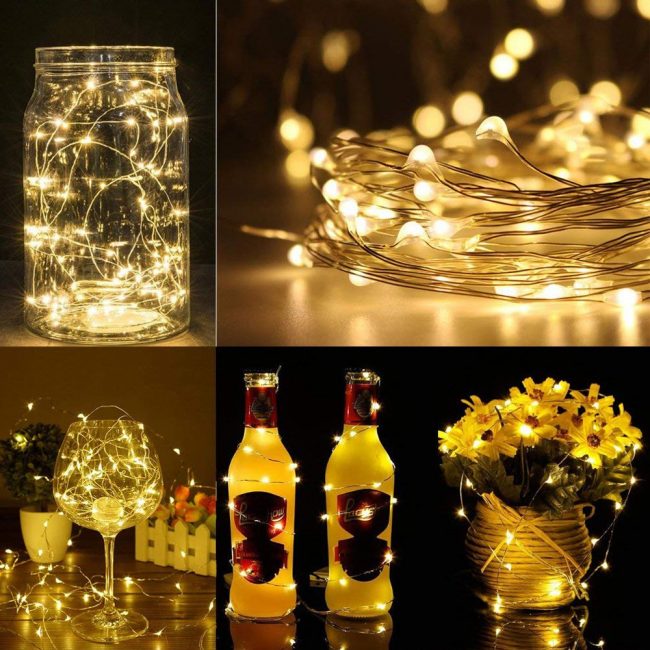 Fairy lights are must-have items when it comes to designing a wedding reception table decorations fit for royalty. You can either hang them across the table or stuff some fairy lights into a glass jar for a glistening effect!
2. Tutu table skirt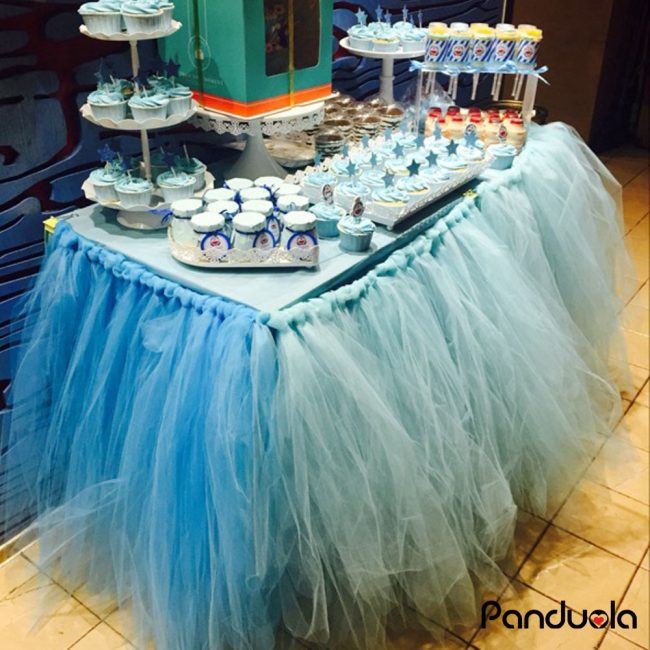 What's a fairytale themed wedding without some princessy vibes? If you're not keen on wearing a poofy wedding dress, let your reception table do the job instead! Simply cut strips of tulle (available on Panduola wedding party .sg) according to the height of the table, then loop them onto an elastic band. Wrap the band around the table and you've got a pretty and affordable wedding reception table decoration with minimal work!
3. Love sign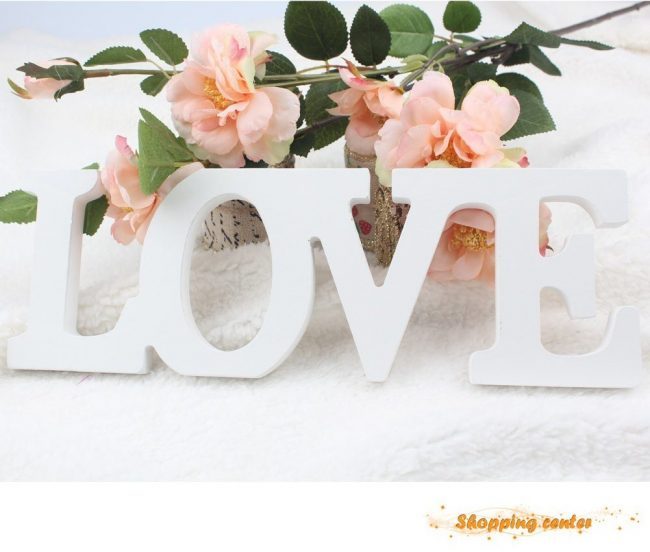 Complement your dreamy wedding theme with a simple yet elegant love sign (available on shoppingcenter.sg) to signify your commitment to each other. As a popular wedding reception table decoration, this versatile piece can be displayed next to an artificial silk flower bouquet (available on Life Style) or your wedding photo album for a sweet finish!
If you envision your wedding as a lacey affair filled with light hues and dainty florals, a romantic wedding is just for you! Allow your guests to bask in the romance by incorporating some elegant wedding reception table decorations to create an intimate atmosphere.
4. Silk flower rose petals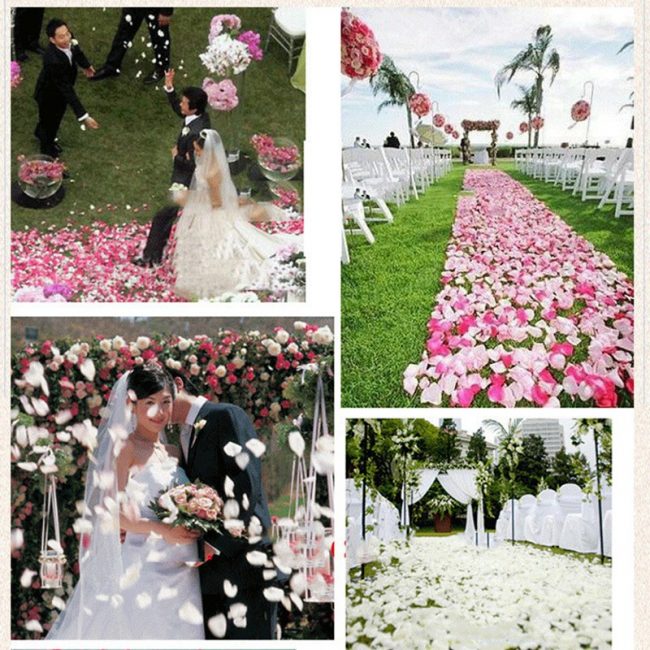 Symbolising love, joy and beauty, roses are a staple in every romantic wedding. Most couples choose to use rose petals (available on Party Decoration Store) as an alternative to paper confetti, but we think they actually make one of the best wedding reception table decorations! Create a petal-strewn table runner for your reception table by hot glueing the petals to a long piece of fabric that can be draped across the table.
5. Electronic tealight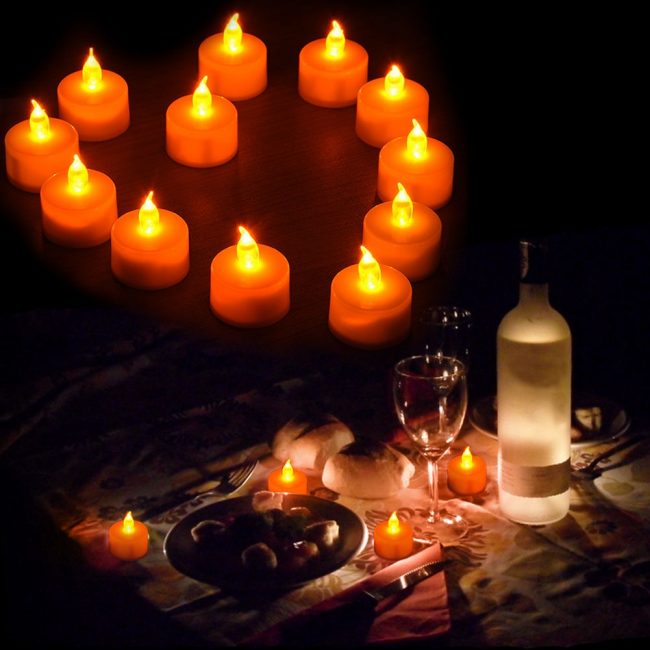 Lighting is perhaps one of the most important elements when it comes to creating a romantic ambience. Set the mood with a little flicker of candlelight by using electronic tealights (available on faddare.sg)! These wedding reception table decorations mimic real candles as they dance in the dark and are smoke-free, perfect for indoor use.
6. Mr and Mrs wooden letters centerpiece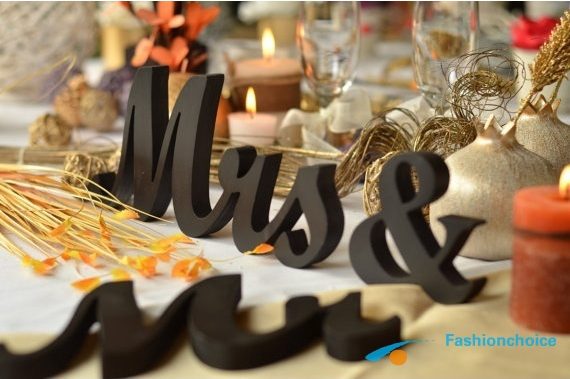 Created in beautiful calligraphy, this Mr and Mrs wooden letters centerpiece (available on fashionchoice.sg) is a perfect addition to the rest of your romantic wedding reception table decorations!  After your special day, the centerpiece can be transformed into a great home decor item for your house and kept as a keepsake from the special day.
For the carnival themed wedding
Inject some fun into your wedding with bright and beautiful wedding decorations, just like a carnival! With quirky and eye-catching wedding reception table decor, show your guests the right way to party the night away!
7. Tassel garland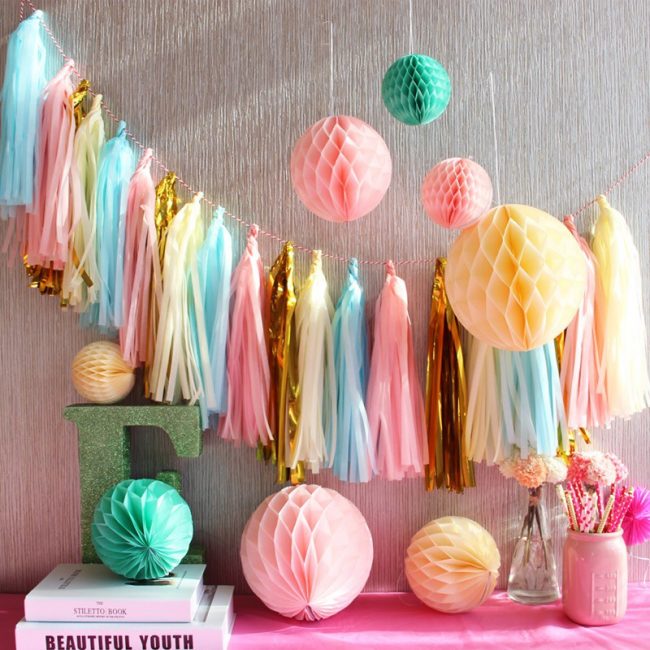 Welcome guests to your special event with some cheery tassel garlands! As a wedding reception table decoration that's super easy to DIY, tissue paper tassel garlands (available on sophinstocks) make the perfect vibrant backdrop for the reception area. Alternatively, you can hang them on the sides of the reception table to add a pop of colour!
8. Large confetti balloon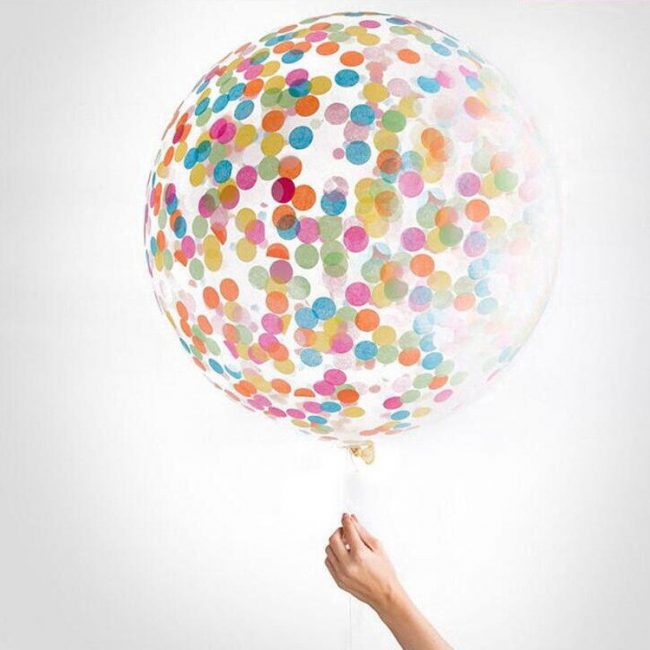 Think balloons are too ordinary for your carnival themed wedding? Think again! Wow your guests with some of these eye-catching giant rainbow confetti balloons (available on Panduola wedding party .sg) which come in a wide array of colours. The balloons not only make for great wedding reception table decorations but can also be popped at the end of the night to shower the newlyweds in sparkly confetti!
For the '70s disco themed wedding
Get creative for your wedding with a '70s disco themed celebration! From flashing lights to fun music, everyone's going to have a blast! No matter what day of the week, get the Saturday Night Fever going with these neon and funky wedding reception table decorations.
9. Neon signs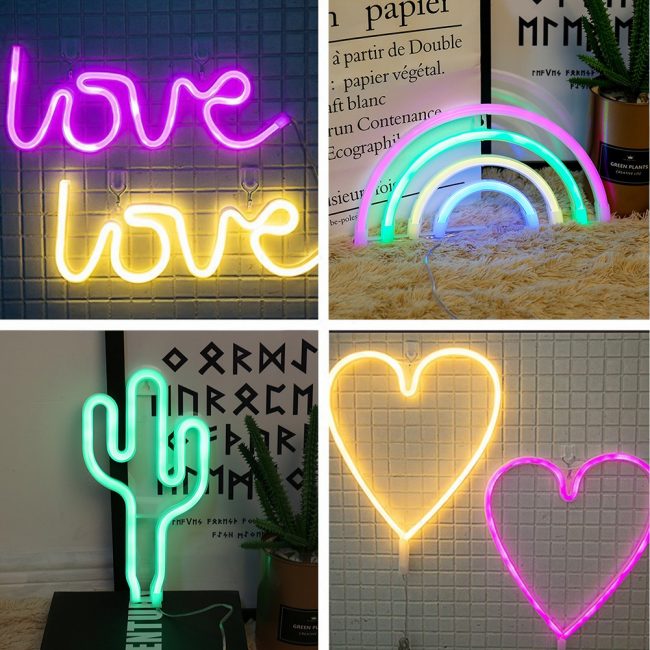 The '70s retro disco theme is all about lighting. Aside from jazzy disco lights, brighten up your reception with some funky neon signs (available on queen.sg)! If you can't find a neon sign that sparks joy, why not get crafty and customise one with some electronic luminescent wires (available on cowboy666.sg)? It can be of your favourite quote or even something from your vows — your creativity is the limit!
10. Disco ball balloons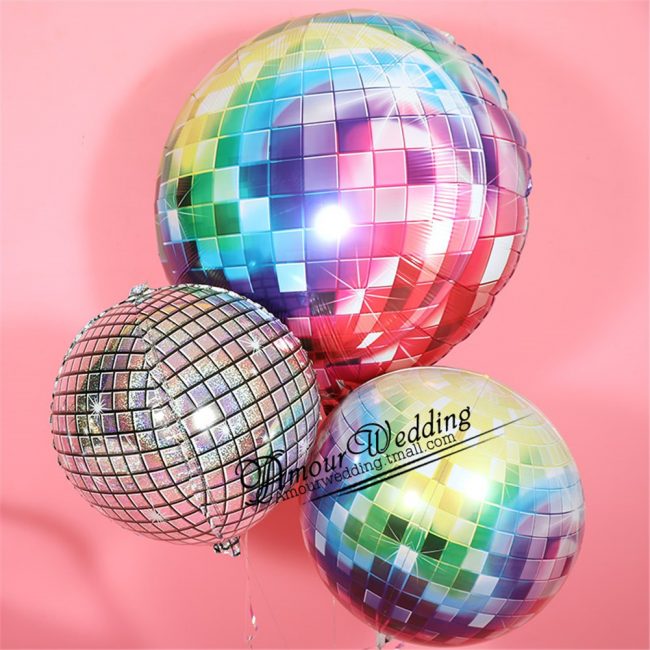 Your wedding venue in Singapore doesn't have an actual mirror ball to complete your '70s disco themed wedding? Don't sweat it, these unique disco ball balloons (available on turek.sg) may not have the same reflective effect as a mirror ball, but they sure will sparkle as bright as a diamond during your wedding reception!
For the tropical themed wedding
What's more apt than hosting a tropical themed wedding in sunny Singapore? Bring the Hawaiian flair to your reception with some playful wedding reception table decor.
11. Hawaiian Table Skirt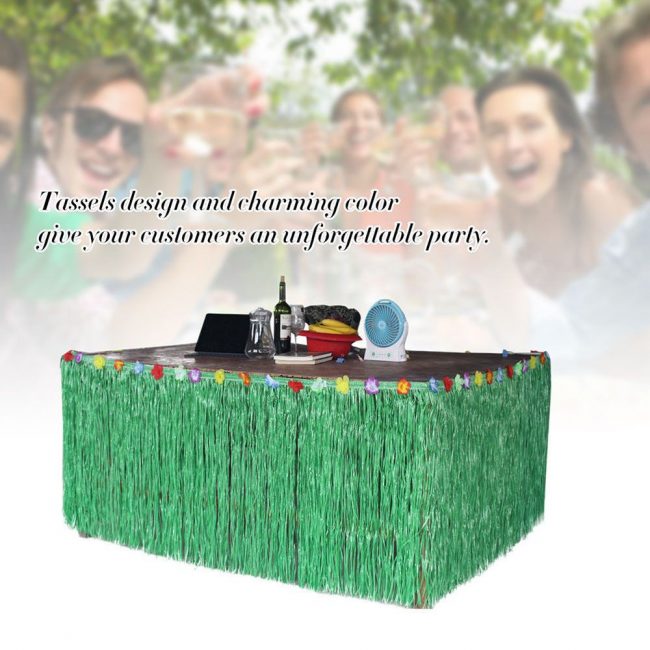 A Hawaiian table skirt instantly adds a bold yet fun statement to your reception. The eye-catching wedding reception table decoration evokes a botanical paradise effortlessly. Available Hawaiian table skirt (available on onlygoods.sg) in various sizes, it also has a velcro closure for easy setup!
12. Pineapple centerpiece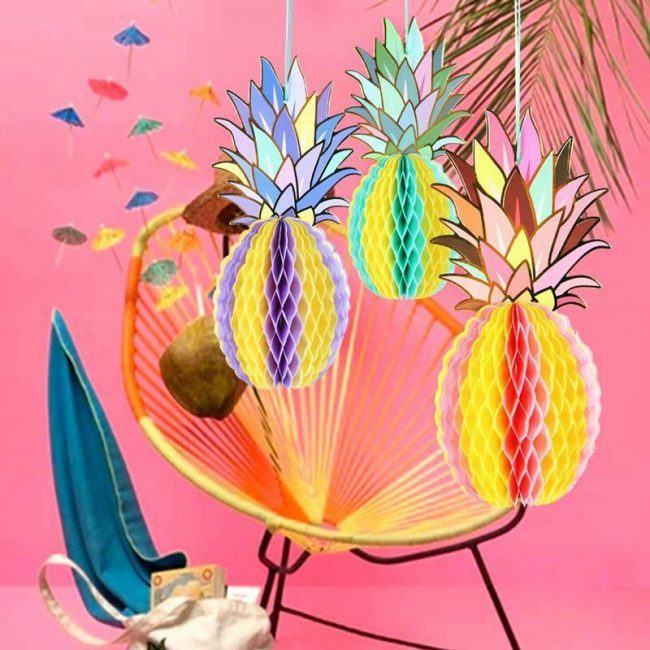 No tropical themed wedding is complete without some playful pineapples! You can either dangle these colourful pineapple centerpieces (available on superdeals.sg) on top of your reception table or display them on the table as fun accessories!
For the nautical themed wedding
You don't have to tie the knot on a boat to organise a nautical themed wedding. If you and your spouse-to-be share a passion for salty sea breeze and the deep blue sea, the following nautical wedding reception table decorations will be right up your alley! Get ready to set sail for your dream wedding day!
13. Nautical fishing net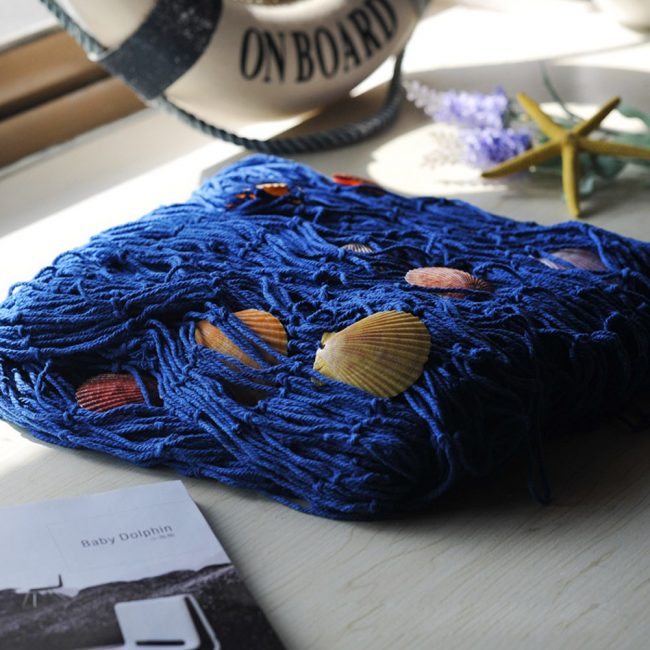 When it comes to wedding reception table decorations, cast your net wide with this nautical fishing net (available on lifekingdom.sg) embellished with dainty seashells! Spice up your bare reception table by covering it with the fishing net or hang it up on the wall as a backdrop. You can even display your pre-wedding photoshoot pictures on the net with the help of some polaroid wood clips (available on Taiwan Collection)!
14. LED lighthouse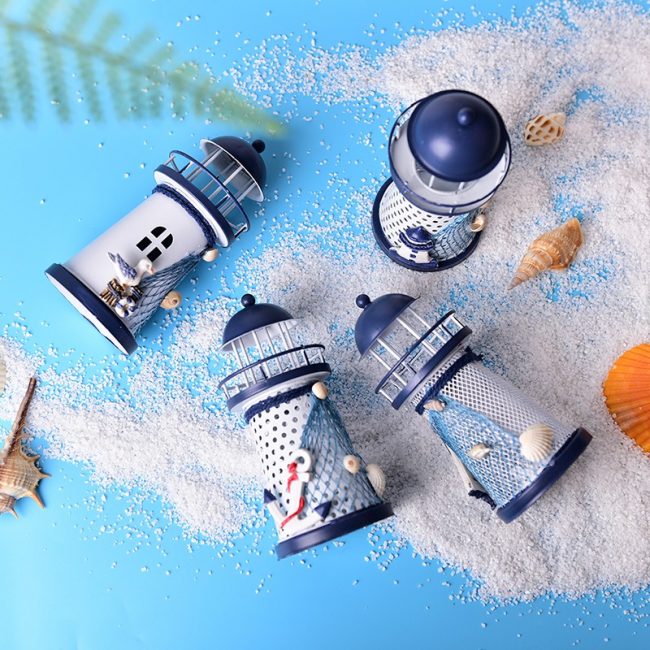 Not only does a nautical themed wedding symbolise a new voyage with your significant other but it also means you've found the anchor and lighthouse in your life. Let your love guide you home with these LED lighthouses (available on calmconstant.sg), which are some of the best wedding reception table decorations for your theme! We hope these wedding reception table decor ideas have inspired you to do more with your upcoming nuptials! Meanwhile, shop from our range of wedding fine jewellery and don't forget to check out our guide to wedding ang bao rates! Before all that, have a blast at your hen's night without breaking the bank with our budget-friendly bachelorette party guide!